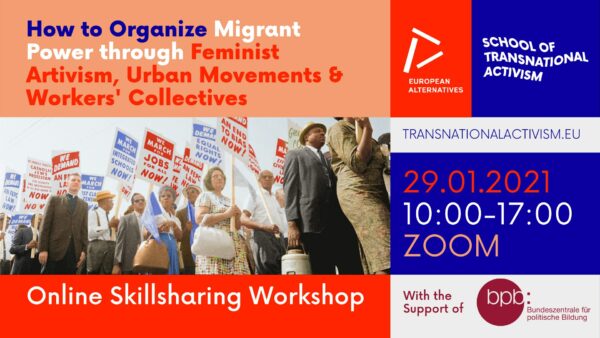 29.1.2022 Dziewuchy Berlin @ How to Organize Migrant Power through Feminist Artivism, Urban Movements & Workers' Collectives
"Migrants, refugees, and BIPoCs are at the forefront of the political struggles of our times. But how can we use migrant organizing as "new" strategic approach to unite for a future of solidarity and together strengthen frontline communities whose political struggles have been ignored and marginalised for far too long? In this online skillsharing workshop, three Berlin-based female migrant organizers from the feminist struggles of the Polish diaspora, the housing rights campaign "Deutsche Wohnen & Co. Enteignen", and the "Gorillas Workers Collective" will present their work and share stories and experiences on how migrants can win politically in Germany and around Europe."
January 2022 – one of our members took part as fellow in School of Transnational Activism, in series of workshops "How to Organize Migrant Power through Feminist Artivism, Urban Movements & Workers' Collectives". 
Januar 2022 – unsere Mitgliederin nahm als Fellow der School of Transnational Activism an der Workshopreihe "How to Organize Migrant Power through Feminist Artivism, Urban Movements & Workers' Collectives" teil. 
Styczeń 2022 – jedna z naszych członkiń wzięła udział jako Fellow w School of Transnational Activism, w serii warsztatów "How to Organize Migrant Power through Feminist Artivism, Urban Movements & Workers' Collectives". 
https://transnationalactivism.eu/programs-courses/academy-of-migrant-organizing/
***
OFFENER BRIEF
an die Abgeordneten des Bundestages
As Polish migrant women united in the collective Dziewuchy Berlin, which has been active in Berlin since 2016, we would like to express our support and positive opinion on the deletion of paragraph 219a from the penal code with this letter. This is important for many people in Germany, but also abroad – an action that shows that something can realistically change in the reproductive rights of women*. At the same time, we demand and hope that paragraph 218 of the penal code will also be deleted in the near future. We wrote an open letter to Bundestag, in support of eliminating the 219a paragraph from German penal code. This paragraph is deleted, it is a big success for all activists in Germany, who fought for that. Paragraph 219a was forbidding doctors to inform about methods of abortions they offer. Old stupid paragraph.
Als polnische Migrantinnen, die im Kollektiv Dziewuchy Berlin zusammengeschlossen sind, das seit 2016 in Berlin aktiv ist, möchten wir mit diesem Schreiben unsere Unterstützung und positive Meinung zur Streichung des Paragraphen 219a aus dem Strafgesetzbuch zum Ausdruck bringen. Das ist für viele Menschen in Deutschland, aber auch im Ausland wichtig – eine Aktion, die zeigt, dass sich realistisch etwas an den reproduktiven Rechten der Frauen* ändern kann. Gleichzeitig fordern und hoffen wir, dass auch der Paragraph 218 des Strafgesetzbuches in naher Zukunft gestrichen wird. Wir haben einen offenen Brief an den Bundestag geschrieben, um die Abschaffung des Paragraphen 219a aus dem deutschen Strafgesetzbuch zu unterstützen. Dieser Paragraph ist gestrichen, das ist ein großer Erfolg für alle Aktivist*innen in Deutschland, die dafür gekämpft haben. Der Paragraph 219a verbot es Ärzt:innen, über die von ihnen angebotenen Abtreibungsmethoden zu informieren. Ein alter dummer Paragraph.
Jako polskie migrantki zrzeszone w kolektywie Dziewuchy Berlin, działającym w Berlinie od 2016 roku, pragniemy za pomocą tego listu wyrazić nasze poparcie i pozytywną opinię w sprawie wykreślenia paragrafu 219a z kodeksu karnego. To ważne dla wielu osób w Niemczech, ale także za granicą – akcja, która pokazuje, że coś może się realnie zmienić w prawach reprodukcyjnych kobiet*. Jednocześnie żądamy i mamy nadzieję, że paragraf 218 kodeksu karnego również zostanie w najbliższym czasie usunięty. Napisałyśmy list otwarty do Bundestagu, popierający usunięcie paragrafu 219a z niemieckiego kodeksu karnego. Paragraf ten został usunięty, jest to duży sukces wszystkich aktywistek w Niemczech, które o to walczyły. Paragraf 219a zabraniał lekarkom i lekarzom informowania o metodach aborcji, które oferują. Stary, głupi paragraf.
***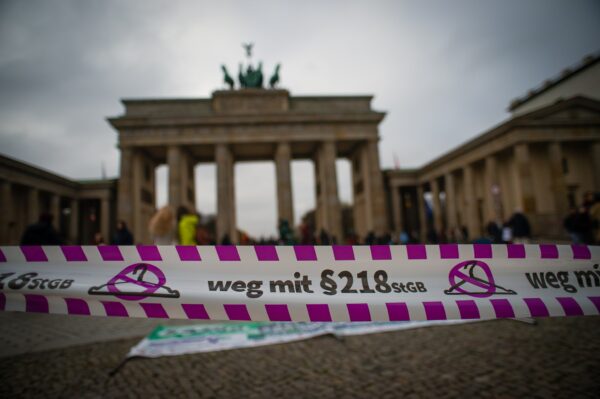 "Weg mit § 219a und § 218!
Abortions are still a criminal offense in Germany. They are the only medical intervention regulated in the German Penal Code under § 218. Furthermore, § 219a regulates that doctors who perform such abortions are not allowed to inform the public. We were among the first signatories of the letter.
Schwangerschaftsabbrüche sind in Deutschland noch immer eine Straftat. Als einziger medizinischer Eingriff werden diese im Strafgesetzbuch geregelt unter § 218. Bisher ist darüber hinaus unter § 219a geregelt, dass Ärzt*innen, die solche Abbrüche vornehmen, darüber nicht öffentlich informieren dürfen. Wir gehörten zu den Erstunterzeichnern des Schreibens.
Aborcja jest w Niemczech nadal przestępstwem. Jest one jedyną interwencją medyczną uregulowaną w Kodeksie Karnym w § 218. Ponadto § 219a reguluje, że lekarzom dokonującym takich aborcji nie wolno informować o tym opinii publicznej. Byłyśmy jednymi z pierwszych sygnatariuszek tego listu.
***

Februar 2022: Botschaft der Polinnen*
Ein Vertrag über gute Schwesternschaft und feministische Zusammenarbeit
We wrote the Treaty on Good Sisterhood and Feminist Cooperation – a new, feminist and up-to-date version of the 1990s Polish-German Good Neighborhood Treaty, which was written by men, did not include women and is also outdated. 
Wir haben den Vertrag über gute Schwesternschaft und feministische Zusammenarbeit verfasst – eine neue, feministische und zeitgemäße Version des deutsch-polnischen Vertrags über gute Nachbarschaft aus den 1990er Jahren, der von Männern geschrieben wurde, Frauen nicht einbezog und ebenfalls veraltet ist. 
Napisałyśmy Traktat o Dobrym Siostrzeństwie i Feministycznej Współpracy – nową, feministyczną i aktualną wersję polsko-niemieckiego traktatu o dobrym sąsiedztwie z lat 90. ubiegłego wieku, który został napisany przez mężczyzn, nie obejmował kobiet i jest również przestarzały. 
***

24.2.2022 – Free Ukraine! Stop the War!
After the outbreak of war in Ukraine, we took part in demonstrations in Berlin, and some of us became involved in activities concerning refugee women from Ukraine. We also support the activities of the International Council of Polish Women+, which began to help women from SEMA Ukraine. 
Nach dem Ausbruch des Krieges in der Ukraine nahmen wir an Demonstrationen in Berlin teil, einige von uns engagierten sich bei Aktivitäten für Flüchtlingsfrauen aus der Ukraine. Wir unterstützen auch die Aktivitäten des Polnischen Frauenrats+, der begonnen hat, Frauen von SEMA Ukraine zu helfen. 
Po wybuchu wojny w Ukrainie, brałyśmy udział w demonstracjach w Berlinie, niektóre z nas zaangażowały się w działania dotyczące uchodźczyń z Ukrainy. Wspieramy też działania Polonijnej Rady Kobiet+, która zaczęła pomagać kobietom z SEMA Ukraine. 
***

28.2.2022 Dyskusja: Feministyczna solidarność z osobami w Niemczech/ Manifa i feminizm bez granic
We talk to Manifa Lublin about access to legal abortion, access to contraception, including emergency contraception, support for people experiencing violence, and respect for women's work, especially migrant women, i.e. what gender equality looks like in the practice of working life.
Wir sprechen mit Manifa Lublin über den Zugang zum legalen Schwangerschaftsabbruch, den Zugang zu Verhütungsmitteln, einschließlich der Notfallverhütung, die Unterstützung von Menschen, die Gewalt erfahren, und die Achtung der Arbeit von Frauen, insbesondere von Migrantinnen, d. h. wie die Gleichstellung der Geschlechter in der Praxis des Arbeitslebens aussieht.
Z Manifą Lublin rozmawiamy o dostępie do legalnej aborcji, dostępie do antykoncepcji, w tym antykoncepcji awaryjnej, wsparciu dla osób doświadczających przemocy oraz o szacunku dla pracy kobiet, zwłaszcza migrantek, czyli jak wygląda równość płci w praktyce życia zawodowego.
https://www.dziewuchyberlin.org/28-2-2022-dyskusja-feministyczna-solidarnosc-z-osobami-w-niemczech-manifa-i-feminizm-bez-granic/
***

8.3.2022: Internationaler Frauen*tag / Demo und Performance
"Empört Euch"
The time for outrage has come, again. More than ever we need strong words and voices to address dramatic violence and wars of modern day. "Empört Euch" (French original title: "Indignez-vous!" English: "Time for Outrage!") is the title of the essay by former French resistance fighter and UN diplomat Stéphane Hessel. Again, we based our action on words: a call for action and outrage, a manifesto about the German-Polish struggles for legal abortion, an appeal about the war in Ukraine, but also on chauvinist words of famous men, from the Bible to AfD. These words have been said and put on paper, authors should be held responsible. As every year, our performance ended with Global Scream, a 1 minute-long scream, which unifies all, regardless of language spoken (words).
Die Zeit der Empörung ist wieder einmal gekommen. Mehr denn je brauchen wir starke Worte und Stimmen, um uns mit der dramatischen Gewalt und den Kriegen der heutigen Zeit auseinanderzusetzen. "Empört Euch" (französischer Originaltitel: "Indignez-vous!", englisch: "Time for Outrage!") lautet der Titel des Essays des ehemaligen französischen Widerstandskämpfers und UN-Diplomaten Stéphane Hessel. Auch hier haben wir uns auf Worte gestützt: einen Aufruf zum Handeln und zur Empörung, ein Manifest über den deutsch-polnischen Kampf für legale Abtreibung, einen Appell über den Krieg in der Ukraine, aber auch auf chauvinistische Worte berühmter Männer, von der Bibel bis zur AfD. Diese Worte sind gesagt und zu Papier gebracht worden, die Autoren sollten zur Verantwortung gezogen werden. Wie jedes Jahr endete unser Auftritt mit dem Global Scream, einem 1-minütigen Schrei, der alle vereint, unabhängig von der gesprochenen Sprache (Worte).
Znów nadszedł czas oburzenia. Bardziej niż kiedykolwiek potrzebujemy mocnych słów i głosów, aby odnieść się do dramatycznej przemocy i wojen współczesności. "Empört Euch" (francuski tytuł oryginalny: "Indignez-vous!" angielski: "Time for Outrage!") to tytuł eseju byłego bojownika francuskiego ruchu oporu i dyplomaty ONZ Stéphane'a Hessela. Ponownie oparliśmy nasze działanie na słowach: wezwaniu do działania i oburzenia, manifeście o polsko-niemieckich walkach o legalną aborcję, apelu o wojnie na Ukrainie, ale także na szowinistycznych słowach znanych mężczyzn, od Biblii po AfD. Te słowa zostały wypowiedziane i przelane na papier, autorzy powinni zostać pociągnięci do odpowiedzialności. Jak co roku nasz występ zakończył się Global Scream, czyli 1-minutowym krzykiem, który jednoczy wszystkich, niezależnie od wypowiadanego języka (słów).
Als Frau gefangen im Krieg / Kobiety uwięzione w wojnie / Women captured in war
***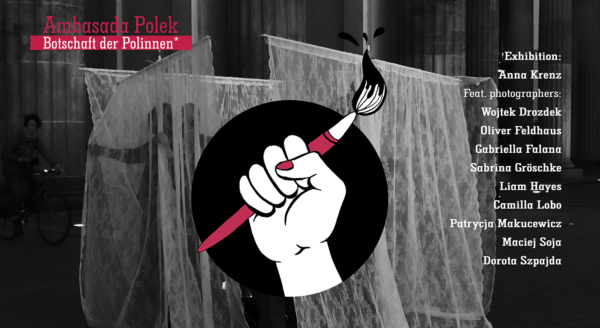 8.3.2022: HEARTBURN Premiere, Exhibition and Discussion
On International Women's Day, we opened an exhibition at the Botschaft der Polinnen* to mark the Berlin premiere of Cosmino Theater's production of "Heartburn" at Theaterhaus Berlin (Schöneweide th2, Schnellerstraße 104, 12439 Berlin). In addition to graphics, posters and banners by Anna Krenz, the exhibition also showed the history of Dziewuchy Berlin's activities, highlighting milestones and highlights with texts, illustrations and photos. Photographers documenting numerous protest actions: Wojtek Drozdek, Oliver Feldhaus, Gabriella Falana, Sabrina Gröschke, Liam Hayes, Camilla Lobo, Patrycja Makucewicz, Maciej Soja und Dorota Szpajda.
Am Internationalen Frauentag eröffneten wir eine Ausstellung in der Botschaft der Polinnen* zur Berlin-Premiere der Inszenierung "Heartburn" des Cosmino Theaters im Theaterhaus Berlin (Schöneweide th2, Schnellerstraße 104, 12439 Berlin). Neben Grafiken, Plakaten und Transparenten von Anna Krenz, zeigte die Ausstellung auch die Geschichte der Aktivitäten von Dziewuchy Berlin und hebte Meilensteine und Höhepunkte mit Texten, Illustrationen und Fotos hervor. Fotografen, die zahlreiche Protestaktionen dokumentierten: Wojtek Drozdek, Oliver Feldhaus, Gabriella Falana, Sabrina Gröschke, Liam Hayes, Camilla Lobo, Patrycja Makucewicz, Maciej Soja und Dorota Szpajda.
W Międzynarodowy Dzień Kobiet otworzyliśmy w Ambasadzie RP* wystawę z okazji berlińskiej premiery spektaklu "Zgaga" Teatru Cosmino w Theaterhaus Berlin (Schöneweide th2, Schnellerstraße 104, 12439 Berlin). Oprócz grafik, plakatów i banerów autorstwa Anny Krenz, wystawa przedstawia również historię działalności Dziewuchy Berlin oraz podkreśla kamienie milowe i najważniejsze wydarzenia za pomocą tekstów, ilustracji i zdjęć. Fotografowie dokumentujący liczne akcje protestacyjne: Wojtek Drozdek, Oliver Feldhaus, Gabriella Falana, Sabrina Gröschke, Liam Hayes, Camilla Lobo, Patrycja Makucewicz, Maciej Soja und Dorota Szpajda.
***

17.3.2022 | Diskussion / Workshop: Dziewuchy Berlin @ eFKa
We were invited by the eFKa Women's Foundation to participate in a series of mini-workshops with women artists, curators and activists. Participants in these workshops will become familiar with the language of contemporary art, increase their sensitivity to various forms of invisibility and exclusion, and learn to recognize situations of imbalance and marginalization in order to counteract them.
Wir wurden von der eFKa Women's Foundation zu einer Reihe von Mini-Workshops mit Künstlerinnen, Kuratorinnen und Aktivistinnen eingeladen. Die Teilnehmer an diesen Workshops werden mit der Sprache der zeitgenössischen Kunst vertraut gemacht, ihre Sensibilität für verschiedene Formen der Unsichtbarkeit und Ausgrenzung erhöht und lernen, Situationen des Ungleichgewichts und der Marginalisierung zu erkennen, um ihnen entgegenzuwirken.
Zostałyśmy zaproszone przez Fundację Kobiecą eFKa na cykl mini-warsztatów z artystkami, kuratorkami i aktywistkami. Uczestnicy tych warsztatów zostaną wprowadzeni w język sztuki współczesnej, zwiększą swoją wrażliwość na różne formy niewidzialności i wykluczenia, nauczą się rozpoznawać sytuacje nierównowagi i marginalizacji, by móc im przeciwdziałać.
***
31.3.2022, 16:00 – 18:00 Diskussion: Wie antirassistisch ist unsere feministische Arbeit?
Der Migrantinnenmärz 2022 ist von dem derzeitigen Krieg in der Ukraine überschattet. Der Krieg zeigt uns allen erneut, was viele von uns auch erfahren mussten: Auf der Flucht und der Suche nach Schutz werden nicht alle Menschen gleichbehandelt. Einige werden rassistisch und / oder sexistisch bedroht. Vor allem Frauen leiden unter vielfacher sexualisierter Gewalt in den Kriegsregionen, auf dem Fluchtweg und zum Teil auch noch in den Ankunftsländern. Eine Diskussion mit u.a. eine Mitgliederin von Dziewuchy Berlin.
***
1.6.2022 | 17.00 Global Scream for USA
This time we stand in solidarity with women* in the U.S. who are threatened by the women's hell we know from Poland. The leak of a draft U.S. Supreme Court opinion seeking to overturn the 1973 ruling in the unprecedented Roe v. Wade case that gave women a constitutional right to abortion has brought the issue of abortion rights in the U.S. back into the headlines. Anti-choice movements are growing stronger around the world, coalescing in geopolitical, ideological, and financial networks. Therefore, we too must stand together, shout together, across borders.
Diesmal solidarisieren wir uns mit den Frauen* in den USA, die von der Frauenhölle, die wir aus Polen kennen, bedroht sind. Das Durchsickern eines Entwurfs für ein Gutachten des Obersten Gerichtshofs der USA, mit dem das Urteil in der beispiellosen Rechtssache Roe gegen Wade aus dem Jahr 1973, das Frauen ein verfassungsmäßiges Recht auf Abtreibung einräumte, aufgehoben werden soll, hat das Thema Abtreibungsrechte in den USA wieder in die Schlagzeilen gebracht. Die Anti-Choice-Bewegungen werden weltweit immer stärker und schließen sich in geopolitischen, ideologischen und finanziellen Netzwerken zusammen. Deshalb müssen auch wir zusammenstehen, zusammenschreien, über die Grenzen hinweg.
Tym razem stajemy w solidarności z kobietami* w USA, którym grozi piekło kobiet znane nam z Polski. Wyciek projektu opinii Sądu Najwyższego USA, dążącego do obalenia orzeczenia z 1973 r. w bezprecedensowej sprawie Roe v. Wade, które przyznało kobietom konstytucyjne prawo do aborcji, sprawił, że kwestia praw aborcyjnych w USA znów trafiła na pierwsze strony gazet. Ruchy anty-choice rosną w siłę na całym świecie, łącząc się w geopolityczne, ideologiczne i finansowe sieci. Dlatego my również musimy stać razem, krzyczeć razem, ponad granicami.
***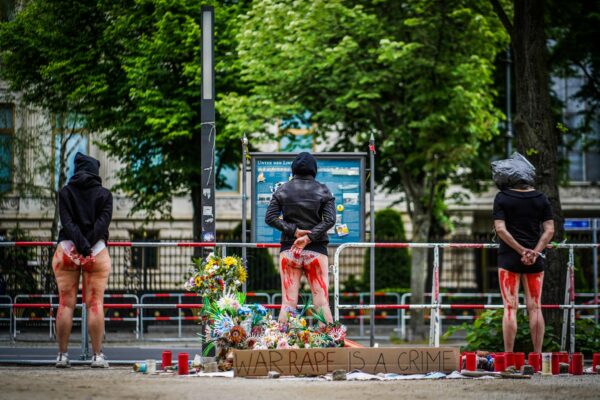 28.5.2022 | BERLIN – Russian Shame – Protest against the Rape of Women In Ukraine
11.00 | Russische Botschaft in Berlin 
We organized a protest against sexual violence against women and children in Ukraine, as part of the international action against the use of rape as a weapon of war. Events were conducted in many countries. On Saturday, May 28, we commemorated the Ukrainian women who were victims of brutal rape by the Russian soldiers who invaded Ukraine on February 24, 2022. This protest was launched in Latvia and Estonia by brave women who stood in front of the Russian Embassy with their hands tied behind their backs, bloody underwear and legs, and with bags over their faces.
Wir organisierten einen Protest gegen sexuelle Gewalt gegen Frauen und Kinder in der Ukraine, als Teil der internationalen Aktion gegen den Einsatz von Vergewaltigung als Kriegswaffe. In vielen Ländern wurden Veranstaltungen durchgeführt. Am Samstag, den 28. Mai, gedachten wir der ukrainischen Frauen, die Opfer brutaler Vergewaltigungen durch die russischen Soldaten wurden, die am 24. Februar 2022 in die Ukraine einmarschierten. Dieser Protest wurde in Lettland und Estland von mutigen Frauen initiiert, die mit auf dem Rücken gefesselten Händen, blutiger Unterwäsche und Beinen und mit Tüten über dem Gesicht vor der russischen Botschaft standen.
Zorganizowałyśmy protest przeciwko przemocy seksualnej wobec kobiet i dzieci na Ukrainie, w ramach międzynarodowej akcji przeciwko używaniu gwałtu jako broni wojennej. Wydarzenia były prowadzone w wielu krajach. W sobotę 28 maja upamiętniliśmy ukraińskie kobiety, które padły ofiarą brutalnego gwałtu ze strony rosyjskich żołnierzy, którzy najechali Ukrainę 24 lutego 2022 roku. Protest ten został zapoczątkowany na Łotwie i w Estonii przez odważne kobiety, które stały przed ambasadą Rosji z rękami związanymi za plecami, zakrwawioną bielizną i nogami oraz z workami na twarzach.
***

23-26 Juni 2022, Dresden | Die Kunst der Begegnung Dresden
The annual conference, organized by the Dramaturgische Gesellschaft, offered numerous performances, lectures and workshops. On Friday, 6/24/2022, Anna Krenz, Polish artist, founder and member of Dziewuchy Berlin, spoke about the activities of the Berlin feminist collective during the interactive lecture "The Art of Protest" (Theater der jungen Generation/Studioprobebühne) and presented the artistic means it uses in actions and demonstrations in defense of women's rights*. Art is an important part of Dziewuchy's political activity because, as Krenz says, "art is the conscience of humanity."
Die von der Dramaturgischen Gesellschaft organisierte Jahrestagung bot zahlreiche Aufführungen, Vorträge und Workshops. Am Freitag, den 24.6.2022, sprach Anna Krenz, polnische Künstlerin, Gründerin und Mitgliederin von Dziewuchy Berlin, im Rahmen des interaktiven Vortrags "Die Kunst des Protests" (Theater der jungen Generation/Studioprobebühne) über die Aktivitäten des Berliner feministischen Kollektivs und stellte die künstlerischen Mittel vor, die es bei Aktionen und Demonstrationen zur Verteidigung der Frauenrechte* einsetzt. Die Kunst ist ein wichtiger Bestandteil von Dziewuchys politischer Tätigkeit, denn, wie Krenz sagt, "die Kunst ist das Gewissen der Menschlichkeit".
Coroczna konferencja organizowana przez Dramaturgische Gesellschaft oferowała liczne spektakle, wykłady i warsztaty. W piątek, 24/6/2022, Anna Krenz, polska artystka, założycielka i członkini Dziewuchy Berlin, podczas interaktywnego wykładu "Sztuka protestu" opowiedziała o działalności berlińskiego kolektywu feministycznego i zaprezentowała środki artystyczne, które wykorzystuje on w akcjach i demonstracjach w obronie praw kobiet*. Sztuka jest ważnym elementem działalności politycznej Dziewuch Berlin, ponieważ, jak mówi Krenz, "sztuka jest sumieniem człowieczeństwa".
***
September 2022, Fehlende Hälfte der Geschichte. Irena Bobowska, die vergessene Heldin.
A herstory project about German-Polish history, feminism and war with a series of events in different places in Berlin. The series consists of 4 events with performative readings of Bobowska's poems, with discussions with invited experts and an exhibition with information and a portrait as well as works by Irena Bobowska and the historical and context. In addition, a commemorative newspaper "Pobudka" was published with Bobowska's poems in Polish and German – each poem will be translated by a different woman. A publication on the subject will also appear early 2023. The project "Missing Half of History. Irena Bobowska, the forgotten heroine" is the continuation of a series of actions that the collective Dziewuchy Berlin has carried out on Irena Bobowska, women* stories and memorials in Berlin.
Ein Herstory-Projekt über deutsch-polnische Geschichte, Feminismus und Krieg mit einer Veranstaltungsreihe an verschiedenen Orten in Berlin. Die Reihe bestand aus 4 Veranstaltungen mit performativen Lesungen von Bobowskas Gedichten, mit Diskussionen mit eingeladenen Expertinnen und einer Ausstellung mit Informationen und einem Porträt sowie Werken von Irena Bobowska und dem historischen und inhaltlichen Kontext. Darüber hinaus wurde eine Gedenkzeitung "Pobudka" mit Bobowskas Gedichten in polnischer und deutscher Sprache herausgegeben – jedes Gedicht wird von einer anderen Frau übersetzt. Eine Publikation zum Thema wird ebenfalls Anfang 2023 erscheinen. Das Projekt "Fehlende Hälfte der Geschichte. Irena Bobowska, die vergessene Heldin" ist die Fortsetzung einer Reihe von Aktionen, die das Kollektiv Dziewuchy Berlin zur Irena Bobowska, Frauen* Geschichten und zu Gedenkstätten in Berlin durchgeführt hat.
Projekt herstoryczny o polsko-niemieckiej historii, feminizmie i wojnie z serią wydarzeń w różnych miejscach Berlina. Cykl składa się z 4 wydarzeń z performatywnymi odczytami wierszy Bobowskiej, z dyskusjami z zaproszonymi ekspertami oraz z wystawy zawierającej informacje i portret oraz prace Ireny Bobowskiej wraz z kontekstem historycznym. Ponadto wydana została okolicznościowa gazeta "Pobudka" z wierszami Bobowskiej w języku polskim i niemieckim – każdy wiersz będzie tłumaczony przez inną kobietę. Na początku 2023 roku pojawi się również publikacja na ten temat. Projekt "Brakująca połowa historii. Irena Bobowska, zapomniana bohaterka" to kontynuacja serii działań, które kolektyw Dziewuchy Berlin przeprowadził na temat Ireny Bobowskiej, kobiet* historii i miejsc pamięci w Berlinie.
Projektseite: dziewuchyberlin.org/bobowska/
***
28.9.2022 / Siostry*Preis / Preisverleihung und Performances
Safe Abortion Day at Haus der Statistik, Berlin 
Since its foundation on 2 April 2016, the collective Dziewuchy Berlin has organised many demonstrations, actions and exhibitions. We fight for the rights of women and sexual minorities in Poland, Germany and worldwide as well as for the rights of migrant women in Berlin. We are part of many alliances and work together with many initiatives in Germany, Poland and internationally. Transnational solidarity is very important for us. For many years, this solidarity was one-sided. As Polish women living in Berlin, we are working to build a two-way relationship, to change the paradigm and to strengthen the position of Polish migrant women in Berlin. We were awarded the Green Pussyhat Prize in 2018 and the Clara Zetkin Prize in 2021. The time has come for us to honour our sisters* (Siostry). In 2022, the Dziewuchy Berlin Prizes for Good German-Polish Sisterhood and Feminist Collaboration will be awarded for the first time.
Seit der Gründung am 2. April 2016 haben Dziewuchy Berlin viele Demonstrationen, Aktionen und Ausstellungen organisiert. Wir kämpfen für die Rechte von Frauen und sexuellen Minderheiten in Polen, Deutschland und weltweit sowie für die Rechte von Migrantinnen in Berlin. Wir sind Teil vieler Bündnisse und arbeiten mit vielen Initiativen in Deutschland, Polen und international zusammen. Transnationale Solidarität ist für uns sehr wichtig. Viele Jahre lang war diese Solidarität einseitig, und wir als polnische Frauen, die in Berlin leben, arbeiten wir daran, eine wechselseitige Beziehung aufzubauen, einen Paradigmenwechsel herbeizuführen und die Position der polnischen Migrantinnen in Berlin zu stärken. Wir wurden 2018 mit dem Green Pussyhat Preis und 2021 mit dem Clara Zetkin-Preis ausgezeichnet. Die Zeit ist gekommen, dass wir unsere Schwestern* (Siostry) ehren. Im Jahr 2022 werden zum ersten Mal die Dziewuchy-Berlin-Preise für gute deutsch-polnische Schwesternschaft und feministische Zusammenarbeit vergeben.
Od powstania 2 kwietnia 2016 roku, kolektyw Dziewuchy Berlin zorganizował wiele demonstracji, akcji i wystaw. Walczymy o prawa kobiet i mniejszości seksualnych w Polsce, Niemczech i na świecie, a także o prawa migrantek w Berlinie. Jesteśmy częścią wielu koalicji i współpracujemy z wieloma inicjatywami w Niemczech, Polsce i na świecie. Bardzo ważna jest dla nas ponadnarodowa solidarność. Przez wiele lat ta solidarność była jednostronna. Jako Polki mieszkające w Berlinie pracujemy nad budową dwukierunkowej relacji, nad zmianą paradygmatu i wzmocnieniem pozycji polskich migrantek w Berlinie. W 2018 roku otrzymałyśmy Green Pussyhat Prize, a w 2021 roku Clara Zetkin Prize. Nadszedł czas, abyśmy teraz my uhonorowały nasze Siostry*. W 2022 roku po raz pierwszy zostaną przyznane nagrody Dziewuchy Berlin za Dobre Polsko-niemieckie Siostrzeństwo i Feministyczną Współpracę.
Im Programm:
Siostry*Preisverleihung / Przyznanie nagród / Award ceremony
Performance: Jemek Jemowit performt "Self-Possession Ritual" von Jex Blackmore
Performance: Viva Ruiz / Thank God for Abortion
Performance: Berlin Strippers Collective
Konzert: Jemek Jemowit spielt "Best Off Jemek"
Winners:
Aleksandra Magryta, Warsaw
Maciej Soja, Berlin 
Omas gegen Rechts Berlin
Nominierungen / Nominacje / Nominations | SIOSTRY*Preis 2022
***
Botschaft der Polinnen* in Wrocław
We were invited by the European Parliament Office in Wrocław with an exhibition at the 14th Women's Congress in Wrocław (Hala Stulecia). "Botschaft der Polinnen*. Polish Protest Art in Berlin" by Anna Krenz, with: Wojtek Drozdek, Oliver Feldhaus, Gabriella Falana, Sabrina Gröschke, Liam Hayes, Camilla Lobo, Patrycja Makucewicz, Maciej Soja and Dorota Szpajda, Marzena Zajączkowska, Michał Żak.
Wir wurden vom Büro des Europäischen Parlaments in Wrocław mit einer Ausstellung auf dem 14. Frauenkongress in Wrocław (Hala Stulecia) eingeladen. "Botschaft der Polinnen*. Polnische Protestkunst in Berlin" von Anna Krenz, mit: Wojtek Drozdek, Oliver Feldhaus, Gabriella Falana, Sabrina Gröschke, Liam Hayes, Camilla Lobo, Patrycja Makucewicz, Maciej Soja and Dorota Szpajda, Marzena Zajączkowska, Michał Żak.
Zostałyśmy zaproszone przez Biuro Parlamentu Europejskiego we Wrocławiu z wystawą na XIV Kongresie Kobiet we Wrocławiu (Hala Stulecia). "Botschaft der Polinnen*. Polska sztuka protestu w Berlinie" autorstwa Anny Krenz, z: Wojtek Drozdek, Oliver Feldhaus, Gabriella Falana, Sabrina Gröschke, Liam Hayes, Camilla Lobo, Patrycja Makucewicz, Maciej Soja and Dorota Szpajda, Marzena Zajączkowska, Michał Żak.
Ambasada Polek we Wrocławiu / Botschaft der Polinnen in Wrocław
***
10.–12. Oktober 2022 / Filmreihe "One World Berlin – Menschenrechte aktuell. Reproduktive Rechte zwischen Ratifizierung und Rollback".
Drei Filmabende beleuchteten den Kampf um reproduktive Rechte in Irland, USA und Deutschland und boten einen Raum für Diskussion mit Expert*innen, Aktivist*innen und Publikum über dieses Thema, das breite Teile der Bevölkerung betrifft. Diskussionen moderiert von Anna Krenz, Dziewuchy Berlin.
Filmreihe: Reproduktive Rechte zwischen Ratifizierung und Rollback
***
17.11.2022 Dziewuchy Berlin @ Diversity in the Climate Debate
Der nächste Klimagipfel hat begonnen. In den Medien sind migrantische Stimmen zum Klimawandel
selten. Das Projekt EU24 – Engage 4thePlanet will in den nächsten zwei Jahren dazu beitragen, die
politische Teilhabe an Umwelt- und Klimaschutzthemen vielfältiger zu gestalten. Diskussion mit:
– Rita Trautmann, NaturFreunde Deutschlands
– Gianna Martini, Greenpeace
– Anna Krenz, Dziewuchy Berlin, Polish Queer Feminist Collective
– Arian Darat, Ayande, Iranische Gemeinde Berlin
– Yonas Endrias, Zentralrat der afrikanischen Gemeinde in Deutschland e.V.
17.11.2022 Dziewuchy Berlin @ Diversity in the Climate Debate