We cooperate with and support music bands, take part in film projects and we do have a word.
Solidarity with Polish Women – video made by the International Council of Polish Women
Drogie siostry z Polski! Łączymy się z Wami z okazji Międzynarodowego Dnia Kobiet i nie tylko! Nigdy nie będziesz szła sama! Dwie grupy, Polonijna Rada Kobiet i Wino Feministyczne, reprezentujące Polki za granicą, zaprosiły społeczność międzynarodową do przyłączenia się do nas i pokazania solidarności z kobietami w Polsce. Ten film jest deklaracją naszego silnego wsparcia dla Polek walczących przeciwko działaniom obecnego rządu. Potępiamy orzeczenie polskiego Trybunału Konstytucyjnego wprowadzające niemal całkowity zakaz aborcji, a także inne akty dyskryminacji ze względu na płeć mające miejsce w naszym kraju. Razem wygramy i będziemy chronić naszą wolność wyboru i decydowania!
Dear Sisters in Poland! We unite with you on our day, the International Women Day, and beyond. You will never walk alone! Two groups, International Council of Polish Women and Feminist Wine, representing Polish Women abroad, invited the international community to join us in expressing our solidarity with the Polish Women in Poland. This movie is the declaration of our strong support to the Polish women in their fight against the government's actions. We condemn the Polish Constitutional Court's ruling introducing a near-total ban of abortion as well as other acts of gender discrimination taking place in our home country. Together we will win and protect our freedom to choose and decide. Edycja: Snorri Granisson Grafika: Anna Krenz & Ew Miko Organizacja: Agnieszka Losinska & Ania Palmowska
11.11.2020 Dzień Polki Niepodległej: Za Naszą i Waszą Wolność
W ramach Trzeciego Krwawego Tygodnia, Dziewuchy Berlin podejmują inicjatywę przemianowania Pomnika Żołnierza Polskiego i Niemieckiego Antyfaszysty (niem. Denkmal des polnischen Soldaten und deutschen Antifaschisten) w Volkspark Friedrichshain na Pomnik Osób Walczących za Naszą i Waszą Wolność.
11.11.2020 Tag der Unabhängigen Polin / Tag des Unabhängigen Polen: Für Eure und unsere Freiheit / Za wolność naszą i waszą Im Rahmen der dritten sog. "Blutige Woche" in Berlin unternimmt die Gruppe Dziewuchy Berlin die Initiative: das Denkmal der polnischen Soldaten und deutschen Antifaschisten im Volkspark Friedrichshain wird zum "Denkmal für Menschen*, die für unsere und eure Freiheit kämpfen", umbenannt.
---
Documentary Film screening "ASKI / HANGER / WIESZAK" and discussion about the abortion ban in Poland. 
---
1.9.2019 Dziewuchy Berlin beim Gemeinsamer Antikriegstag/ Weltfriedenstag 2019 der Berliner Friedensbewegung / Występ Gabriel Bertin
---
Filmpremiere "Siłaczki" / "Frauen der ersten Stunde"
über 100 Jahre Frauenrechte in Polen (aber auch in Deutschland)
Ein Doku-Spielfilm von Marta Dzido und Piotr Śliwowski, Autoren des bekannten Films "Die Frauen der Solidarność"
OFmDU
Donnerstag, 7. März, 19 Uhr im Kino Regenbogenfabrik
Modertion Professorin Magdalena Waligórska, Uni Bremen.
Die Autoren des Films sind anwesend!
Eine Veranstaltung auf Deutsch.
Kommt verkleidet!
Unterstützung: Heinrich-Böll-Stiftung
Weitere Filmvorführungen in Kino Lichtblick >>>
---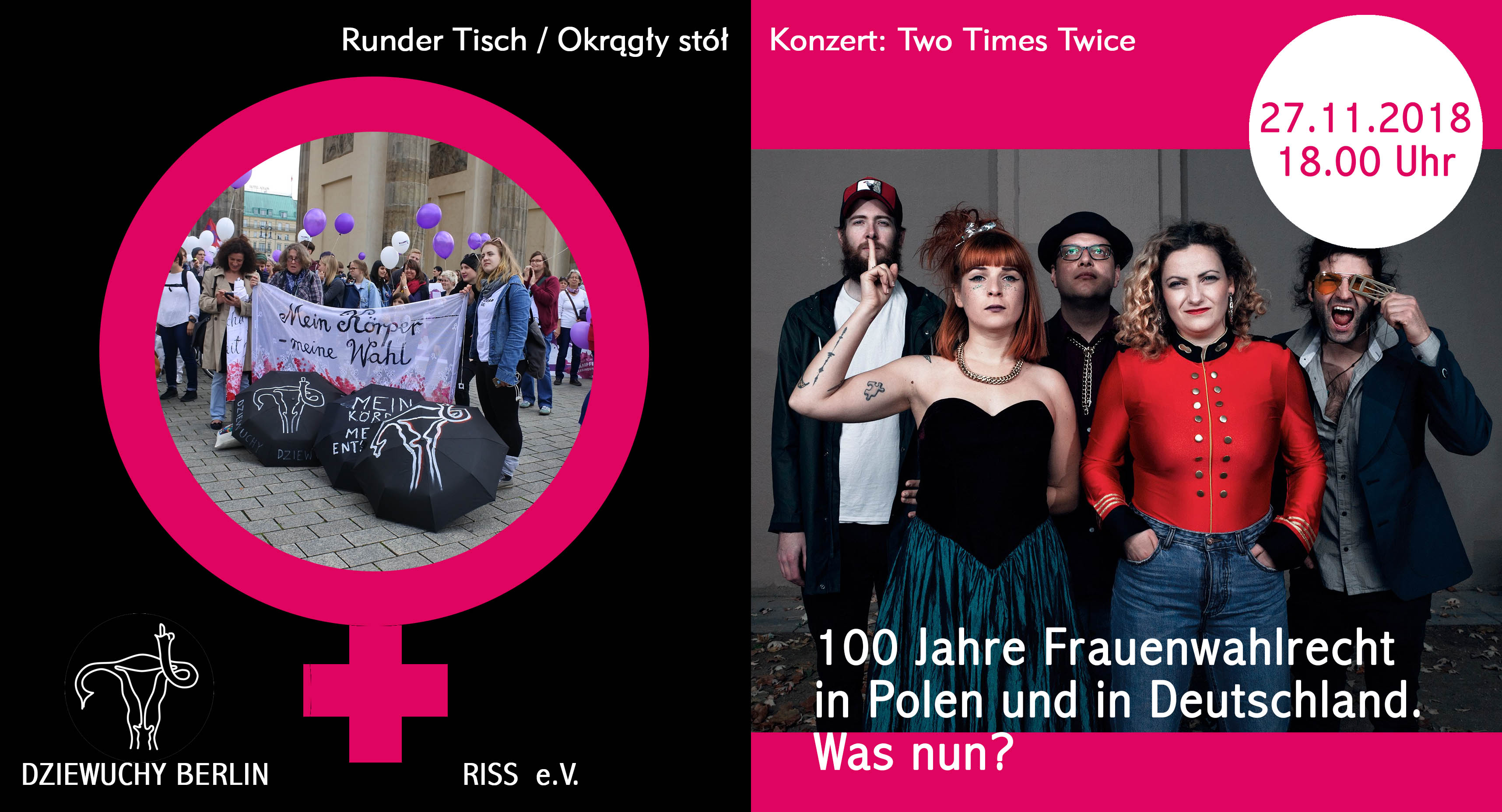 100 Jahre Frauenwahlrecht in Polen und in Deutschland. Was nun?
Wir feiern 100 Jahren Frauenwahlrecht. Es erinnert an eine Erfolgsgeschichte, die bis in die Gegenwart hineinwirkt: seit sich Frauen auf den Weg gemacht haben, um ihre Hälfte der Welt zu erobern, wurde ihr Recht sich politisch zu beteiligen, zu wählen und gewählt zu werden, nach und nach in Polen in Deutschland und allen anderen Ländern Europas gesetzlich verankert.
Wo stehen wir heute, 100 Jahre später? Was Nun?
Wir laden Sie ein zu einer Diskussion am runden Tisch.
Unsere Runde endet mit einem Konzert der Band Two Times Twice .
Two Times Twice ist eine vielseitige, fünfköpfige Gruppe mit Sängerin Edyta Rogowska und die Rapperin Sarah Sordid an der Spitze. Die Band durchkreuzt Hip-Hop mit mehreren Genres, die sich von Jazz bis zum Techno reichen, um einen neuen Sound für die aktuelle Zeit zu kreieren.Two Times Twice veröffentlichten in 2017 ihre erste EP "Trial and Error", wobei die erste Single "Woman Scorned" zu einer feministischen Hymne wurde. Die zweite Veröffentlichung der Band, "Live Berlin Session" aus dem Jahr 2018, enthält alle neuen Bandmitglieder. Gitarrist Alex Moore, Bassist Piotr Niedzwiedzki und Schlagzeuger Alex Cumming.
In cooperation with Two Times Twice and RISS e.V.
27.11.2018 / 18.00 Uhr
Club der polnischen Versager, Ackerstraße 169, 10115 Berlin, Germany
---
We recommend:
3 TAGE IN BERLIN
Zwei radikal auseinanderdriftende Ansätze zur aktuellen rechtlichen Abtreibungssituation in Polen: eine katholische Initiative, die öffentliche Rosenkranzgebete in pro-life-Manier veranstaltet und Aktivistinnen aus Berlin, die polnischen Frauen dabei helfen eine Abtreibung in Deutschland zu organisieren, wo dies (beinahe) legal ist. Ein grenzüberschreitender Beitrag.
3 TAGE IN BERLIN
14 Min. | Regie: Kamil Bembnista | Storyline: Karolina Golimowska |
Kamera: Katarzyna Mazur
Produktion: Kamil Bembnista, Karolina Golimowska | Schnitt: Ludmilla
Korb-Mann | Ton: Kamil Bembnista | Sound Design: Daniel Dias | Sound
Edititng: Sebastian Borchers | Colorist: Jasper Brand | Klavier: Clemens
Helm
---