Zakończył się Krwawy Tydzień w Berlinie – czyli seria akcji solidarnościowych z kobietami w Polsce, w reakcji na wyrok pseudo Trybunały Konstytucyjnego zakazującego aborcji.
Siostry* w Polsce nie przestają protestować, my też nie odpuszczamy!
Stoimy solidarnie, ponad granicami!
Jesteśmy z Wami i dla Was!
Będziemy cisnąć ile sił!
Ogłaszamy kolejny, drugi Krwawy Tydzień! Żeby wykrzyczeć naszą wściekłość, wytańczyć nadzieję, i uczyć się jak praktykować radykalną solidarność.
ENGLISH
The Bloody Week in Berlin has ended – that is, a series of solidarity actions with women in Poland, in response to a pseudo-constitutional judgment banning abortion in Poland. We announce another, second Bloody Week!
Our sisters* in Poland do not stop and won't either!
We will stand in solidarity!
We will be there for you and with you!
We will push the limits of what's possible!
Just to remind you: since 22 October 2020, protests, activist actions, and blockades have been held in Poland and worldwide. On that day the Polish Constitutional Tribunal restricted the abortion law to a near-total abortion ban. We do not accept this verdict.
The next bloody week is ahead of us – to scream out our rage, to dance out our hope and to learn how to practice radical solidarity. We are learning it together. Here and now.
ROZKŁAD JAZDY / TIMELINE FOR THIS WEEK:
> Spacery pod Ambasadę – codziennie w południe i wieczorkiem zapraszamy na spokojne przechadzki | Walks around the Embassy – every noon and evening you can wander around.
więcej / more >>>
Facebook >>>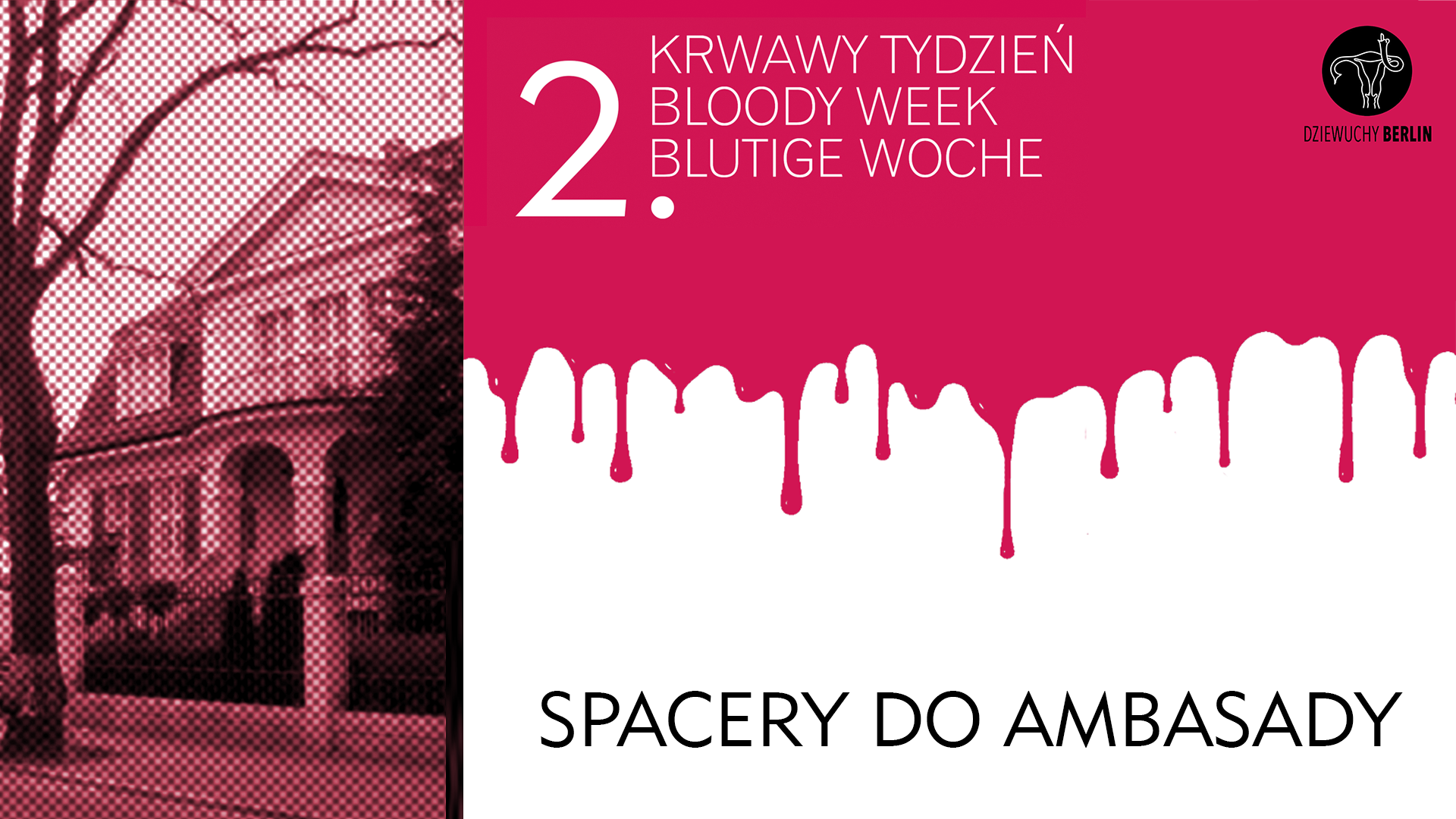 > 05.11.2020, czwartek godzina 18.00 – CZARNY SPACER z parasolkami – od Babelplatz do Brandenburger Tor (tylko Unten den Linden), po drodze jest płot nieistniejącej polskiej ambasady | 05.11.2020/ Thursday, 18:00, Bebelplatz – Black Walk – You will never walk alone.
Więcej / more >>>
Facebook >>>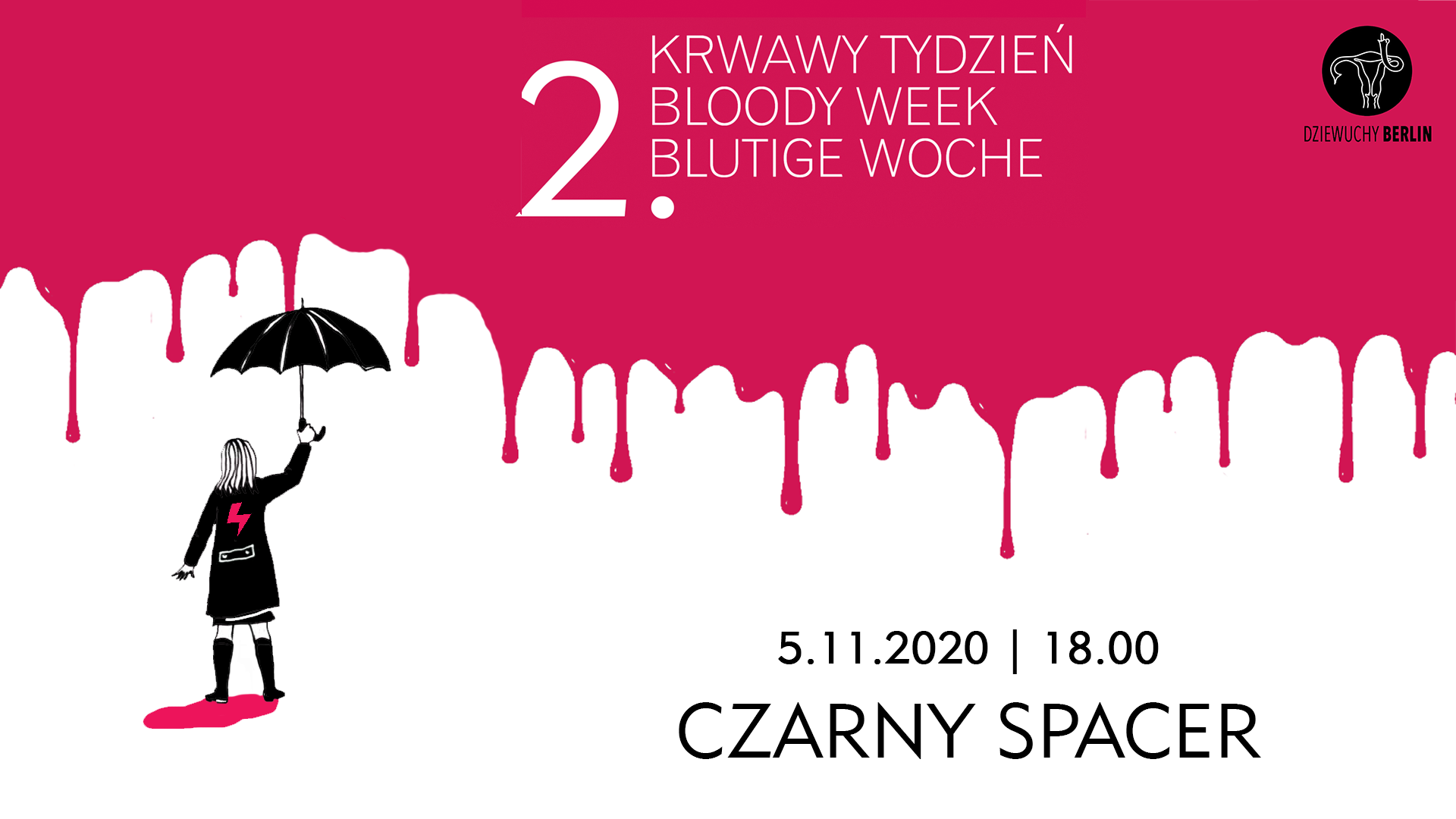 > 07.11.2020, sobota – Techno Procesja – "If I can't dance it's not my revolution" | 07.11.2020/ Saturday, 15:00, Hermannplatz – Techno Procession – "If I can't dance it's not my revolution".
więcej / more >>>
Facebook >>>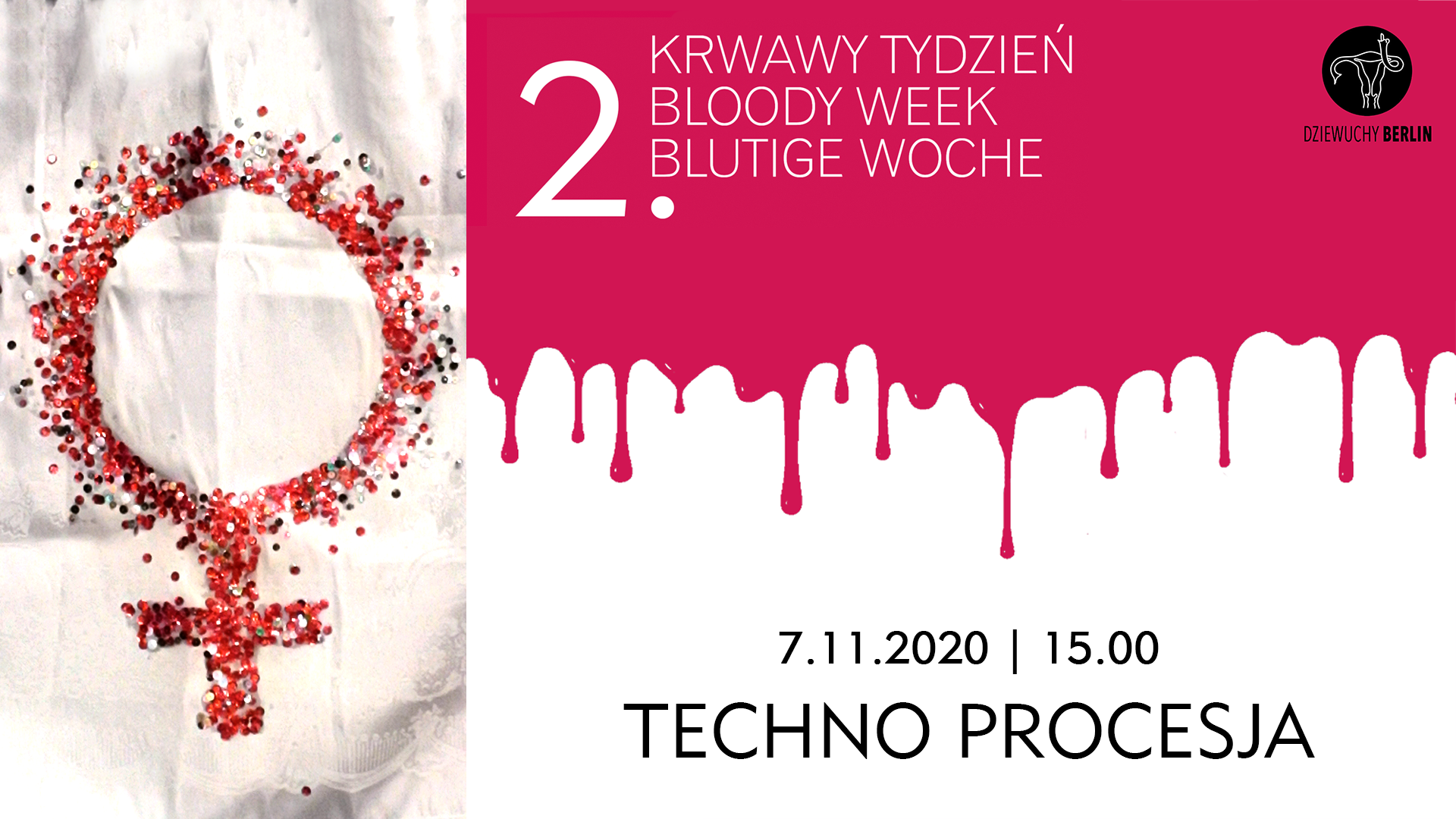 > Akcja #Ulicaizagranica trwa nadal! | #Ulicaizagranica still on!
I pamiętajcie o nadchodzącym 11 listopada! | And remember about the upcoming 11th of November!
Co działo się w zeszłym Krwawym Tygodniu? | What we did last Bloody Week: https://www.facebook.com/events/742190006335989/