Impressions of  Warsaw Pride 2017 / Parada Rownosci 03.06.2017
I did not have any expectations coming to Warsaw this weekend. I knew there was going to be the parade of which I did not know how it would turn out.
Arriving on Friday, one day before Pride, I found myself sitting at a panel discussion about LGBTI+ rights. It was organized by the European Greens and split in two parts. First, there were representatives of parties in Ireland and Poland and of the European commission and the council of Europe. Discussing how to enhance the situation of LGBTI+ people in whole Europe on an European level, I noticed however, that it was too far from my own activism. Even though it was very educative and interesting, I did not see how I myself could help.
For that reason, I was glad about the second panel which included LGBTI+ activists from Poland, Russia and Hungary. They showed pictures of their activism in their own country, so that one could really get a glimpse into it. Afterwards, they discussed their emotions, backgrounds, actions and more.
After those 3 ½ hours I was totally prepared for Pride. And I must say, I was enchanted. I have been going to the Christopher Street Day in Berlin for the past three years but never did I feel what I felt this Saturday. A little less dancing, but more solidarity. However, both coincide in their acceptance, love and openness. The moment we passed the anti-protests by nationalist groups which included maybe ten people, I heard myself and the rest of the mass screaming: "Chodzcie z nami!" (Come with us!)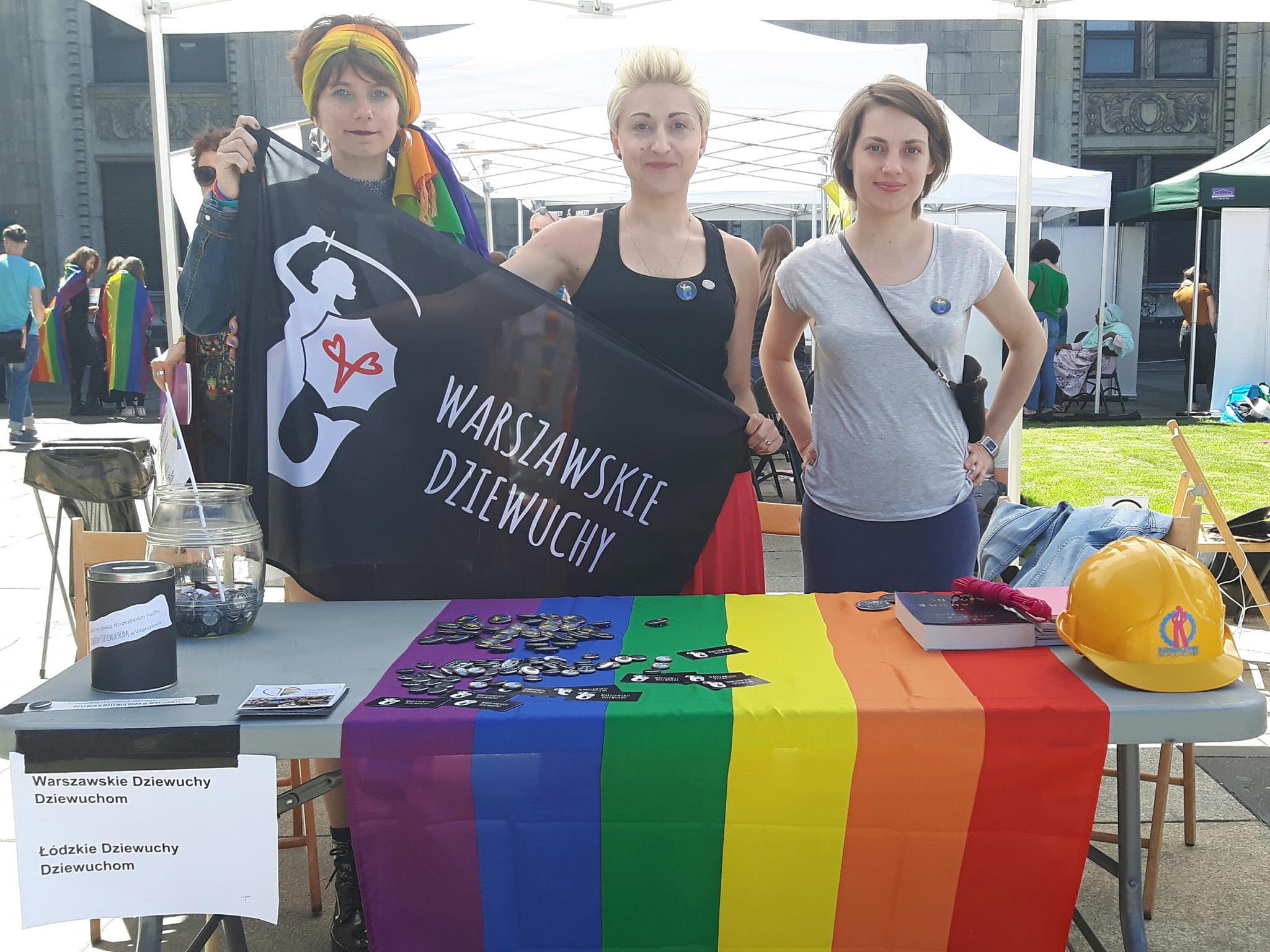 Warsaw Dziewuchy & Lódź Dziewuchy & Berlin Dziewuchy!
But before the Parade, I joined the Warsaw Dziewuchy Dziewuchom at the Diversity Village. While the Warsaw Dziewuchy were informing other people of their activism in Warsaw and distributing beautiful pin-ons portraying their symbol in a gayer version, I started to talk to people about what we are doing in Berlin. Many were glad, that there was so much international solidarity as they did not knew about our group being still active after the Black Monday. Meeting also people from Cuzamen Berszawa and Dziewuszki Dziewuszkom who told me about their actions, I was surprised by the relaxed and open atmosphere.
To put it in a nutshell, the Equality Parade 2017 was a masterpiece. It showed me again that the Polish society is so much more than PiS. And I feel honoured to have participated in the parade and obviously, I will stand in solidarity with them in Berlin AND Warsaw.
Gabriela Bertin / Dziewuchy Dziewuchom Berlin
Amazing photos of Marta Bogdanowicz: