We would like to invite you to the conference organised by the International Council of Polish Women, as Dziewuchy Berlin are one of the supporting organisations of the Council.
Konferencja "8 Marca ponad granicami" inauguruje powstanie międzynarodowej feministycznej platformy Polonijnej Rady Kobiet. Jednoczy ona Polki i osoby z polskiego kręgu kulturowego, żyjące na emigracji i zaangażowane w promowanie praw kobiet, feministycznej kultury i aktywizmu. Cztery debaty poświęcone zostaną kolejno prawu do aborcji, feministycznej Polonii i jej sojuszom, herstorii świętowania Dnia Kobiet oraz przeciwdziałaniu przemocy wobec kobiet. Proponujemy refleksję wzmacniającą feministyczną wrażliwość oraz perspektywę w analizie historii kobiet, ich obecnych społecznych i politycznych wyzwań. Jak inne kraje poradziły sobie z rozszerzeniem i wzmocnieniem praw reprodukcyjnych kobiet? Jak tworzyć globalne sposoby walki z opresją ze względu na płeć? Jak pogłębiać wiedzę o przeszłości kobiet i herstorie? Jak rozwijać feministyczne postawy Polonii? Polonijna Rada Kobiet pragnie nie tylko propagować i aktywizować feministyczną świadomość, ale także kultywować radość w realizowaniu kobiecej wspólnoty. Organizujemy się wokół procesu budowania świata przyjaznego kobietom, przeciwdziałającego wszelkim innym wykluczeniom.
The "March 8th Beyond Borders" conference initiates the foundation of a feminist platform, the International Council of Polish Women. This organization unites Polish women and people in the Polish cultural circle who live in emigration and are engaged in the promotion of women's rights, feminist culture and activism. Four panels will each cover one of our topics; abortion rights, the feminist Polish diaspora and its allies, herstory of the Women's Day celebrations and counteracting violence against women. We will offer reflexion on strengthening the feminist sensitivity as well as showing a new perspective on the analysis of the history of women; their current societal and political challenges. How have other countries managed to expand and reinforce women's reproductive rights? How can we create global methods for fighting gender-based oppression? How can we deepen our knowledge of women's past and herstory? How can we develop feminism within the Polish diaspora? The International Council of Polish Women wants not only to spread our feminist attitudes and activism but also cultivate the joy of women's collectivism, community and sisterhood. Together we are building towards a world friendly to all women, without exclusion.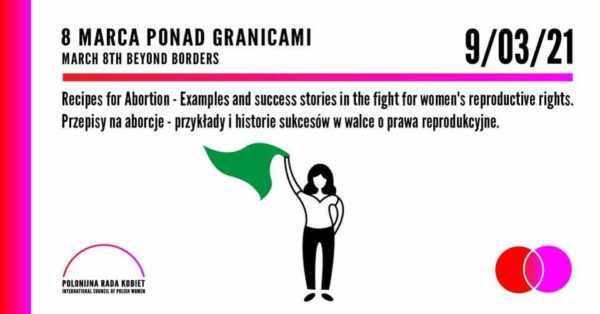 Panel 1 – Wtorek, 9 marca 2021 – Tuesday, March 9th 2021 – LANGUAGE ENGLISH 
LINK 
https://fb.me/e/51d7AHpte
Recipes for Abortion – Examples and success stories in the fight for women's reproductive rights
Przepisy na aborcje – przykłady i historie sukcesów w walce o prawa reprodukcyjne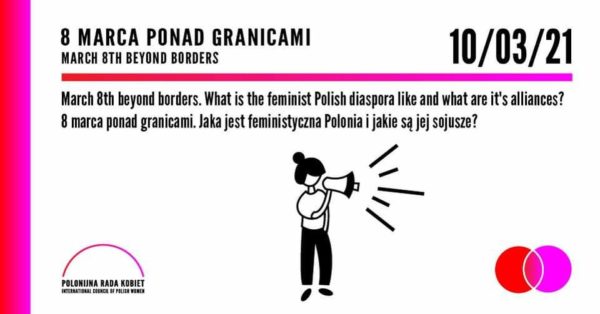 Panel 2 – Środa, 10 marca 2021 – Wednesday, March 10th 2021 – LANGUAGE ENGLISH 
LINK: 
https://fb.me/e/YrVqXft7
March 8th beyond borders. What is the feminist Polish diaspora like and what are it's alliances?
8 marca ponad granicami. Jaka jest feministyczna Polonia i jakie są jej sojusze?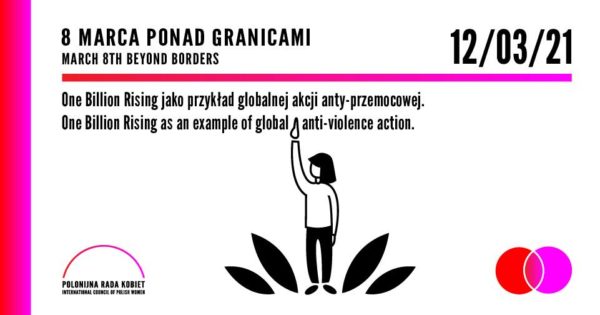 Panel 3 – Czwartek, 11 marca 2021 – Thursday, March 11th 2021 – JĘZYK POLSKI 
LINK: 
https://fb.me/e/3BqMew8AT
Co Ty wiesz o 8 marca? Herstoria święta kobiet.
What do you know about March 8th? Herstory of Women's Day.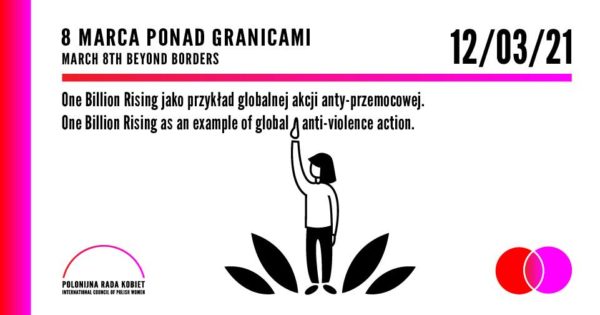 Panel 4 – Piątek, 12 marca 2021 – Friday, March 12th 2021 – JĘZYK POLSKI 
LINK: 
https://fb.me/e/1XvSIPIwT
One Billion Rising jako przykład globalnej akcji anty-przemocowej.
One Billion Rising as an example of global anti-violence action.
Propozycja konferencji/Conference Idea – Agnieszka Rutkowska i Joanna Lasserre
Współpraca przy koncepcji i realizacji/Concept coordination and implementation – Elles sans frontières
Opieka merytoryczna/Content supervision – Agata Araszkiewicz
Koordynacja/Coordination – Magdalena Myszka
Oprawa graficzna/Graphic design – Ania Troszkiewicz (logo), Wiktoria Konwent, Anna Krenz i Ew Miko (grafiki)
Opisy poszczególnych paneli i osób w nie zaangażowanych już wkrótce.