(English below)
(słowa do śpiewania poniżej)
28.11.2020 | 15.00 | Warschauer Brücke, 10243 Berlin, Deutschland
W 102 rocznicę wywalczenia przez Polki praw wyborczych…
…stoimy na ulicach, krzyczymy na ulicach i tańczymy na ulicach. Zainspirowane utworem "Partyzantka" SIKSY, odtańczonym i wykrzyczanym w Gnieźnie, w wielu miastach tańczymy i będziemy tańczyć i śpiewać, wspólnie, by wyrazić naszą determinację i wkurw.
W Poznaniu rozpoczyna się Łańcuch Tańca zaproponowany przez Siostry ze Szczecina. W czwartek 19 listopada o 19.00 na ul. Św. Marcin w Poznaniu odbył się wspólny taniec (Inicjatywa: Grupa Stonewall, Black Venus Protest, Poznański Ruch Antyfaszystowski, NBF Nowy Byt Feministyczny, W naszej sprawie, Strajk Kobiet Poznań).
Kolejne miasto to Berlin – zostałyśmy nominowane przez Poznań! Siostrzeństwo ponad granicami! I my nominować będziemy kolejne miasto, stay tuned!
W sobotę 28 listopada 2020, o godzinie 15.00 przy Warschauer Brücke spotykamy się żeby odtańczyć, wyśpiewać i wykrzyczeć "Partyzantkę" Siksy i zaśpiewać nasz berliński utwór "Moja Macica to nie Kaplica", który słyszałyście już w Berlinie nie raz podczas Krwawych Tygodni.
Tańczyć będziemy z najlepszymi Feministycznymi Cheerleaderkami w Berlinie!
Grupa Radykalnych Cheerleaderek Wkurw powstała spontanicznie w odpowiedzi na trwające w Polsce strajki kobiet i osób z macicami. Jako siostrzeńczy ruch, pragniemy dodać sił wszystkim osobom walczącym o wolność i samostanowienie. W naszej autonomicznej grupie jest miejsce dla wszystkich pragnących we wspólnym tańcu i działaniu zmieniać rzeczywistość.
Chodźcie z nami, tańczcie z nami, krzyczcie z nami! Ponad granicami!
Link do nagrania z wykonania PARTYZANTKI w Gnieźnie – do nauki choreografii:
https://www.youtube.com/watch?v=AkFsGfIf2VQ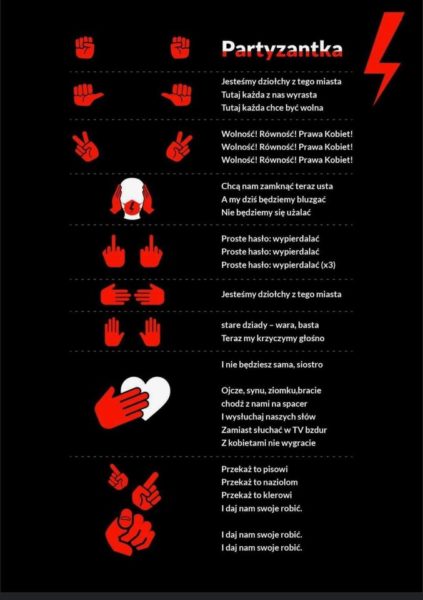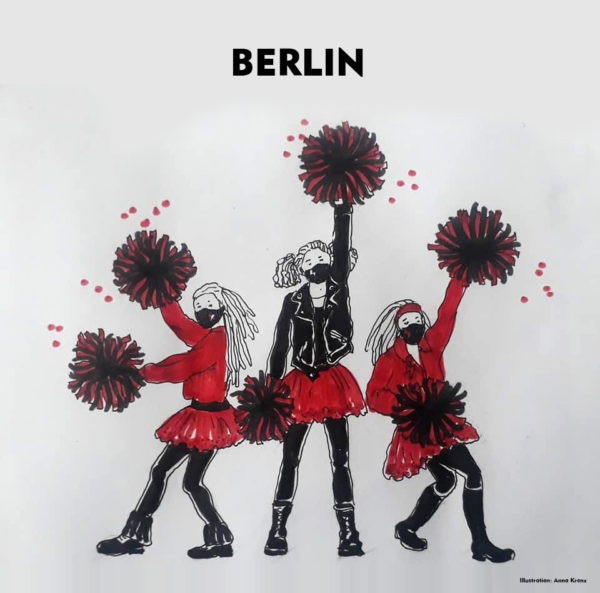 ENG
Join us for music and dance beyond borders, in solidarity with women in Poland and elsewhere! We've got the power!
On the 102nd anniversary of the Polish women winning their election rights……we take over the streets, screaming and dancing. Inspired by the song "Partisan" by SIKSA, which was danced and shouted in a Polish town called Gniezno, pass the dance on through many cities, and we will dance and sing together to express our determination and our fucking self.
The Dance Chain proposed by the Sisters from Szczecin begins in Poznan. On Thursday, November 19 at 19.00, a joint dance took place on St. Martin Street in Poznan (organised by: Stonewall Group Initative, Black Venus Protest, Poznan Anti-Fascist Movement, NBF New Feminist Being, W Naszej Sprawie, Women's Strike Poznan).The next city to dance is Berlin – we have been nominated by Poznan! Sisterhood across borders! And we will nominate another city – stay tuned!
On Saturday, 28th November 2020, at 15.00 at Warschauer Brücke, we meet to dance, sing and shout "Partisan" by #Siksa and sing our Berlin song "Moja Macica to nie kaplica" (My Mother is not a Chapel), which you have already heard in Berlin more than once during Bloody Weeks.
We will dance with the best Feminist Cheerleaders in Berlin! The group of Radical Cheerleaders – WKURW, was created spontaneously in response to the strikes of women and people with uterus in Poland. As a sisterly movement, we want to give strength to all those fighting for freedom and self-determination. In our autonomous group there is a place for everyone who wants to change the reality in a common dance and action.
Come with us, dance with us, shout with us! Beyond borders! Link to the recording of the performance of the PARTISANT in Gniezno – to learn choreography:
https://www.youtube.com/watch?v=AkFsGfIf2VQ
#Partyzantka #Dancebeyondborders #DziewuchyBerlin #Womensstrike #FrauenStreik #StrajkKobiet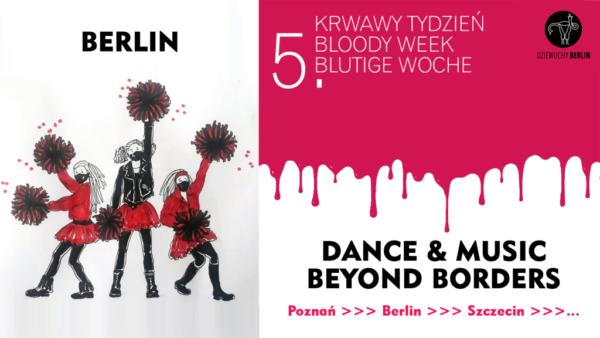 PARTYZANTKA (Siksa)
Jesteśmy dziołchy z tego miasta
Tutaj każda z nas wyrasta
Tutaj każda chce być wolna
Wolność! Równość! Prawa Kobiet!
Wolność! Równość! Prawa Kobiet!
Wolność! Równość! Prawa Kobiet!
Chcą nam zamknąć teraz usta
A my dziś będziemy bluzgać
Nie będziemy się użalać
Proste hasło: wypierdalać
Proste hasło: wypierdalać
Proste hasło: wypierdalać
Jesteśmy dziołchy z tego miasta
stare dziady – wara, basta
Teraz my krzyczymy głośno
I nie będziesz sama, siostro
Ojcze, synu, ziomku,bracie
chodź z nami na spacer
I wysłuchaj naszych słów
Zamiast słuchać w TV bzdur
Z kobietami nie wygracie
Przekaż to PiSowi
Przekaż to naziolom
Przekaż to klerowi
I daj nam swoje robić.
Deutsch:
Guerilla Girls

Wir sind die Mädels aus dieser Stadt
Hier wuchs jede von uns auf
Hier will jede von uns frei sein
Freiheit! Gleichheit! Frauenrechte!
Freiheit! Gleichheit! Frauenrechte!
Freiheit! Gleichheit! Frauenrechte!
Man will uns zum Schweigen bringen
Doch wir werden heute fluchen
Es wird heute nicht gejammert
Die Parole ist: WYPERDALAC!
Wir sind die Mädels aus dieser Stadt
Und haben euch, alte Greise satt!
Nun schreien wir laut und deutlich
Du bist nicht alleine, Schwester
Vater, Sohn, Kumpel, Bruder
Kommt mit uns! Spaziert mit!
Hört uns an, nicht den TV- Shit!
Gegen die Frauen gewinnt ihr nicht!
Sag´s der PIS
Sag's den Nazis
Sag´s dem Klerus
Und lass´ uns unser Ding machen
Lasst uns unser Ding machen!
Moja Macica 
Moja macica to nie kaplica
To moje ciało, sama zdecyduję
Czy urodzę czy wyjdę na ulicę
wykrzyczeć głośno to co czuję
Nigdy nie będziesz szła sama x4
Radykalne Cheerliderki Wkurw
Hej, mamy coś do powiedzenia
bez waszego brudnego sumienia
chcemy wolności
chcemy godności
od waszych ustaw mamy nudności
To jest nasz głos  w proteście
Odpierdolcie się  nareszcie