As every year, the still divided Berlin hosts many demonstrations and actions on the International Women's Day. Protest hopping is a unique experience, highlighting the diversity of feminist communities in the city but also their lack of unity.
We marched with the Alliance of International Feminists at the "Our Revolution is coming!" March, and later we joined the "FRIEDEN – FREIHEIT – SELBSTBESTIMMUNG und GUTE ARBEIT für Frauen" demo and at 16.00 on Bebelplatz, we held a short speech about the war and patriarchy, giving up stage to our sisters from Georgia who struggle with the dramatic new anti-NGO law, we also conducted Global Scream (as every year) as a symbolic action that could unify us all, regardless of gender, nationality, location, political views – at least for one minute in a year, we would stand united. We introduced the action of 1-minute screaming – Global Scream (Aufschrei Global) in 2019 Berlin and other cities in Germany and worldwide. Since then, we conduct it every year at the International Women's Day and other occasions.
This year, both in words and artistic forms (banners) we referred to the war in Ukraine, sisterhood but also to history and the struggle for freedom in 1848.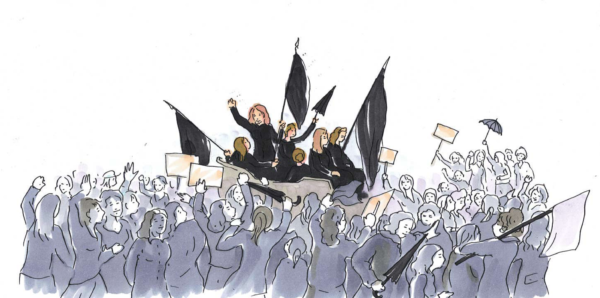 The Spring of Women* / Frühling der Frauen* / The Spring of Women*.
March Revolution / March Revolution 2023
As we celebrate the 175th anniversary of the March Revolution in Berlin and the Spring of Nations in Europe, we are referring to those events and feminizing the revolution. Just as the people in 1848, fought for freedom, so today we also fight for freedom, but also for women's and LGBT+ rights.
The Spring of Nations – a series of popular revolutionary and national uprisings that took place in Europe between 1848 and 1849.
Revolutionary movements in one country affected other nations. Many activists of the Spring of Peoples were active in different countries and communicated with each other. In Poland, uprisings were prepared, but nothing came of it.
Events like the Spring of Nations and the March Revolution are also the beginning of women's emancipation in both countries. That's when women began to fight for their rights, often using the word for it (like Clara Zetkin, Louise Otto, Narcyza Żmichowska and Zofia Sokolnicka). They would not win voting rights until 60 years later – in 1918.
Despite the step forward when it comes to women's rights – there is still a great deal of work to be done. We are still fighting for the same thing. All over the world. Across borders. Once nations fought for freedom, today women* do.
Why refer to history?
To remember the women who fought, to show that there is much to be done for years, that the struggle continues. Besides, the role of Poles in the March Revolution in Berlin is huge. Their release after the "trial of the Poles" was an important event for the revolution itself and for Polish-German friendship. And we are cultivating Polish-German sisterhood, in spite of the Polish government. Famous words of Ludwik Mierosławski "Für unsere und eure Freiheit" / "Za naszą i waszą wolność" / "For our and your freedom" are carrying another (feminist!) message in 2023.
Georgia
More about the situation in Georgia via @facebook.com/womenfundgeorgia
"On February 20th, 2023, a draft law on ´Agents of Foreign Influence´ was submitted to the Georgian parliament. It raises serious concerns about the state of freedom, democracy, and social justice in the country, and compromises hard-won progress in the field of human rights.
As outlined in the draft law, any Georgian-language media and broadcaster, as well as any non-governmental organization registered in Georgia would be directly affected if over 20% of their annual income comes from a ´foreign power´, i.e. foundations/organizations registered outside of Georgia. Such media and NGOs would be forced to register on a 'Foreign Influence Agents Registry' and disclose foreign funding. If they failed to do so, they would risk being fined up to 25,000 Georgian Lari ($9,400).
Initiated by ´People´s Power´, a fraction of the Parliament's ruling party Georgian Dream, the draft is similar to the foreign agent law which was first adopted by Russia in 2012. Shortly after submission, the Speaker of Parliament and other MPs endorsed the draft. It will be opened to official discussion with the precise timeline for voting and adoption unclear."
Fotos: Maciej Soja / Soja Photography
Some of the protests on the 8.3.2023 in Berlin:
*
11.00-13.30
Aktionstag gegen die Cloud / Action day against the cloud, Workshop
Mariannenplatz 2A, Berlin-Kreuzberg
FLINTA-only /// english & german
Web http://heartofcode.org/8maerz
Email: hello@heartofcode.org
Twitter: @heartofcode
*
11.00-13.30
Feminist*innen der Welt vereinigt euch Solidarität mit der feministischen Revolution im Iran
Route: Rosa-Luxemburg-Platz (AK) – Rosa-Luxemburg-Str. -Memhardstr. – Karl-Liebknecht-Str. – Spandauer Str. – Rathausstr. – Schloßplatz – Werderscher Markt – Französische Str. – Glinkastr. – Behrenstr. – Ebertstr. – Straße des 17. Juni – Yitzhak-Rabin-Str. – Heinrich-von-Gagern-Str. – Platz der Republik
*
11.30-14.00
Wenn wir streiken, steht die Welt still
Route: Anton-Saefkow-Platz (AP) – Karl-Lade-Str – Franz-Jacob-Straße – Storkower Str. – Thaerstr. – Weidenweg – Bersarinplatz (Richtungsfahrbahn Frankfurter Tor) – Petersburger Str. – Frankfurter Tor (EP).
https://www.instagram.com/p/CpKq-ZMs5i8/
*
12.00-14.00
fair share Sichtbarkeit für Künstler/innen
Wo: Schiffbauerdamm 40, 10117 Berlin. Performance auf Brücke zwischen Paul- Löbe- Haus und Marie- Elisabeth- Lüders- Haus zu Beginn der Kundgebung.
https://www.facebook.com/fairshareforwomenartists
*
12.00-15.00
Der Purple Ride
Eine queerfeministische Fahrraddemo zum internationalen feministischen Kampftag am 8. März.
Die Demo ist für FLINTA (Frauen, Lesben, Inter-, nichtbinäre und Transpersonen). Wir tragen alle Lila und nehmen uns sichtbar Raum im Straßenverkehr.
Route:
Mariannenplatz am Feuerwehrbrunnen – Mariannenstr. – Rio-Reiser-Platz – Skalitzer Str. – Am Kottbusser Tor (ggf. Umfahrung) – Skalitzer Str. – Wassertorplatz – Gitschiner Str. – Am Halleschen Tor – Mehringbrücke – Mehringdamm – Gneisenaustr. – Südstern – Hasenheide – Am Hermannplatz – Sonnenallee – Hertzbergplatz – Treptower Str. – Kiefholzstr. – Bouchéstr. – Puschkinallee – Schlesische Str. – Falckensteinstr. – Oberbaumbrücke – Warschauer Str. – Warschauer Brücke – Warschauer Str. – Frankfurter Tor.
https://www.facebook.com/events/6026064584128107/
*
13.00-15.00
"Wir fordern FRIEDEN – FREIHEIT – SELBSTBESTIMMUNG und GUTE ARBEIT für Frauen" Gewerkschaftliche Demonstration zum internationalen Frauen*kampftag (GEW +Verdi)
Route:
13.00 bis 15.00 Uhr Demonstionszug (Route: Invalidenpark – Invalidenstr. – Luisenstr. – Reinhardtstr. – Friedrichstr. – Unter den Linden – Bebelplatz)
15.00 bis 16.30 Uhr Abschlusskundgebung auf Bebelplatz
Auf der Abschlusskundgebung planen drei Redeblöcke:
Block 1: Frauen*rechte, Frauenbildung und -gesundheit weltweit solidarisch einfordern (Beiträge aus Ukraine und Russland, Iran, Afghanistan, Syrien, Türkei, Polen und den USA)
Block 2: Sorgearbeit aufwerten, Bildungsarbeit verbessern, Frauen*armut bekämpfen und ein gewaltfreies Leben von Frauen* und Kindern sichern
Block 3: Körperliche und sexuelle Selbstbestimmung für alle umfassend umsetzen, Streichung von § 218 aus dem StGB – jetzt
https://www.facebook.com/events/216673467592790/
*
13.00-14.00
Internationaler Frauentag; Rosen für Clara
Wo: Ahrensfelder Platz / Havemannstr. (AK) – Barnimplatz – Wittenberger Str. – Niemegker Str. – Clara-Zetkin-Park (Clara-Zetkin-Denkmal – EK) Der Treffpunkt ist um 13 Uhr vor dem Clara-Zetkin-Denkmal im Clara-Zetkin-Park.
*
14.00-18.00
*OUR REVOLUTION IS COMING* – Revolutionary Internationalist 8th March
Route: Frankfurter Tor – Frankfurter Allee – Alfredstr. (Vor JVA für Frauen)
Cis men are not invited, they are advised to take other actions to stop violence against women*
Insta: @allianc.int.feminist
https://www.facebook.com/events/1290893934805601
*
16.00-16.01
#GlobalScream
One minute of screaming, wherever you are.
https://www.facebook.com/…/1304872843…/1304874570064979/
*
17.00
No to Russian Law!
solidarity with people and NGOs in Georgia
Heinrich-von-Gagern-Straße, 10557 Berlin, Deutschland
https://www.facebook.com/events/1339503896626546/ 
*
18.00-22.00
queerfeministische Demo zum 8.3.
Route: Spreewaldplatz – Wienerstr. – Görlitzer Bhf. – Manteuffelstr. – Waldemarstr. -Adalbertstr. – Bethaniendamm – Mariannenplatz – Mariannenstr. – Rio#GlobalScream