29.5.2021 Aktionstag gegen Feminizide / Dzień Akcji przeciwko kobietobójstwu
W każdą ostatnią sobotę miesiąca Netzwerk gegen Feminizide organizuje dzień akcji przeciwko przemocy wobec kobiet, kobietobójstwu i patriarchatowi pod hasłem "Chcemy nas żywe". Akcje – wykłady, warsztaty, muzyka, odbywają się na Nettelbeckplatz, placu który inicjatywa nieoficjalnie przemianowała na Plac Oporu (Widestandsplatz).
W sobotę Dziewuchy Berlin przeprowadziły warsztat dotyczący feministycznych walk Polek, prezentując 5-metrową oś czasu – porównanie prawa aborcyjnego w Niemczech i w Polsce, opowiedziały o sytuacji Polek i zachęciły do malowania plakatów solidarności z symbolami – czerwonym piorunem (symbol strajku kobiet) i czarną parasolką.
Day of Action against Feminicide
Every last Saturday of the month the Netzwerk gegen Feminizide organizes a day of action against violence against women, femicide and patriarchy under the slogan "We want us alive". The actions – lectures, workshops, music – take place at Nettelbeckplatz, a square that the initiative has unofficially renamed Resistance Square (Widestandsplatz).
On Saturday, Dziewuchy Berlin held a workshop on the feminist struggles of Polish women, presenting a 5-meter timeline comparing abortion laws in Germany and Poland, talking about the situation of Polish women and encouraging people to paint solidarity posters with the symbols of red lightning (the symbol of the women's strike) and a black umbrella.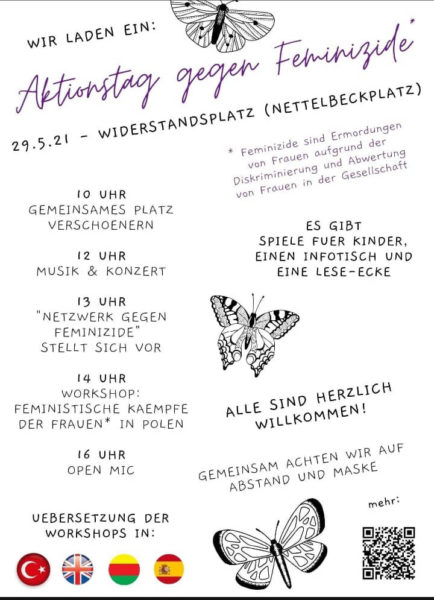 https://wirwollenunslebend.wixsite.com/netzwerkggnfeminizid/