DEMO 24.10.2020 | 15.00 | Burgstrasse, Berlin
About 1000 people gathered in front of the Polish Institute in Berlin, to express their solidarity with women* in Poland and their anger at the lastest events that took place in Poland – almost total ban of abortion.
Nein für ein Abtreibungsverbot!
Solidarität mit Frauen* in Polen!
In Polen wurde heute Abtreibung wegen Fehlbildung als verfassungswidrig erklärt.
Wir sind nicht damit einverstanden, dass uns das Recht auf Selbstbestimmung über unseren Körper und unserem Leben entzogen wird!
Wir sind gegen das Leben in Angst!
Wir sind nicht damit einverstanden, dass uns jemand unsere Selbstbestimmung und Entscheidungsfindung wegnimmt!
Wir fordern die Rücknahme der entscheidung des Verfassungsgerichts!
Wir fordern die Achtung der Frauen*rechte in Polen!
Wir fordern die Legalisierung des Schwangerschaftsabbruchs und ausreichende perinatale Betreuung!
Wir rufen zur internationalen Solidarität mit ungewollt schwangeren Personenin Polen !
————- ENG —-
No to abortion ban!
In Solidarity with Polish Women*!
Poland's top court has ruled that abortions in cases of foetal defects are unconstitutional. The abortion ban will be introduced in a few day after the decision will be officially published.
We do not agree with the withdrawal of the right to self-determination about our body and life!
We do not agree to live in fear!
We do not agree for anyone to take away our self-determination and decision-making!
We demand the withdrawal of the decision of the Constitutional Court!
We demand respect for human rights in Poland!
We demand the legalization of abortion and sufficient perinatal care!
We appeal for international solidarity with womxn in Poland !
Magdo's speech:
Our blood on your hands!
On October 22nd, the Polish Constitutional Tribunal, which is a political tool in the hands of the currently ruling Law and Justice party (PiS) decided that abortion cannot be motivated by an embryopathological reason. In other words – if the fetus is irreversibly damaged, the pregnant cannot be terminated.
In recent years, the Polish government lead by PiS had turned against its citizens. Claiming to protect "The Traditional Family", they take our reproductive and self-determination rights away. Women and non-heteronormative people became the enemy number one.
You are not protecting anyone. You are sentencing us for suffering. You cannot ban abortion, you can only ban SAFE abortion. If anyone suffers or dies because of pregnancy complications- it's going to be your fault. If if anyone suffers or dies because of the cycle of violence caused by your openly homophobic and transphobic politics – it's going to be your fault.
And we will not forget what you have done to us.
The only thing you are protecting is yourself and the monuments you build for yourself, dear politicians. You are not protecting "The Polish Family", you are destroying the Polish society.
But the more you oppress us, the more will we, the public enemies, the ones who see your hypocrisy, come together and fight back.
The war is not over yet. No fucking way.
Agnieschka's speech:
Tekst został odczytany na Poznańskiej Manifie w 2016 roku:
Kiedy w 2007 roku pojawił się projekt Ligii Polskich Rodzin, aby zmienić Konstytucję wprowadzając do niej zapis o "ochronie życia od momentu poczęcia" zaprotestowało wiele środowisk. Także Maria Kaczyńska, żona ówczesnego Prezydenta, podpisała się pod apelem o treści:
"Zwracamy się z apelem do posłanek i posłów, aby nie zmieniali Konstytucji w artykule dotyczącym godności człowieka. Konstytucja naszym zdaniem dostatecznie chroni życie i godność człowieka".
Za podpisanie się pod  apelem  Maria Kaczyńska była krytykowana przez  Jarosława Kaczyńskiego, który sugerował, że jego szwagierka została wprowadzona w błąd. Była też obrzucona  obelgami  przez ojca Tadeusza Rydzyka, który na falach radia Maryja powiedział, że "należy odróżniać szambo od perfumerii", a na spotkaniu ze studentami nazwał ją czarownicą.
Mimo tego Maria Kaczyńska podtrzymała swoją opinię:
 "Z pełnym przekonaniem podpisałam ten apel. Uważam, że zdarzają się w życiu niezwykle trudne sytuacje, w których należy ratować życie matek czy też nie żądać, by zgwałcona przez zwyrodnialca lub, co gorsza, bandę zwyrodnialców dziewczyna musiała rodzić. Chcę tu zwrócić uwagę, że nie dopuszczam myśli, by istniała możliwość usuwania ciąży na życzenie. Polskie przepisy są wystarczające. Jedynie w tych wypadkach, o których mówiłam wcześniej, można podjąć decyzję o aborcji. Kompromis, który  jest w obecnym kształcie Ustawy oceniała jako  dobry: "Został z trudem wypracowany i przegłosowany przez wszystkie ugrupowania parlamentarne w latach 90. Konstytucja wystarczająco chroni życie i godność człowieka"
Na pytanie, czy Prezydent, Lech Kaczyński jako katolik, zgadza się z jej postawą odpowiedziała:
"Mój mąż jest katolikiem, ale nie fundamentalistą".
To są słowa Marii Kaczyńskiej, która odważnie stanęła po stronie kobiet, ich prawa do wolności i godności.
Obecna władza – nie popiera i nie solidaryzuje się z kobietami czego wyrazem jest wyrok Trybunału Konstytucyjnego!
Anna's speech:
Jak mogło do tego dojść? To nie dziwi. W 2015 roku Pis doszedł do władzy, w kilka lat rozmontował trójpodział władzy zagarniając wszystkie trzy demokratyczne narzędzia dla siebie. Reformy sądownictwa, podwójne nominacje w trybunale konstytucyjnym, nie wydrukowanie ustaw trybunału poprzedniej kadencji, które krytykowały nowe zmiany. To wszystko był długi proces przejmowania władzy w Polsce przez PiS. I się udało. Nawet nasze protesty niewiele dały. Unijne narzędzia i artykuł 7, opinie różnych międzynarodowych komisji – wszystko na nic.
Nie zapomnijcie tego nazwiska – Prezes Trybunału Konstytucyjnego Julia, żona ambasadora Polski w Berlinie.
Dlaczego PiS użył trybunału konstytucyjnego? Bo sejm nie był tak jednomyślny. Społeczeństwo jest za utrzymaniem obecnego stanu, wiele osób za liberalizacją.
Ale czas ucieka. Im dłużej czekamy, tym więcej osób staje po stronie prawicy i nacjonalistów. Pandemia w tym pomaga. ludzie szukają przywódców, idei, ratunku. Przyjmują ich prawicowcy i fani teorii spiskowych Qanon.
I to się dzieje na całym świecie.
A Czas ucieka.
W Polsce prawica, kościół, ultrakatolicy i fanatycy świętują swoje zwycięstwo. Biskupi klaszczą.
Nasz przeciwnik jest wielki, czy mamy szansę wygrać z goliatem? Tylko razem.
Obecny trybunał jest atrapą. moglibyśmy prosić premiera, by nie drukował decyzji o aborcji, ale tym samym sankcjonujemy istnienie tej atrapy.
Wywłaszczyć polski trybunał konstytucyjny.
Wywłaszczyć polską Ambasadę.
Wie konnte das passieren? das ist nicht überraschend.
2015 kam Pis an die Macht, in wenigen Jahren brach er die Gewaltenteilung und nahm alle drei demokratischen Instrumente für sich. Reformen der Justiz, doppelte Ernennungen im Verfassungsgericht, Versäumnis, die Gesetze des vorherigen Gerichts zu drucken, die die neuen Änderungen kritisierten. Es war alles ein langer Prozess der Machtübernahme in Polen durch PiS. Und es hat funktioniert. S
elbst unsere Proteste haben nicht viel gebracht. EU-Instrumente und Artikel 7, Meinungen verschiedener internationaler Komitees – alles umsonst. Vergessen Sie diesen Namen nicht – Präsidentin des Verfassungsgerichts Julia, Frau des polnischen Botschafters in Berlin.
Warum hat PiS das Verfassungsgericht benutzt? weil der Seym nicht so einstimmig war. Die Gesellschaft dient der Aufrechterhaltung des gegenwärtigen Zustands, viele der Liberalisierung.
Aber die Zeit läuft davon. Je länger wir warten, desto mehr Menschen stehen auf der Seite der Rechten und der Nationalisten. Die Pandemie hilft dabei. Menschen suchen nach Führern, Ideen, Rettung. Sie werden von Rechten und Fans der Qanon-Verschwörungstheorien übernommen. Und es passiert auf der ganzen Welt.
Die Zeit läuft ab. In Polen feiern der rechte Flügel, die Kirche, Ultrakatholiken und Fanatiker ihren Sieg. Die Bischöfe klatschen. Unser Gegner ist großartig.
Haben wir eine Chance, mit dem Goliath zu gewinnen? nur zusammen.
Das derzeitige Tribunal ist ein Dummy. Wir könnten den Premierminister bitten, die Entscheidung über die Abtreibung nicht auszudrucken, aber wir sanktionieren damit die Existenz dieser Attrappe. das polnische Verfassungsgericht enteignen. die polnische Botschaft enteignen.
Video: Omas gegen Rechts Berlin
Foto – Soja Photography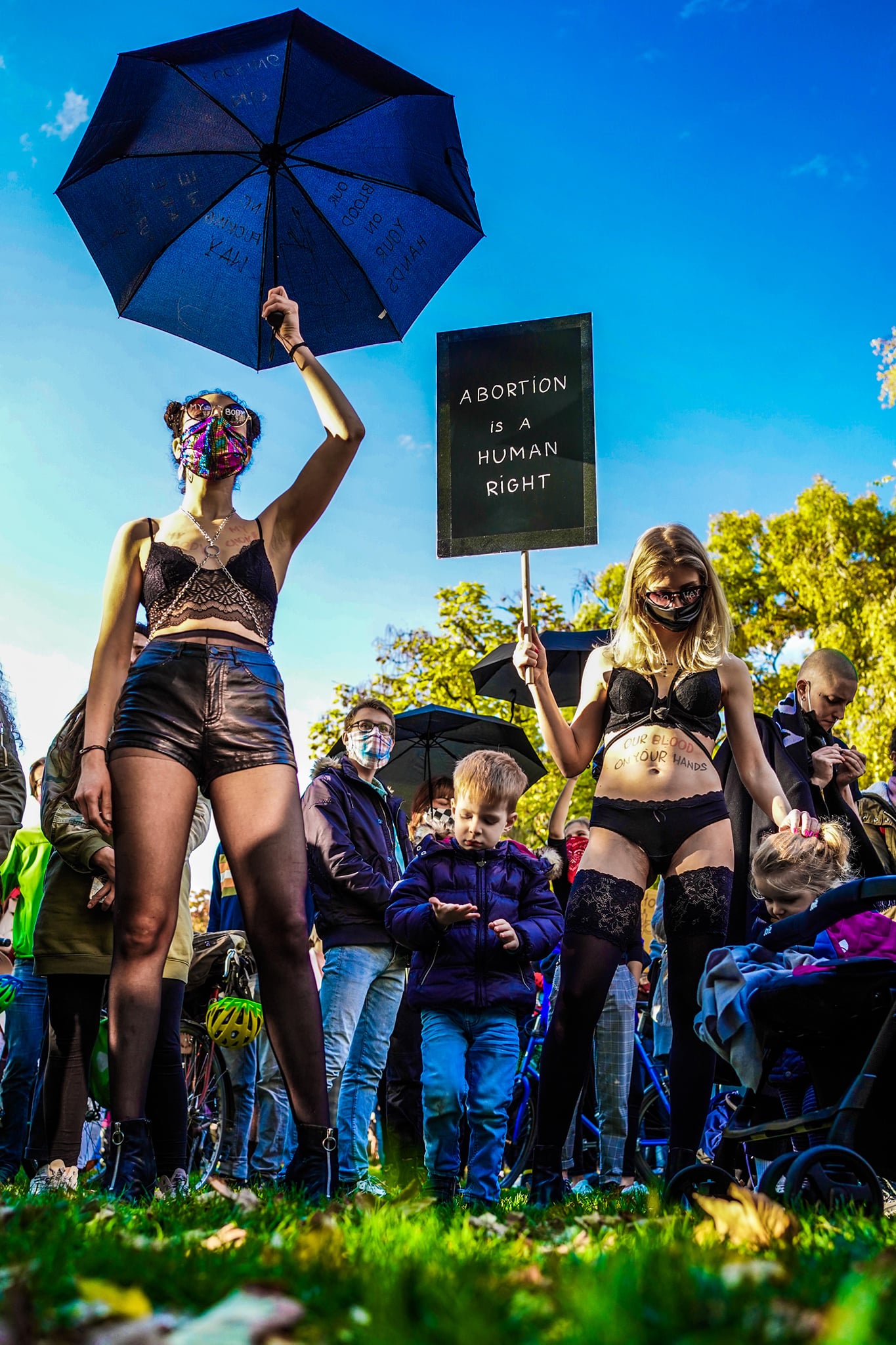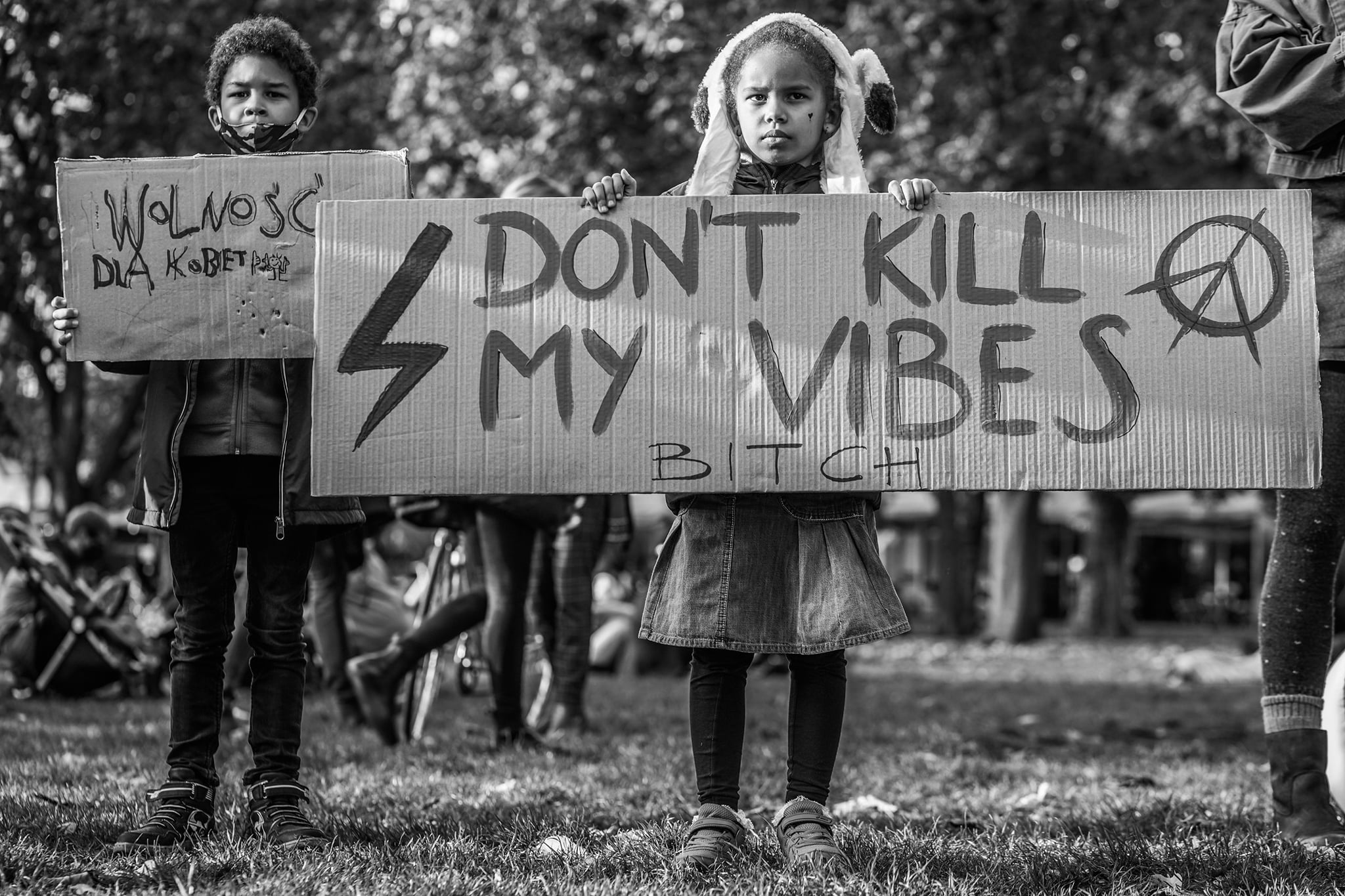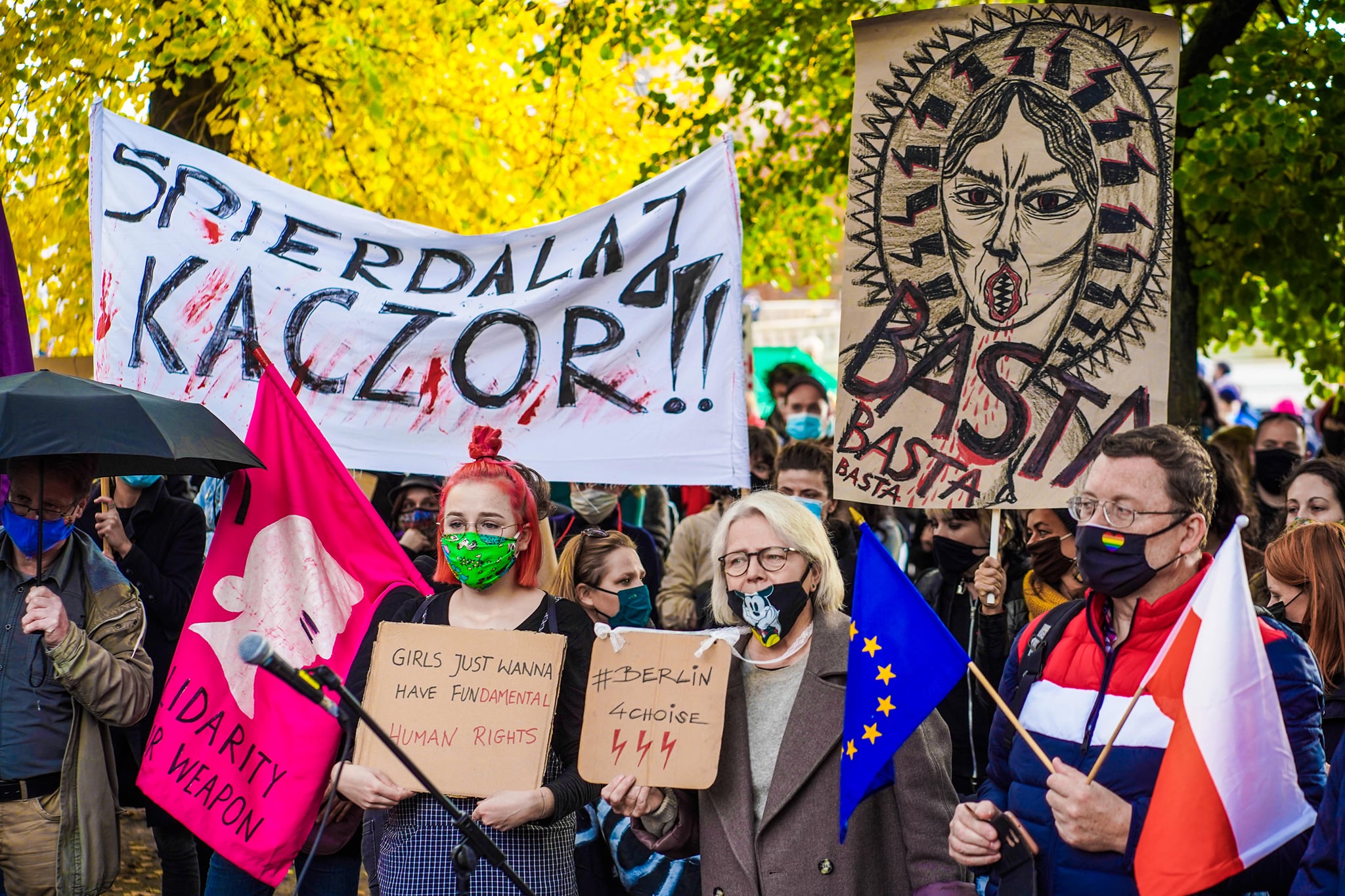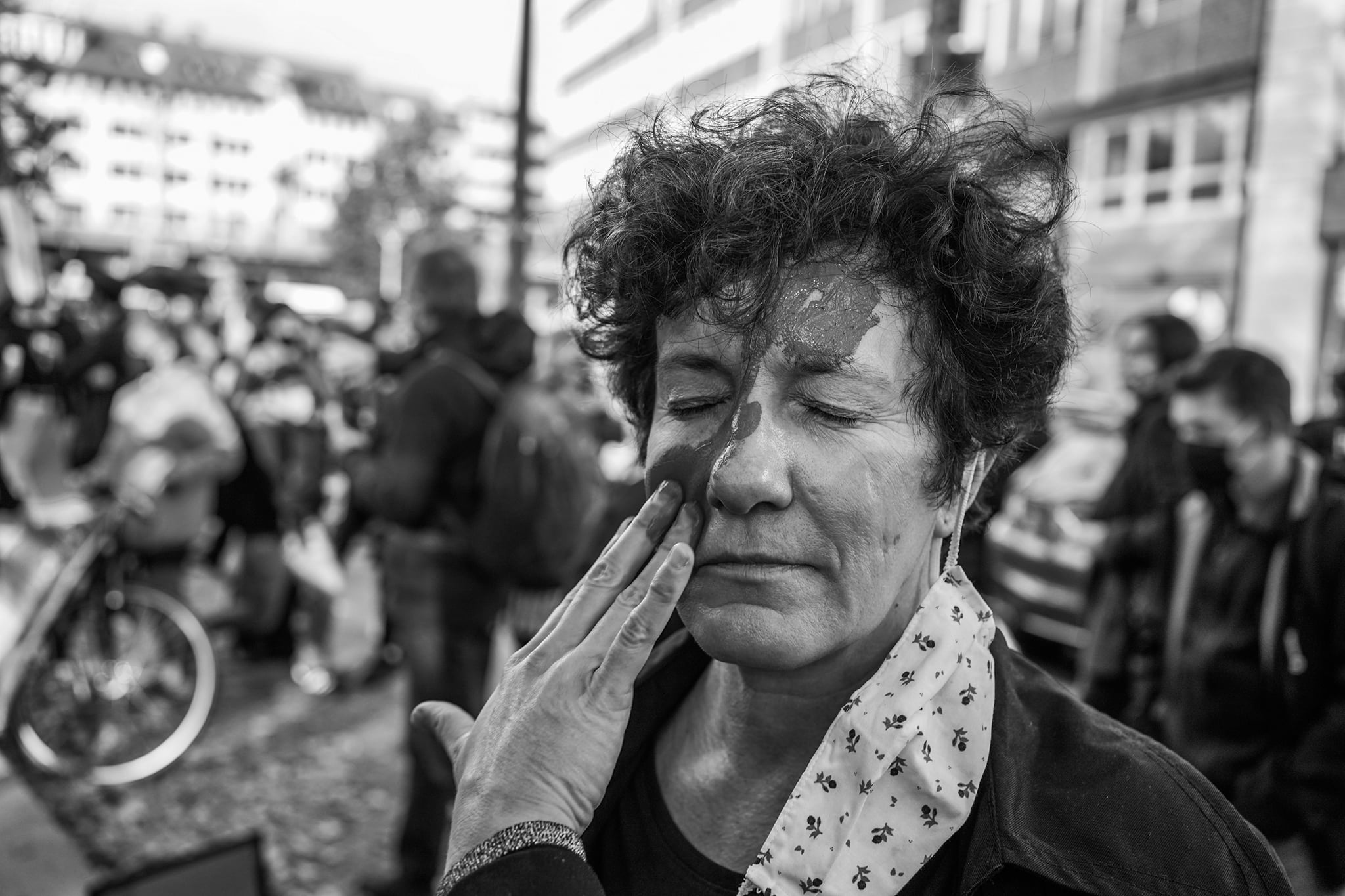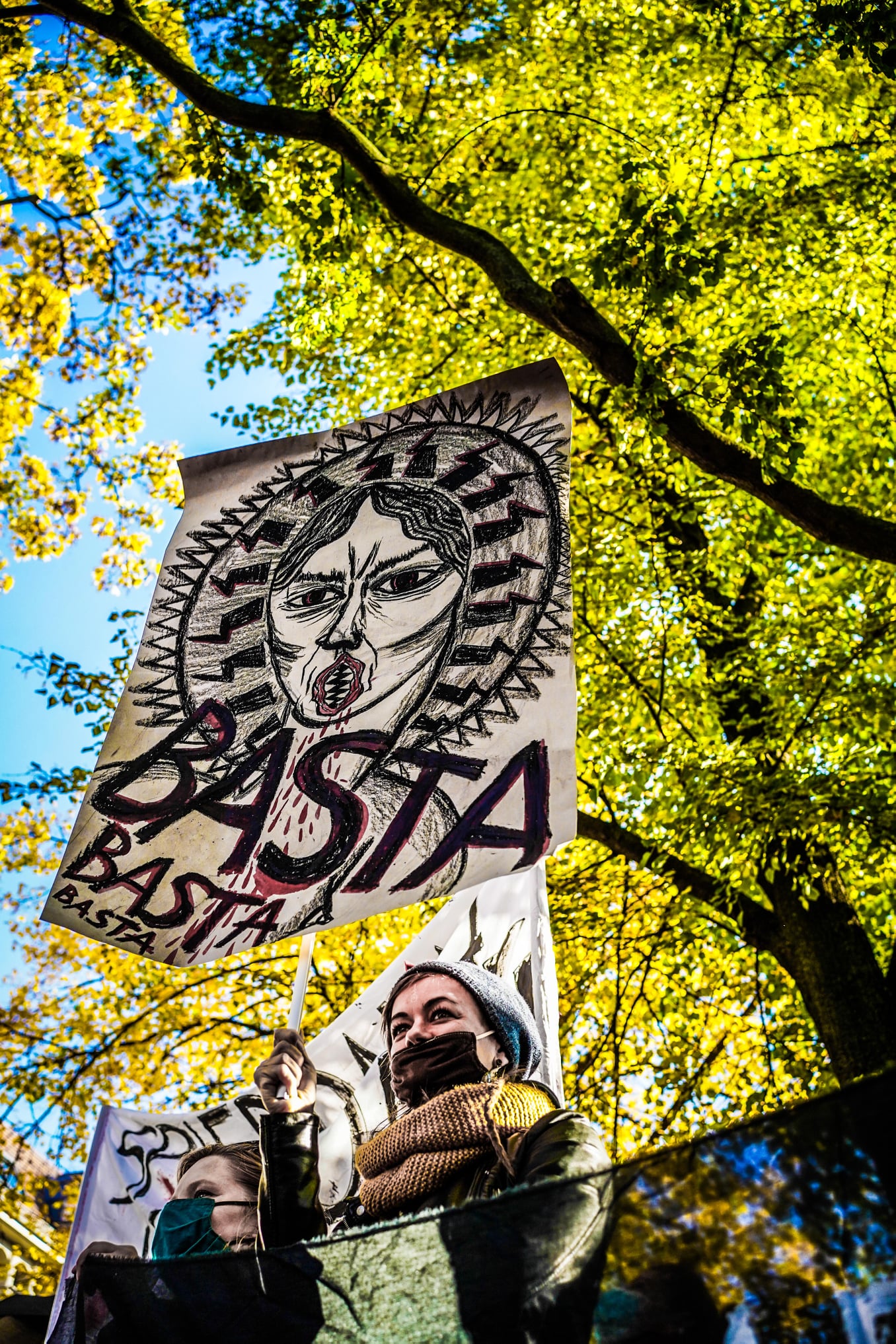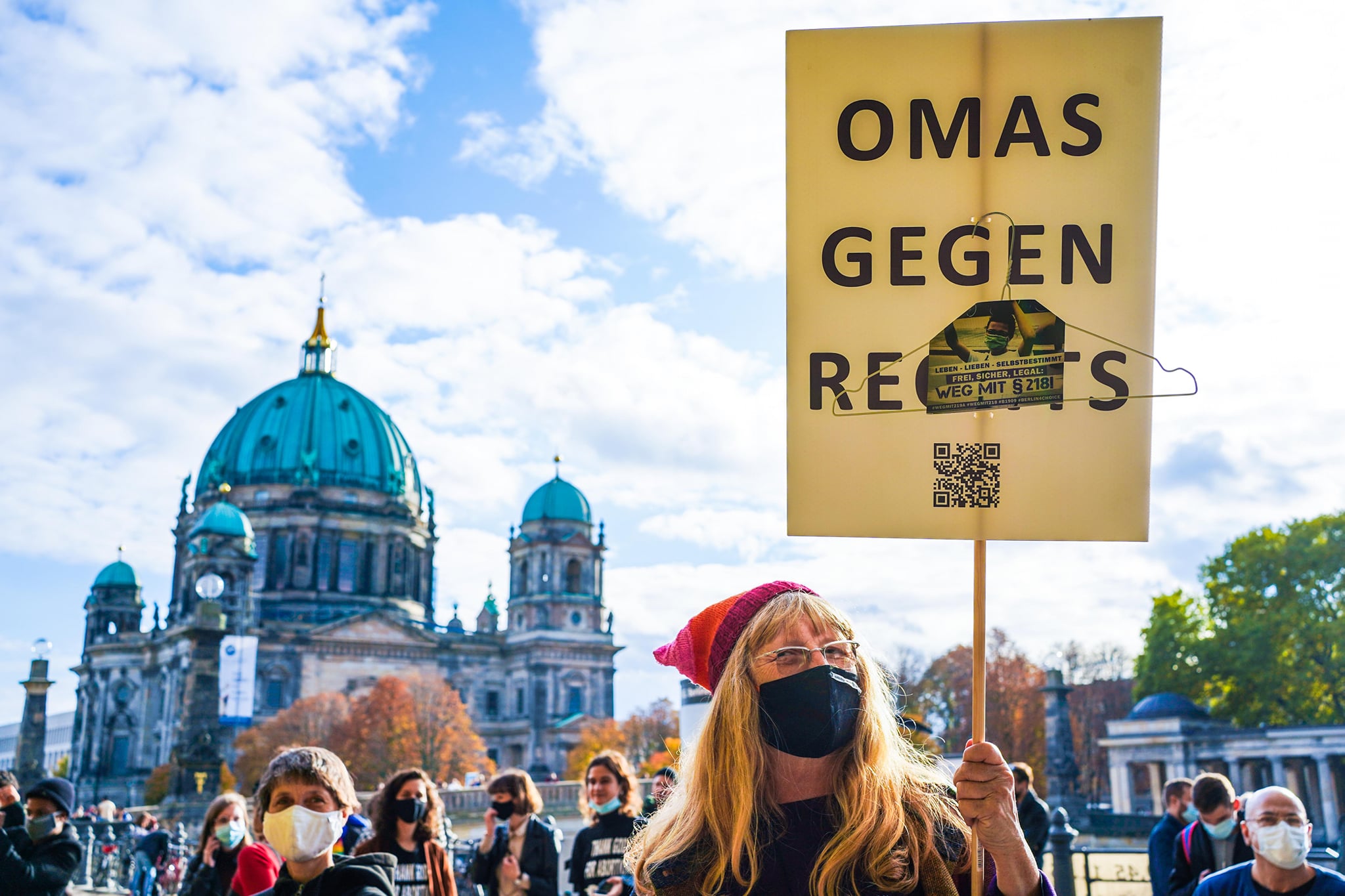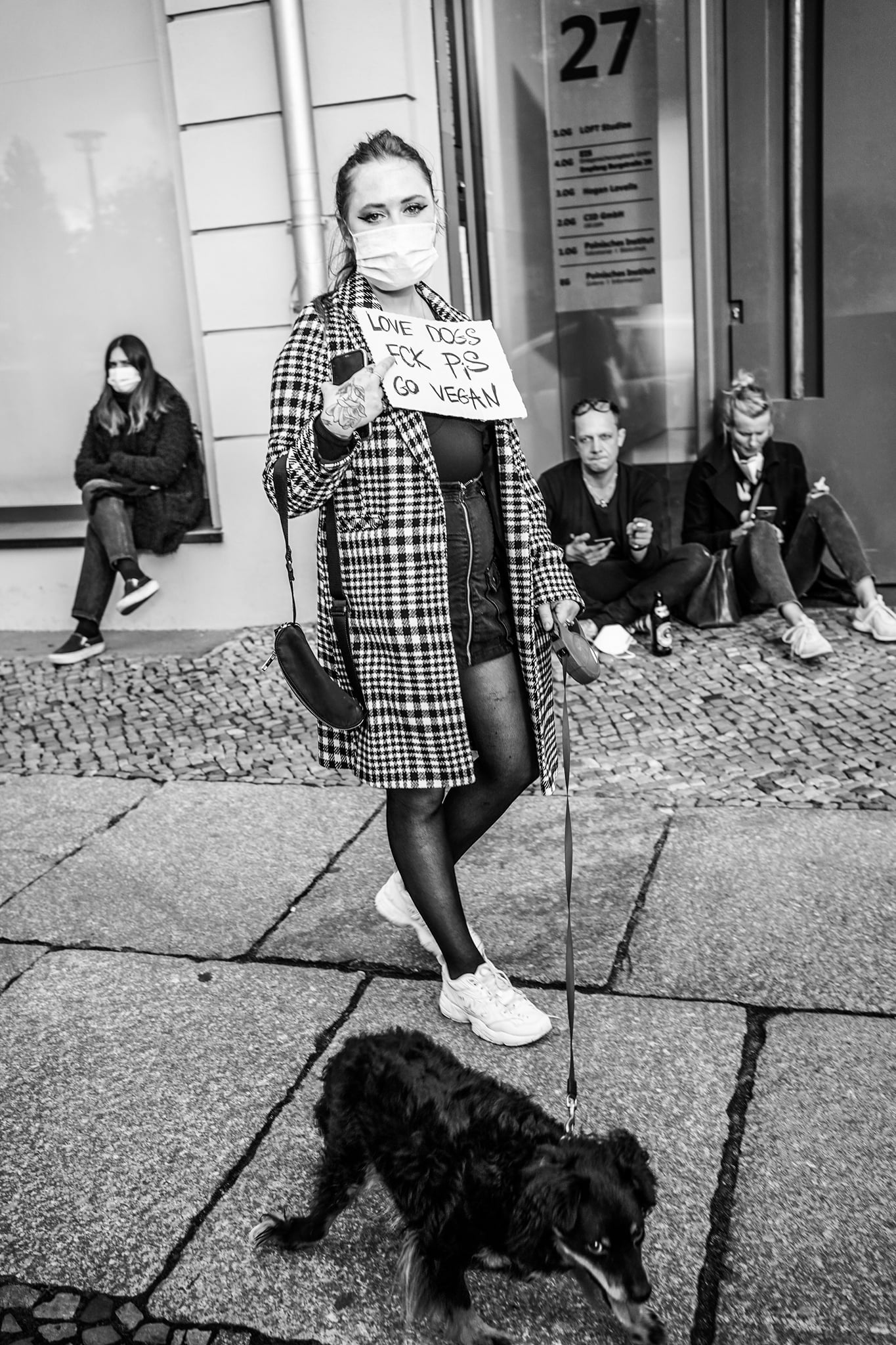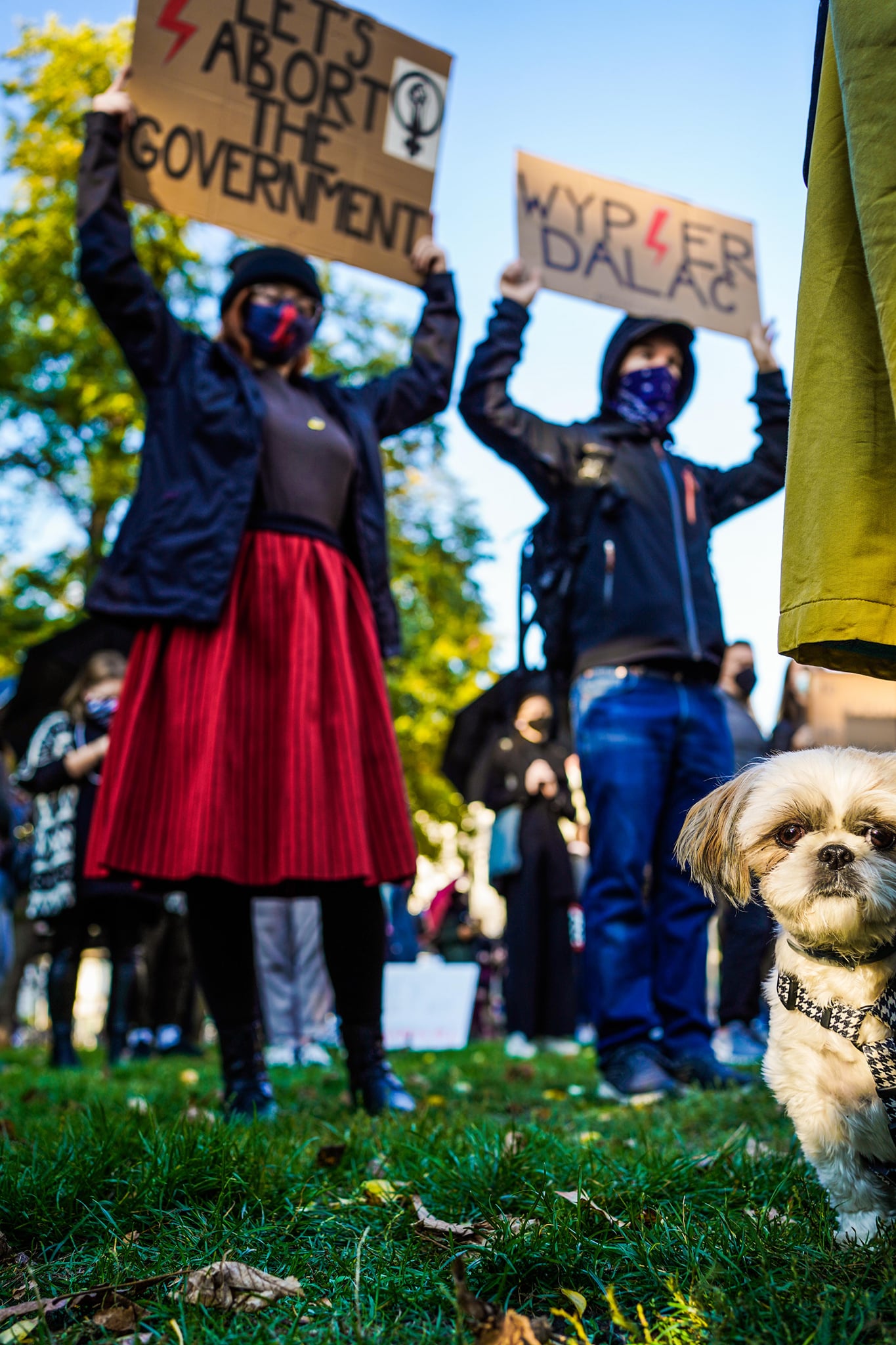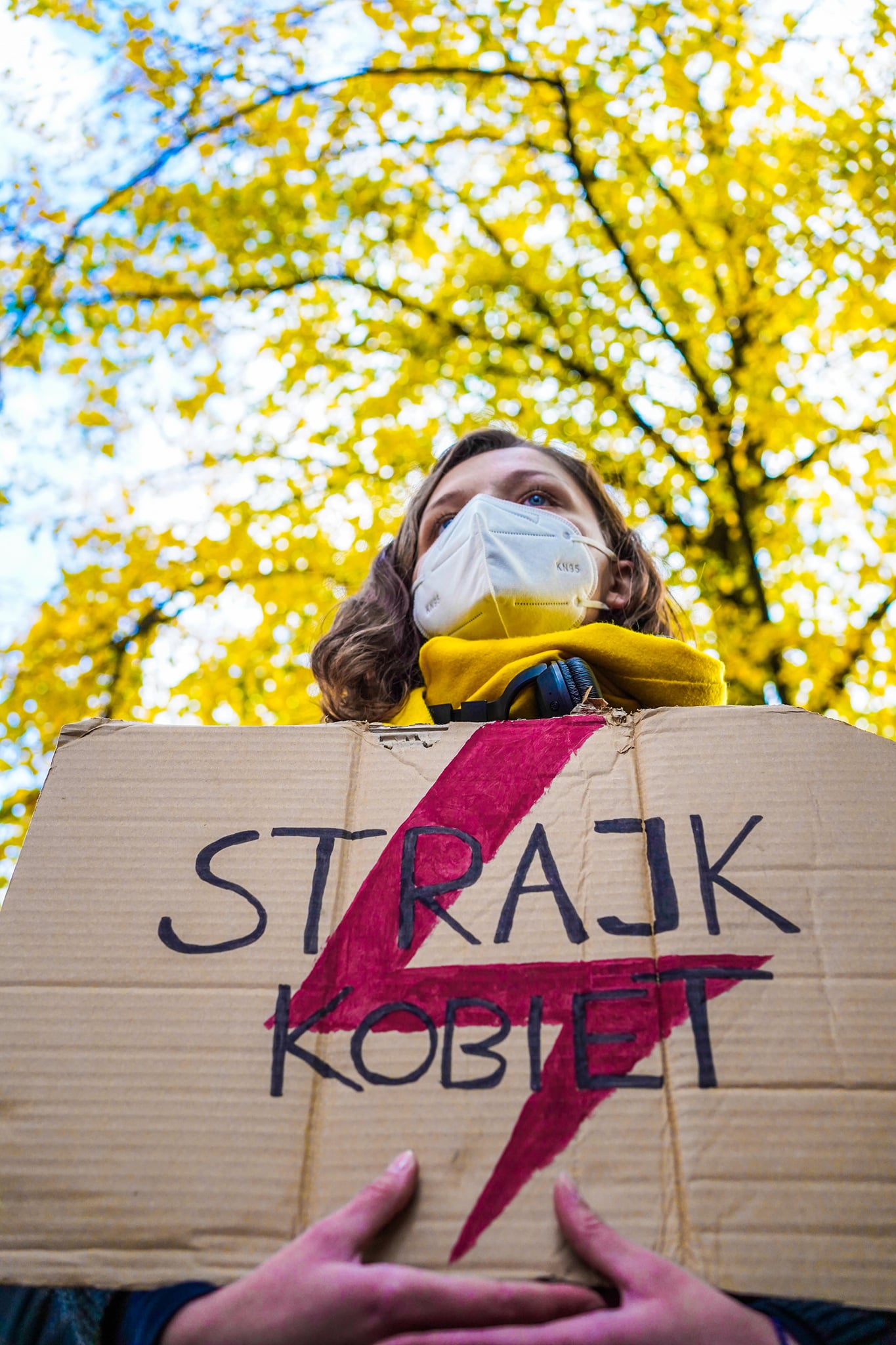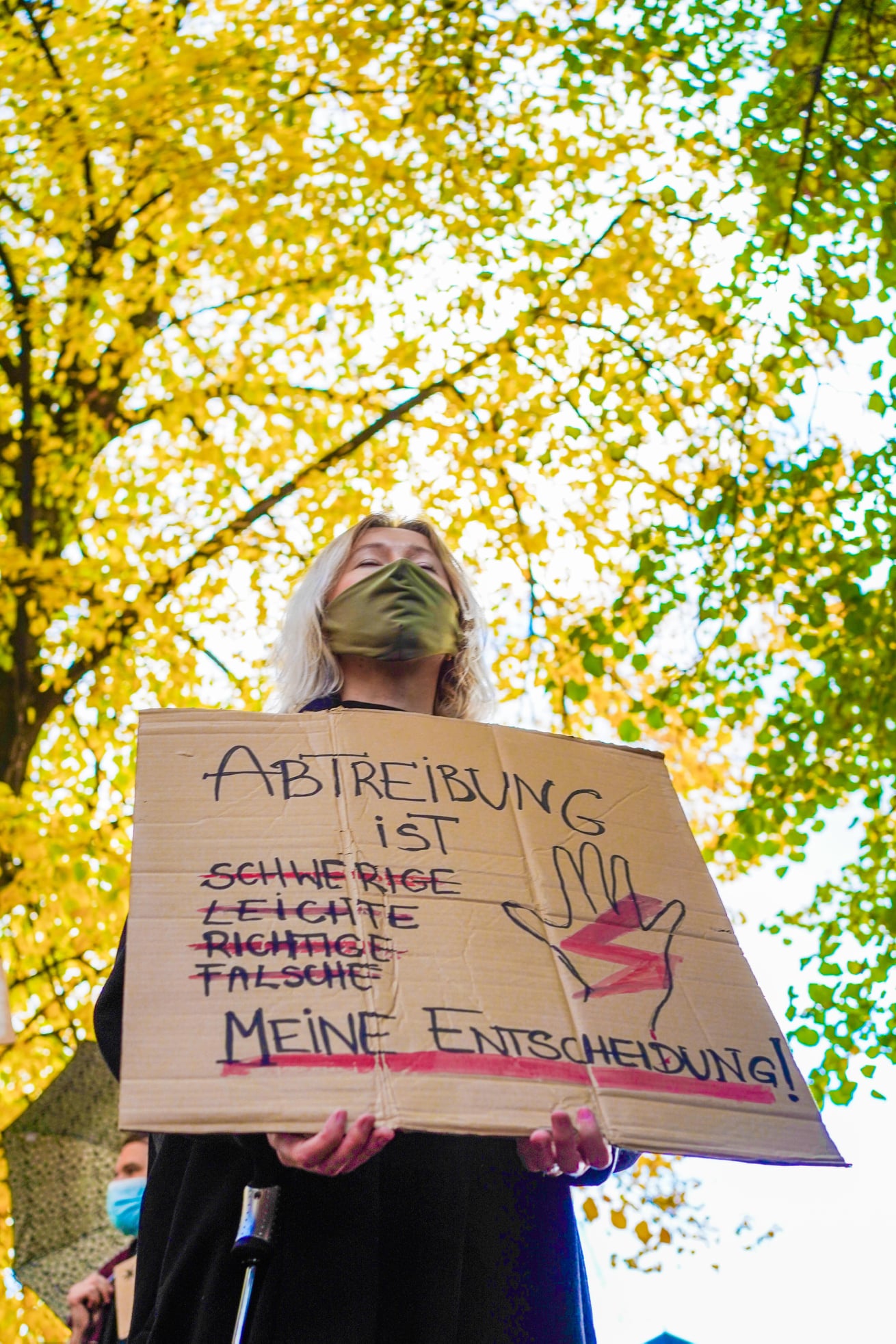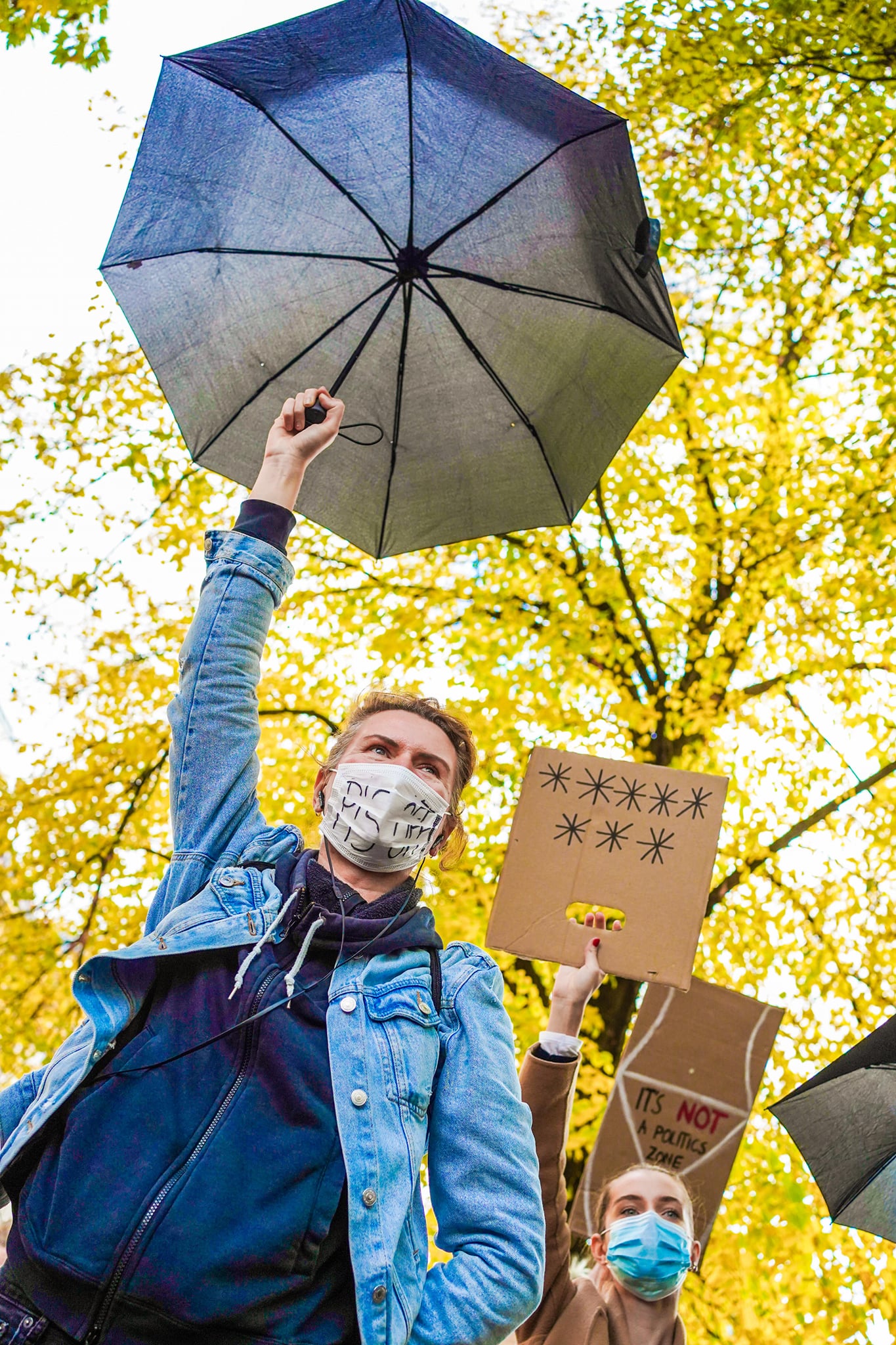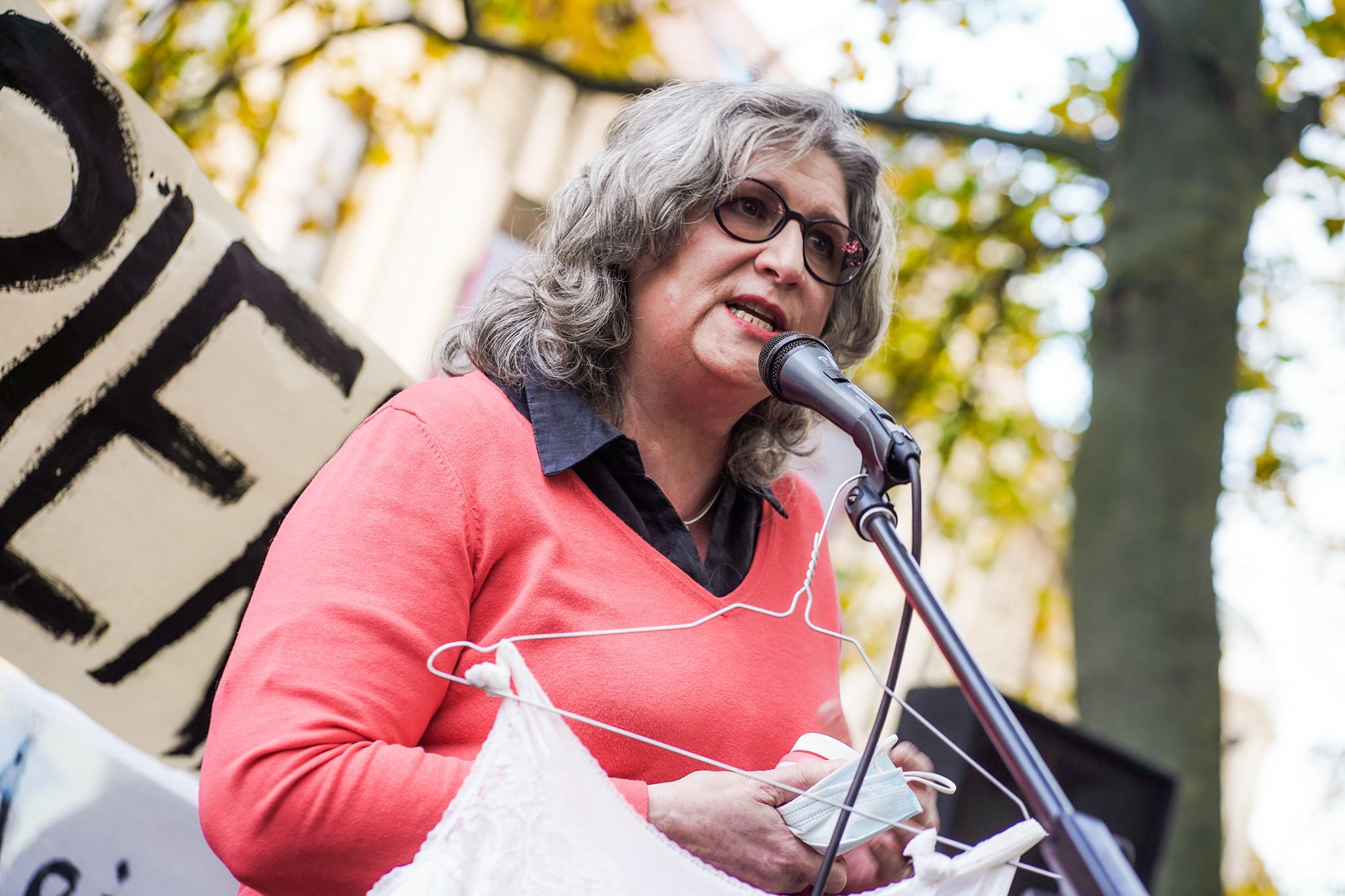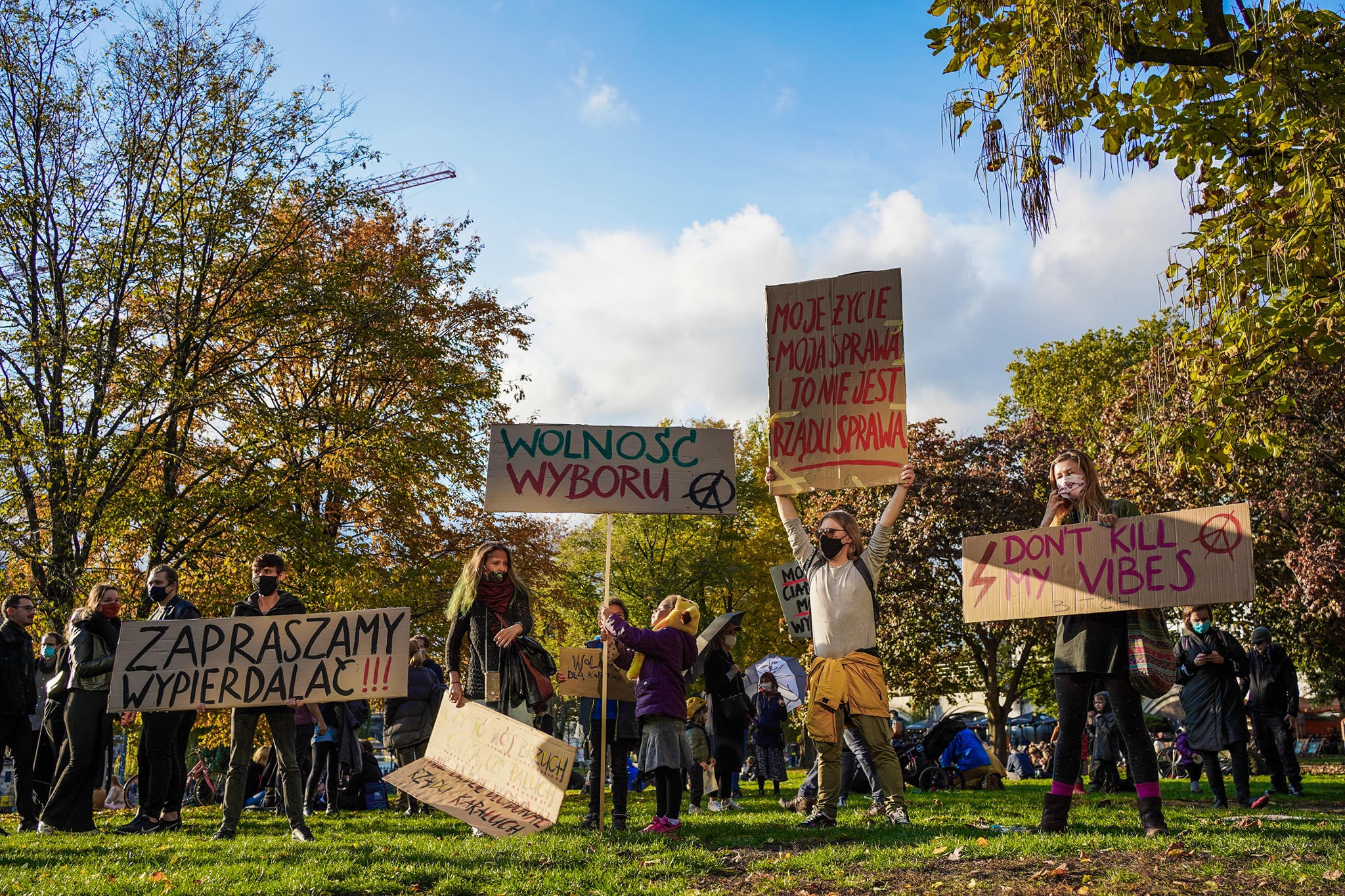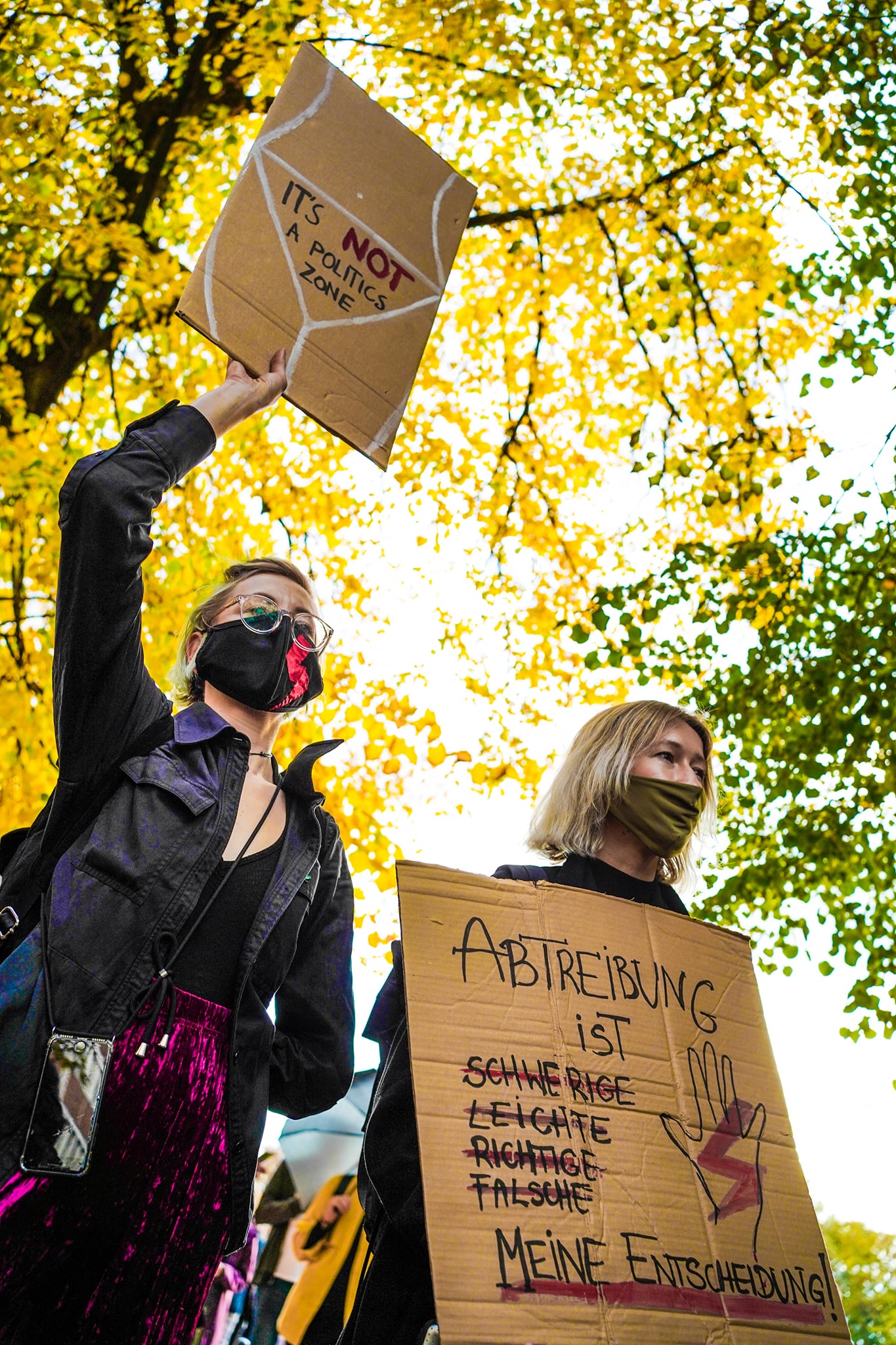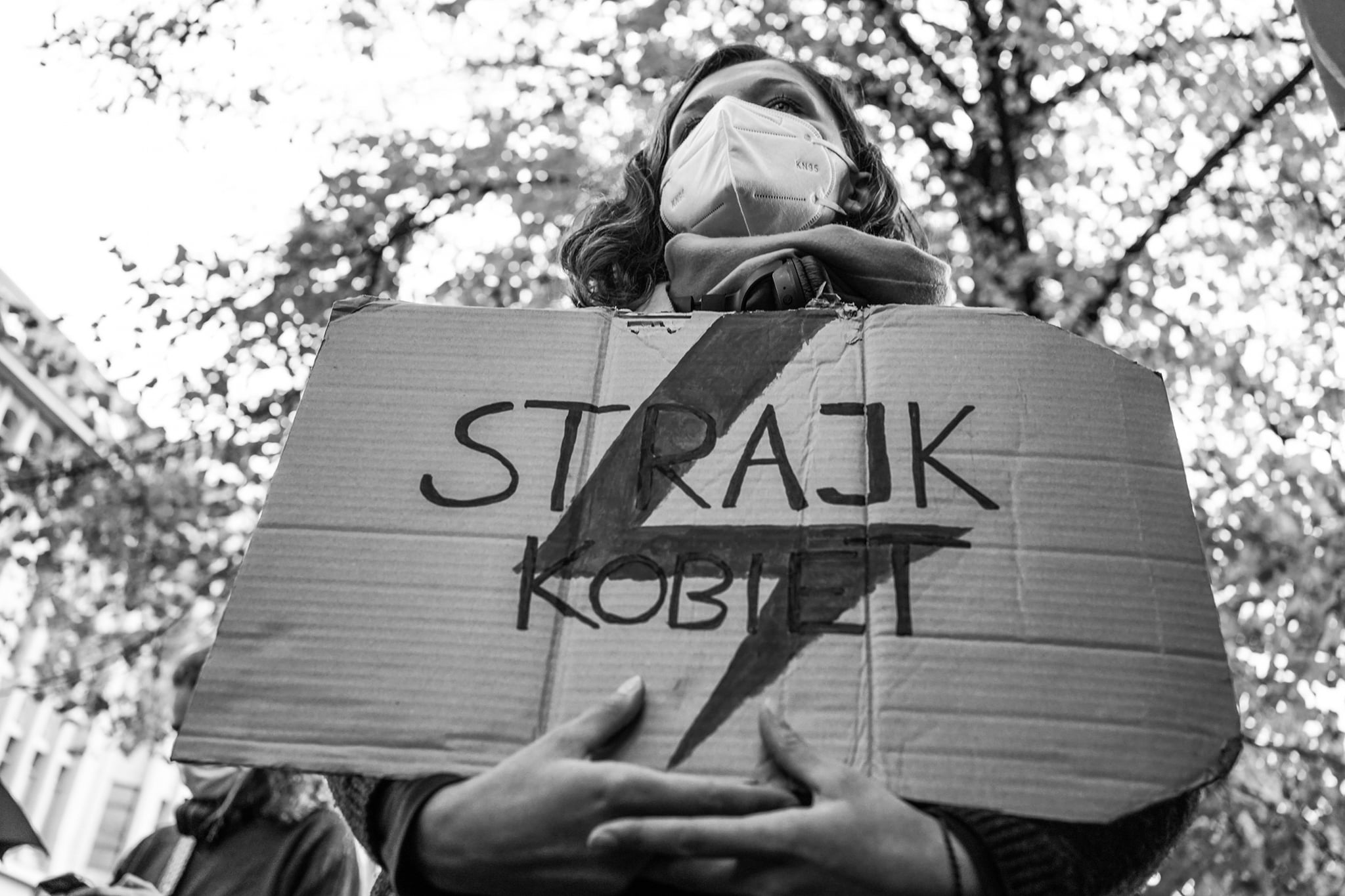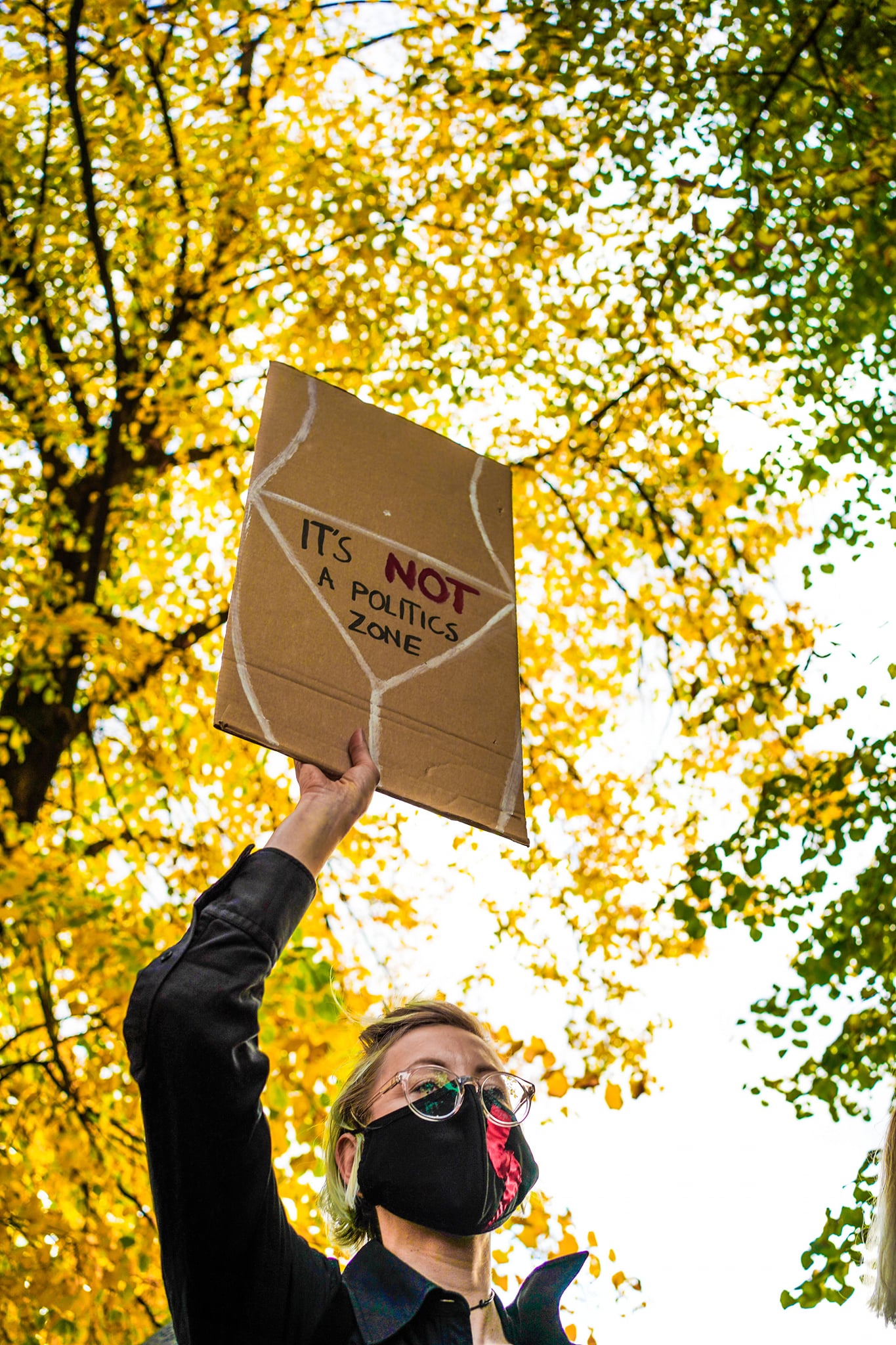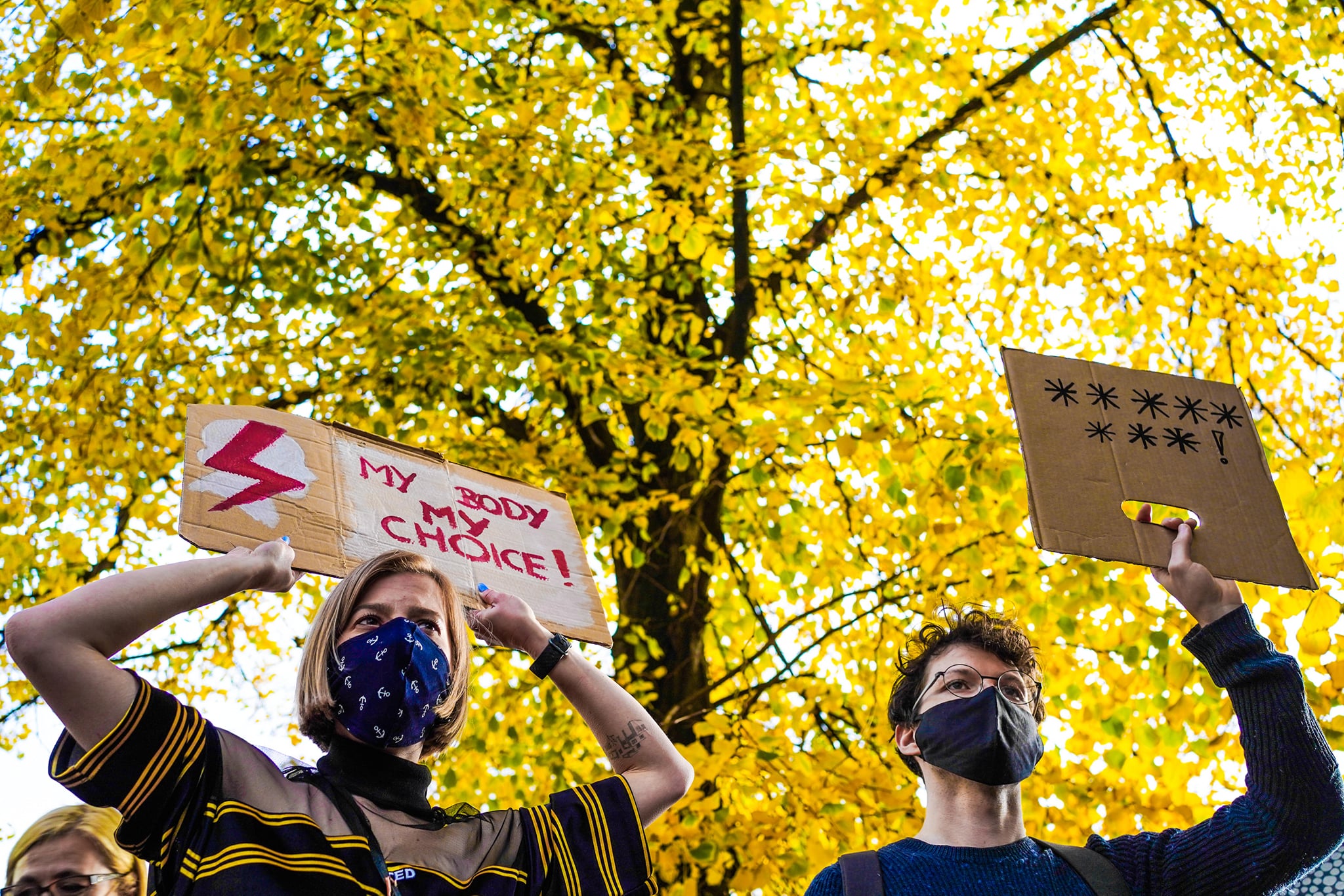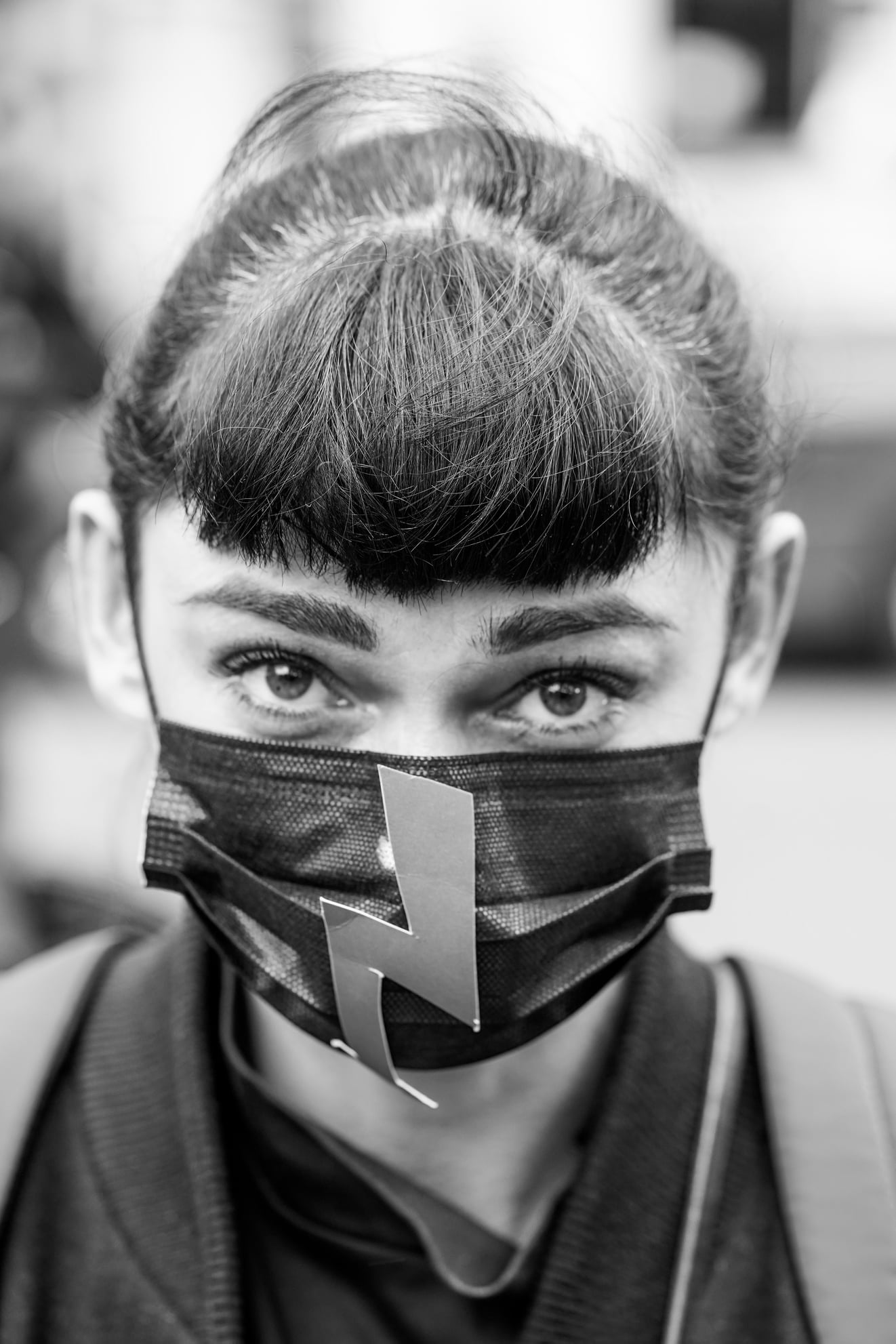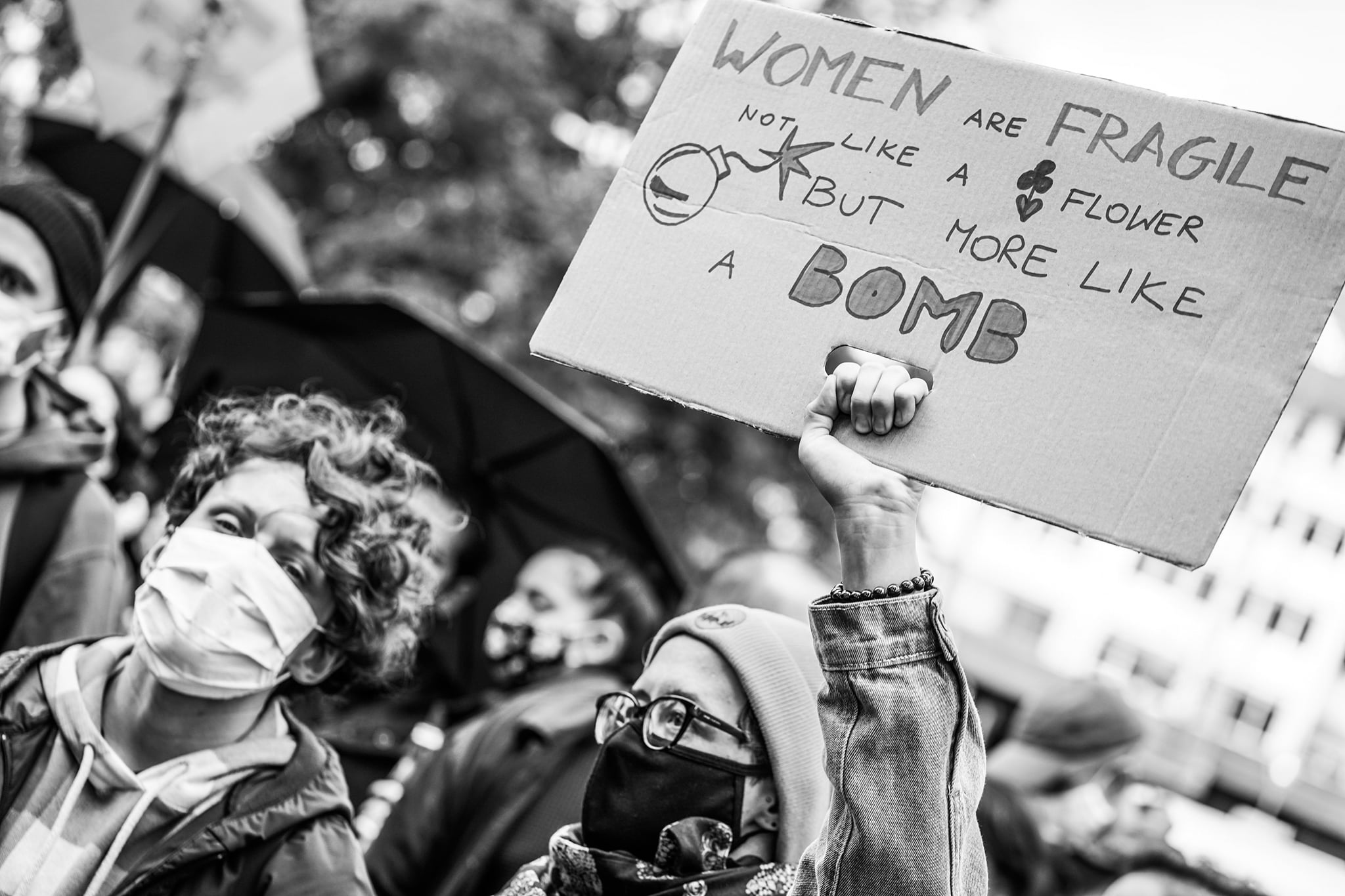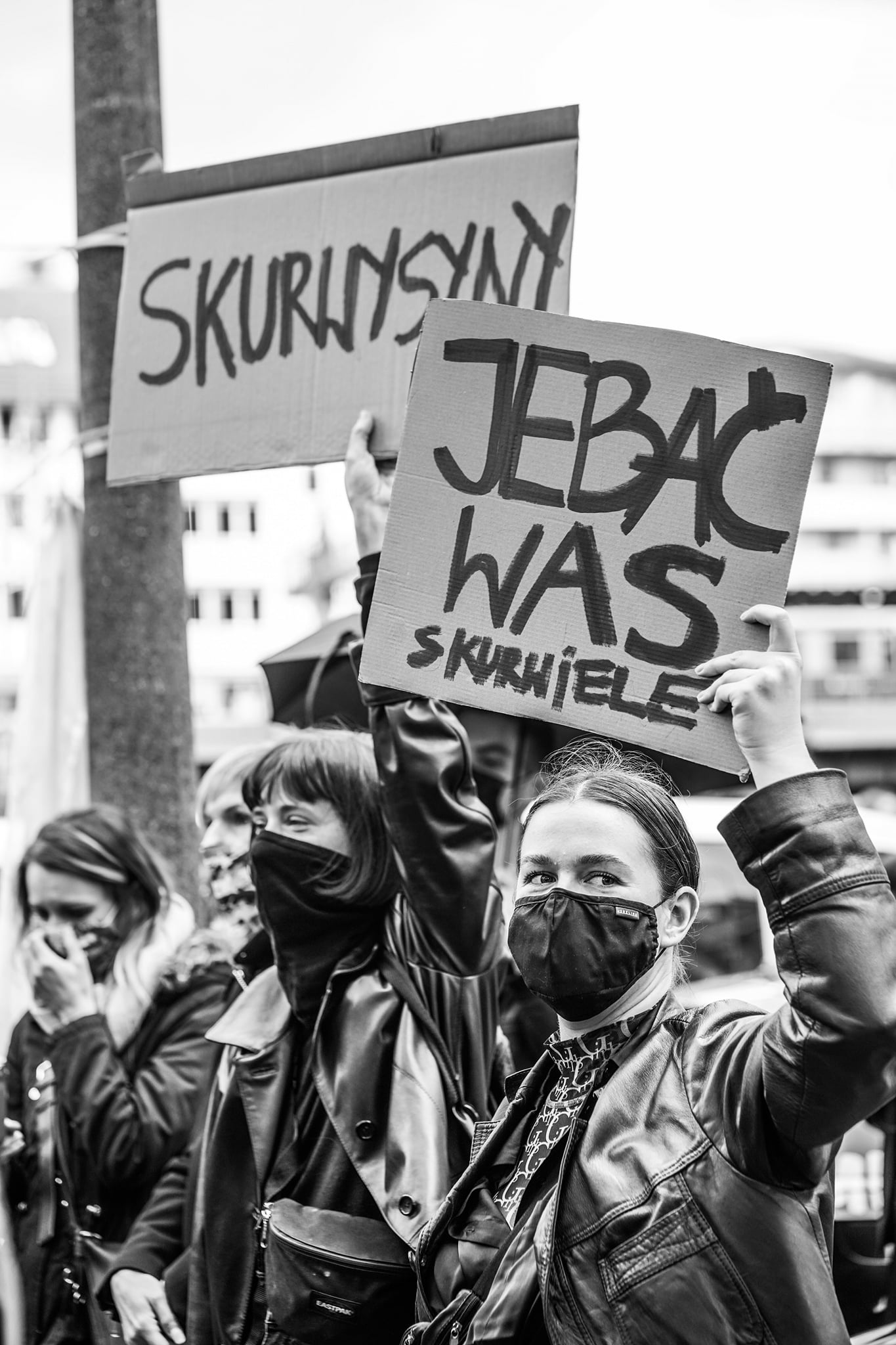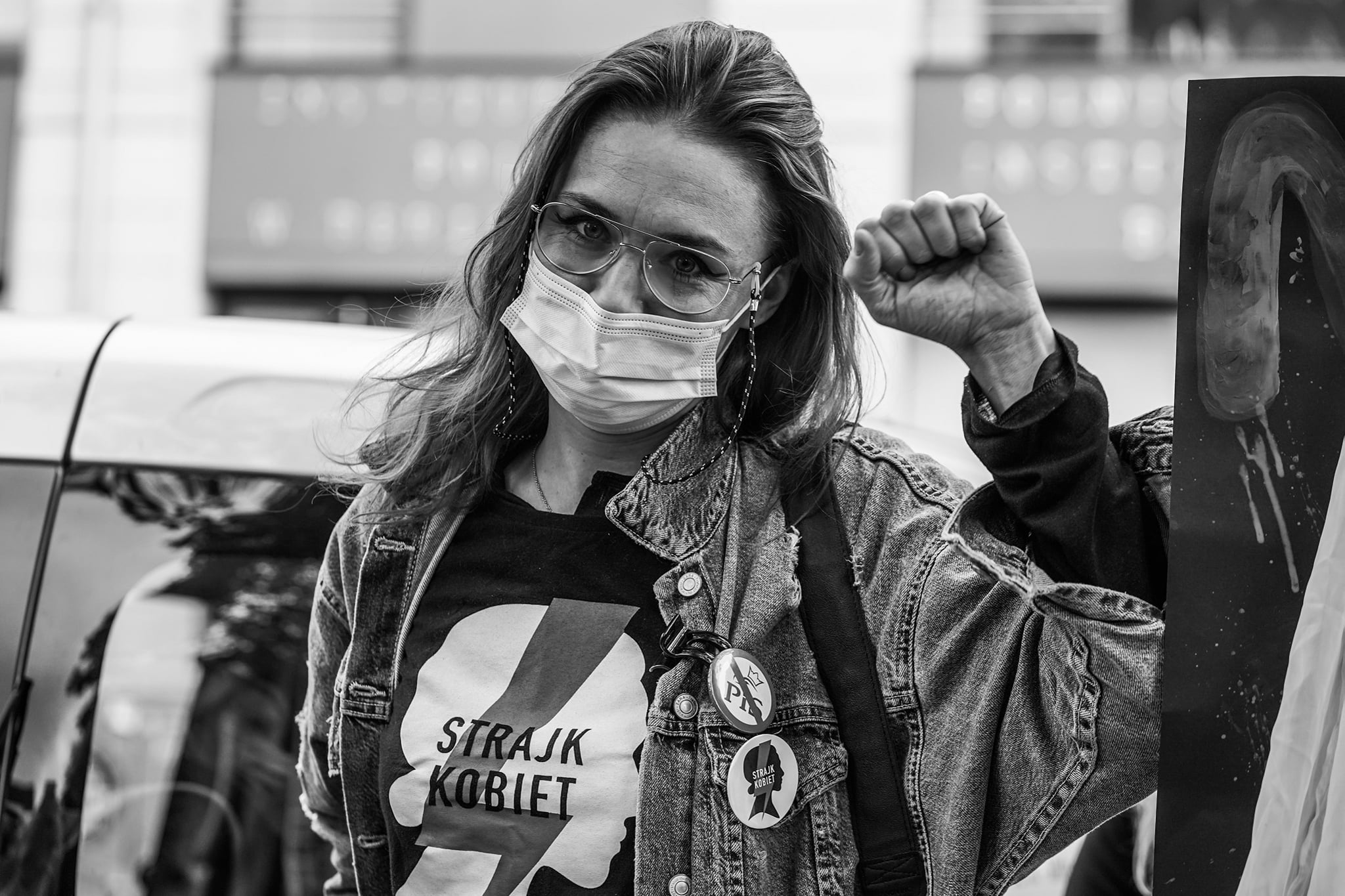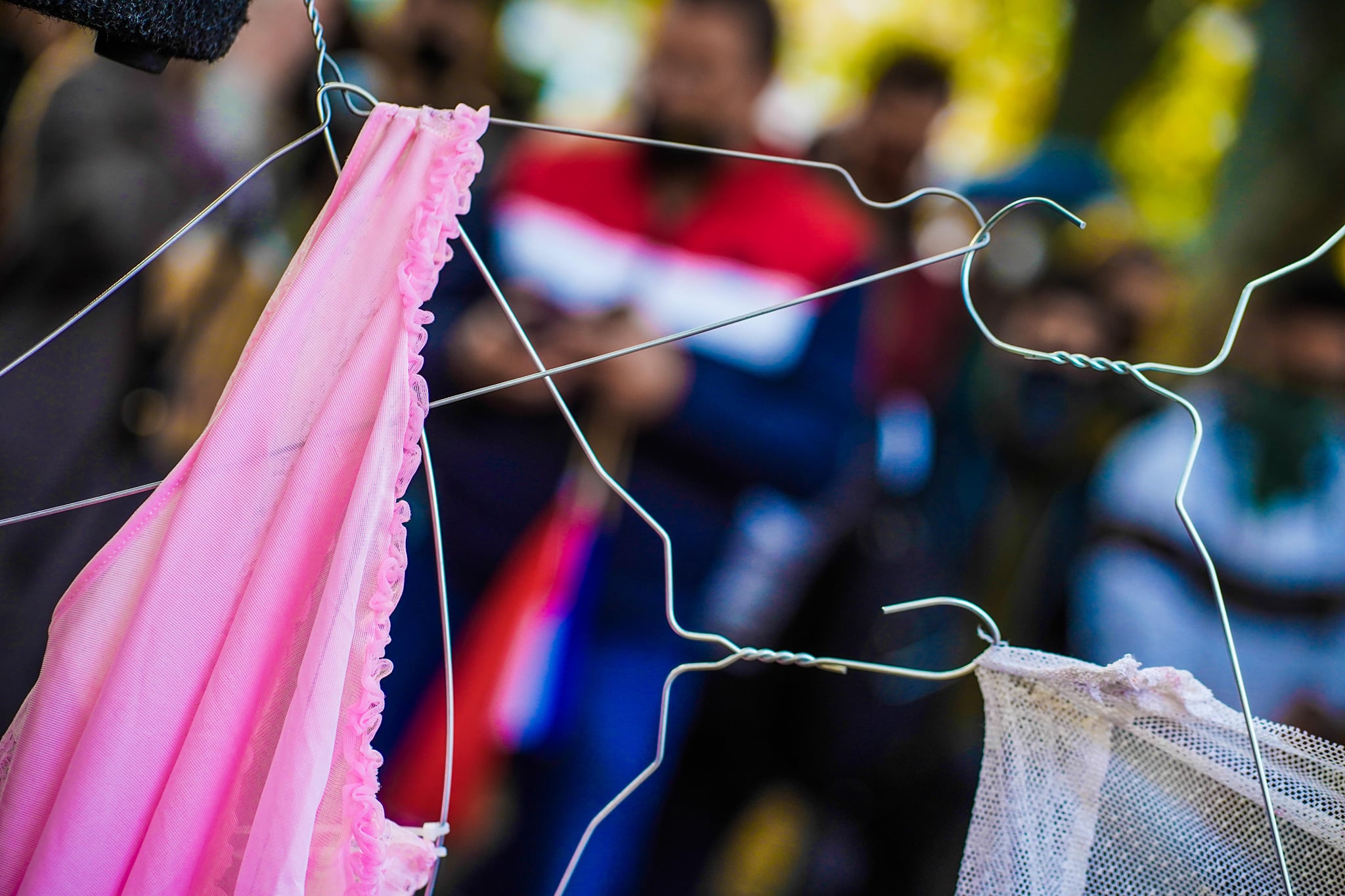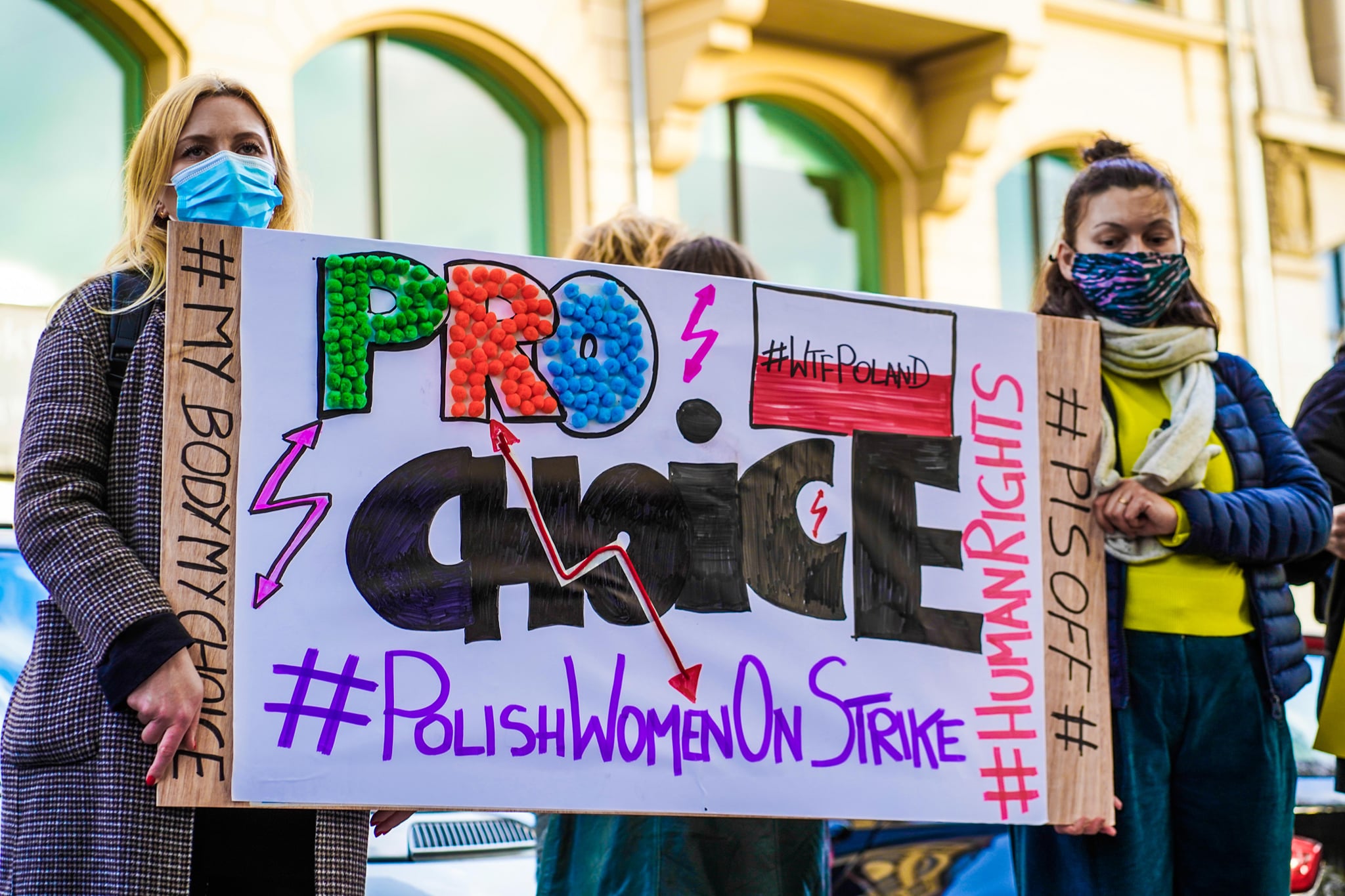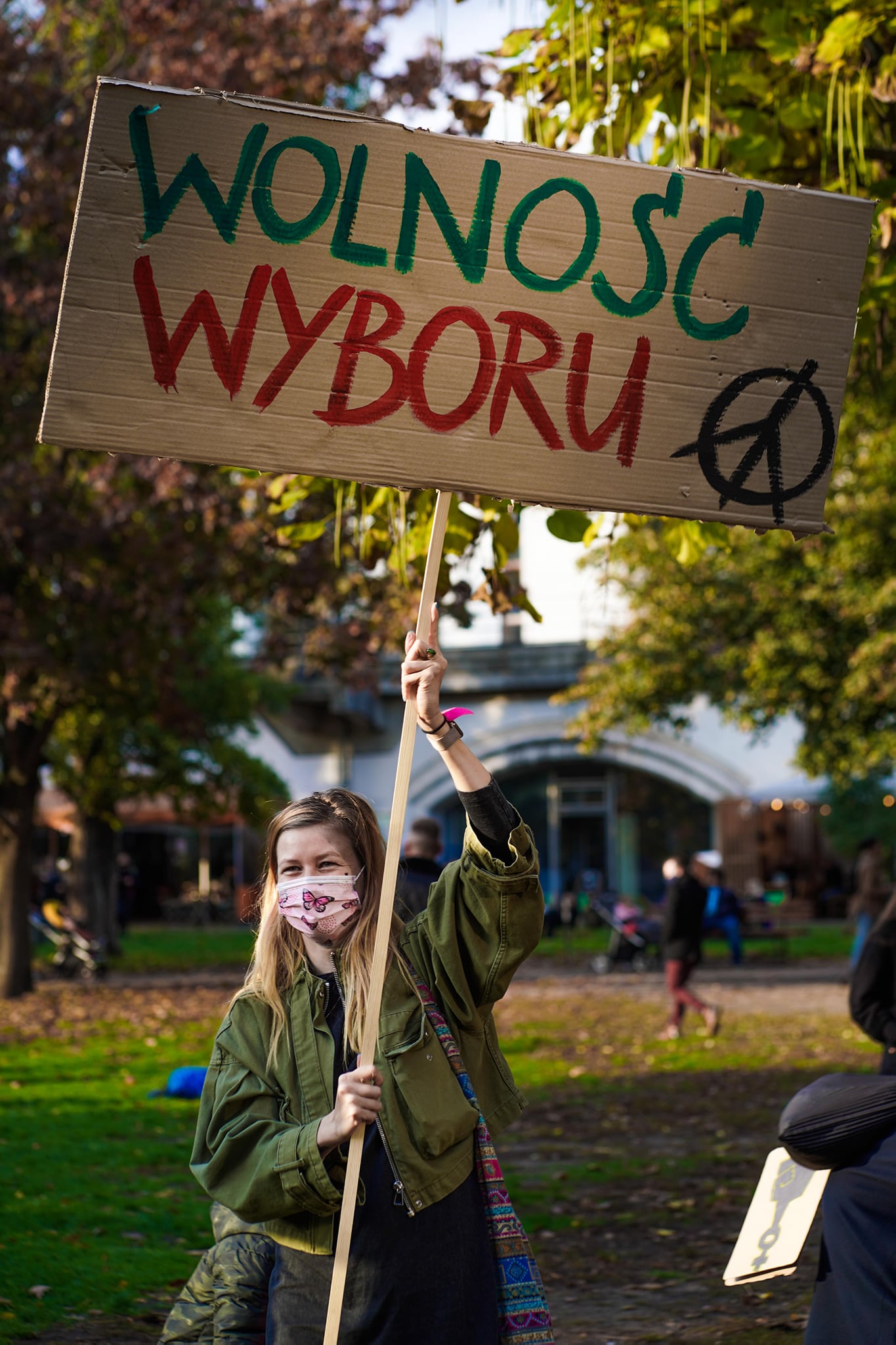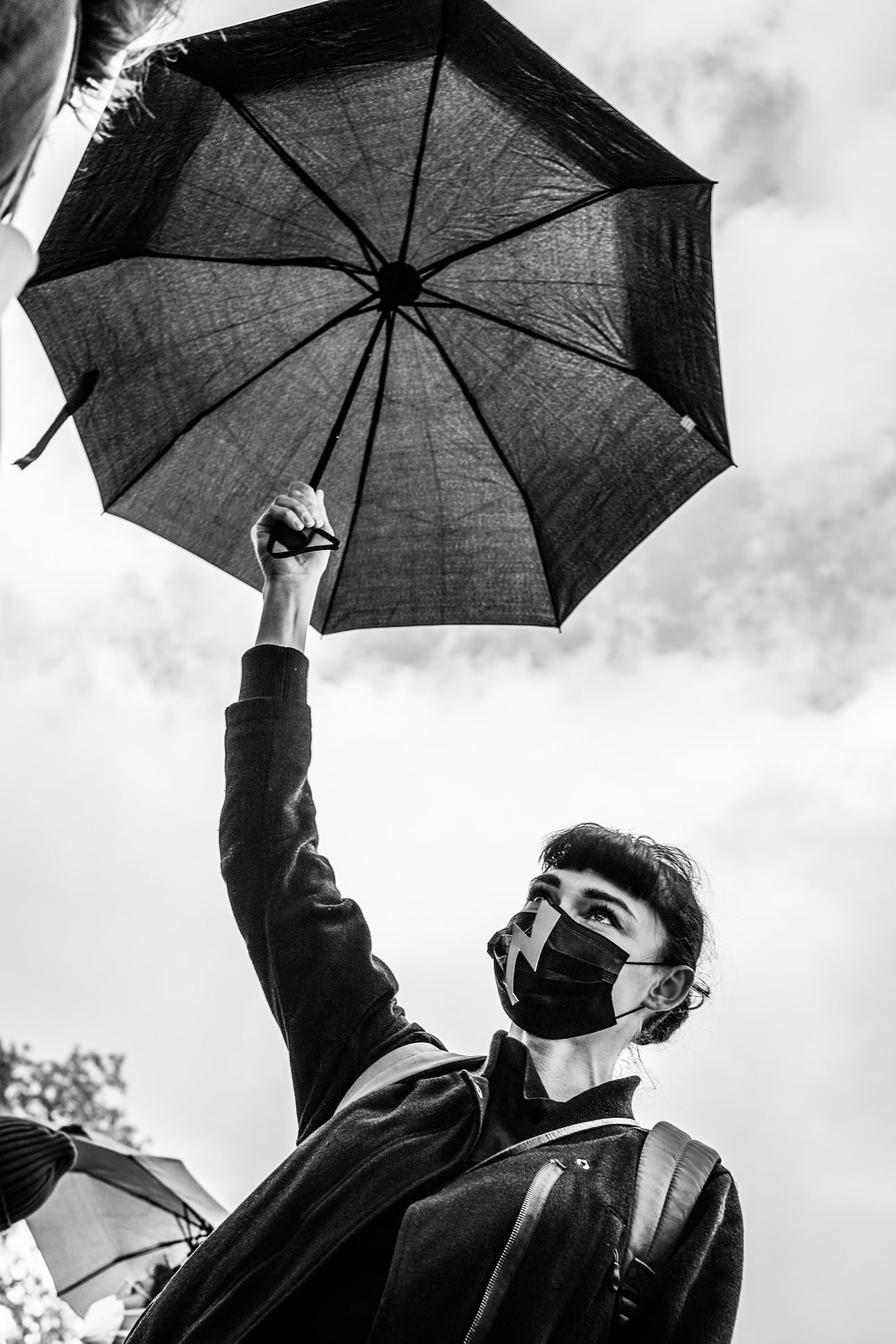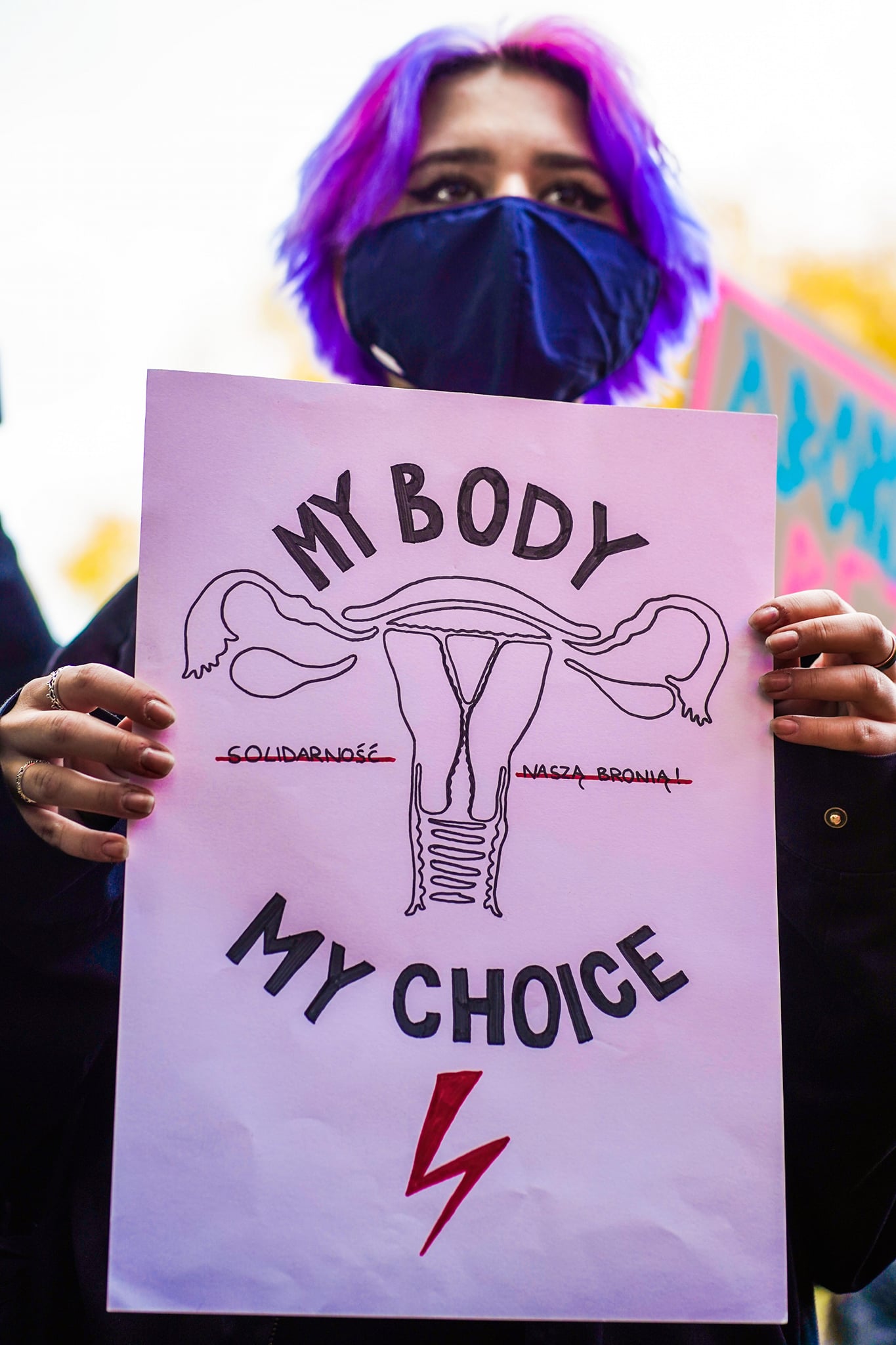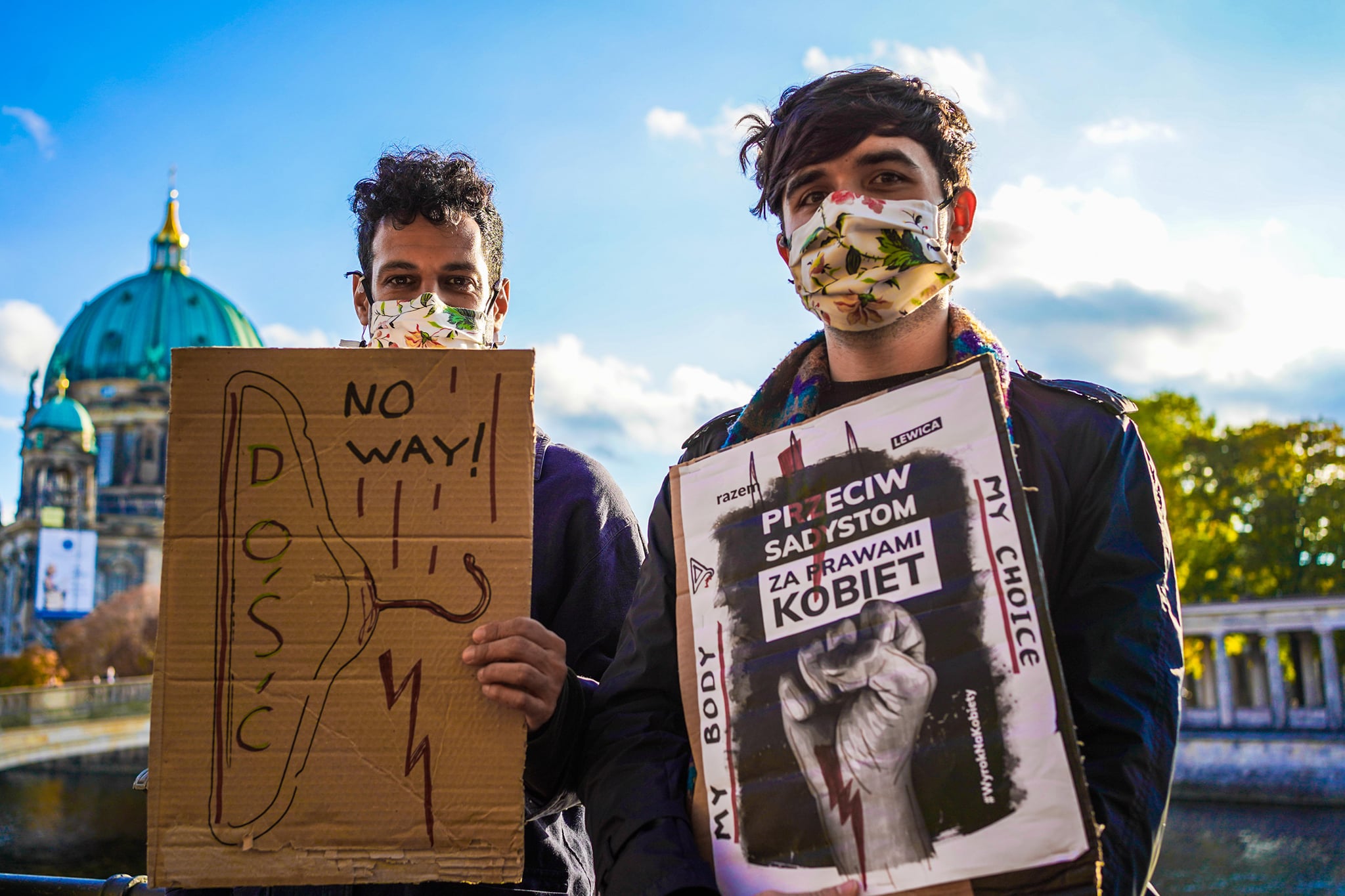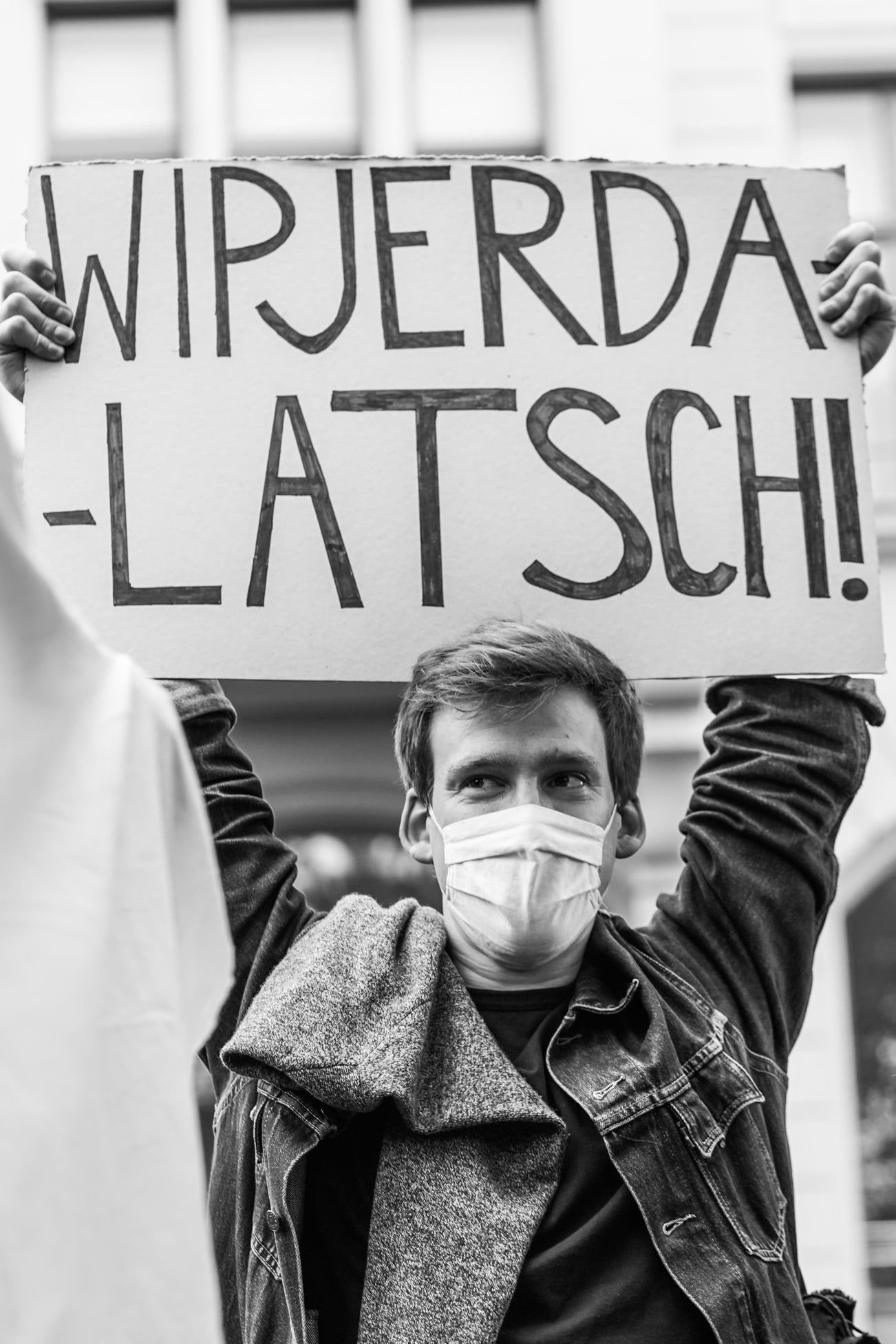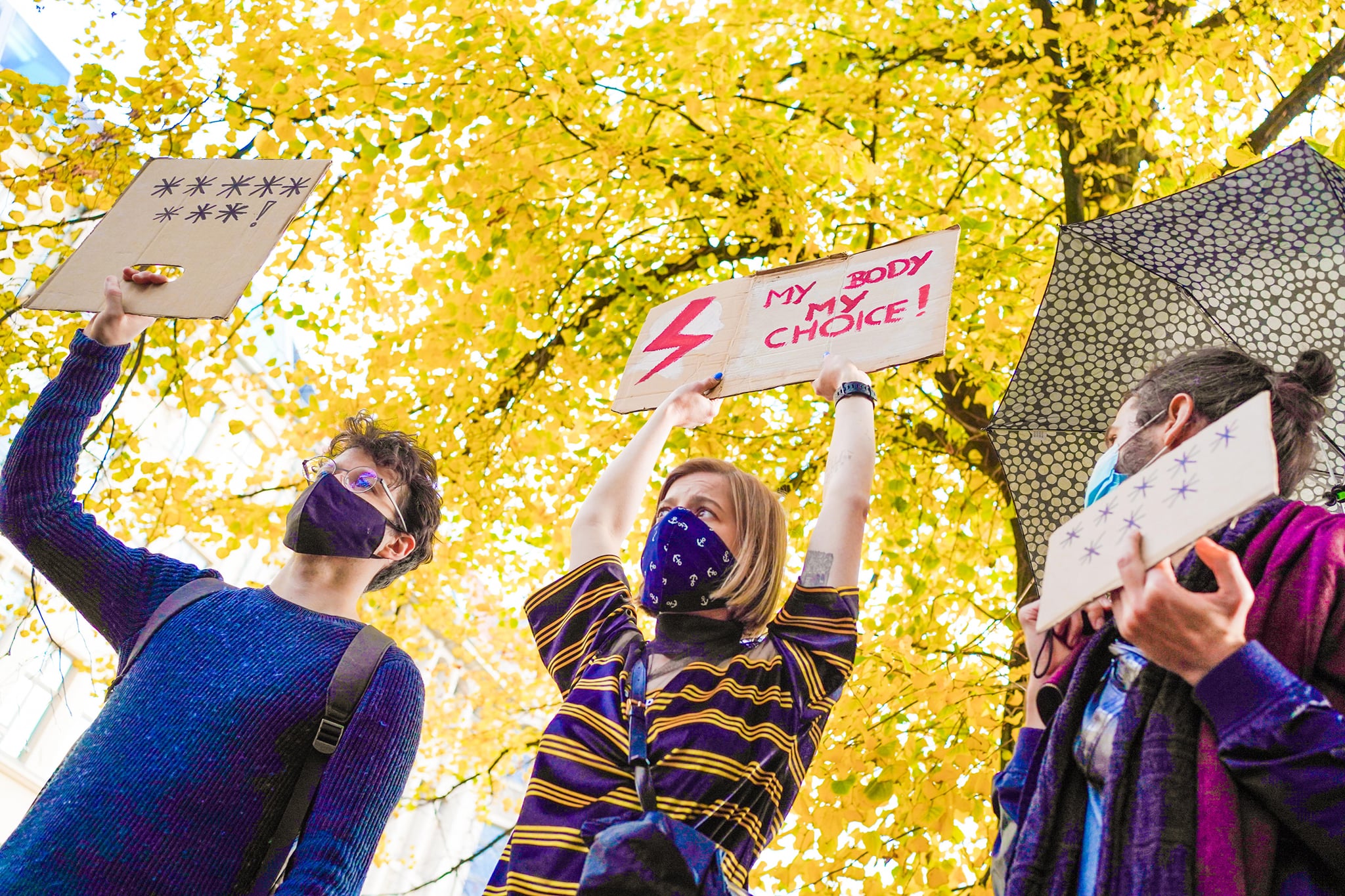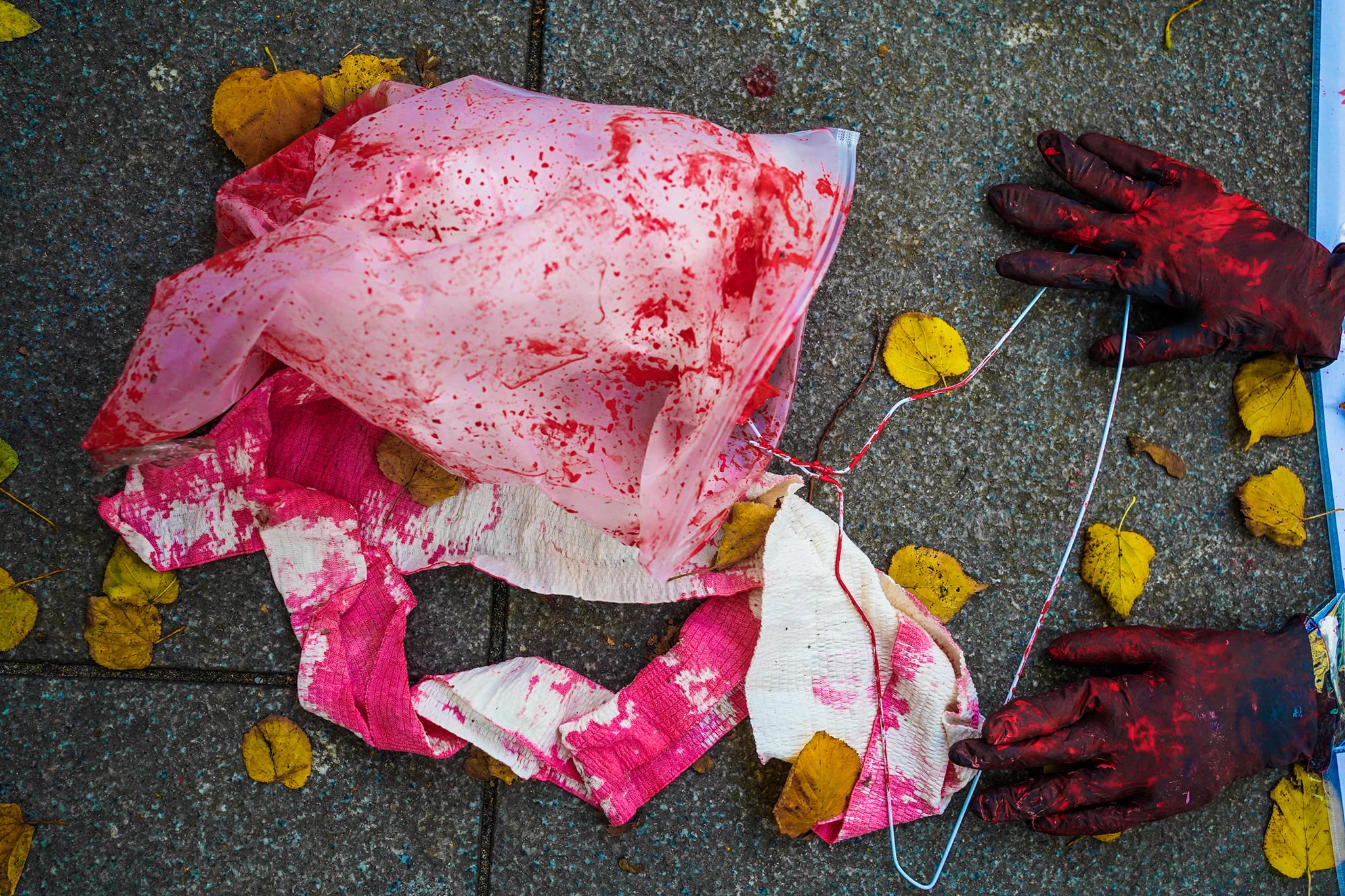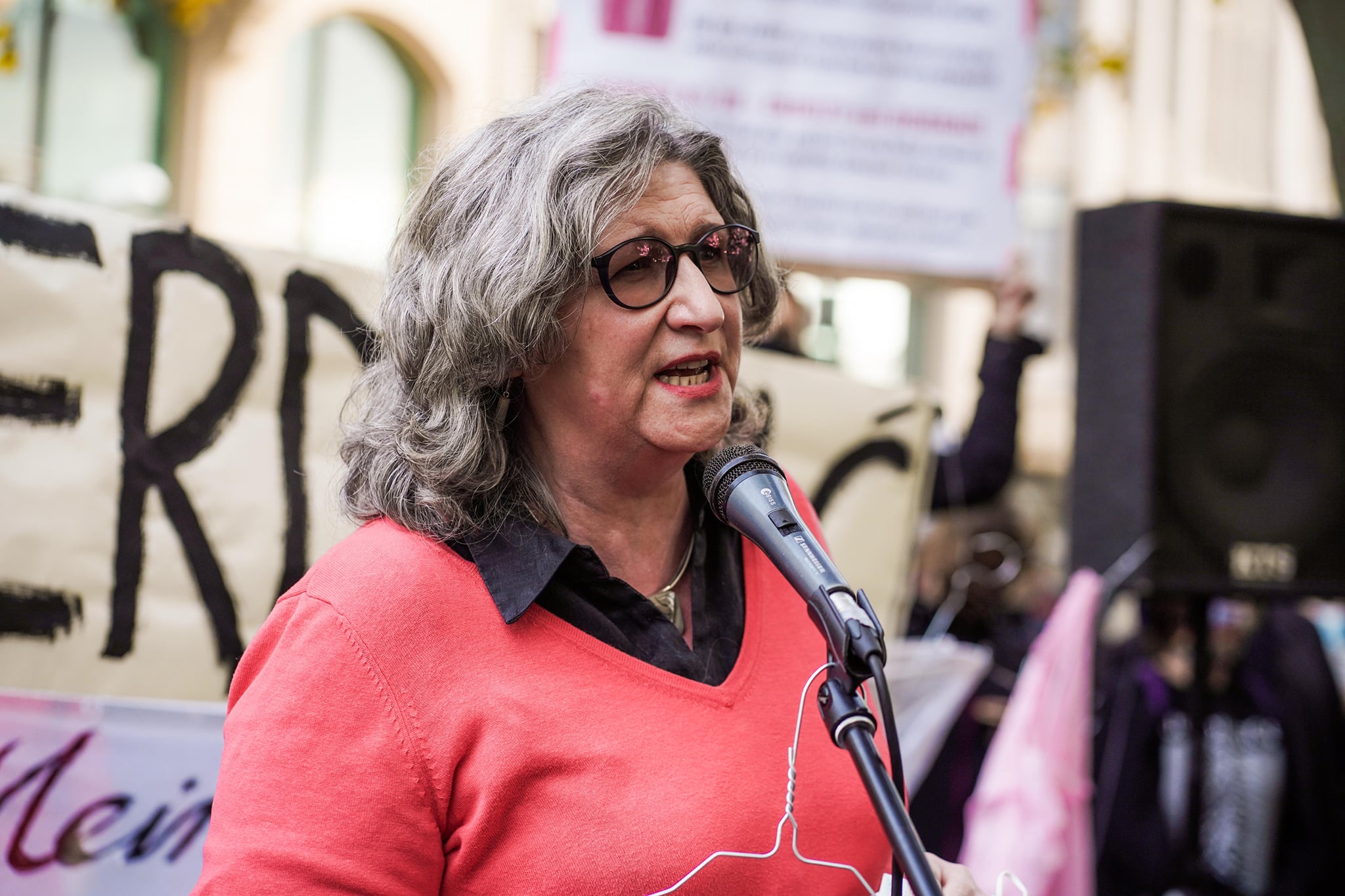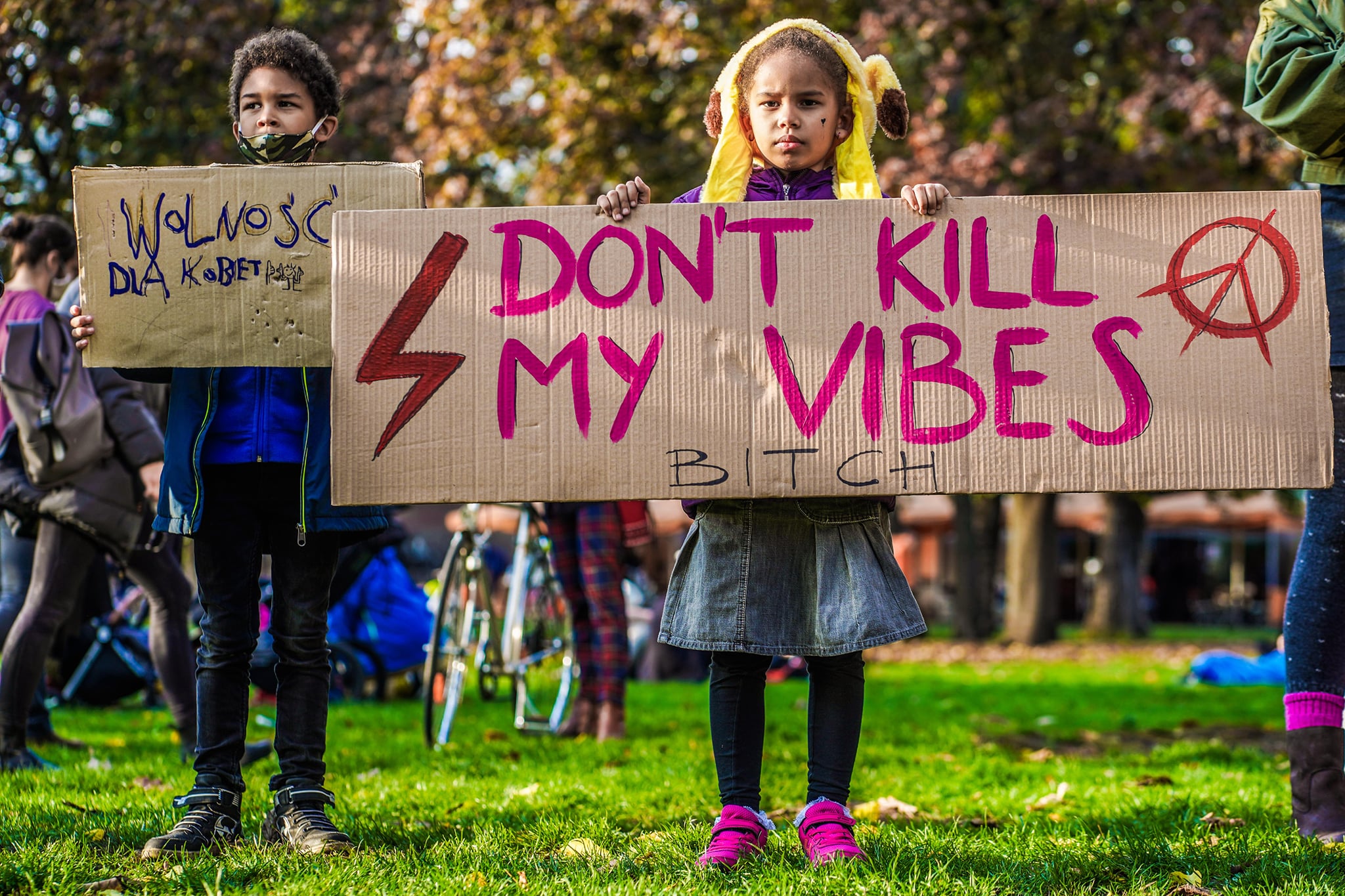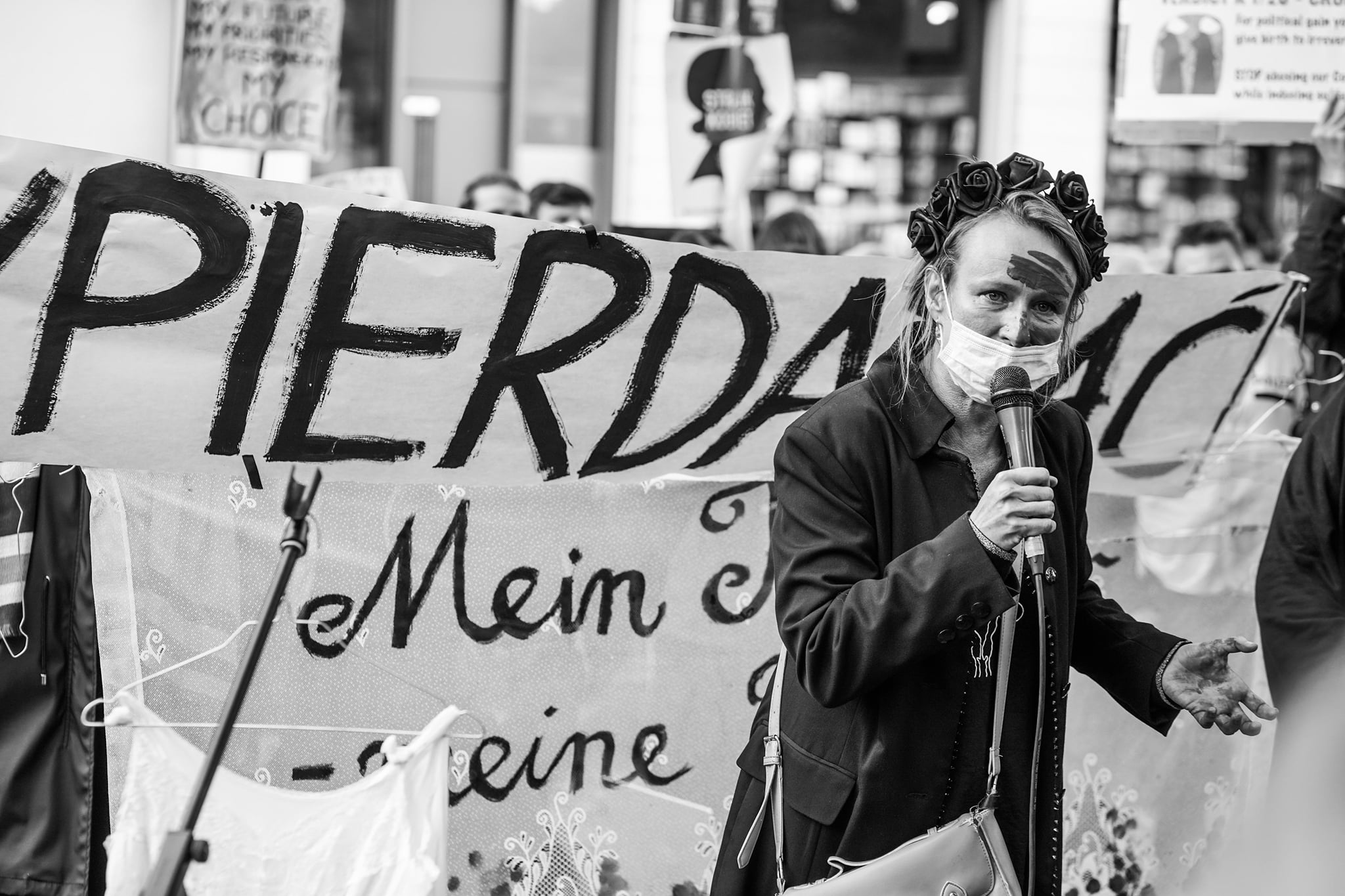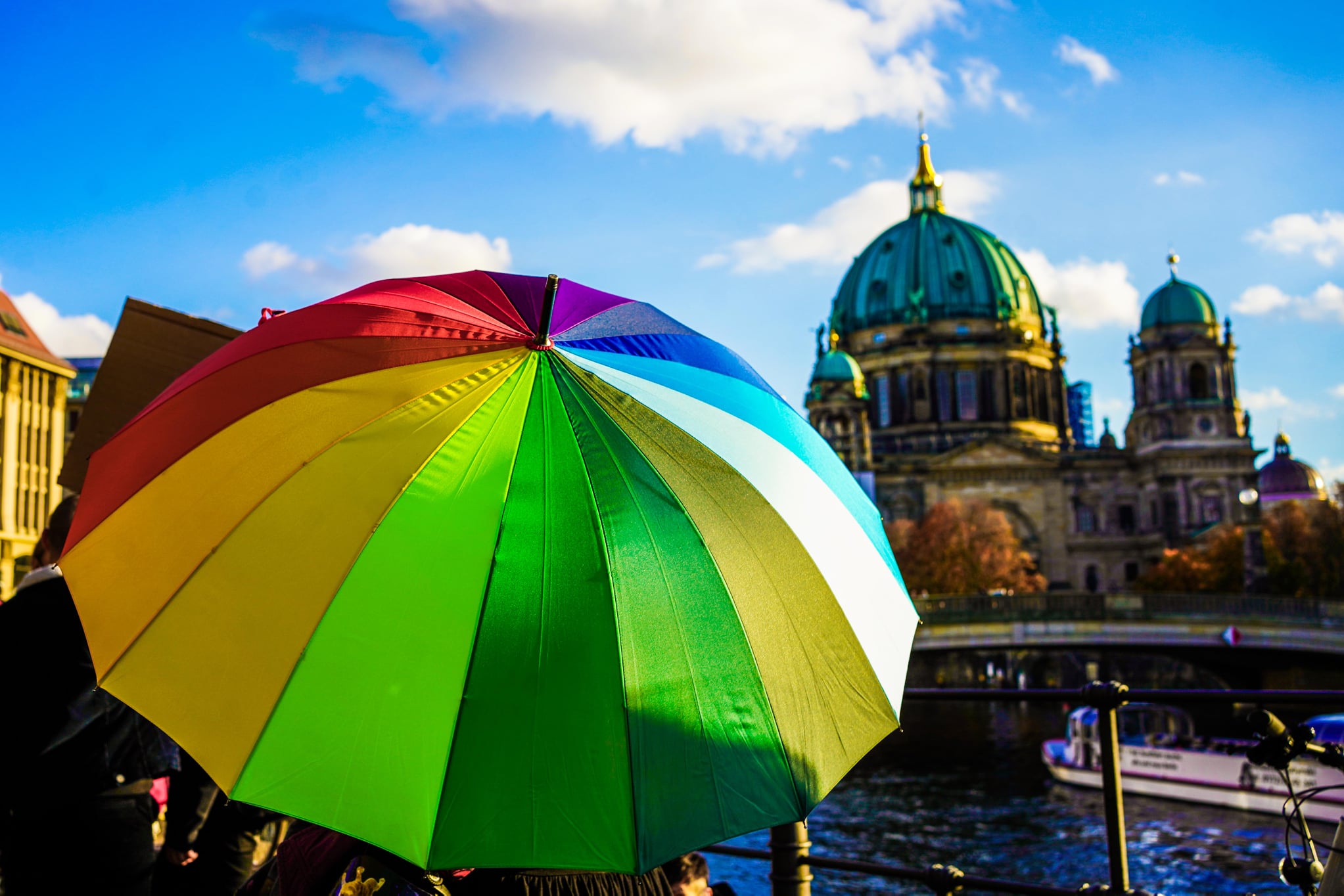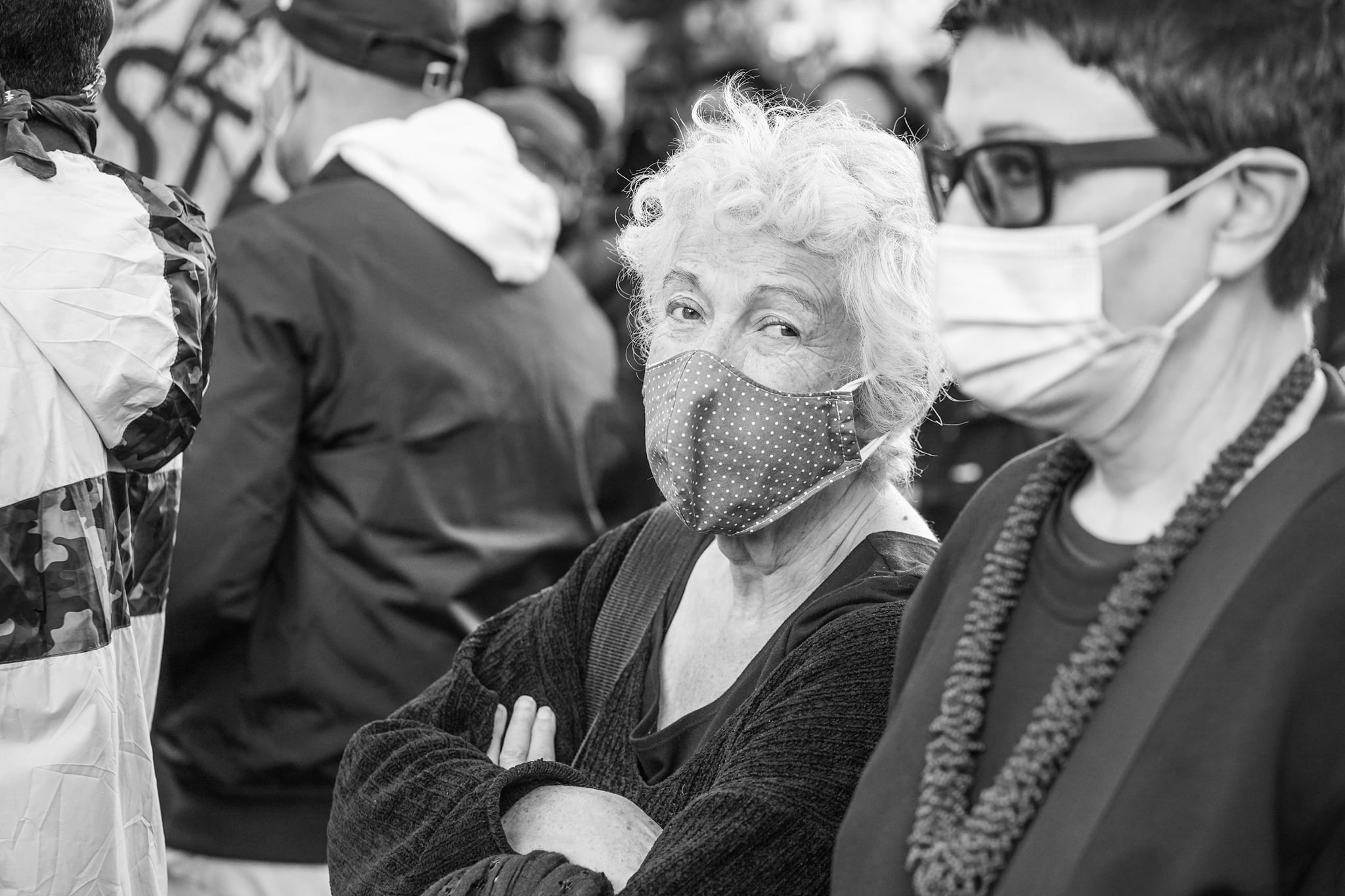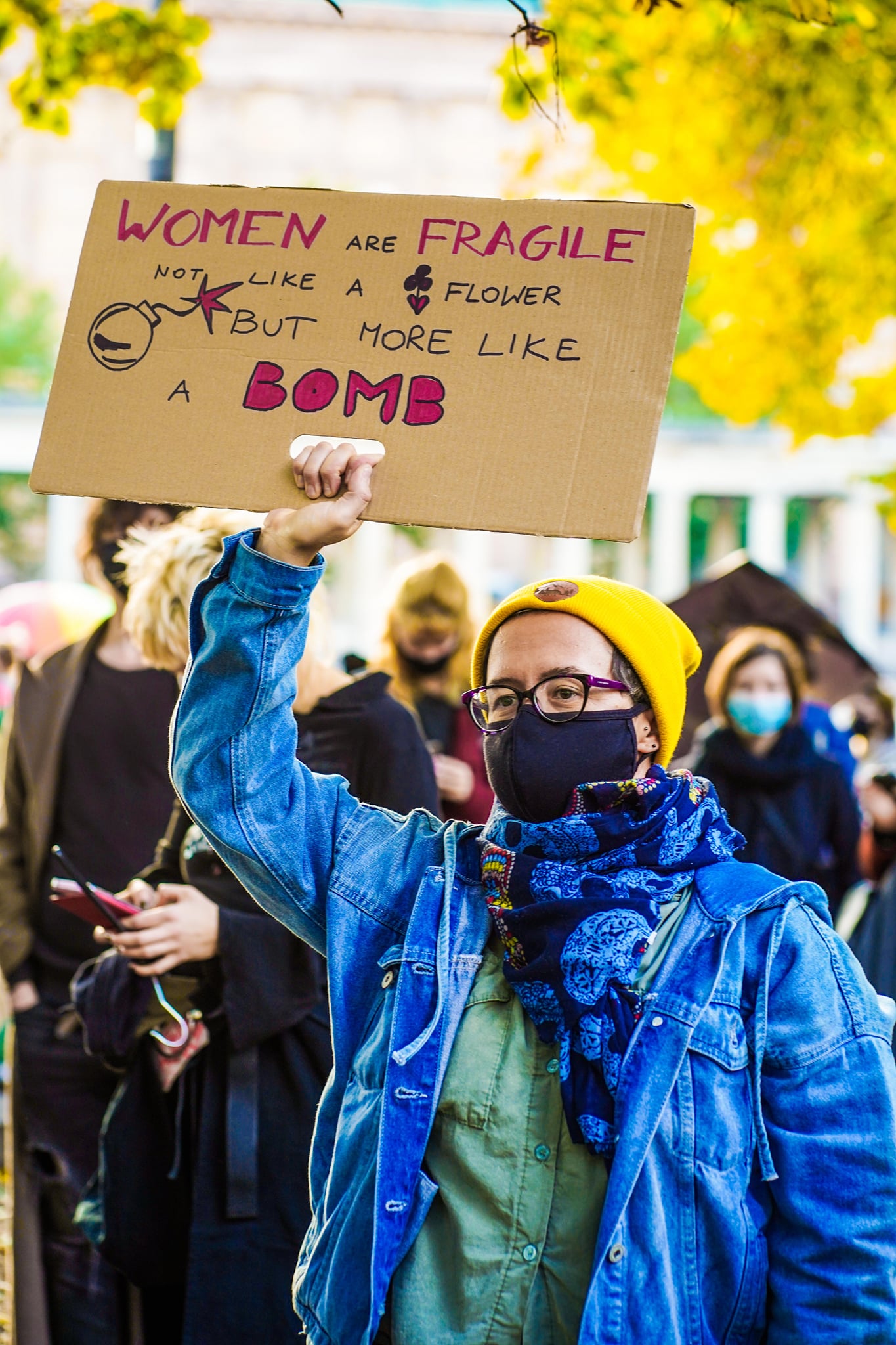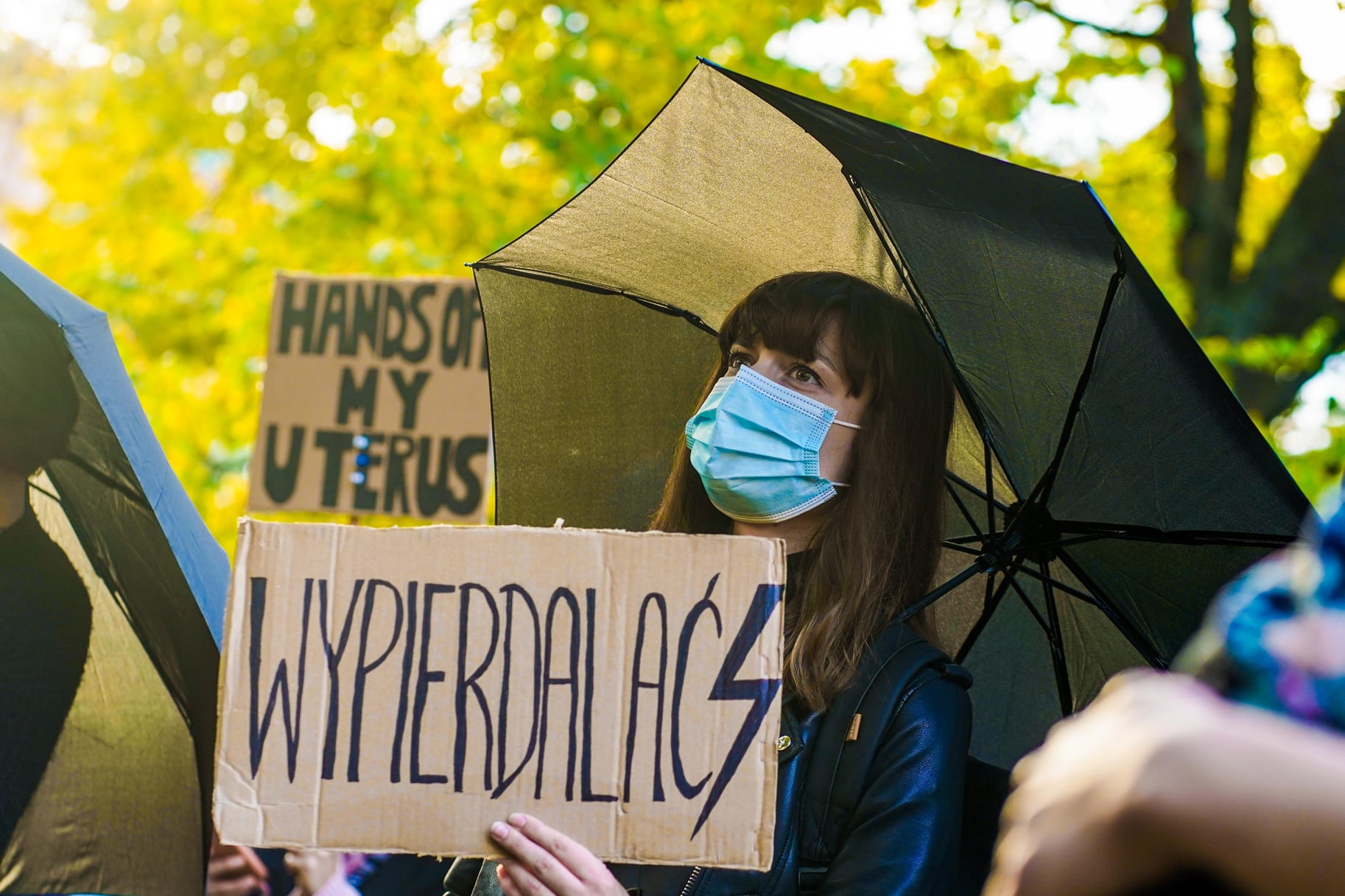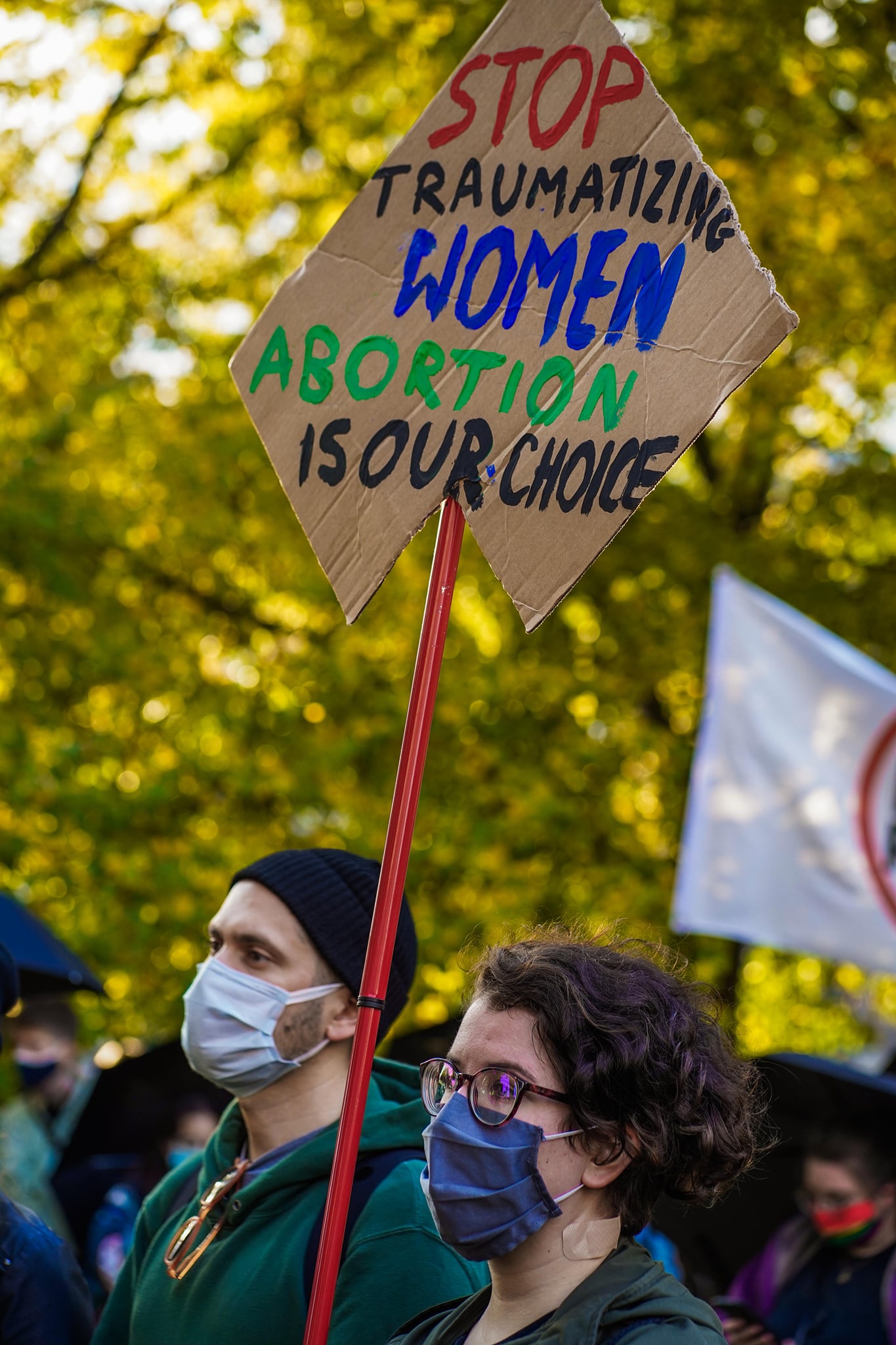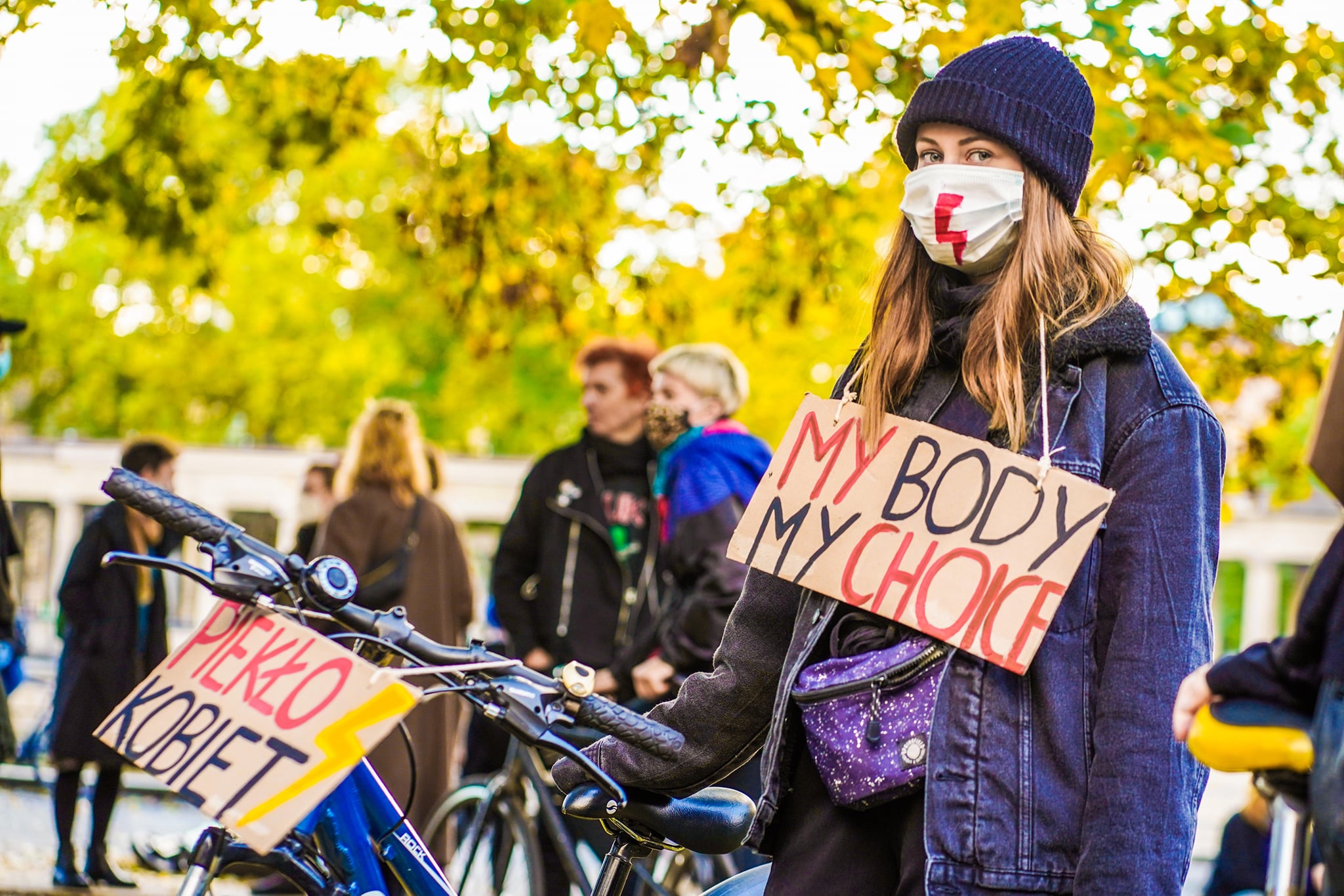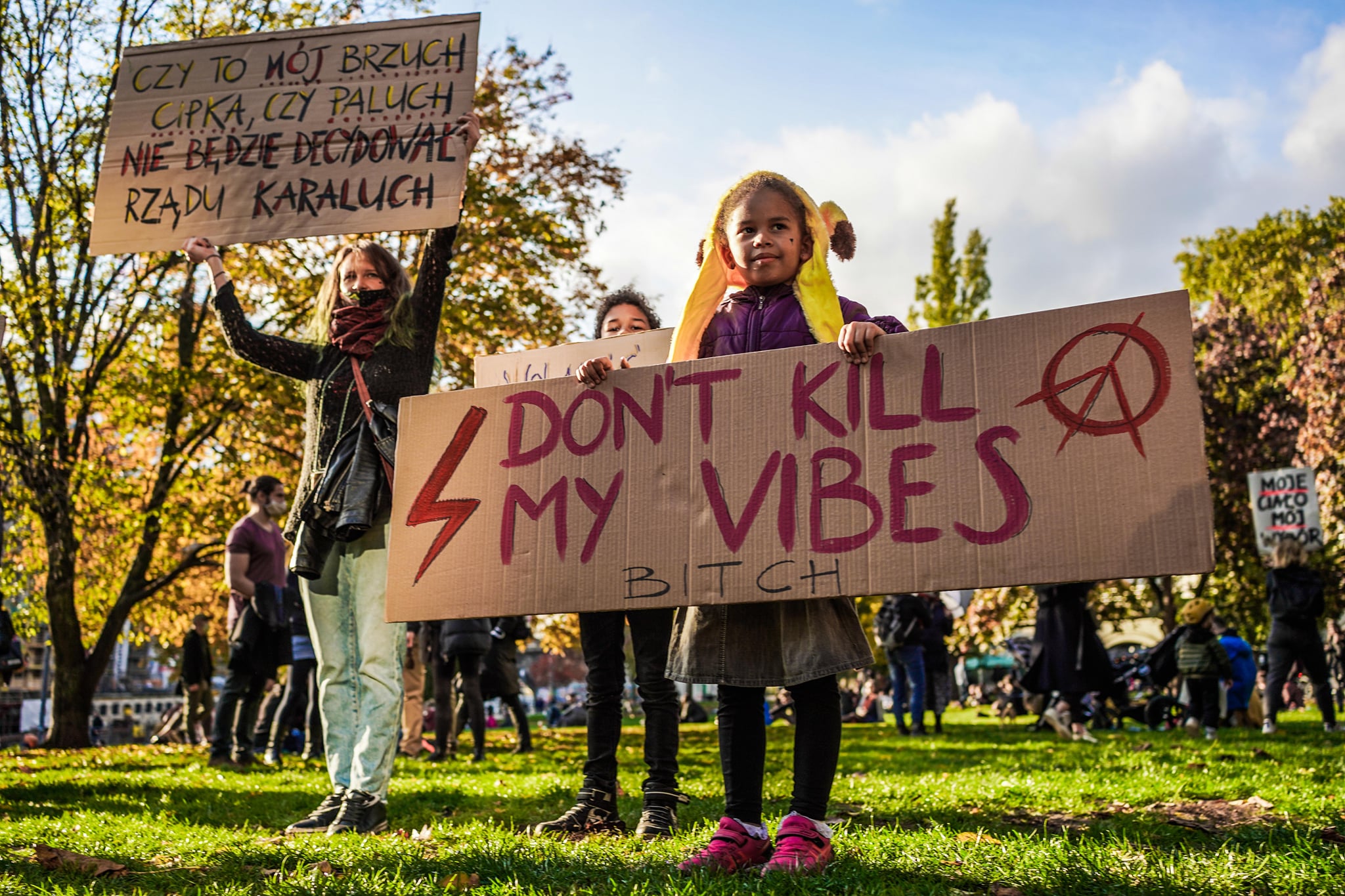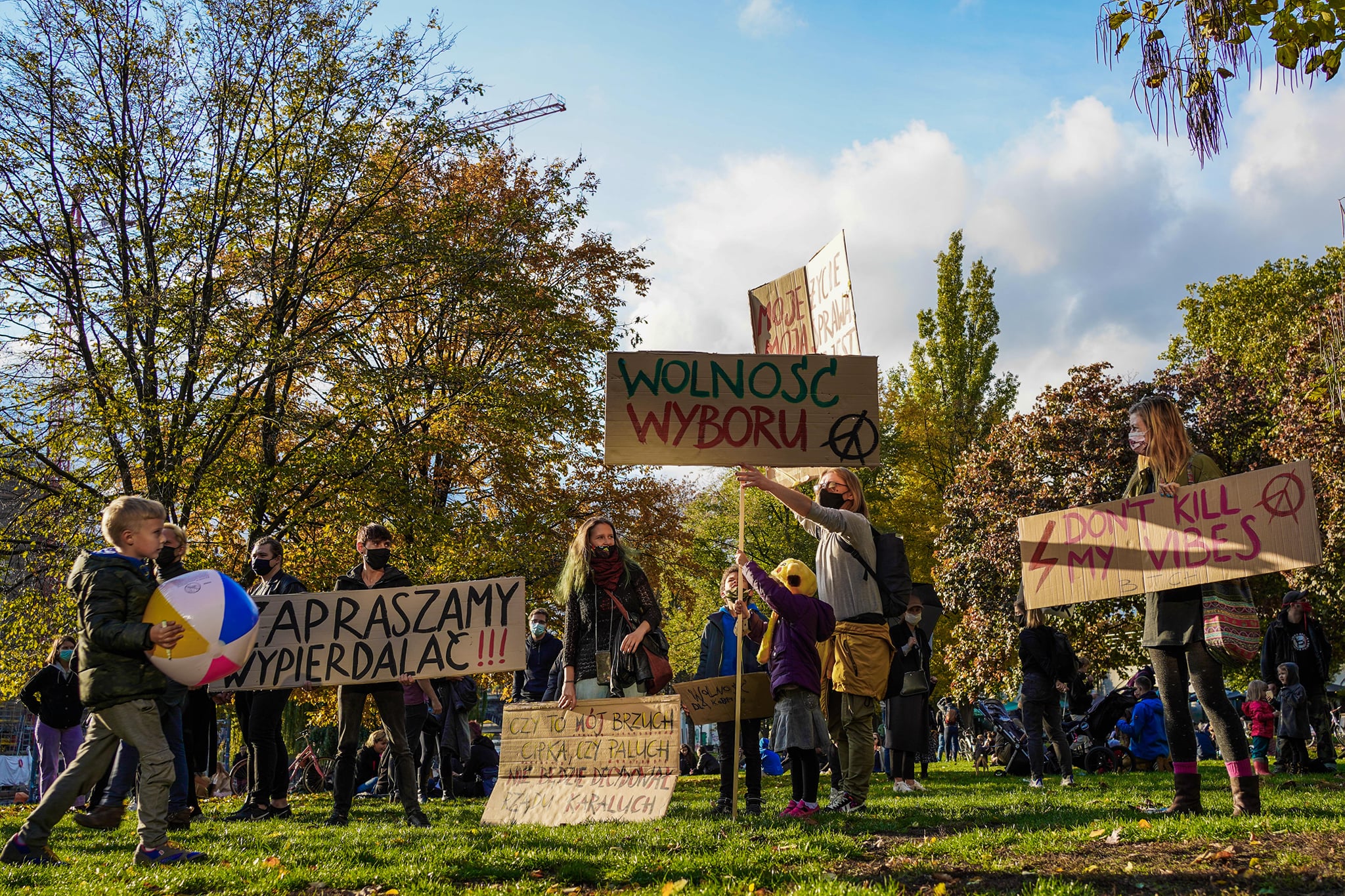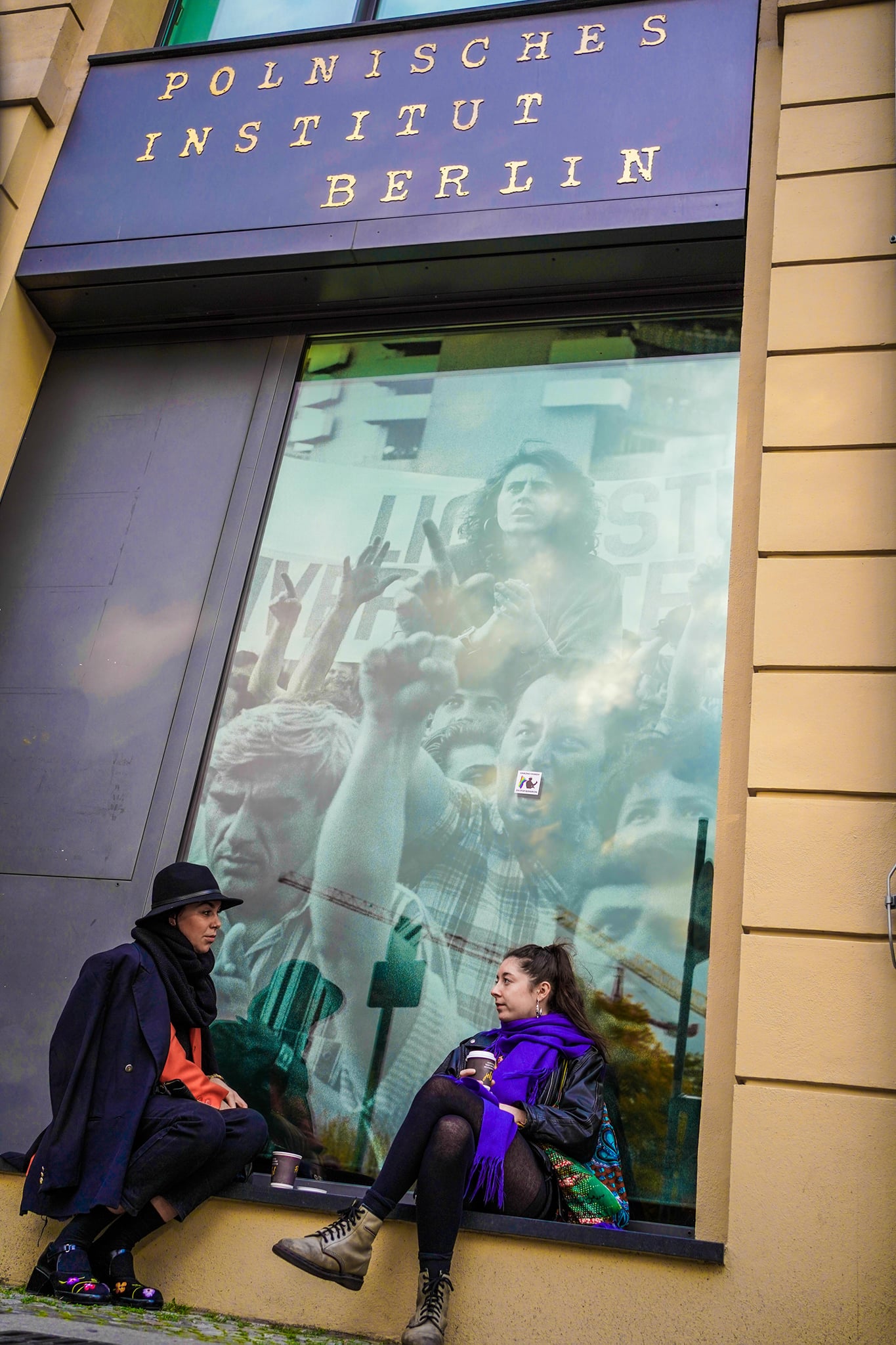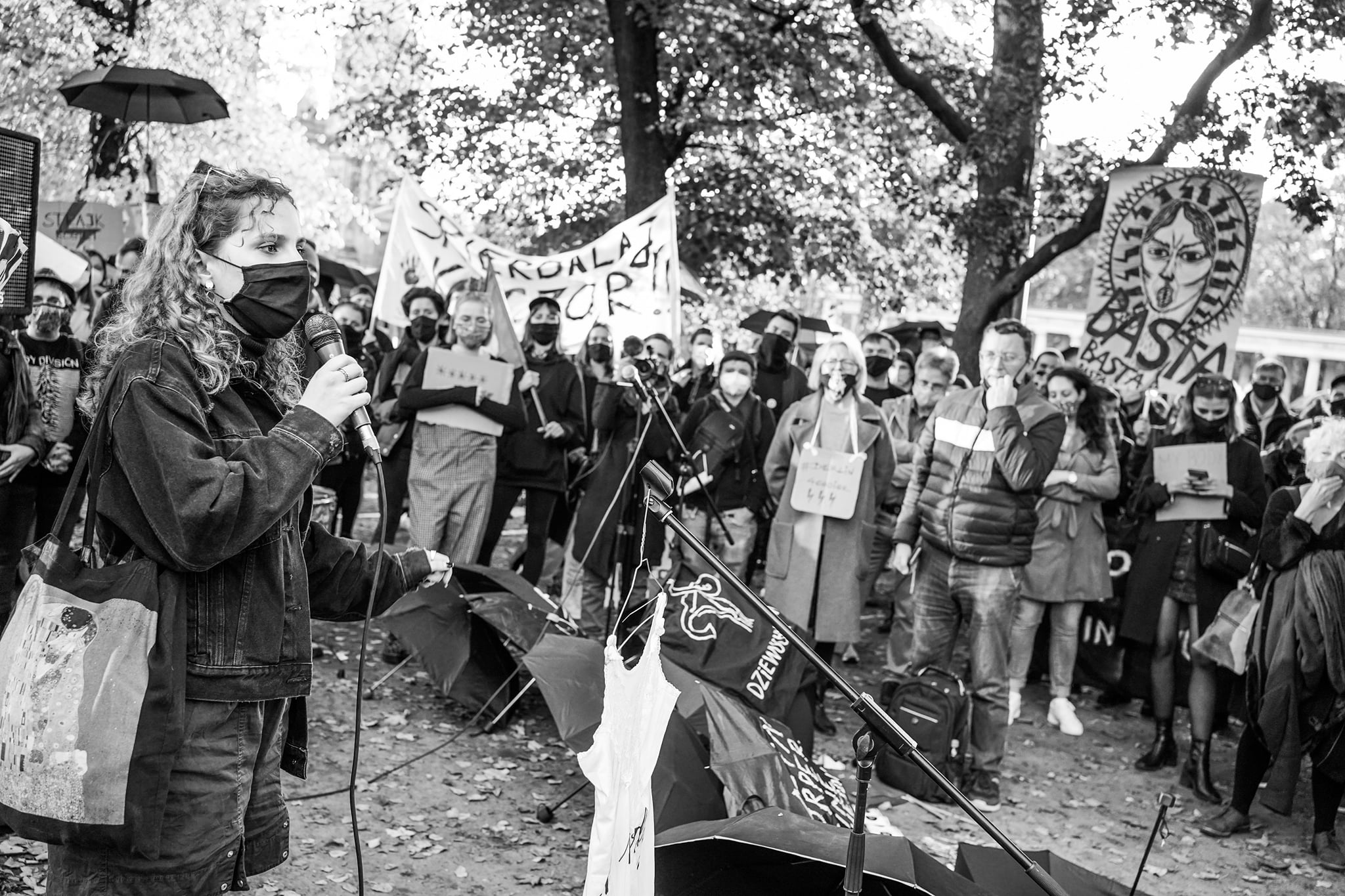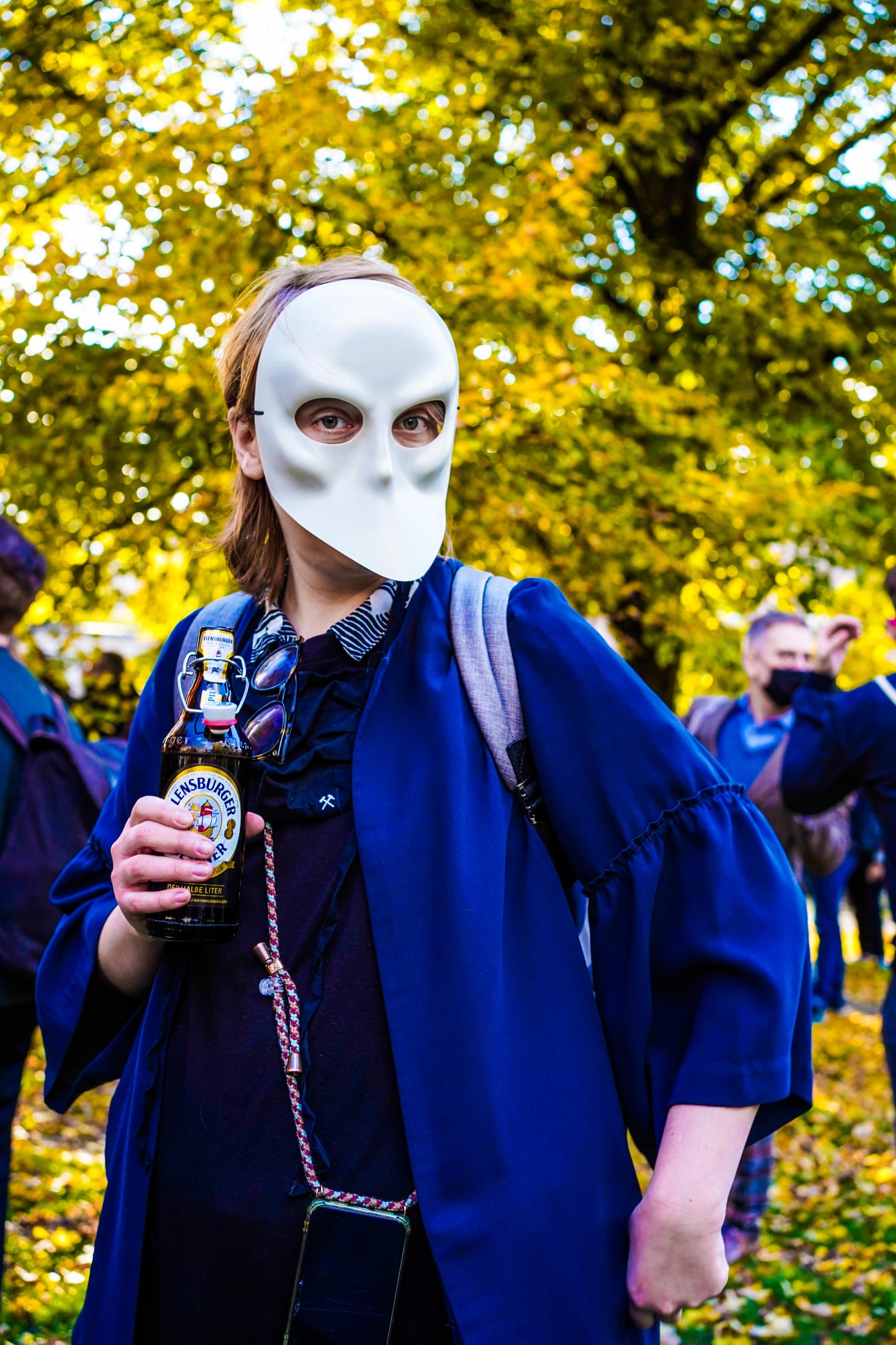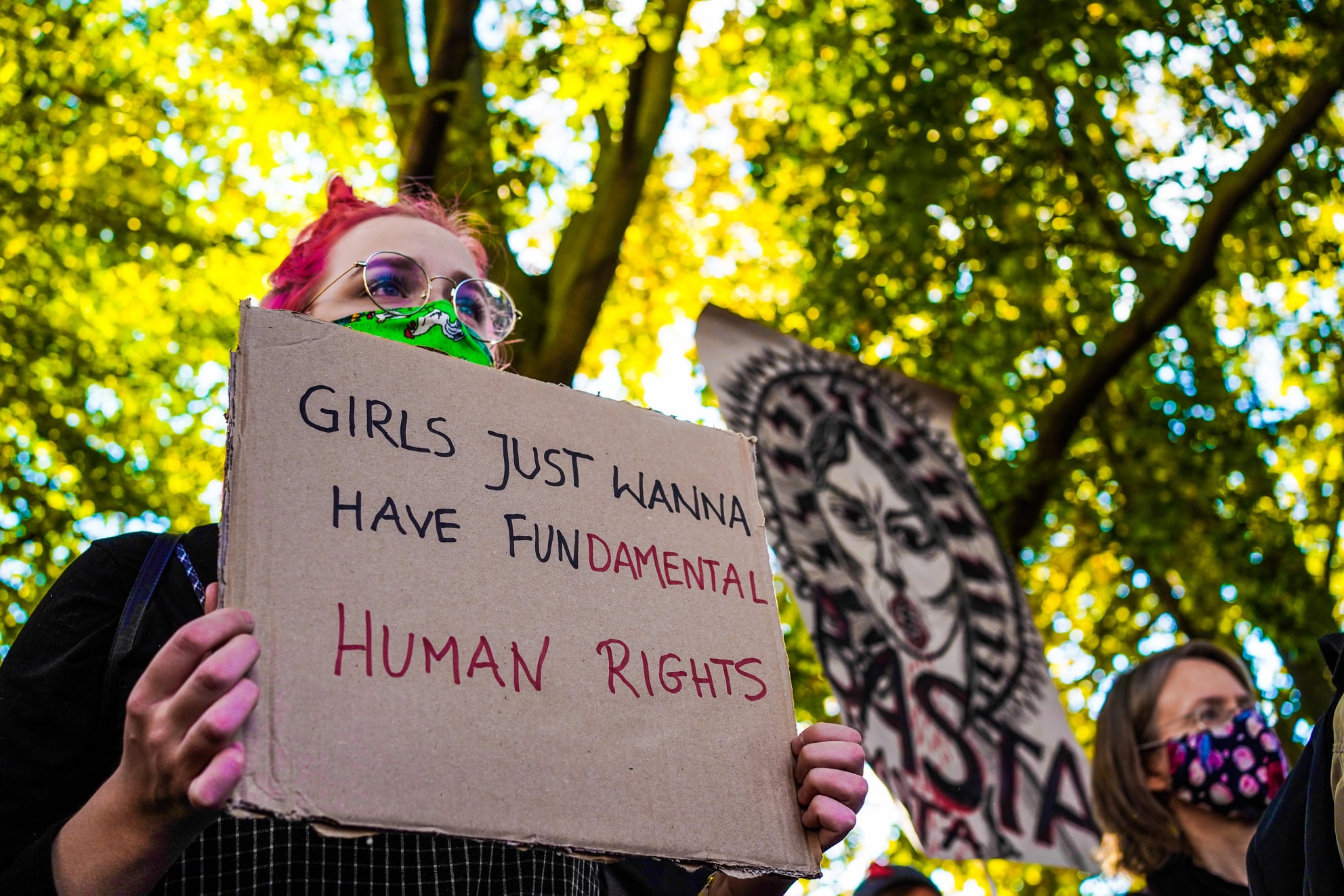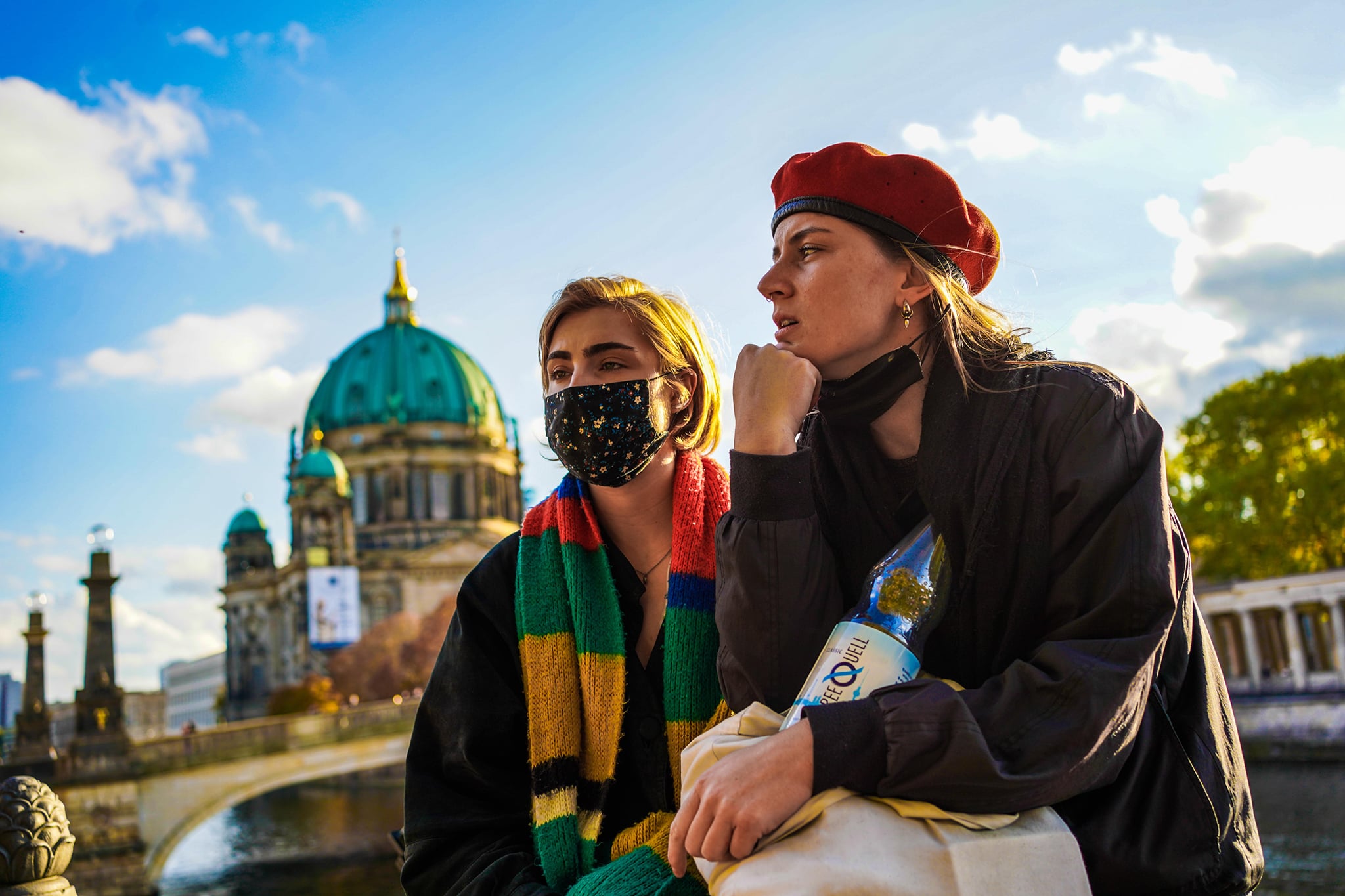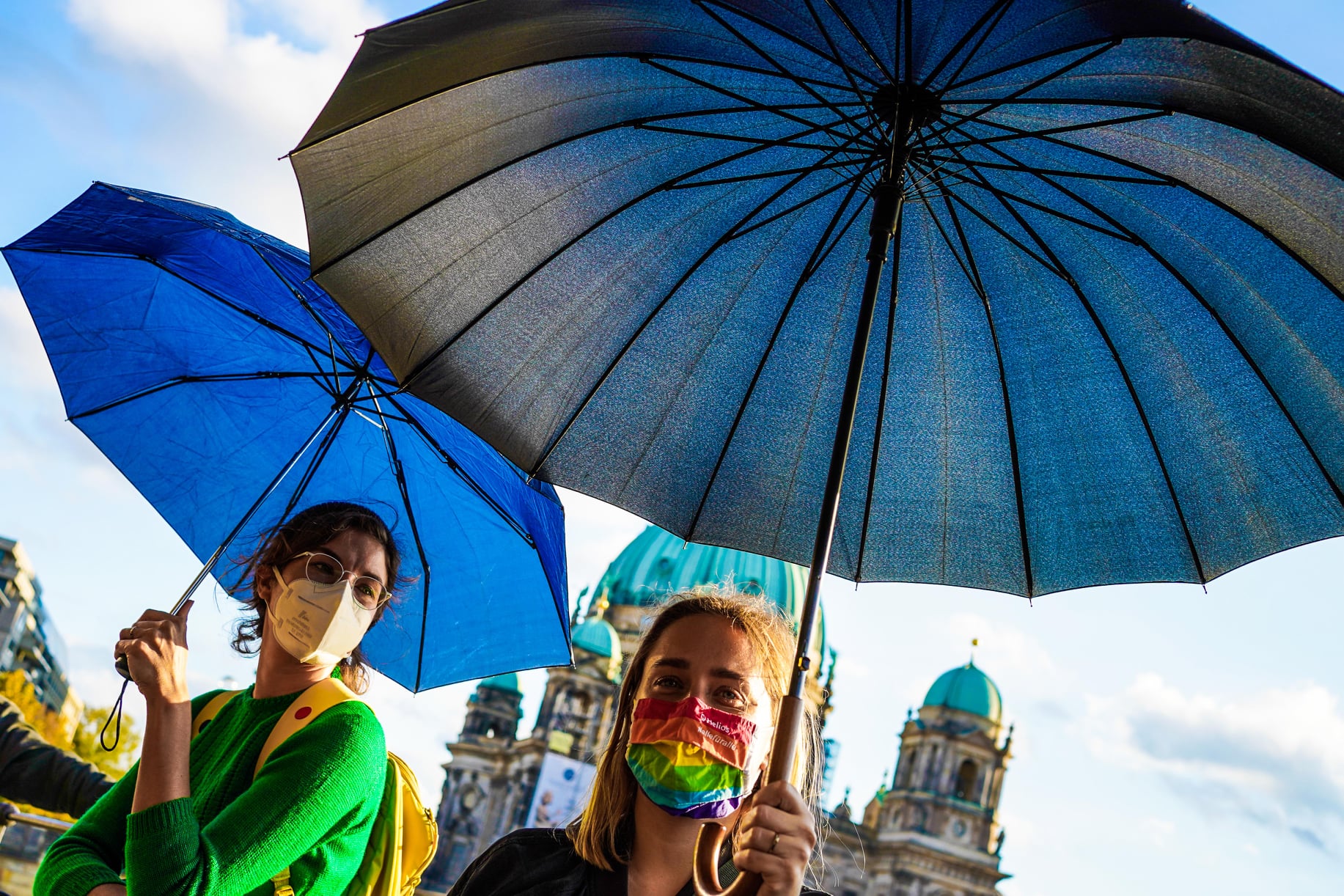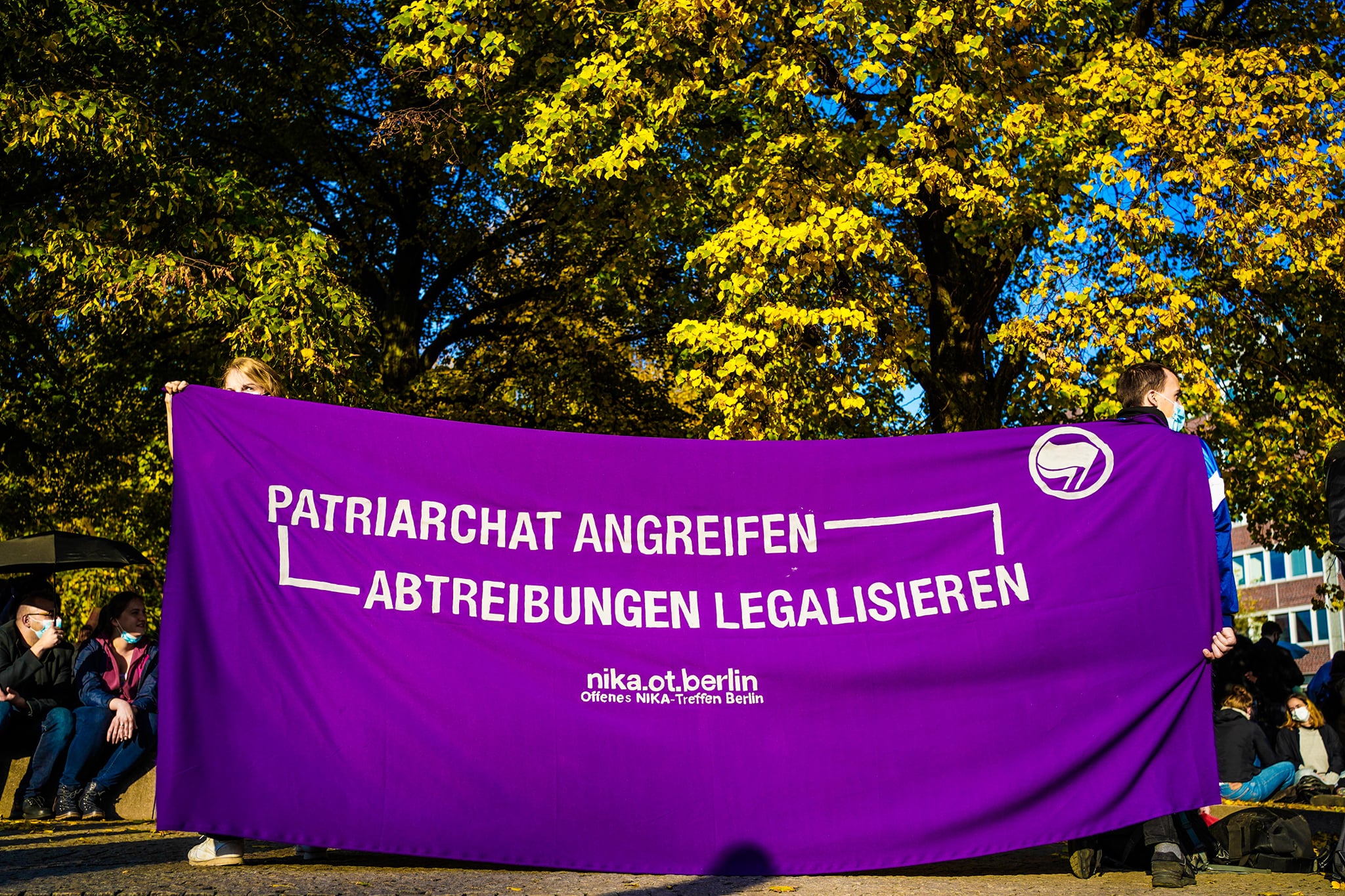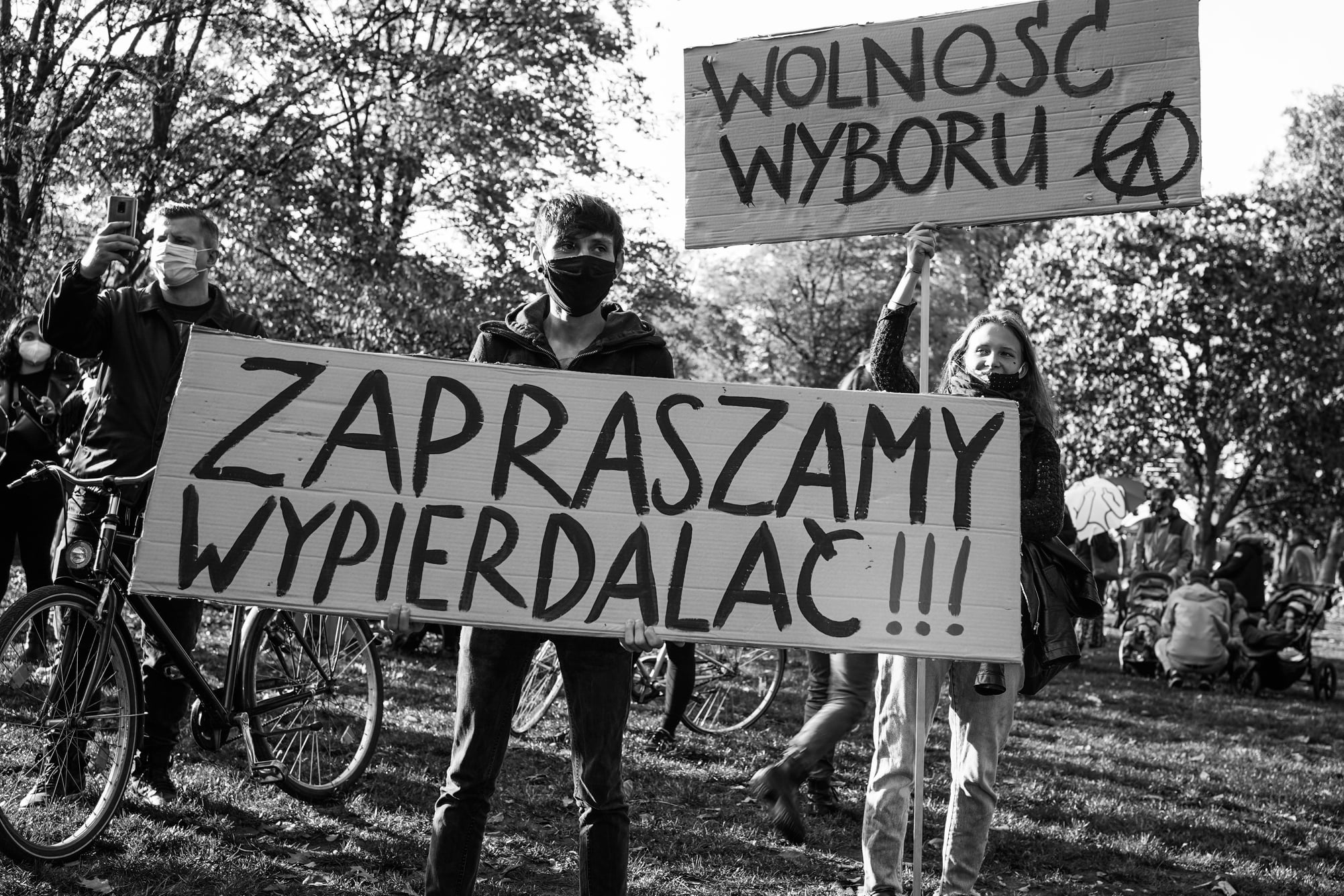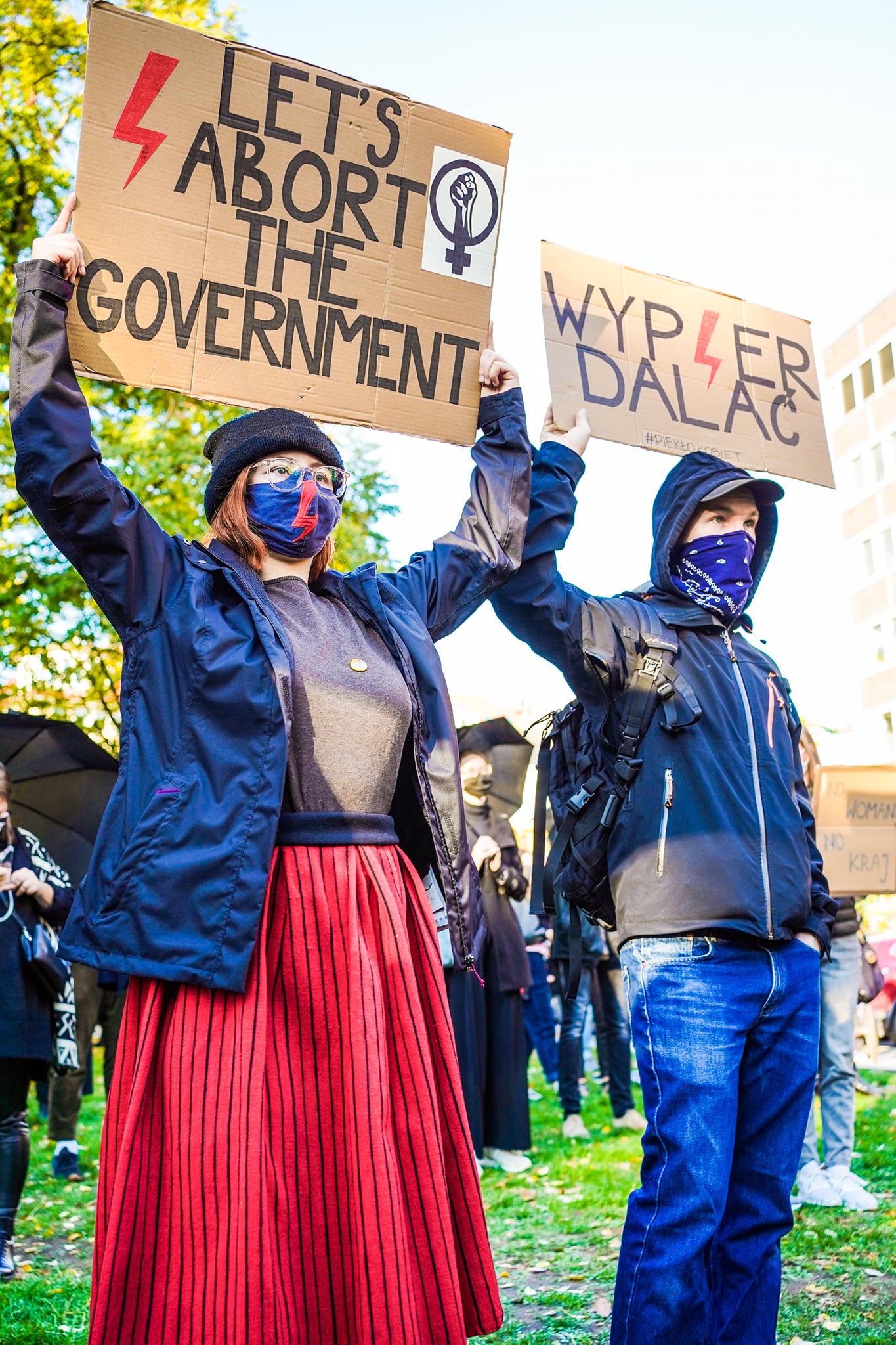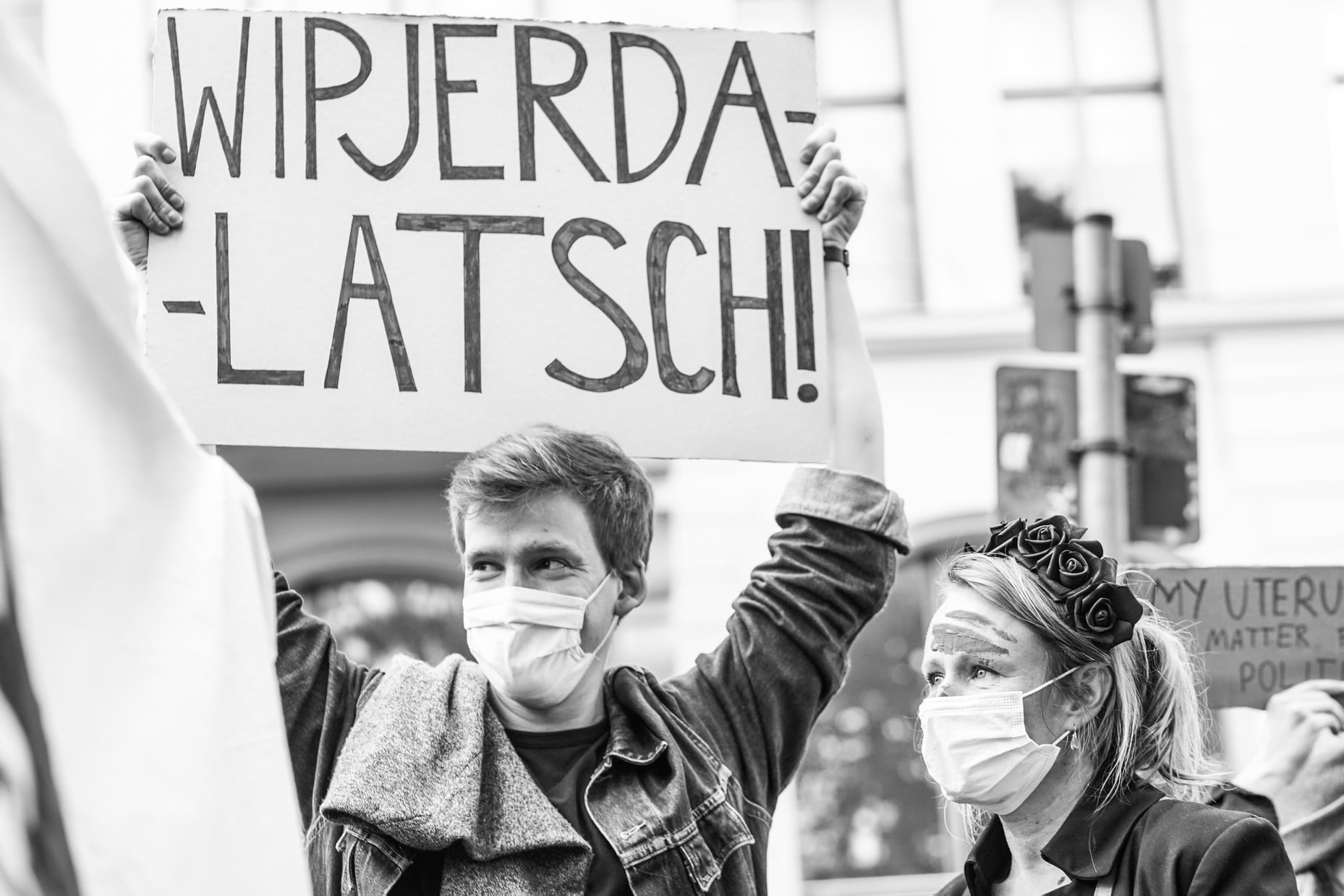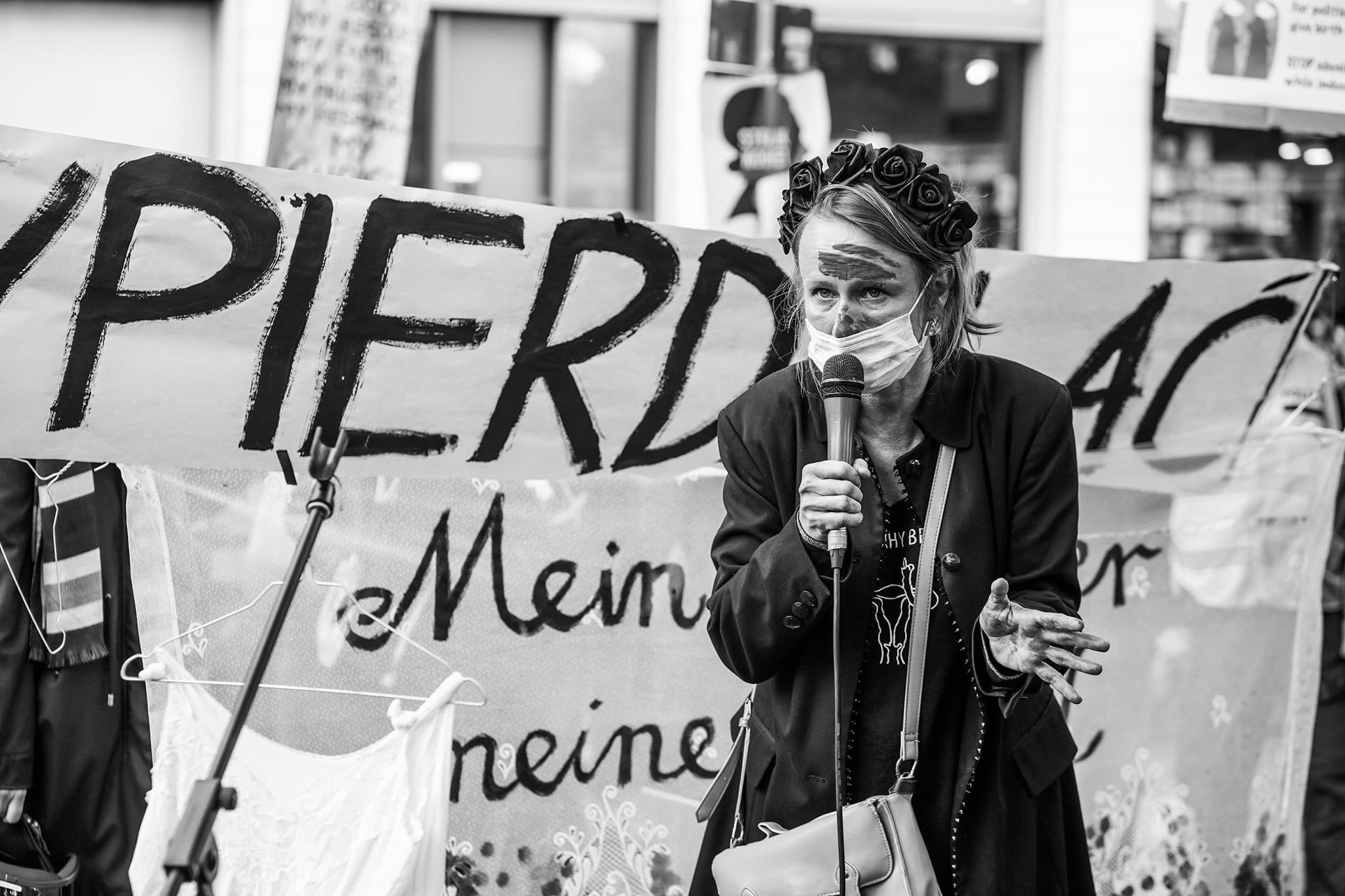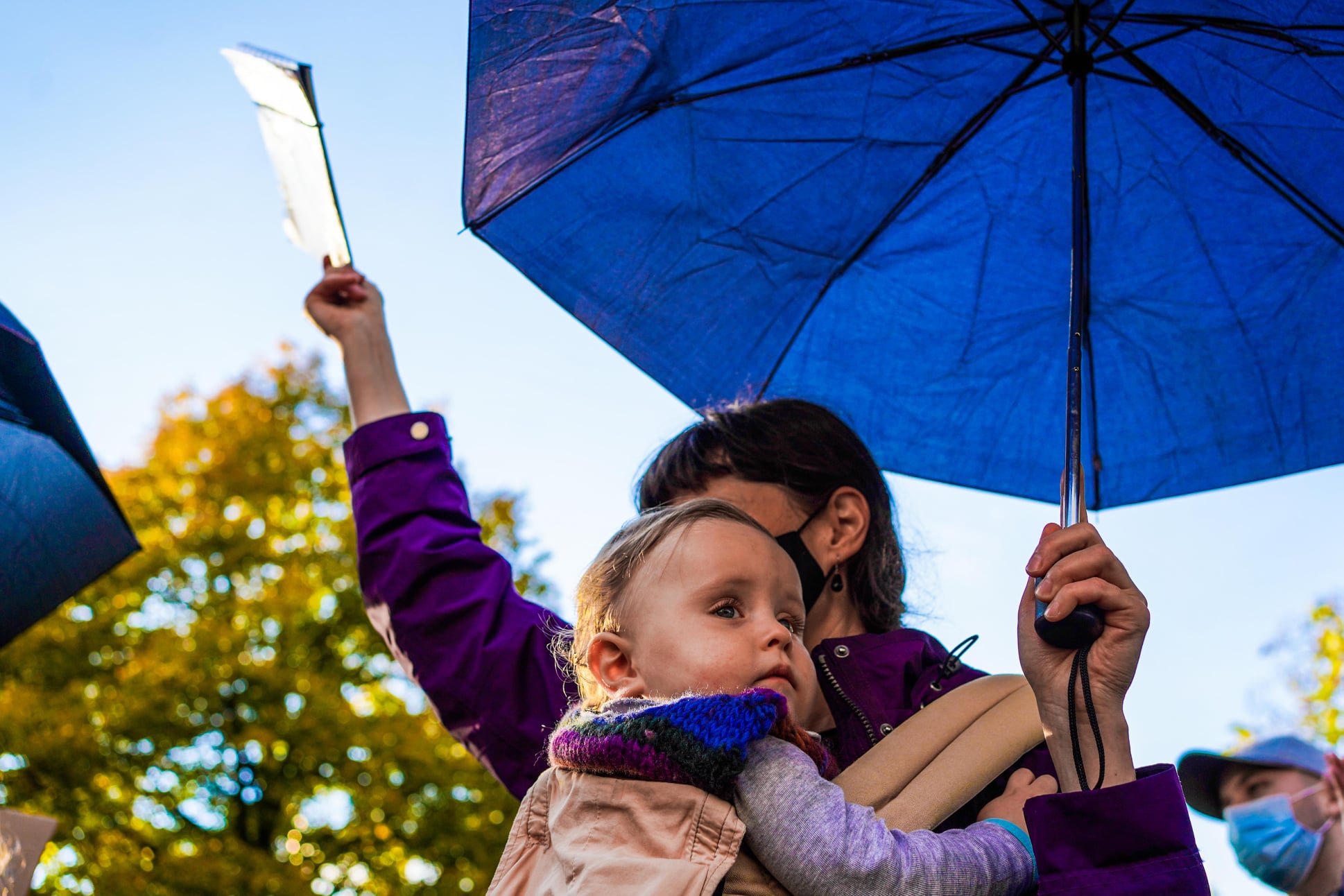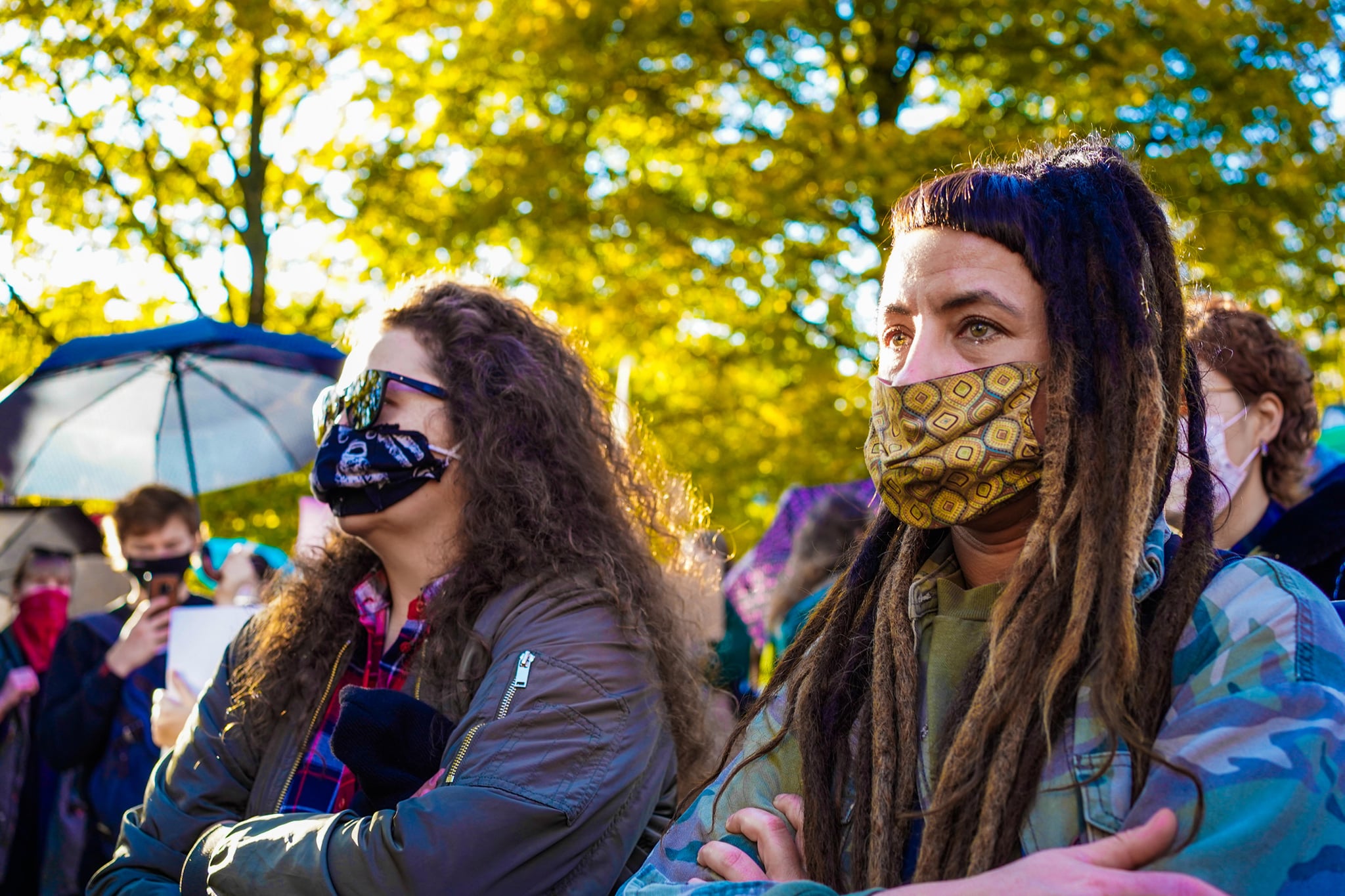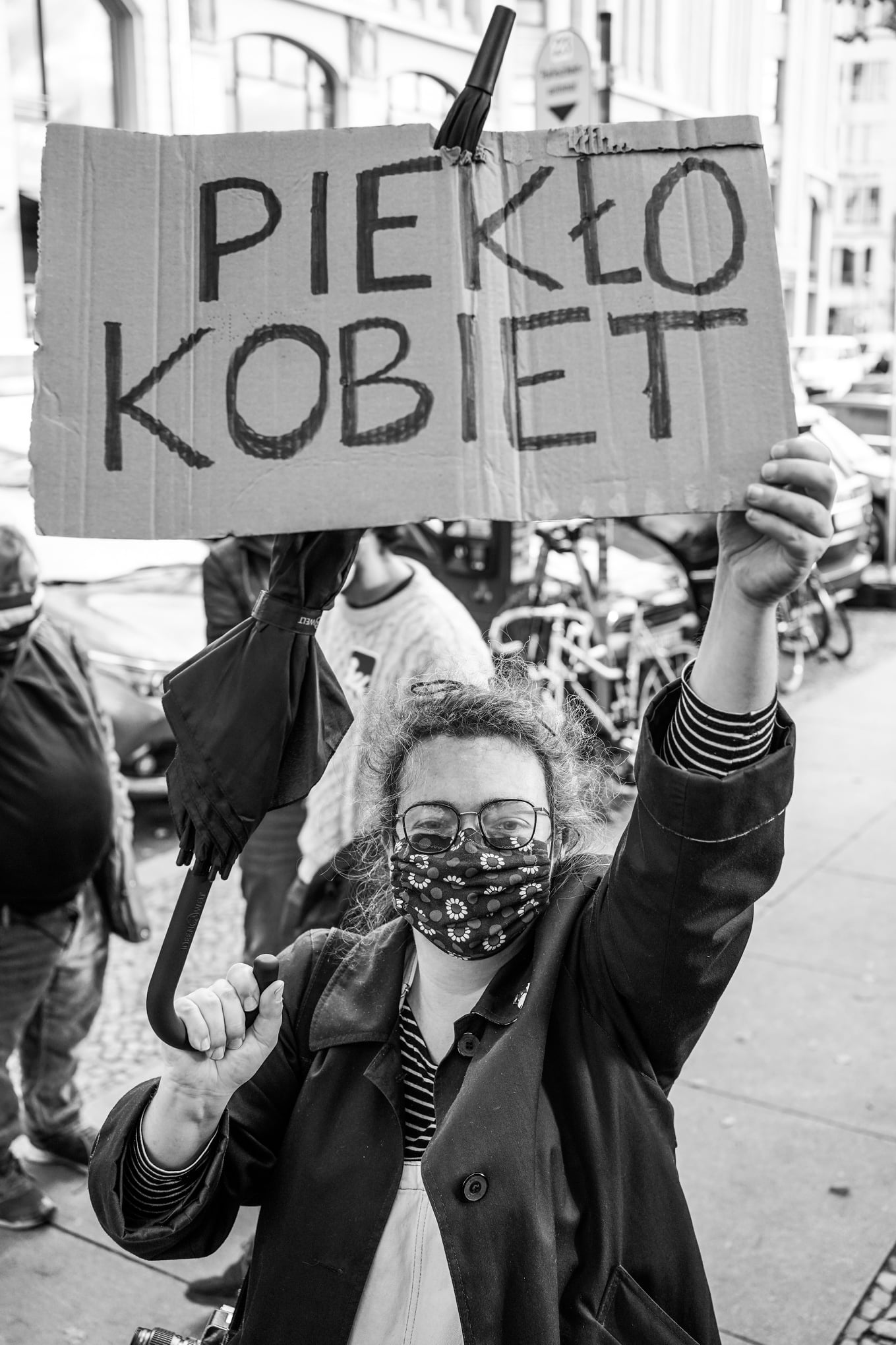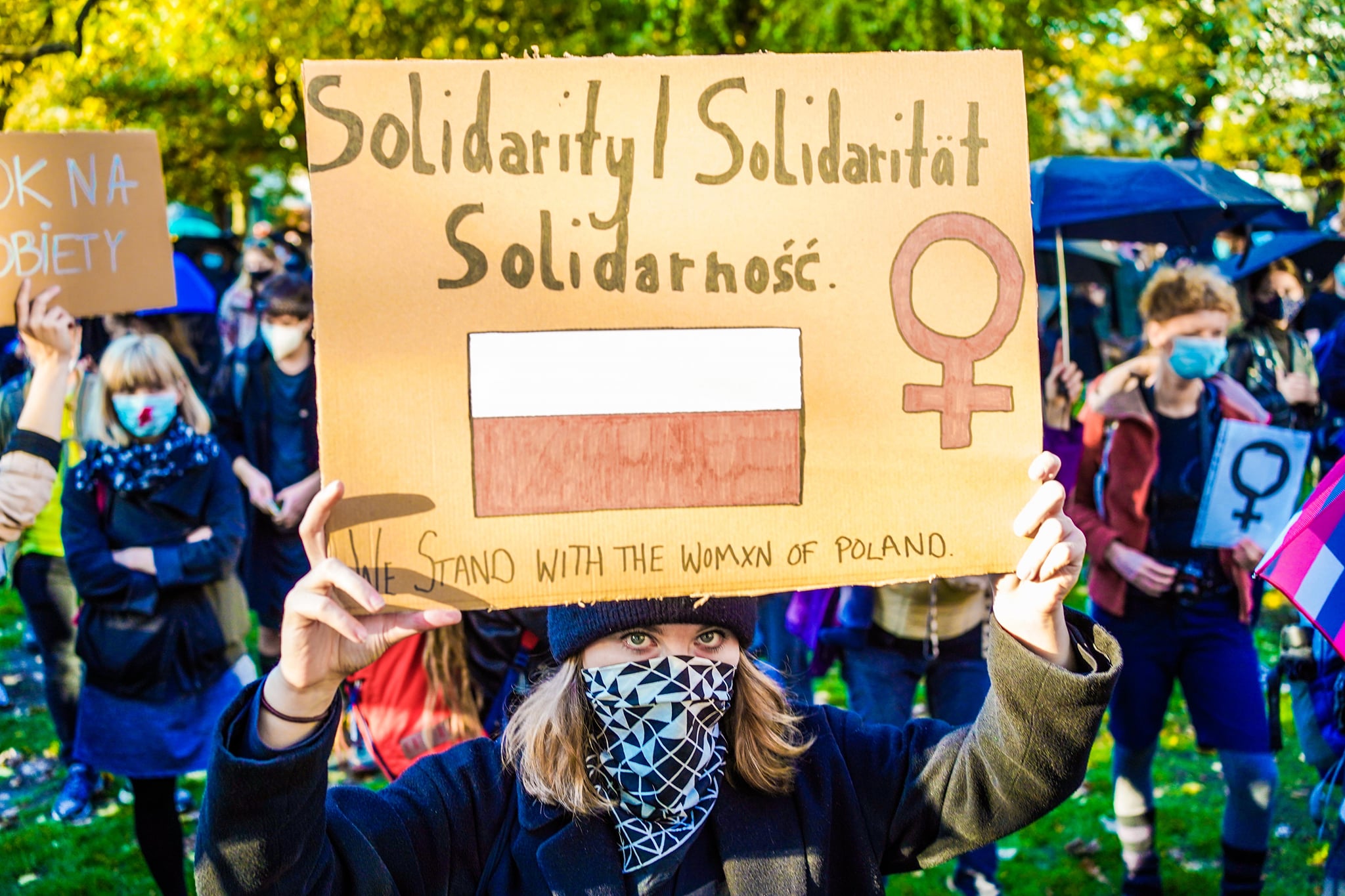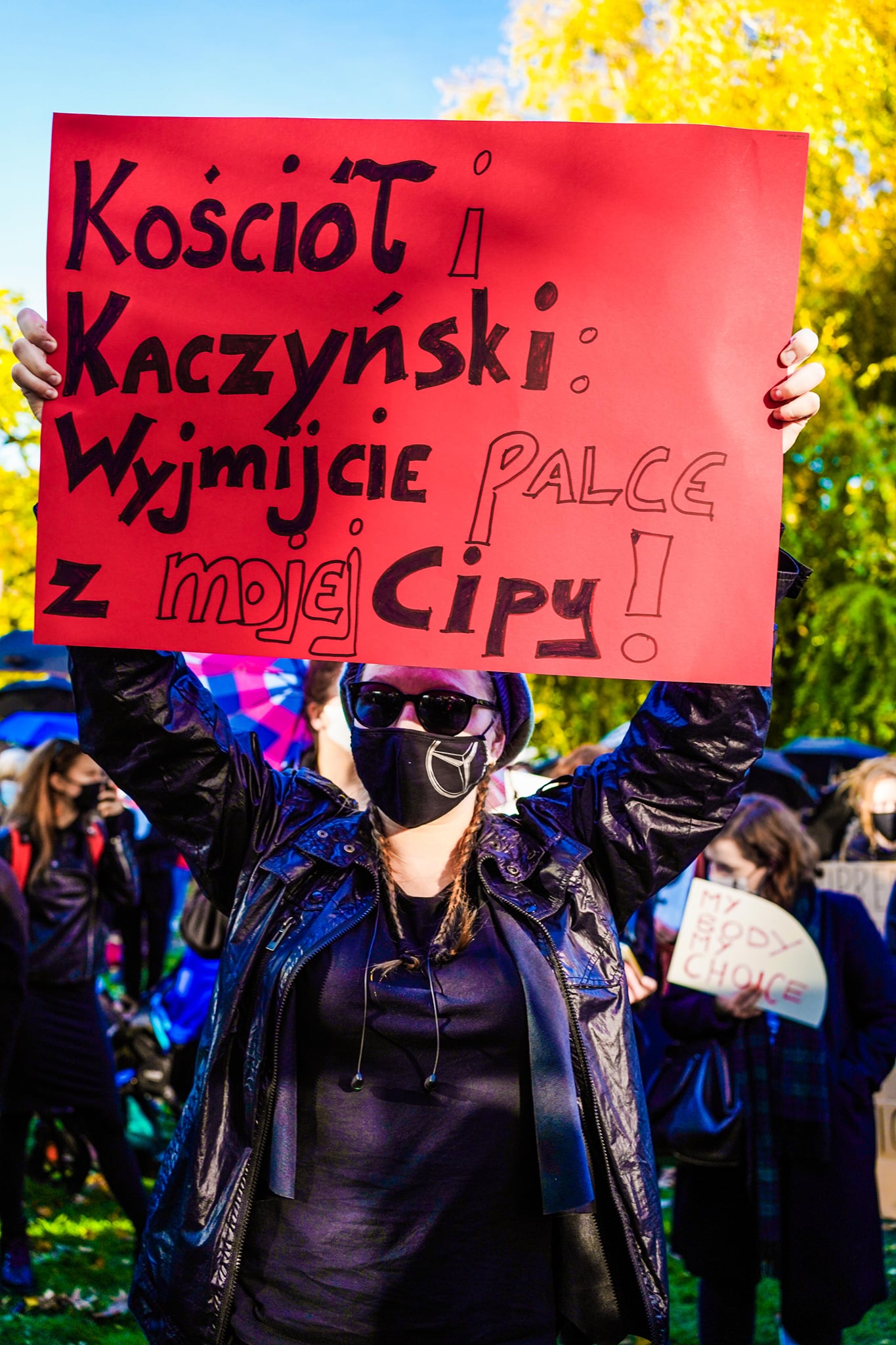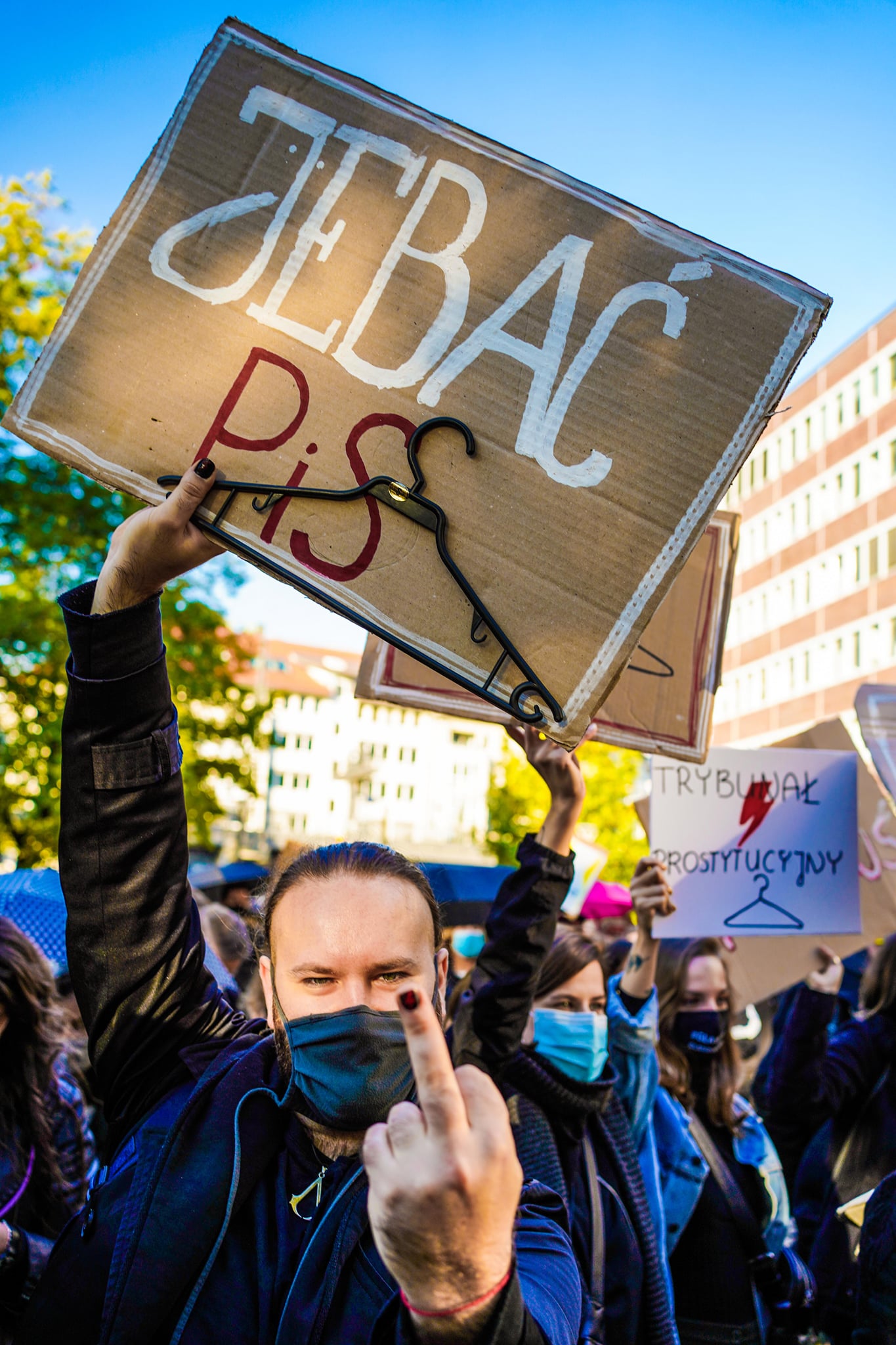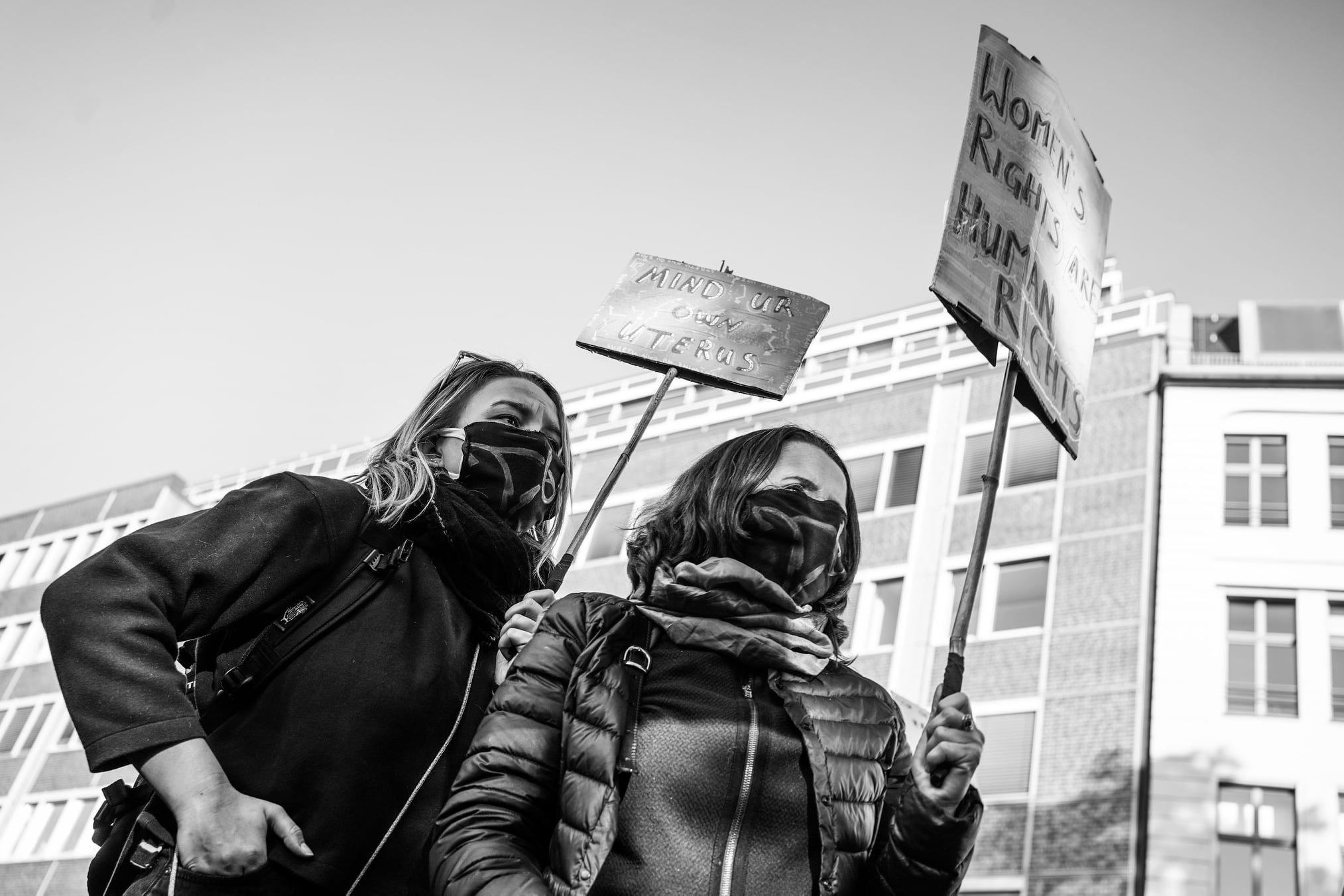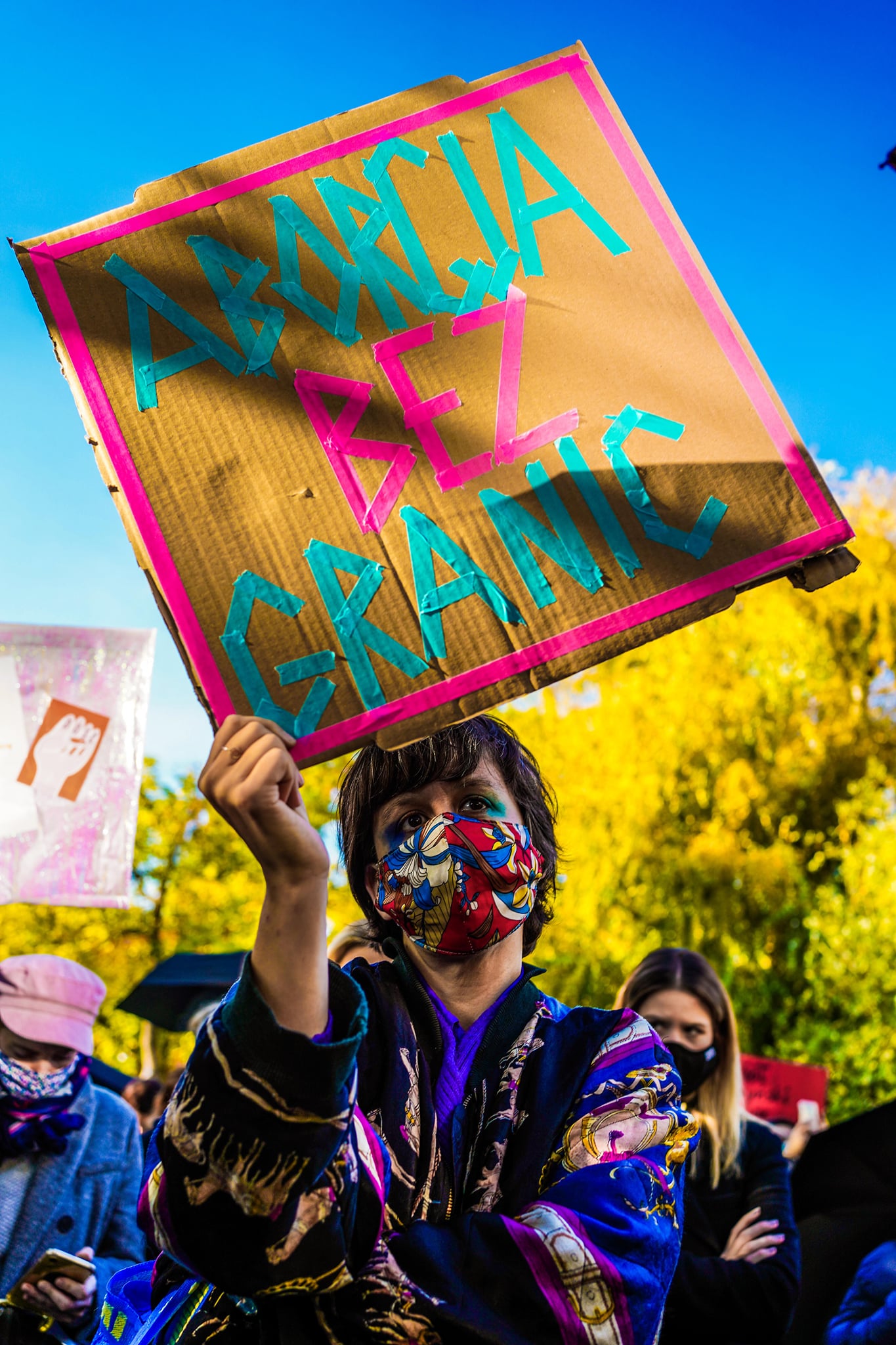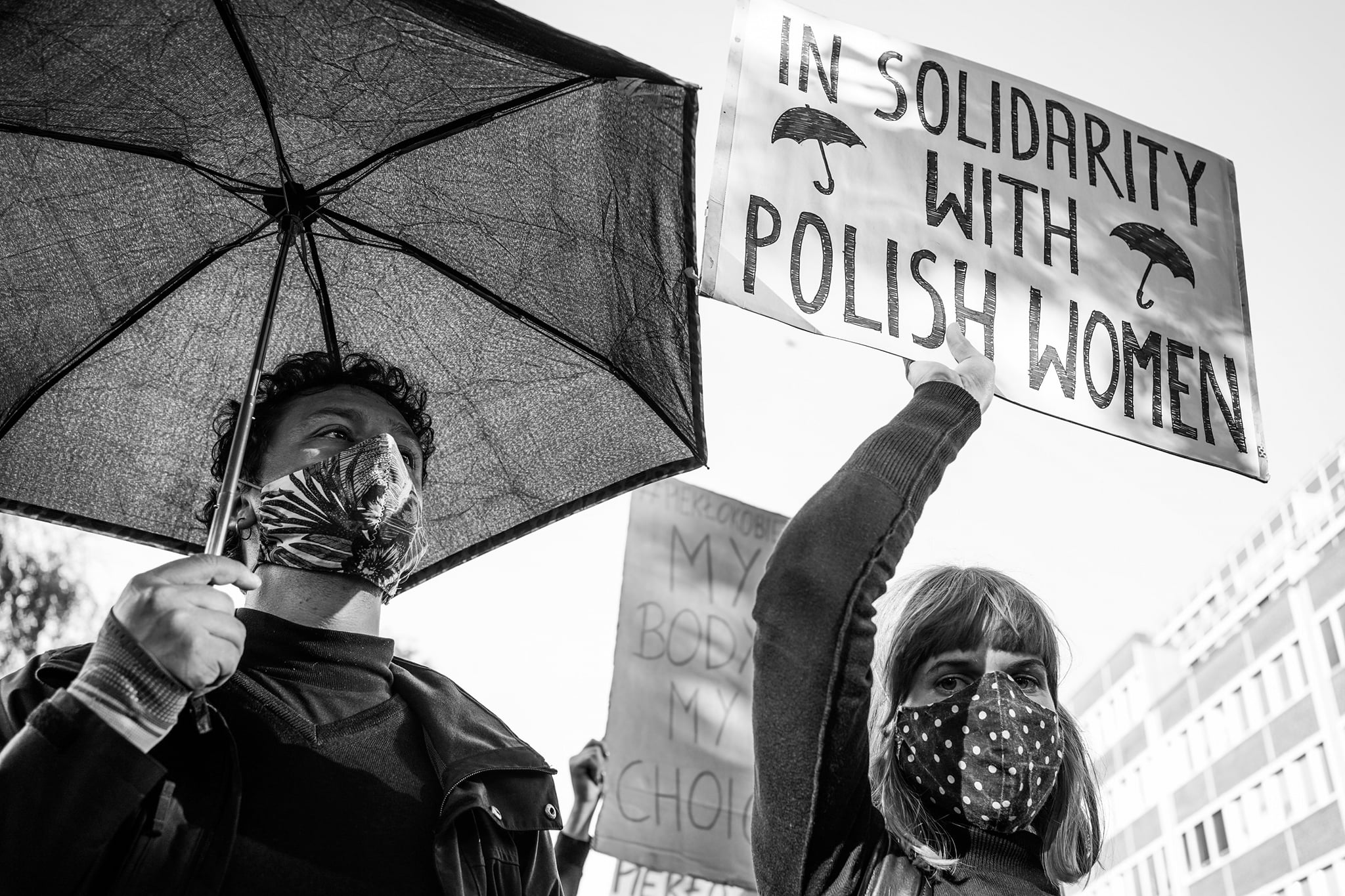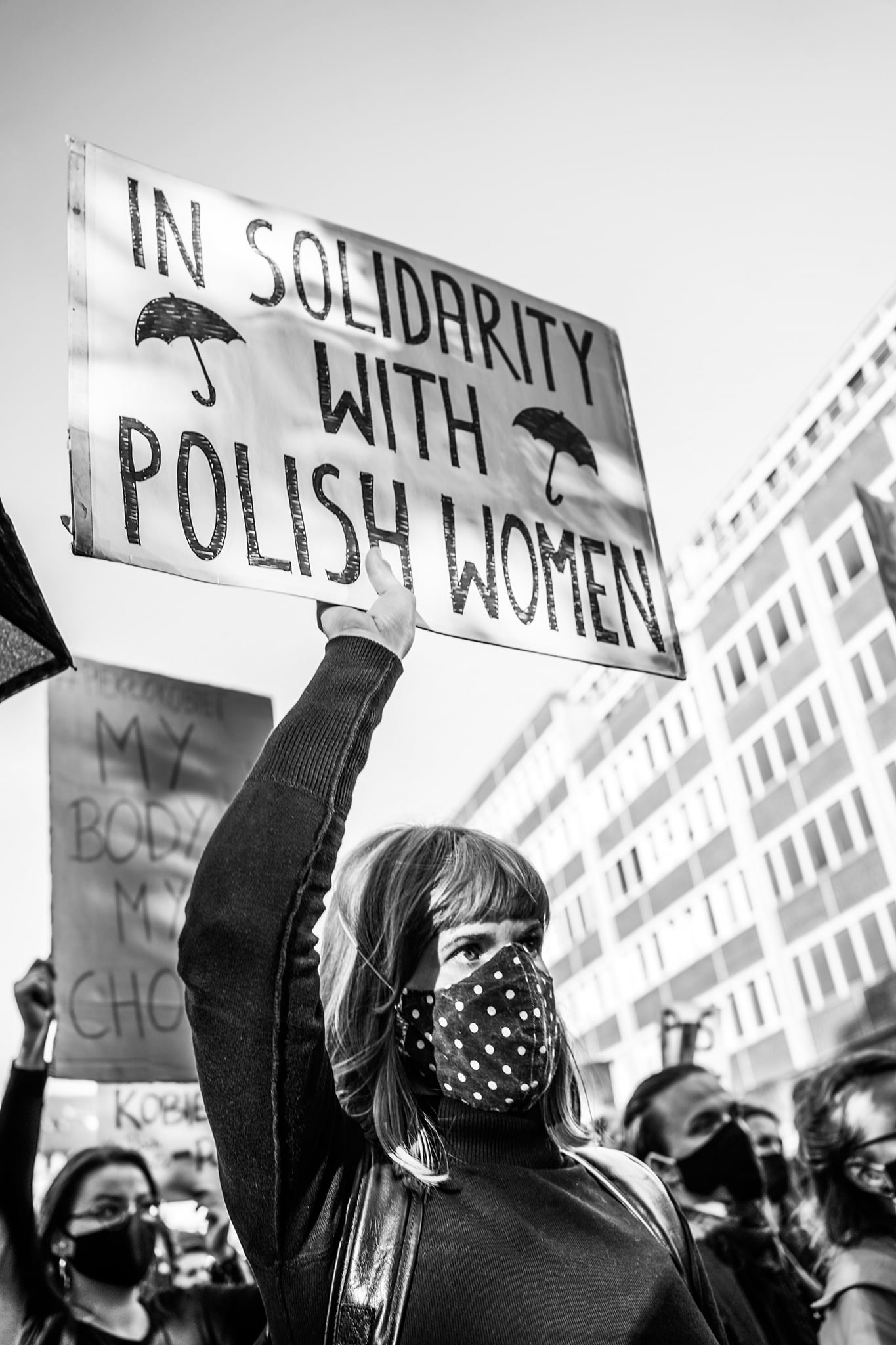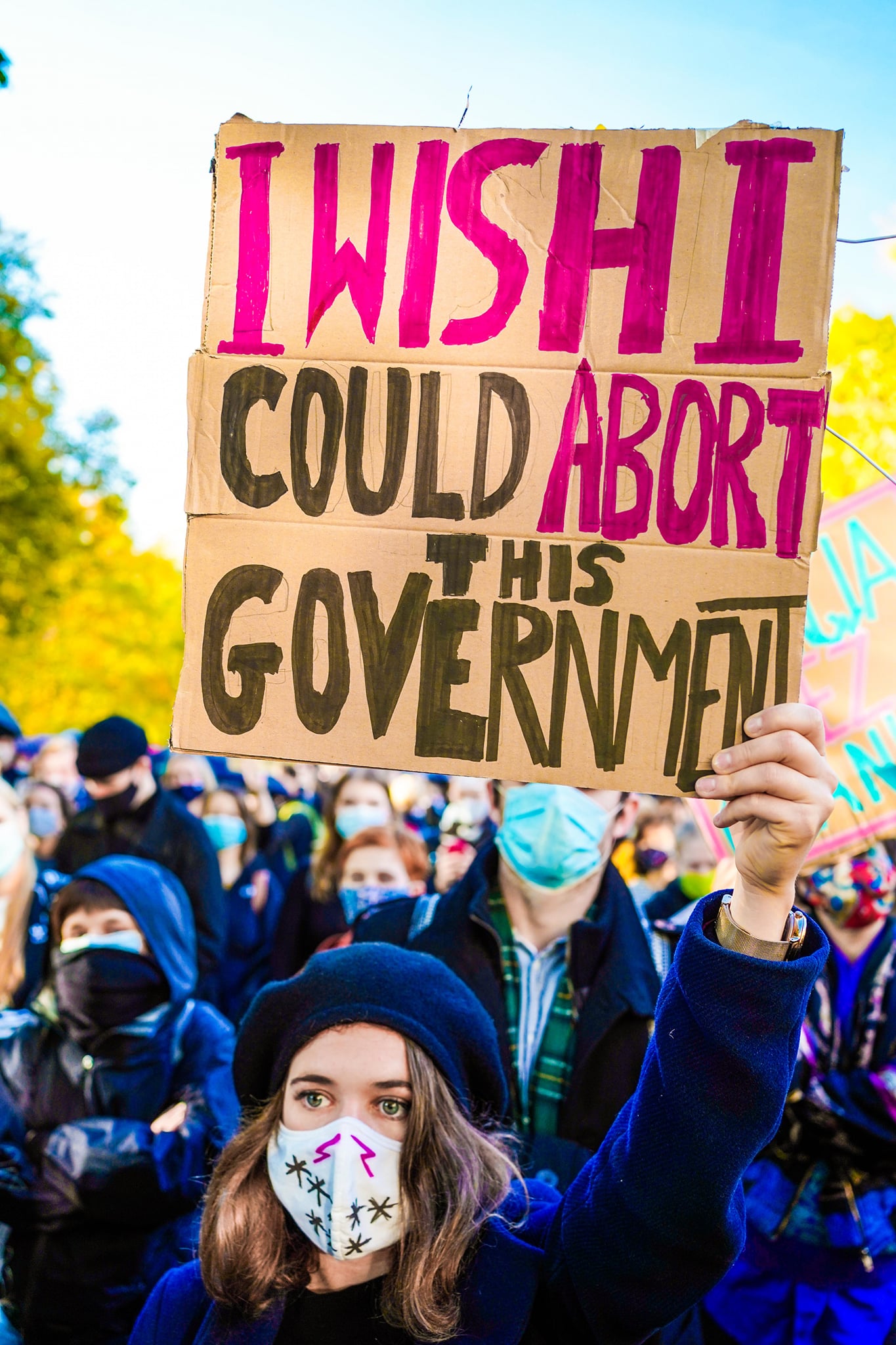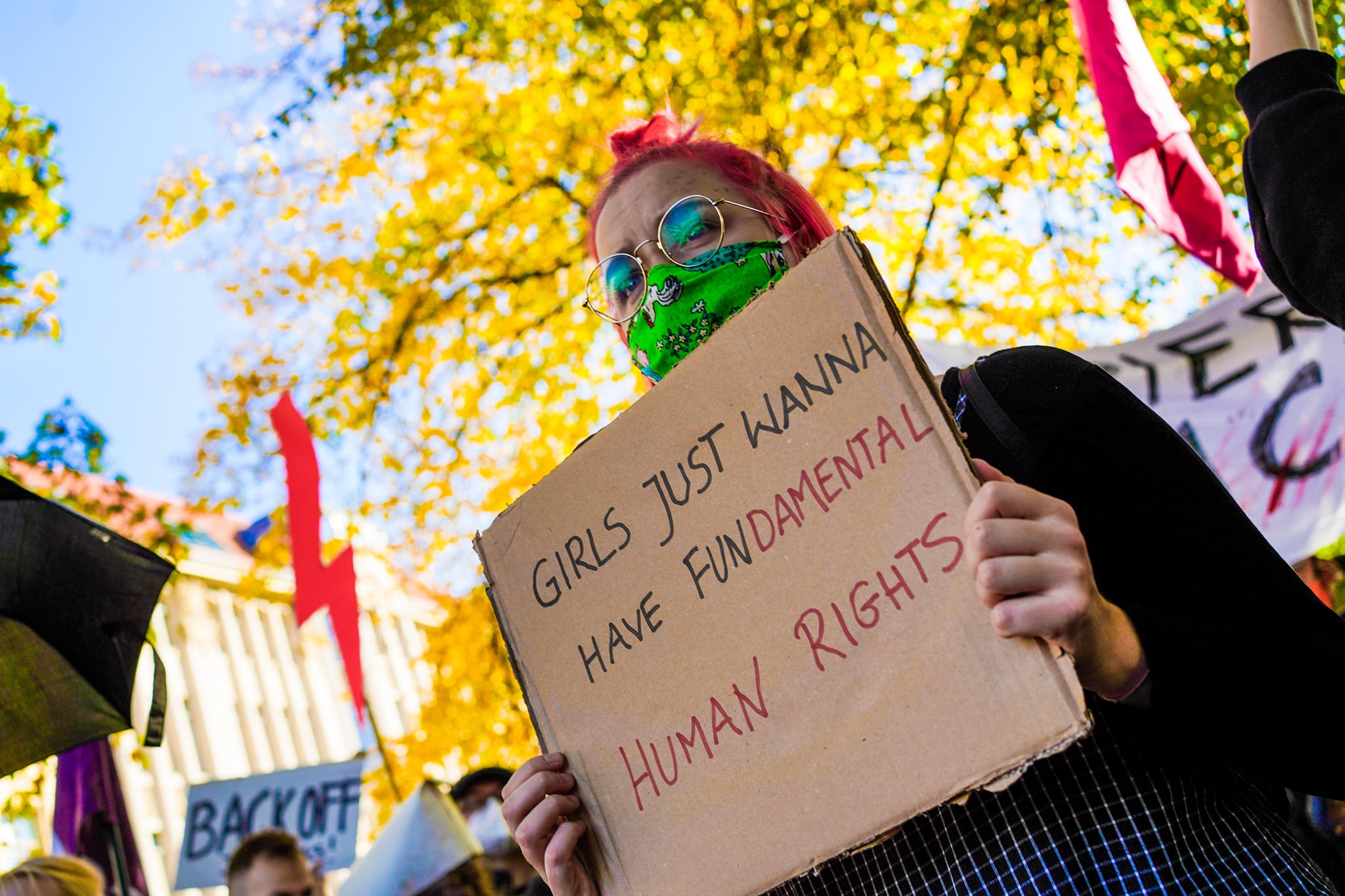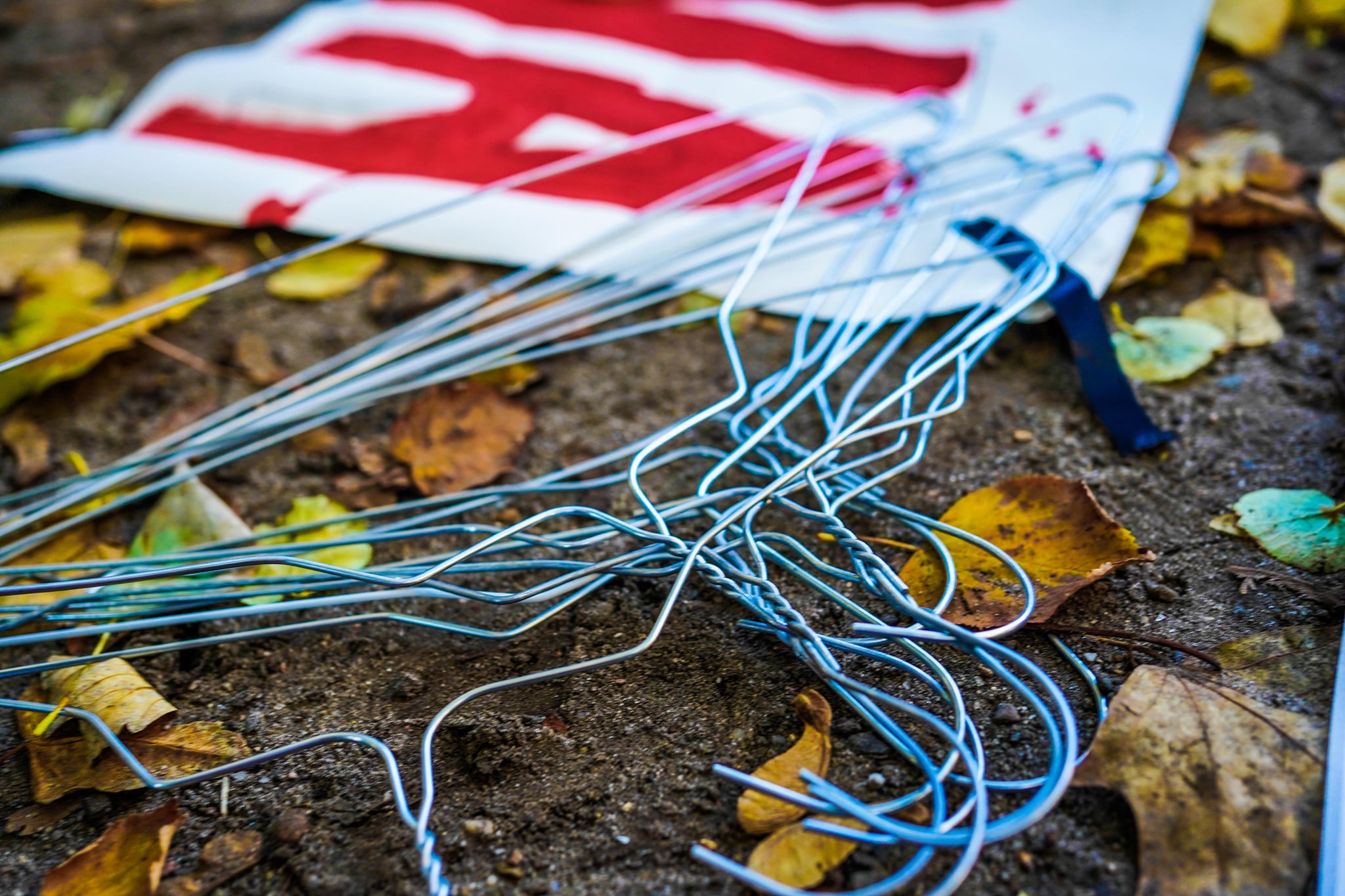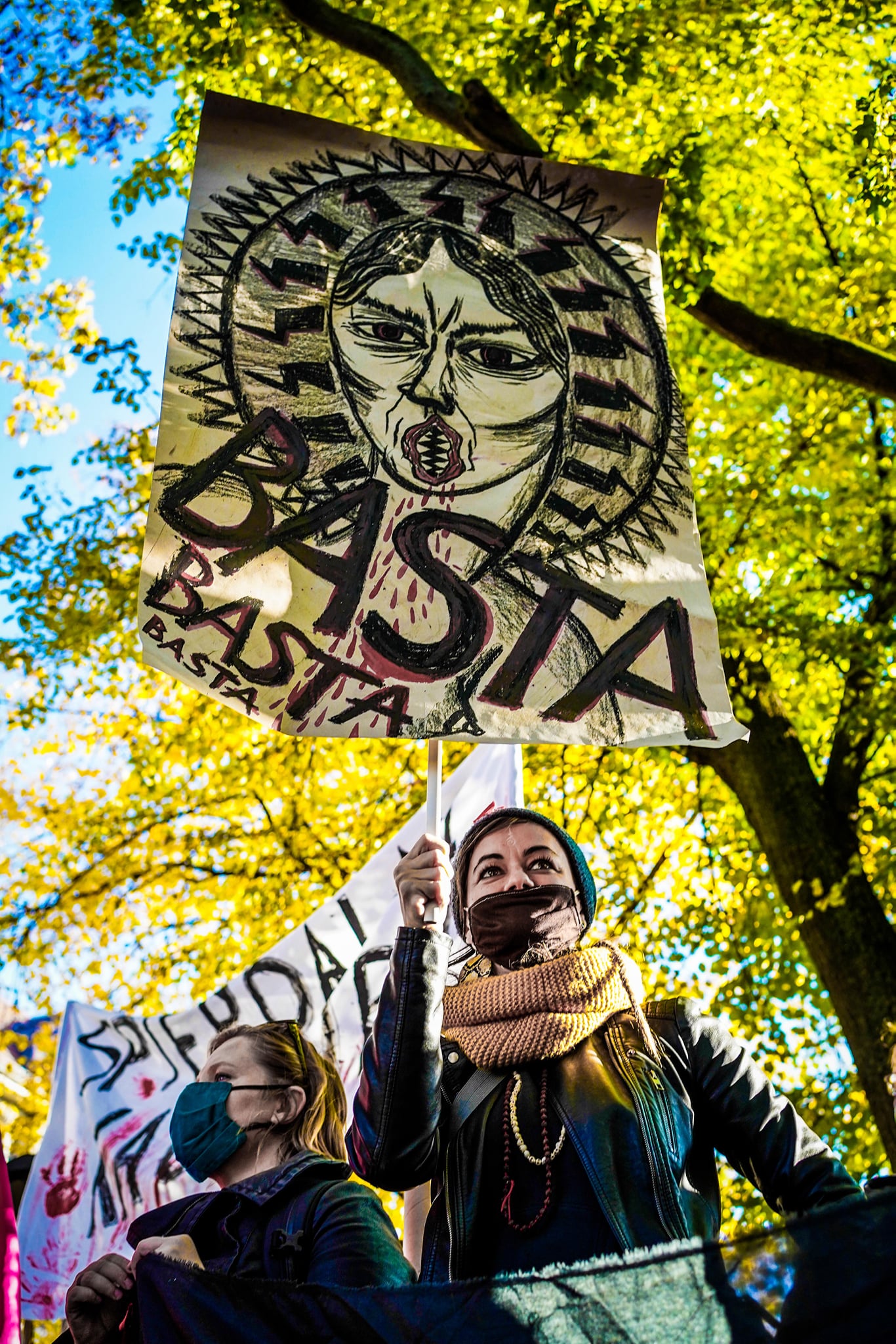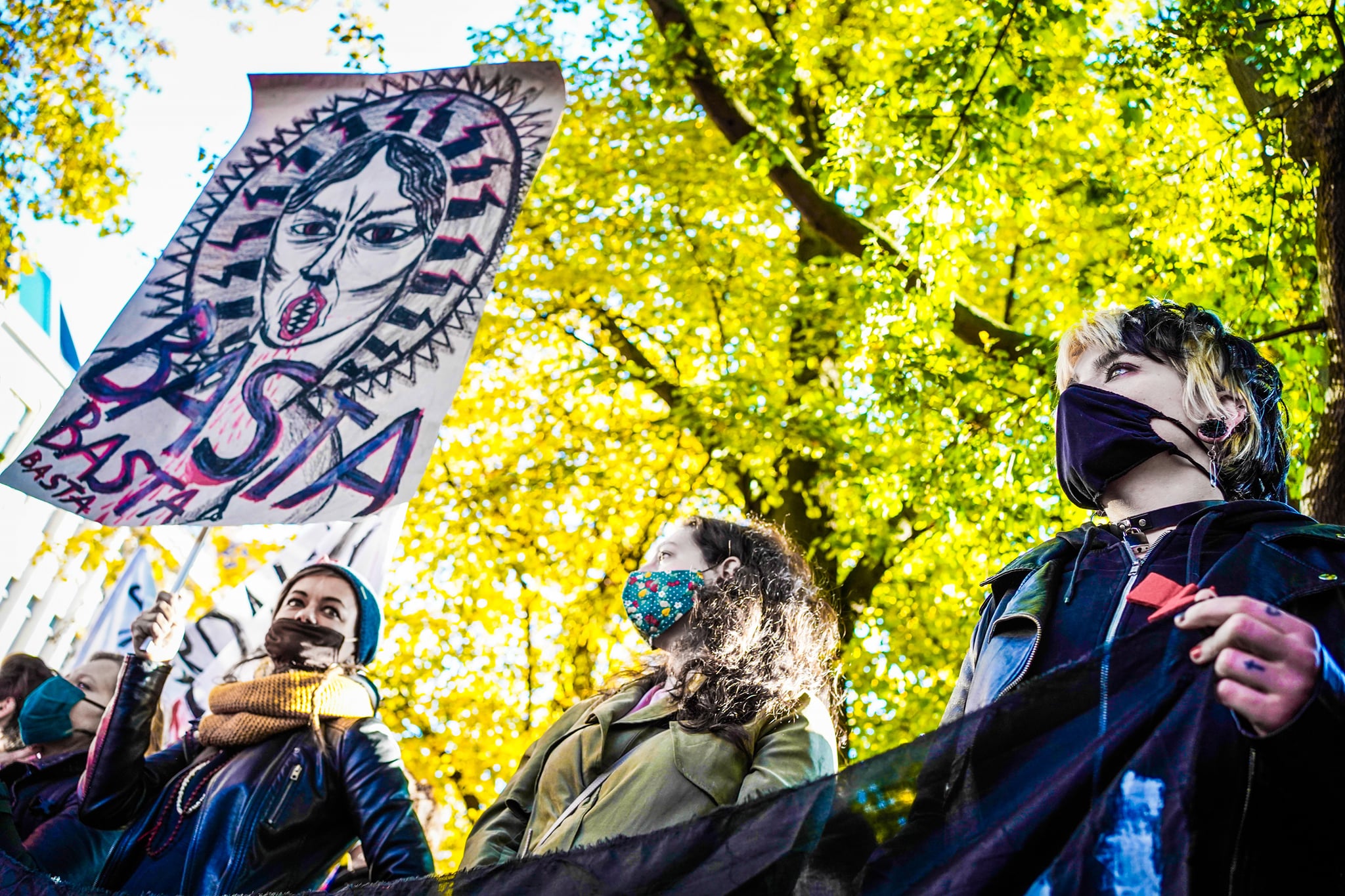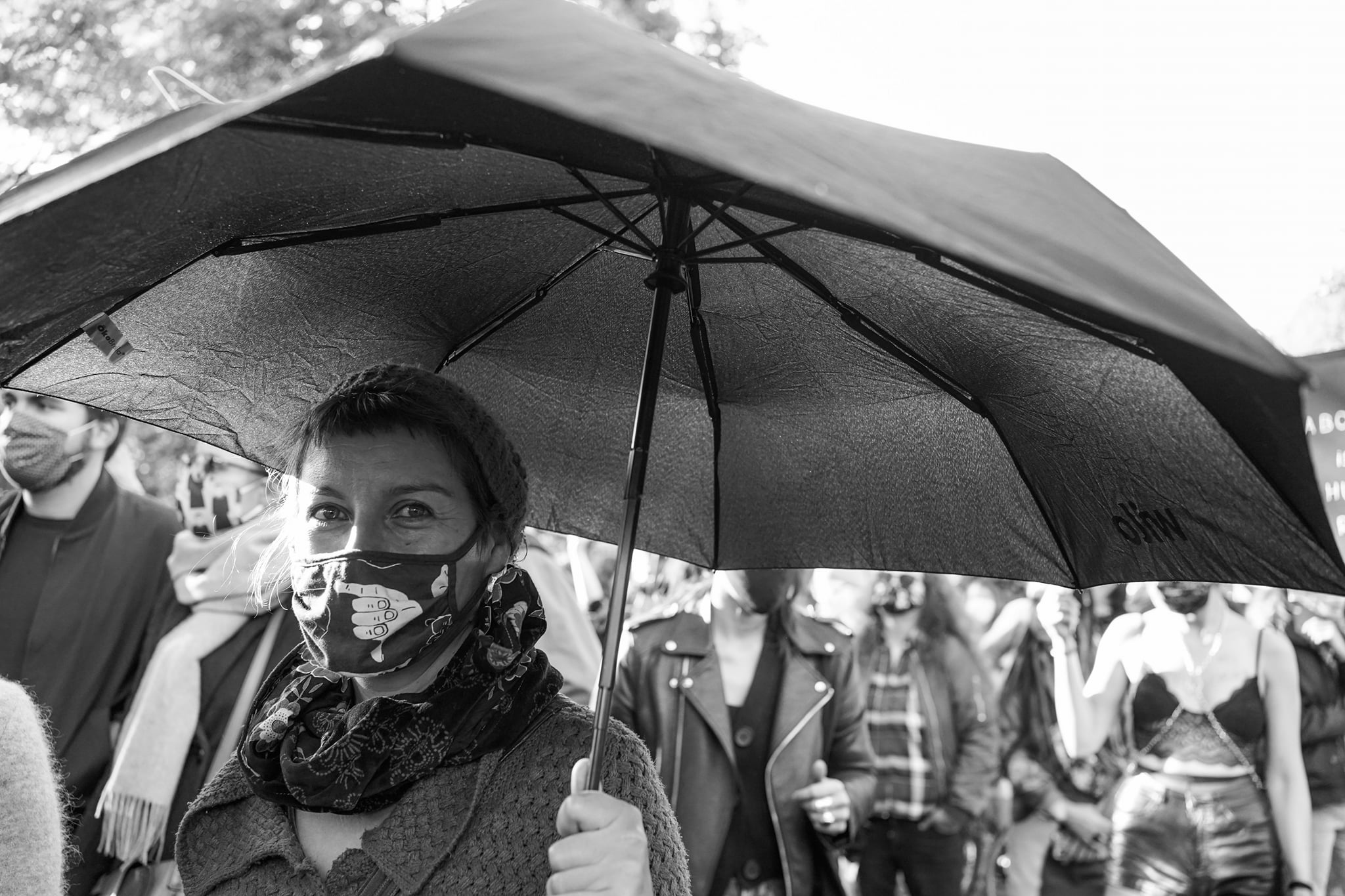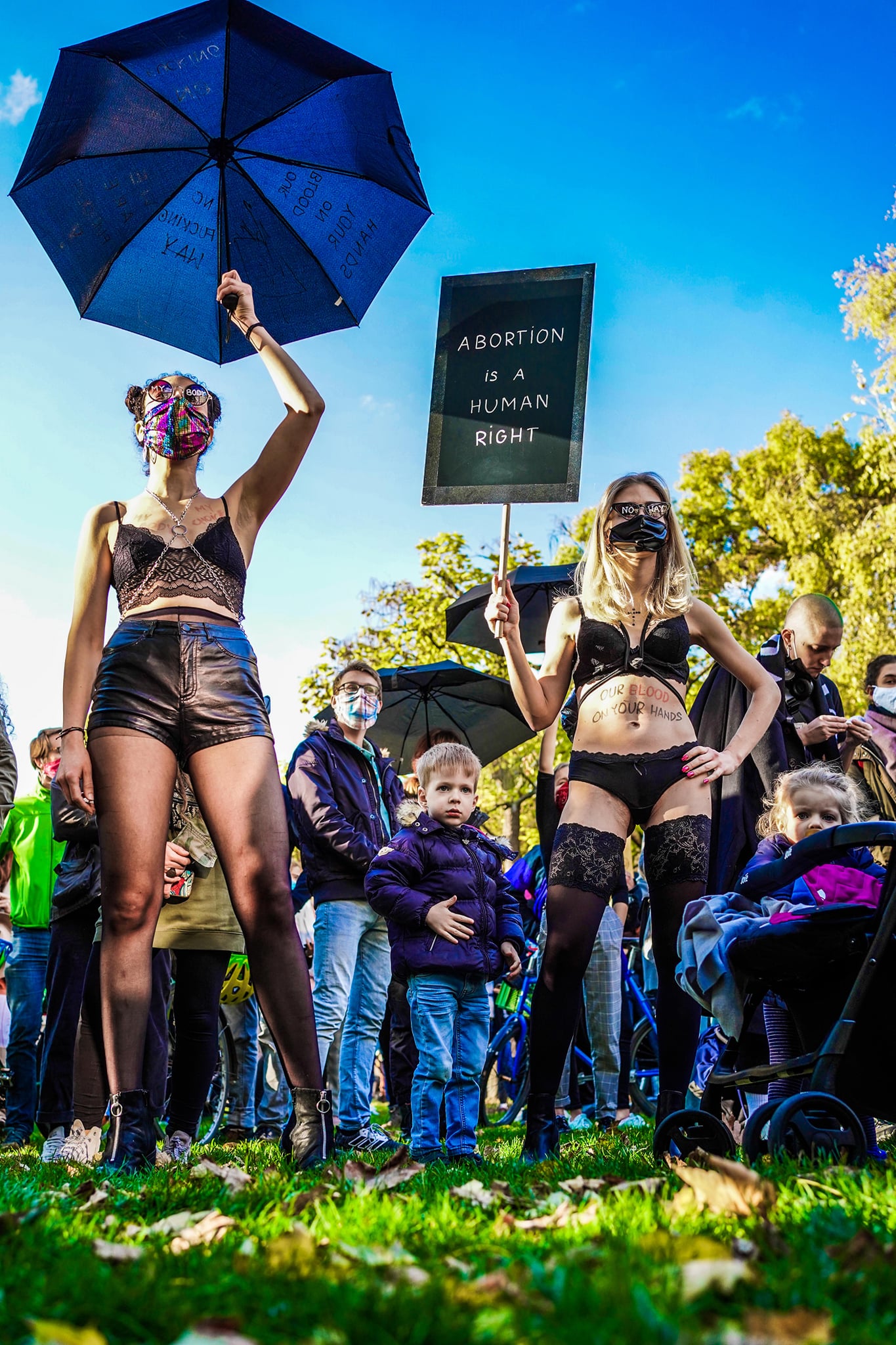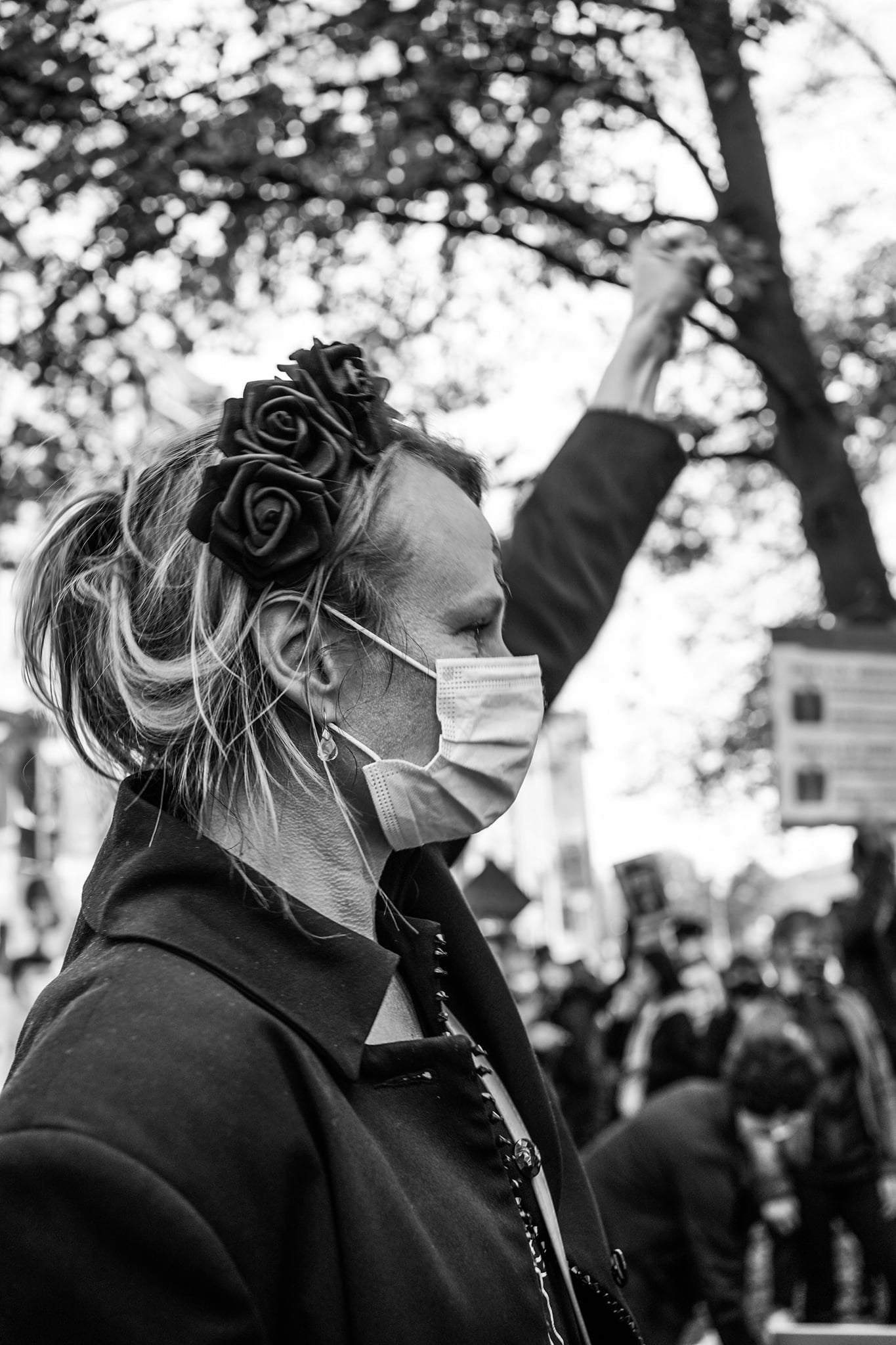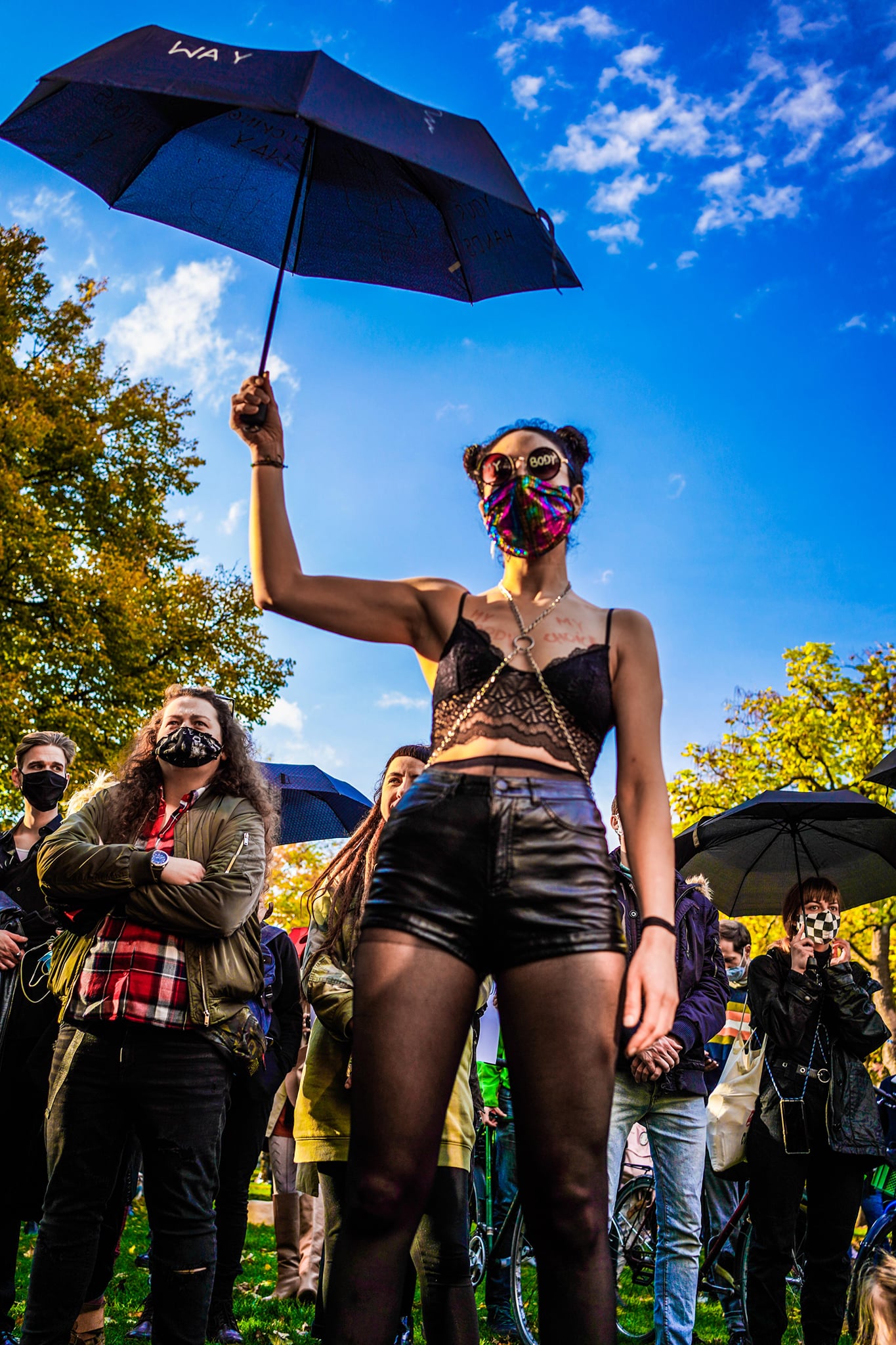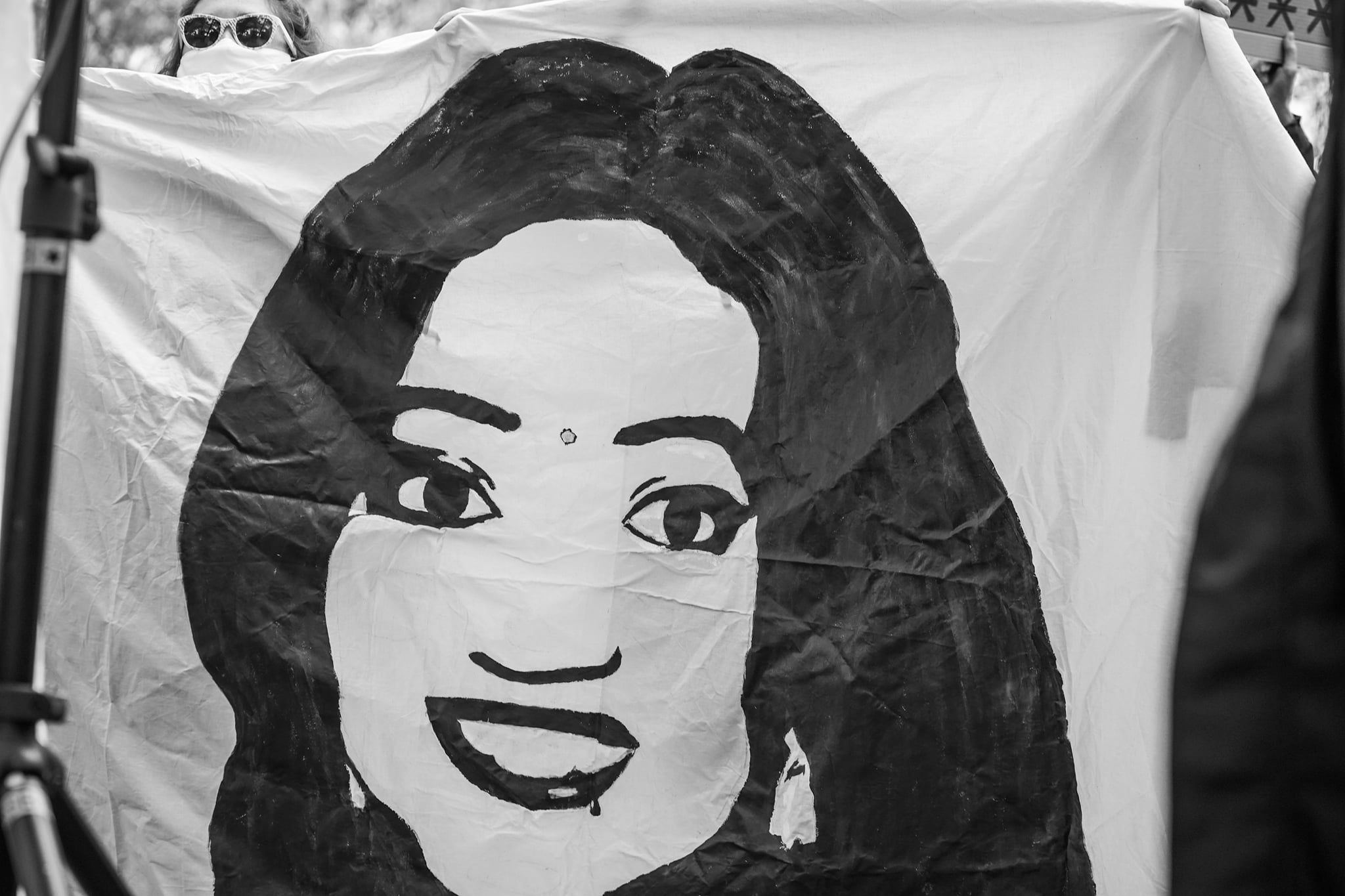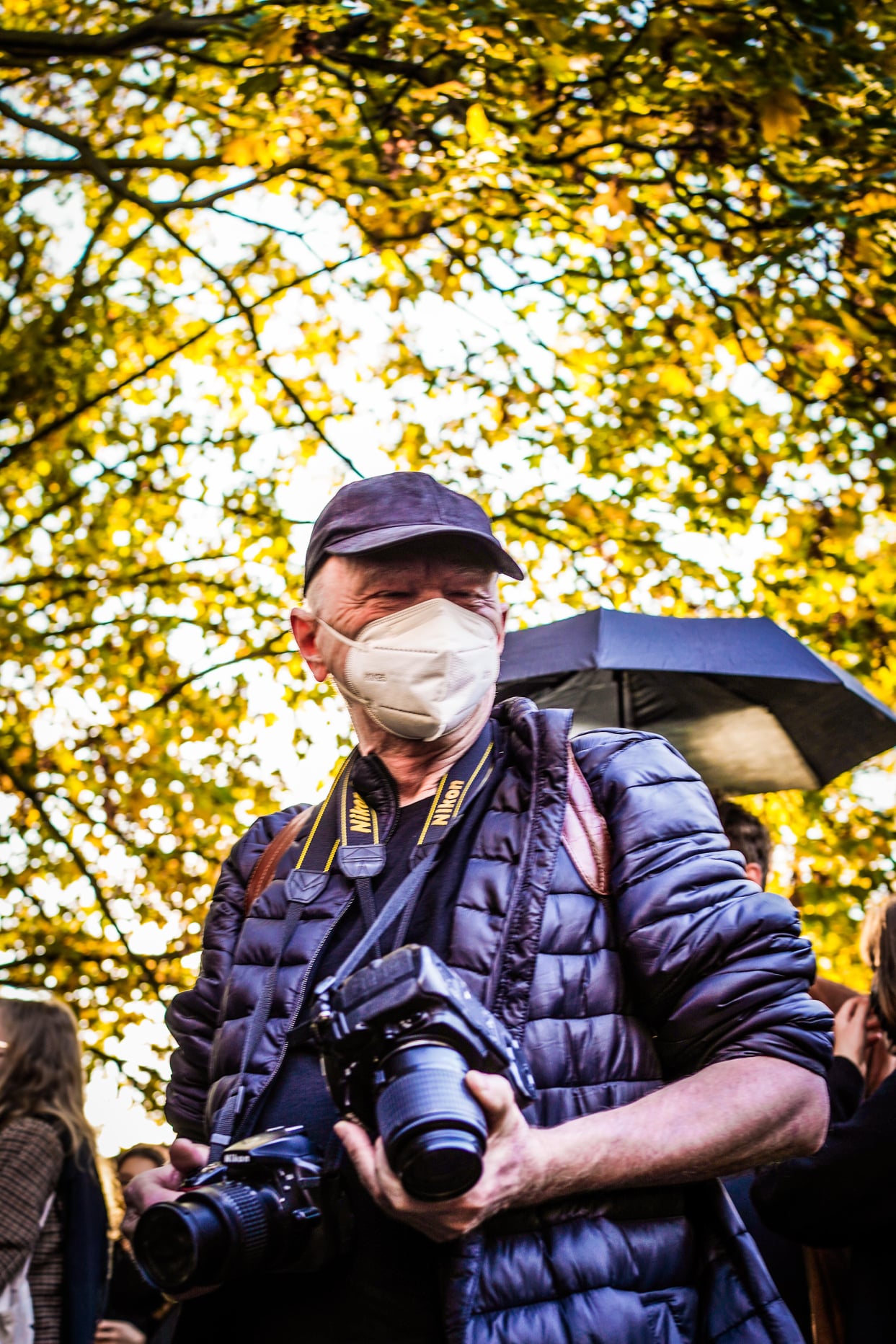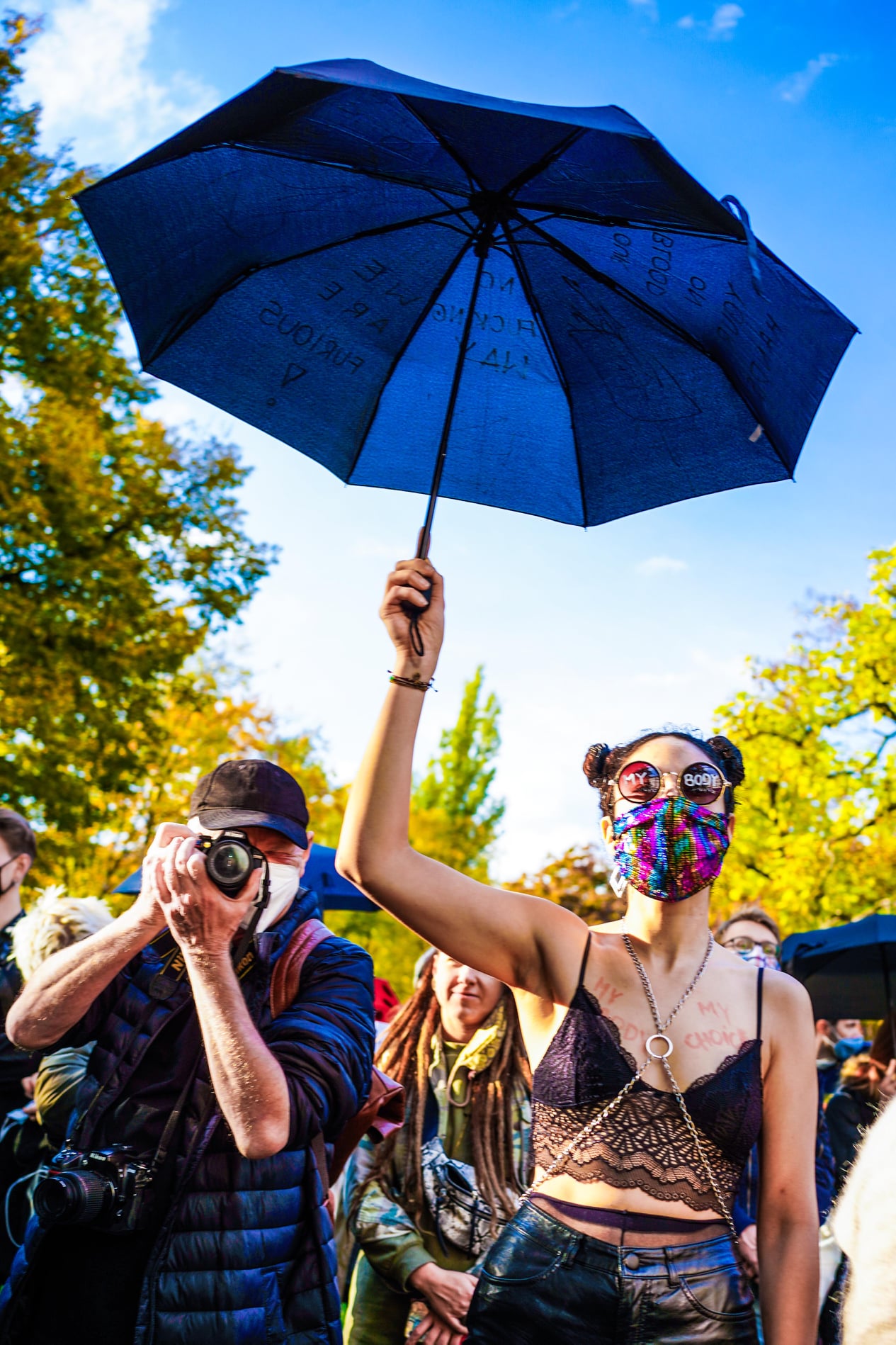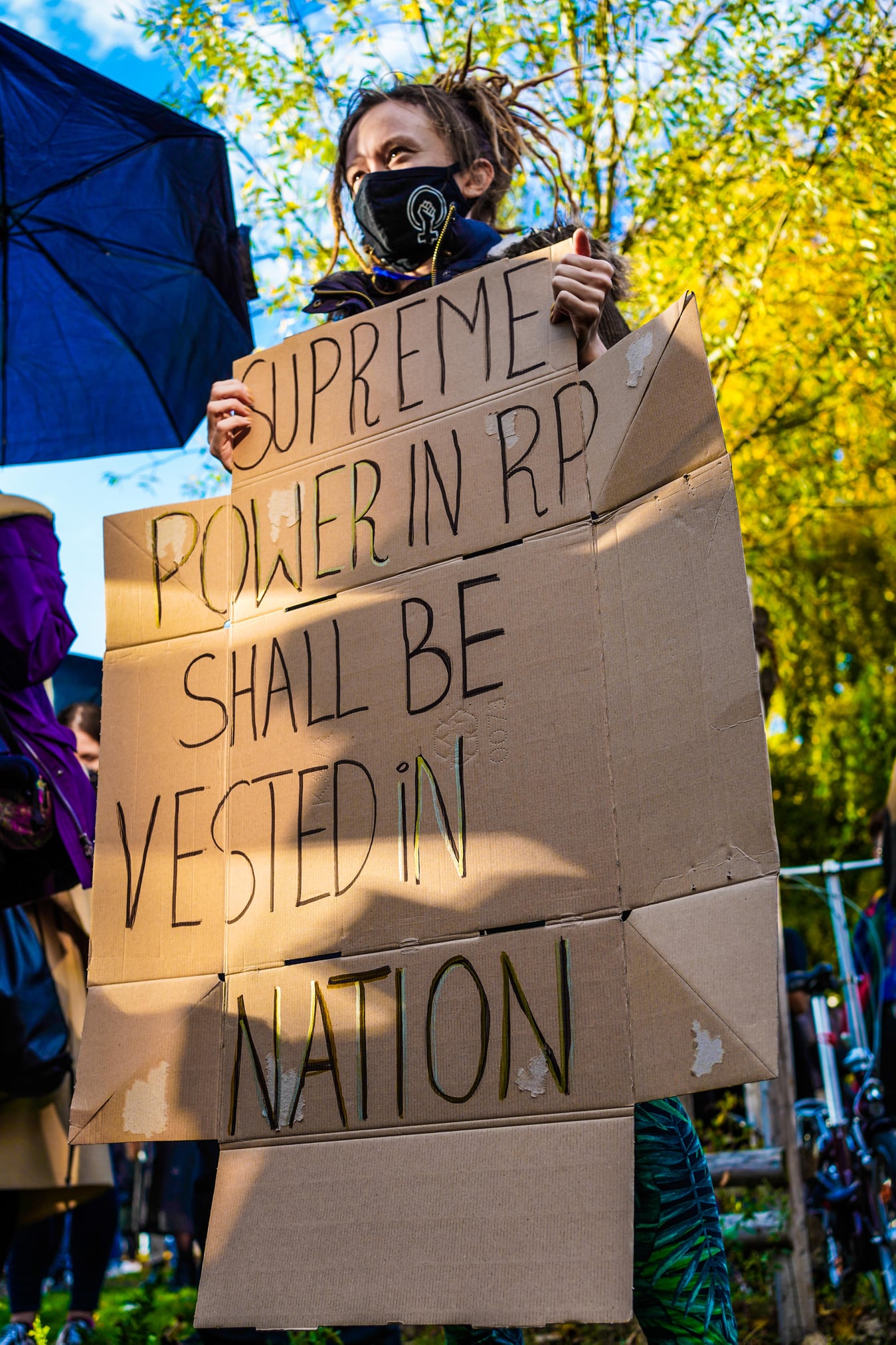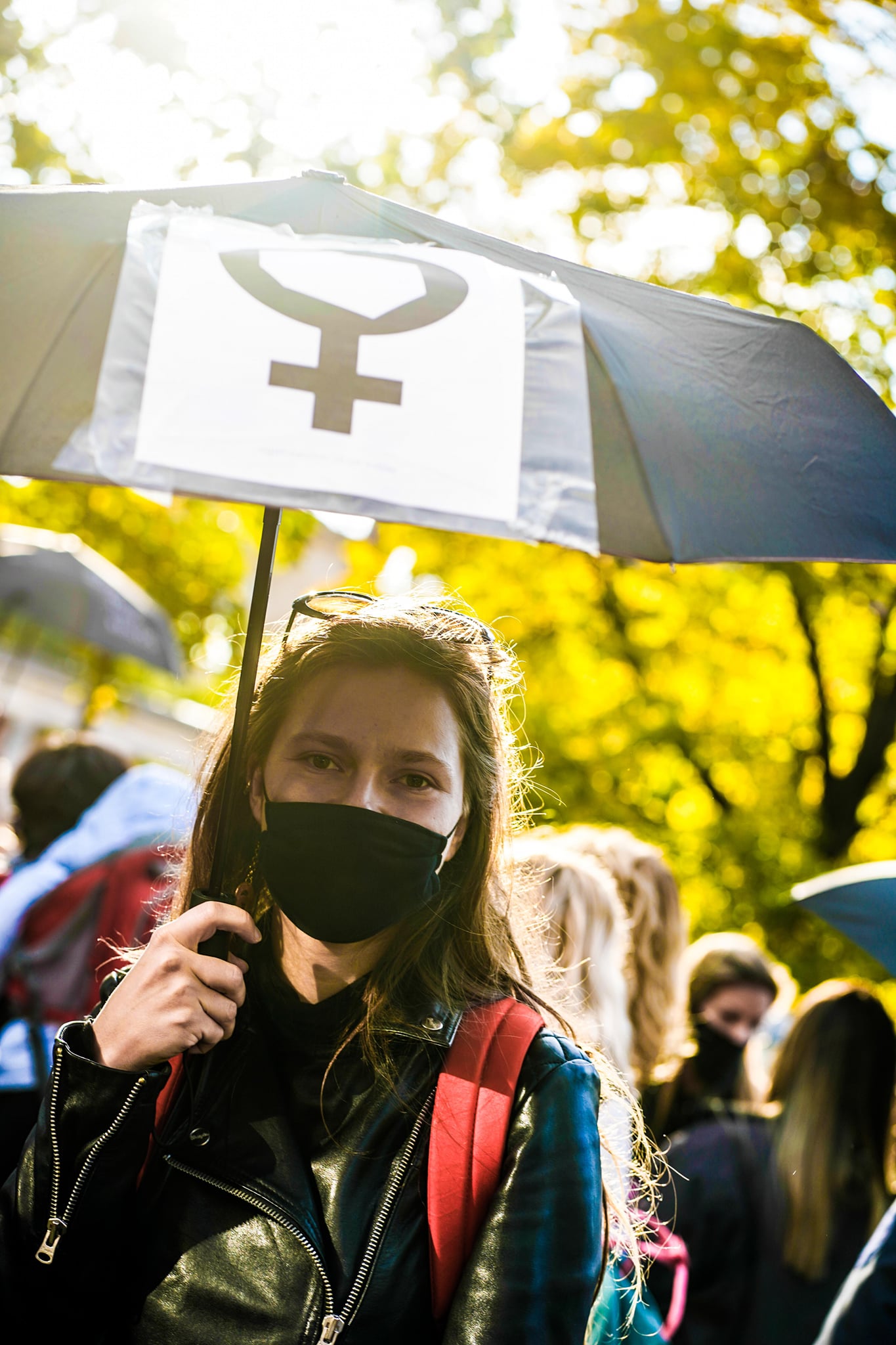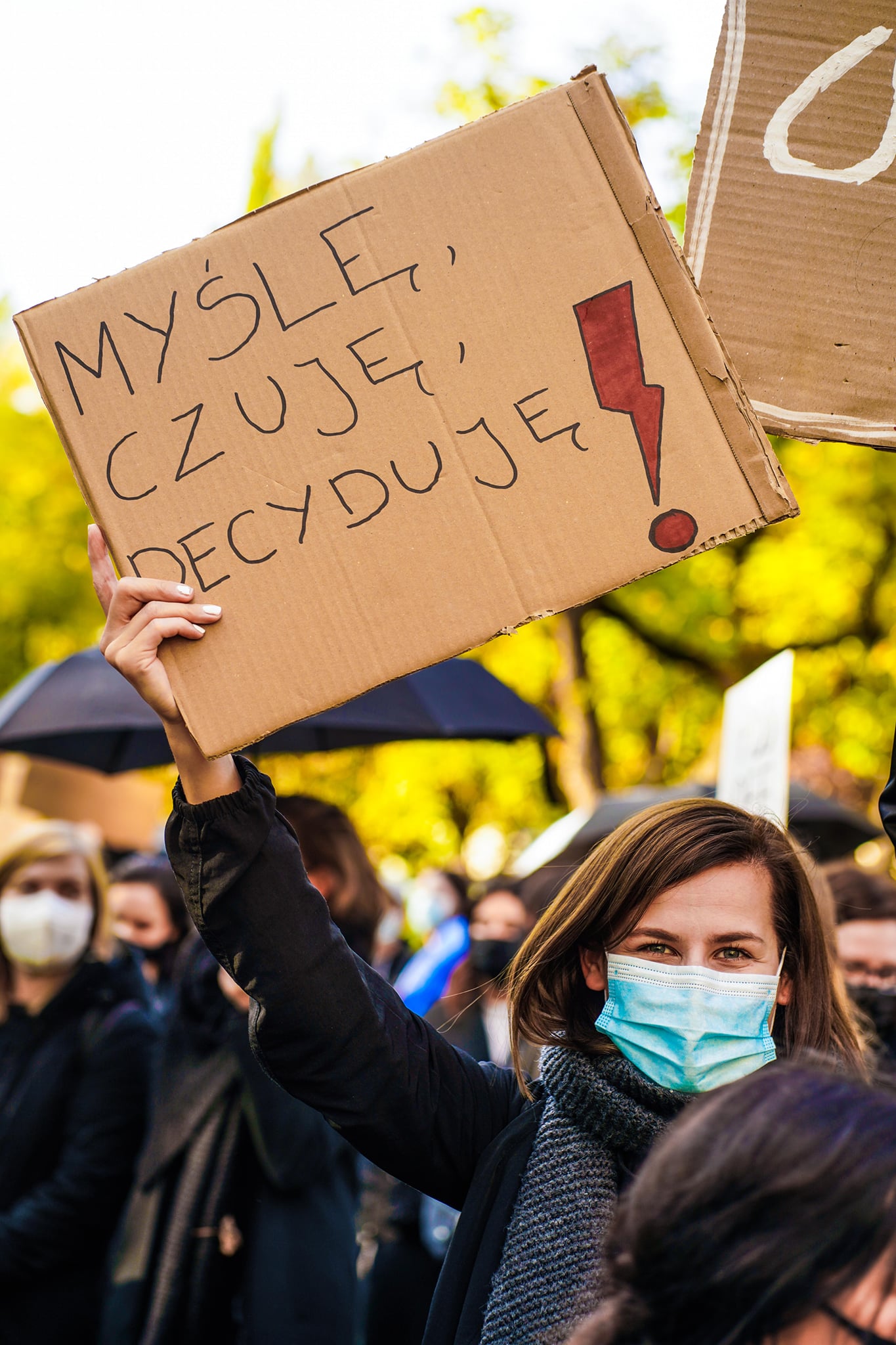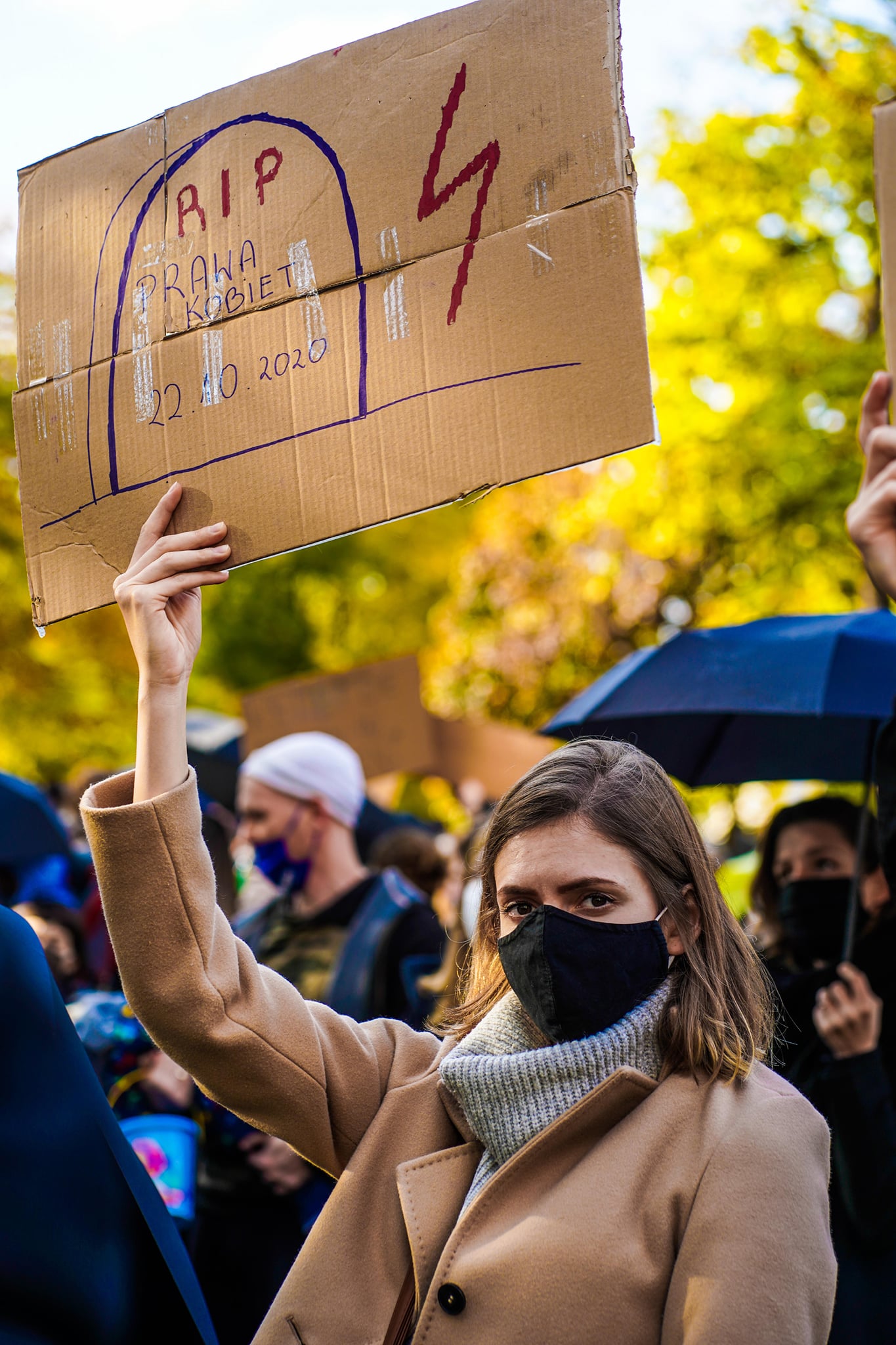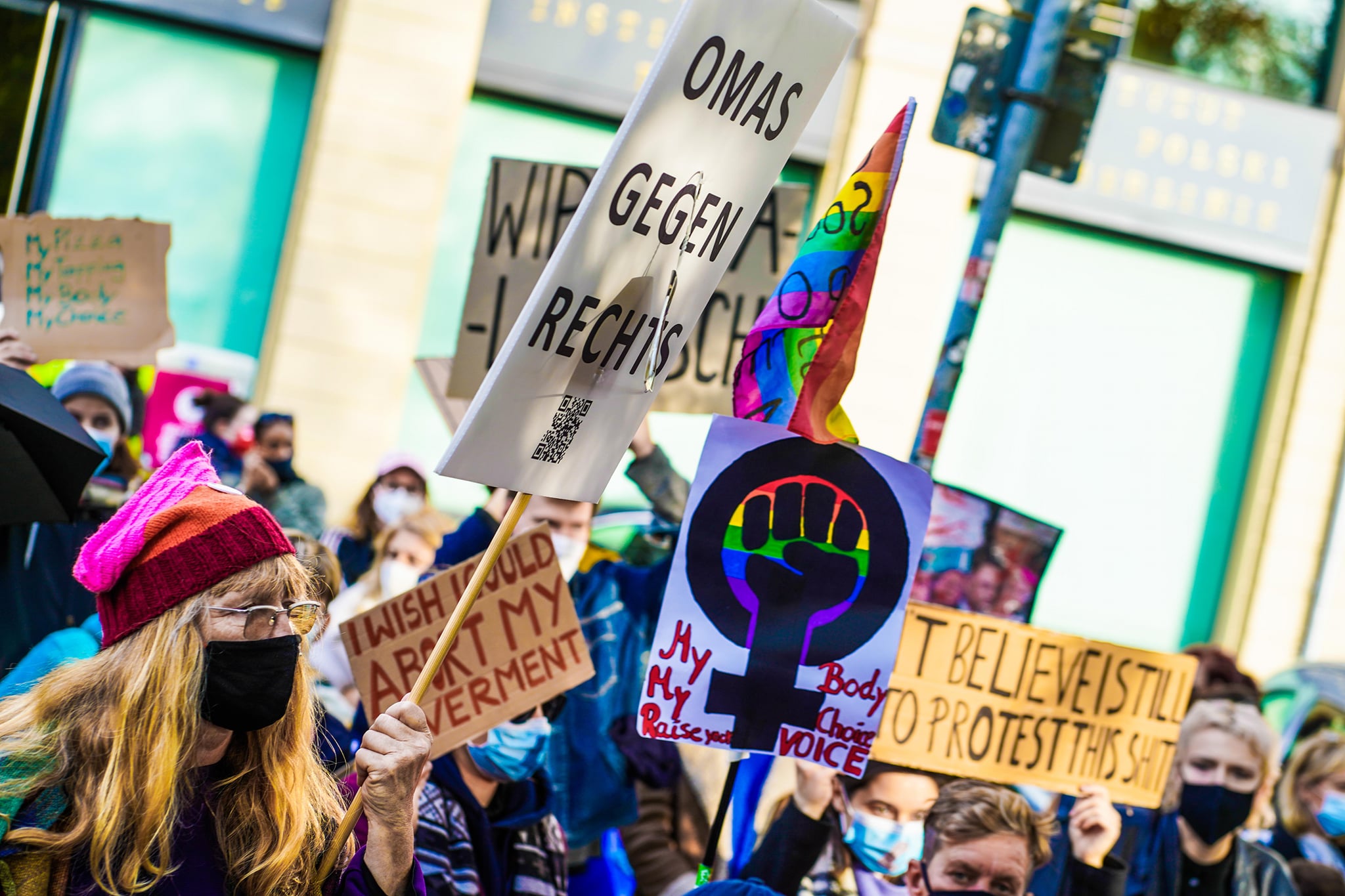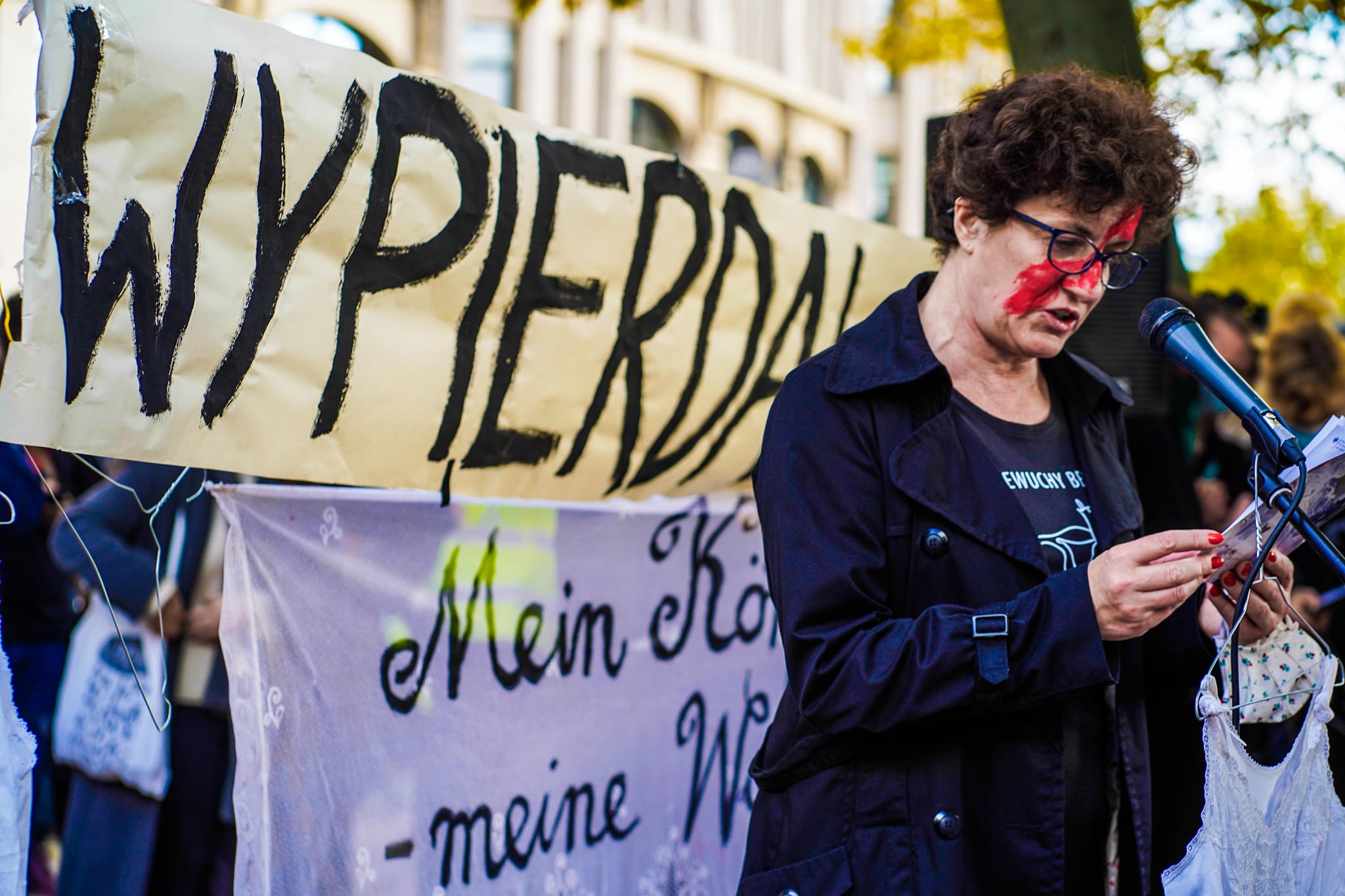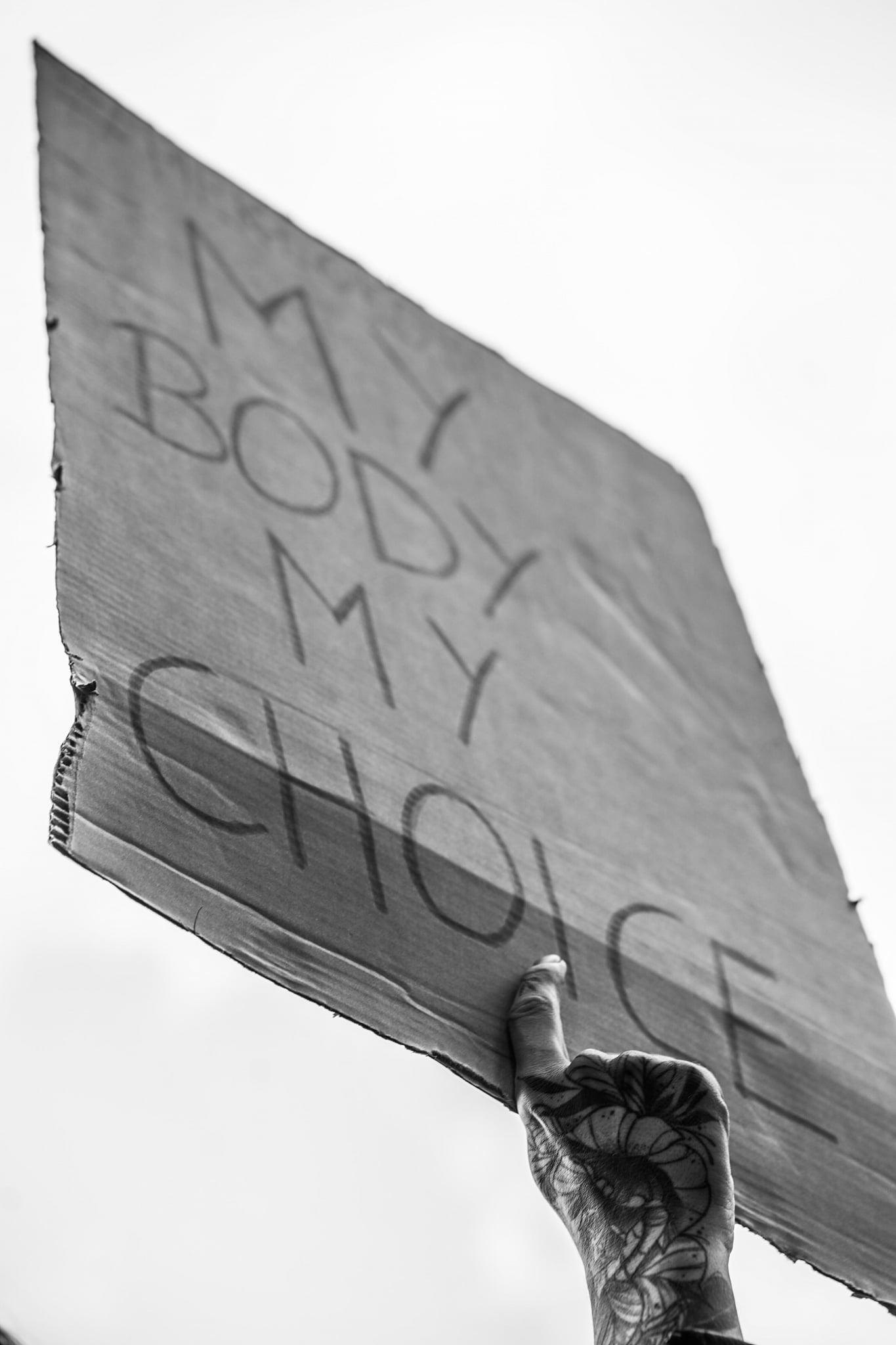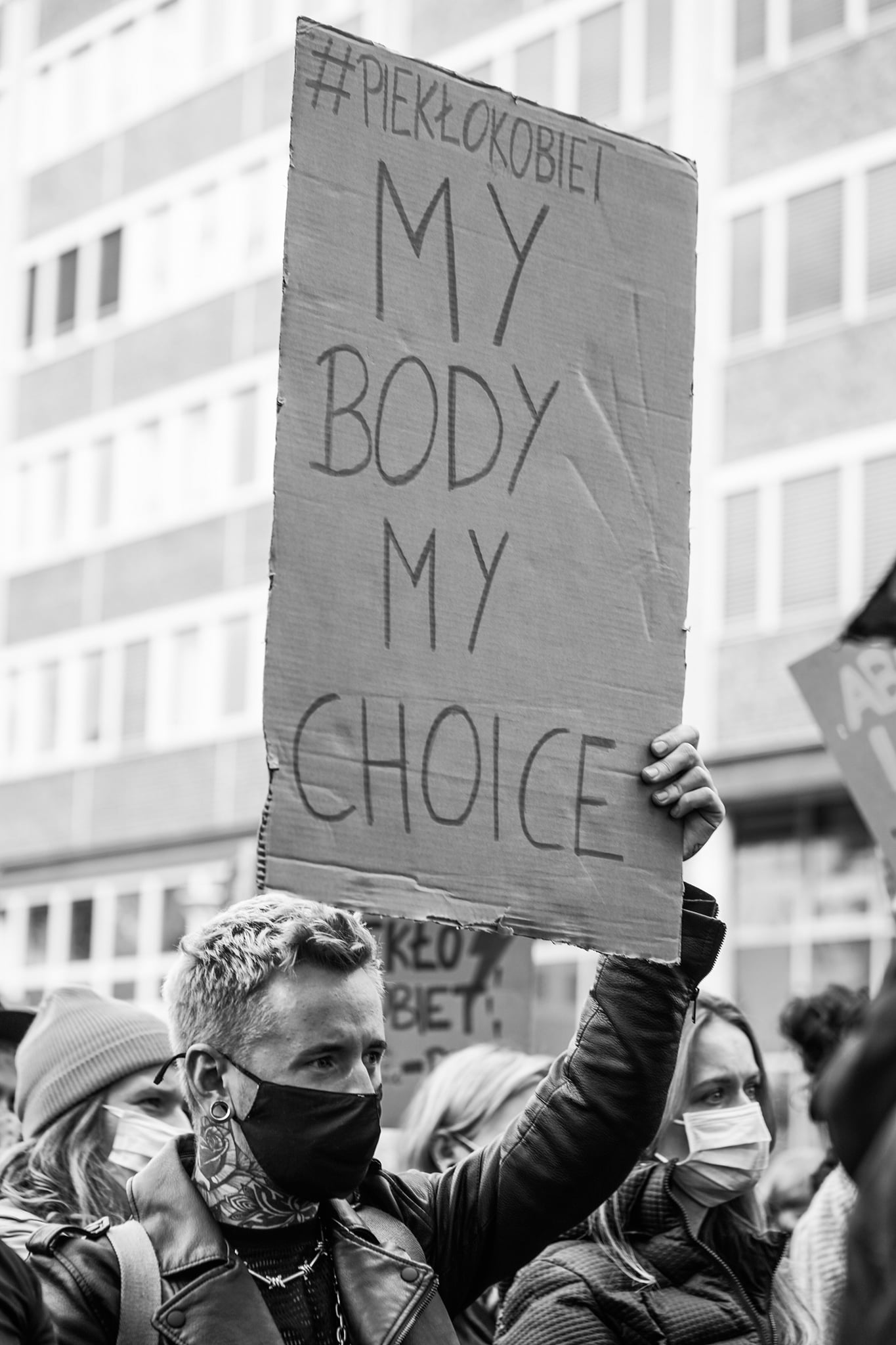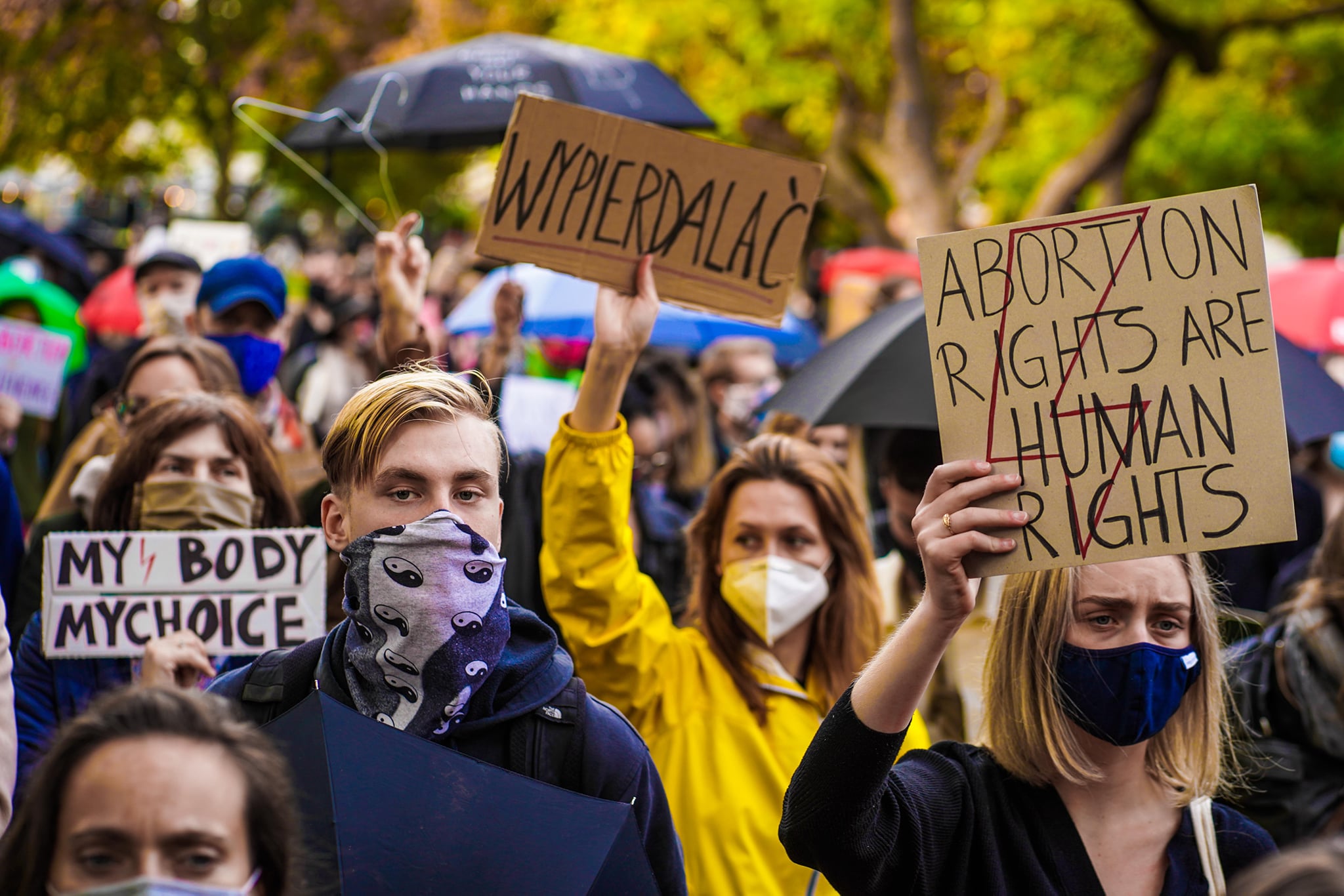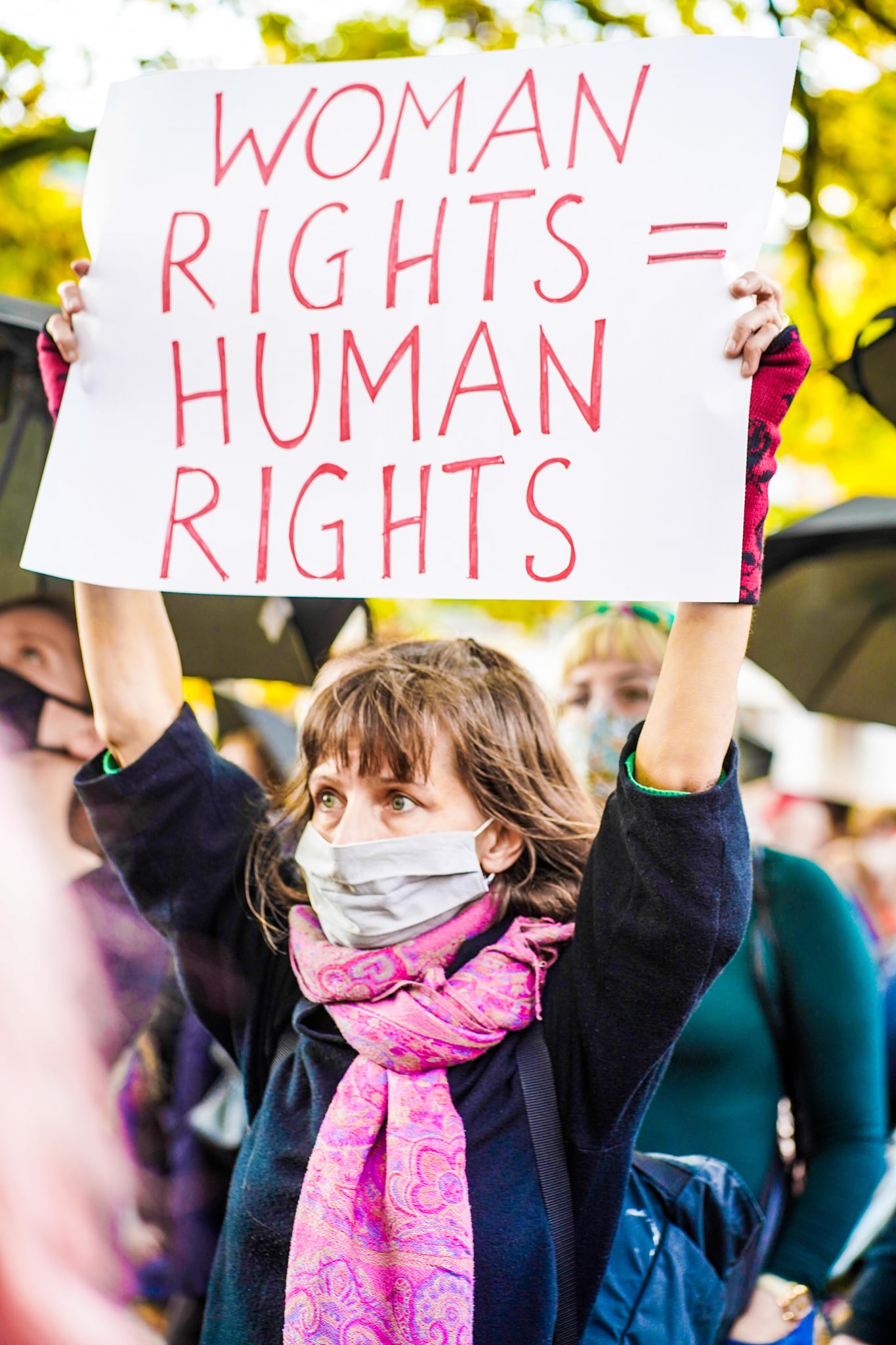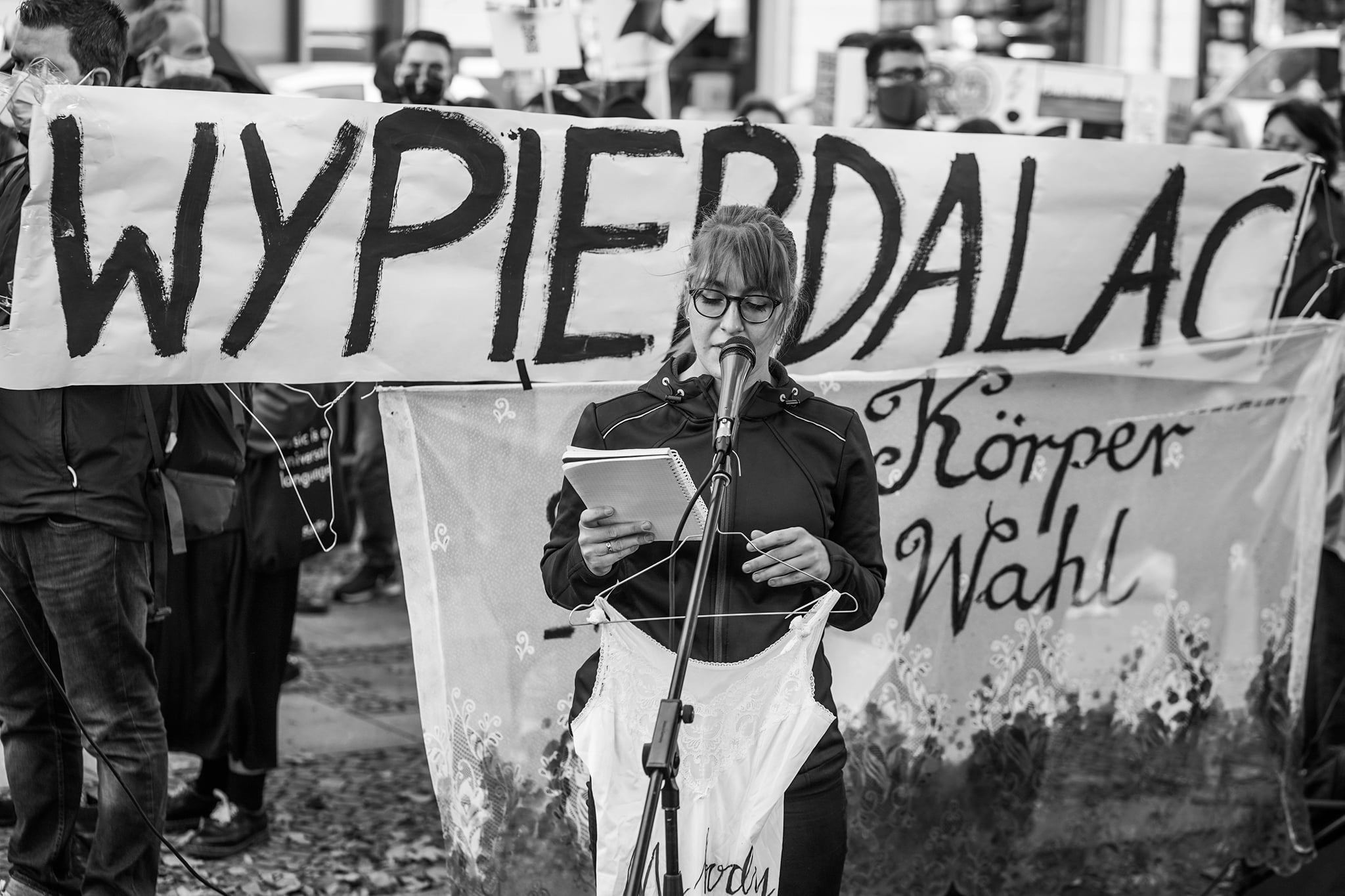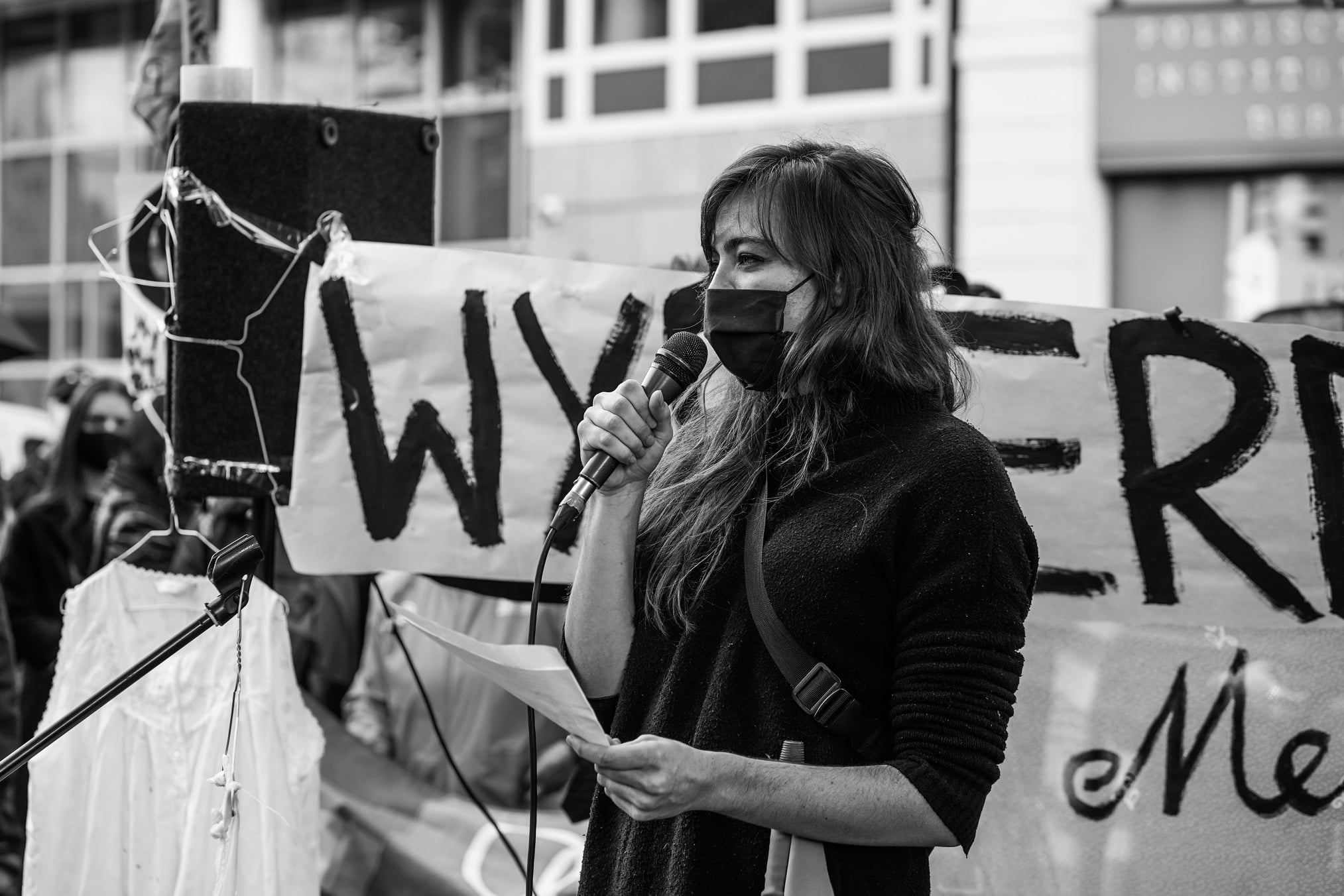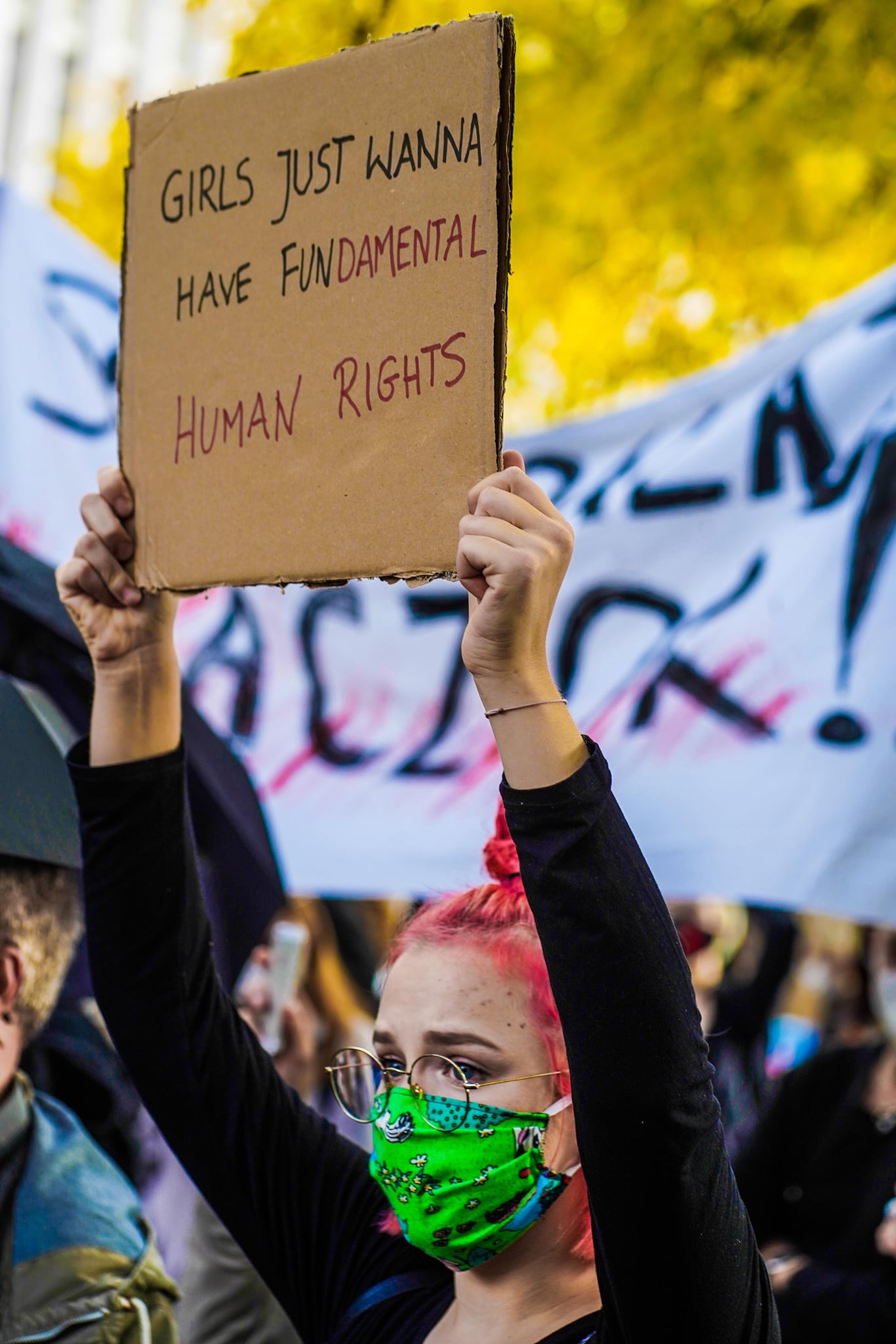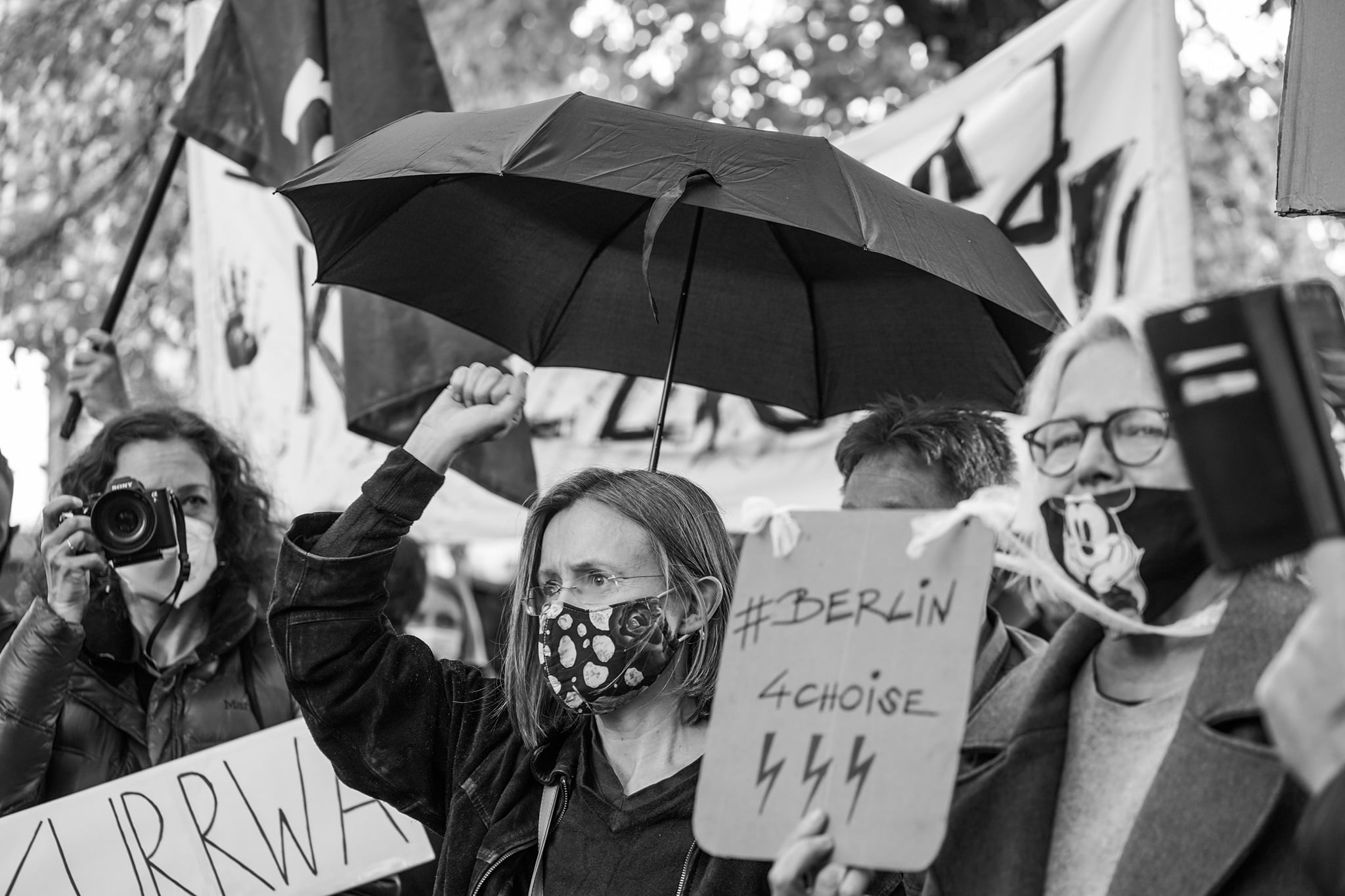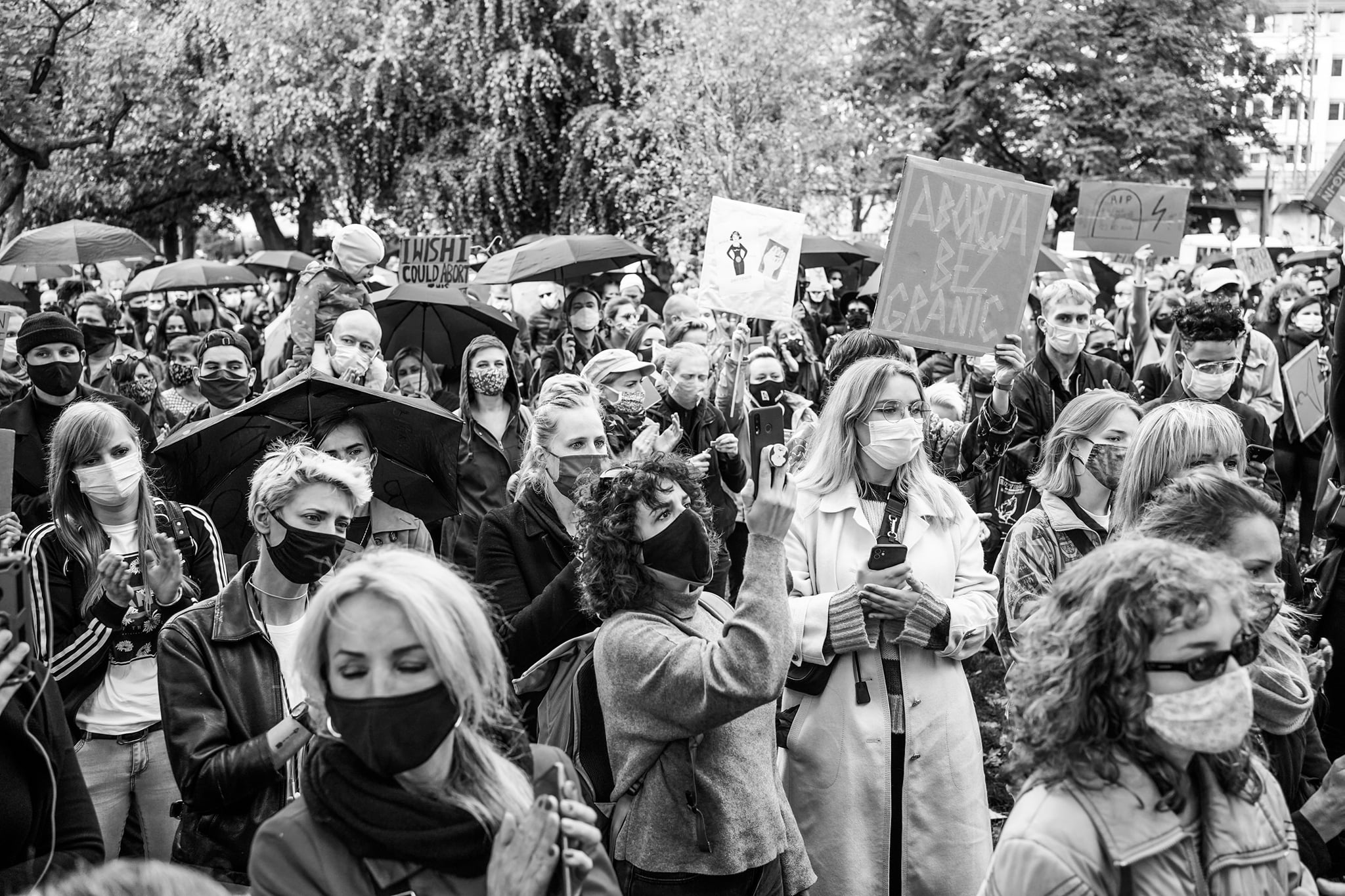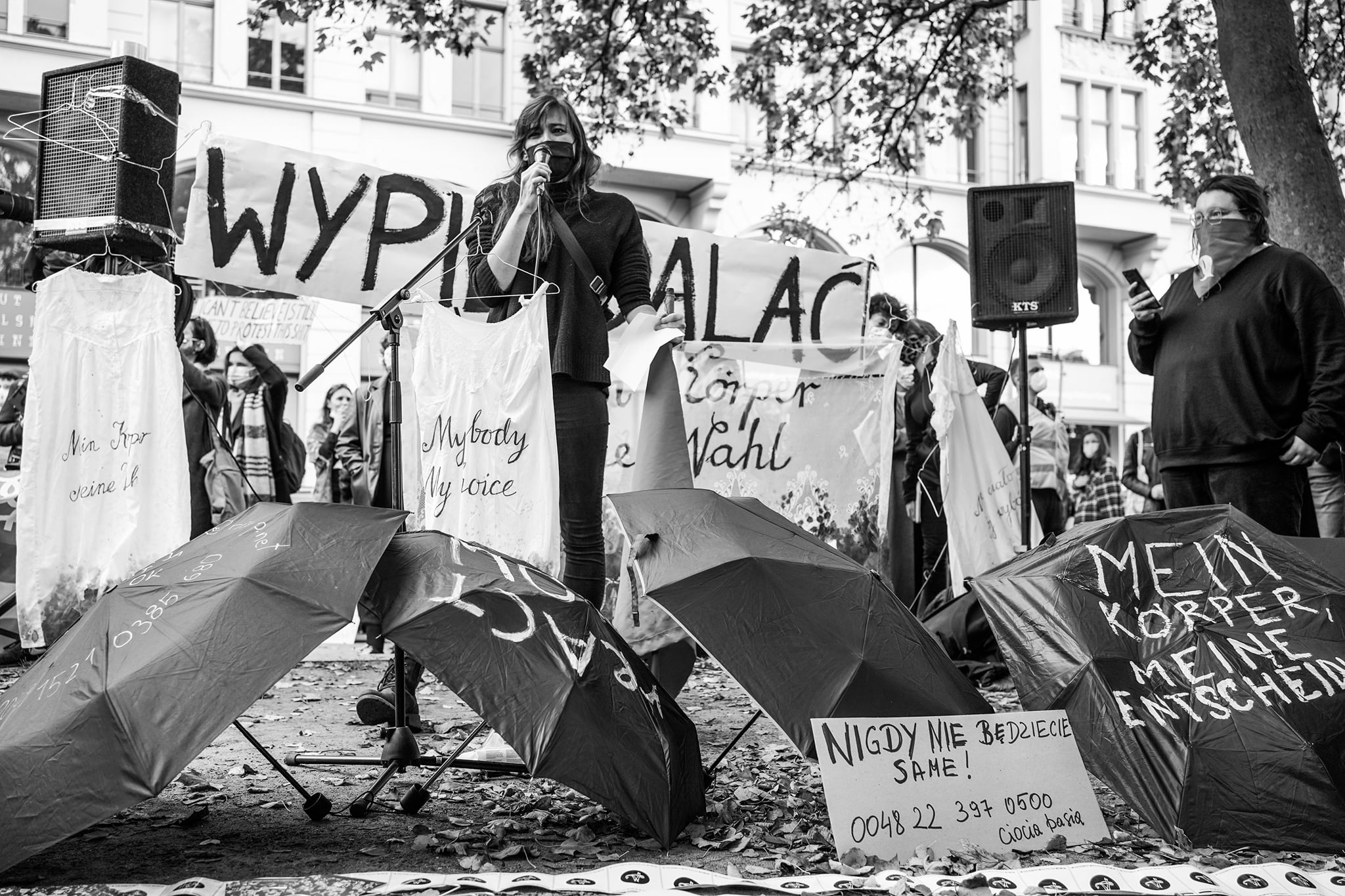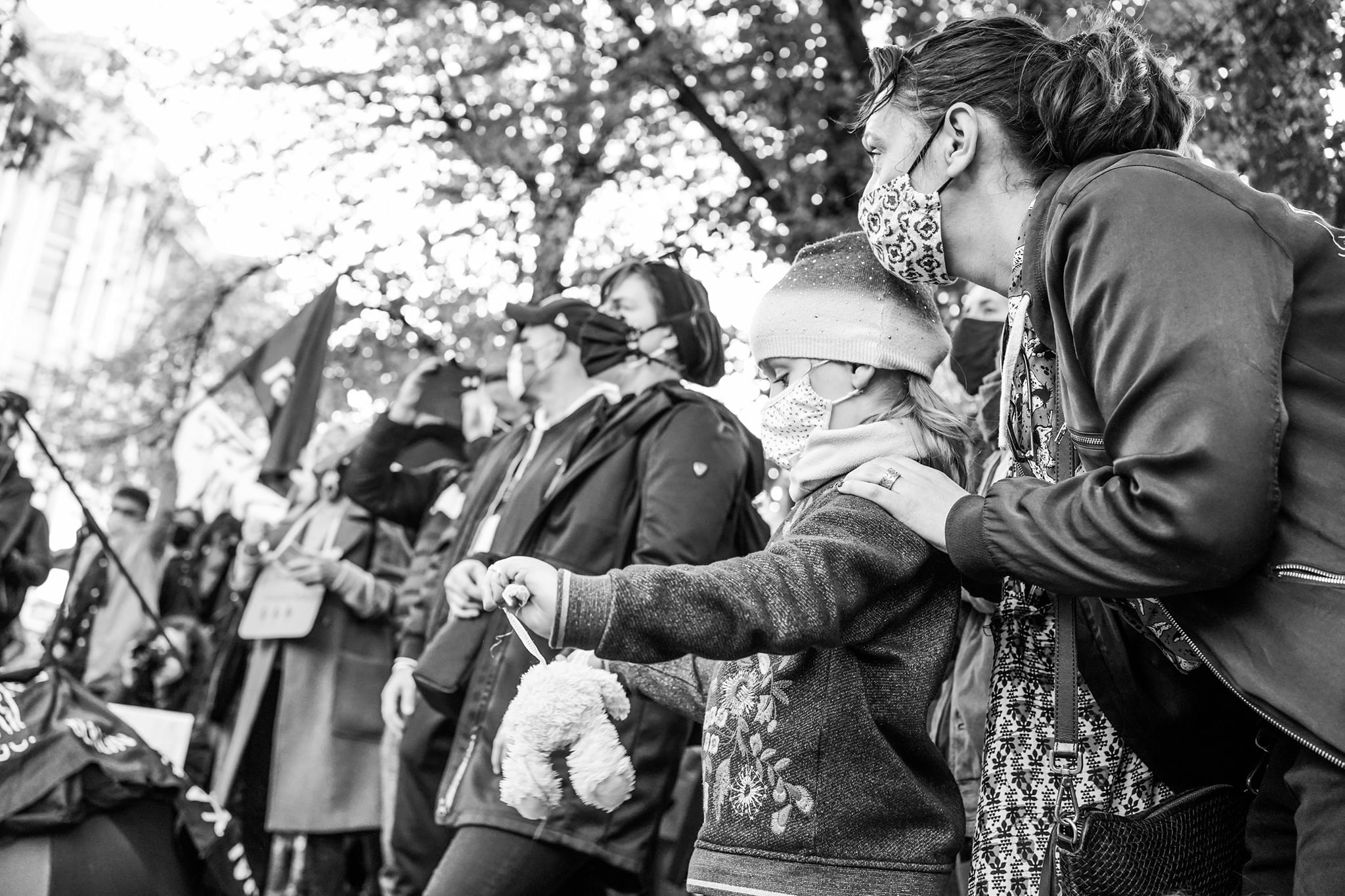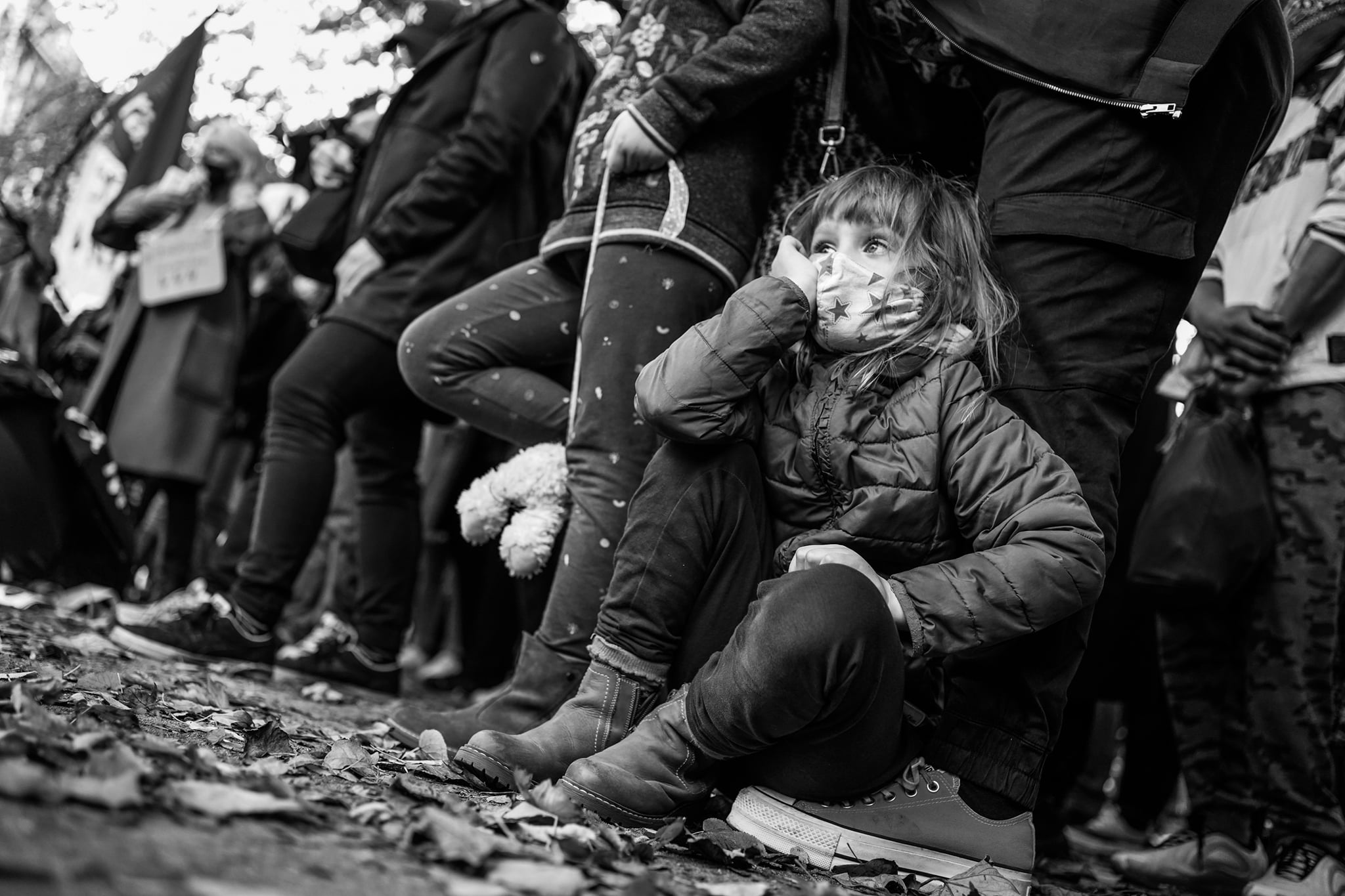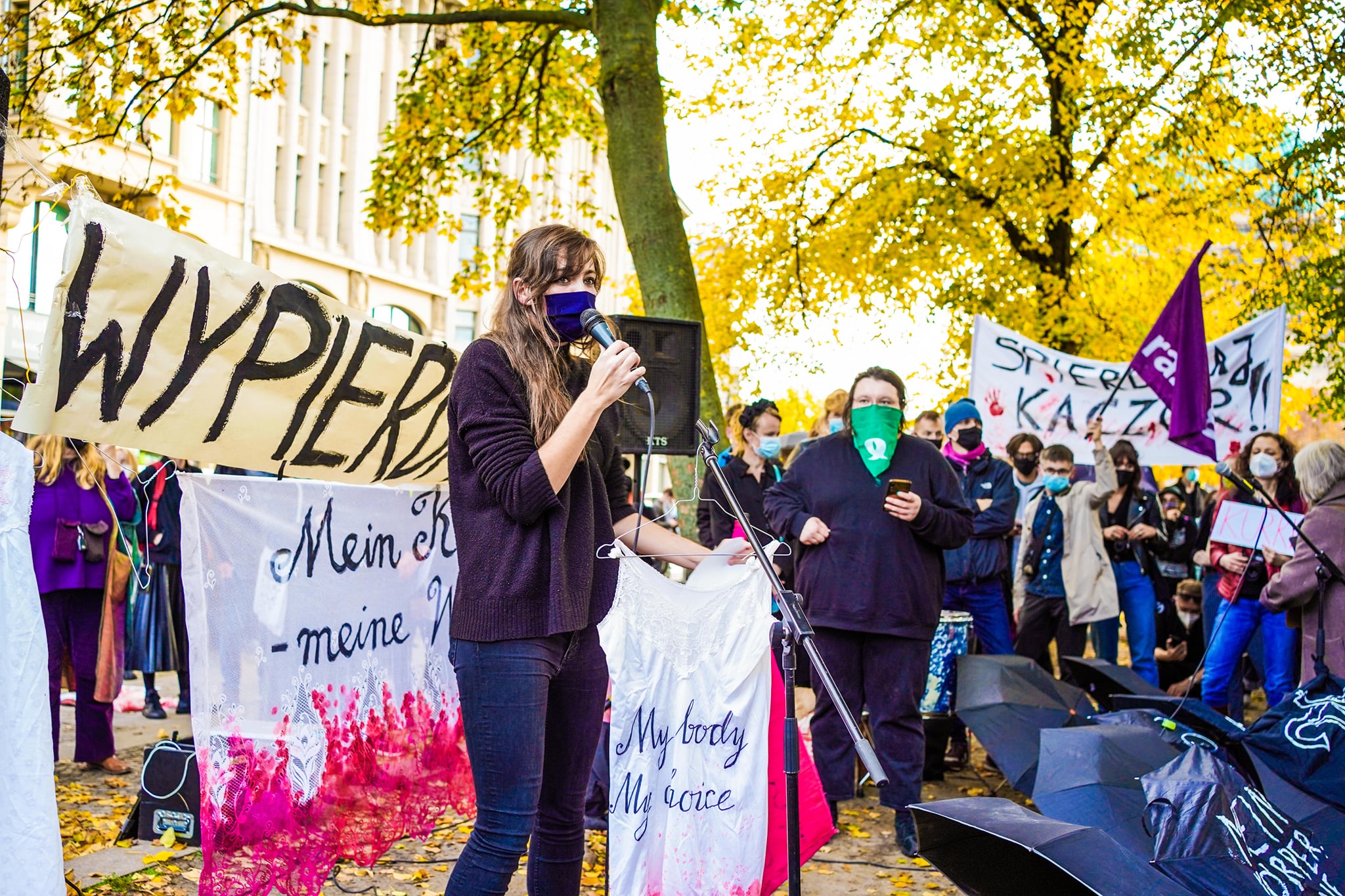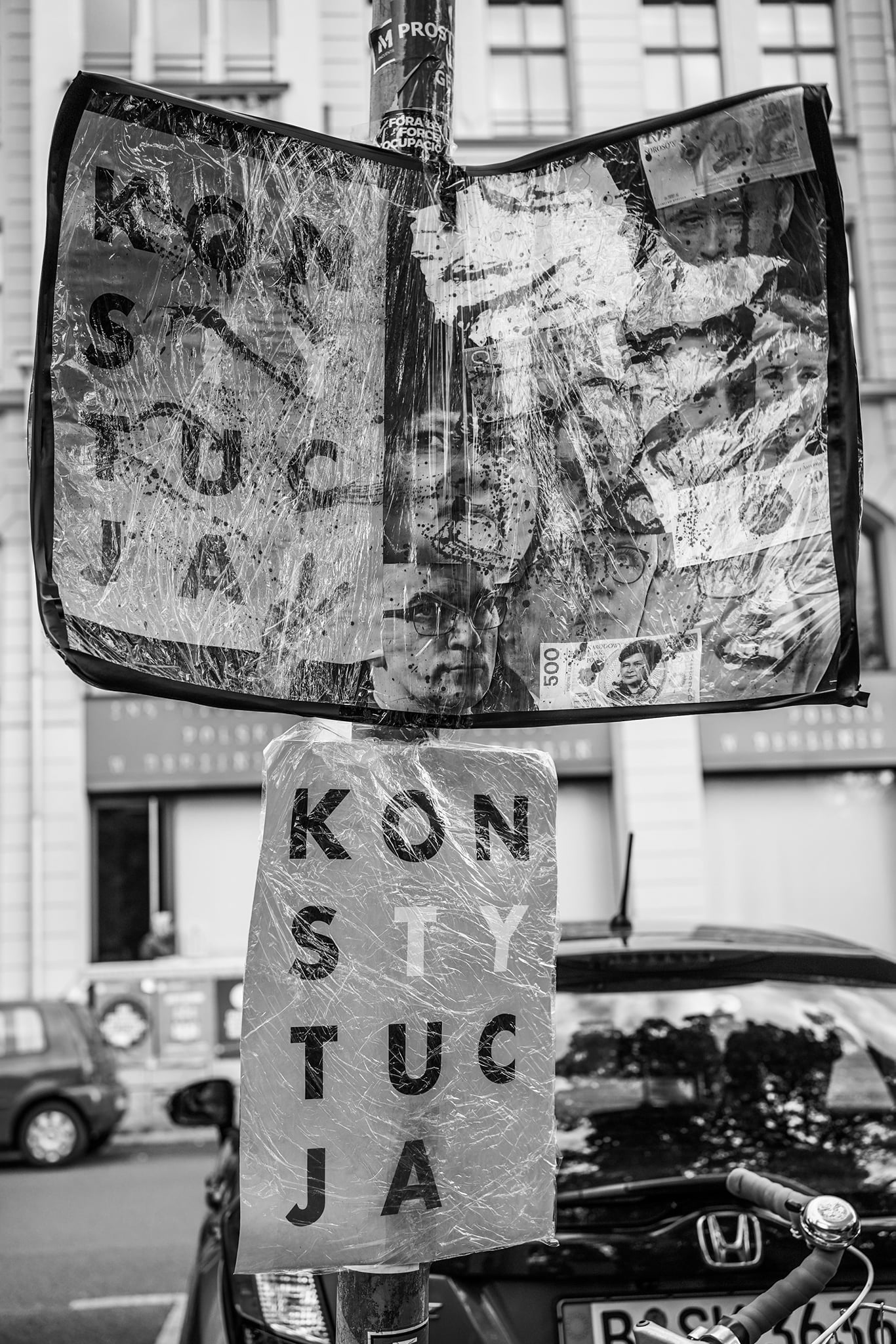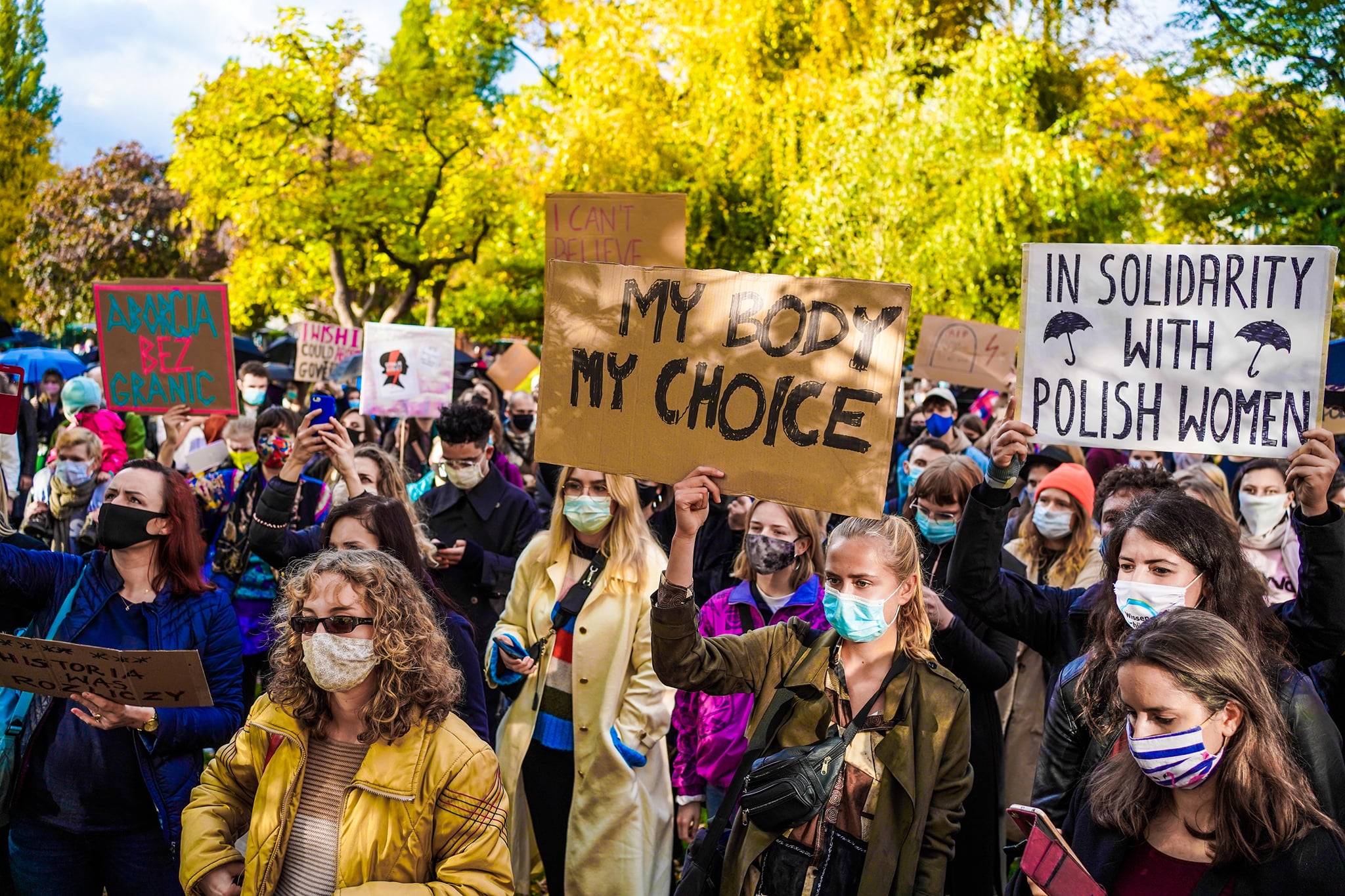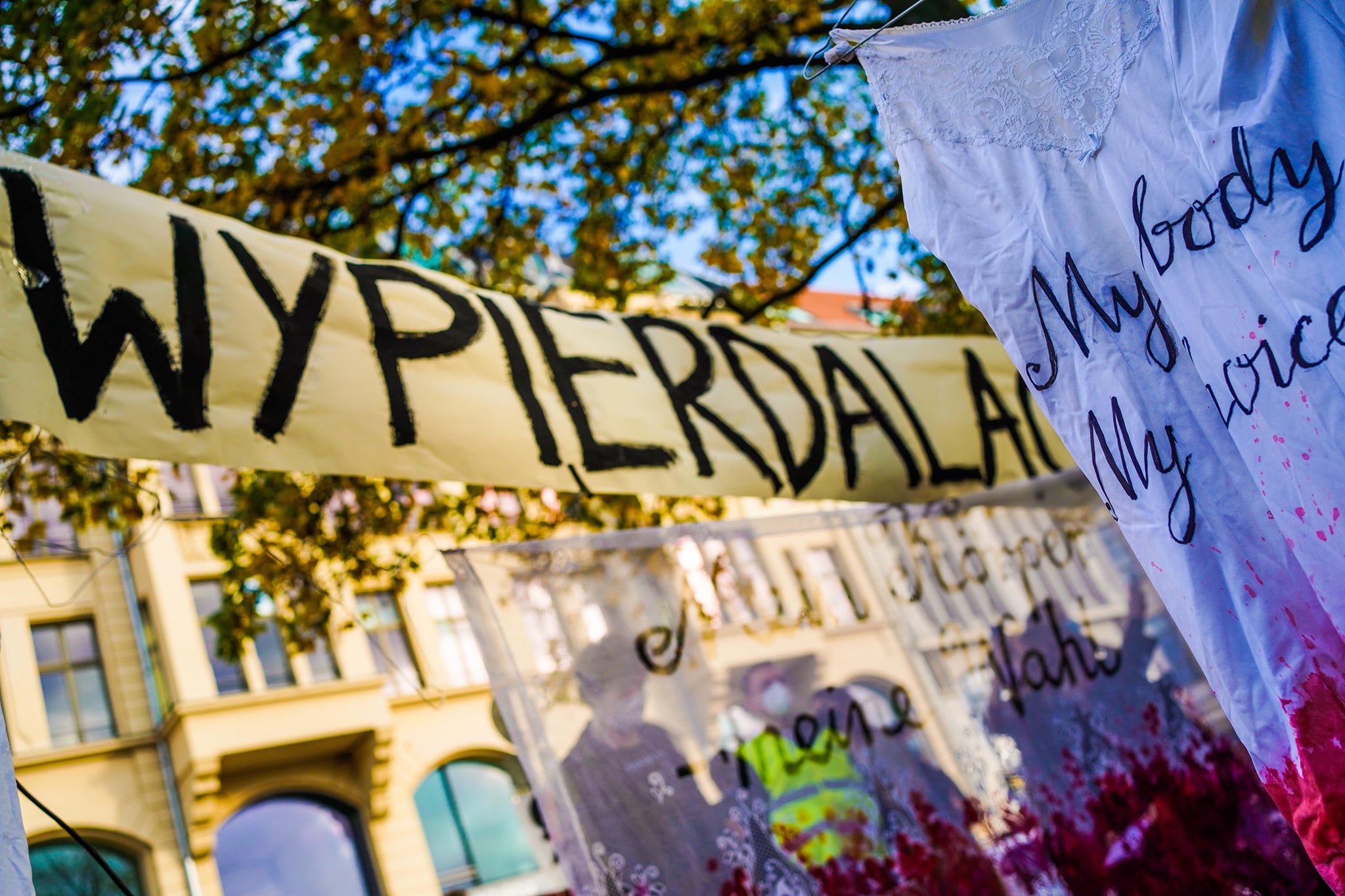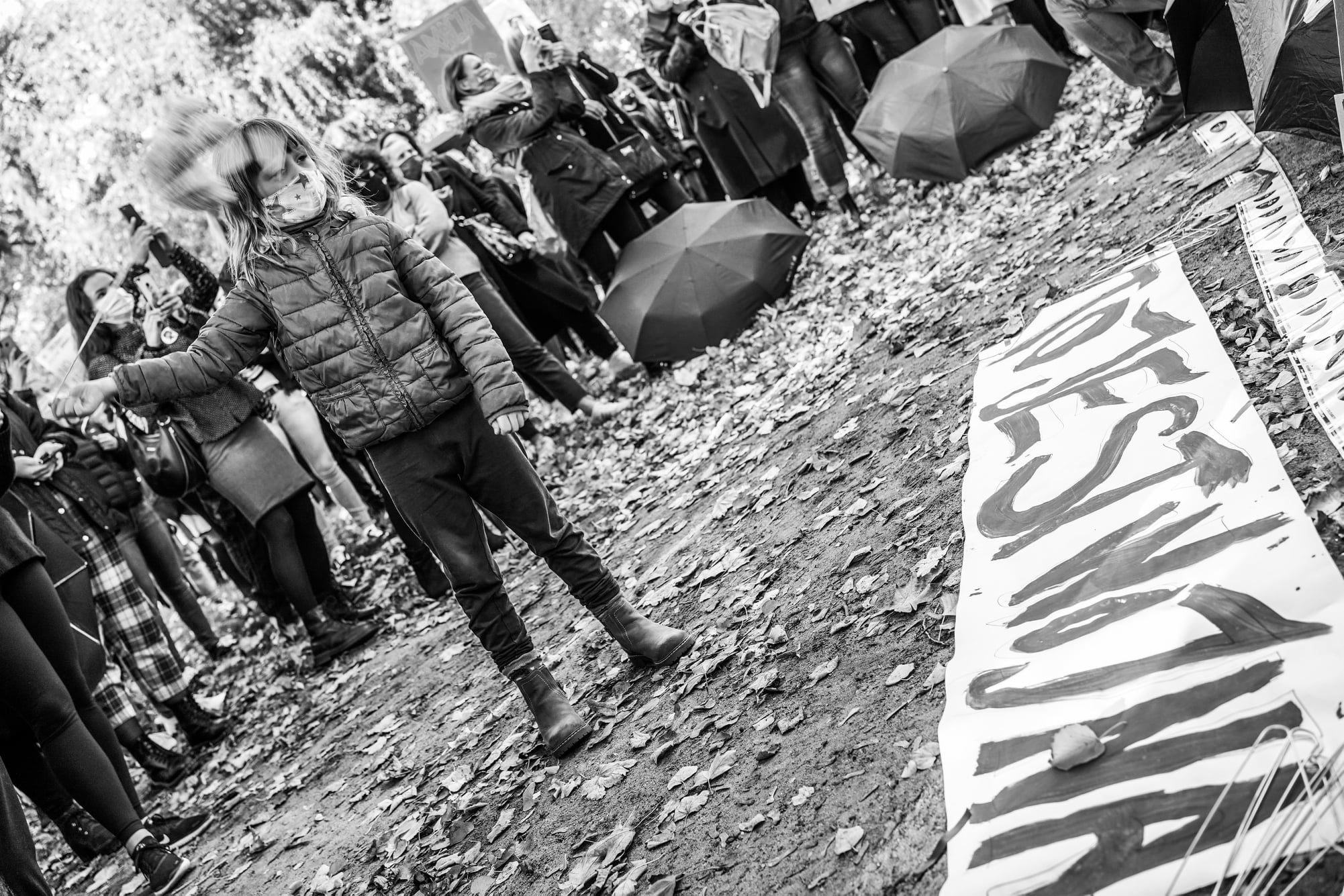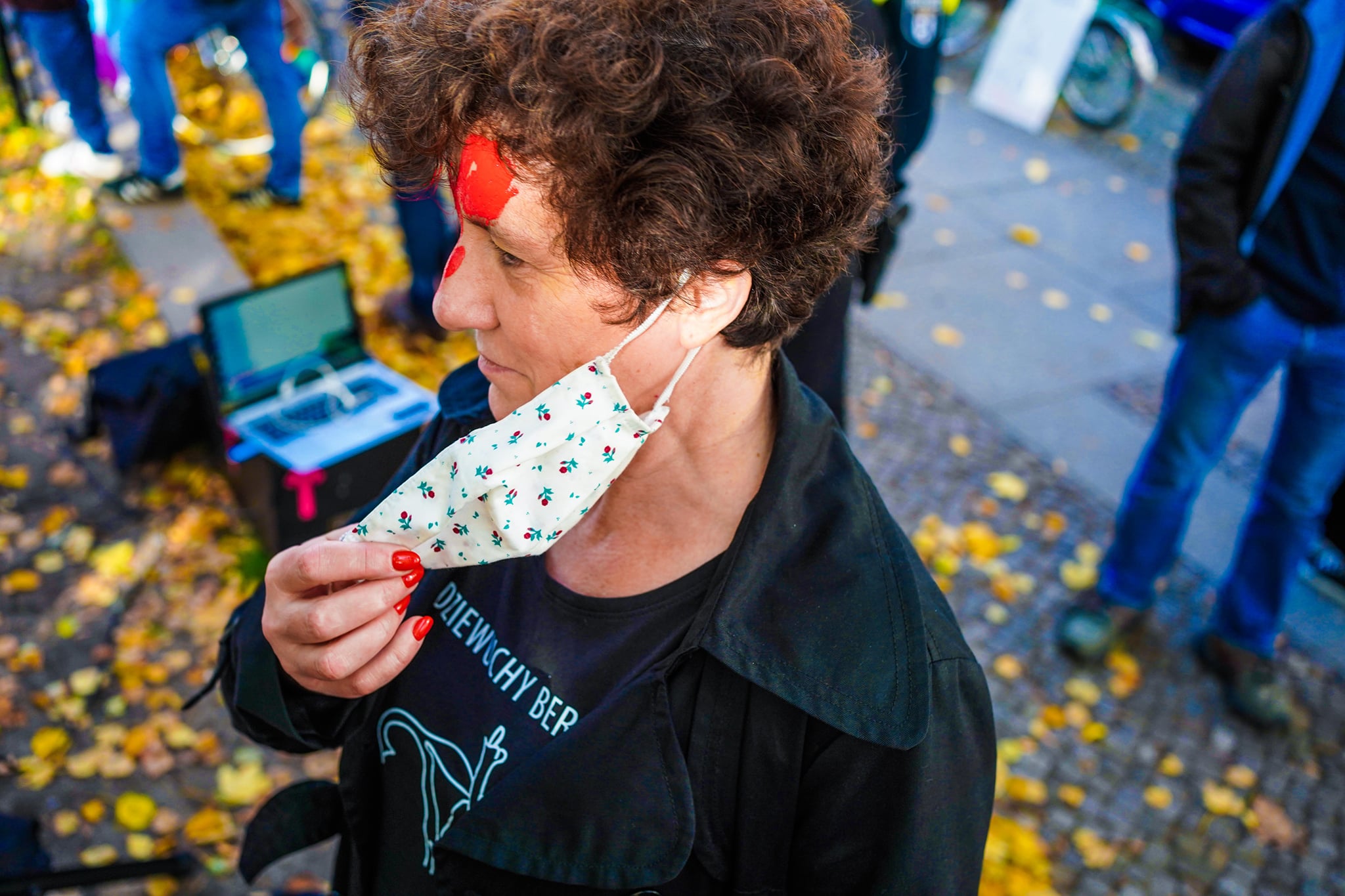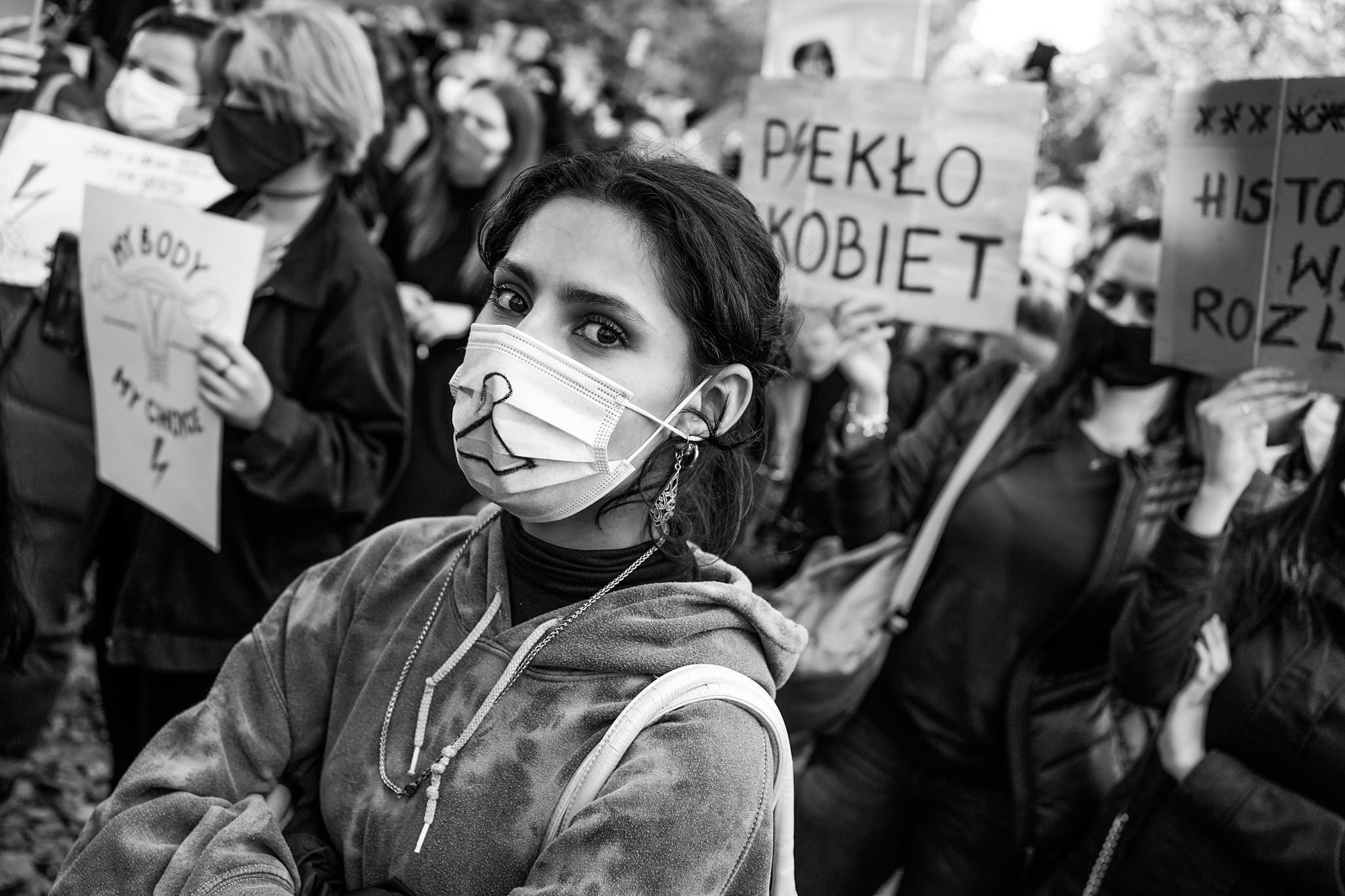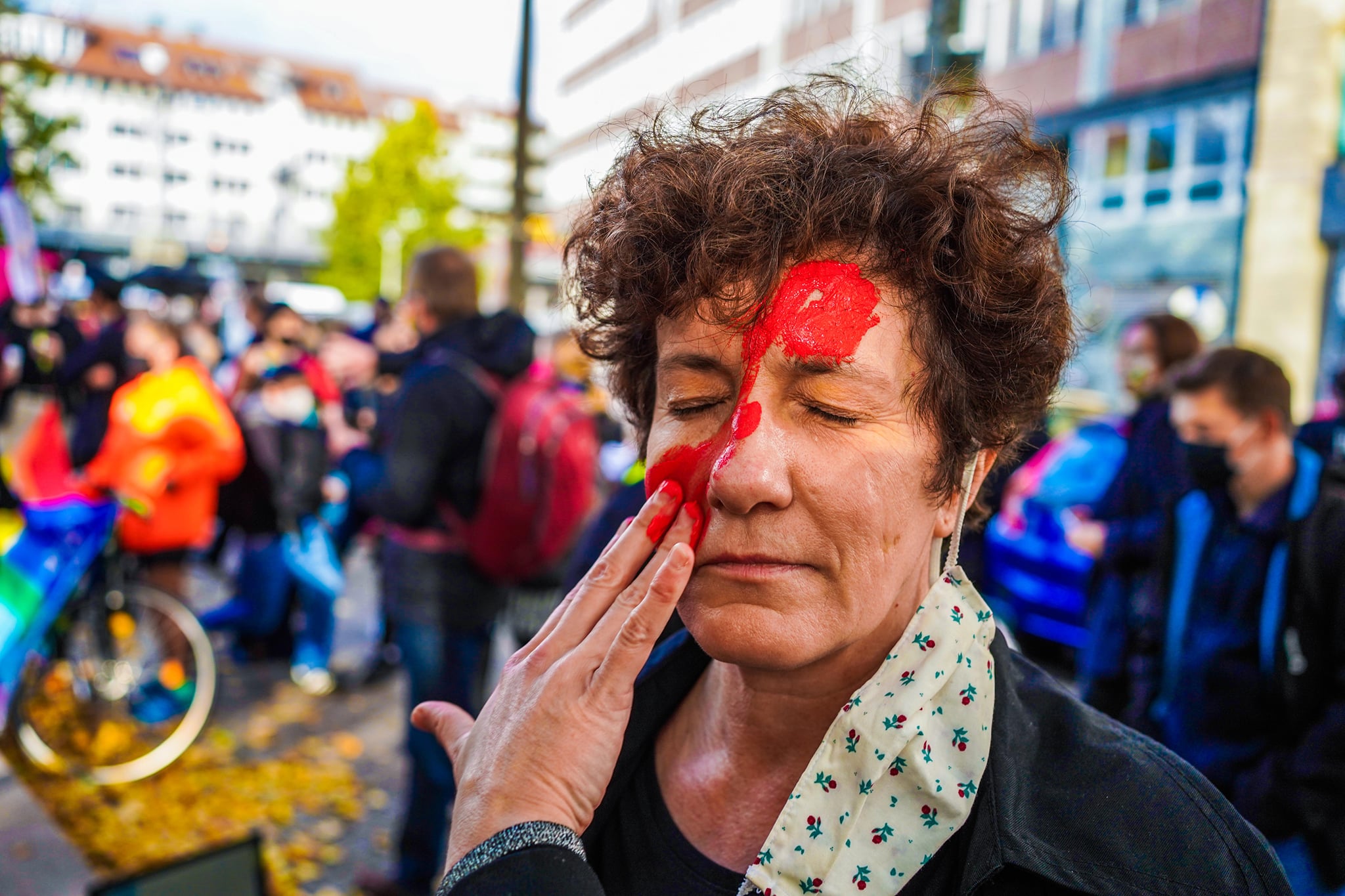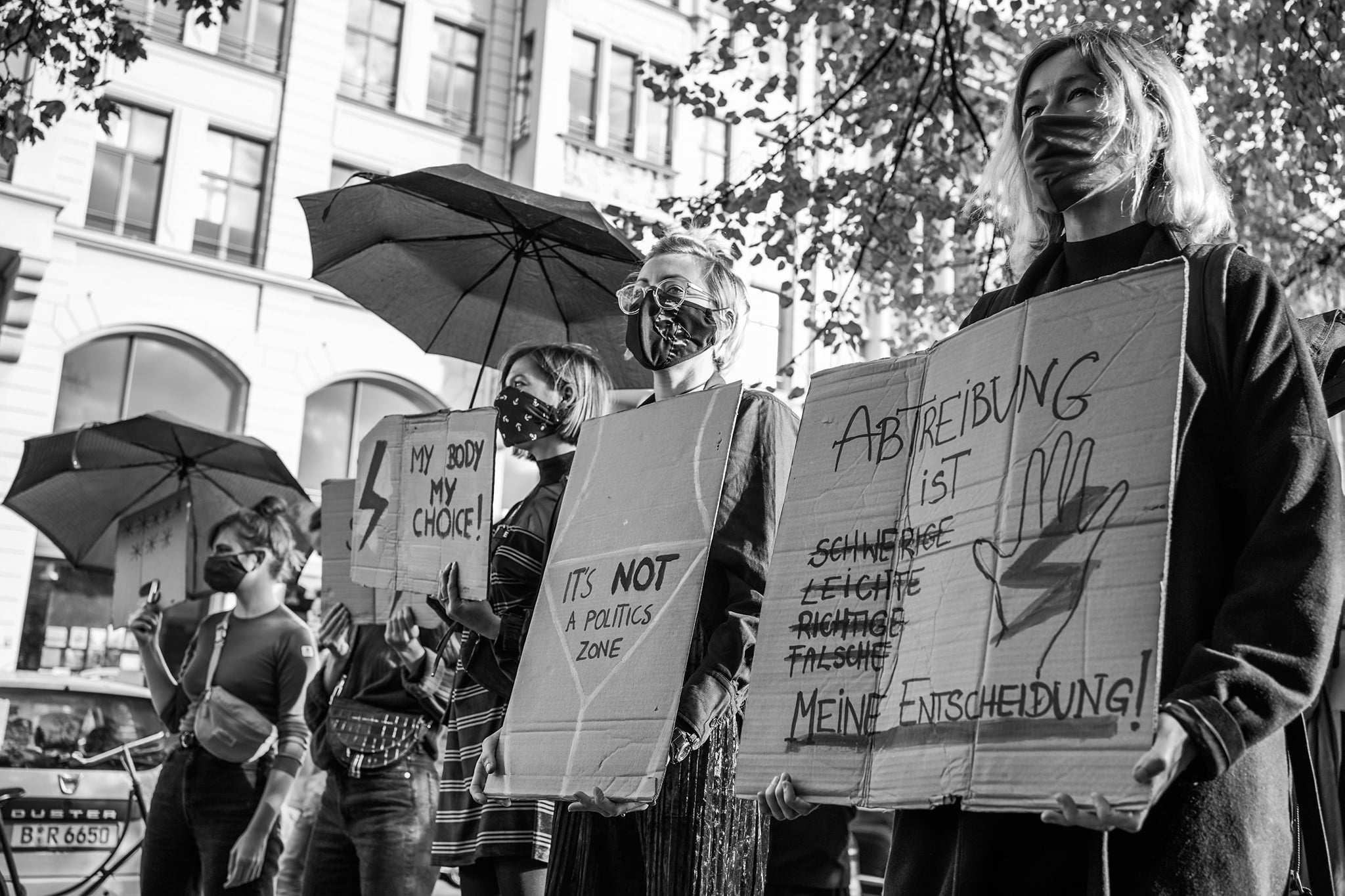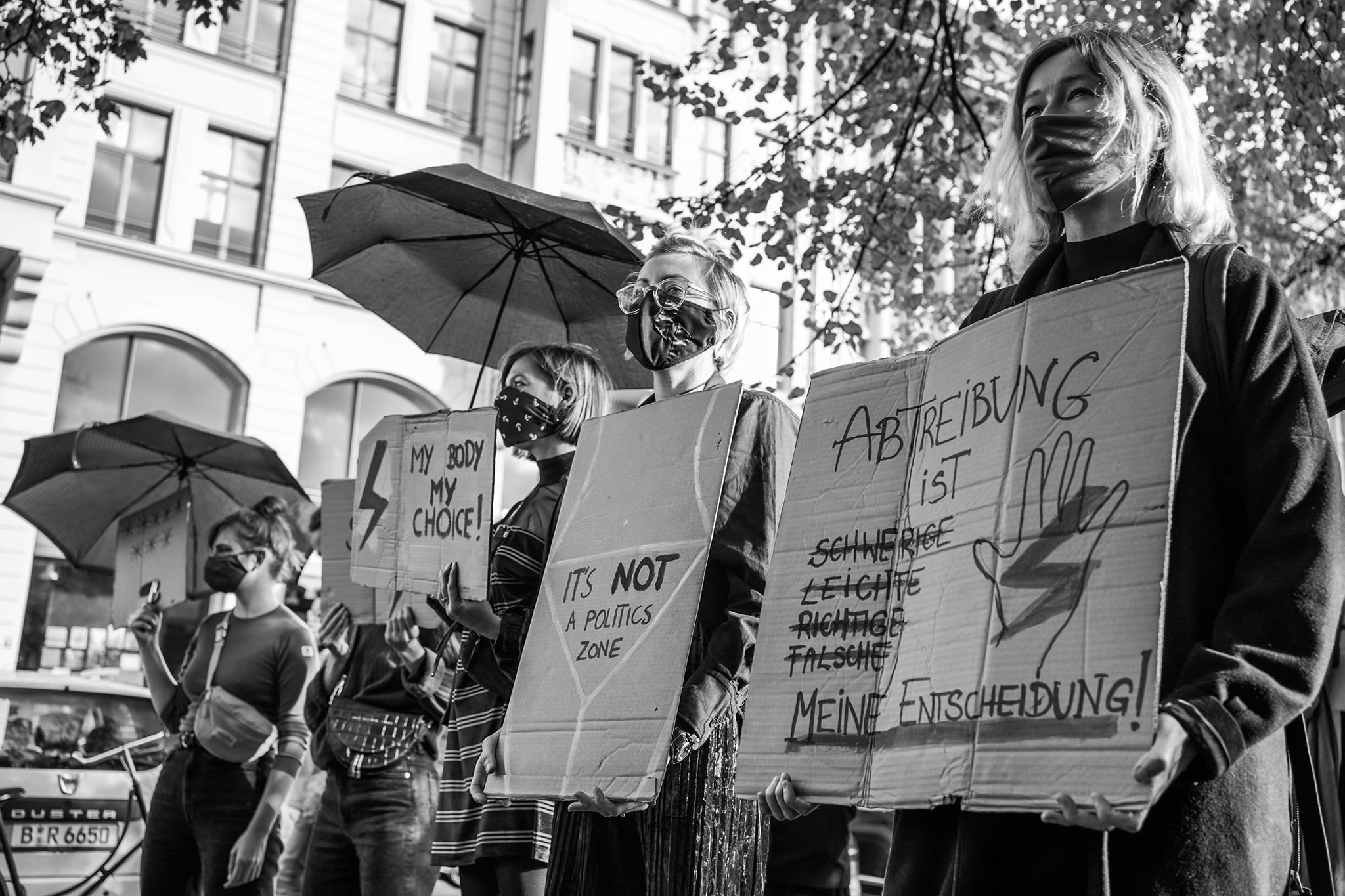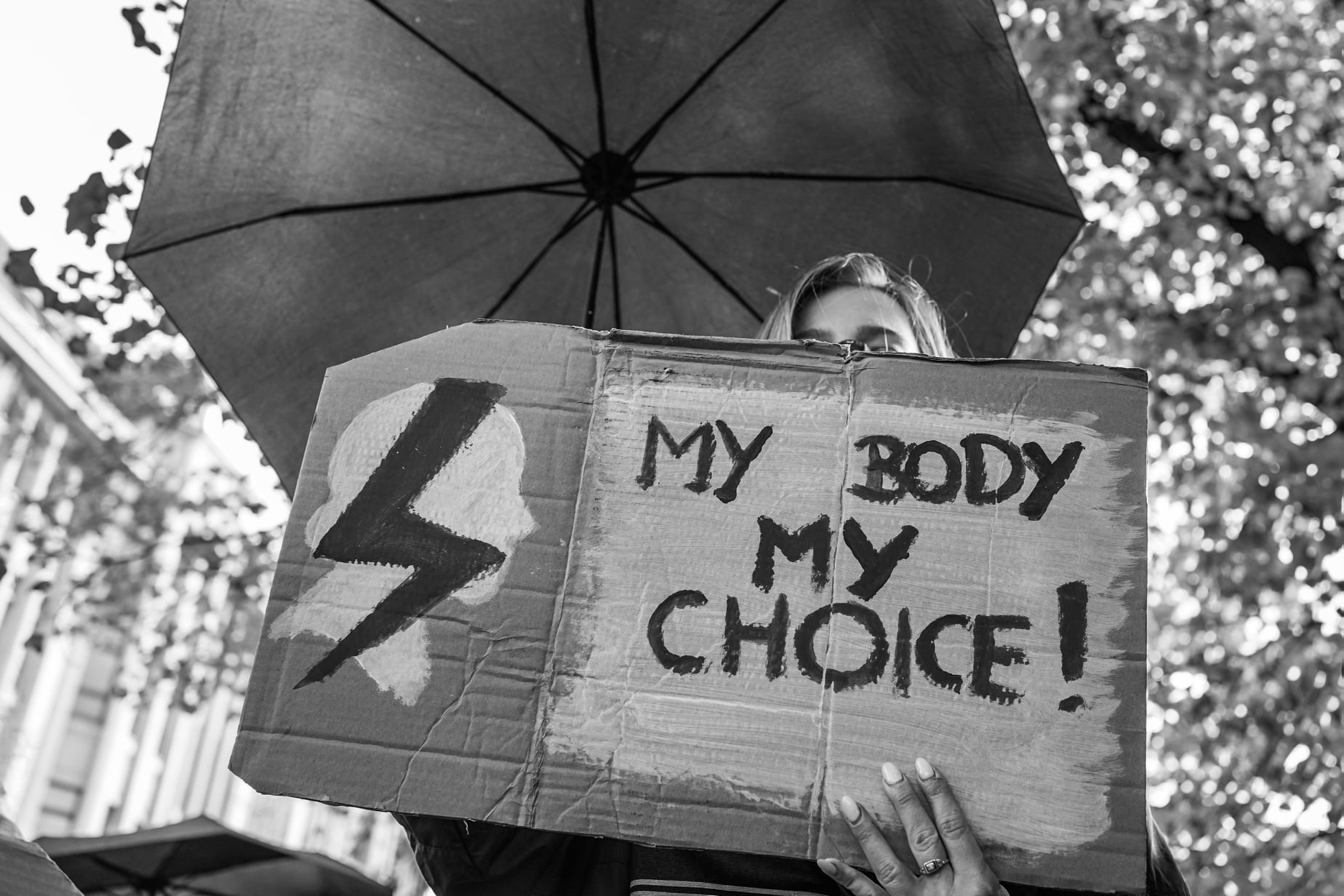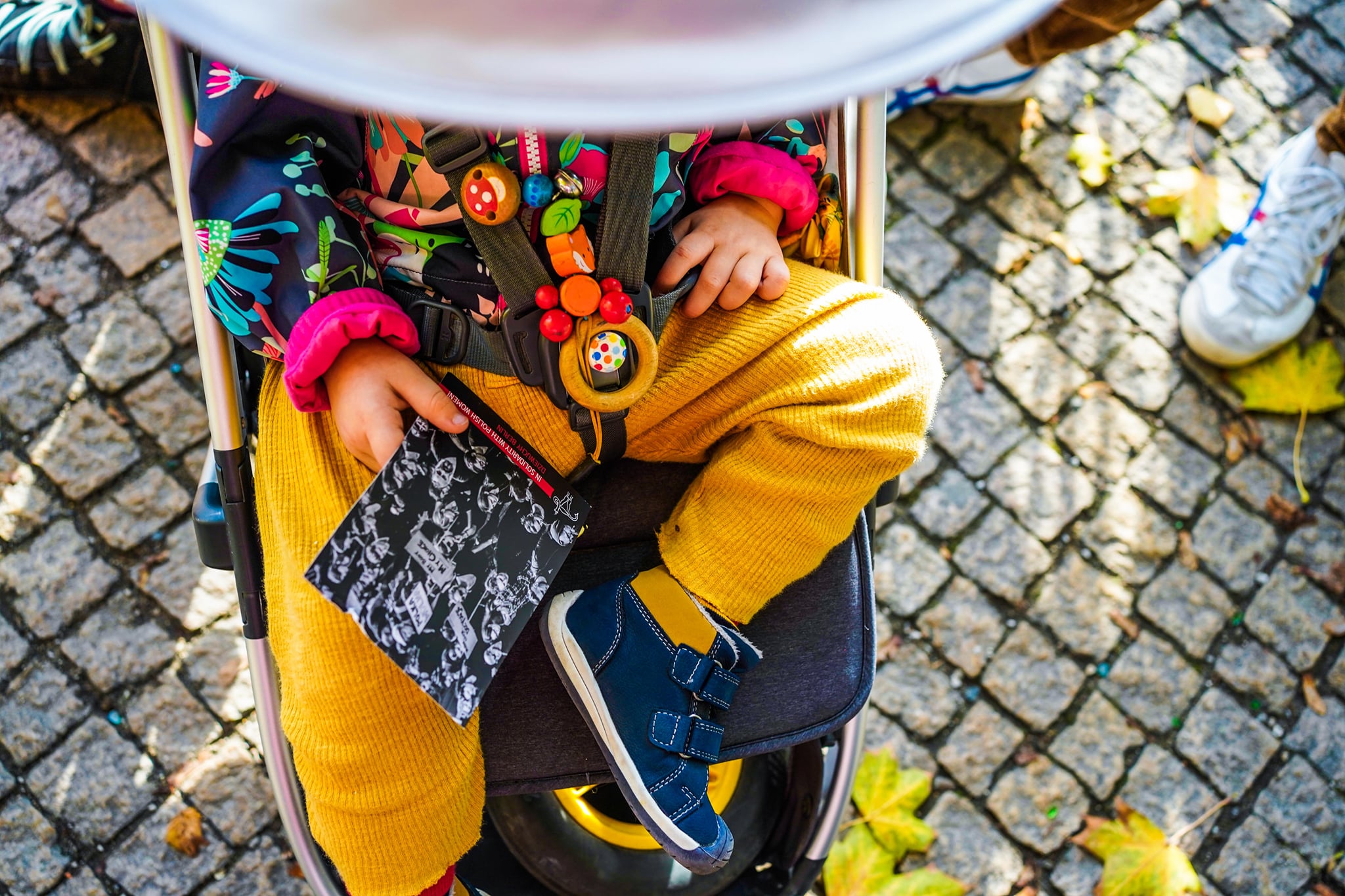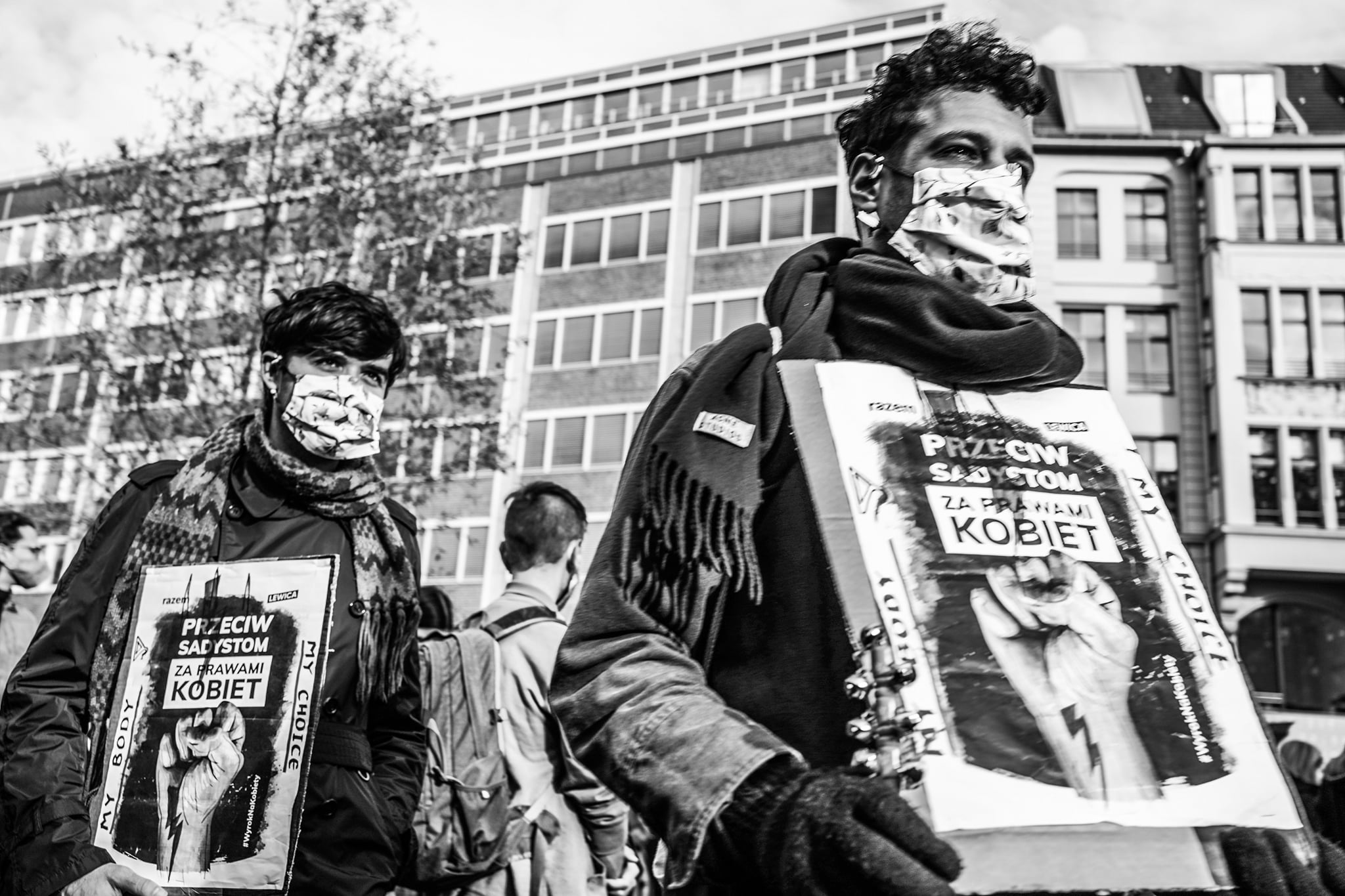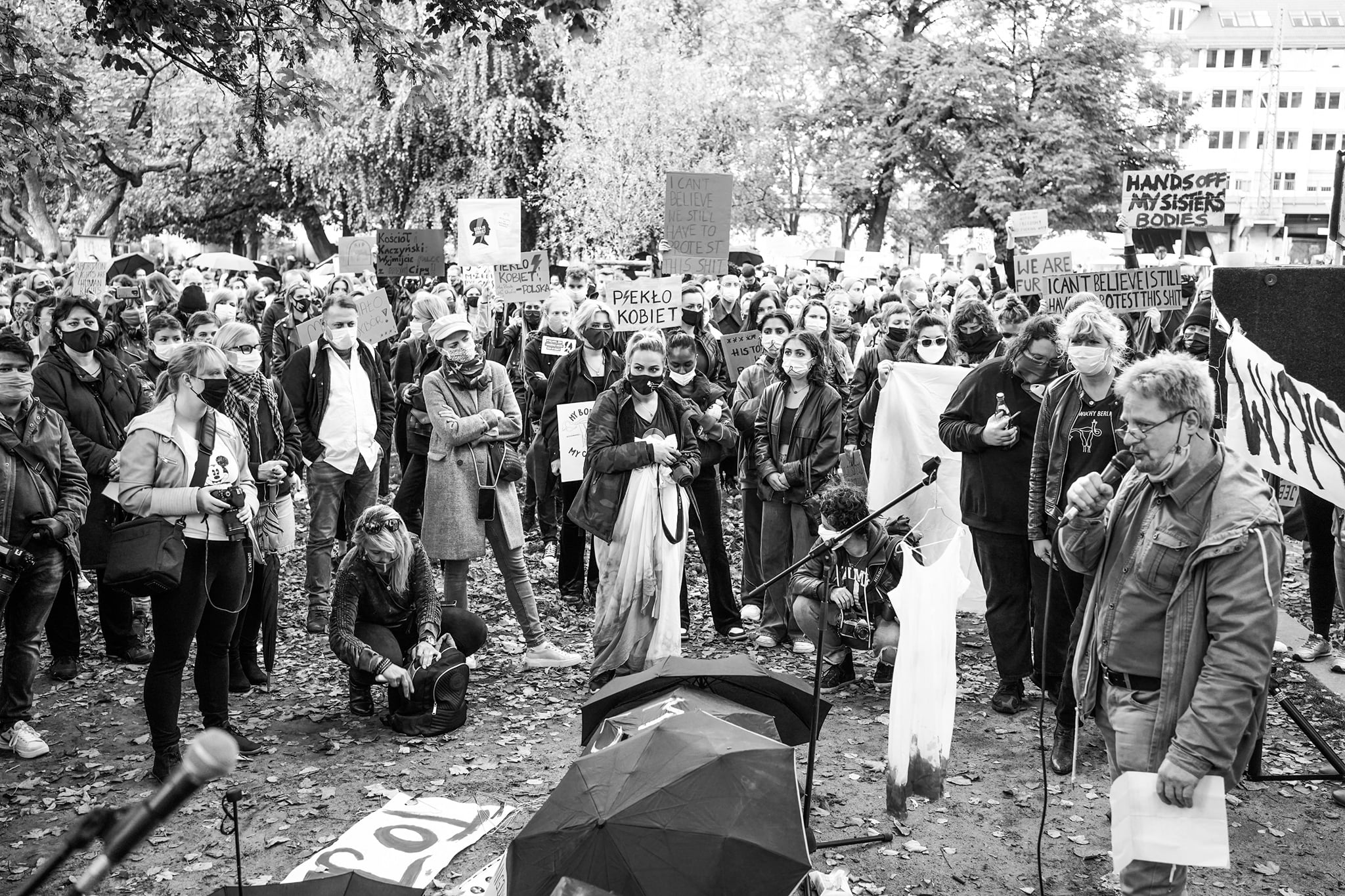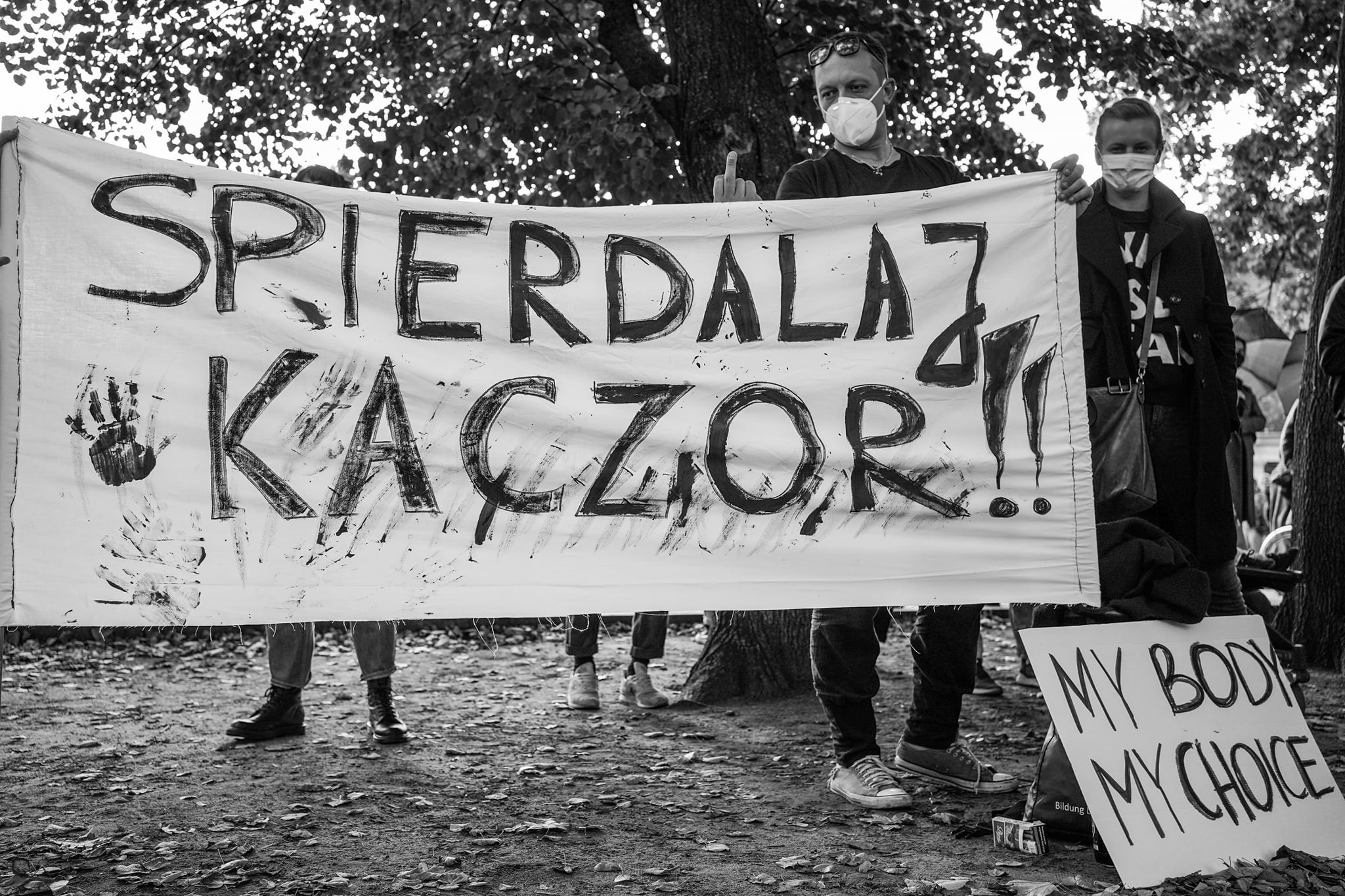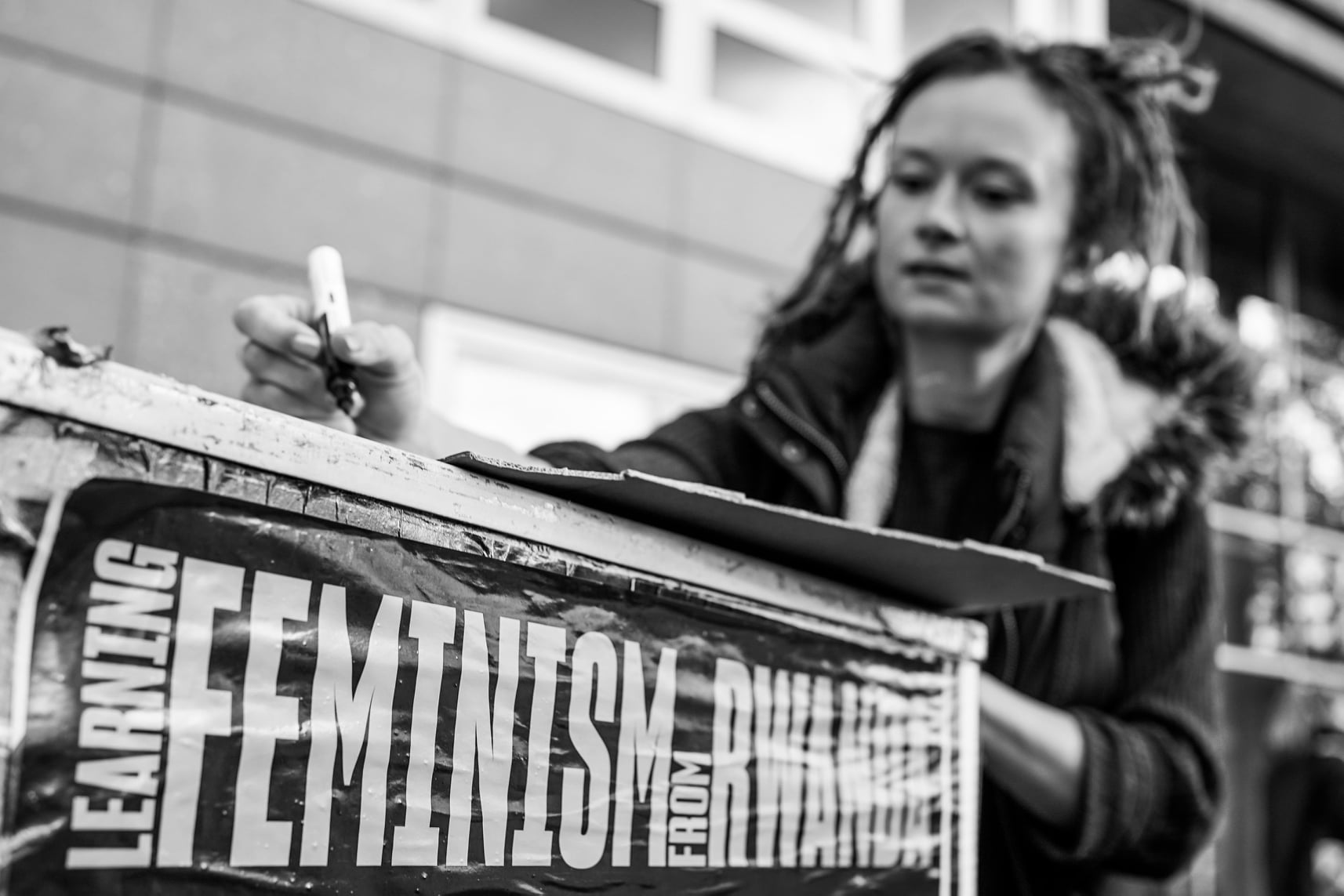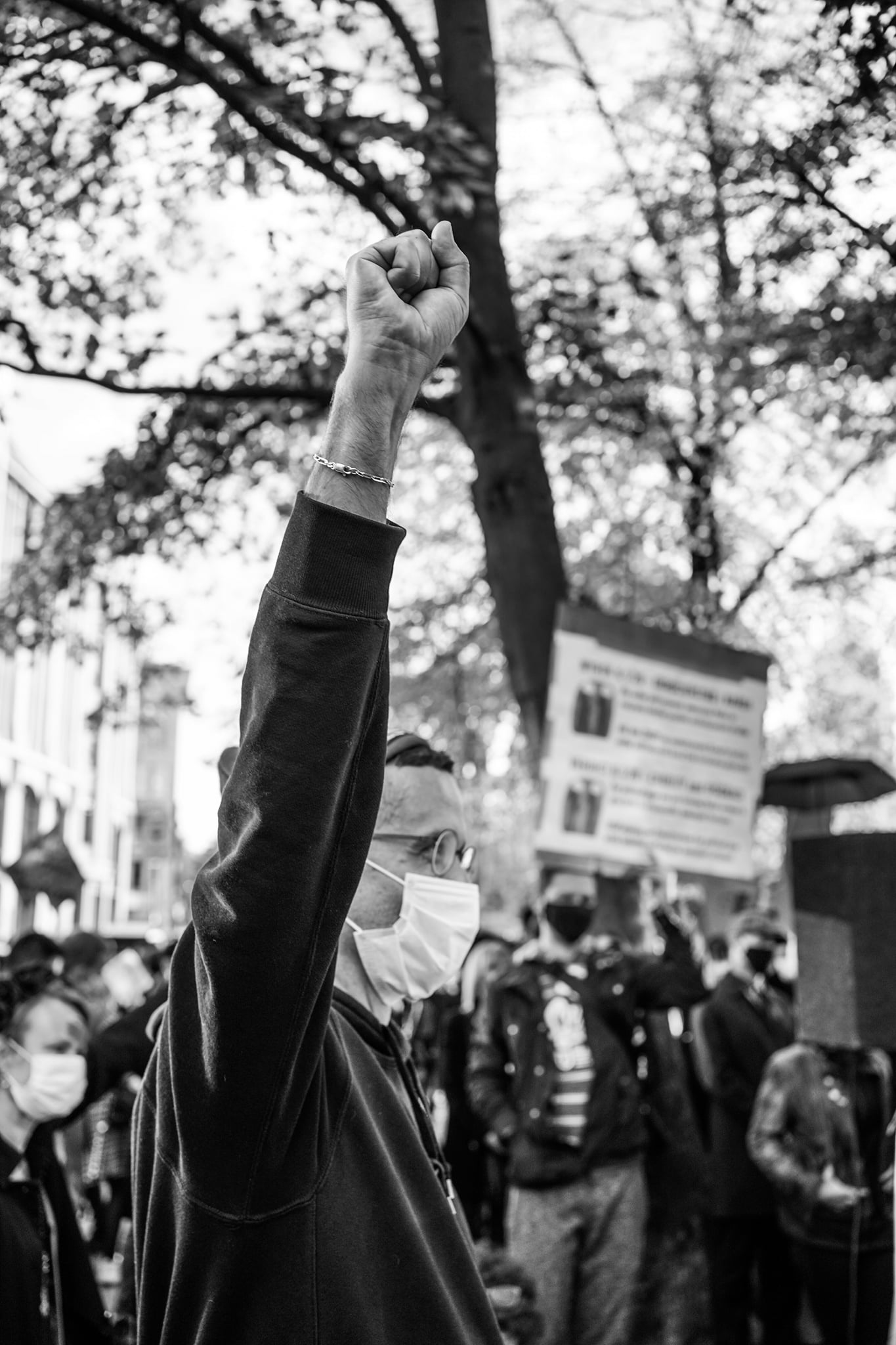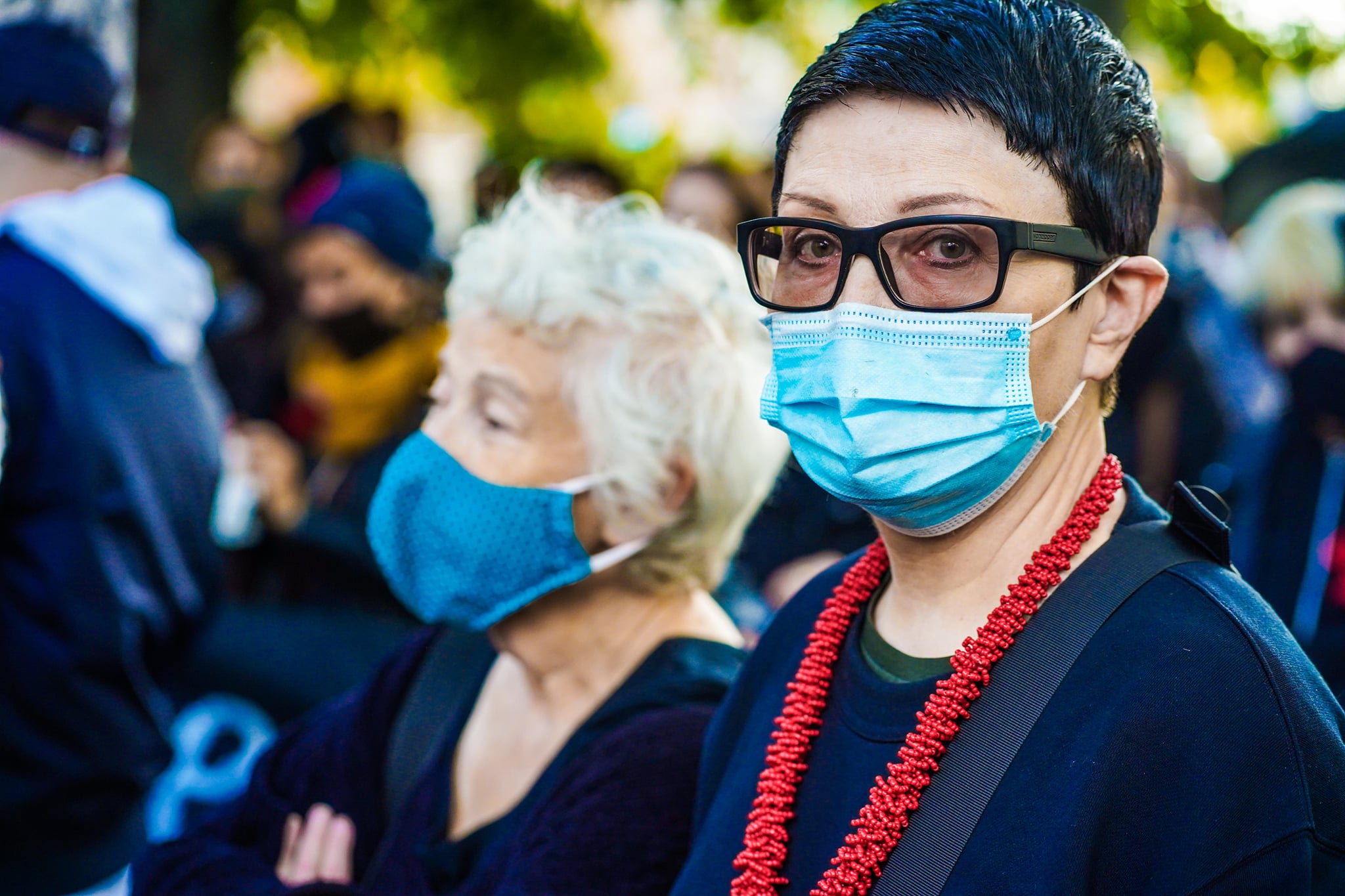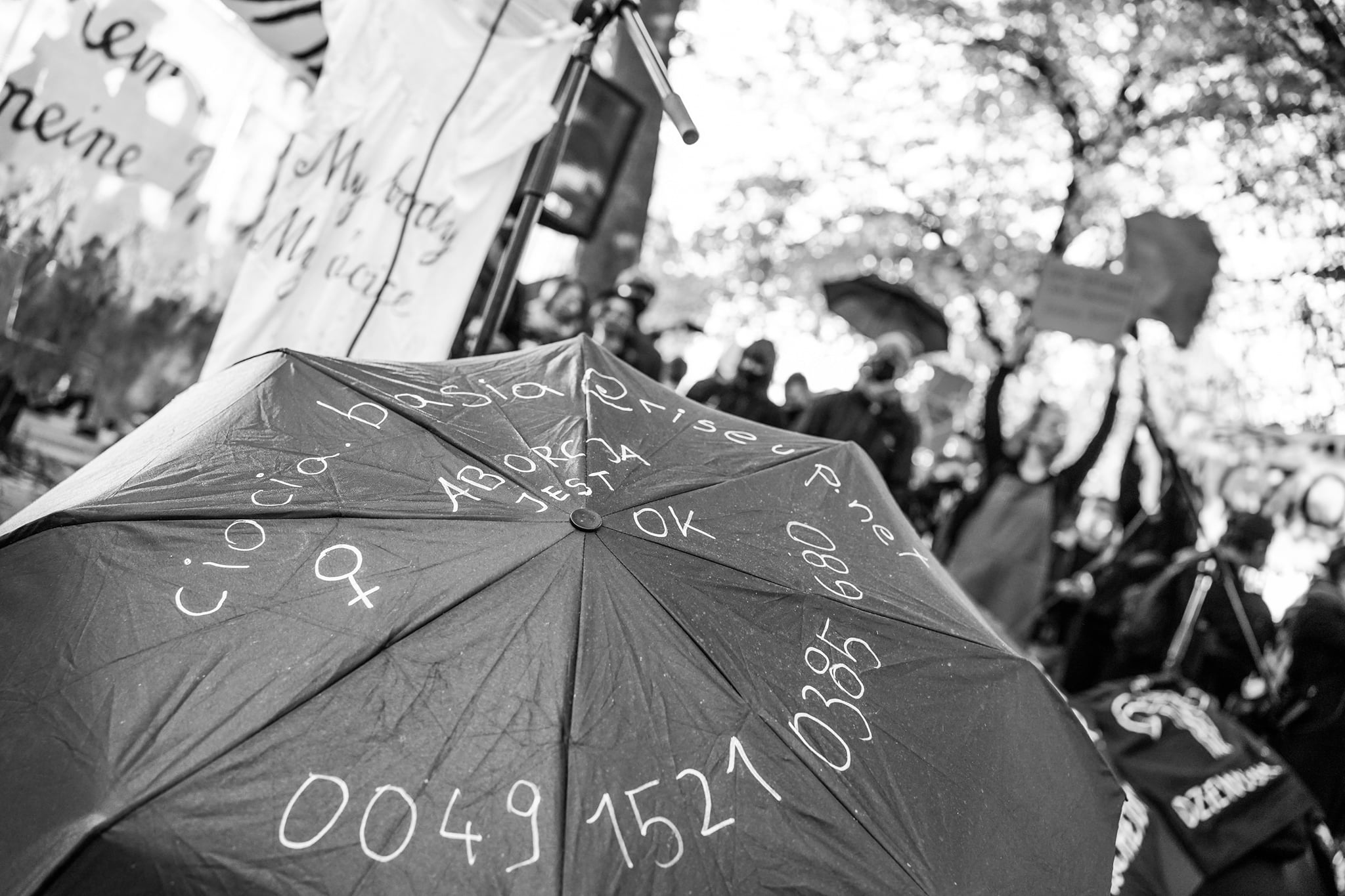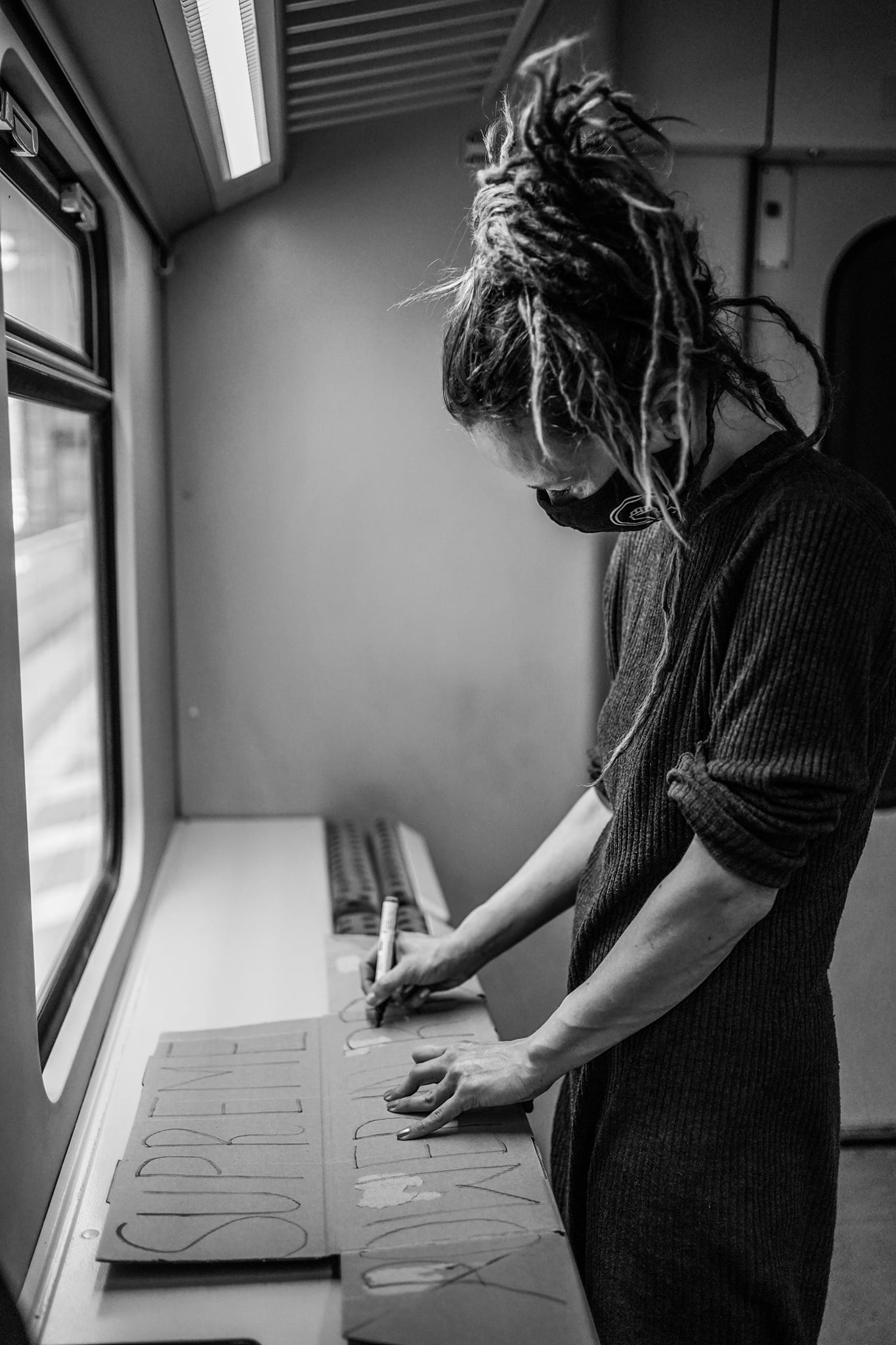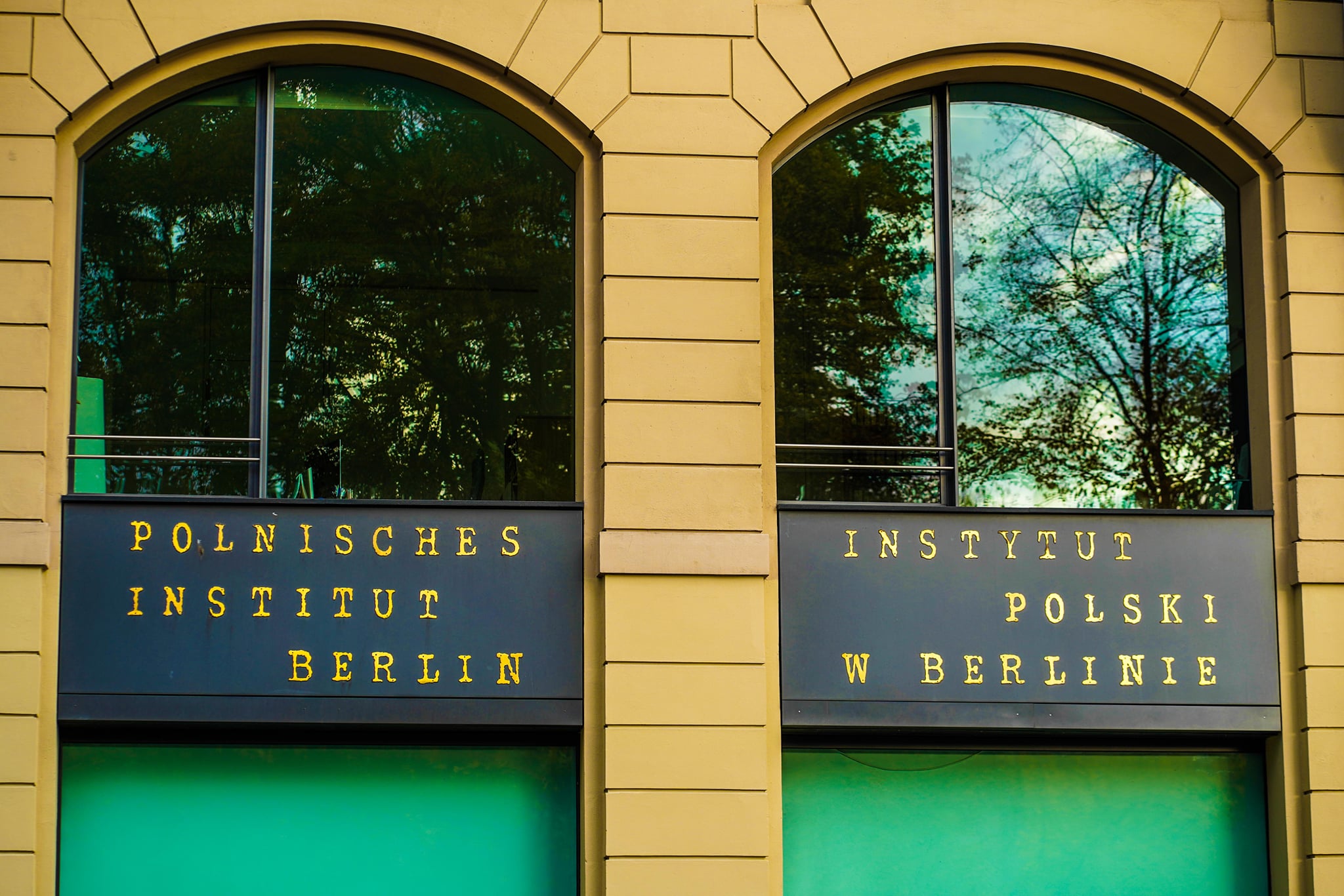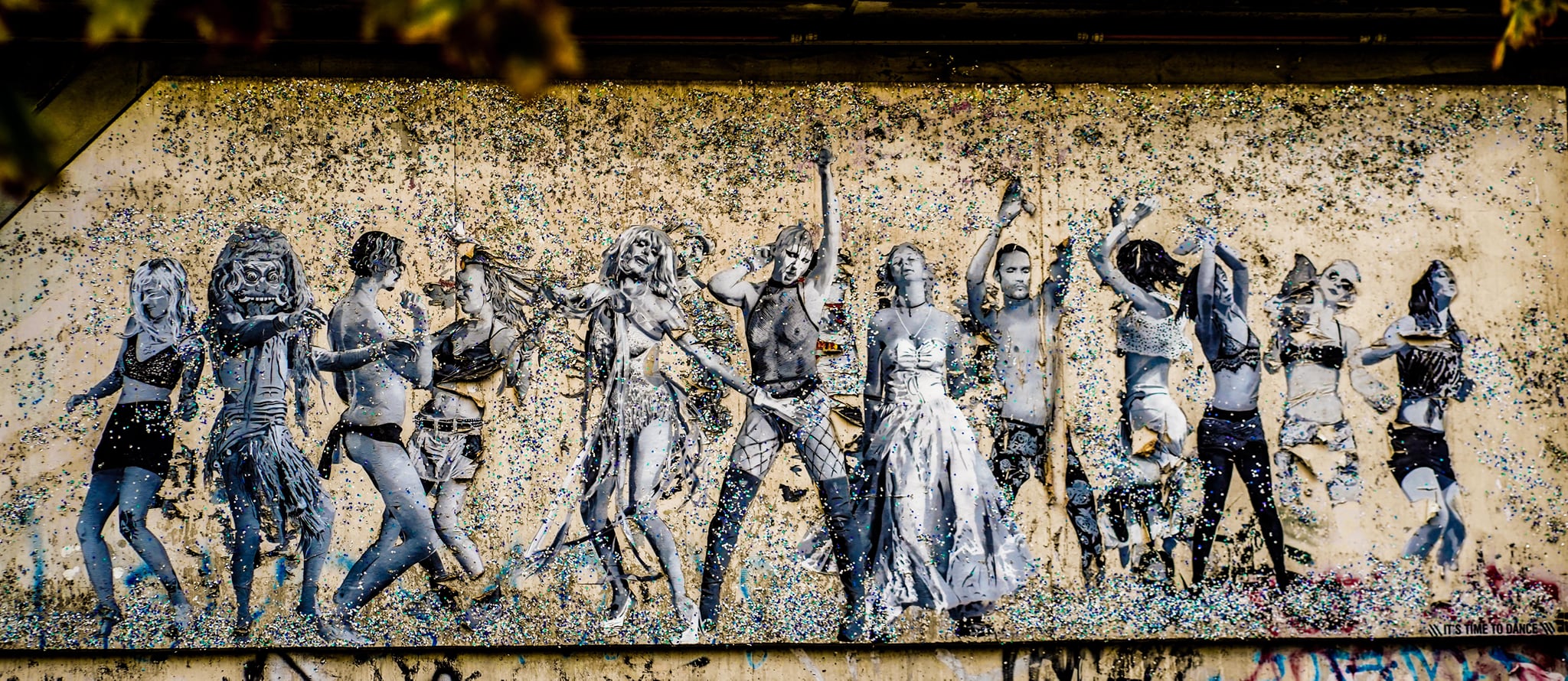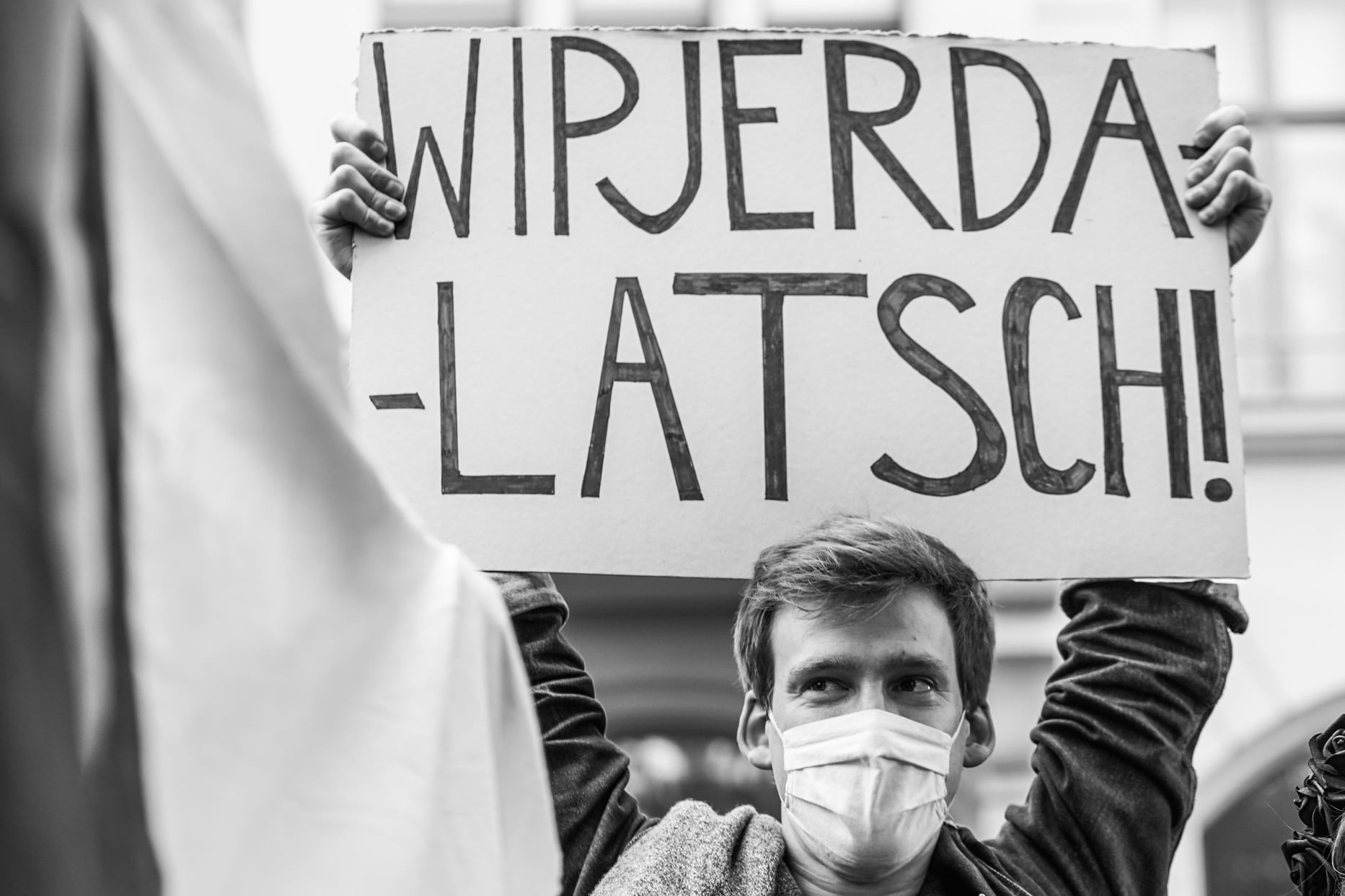 Foto – Phil Butland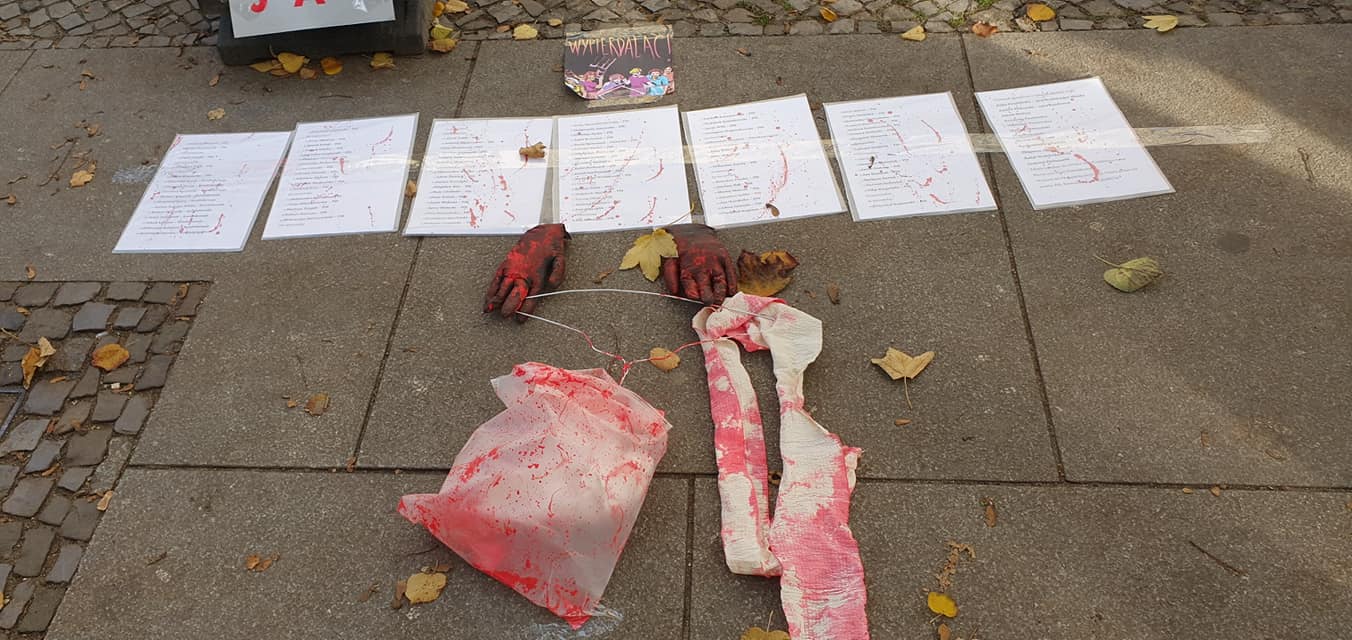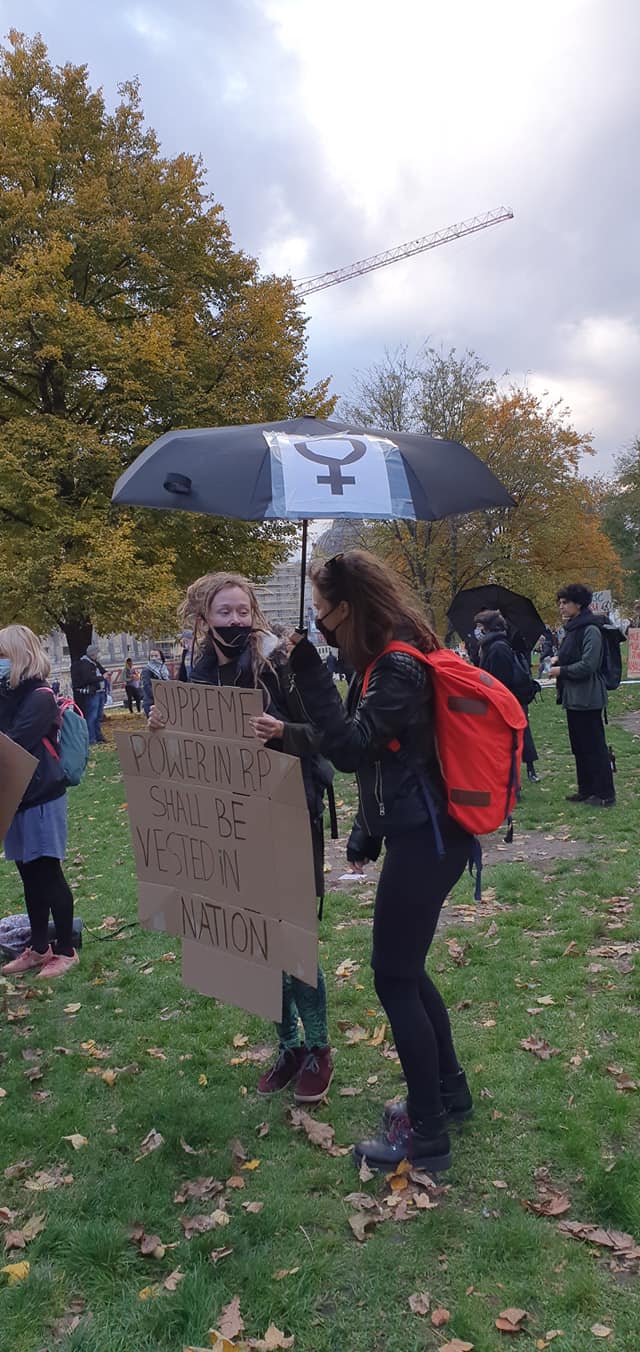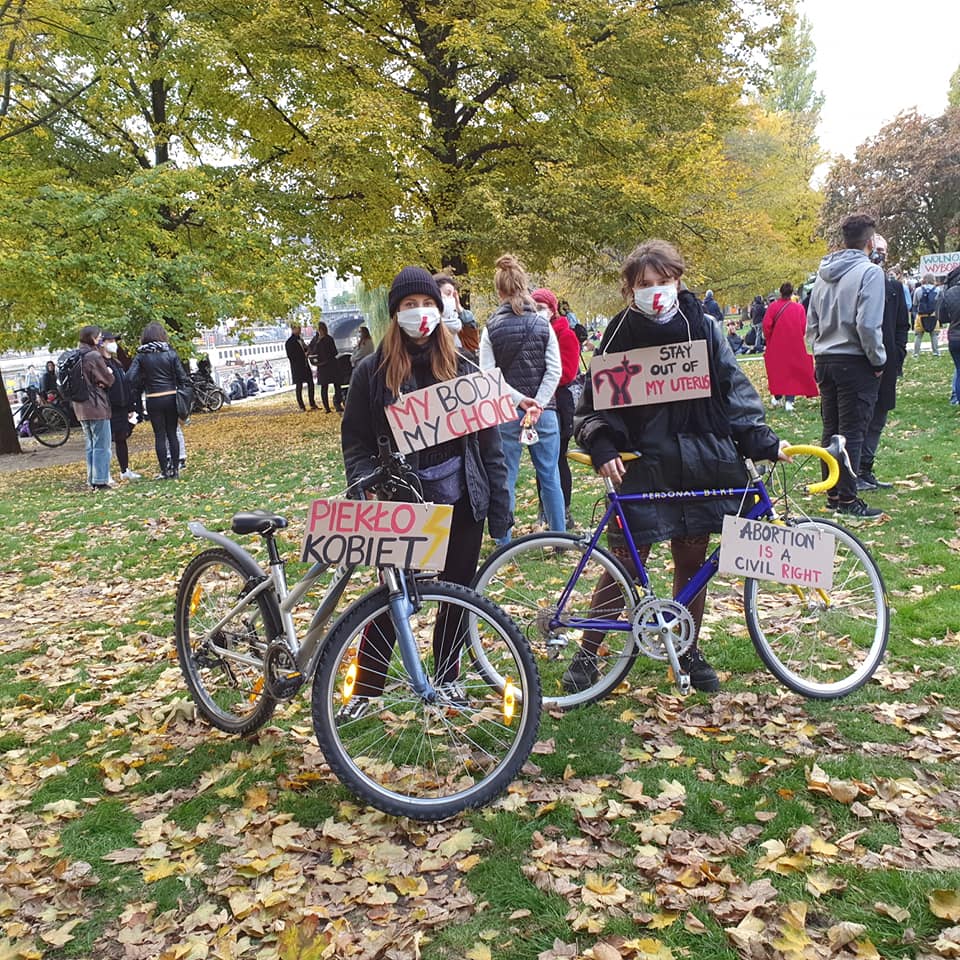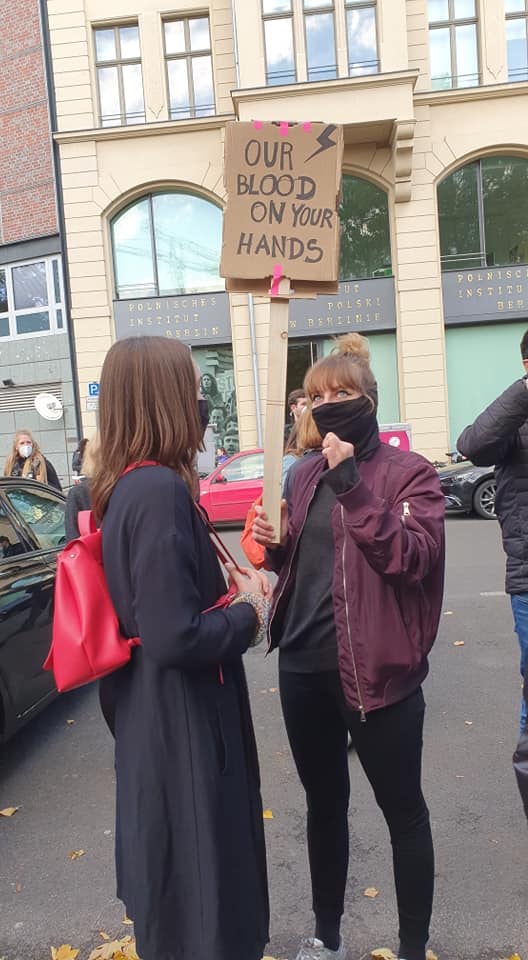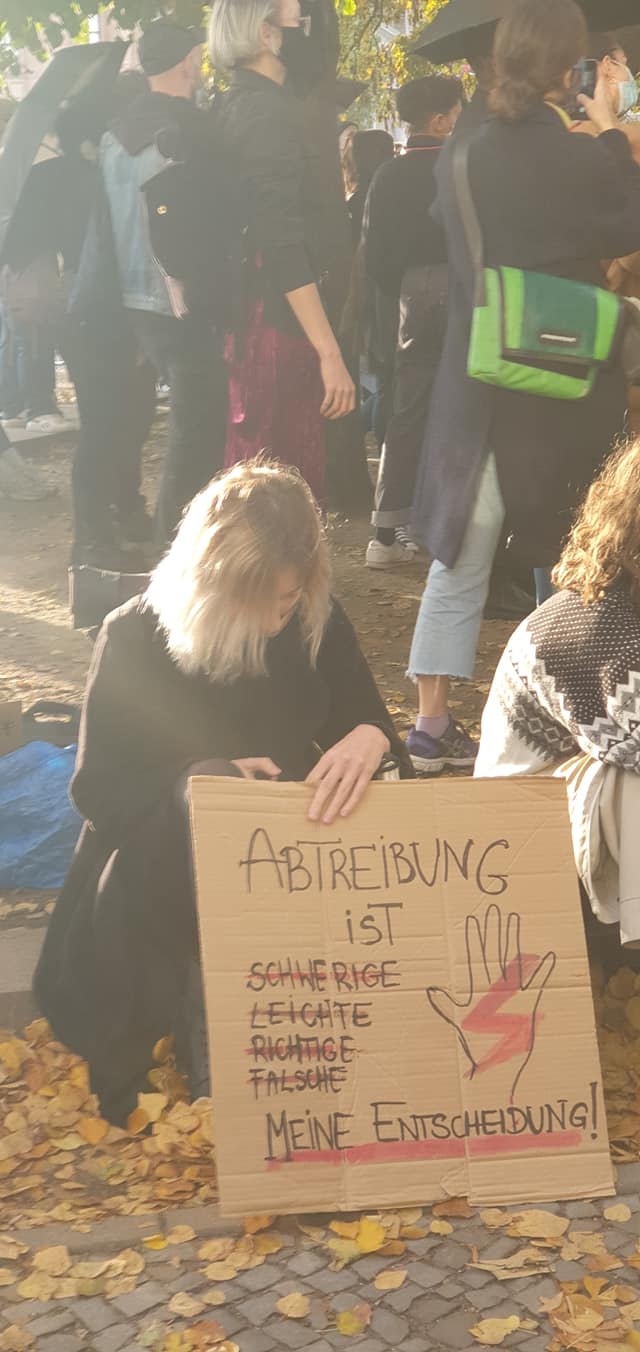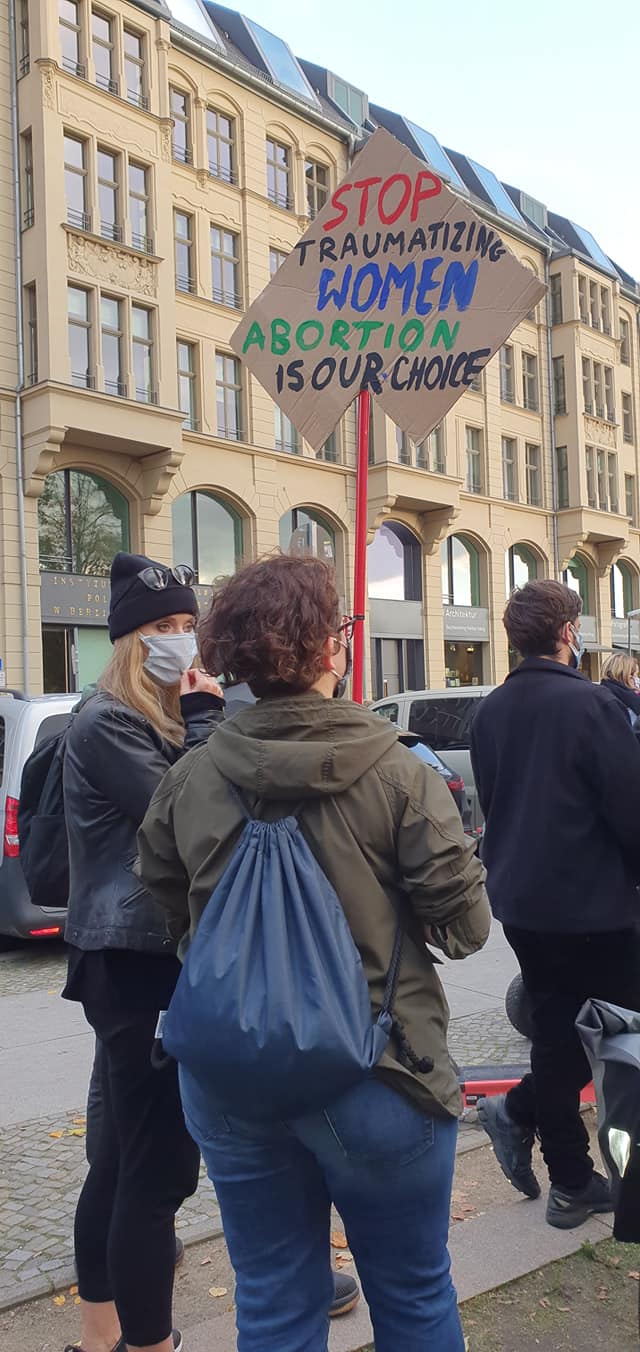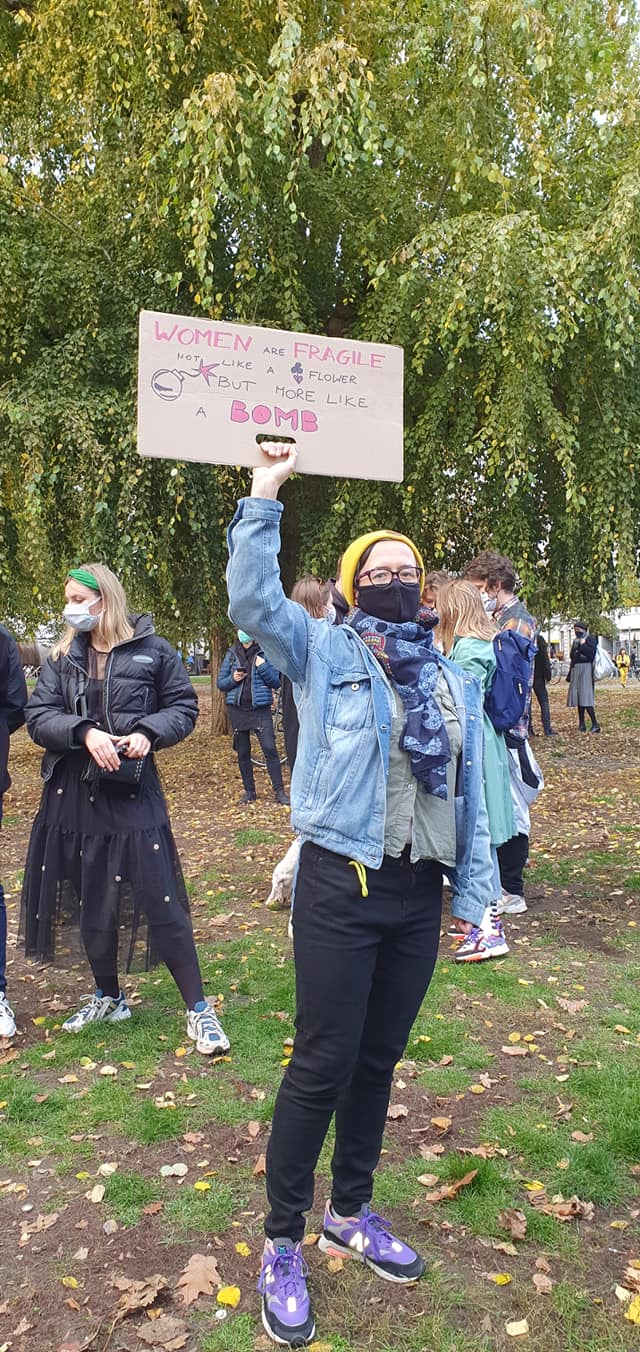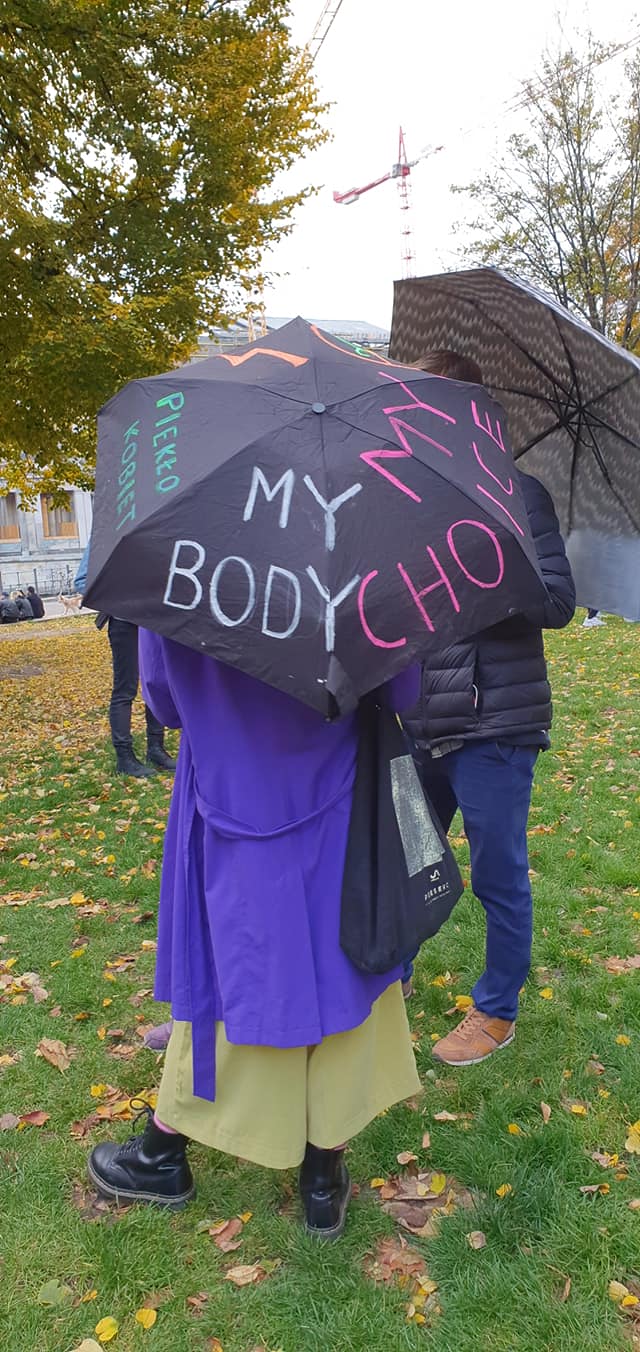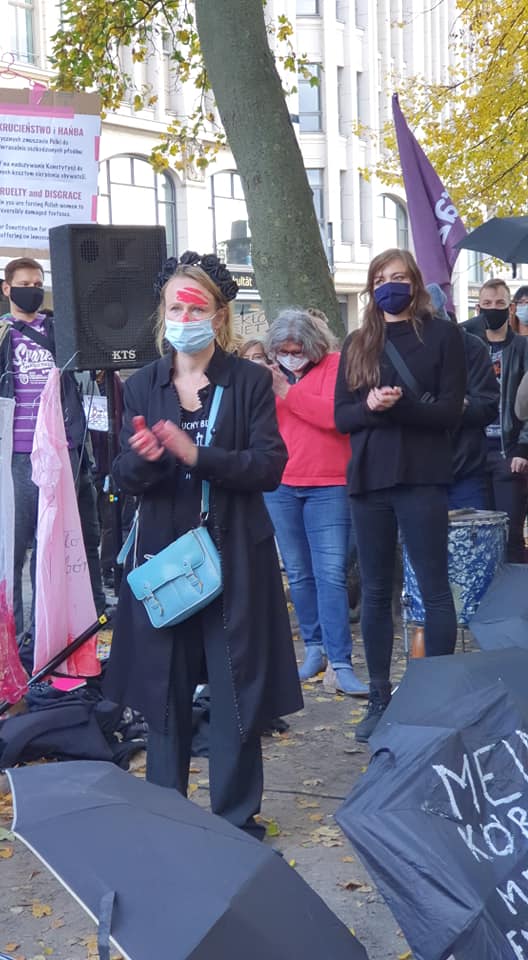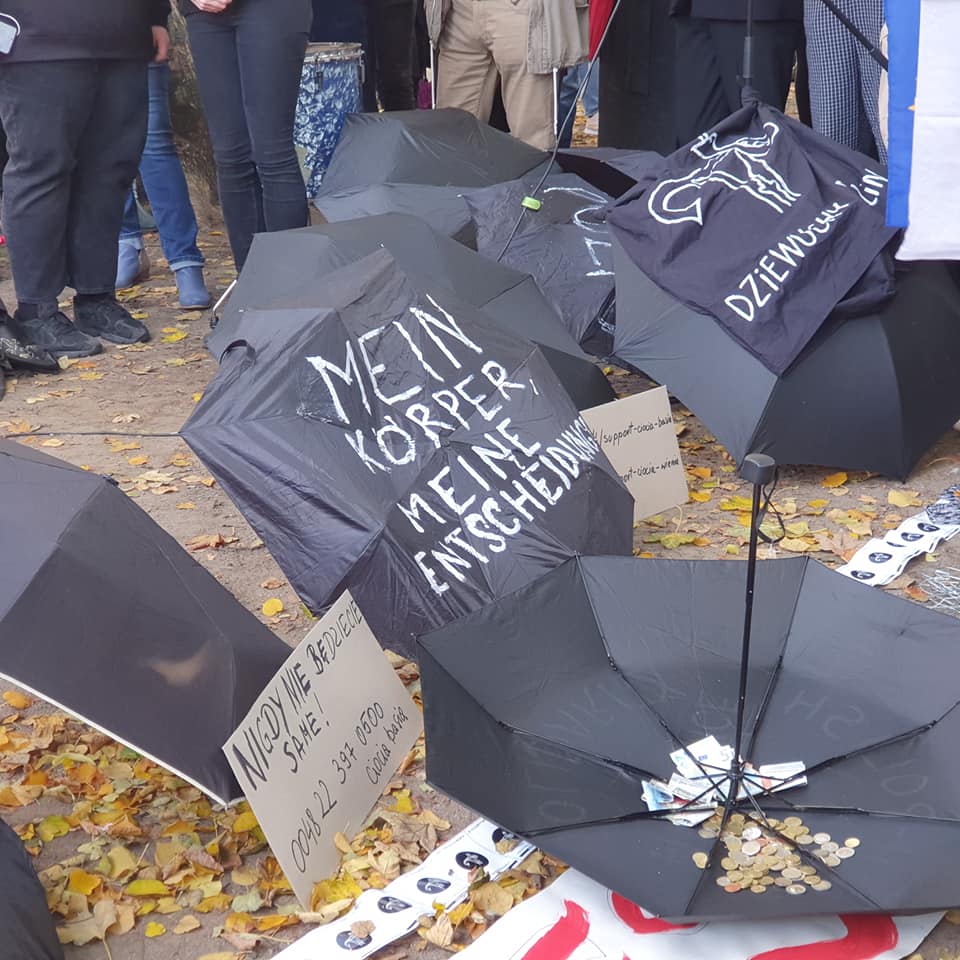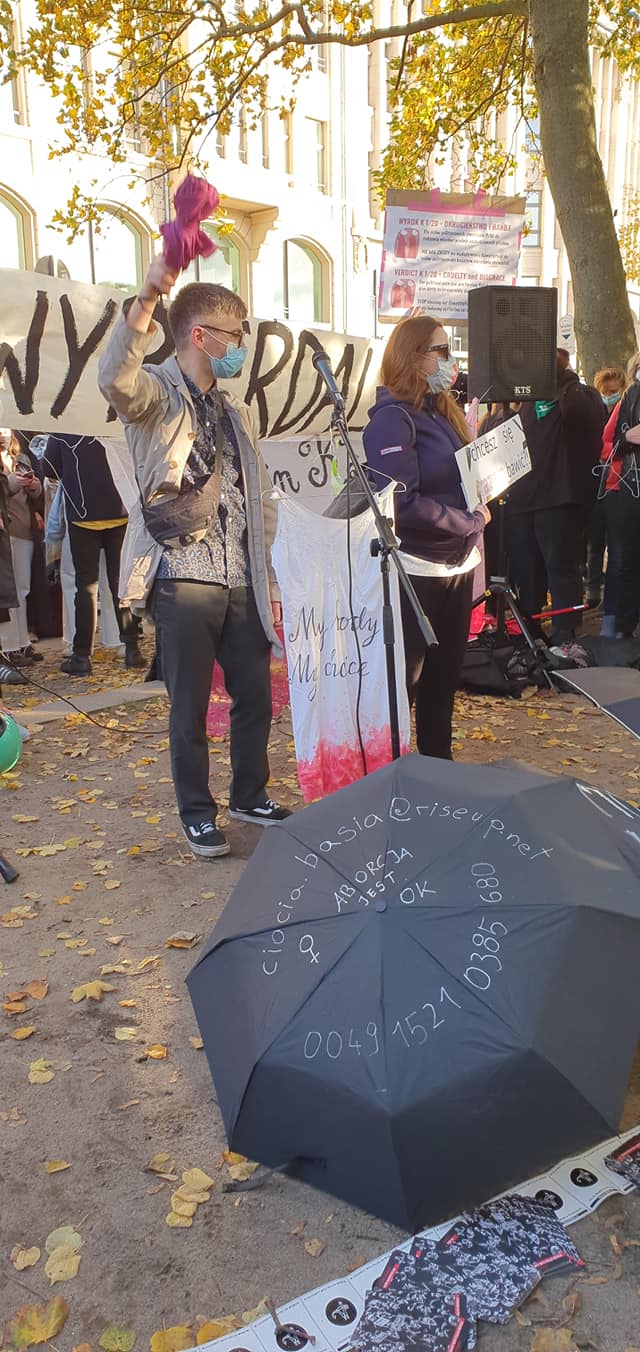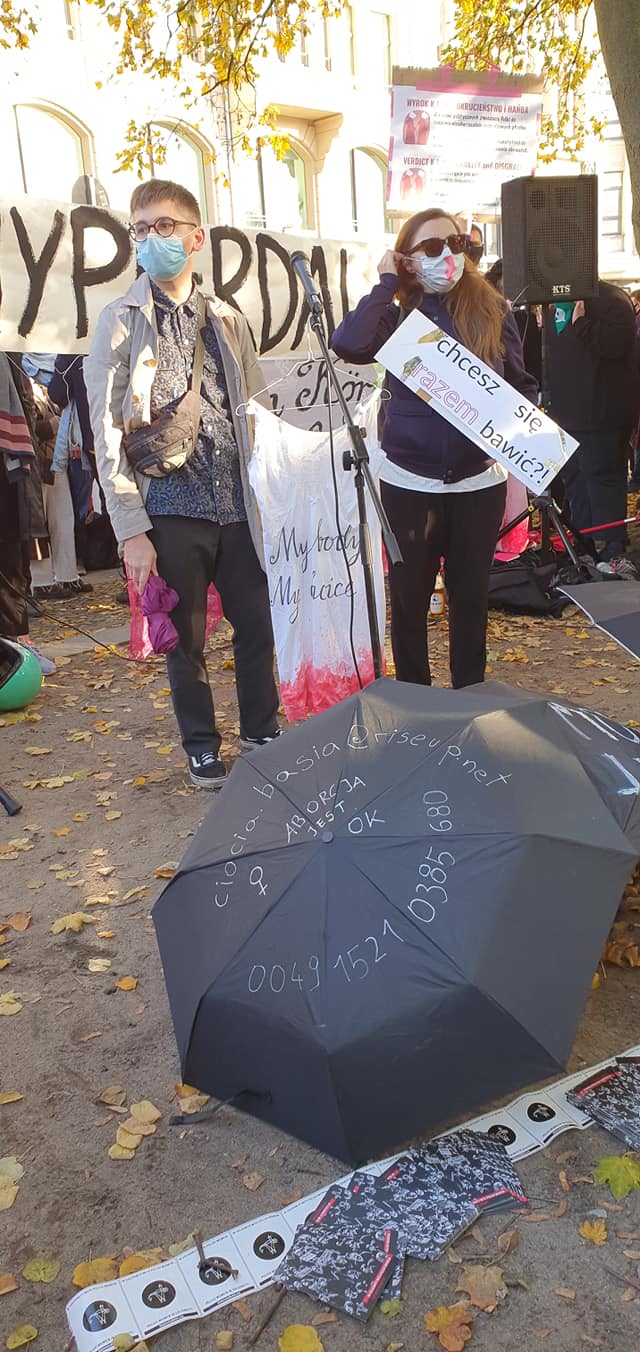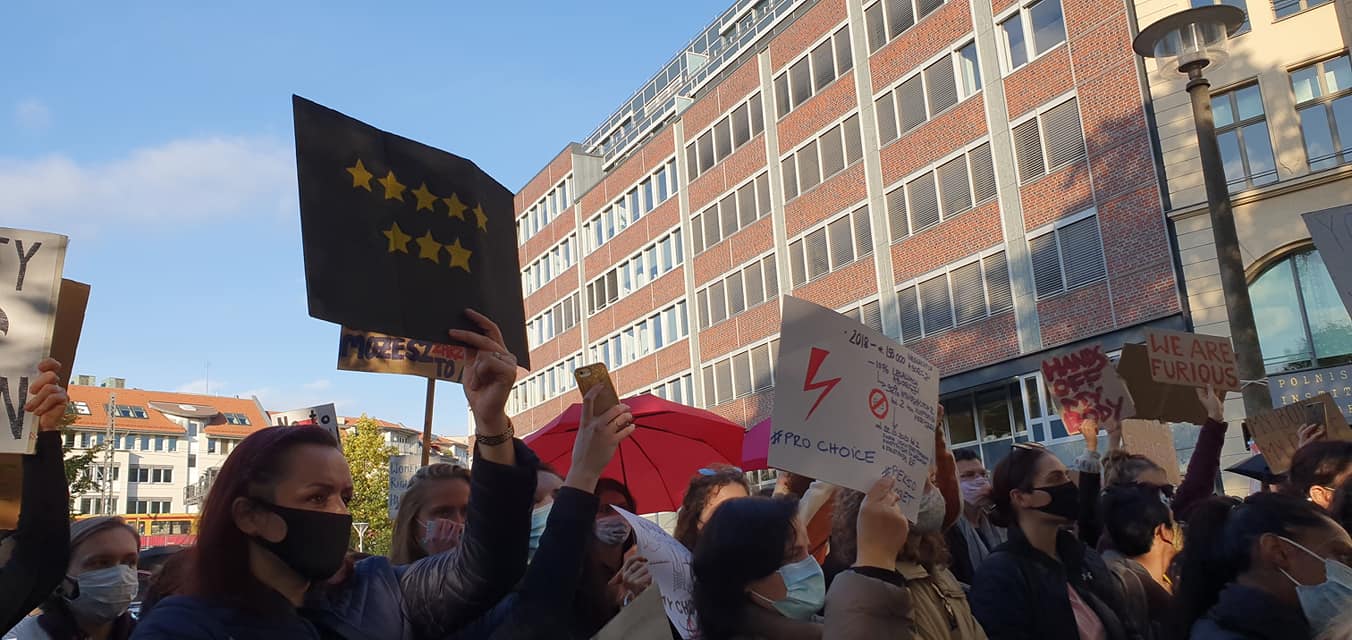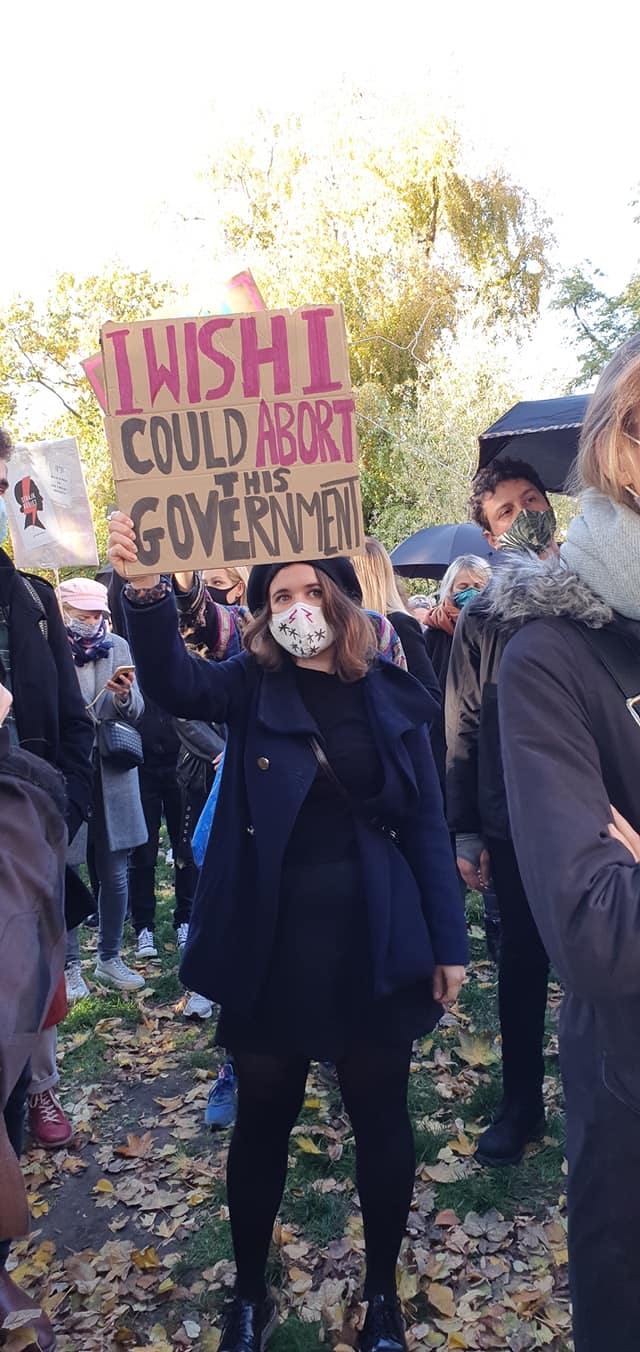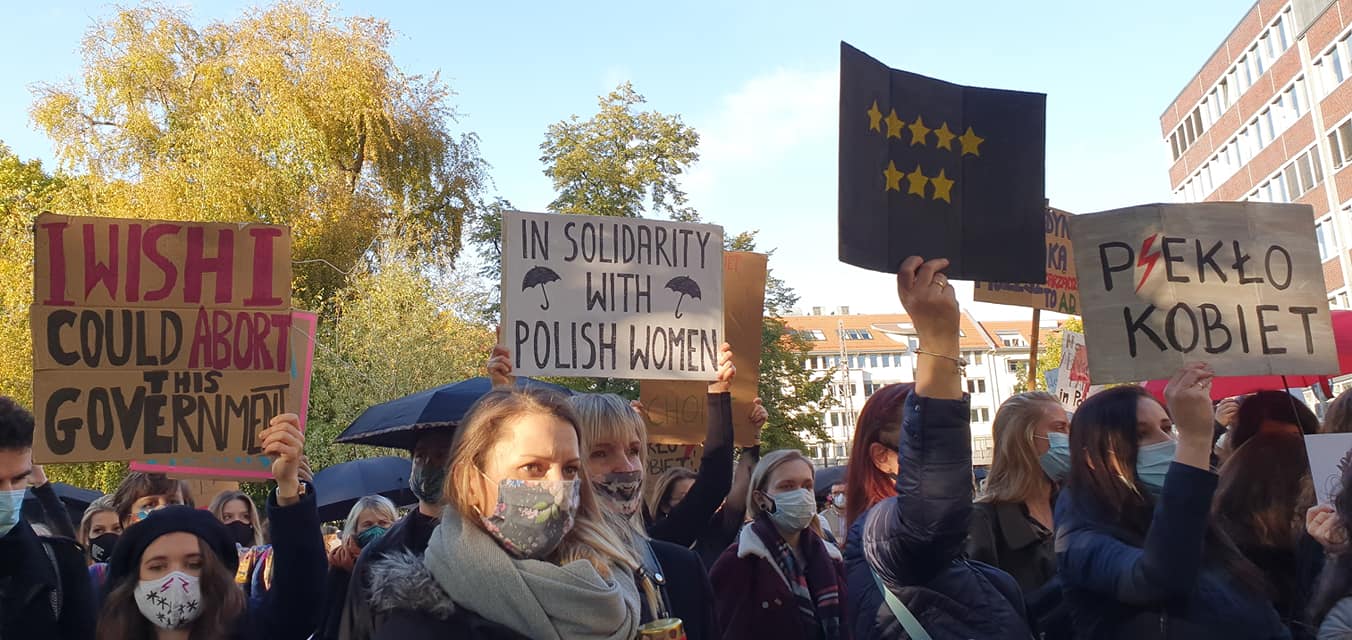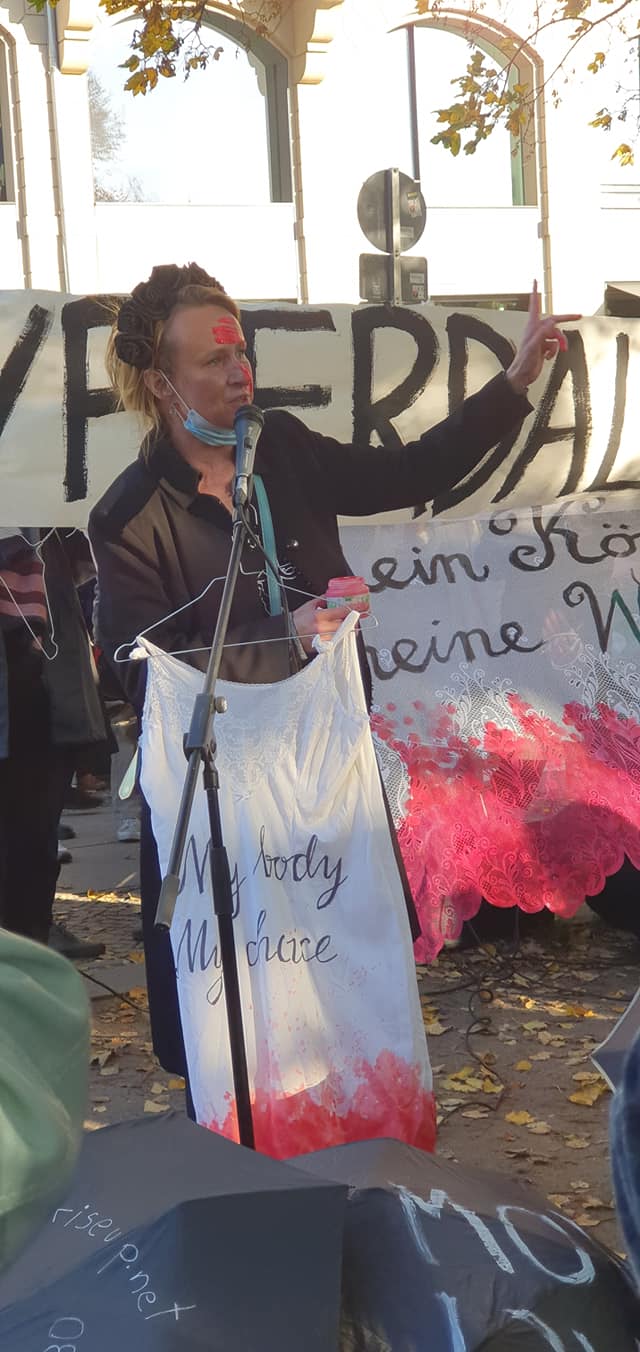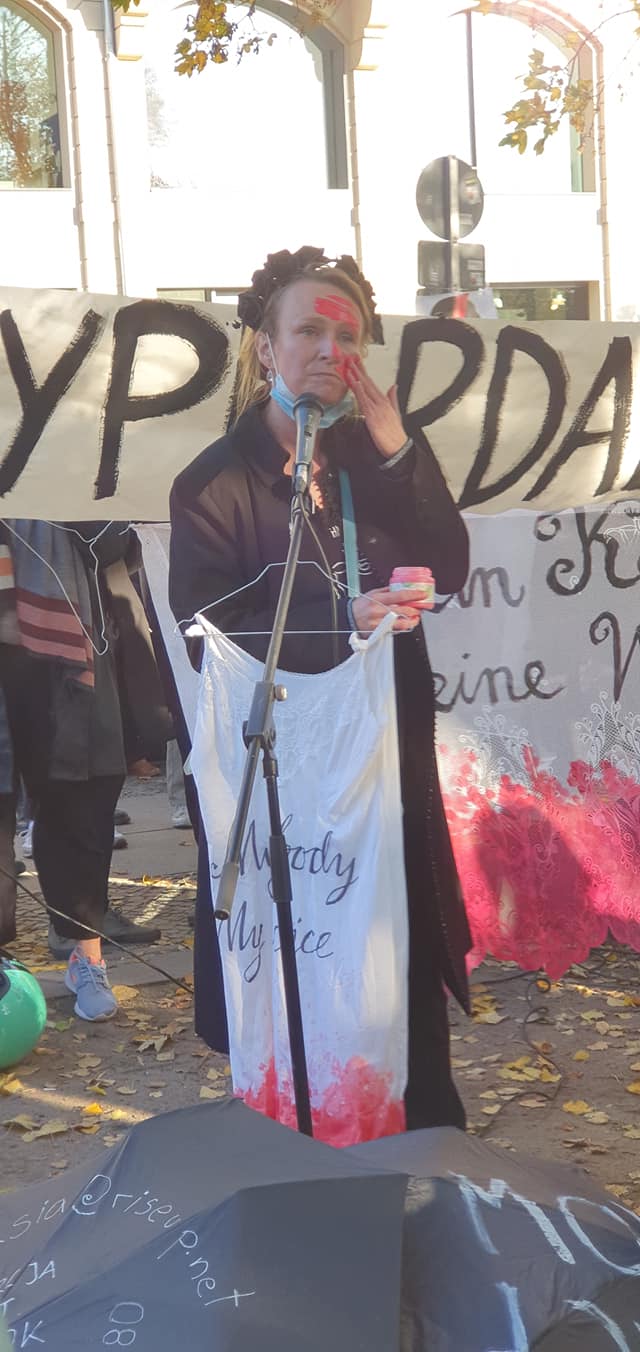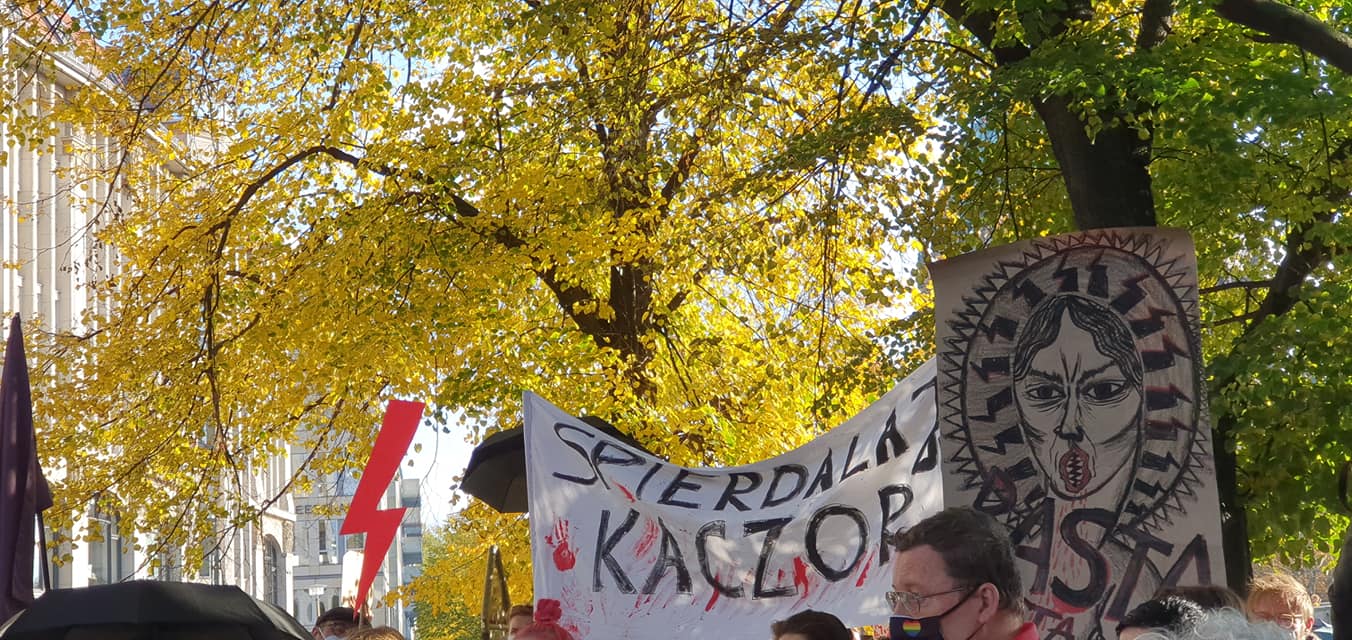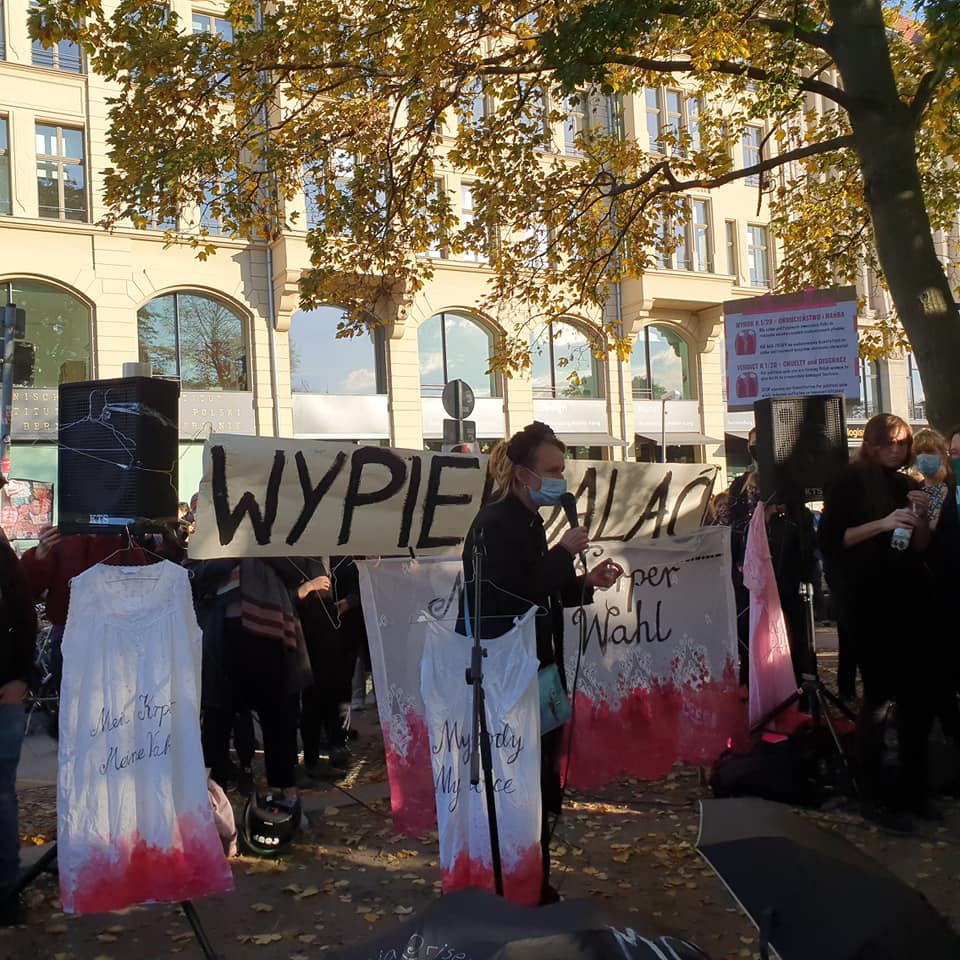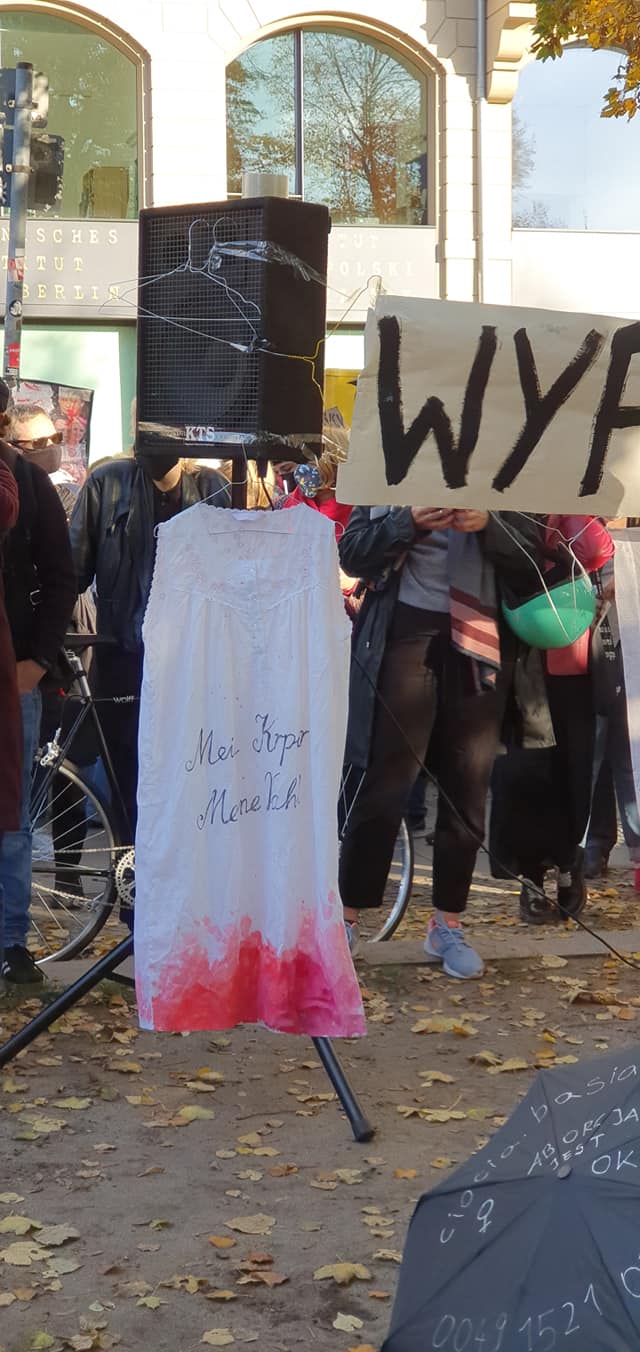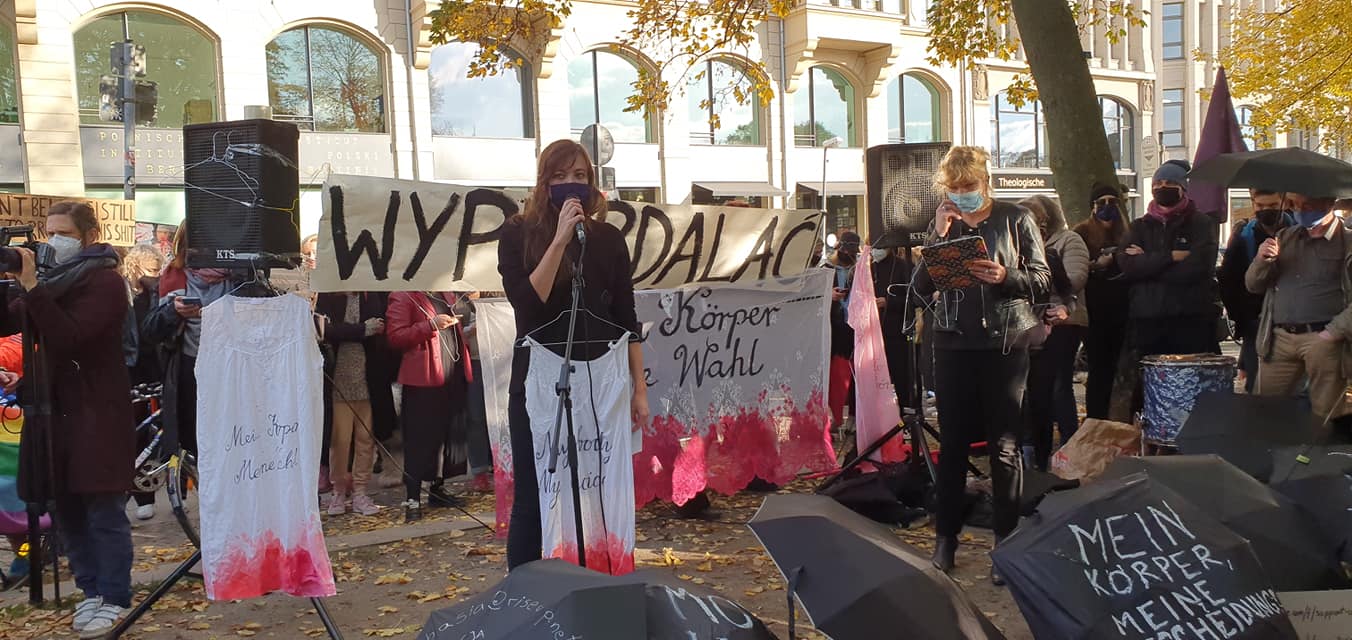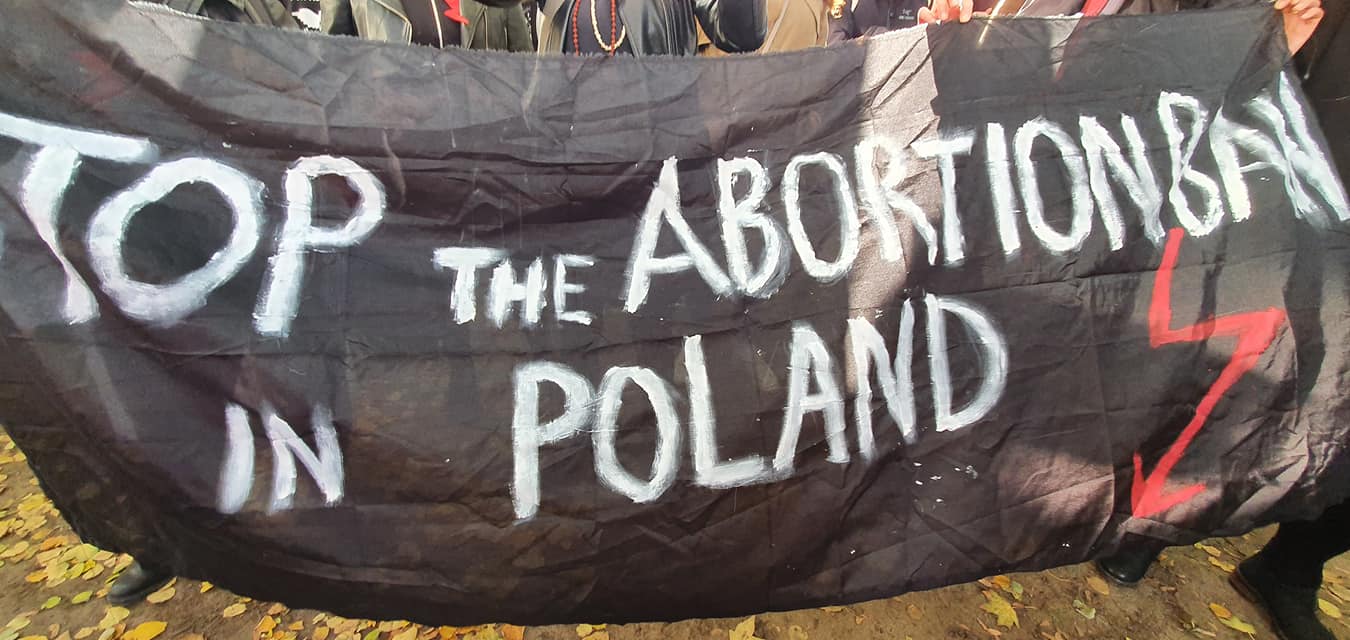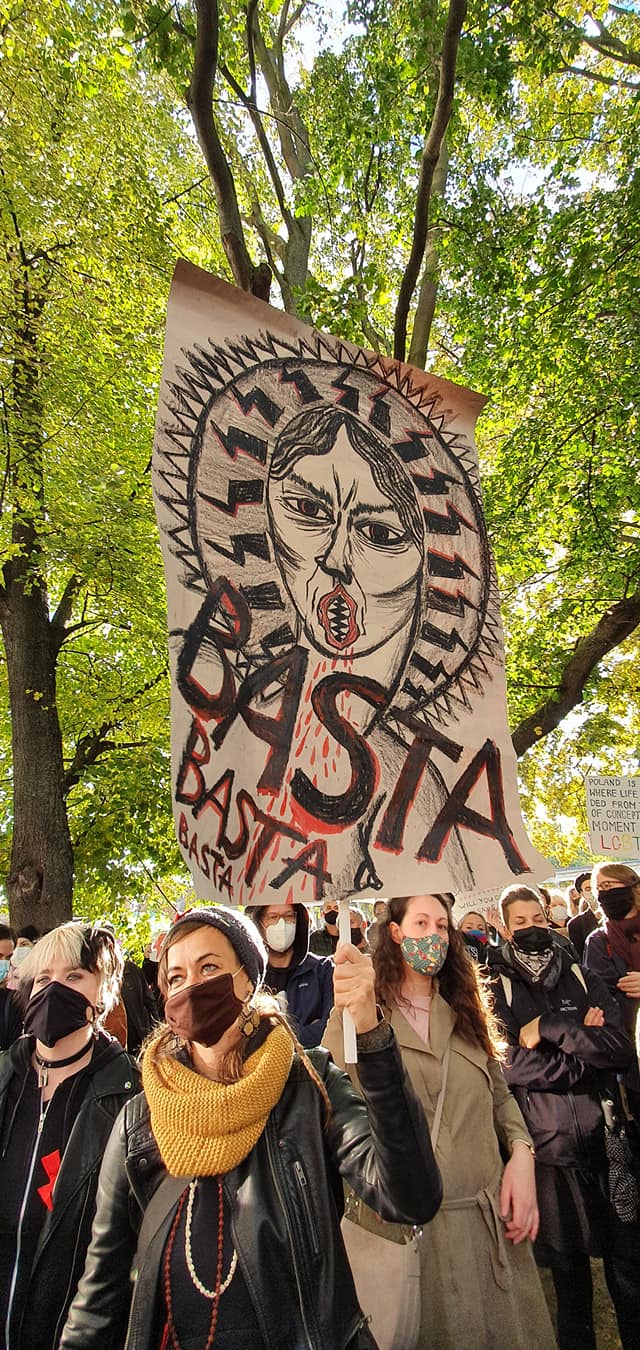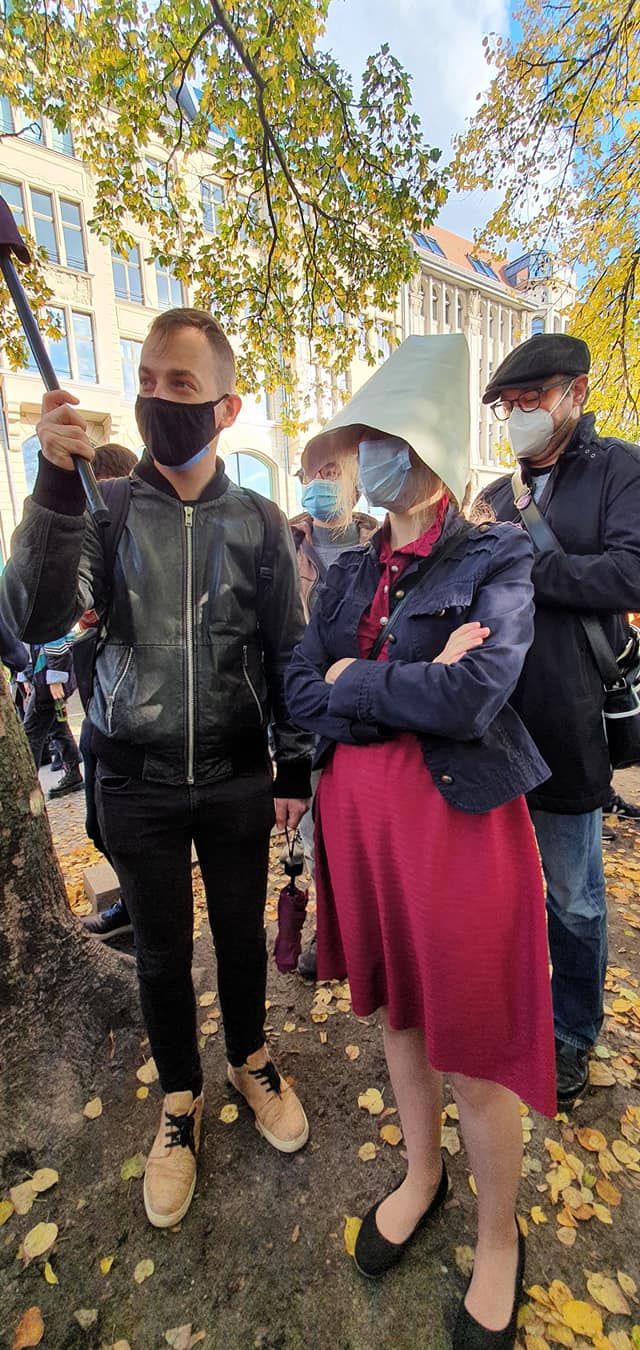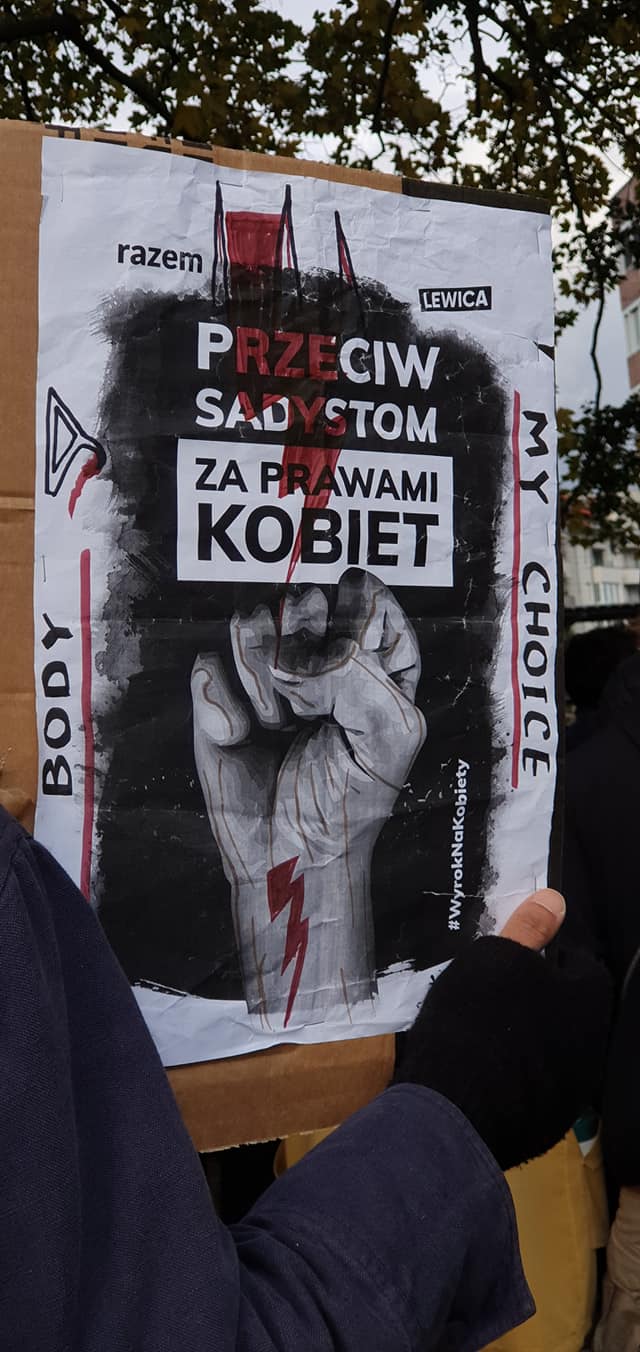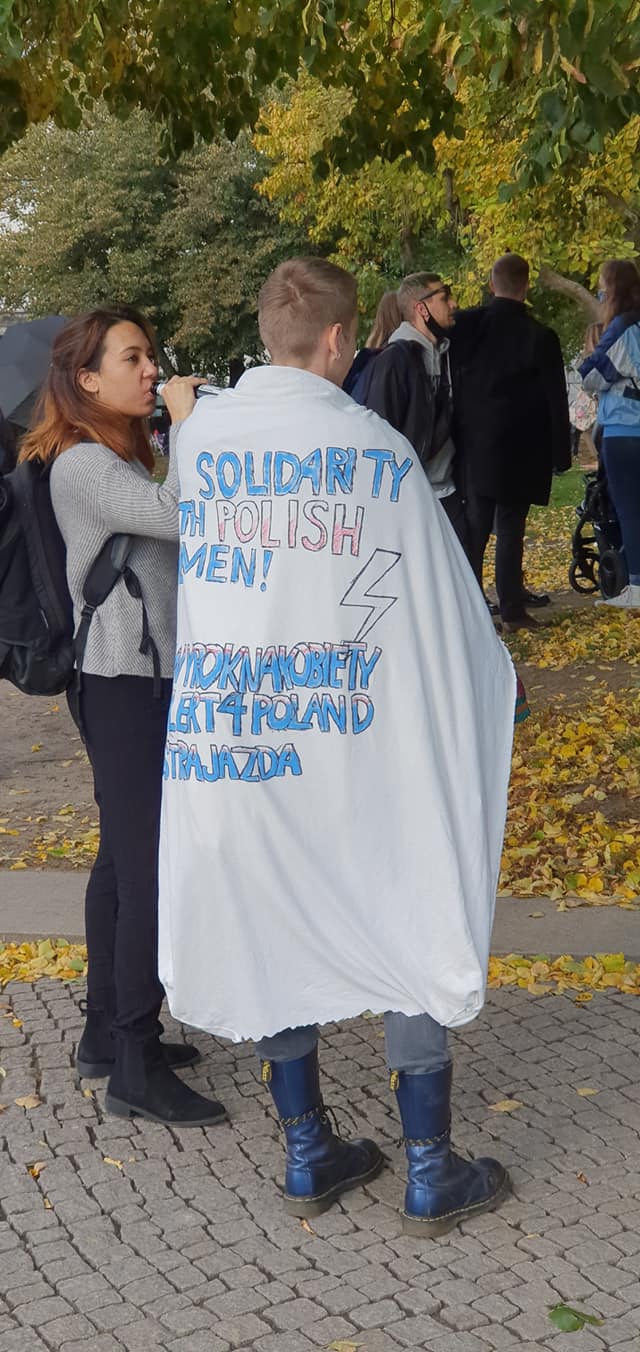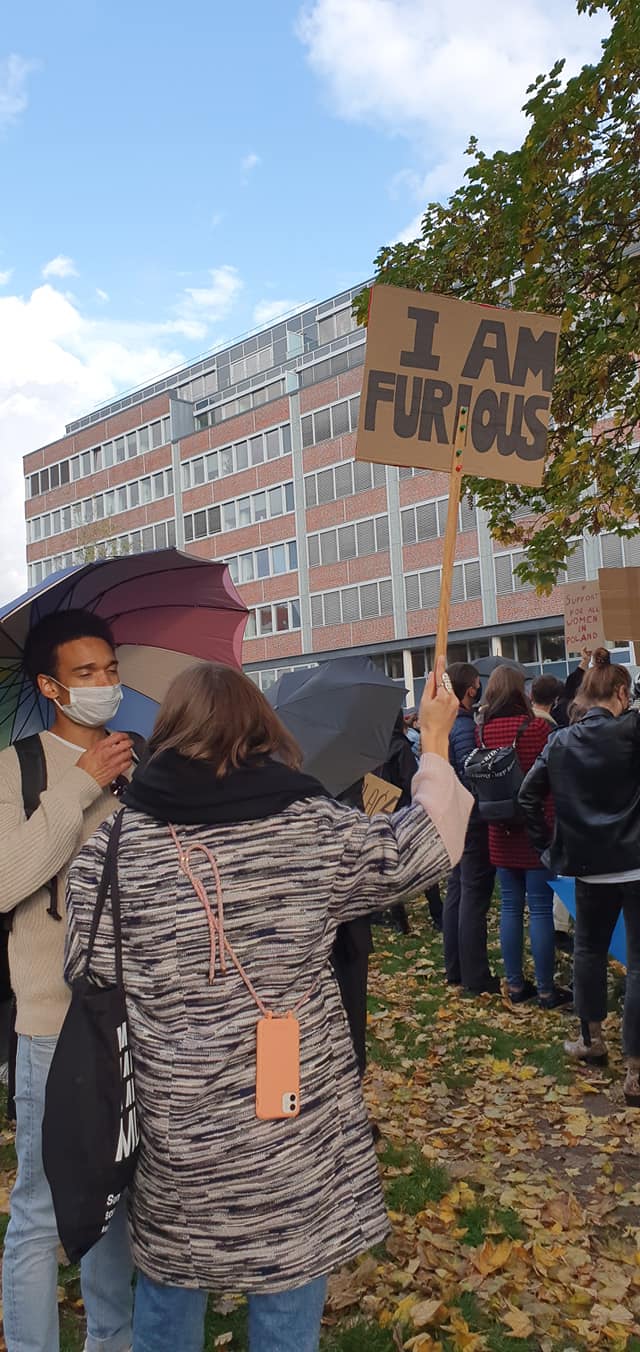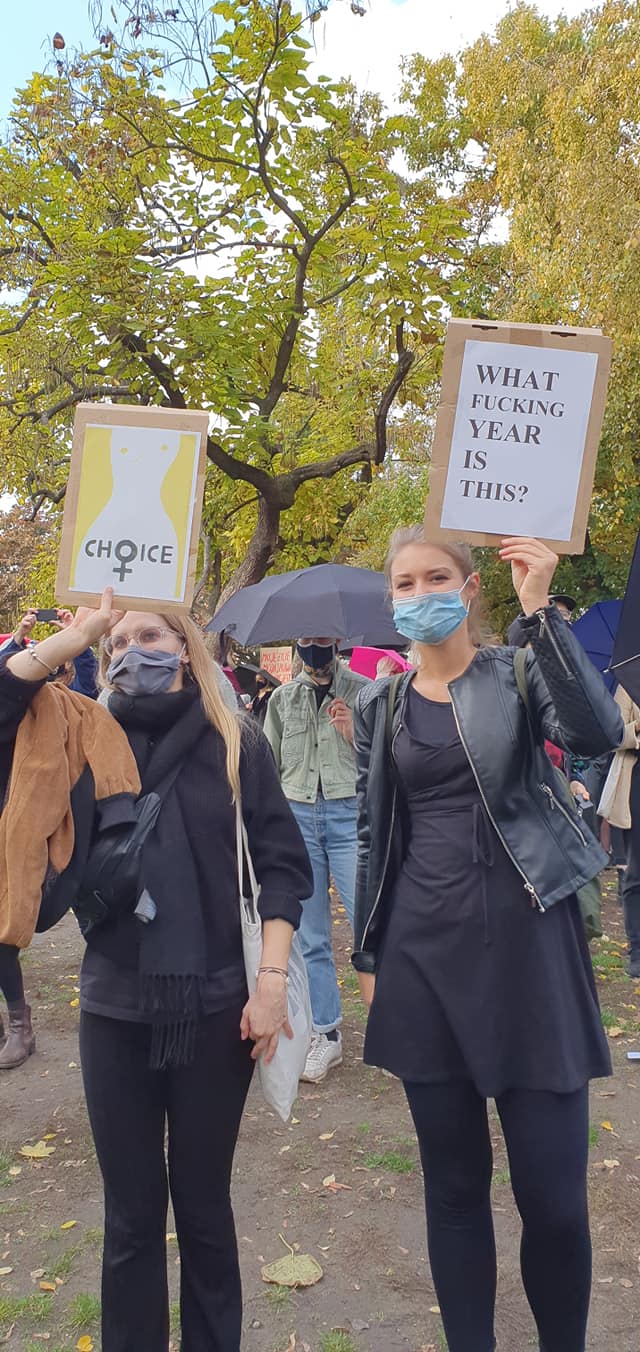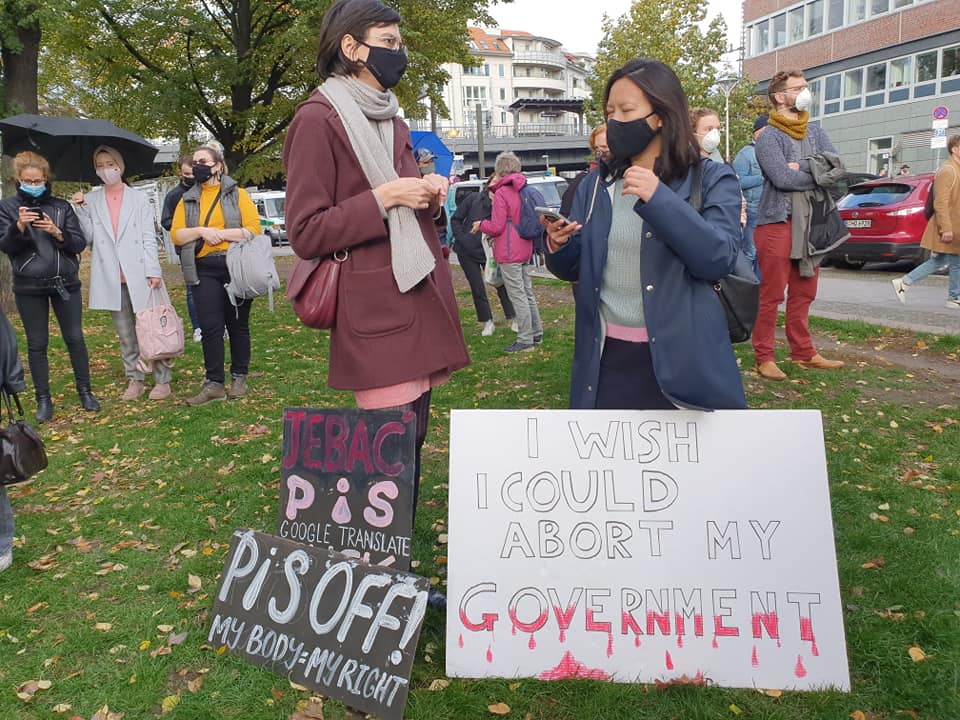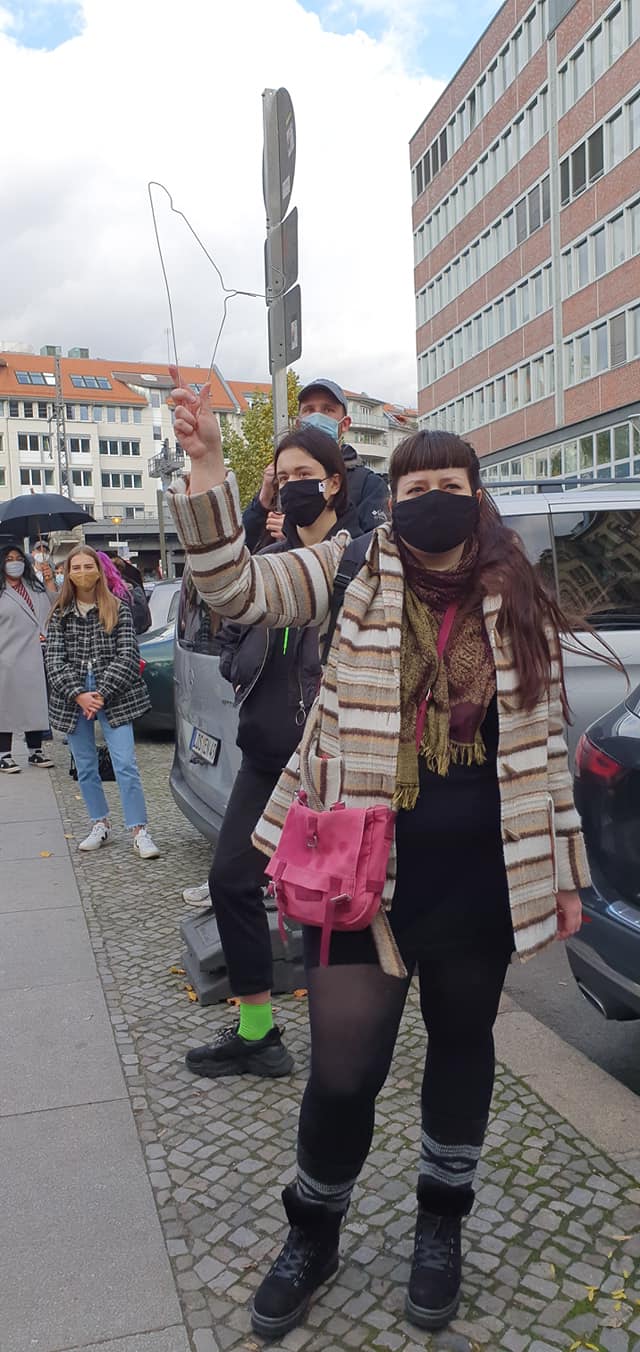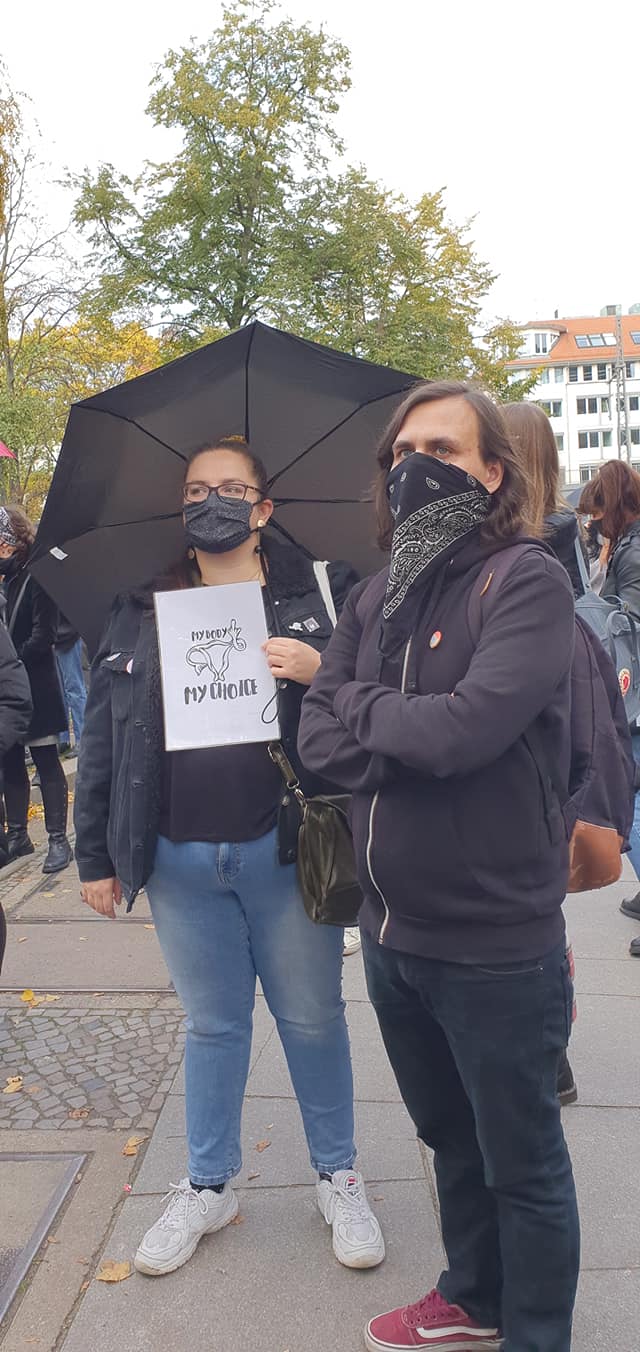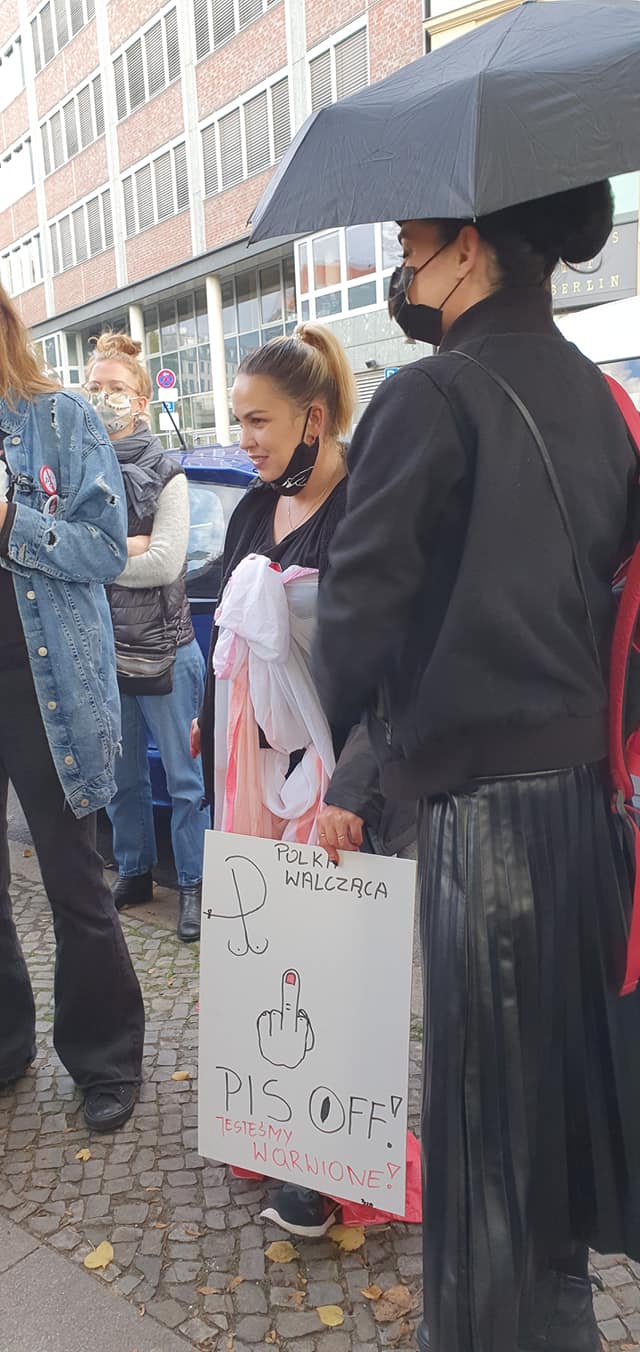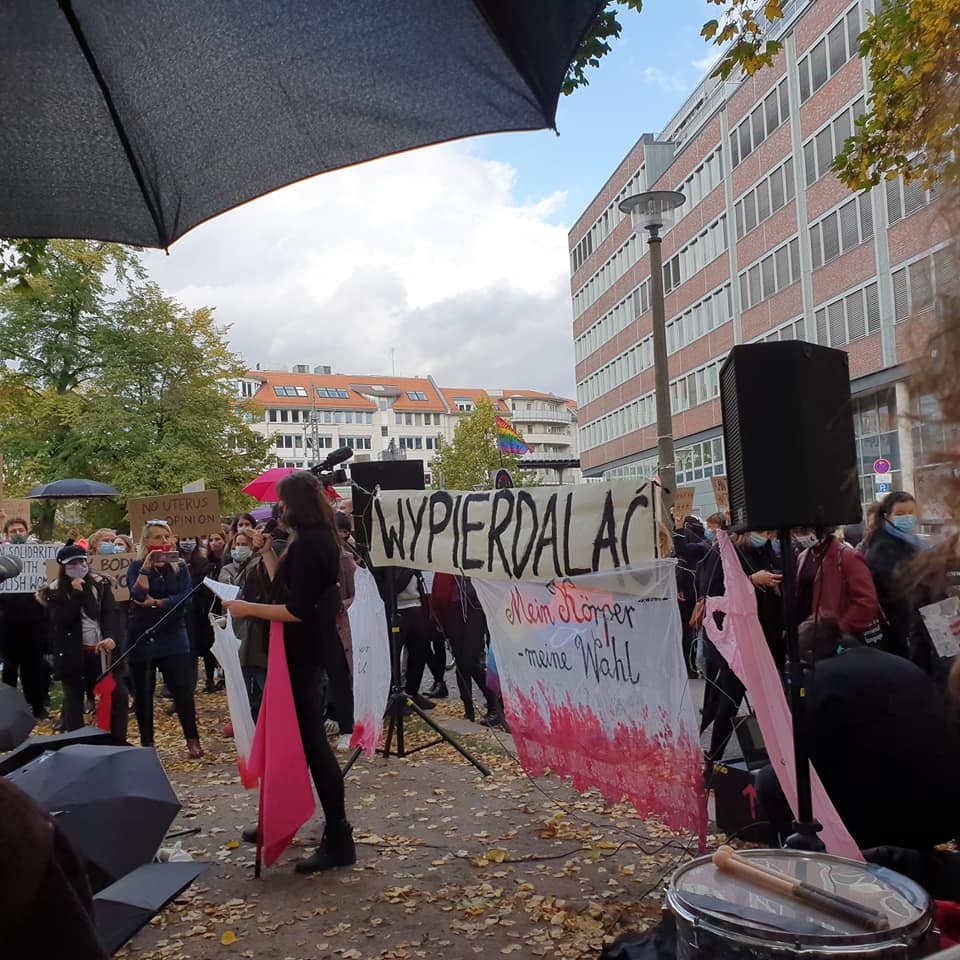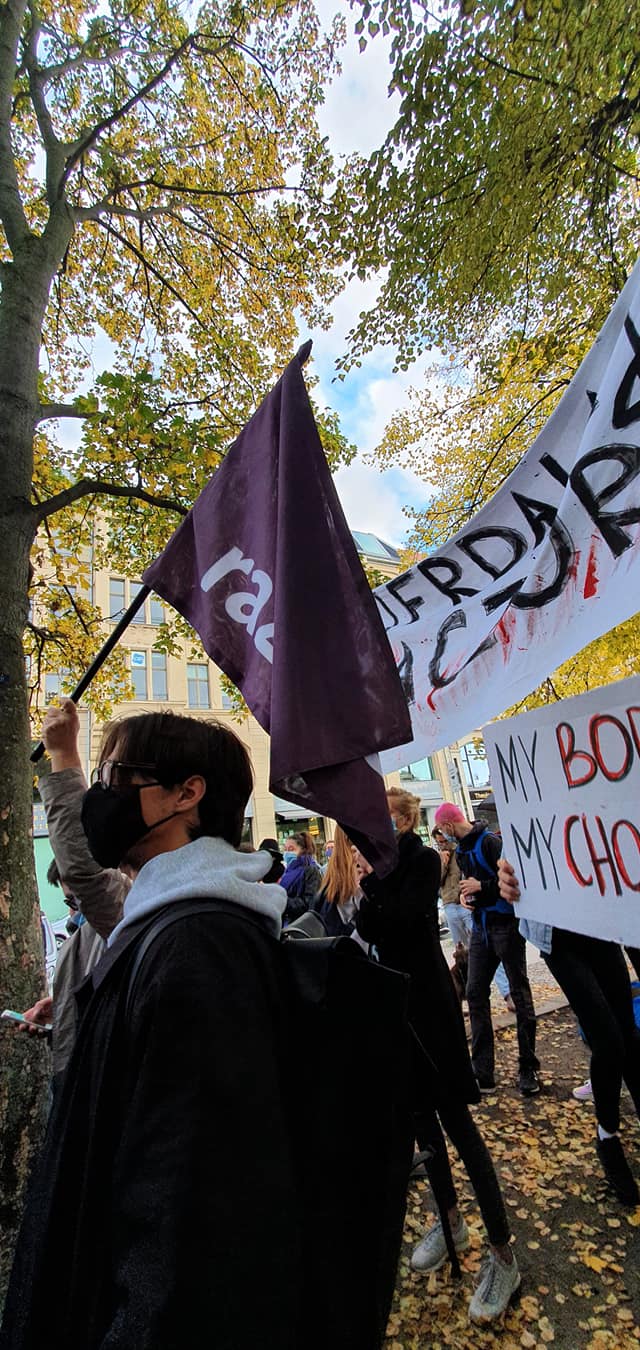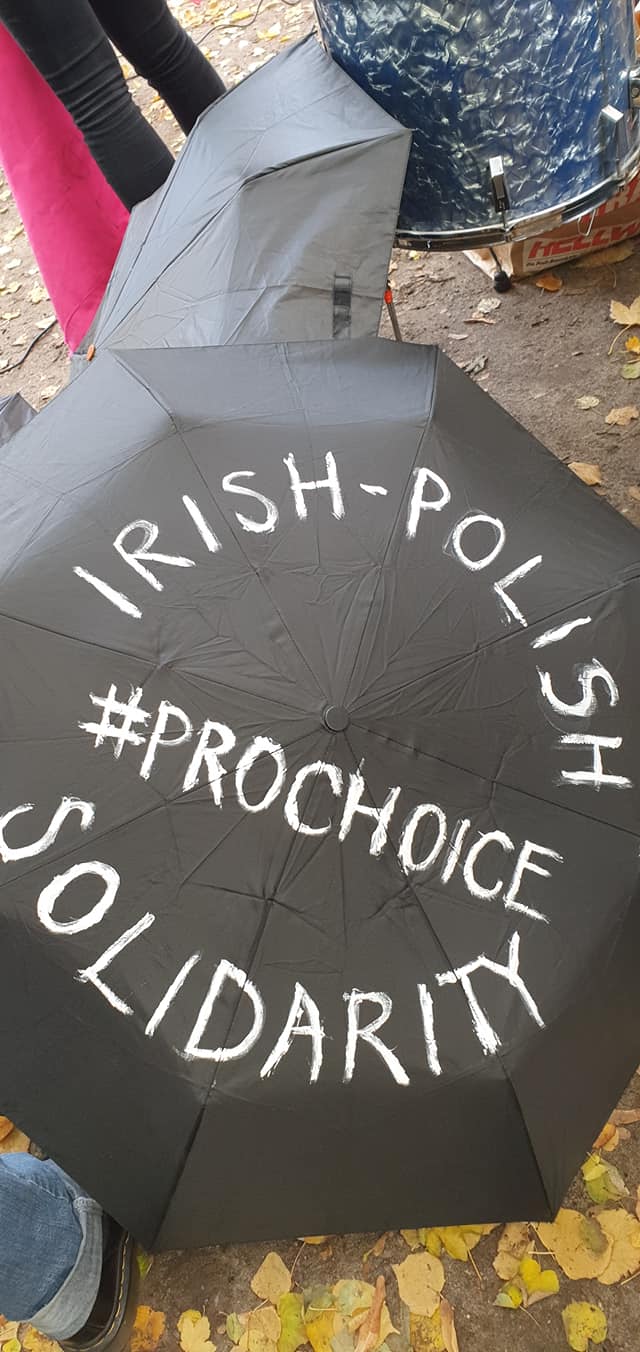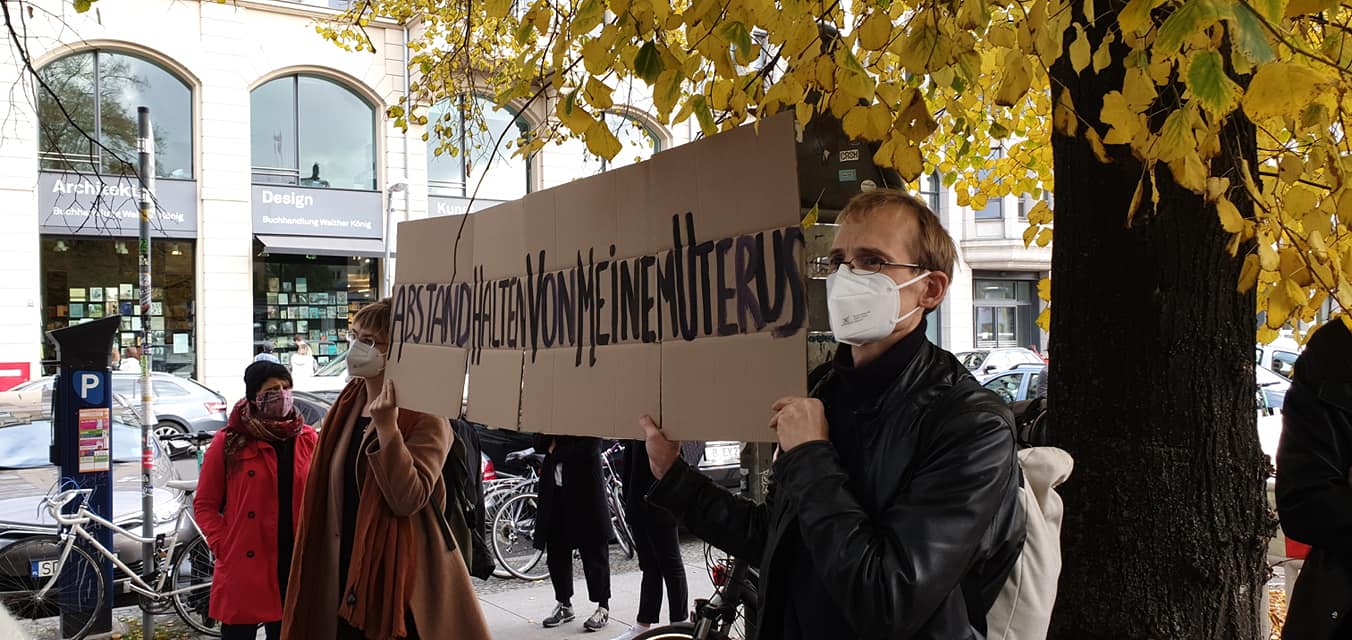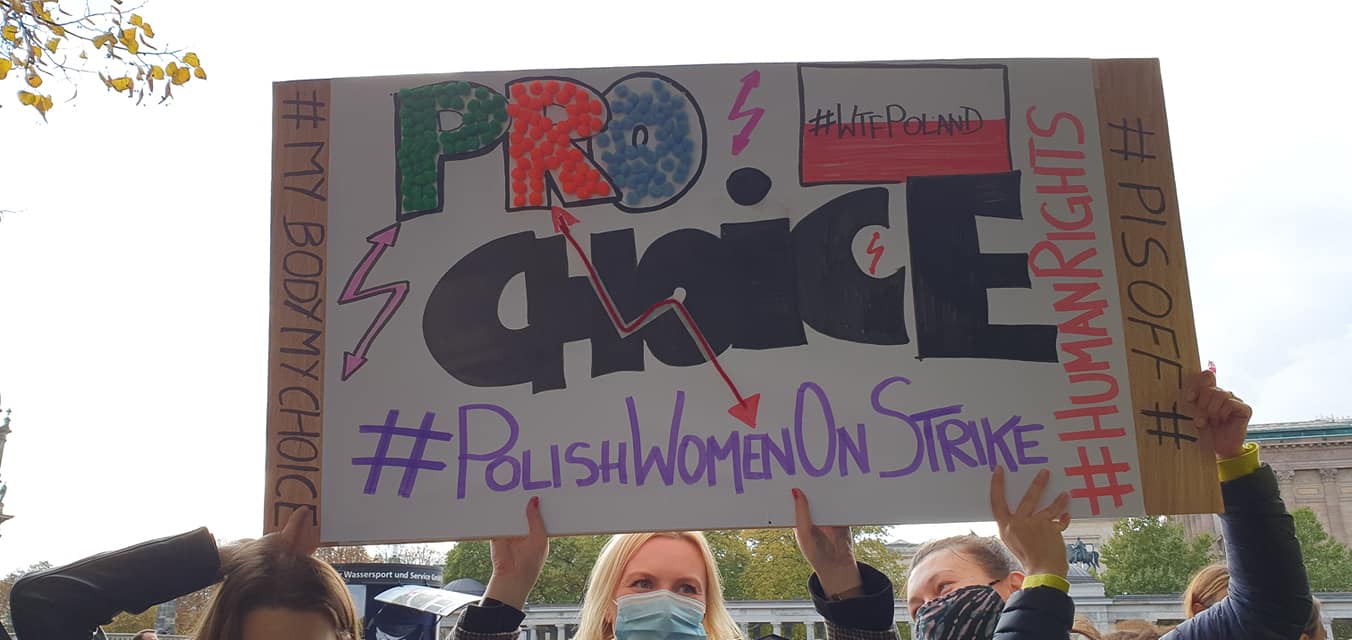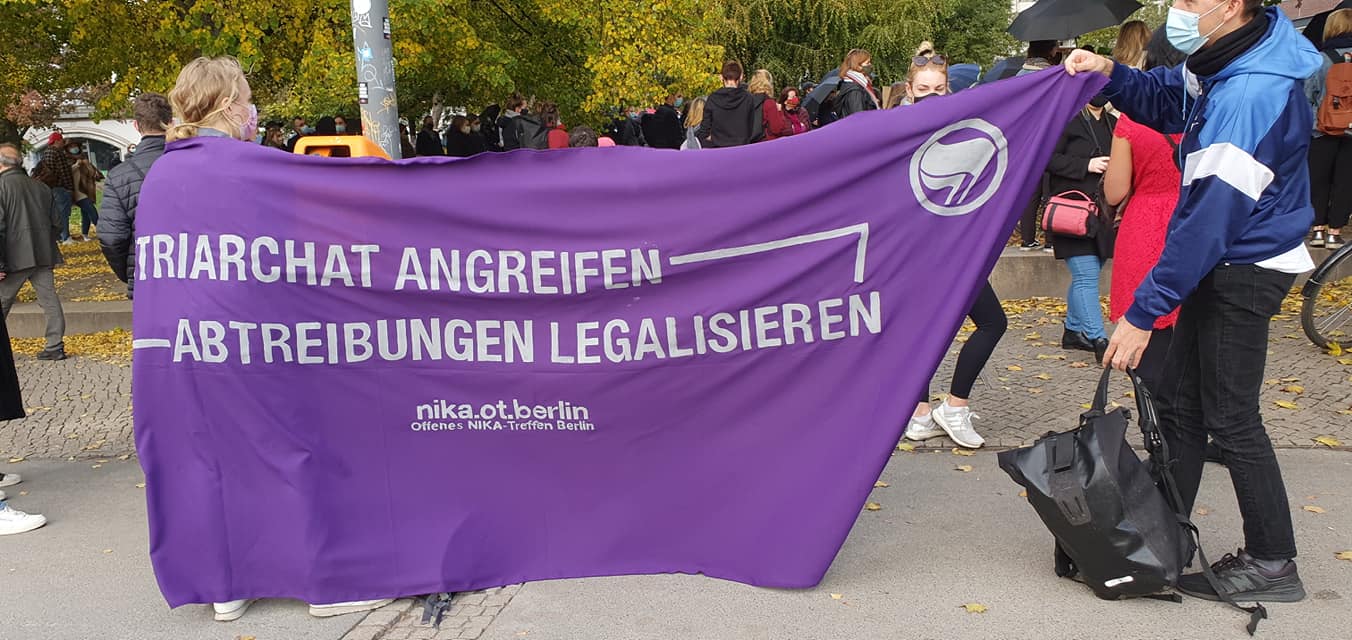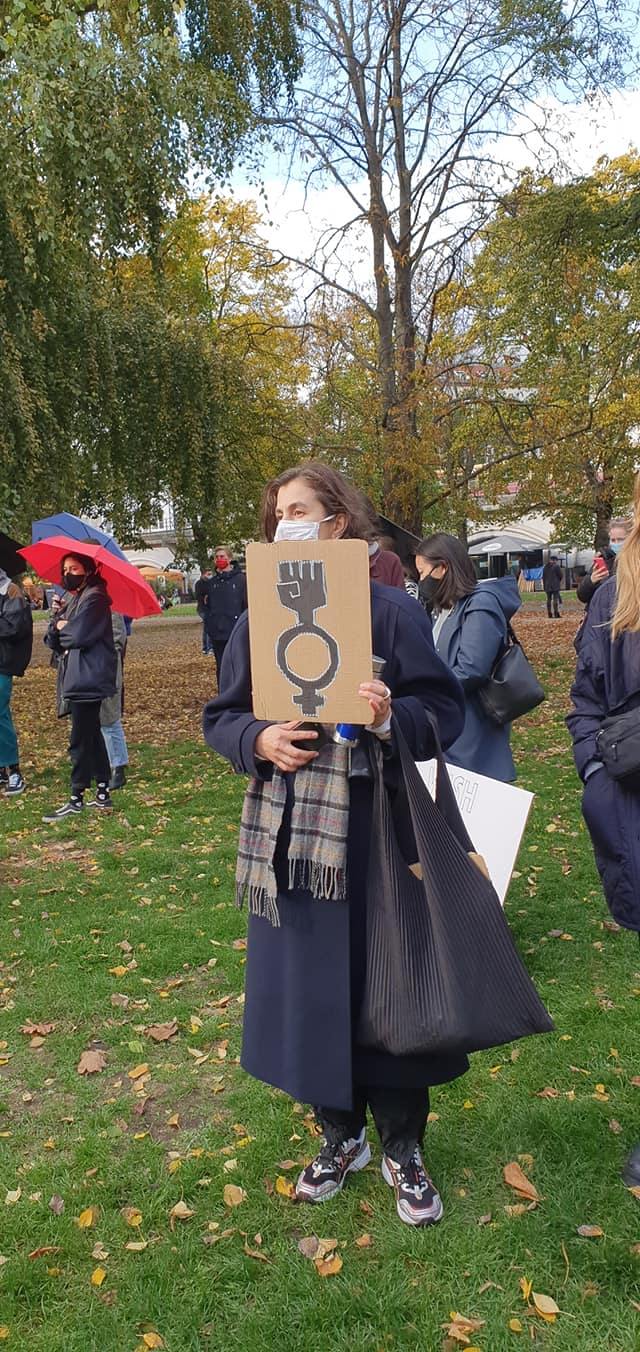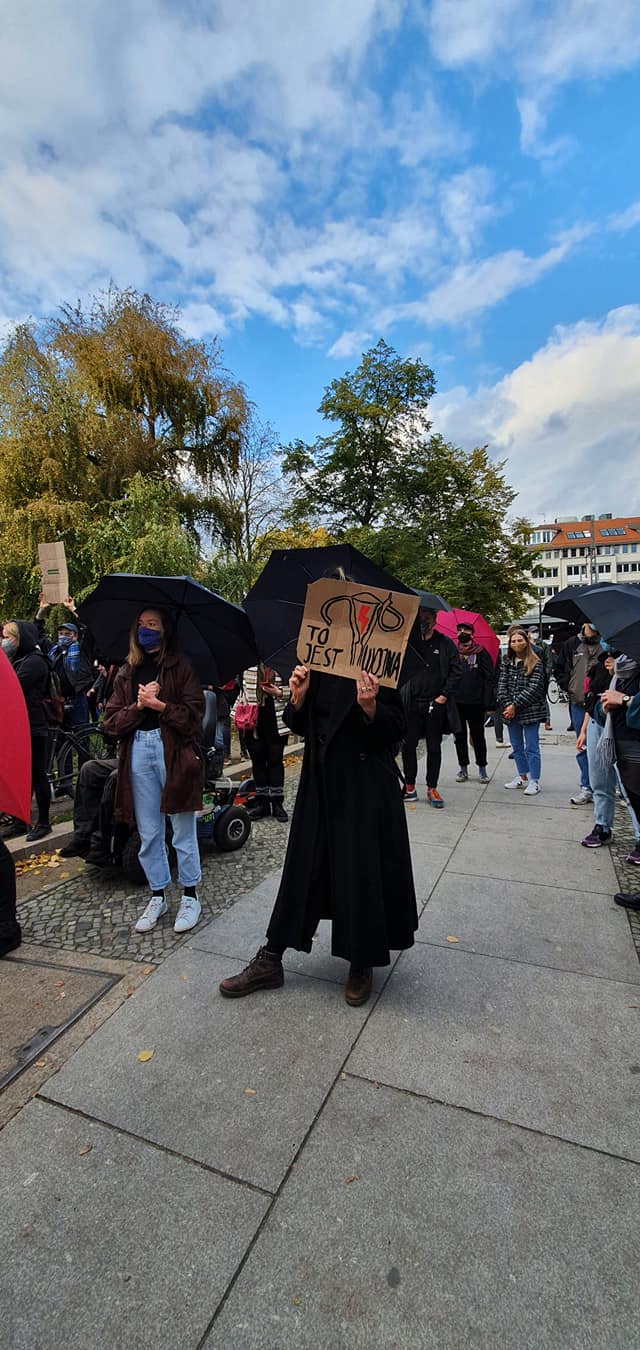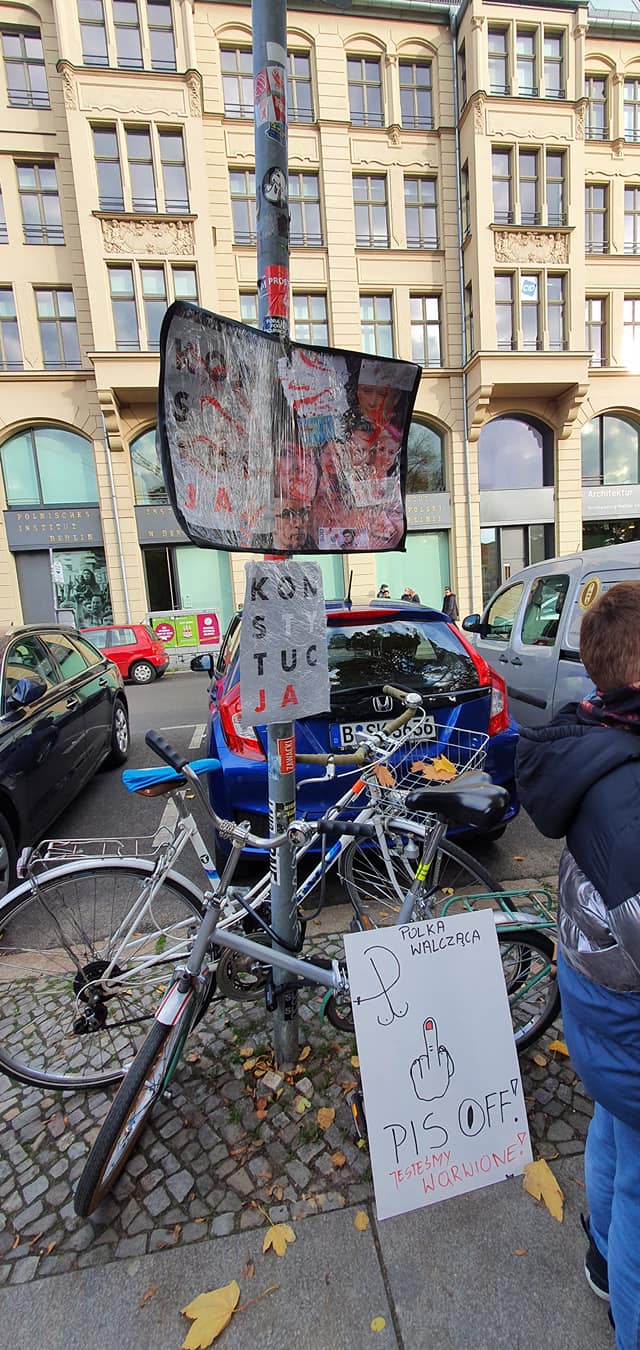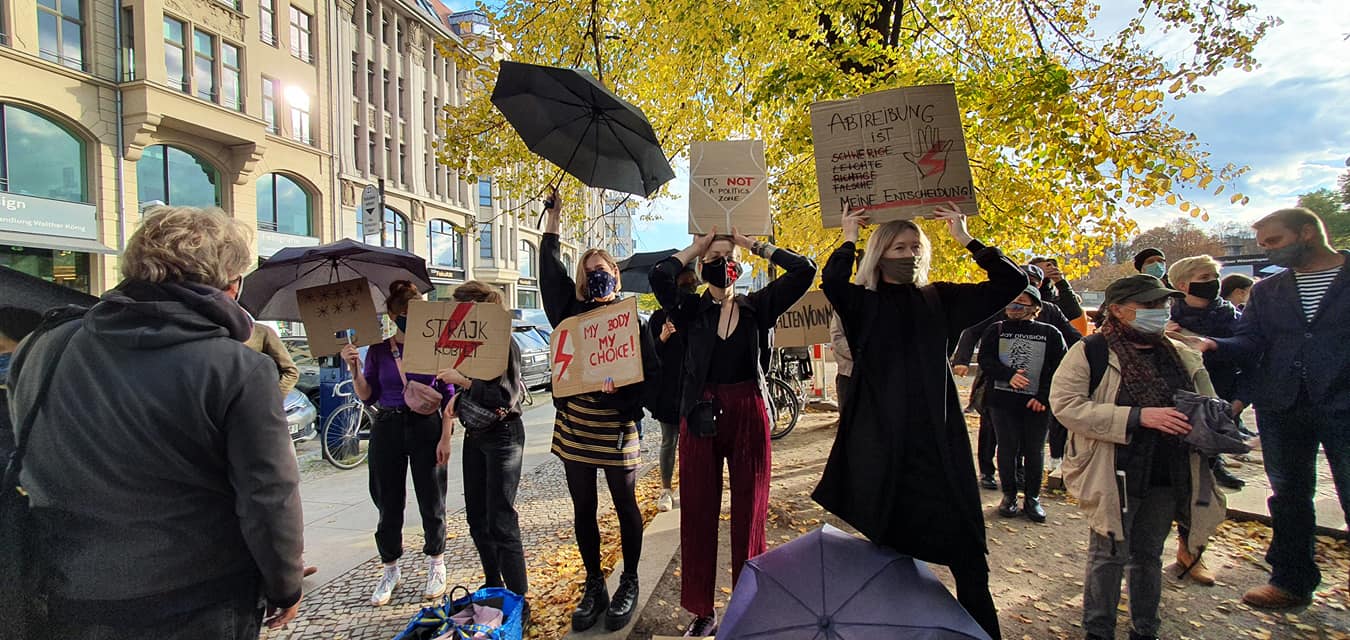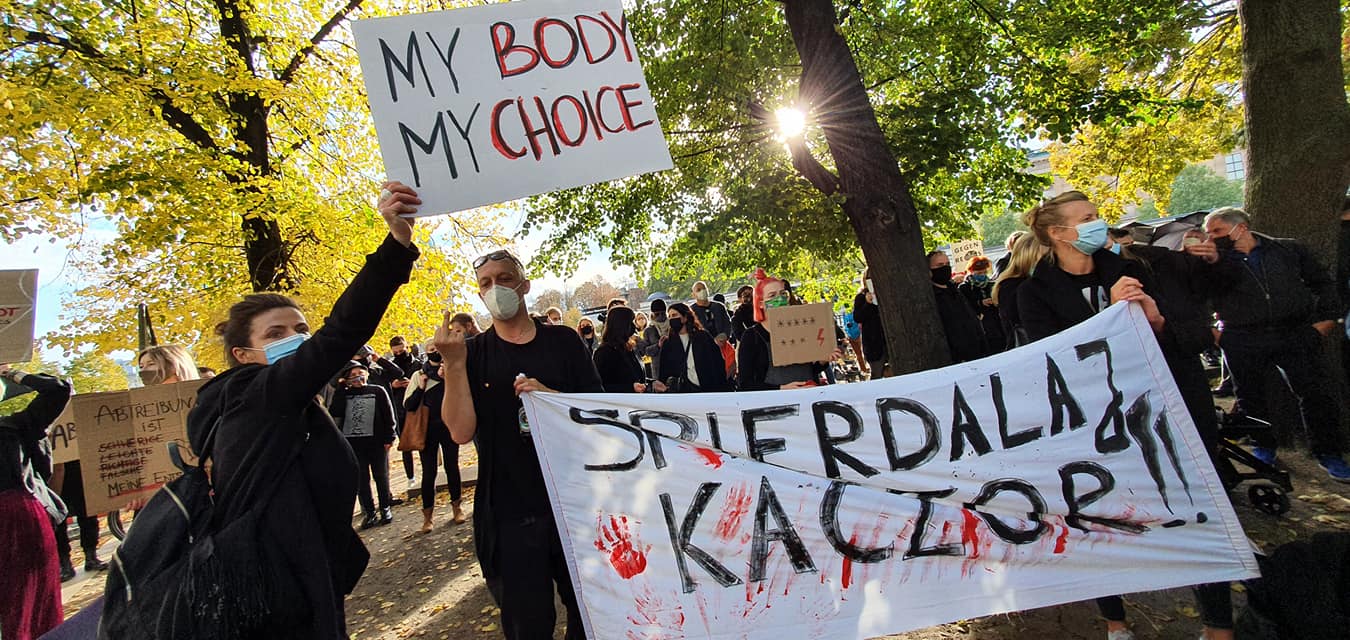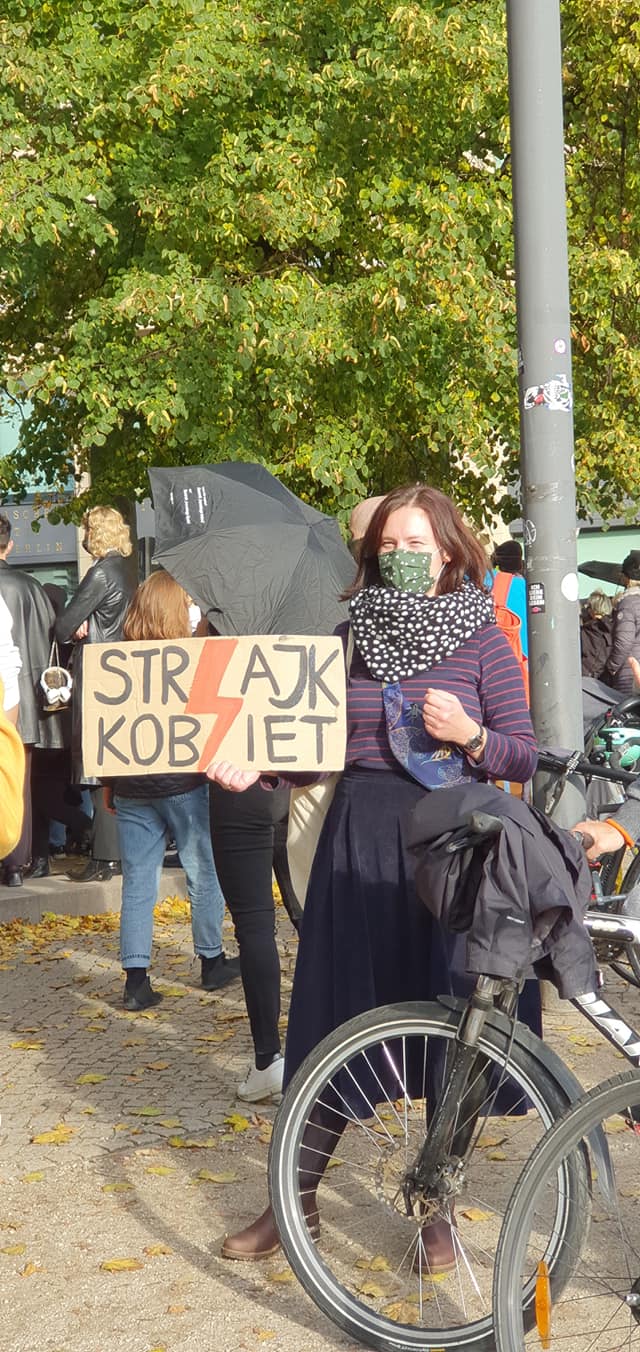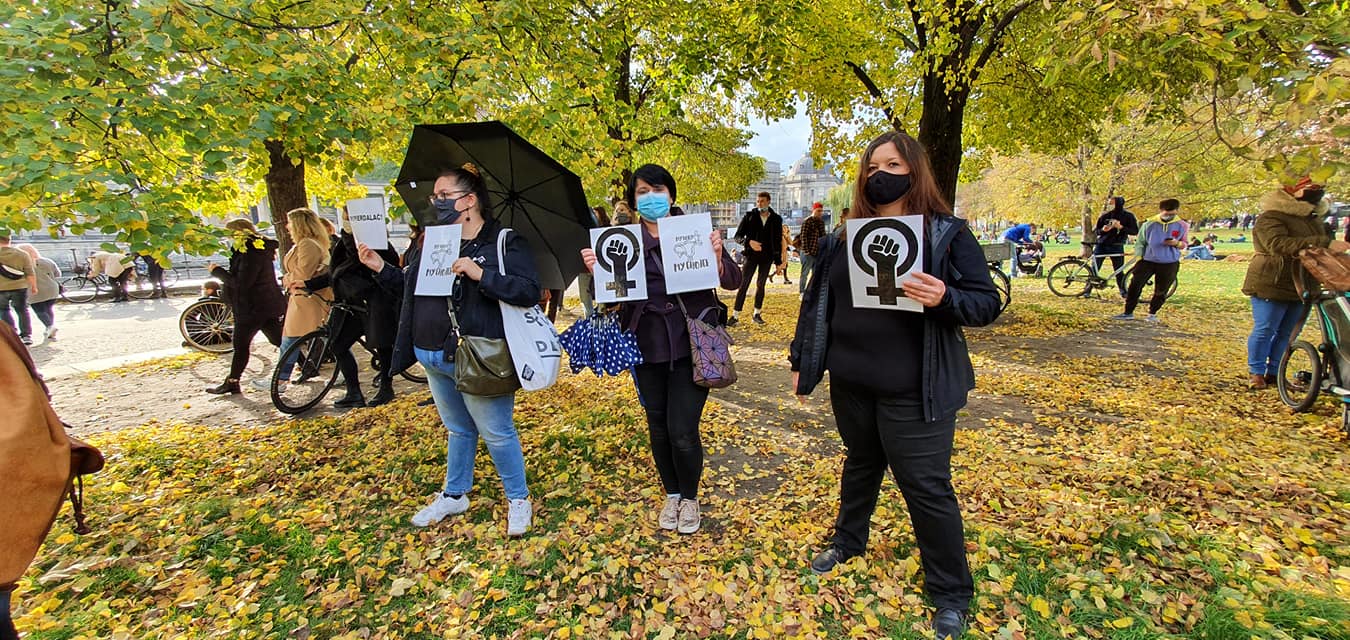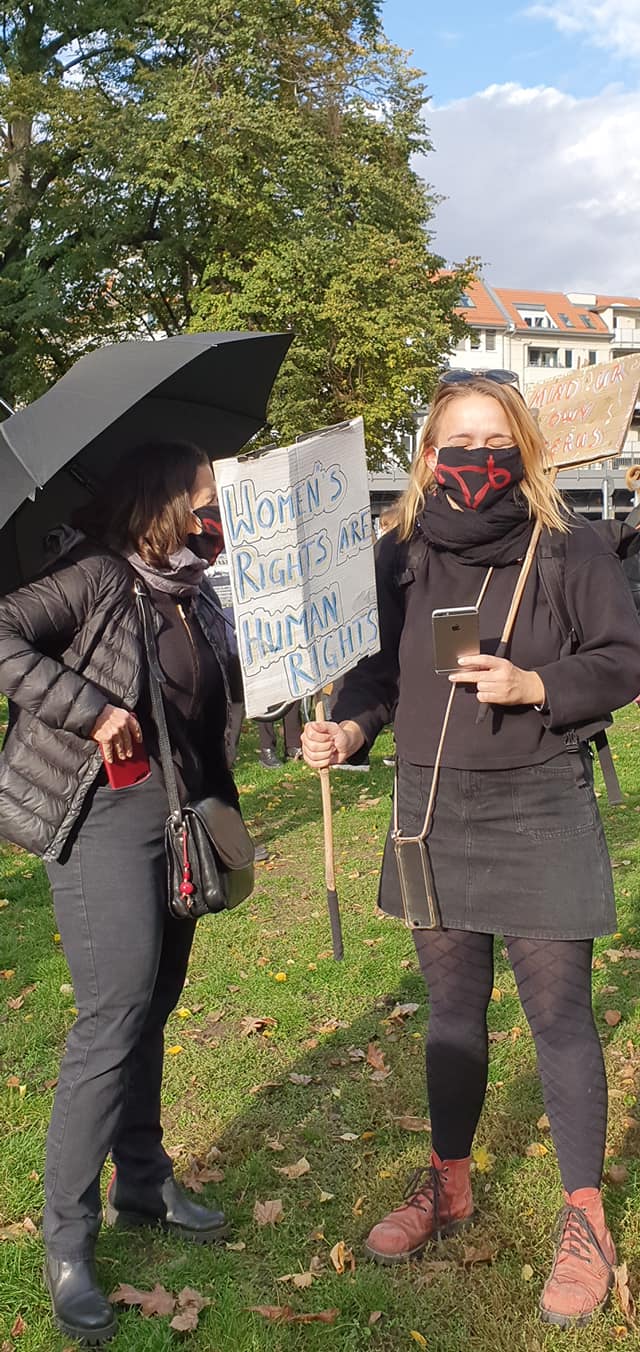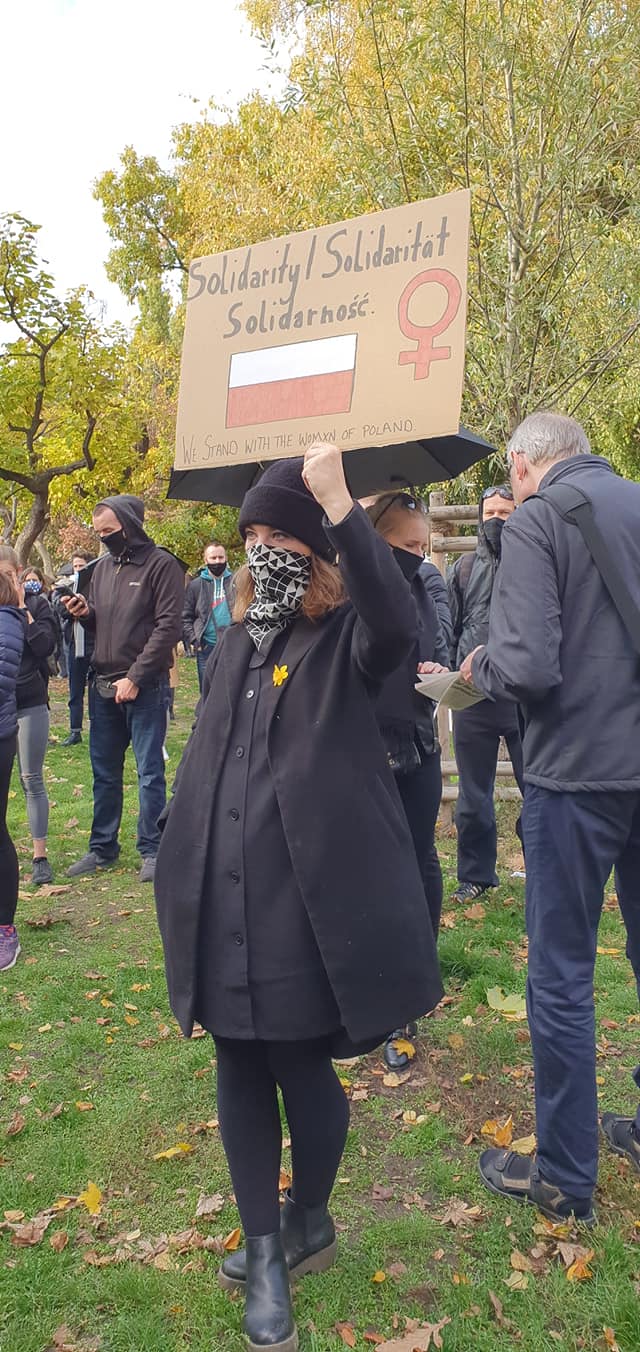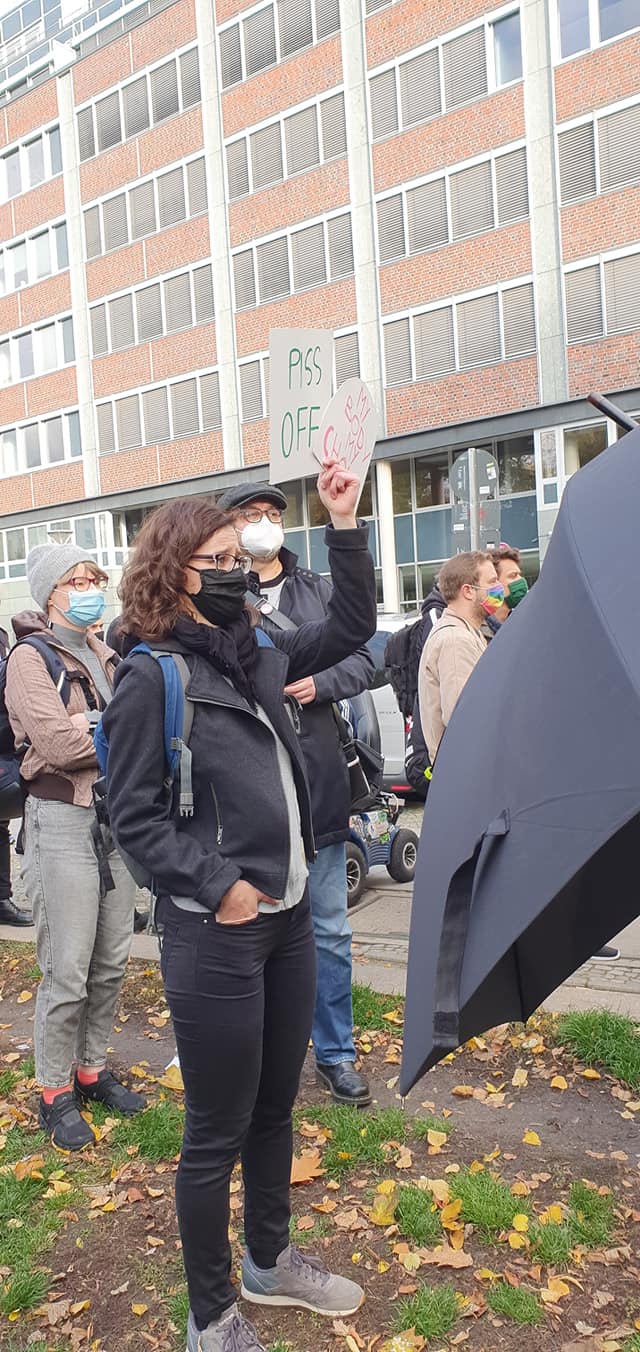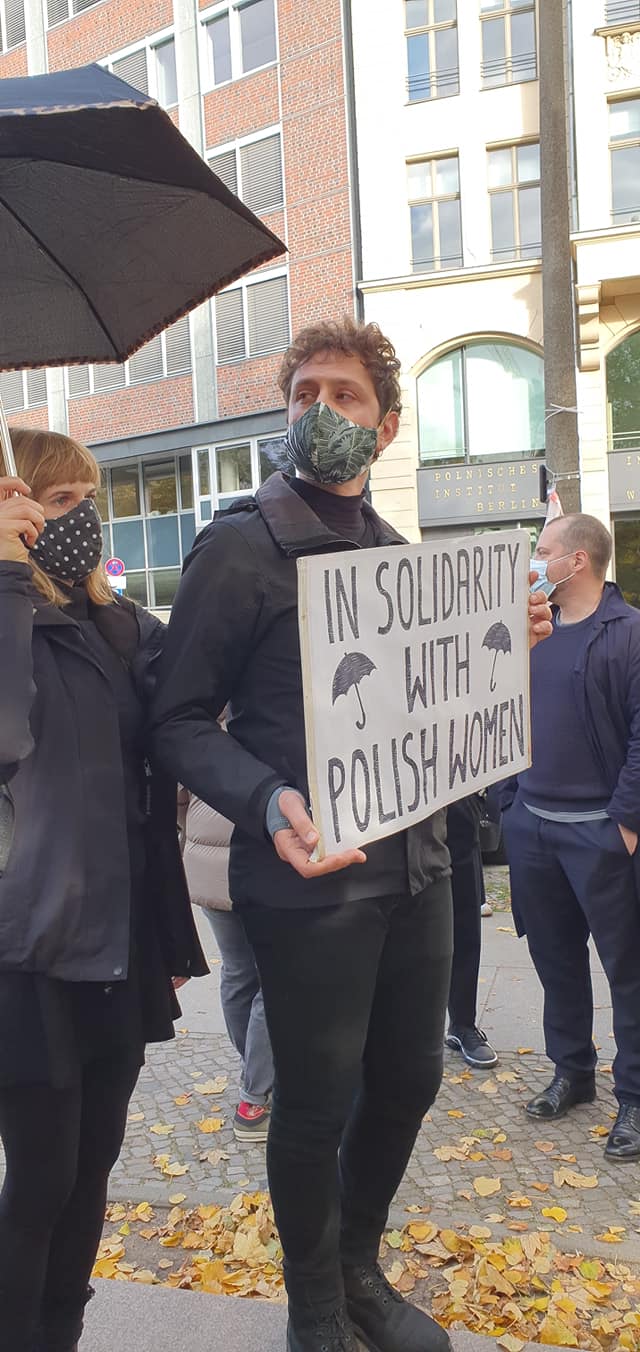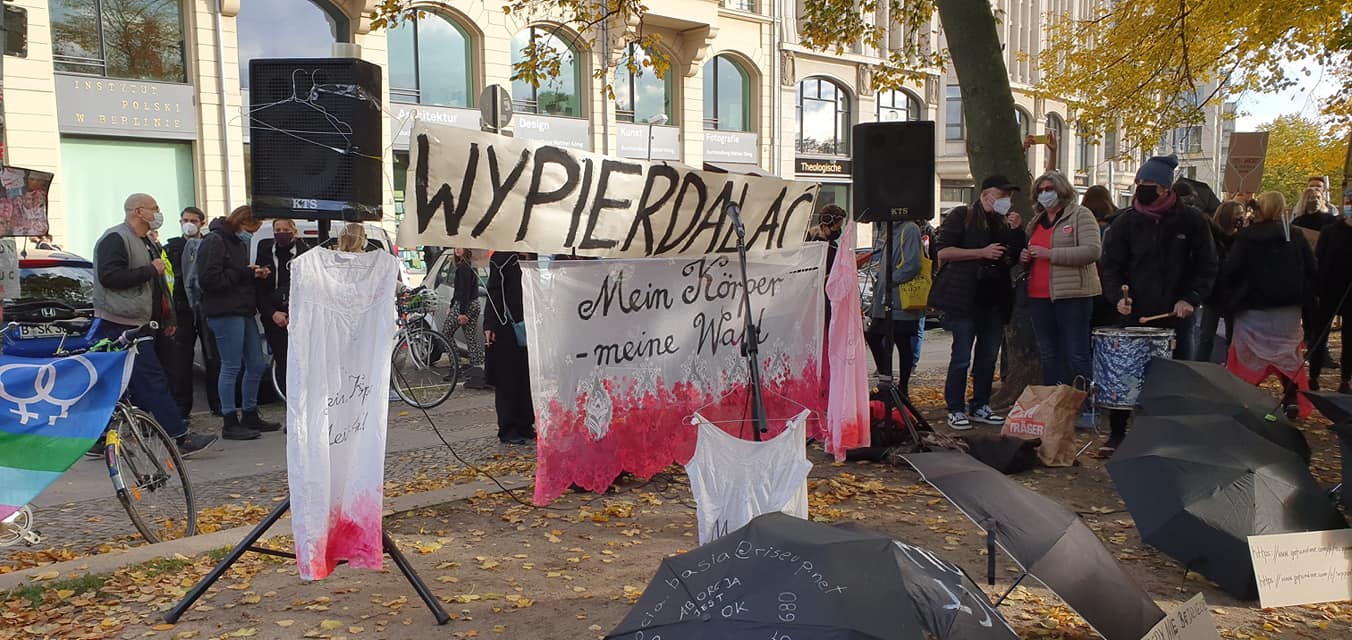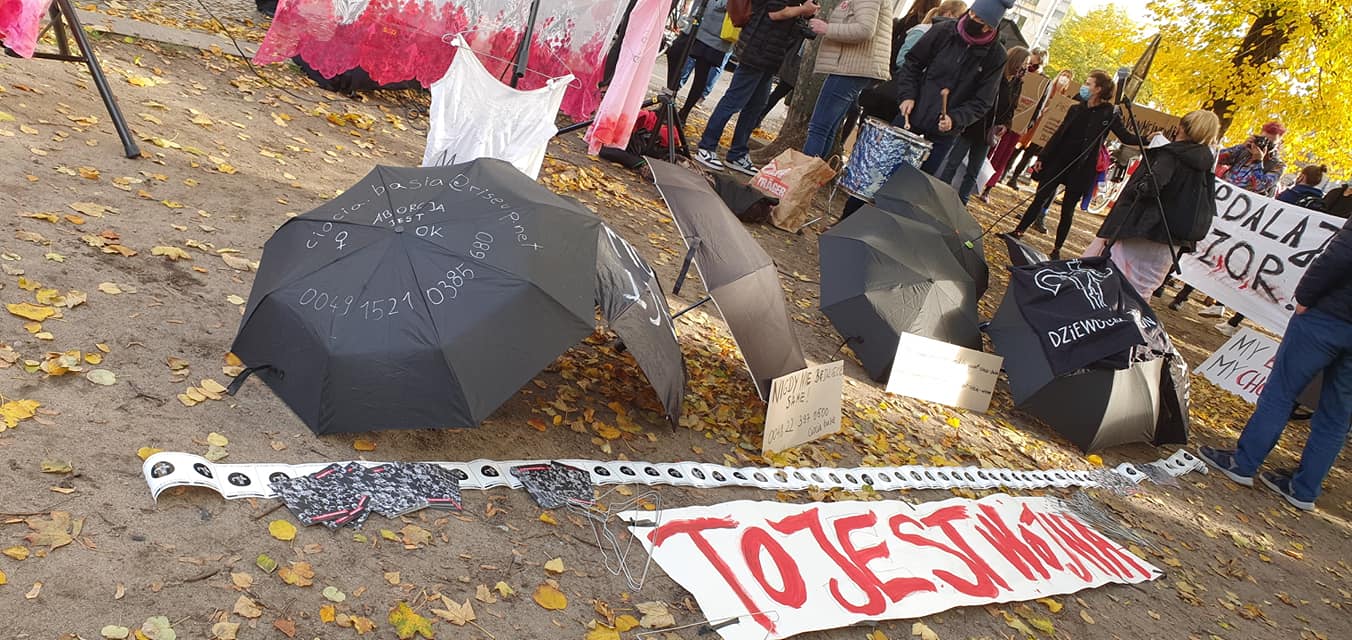 Foto – Lena Czerniawska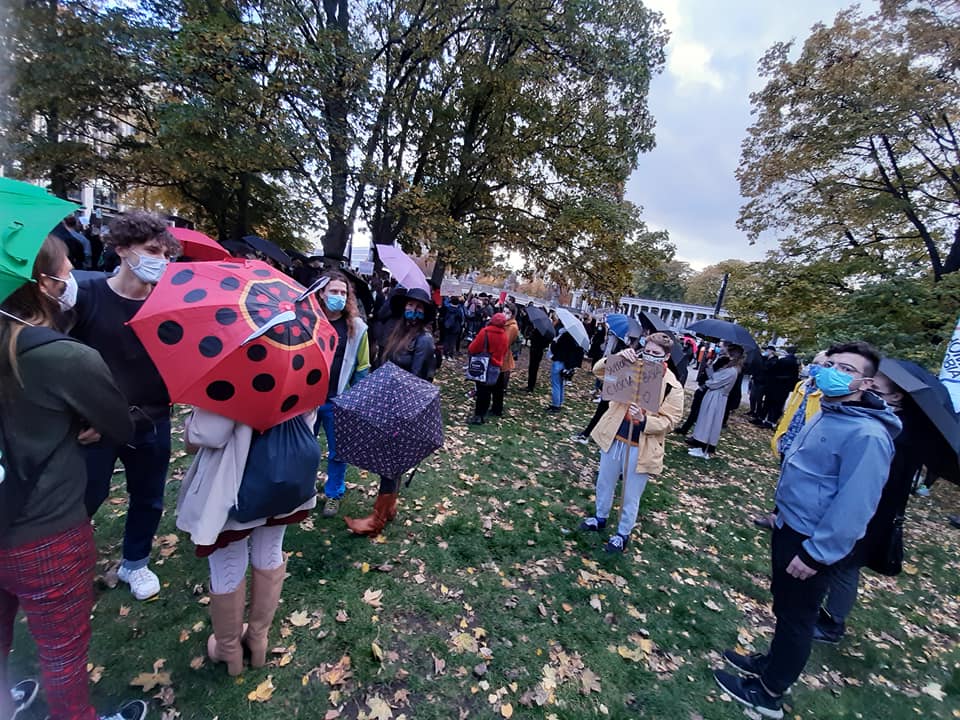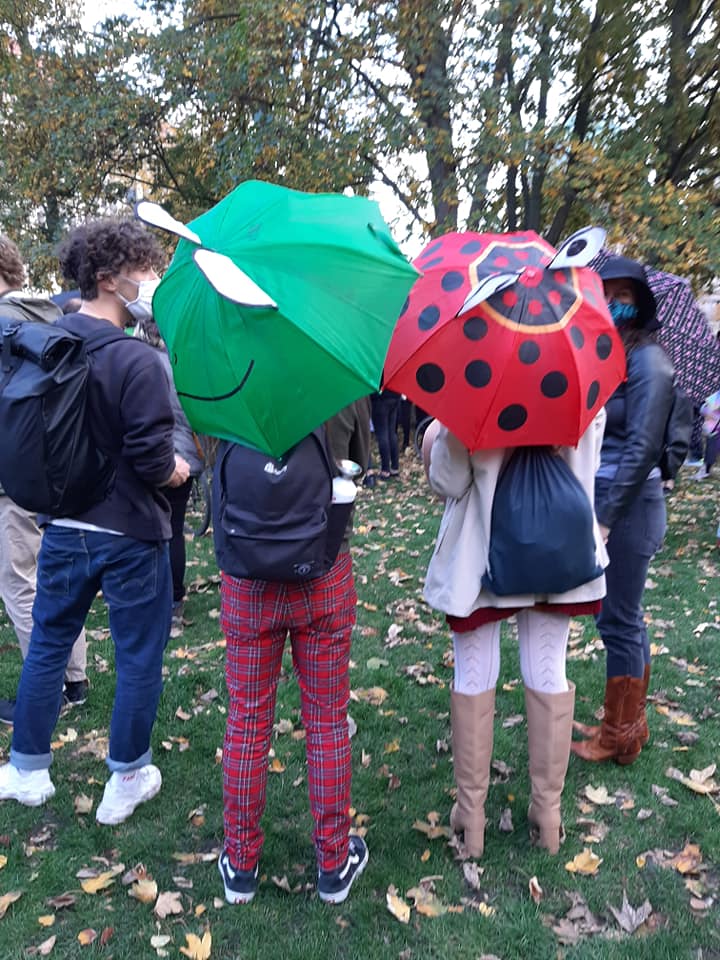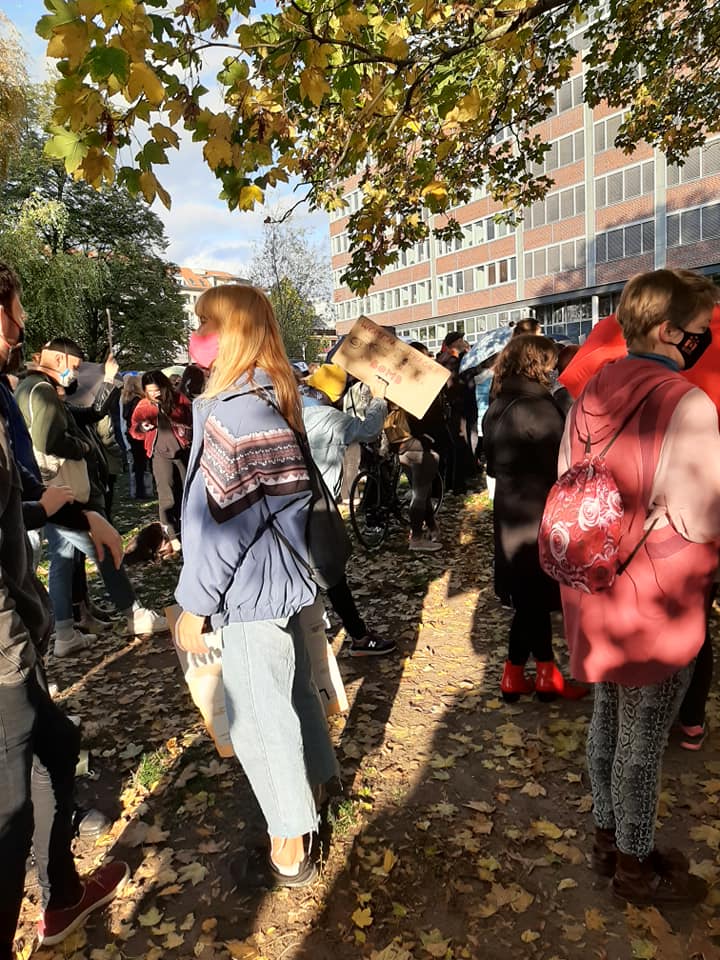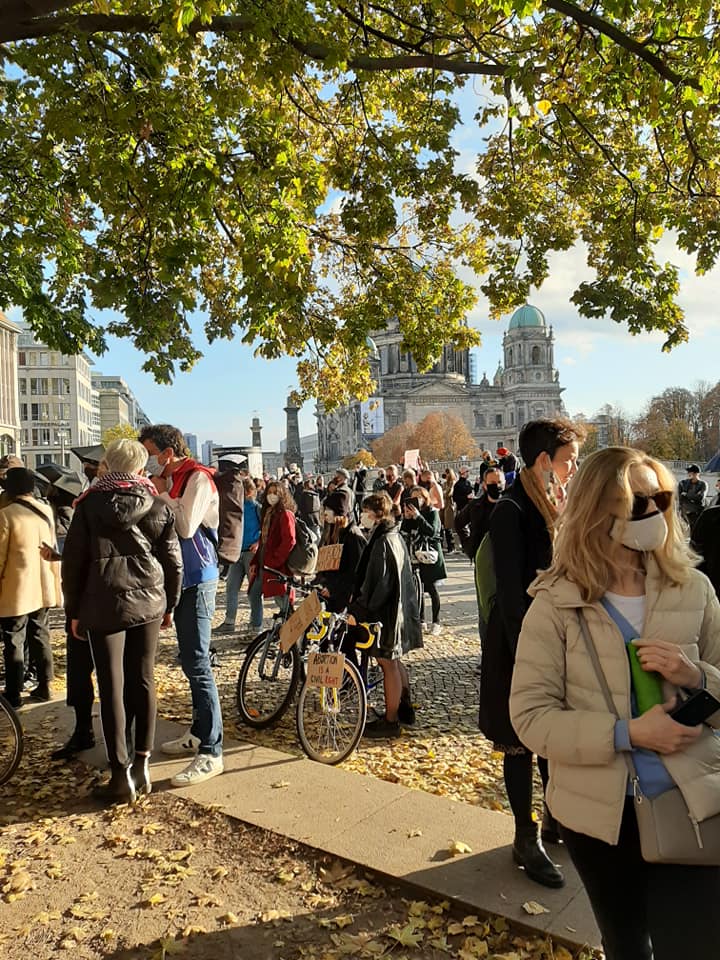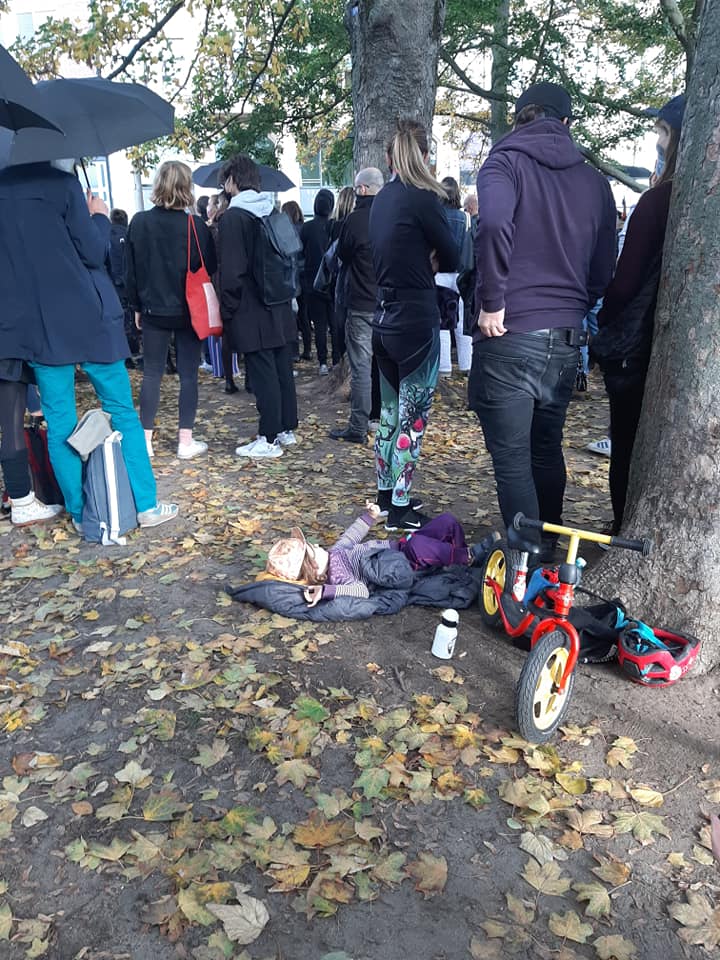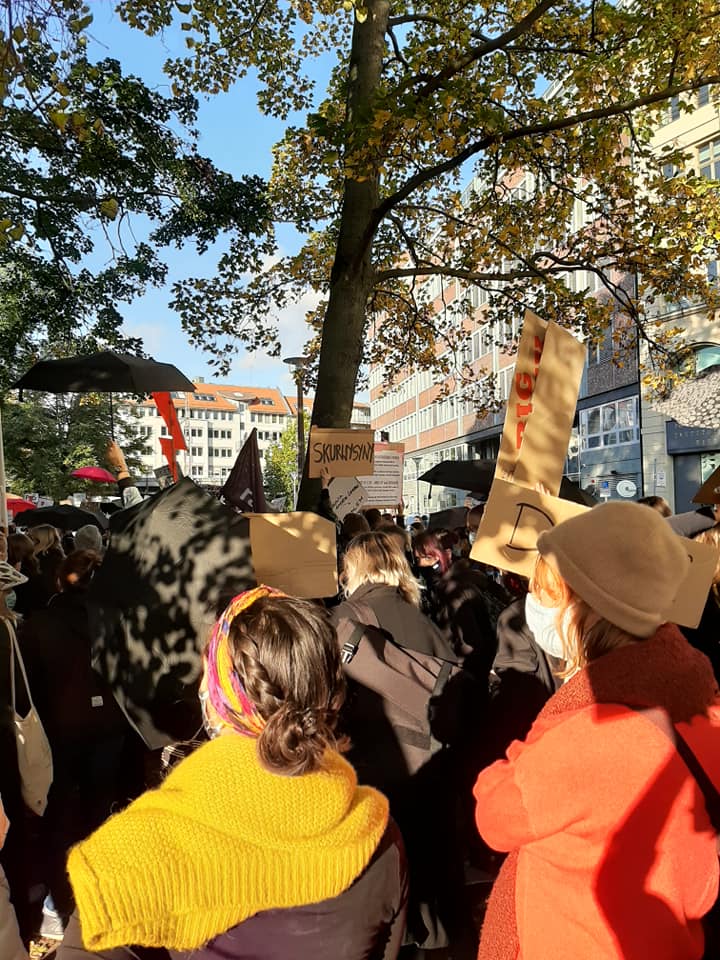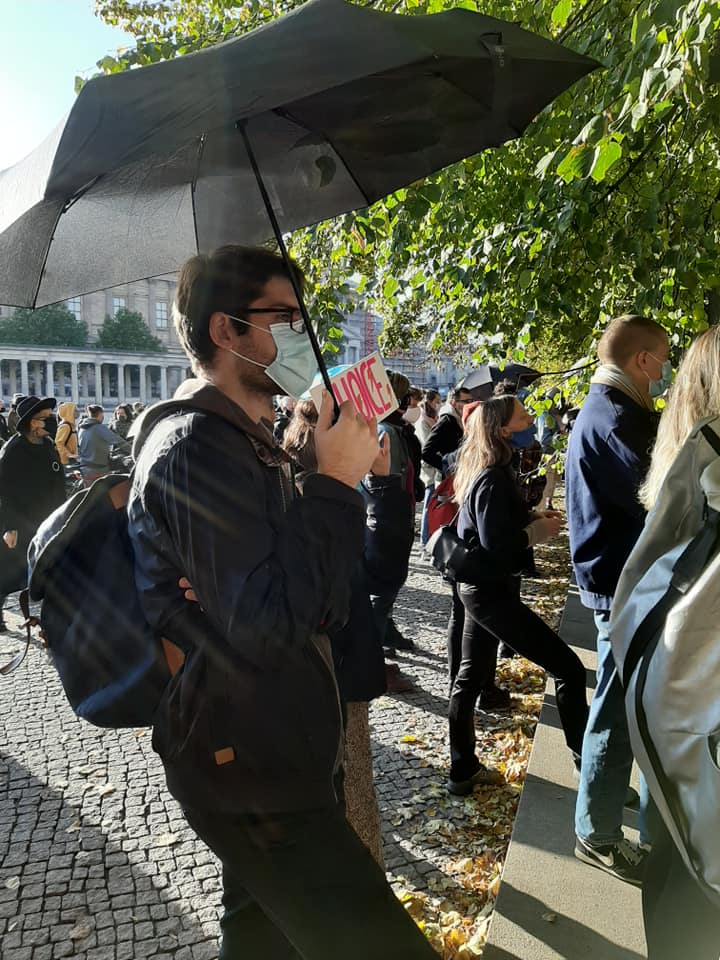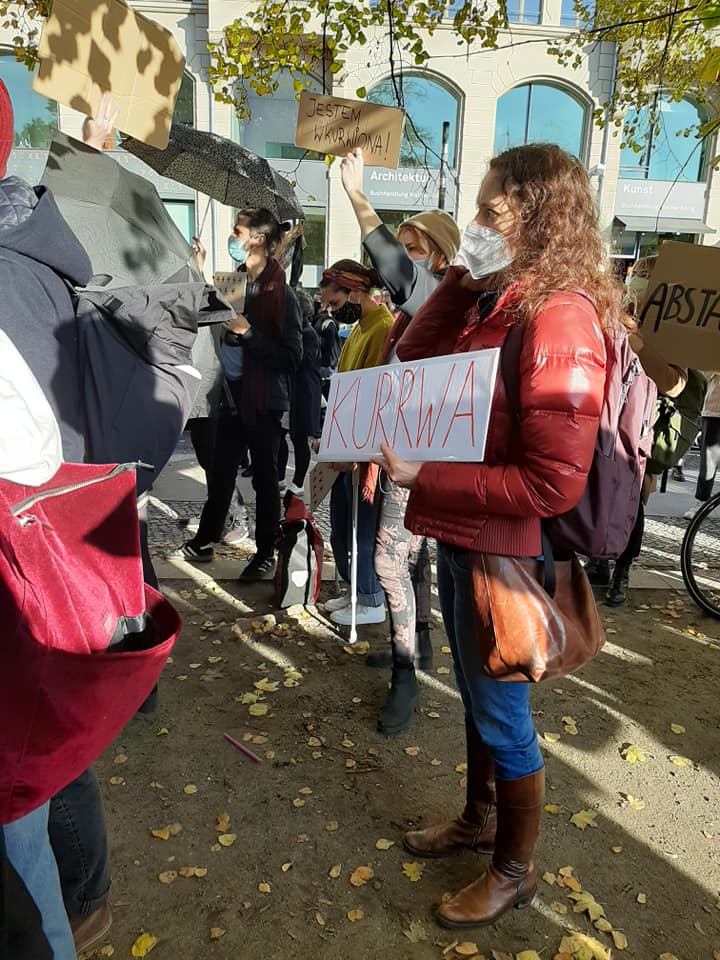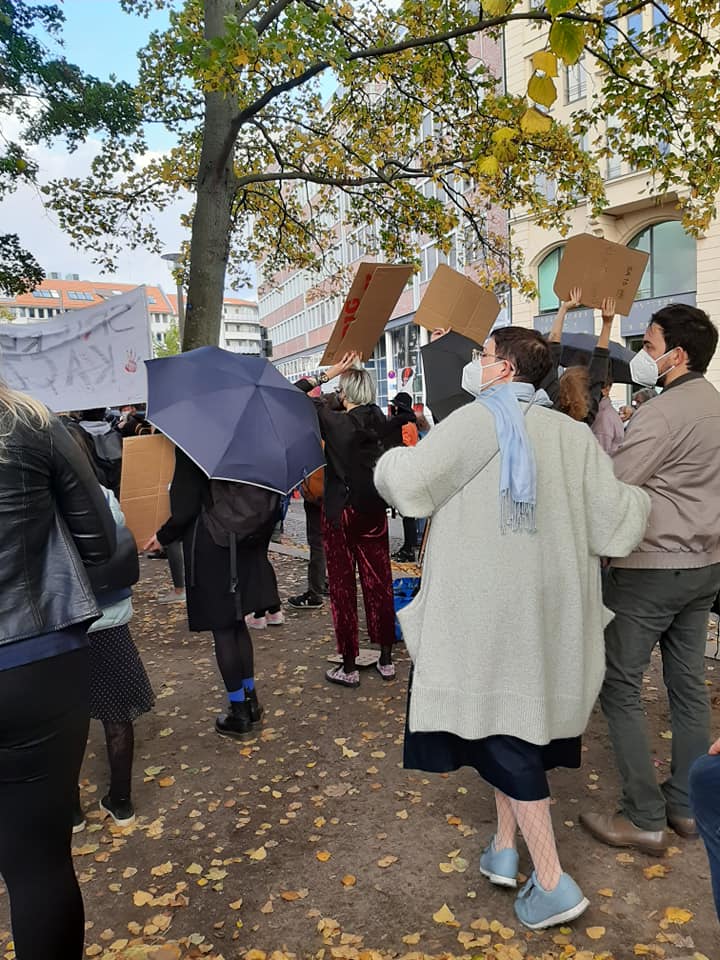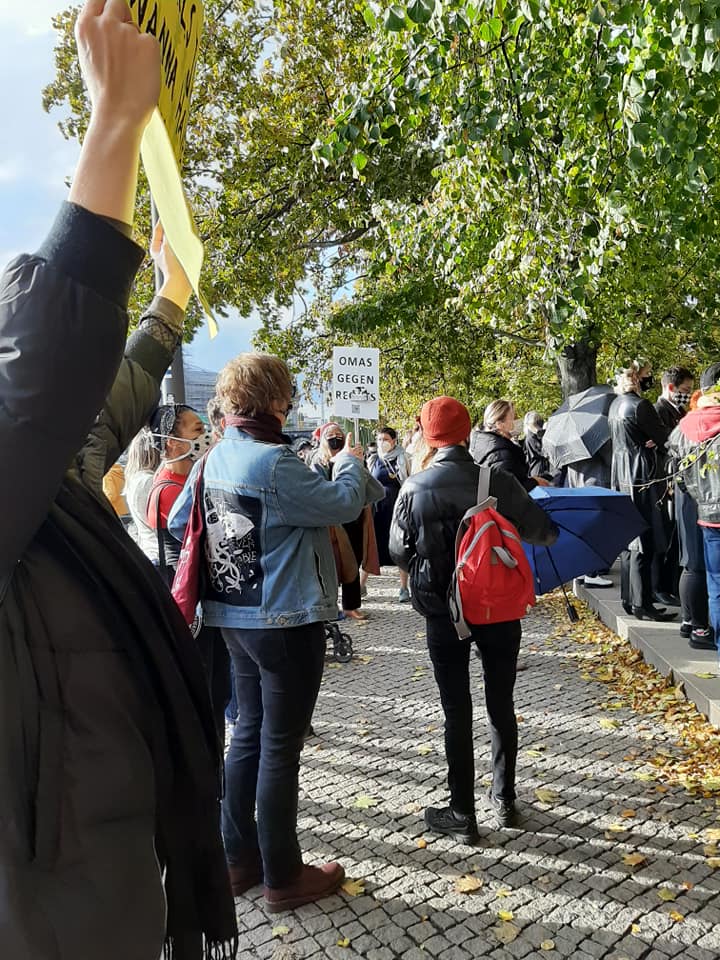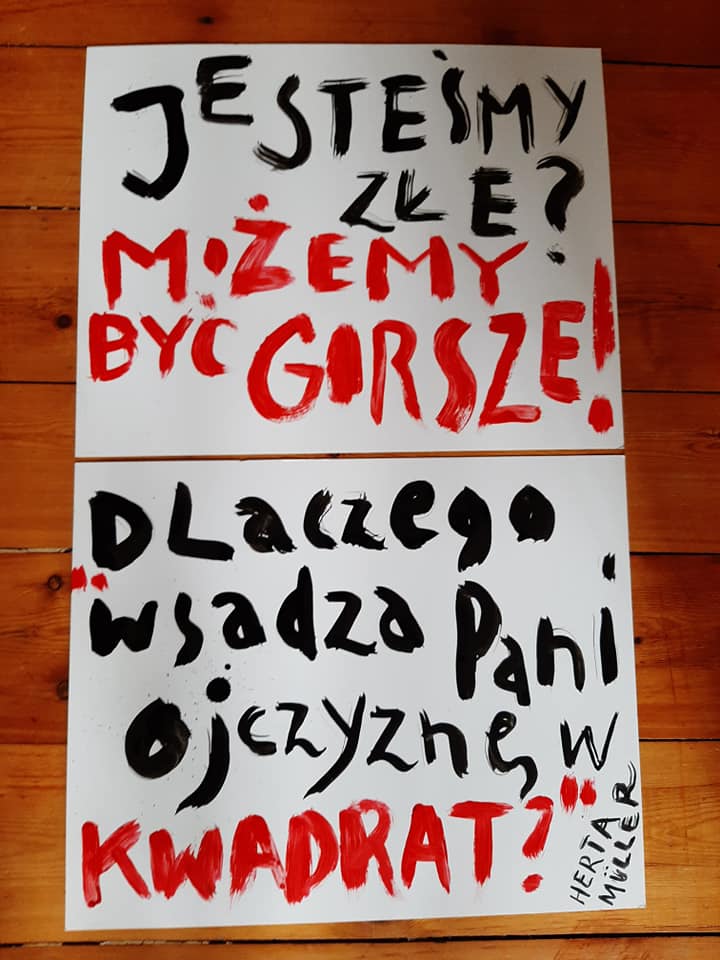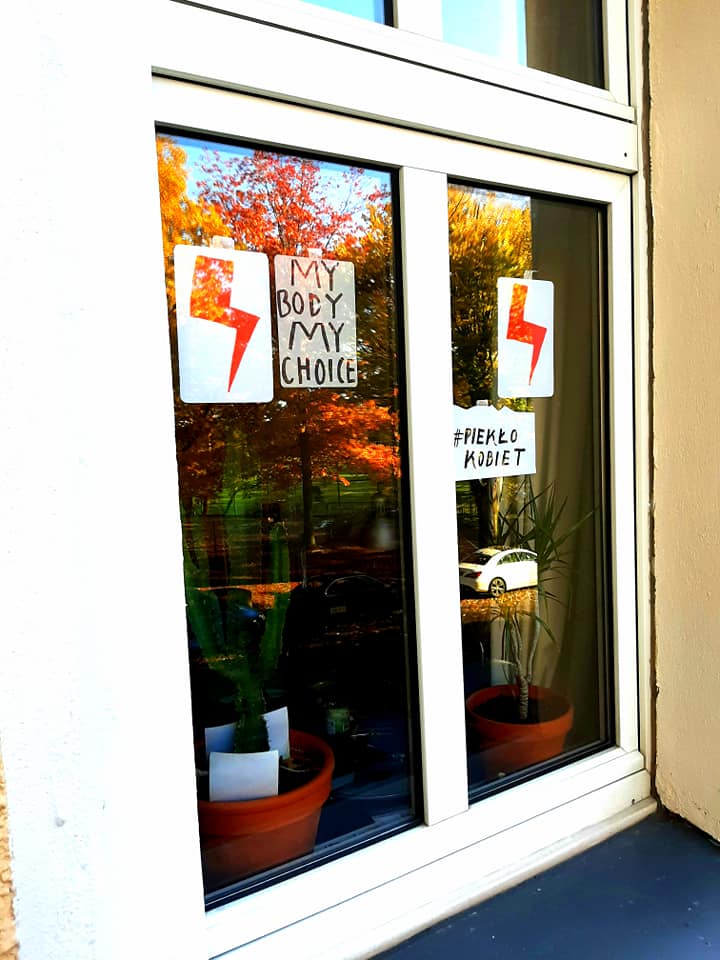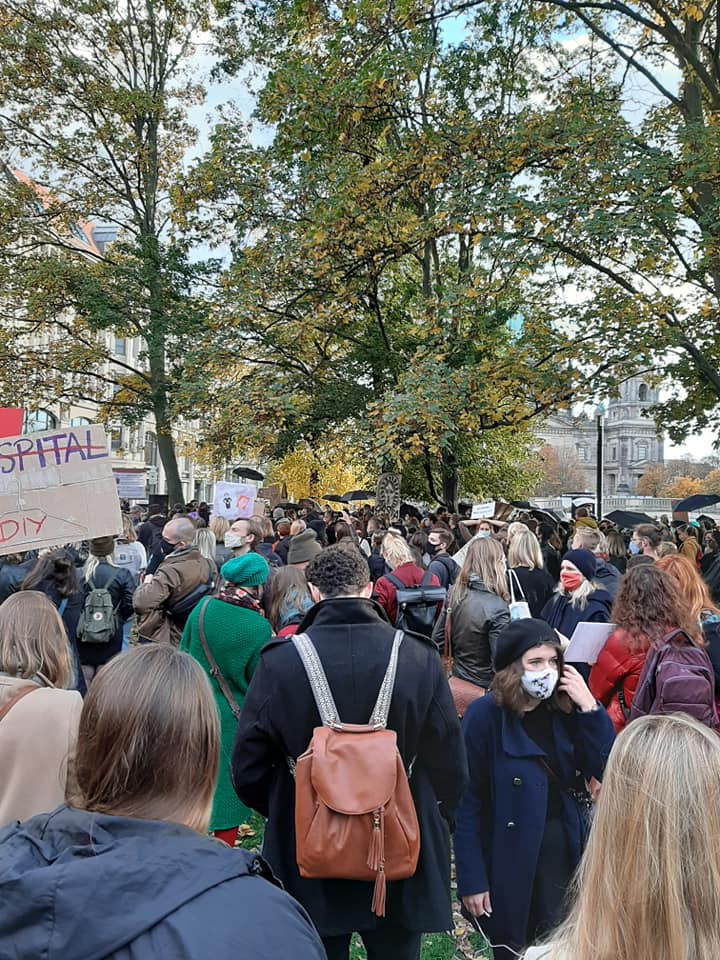 Foto – Krzysztof Rottermund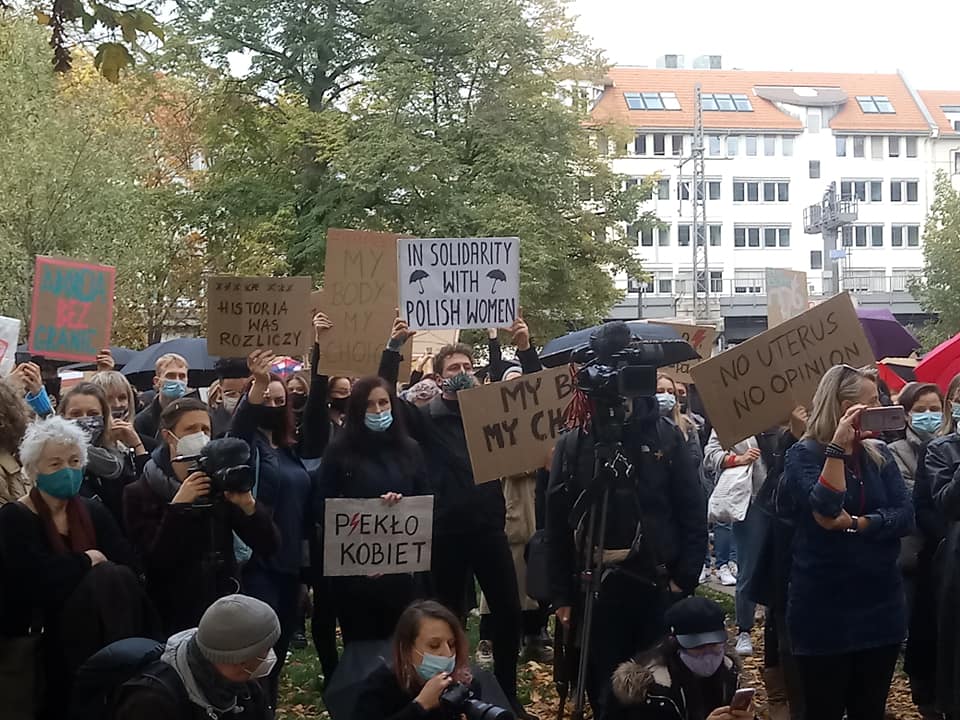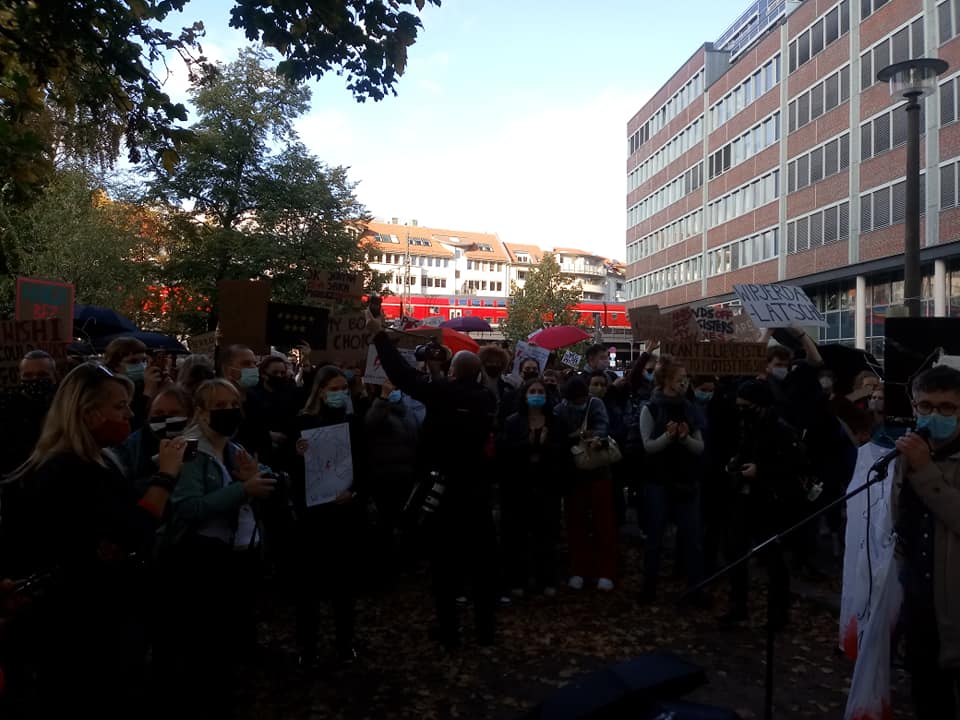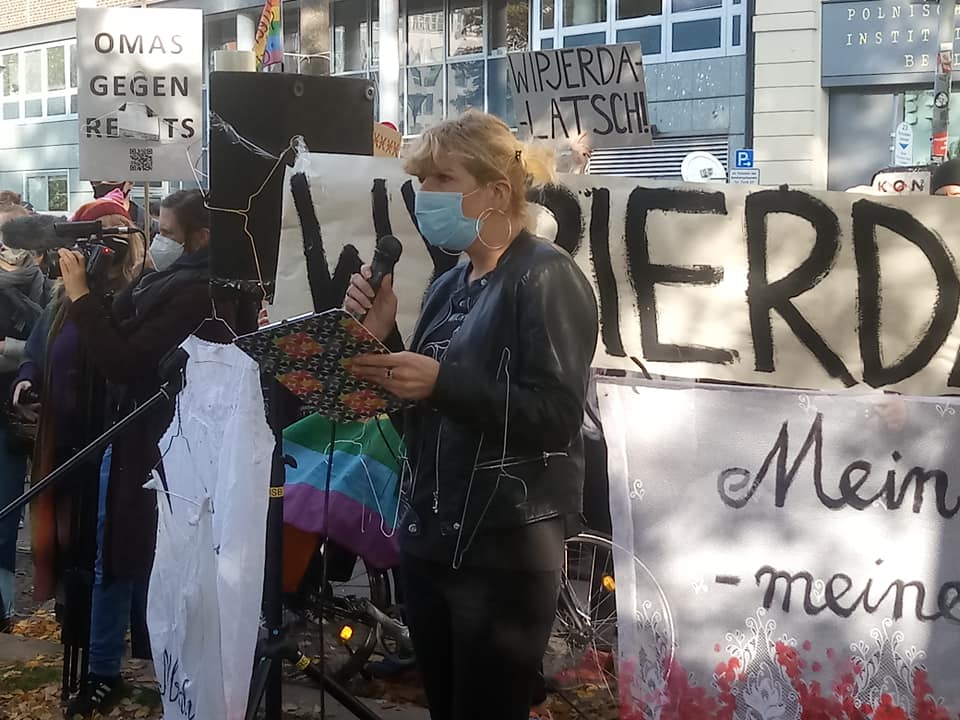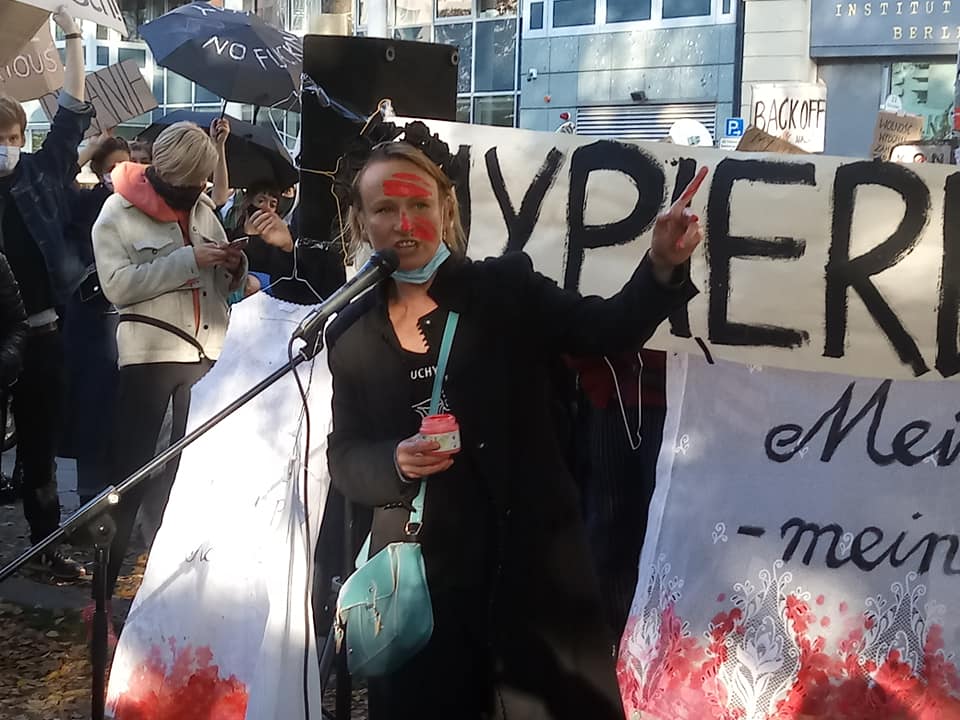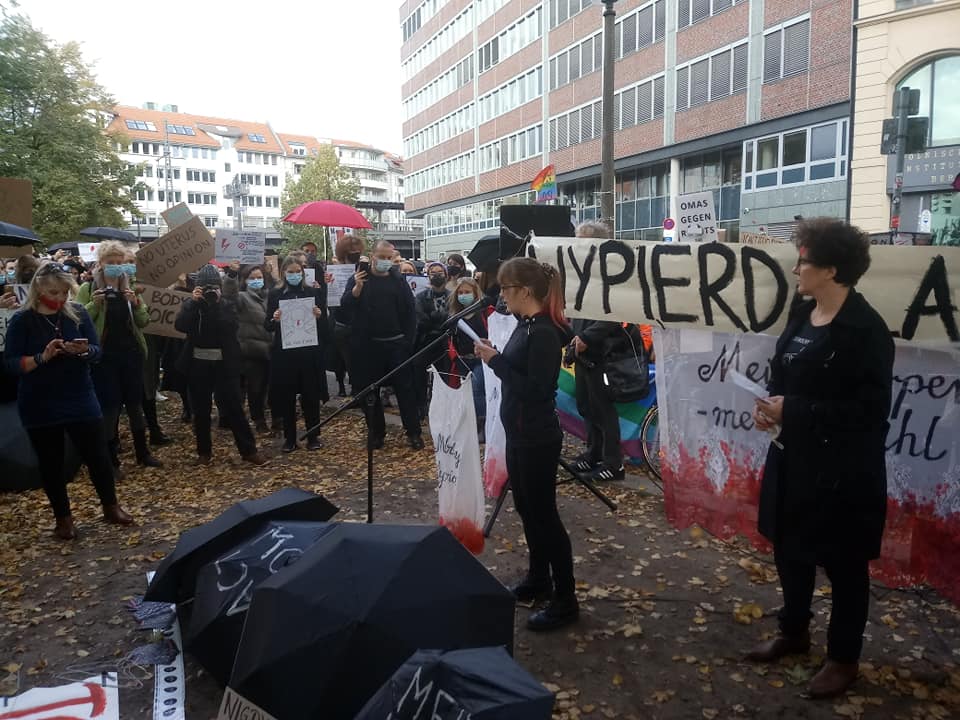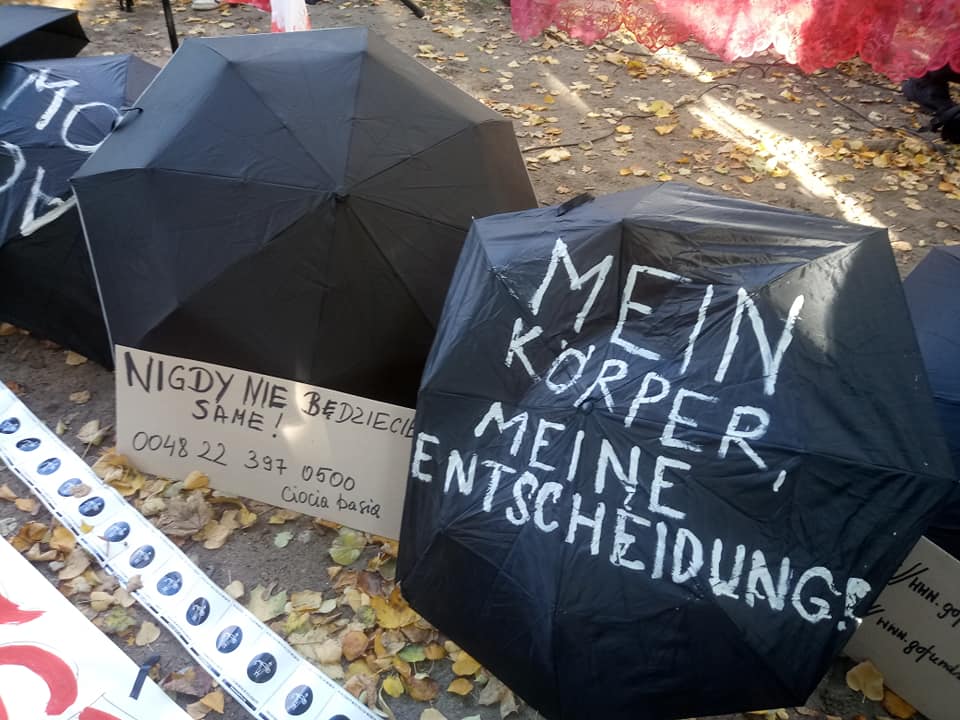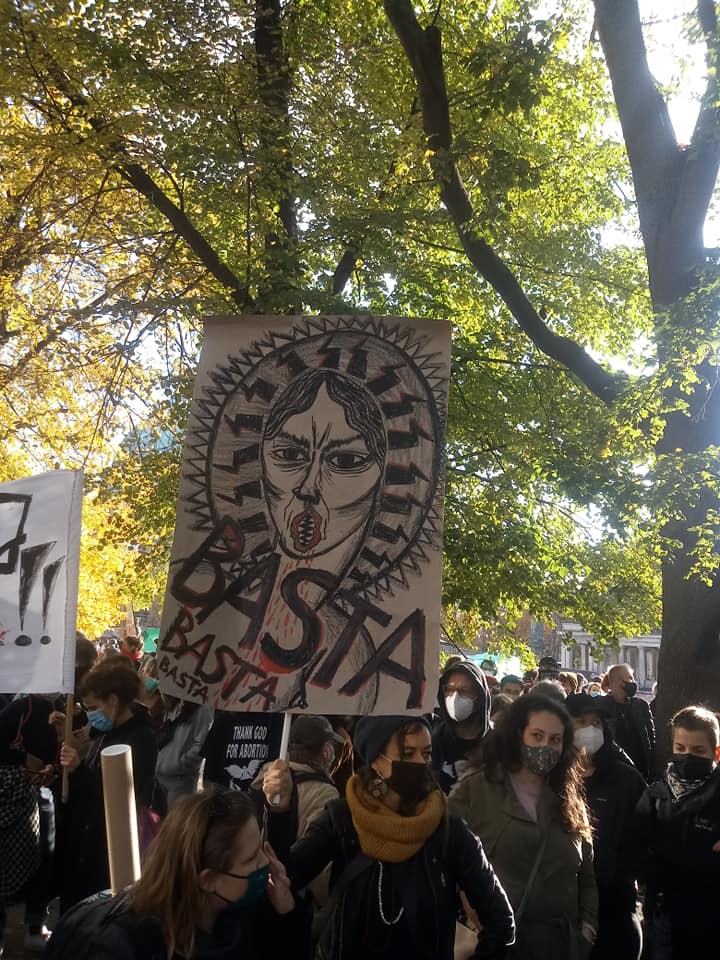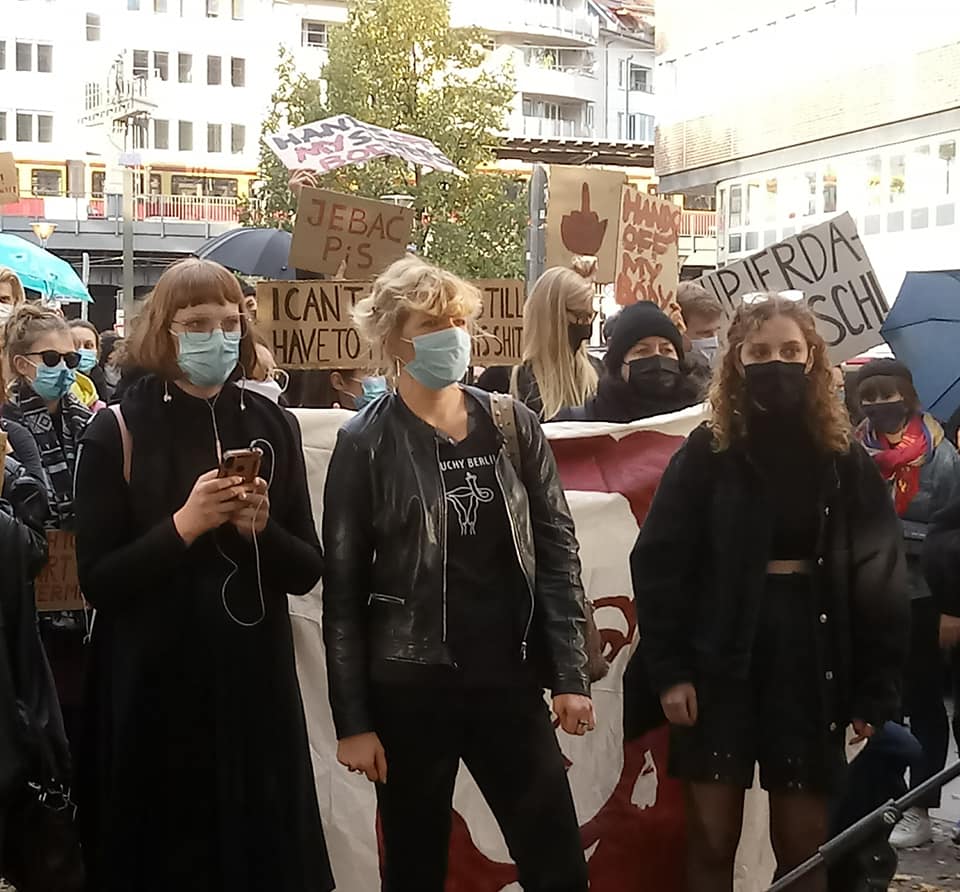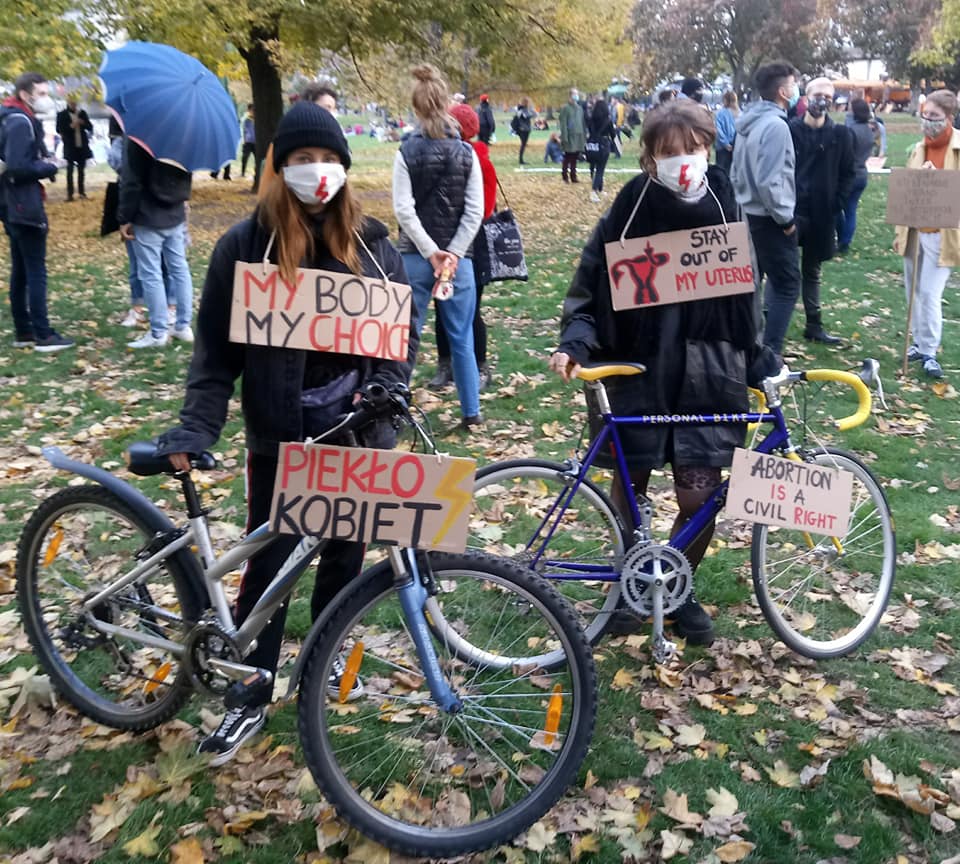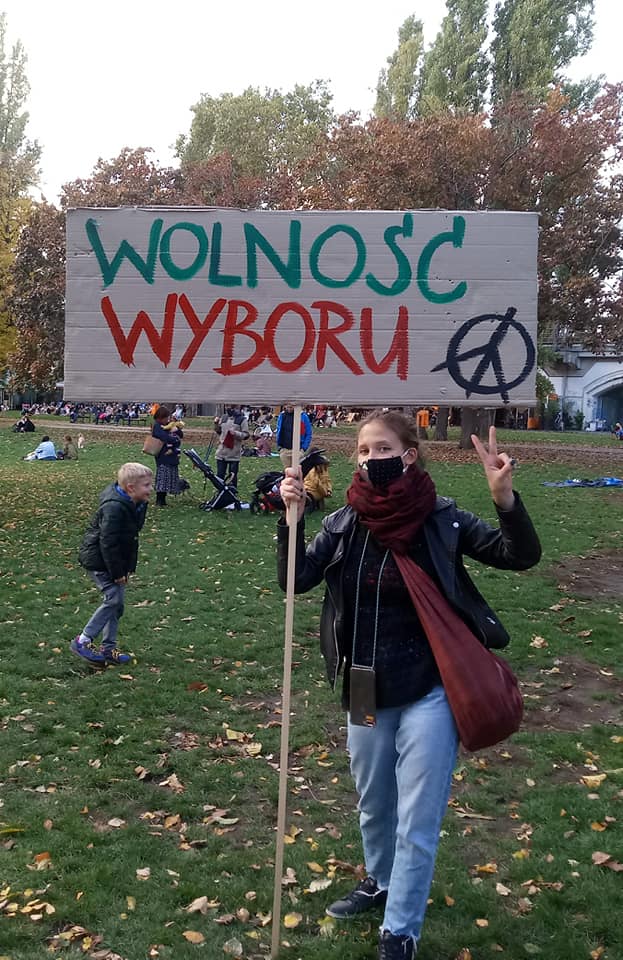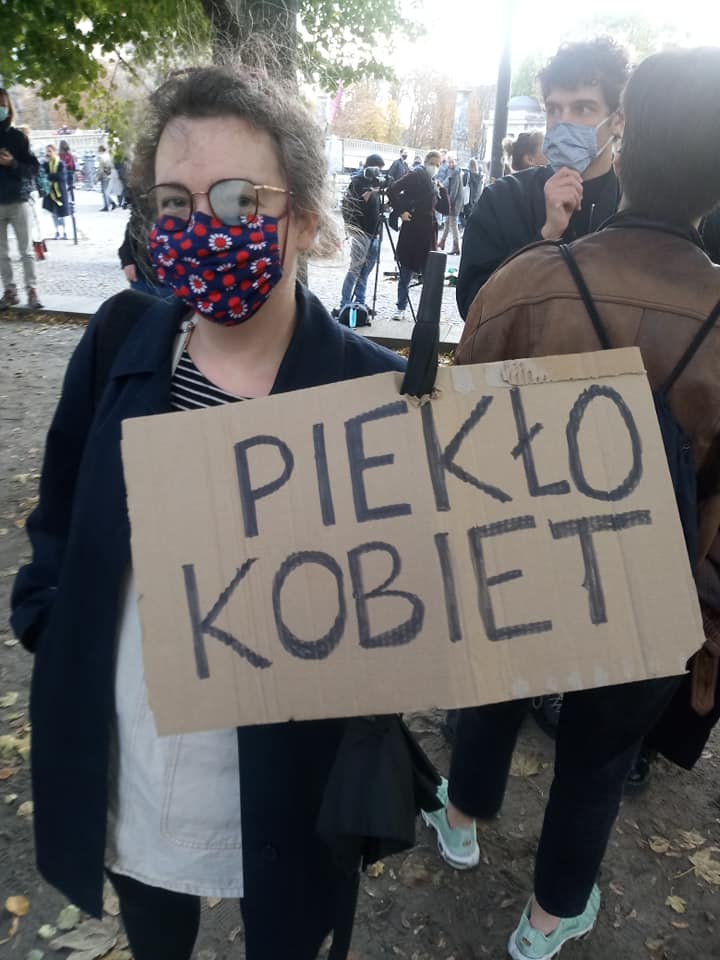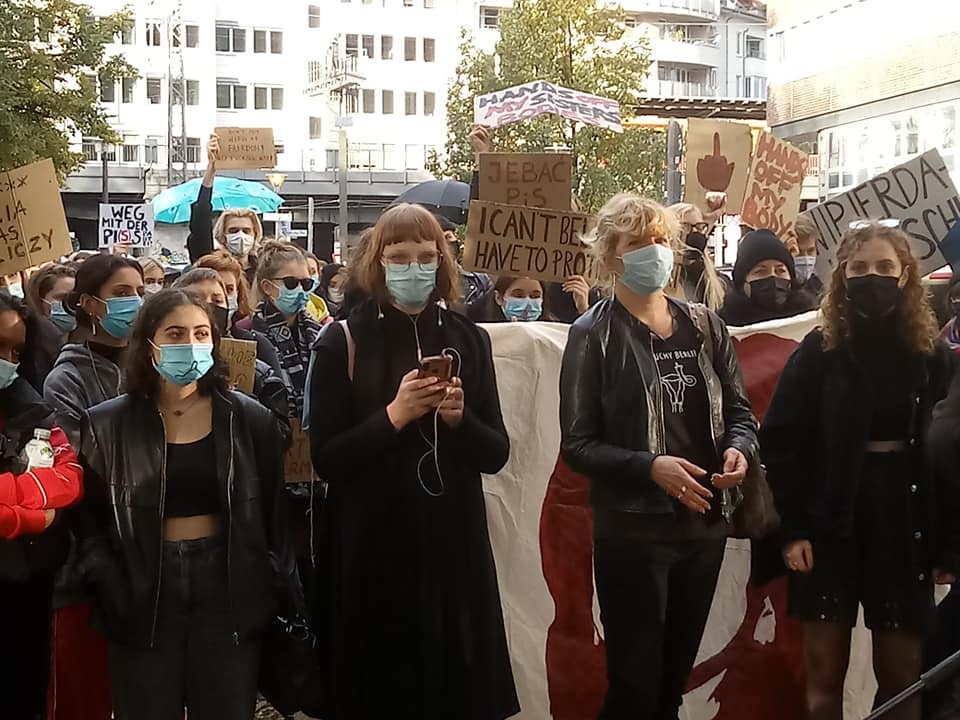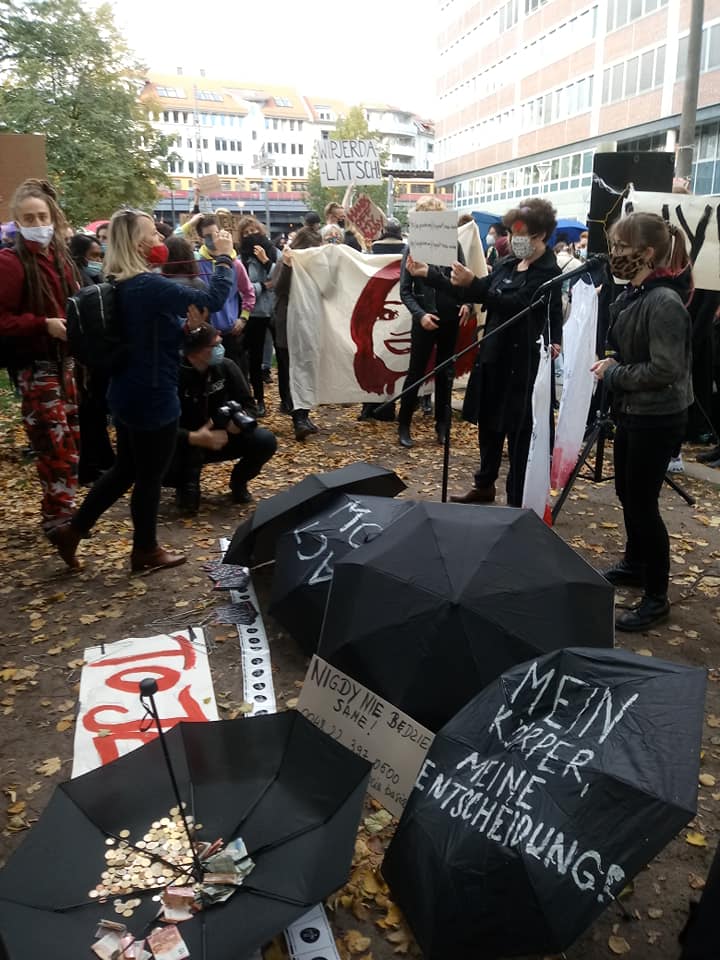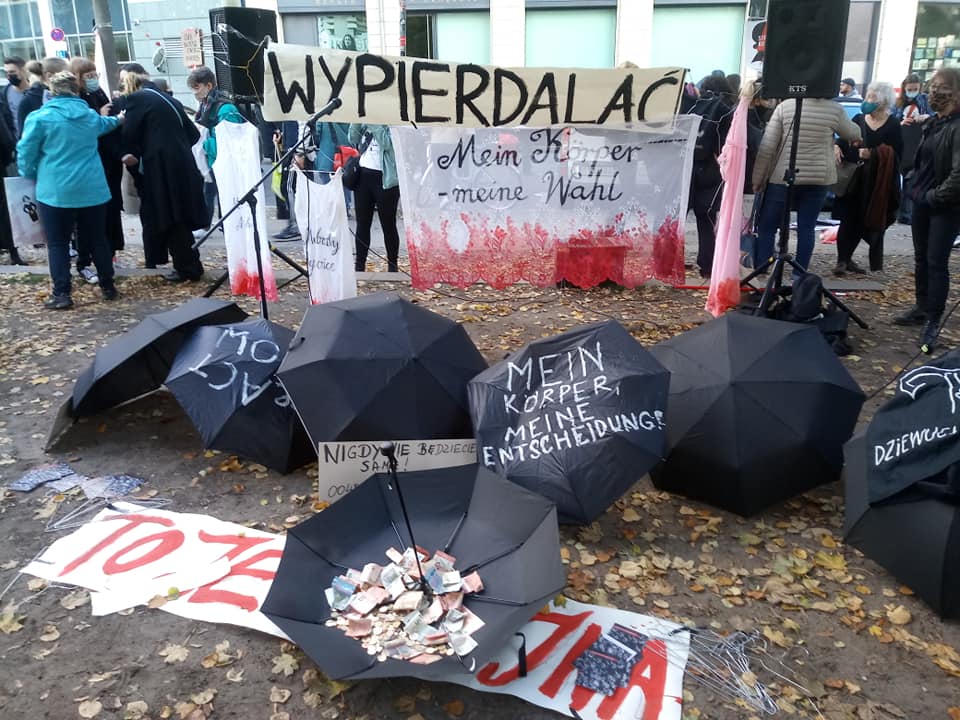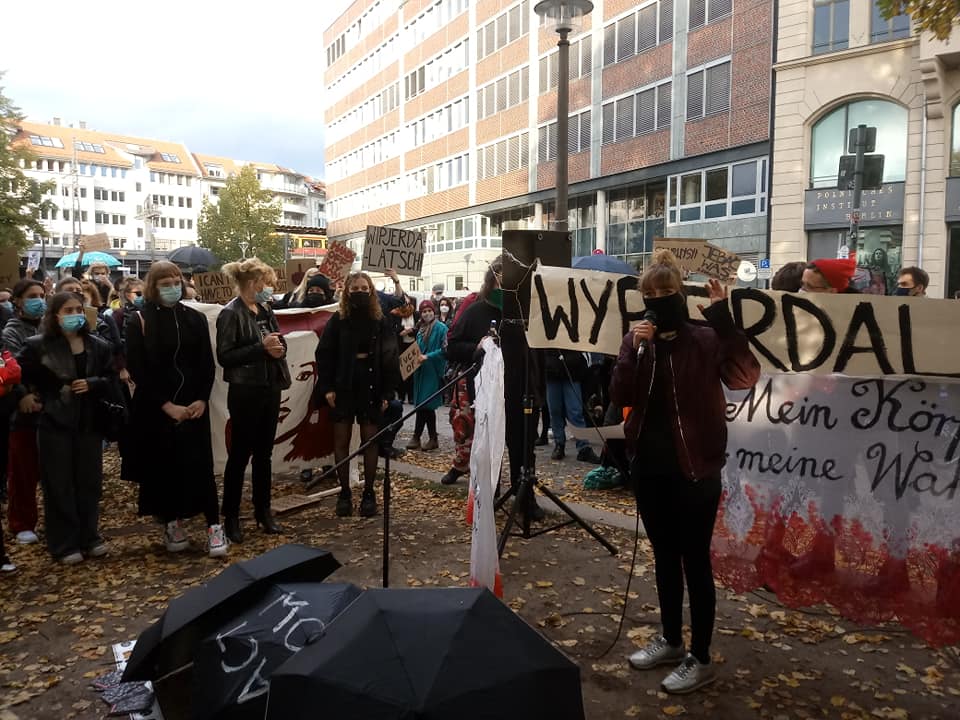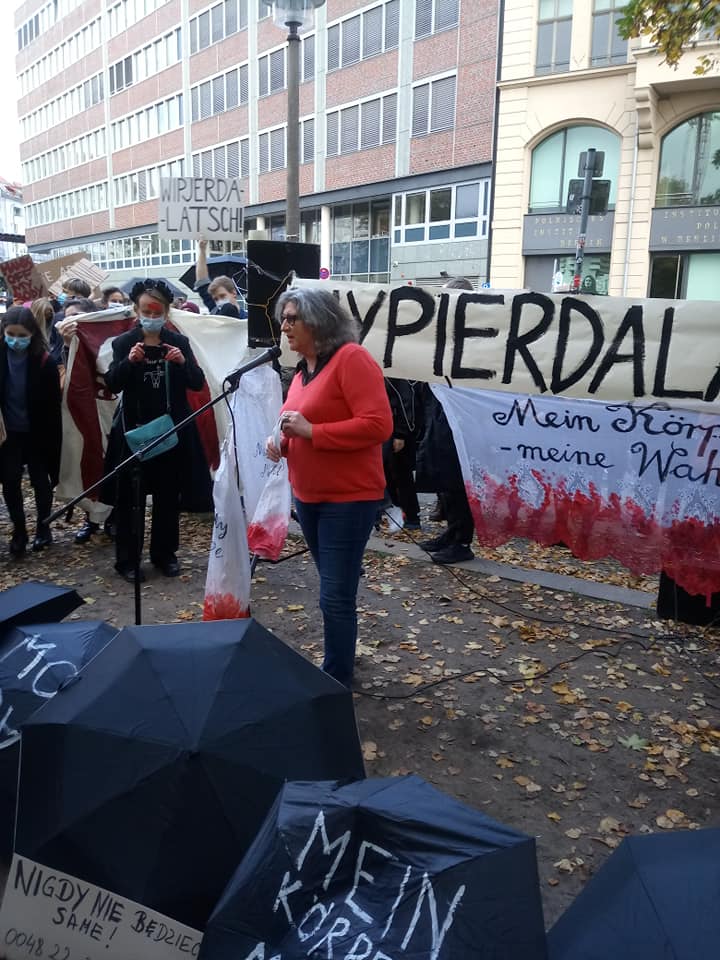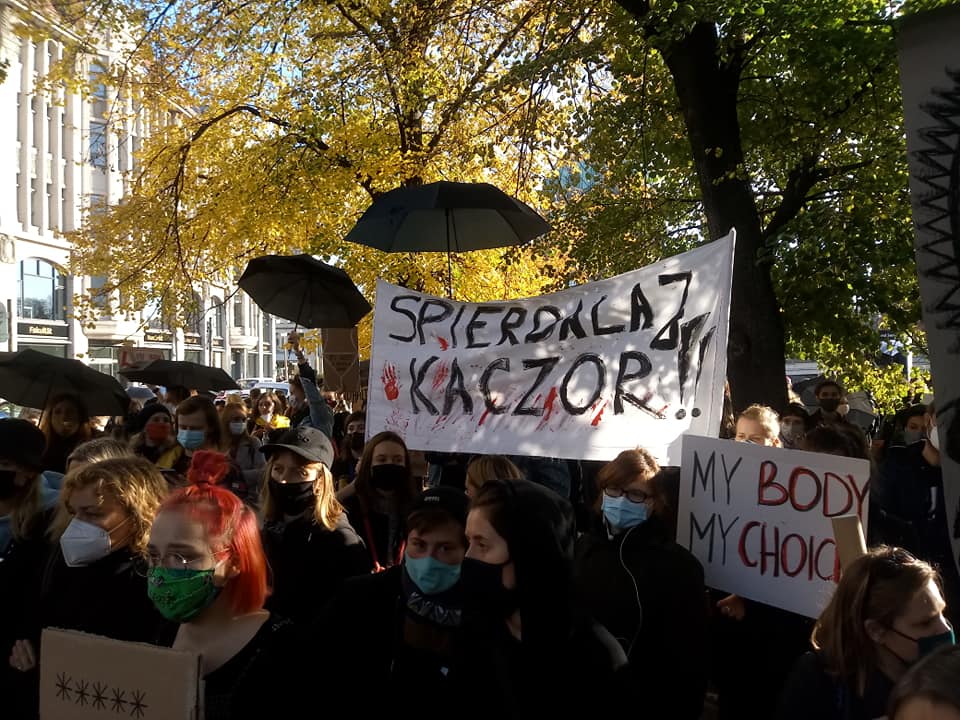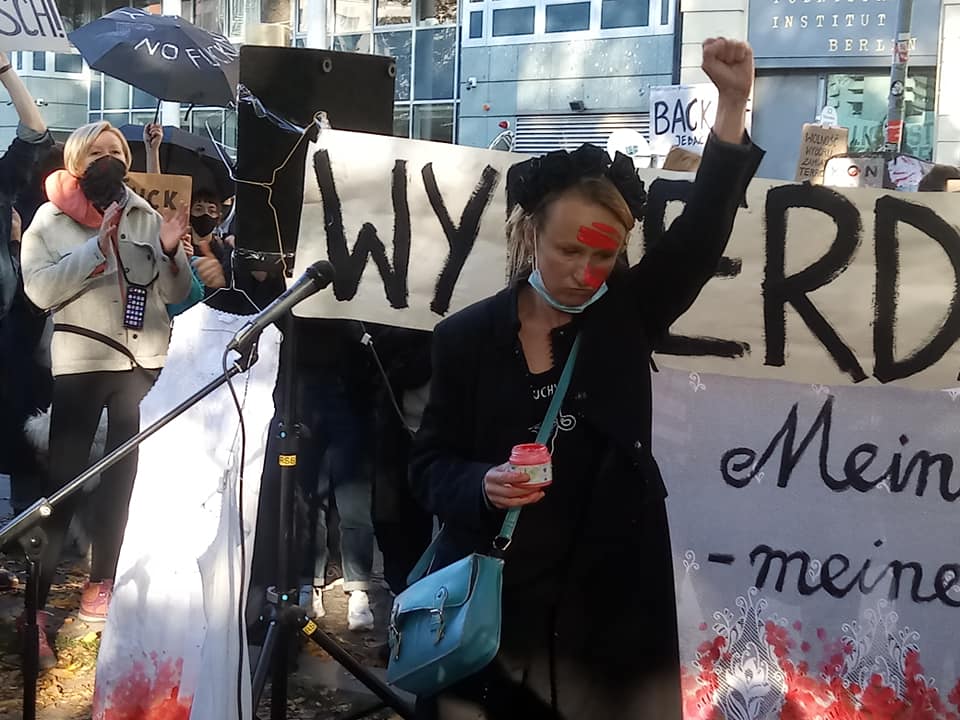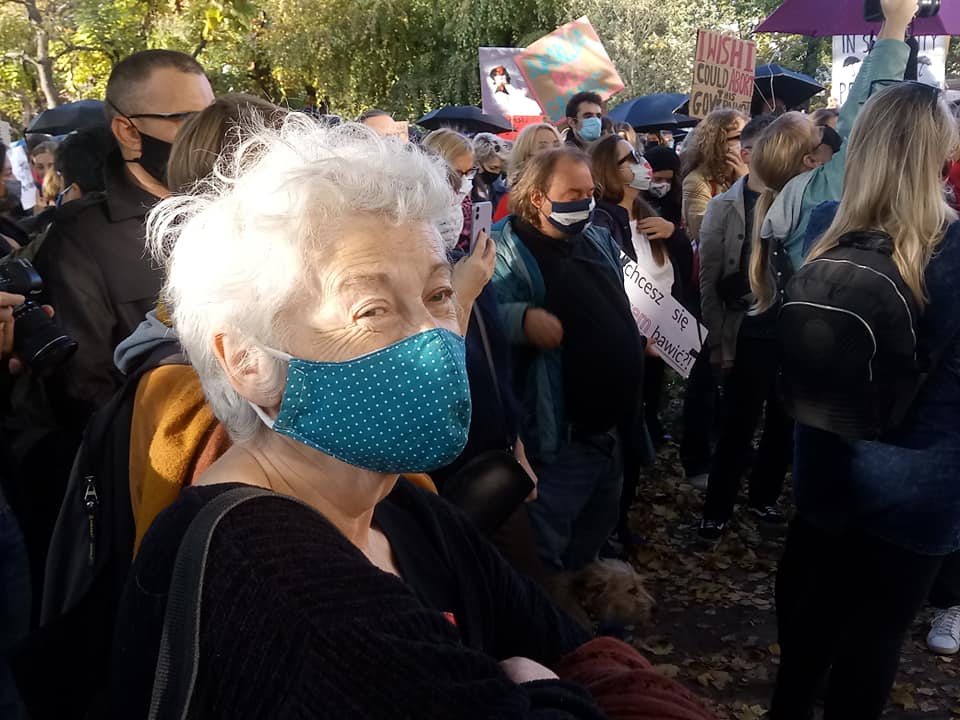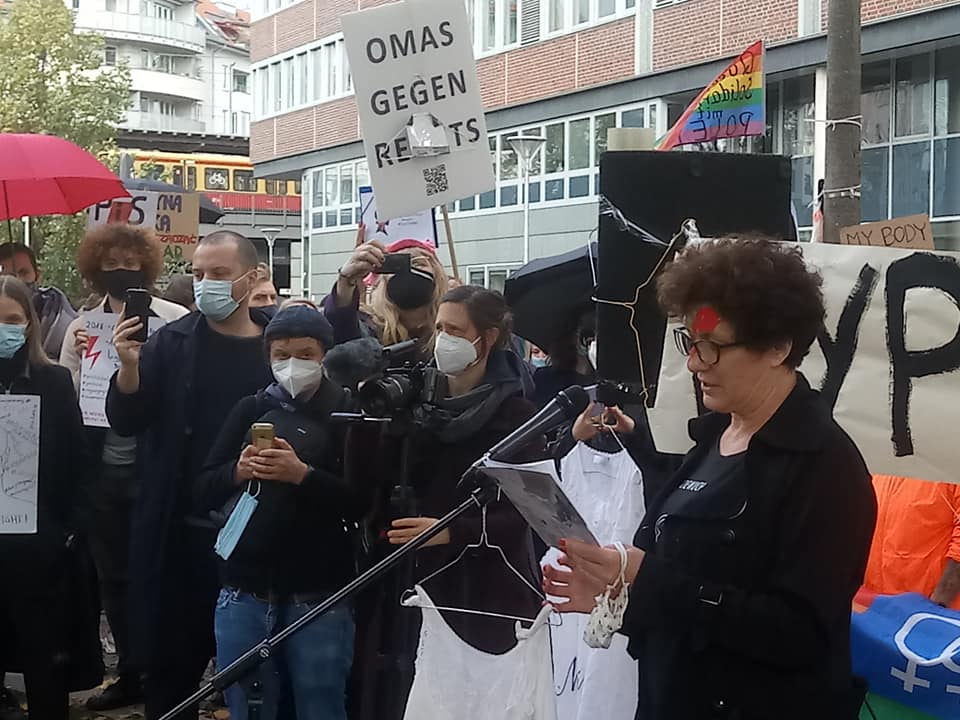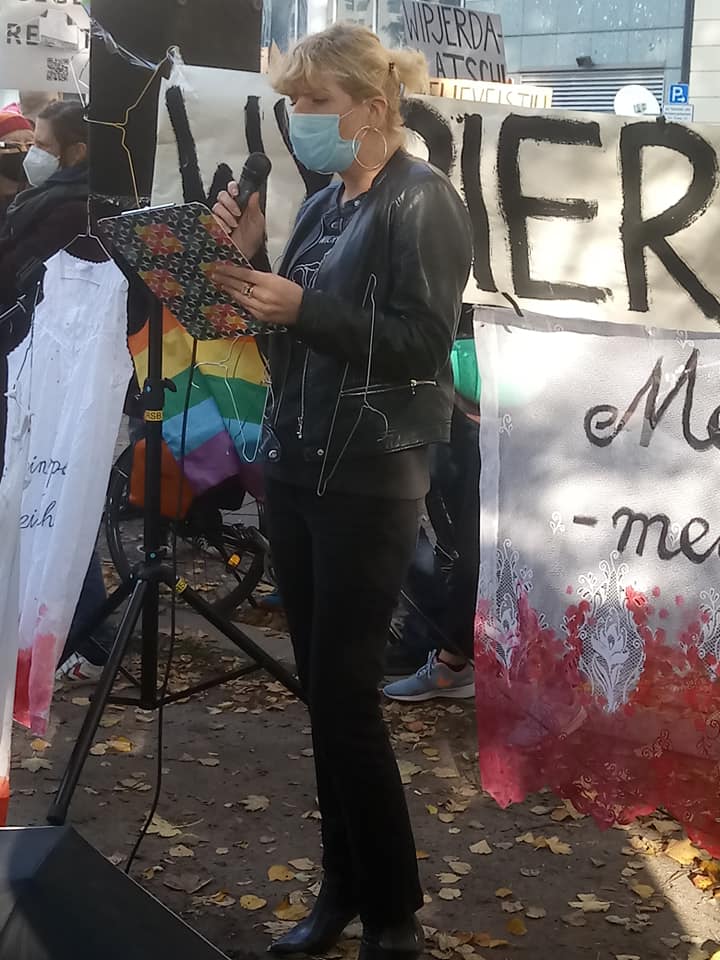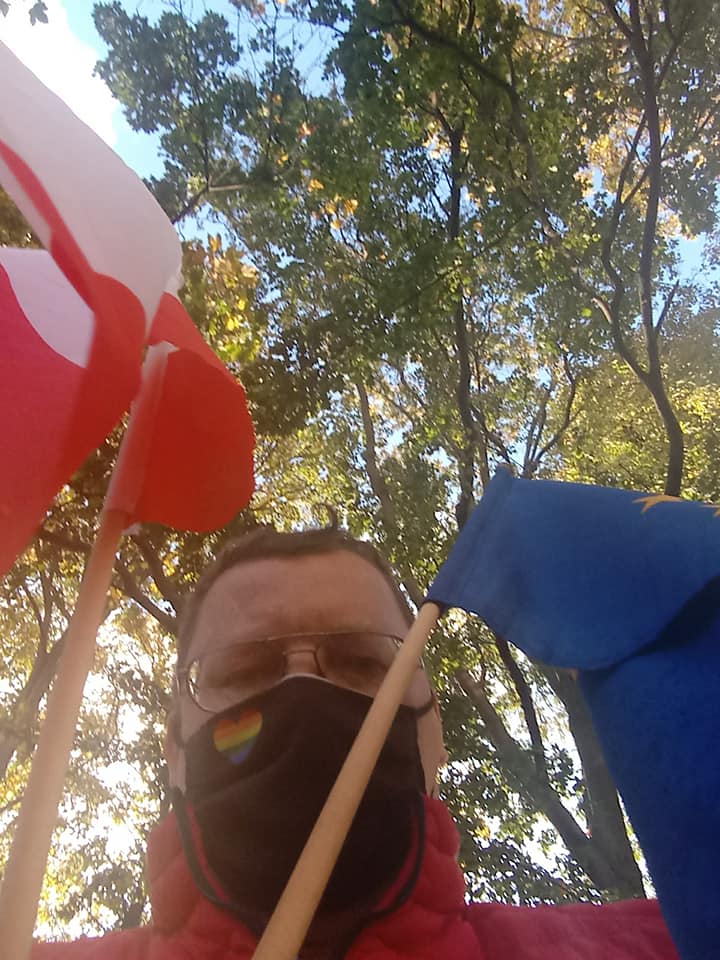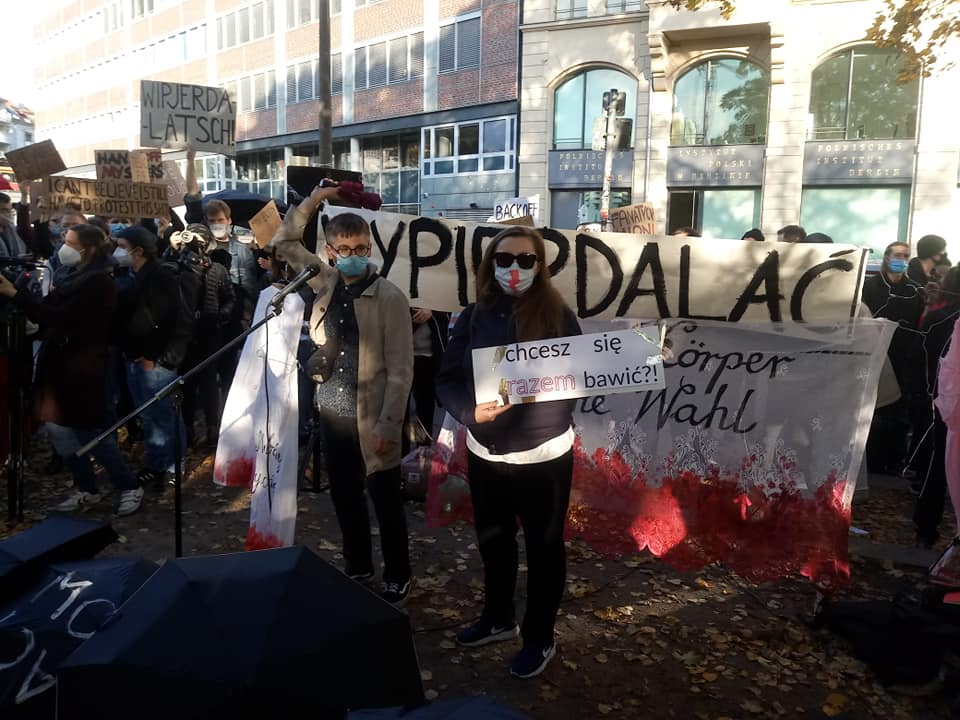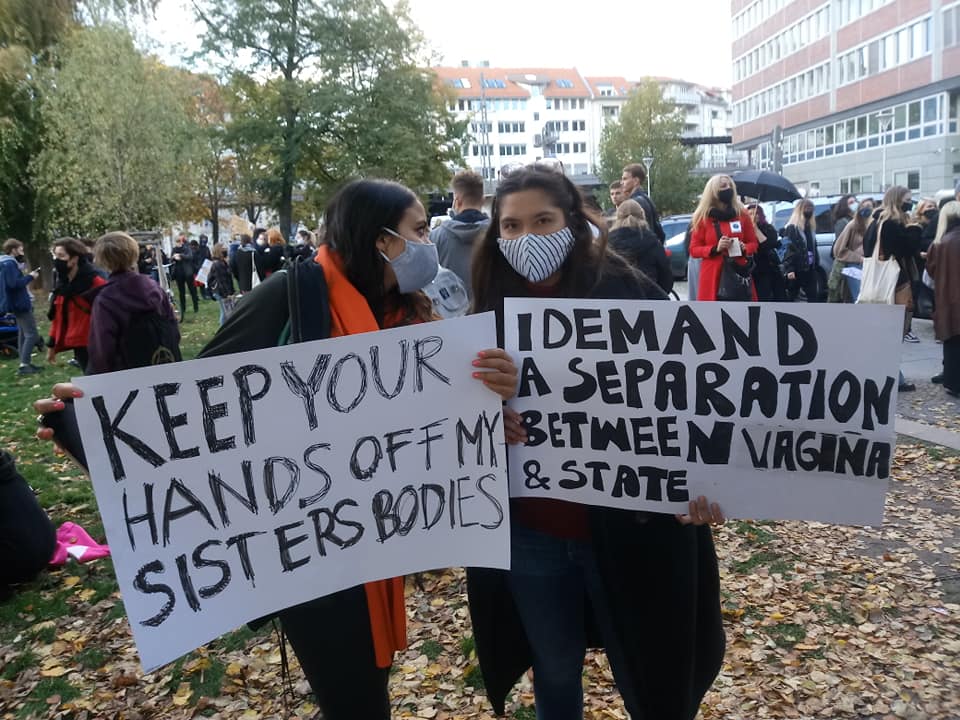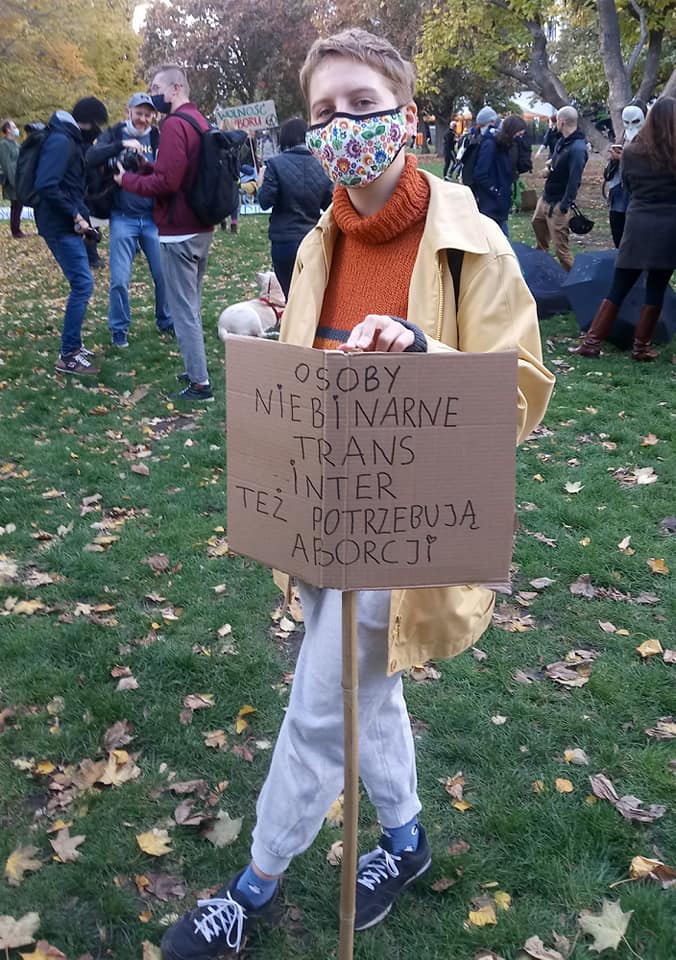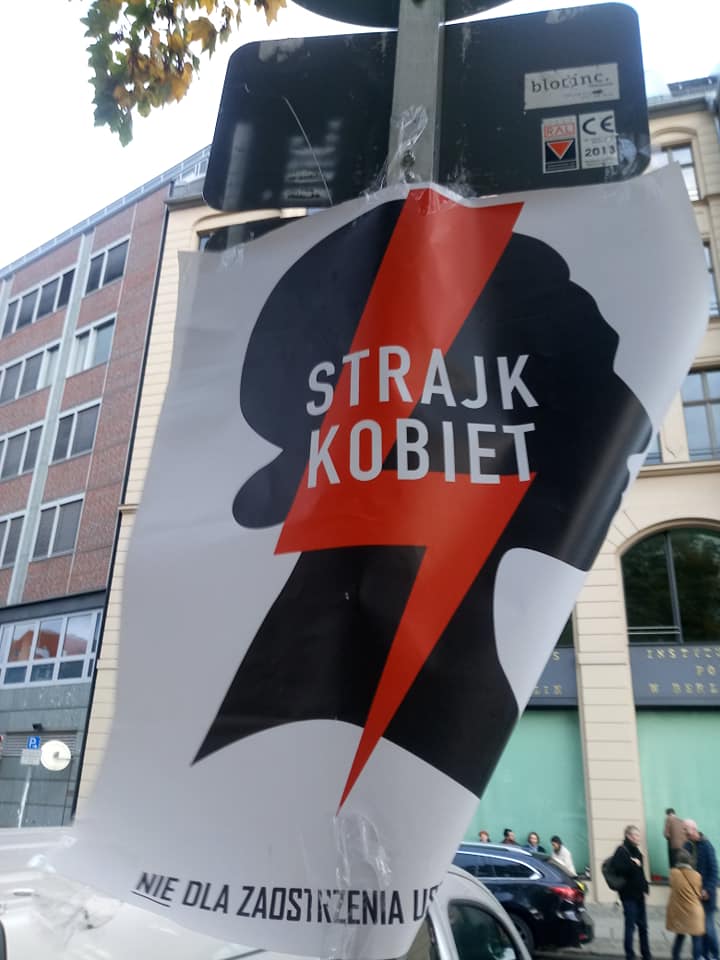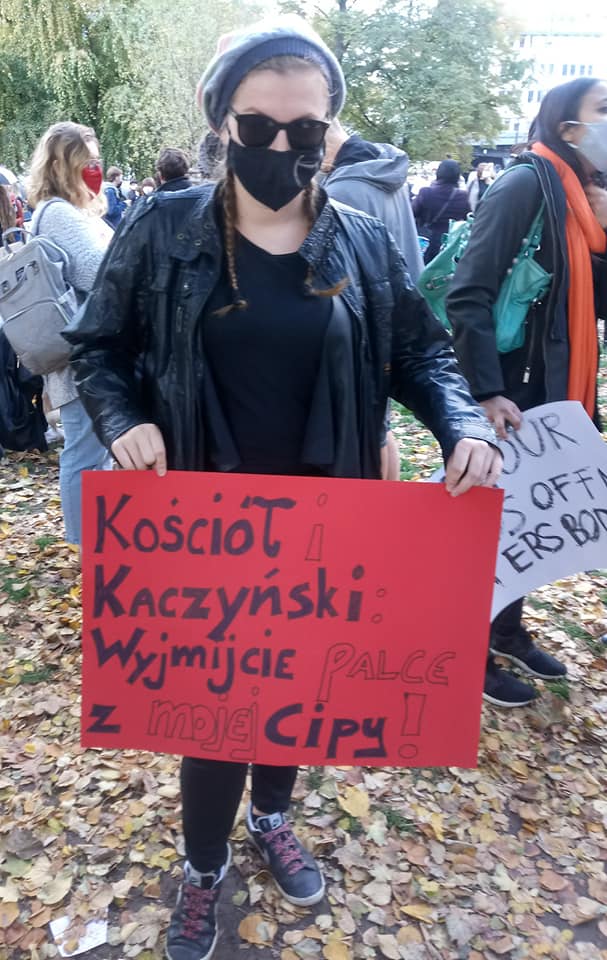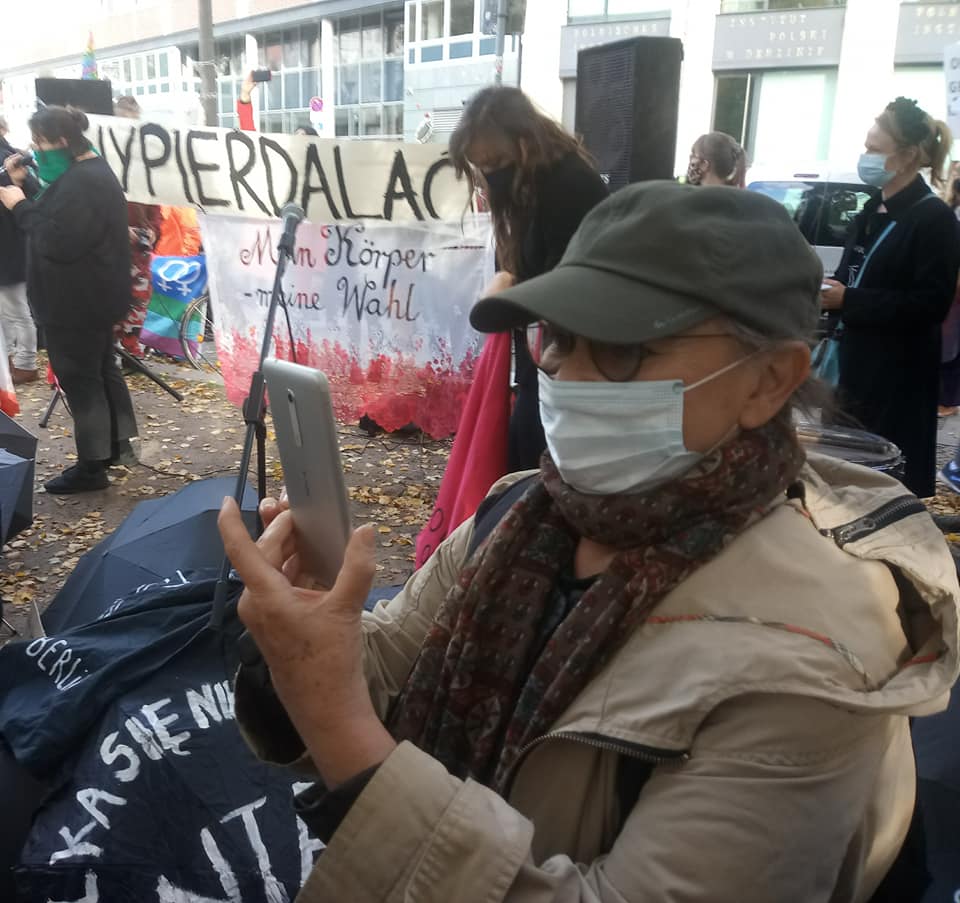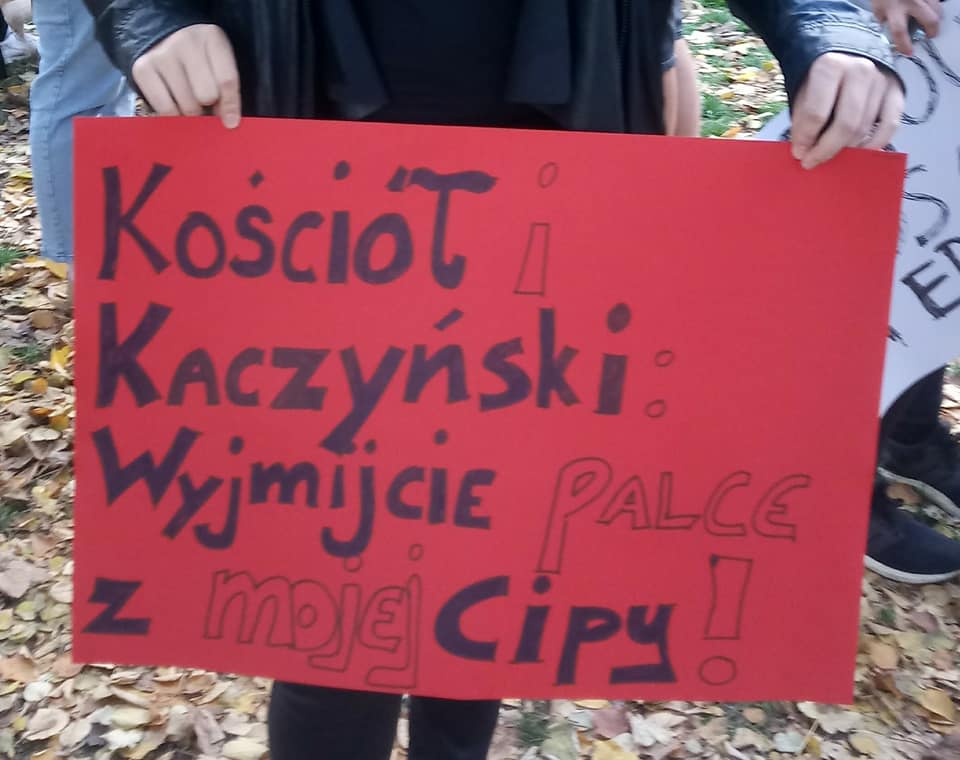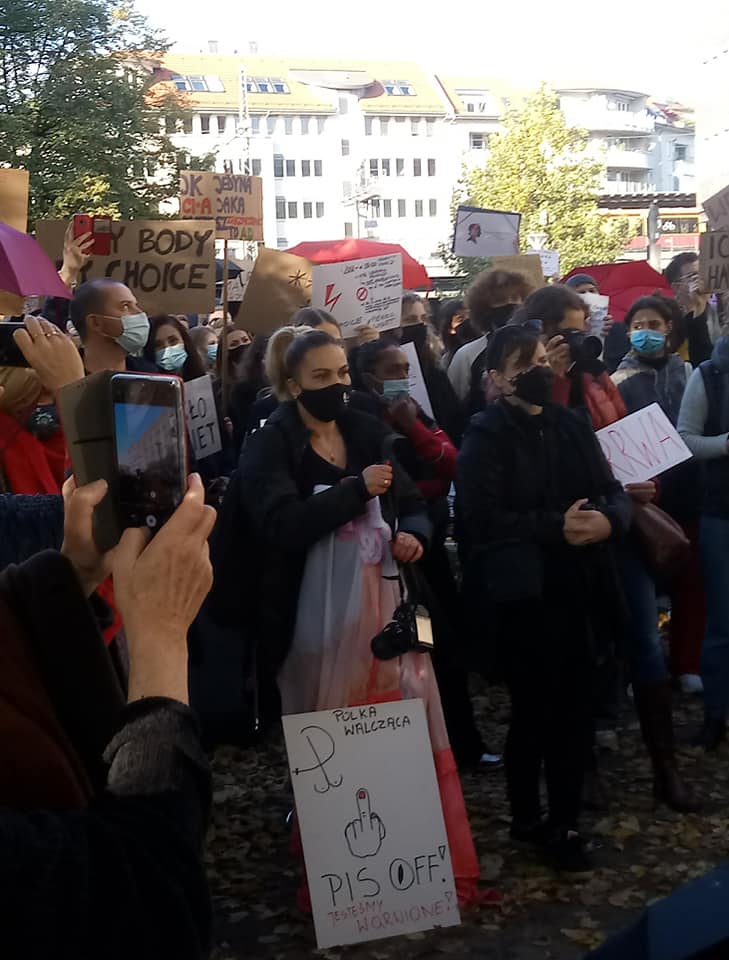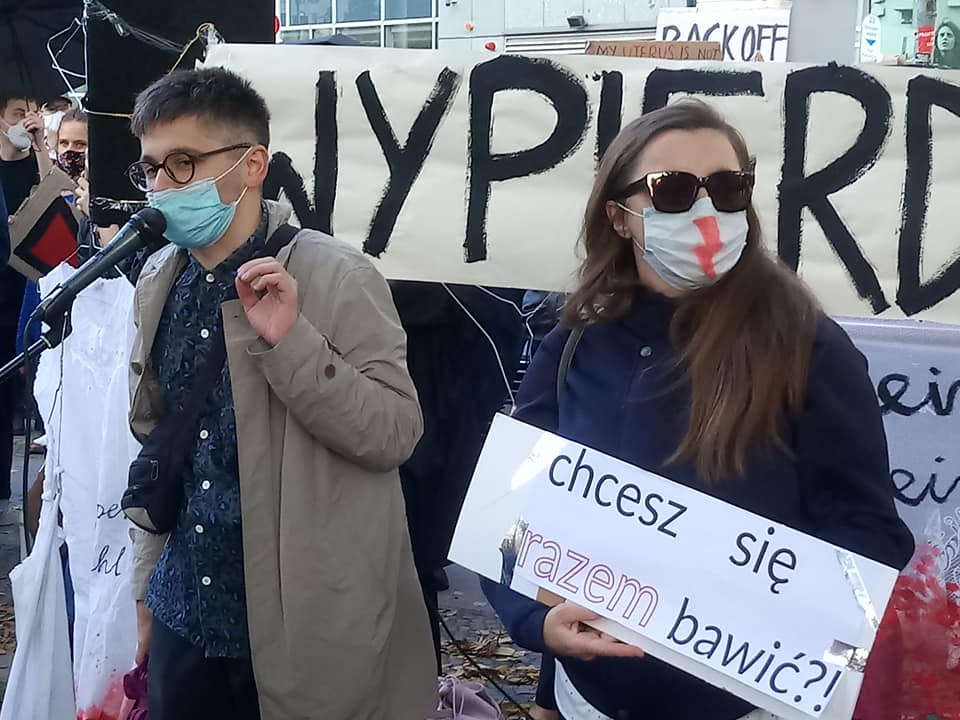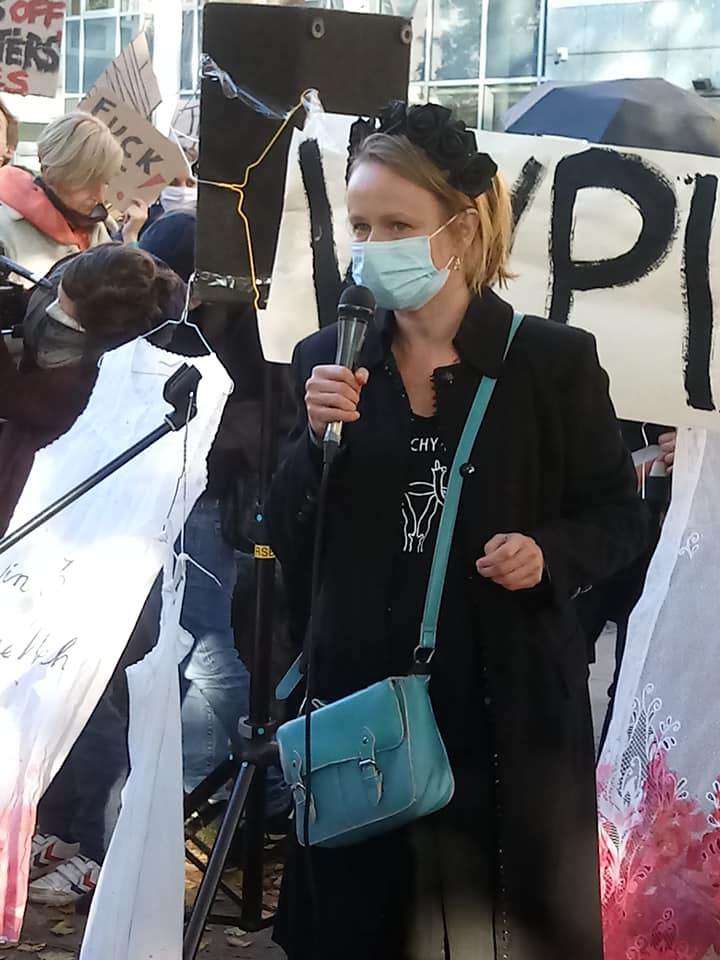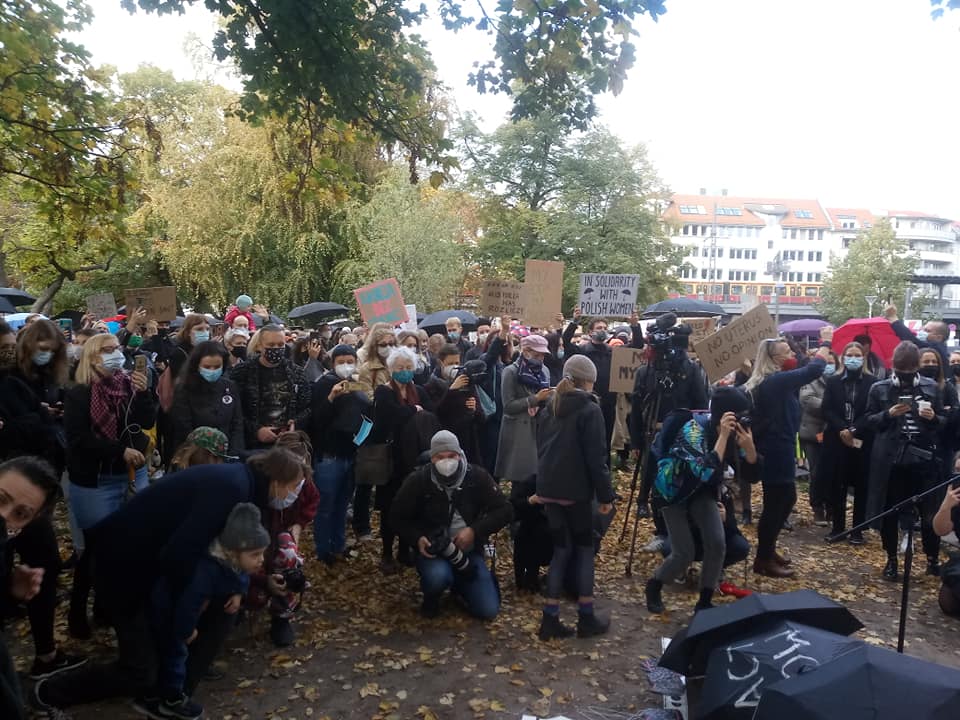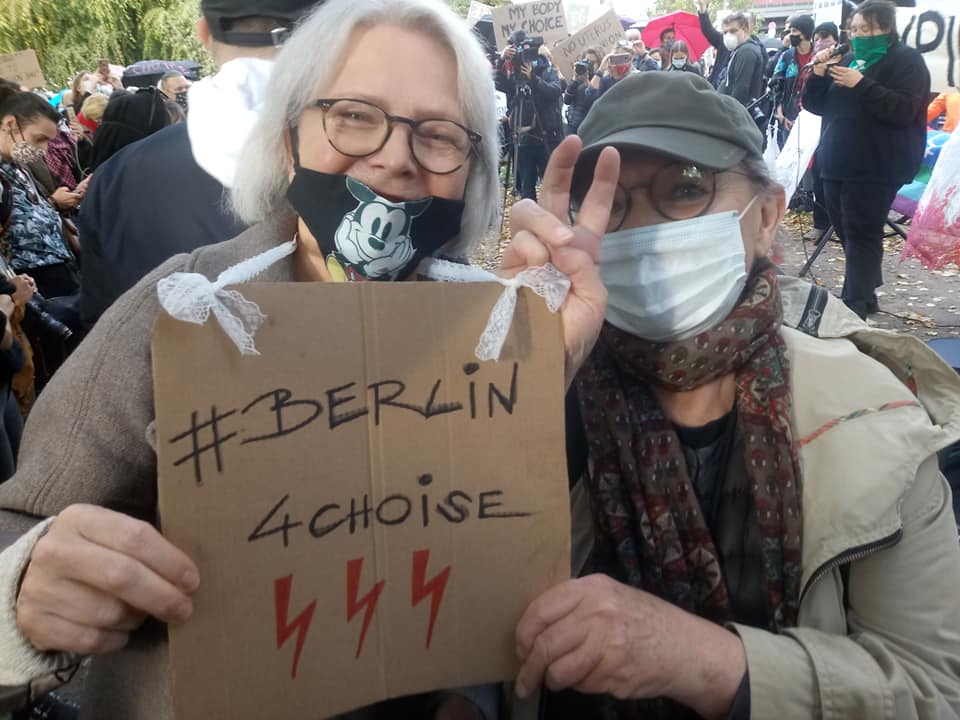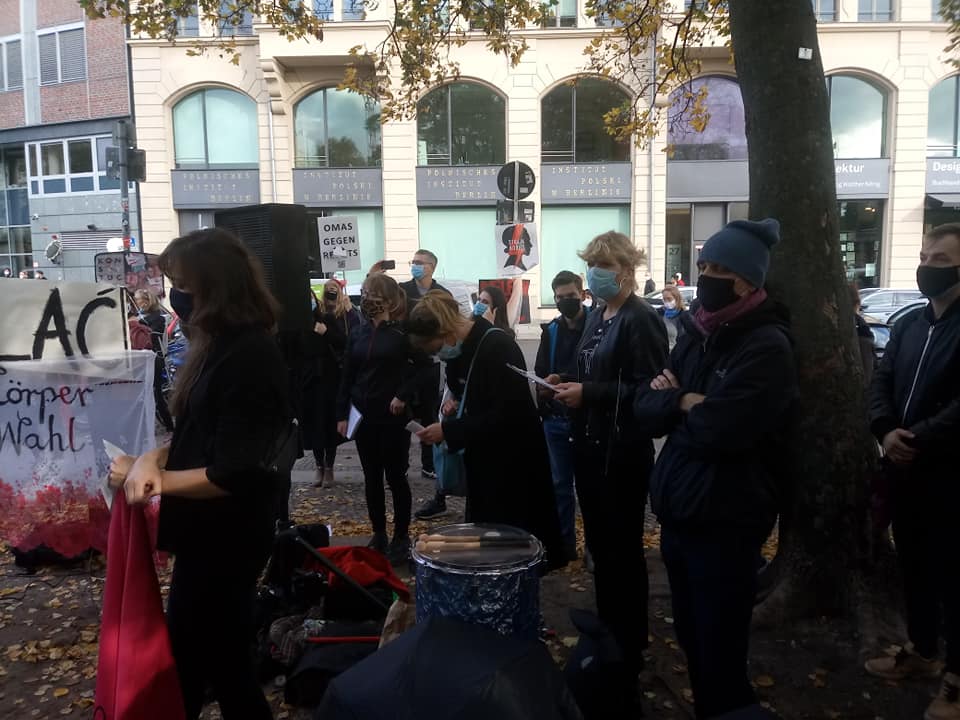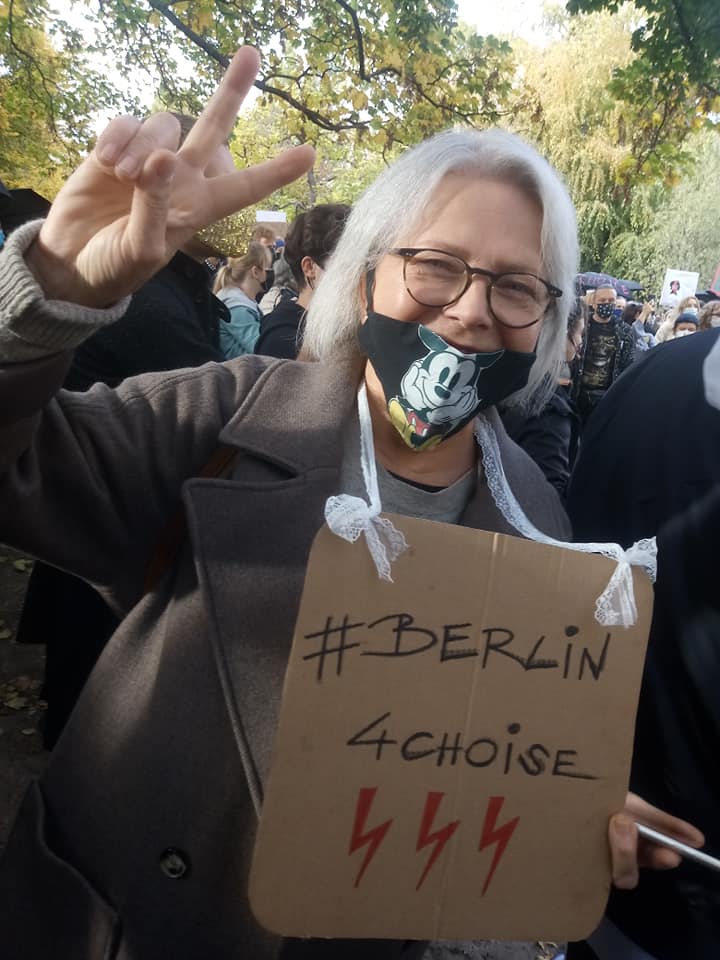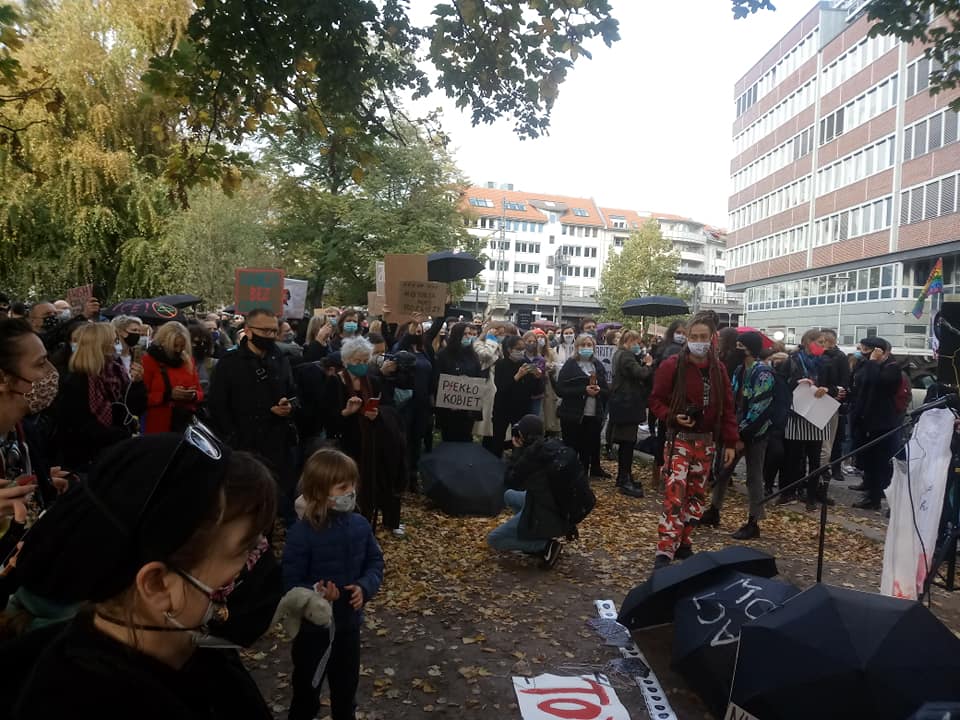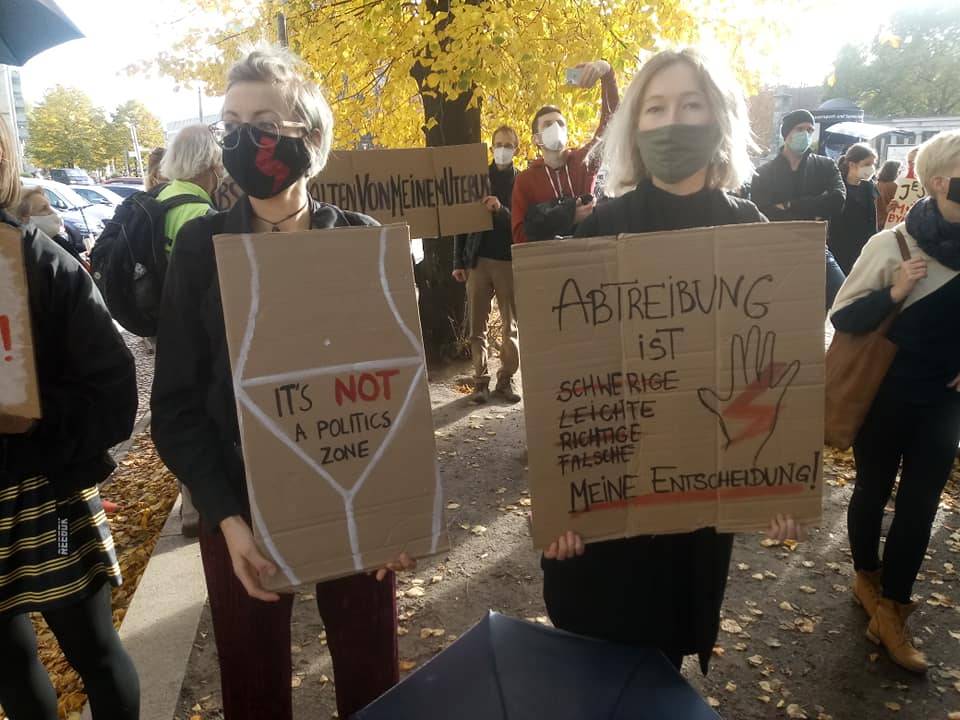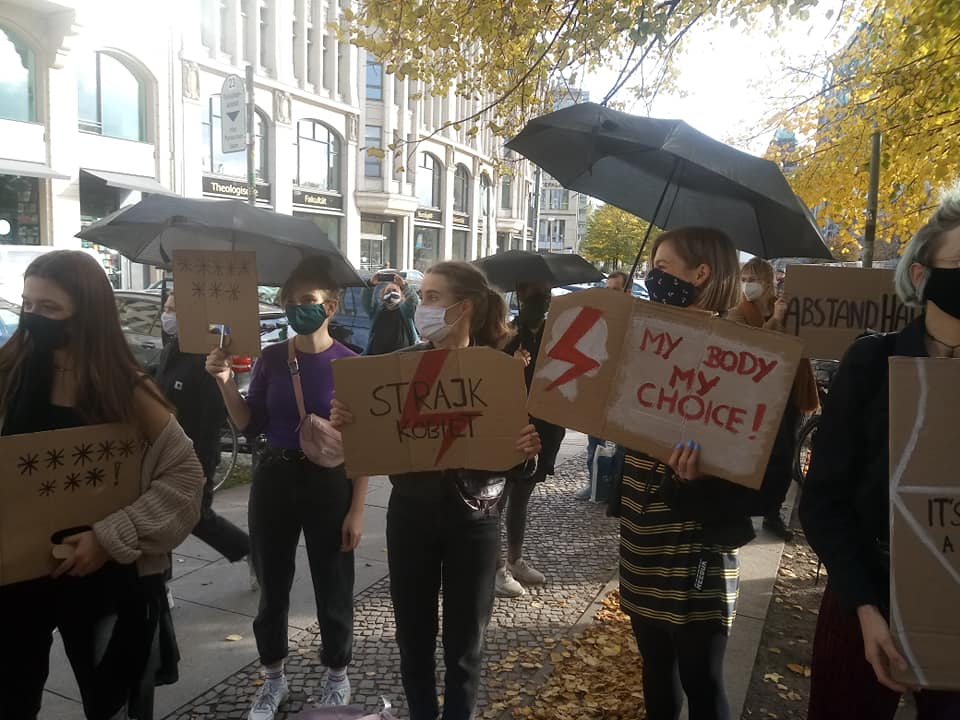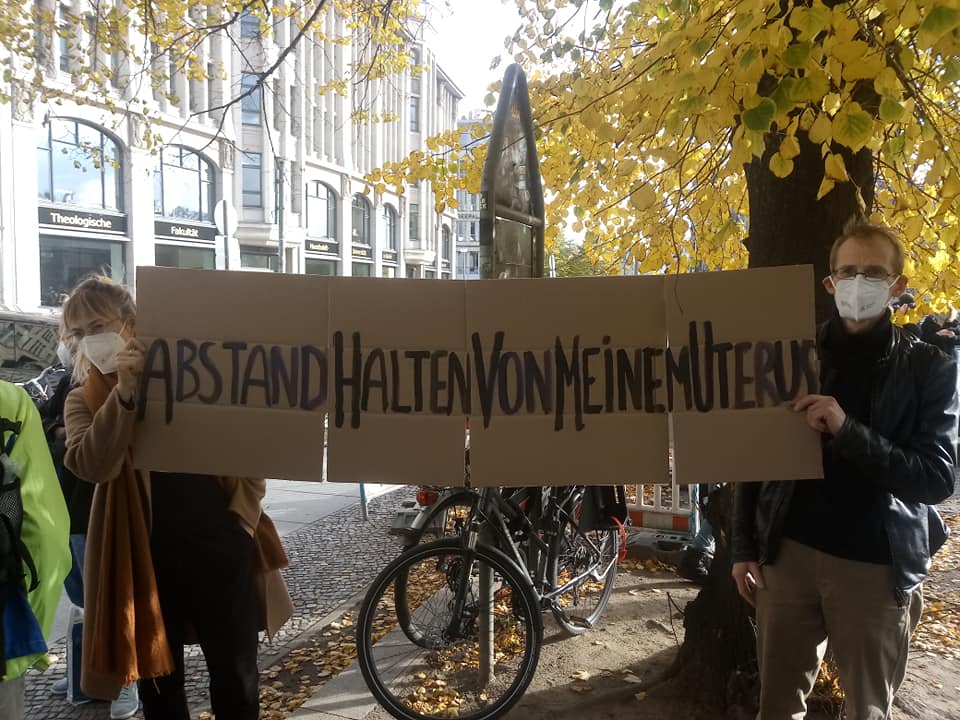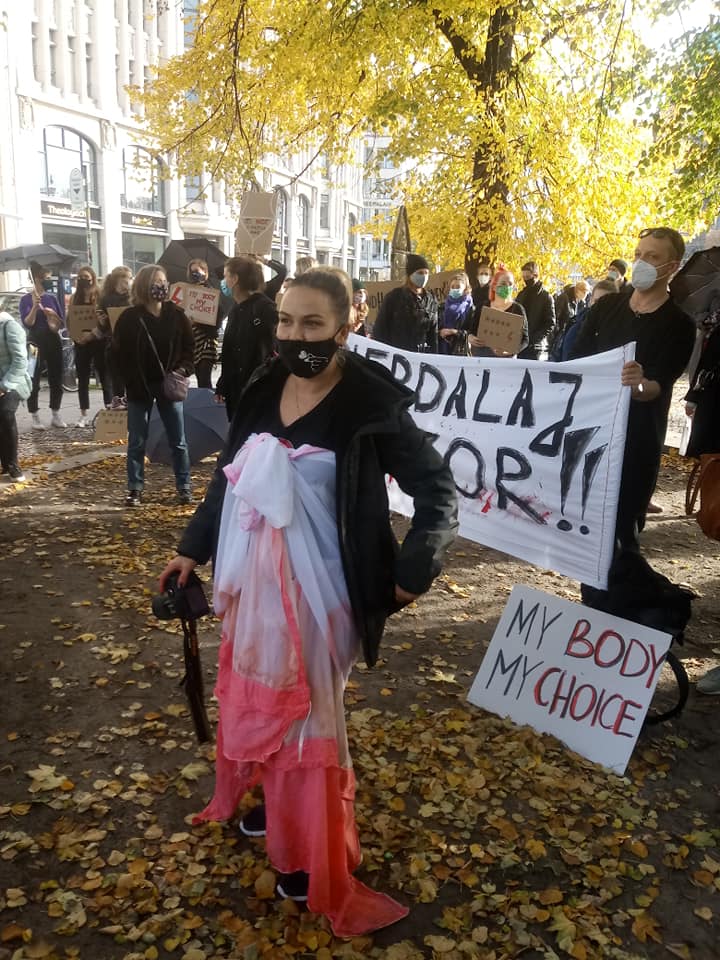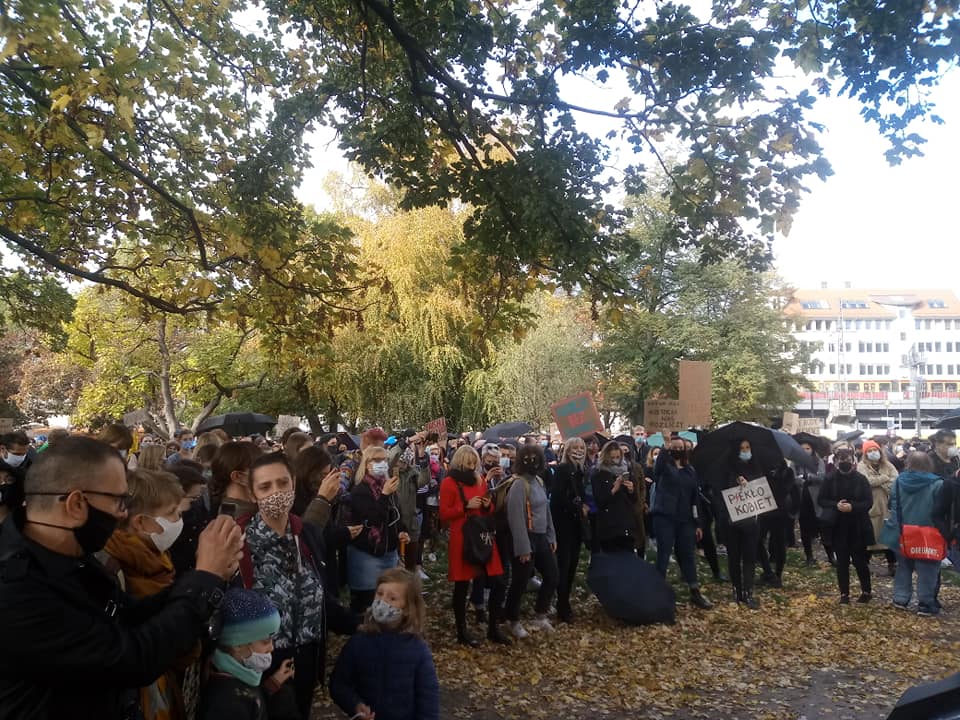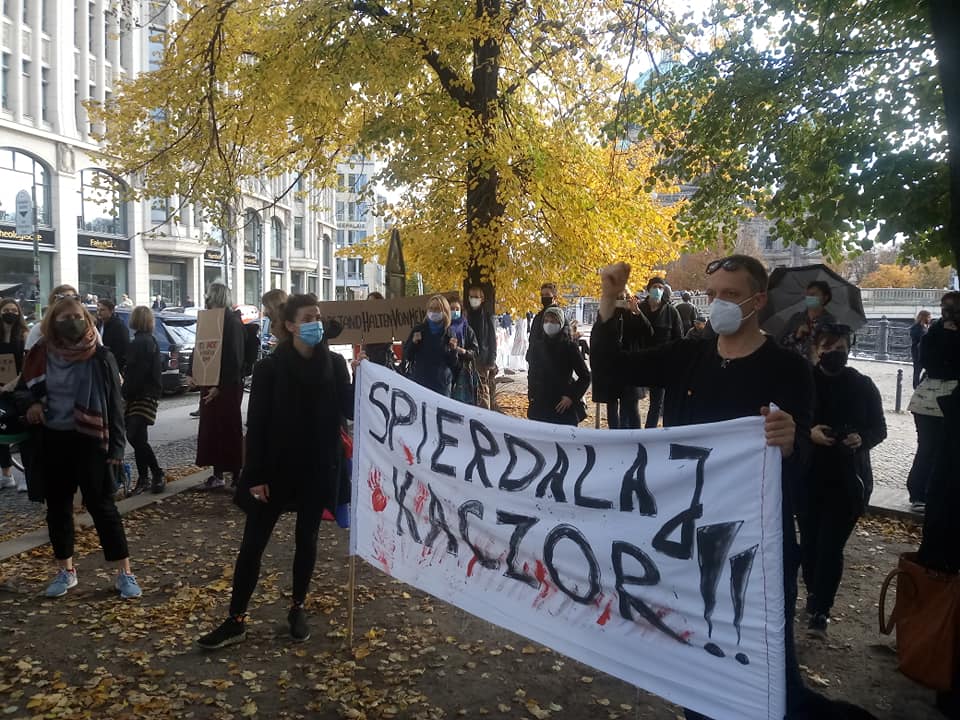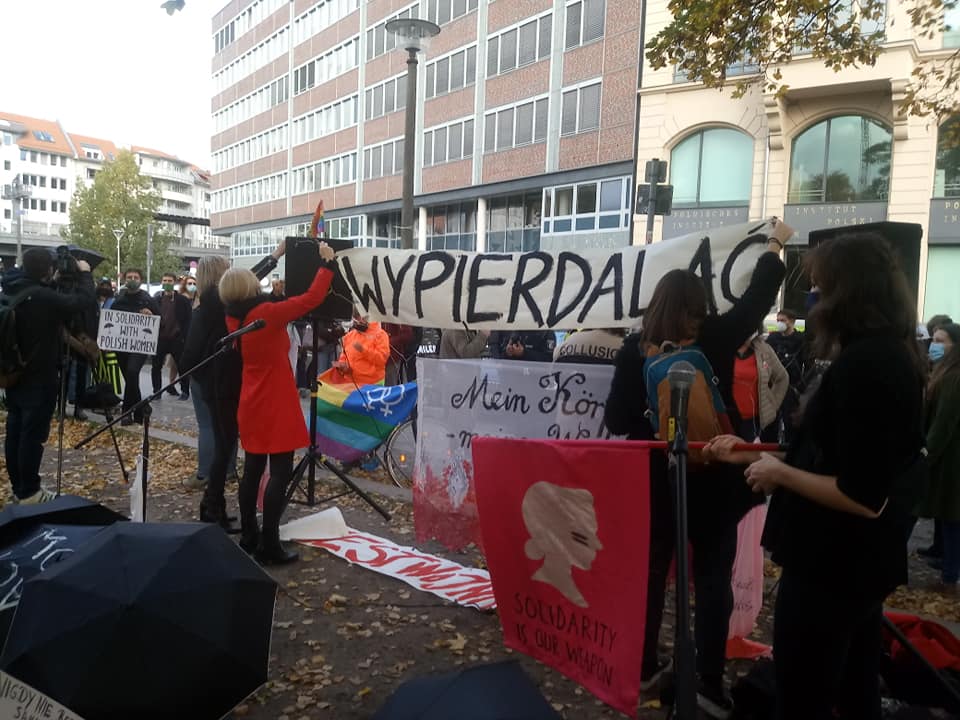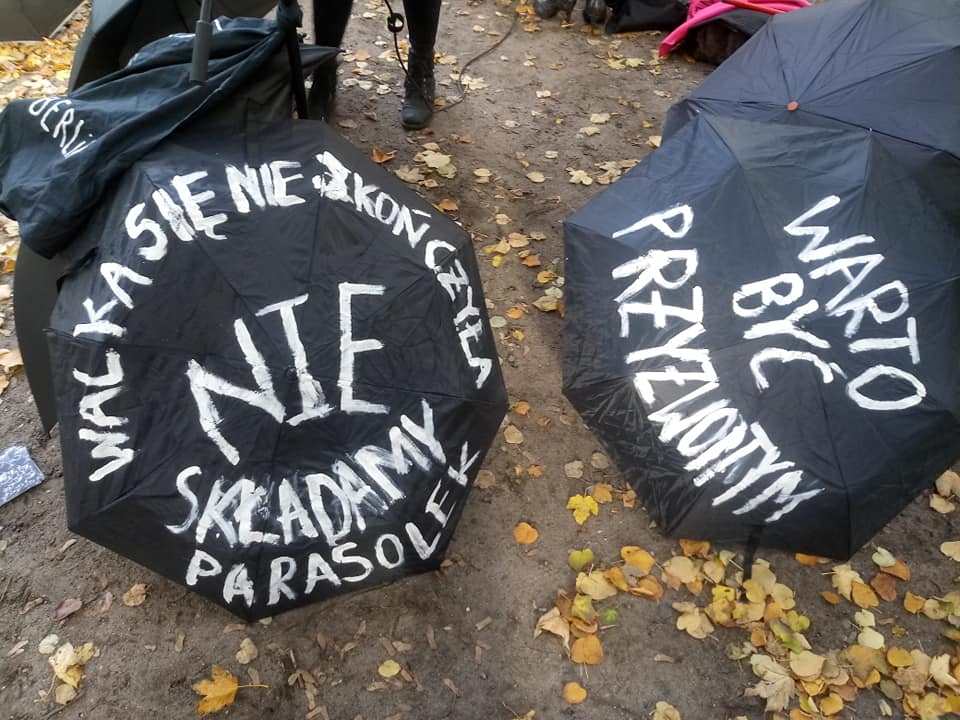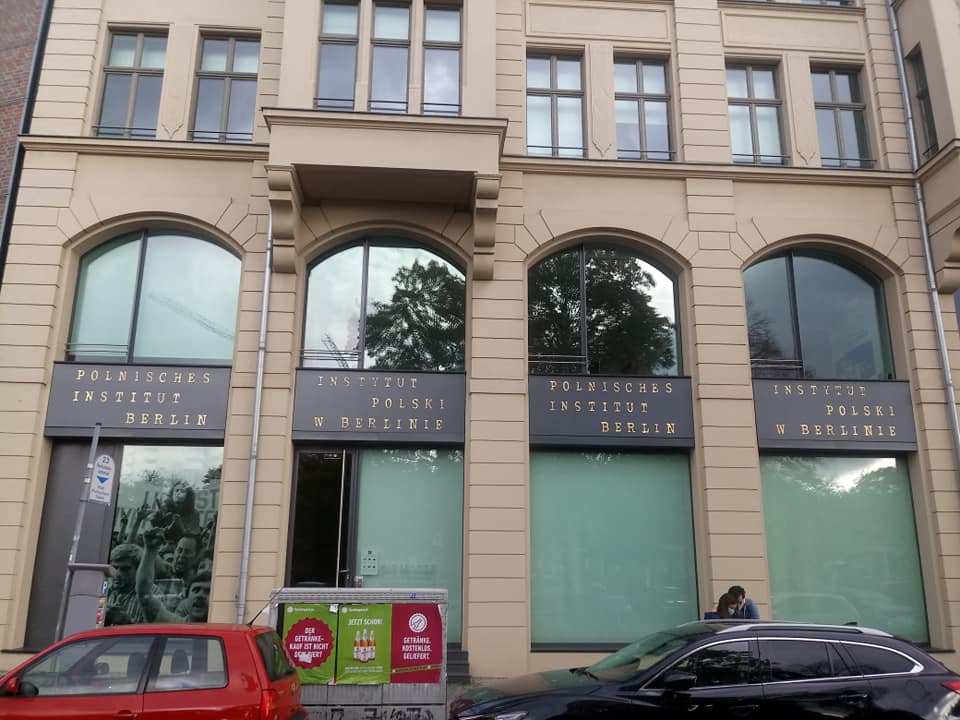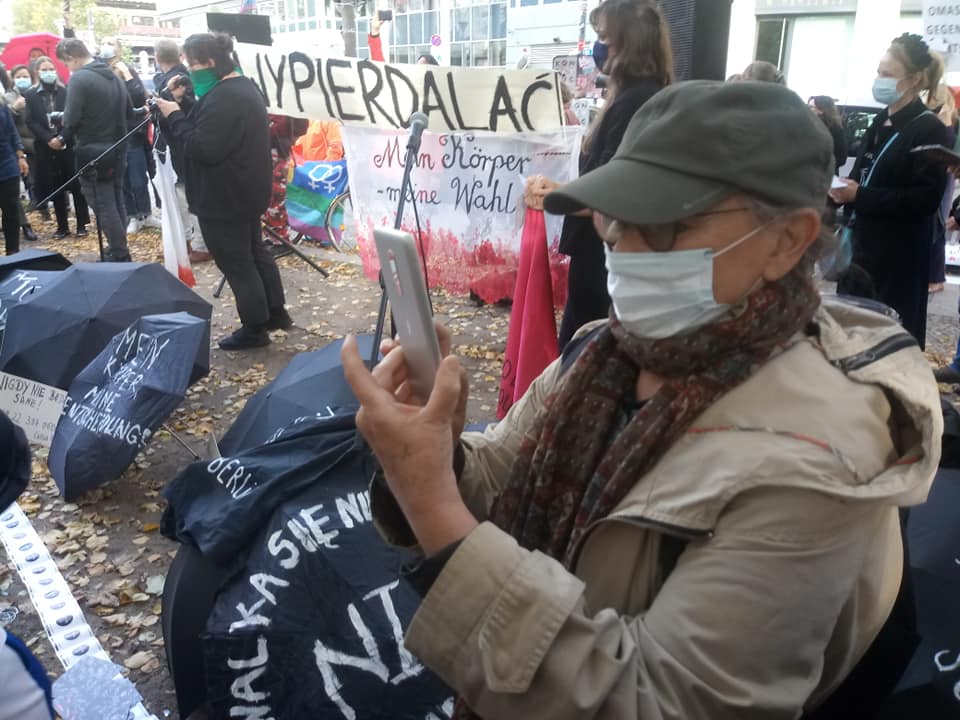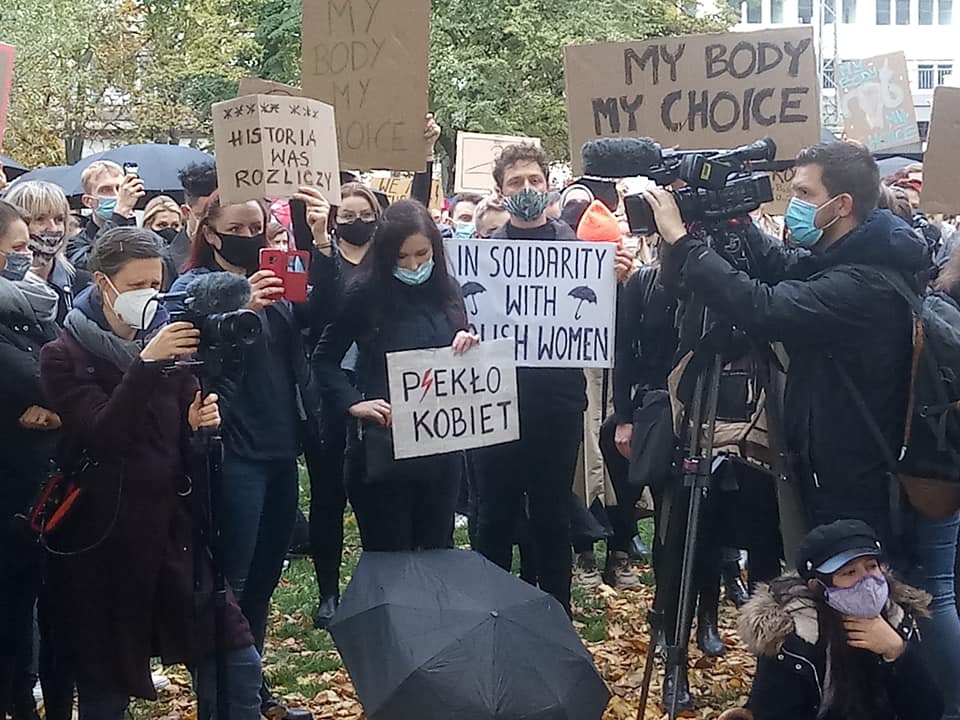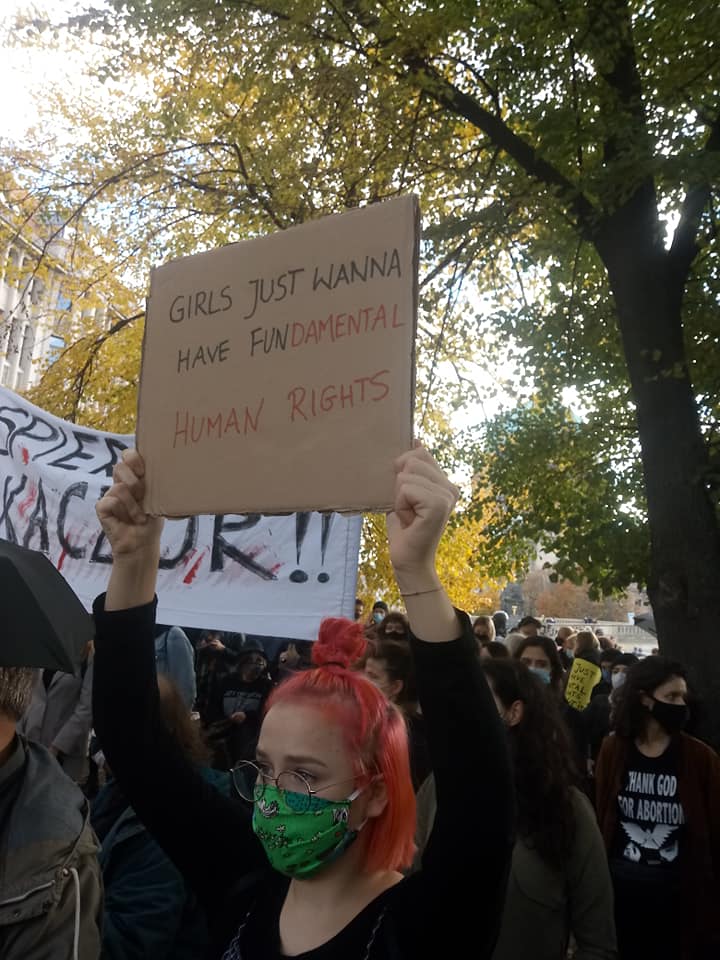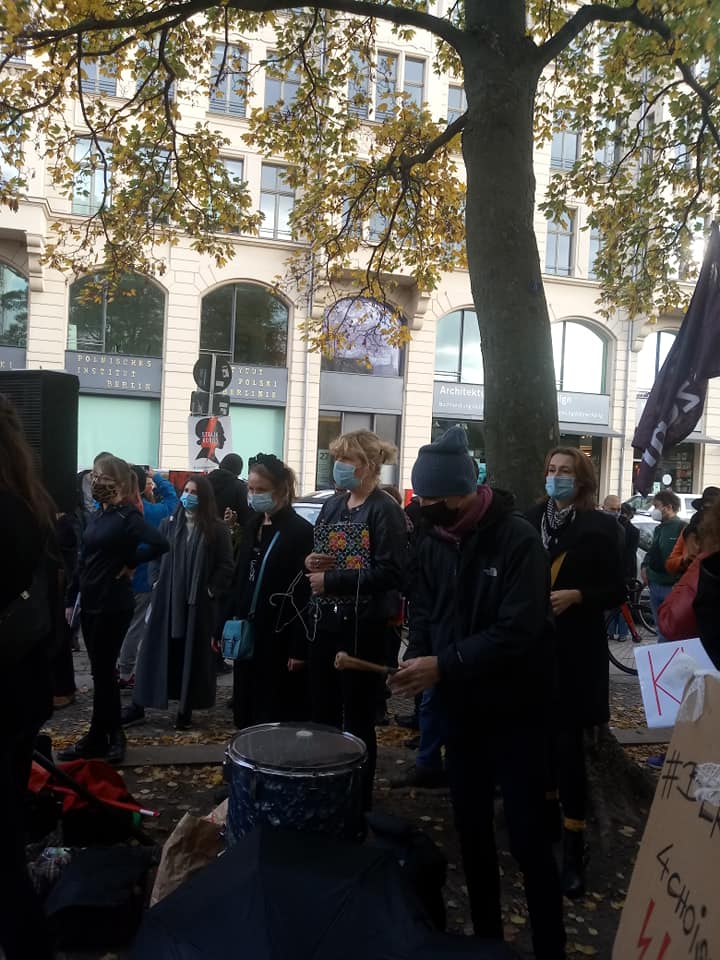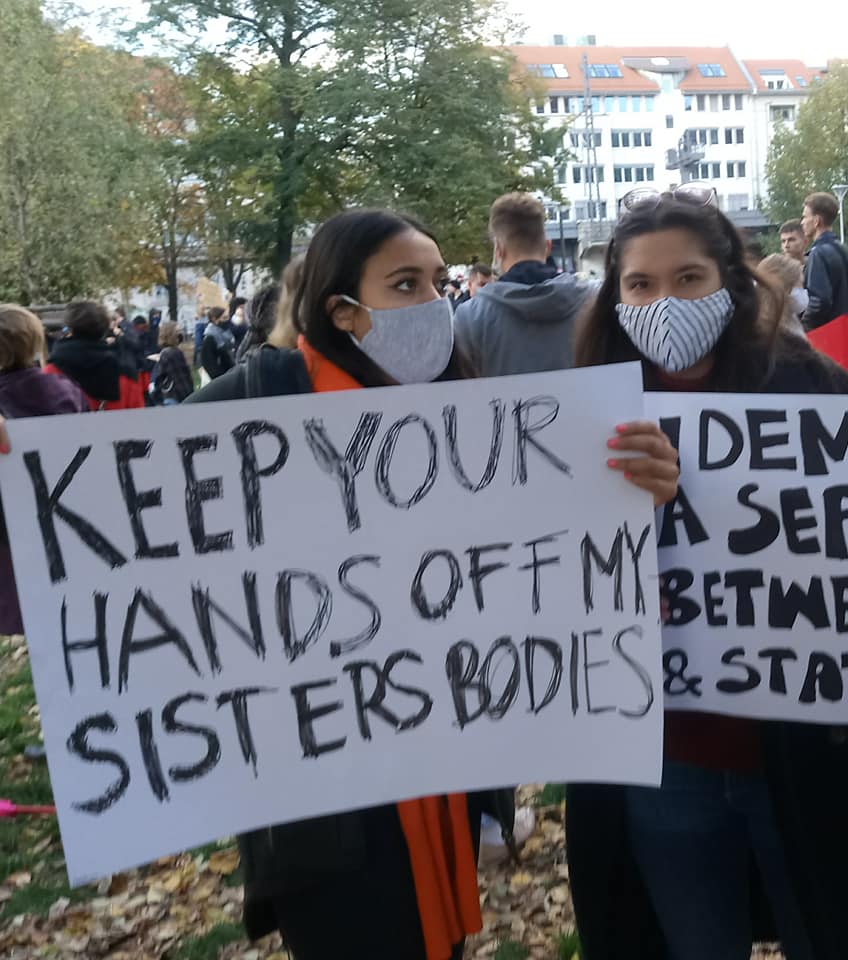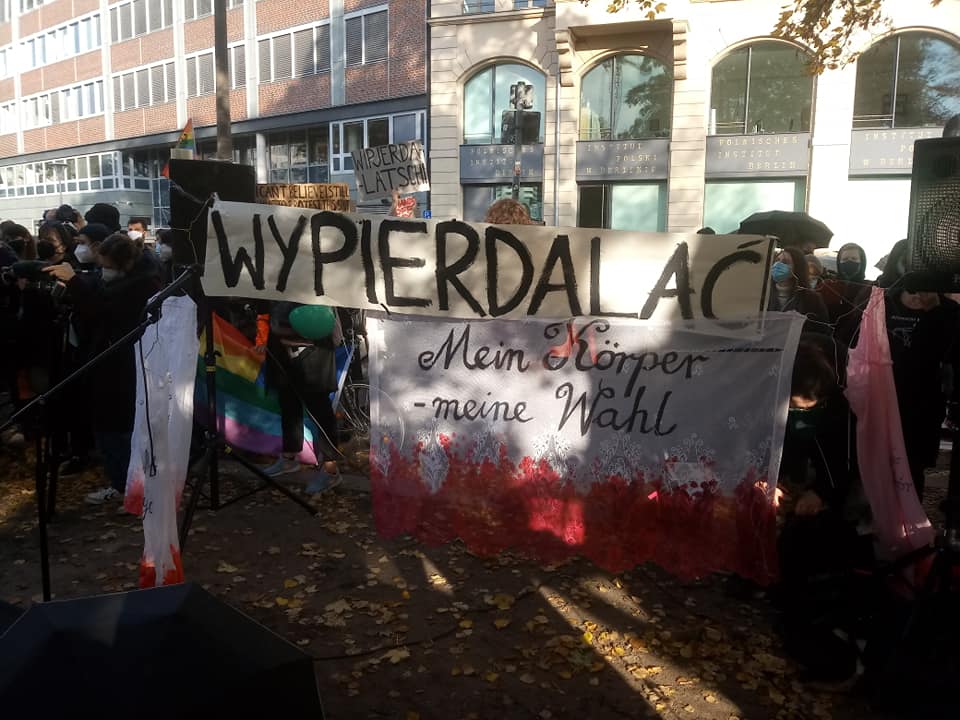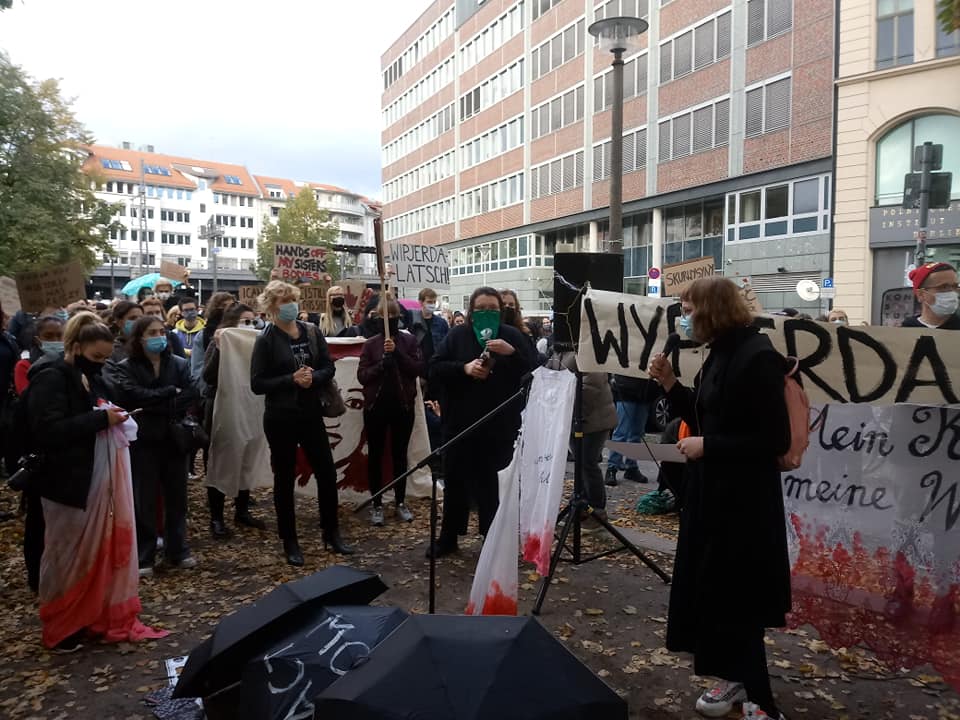 Foto – Katarzyna Mazur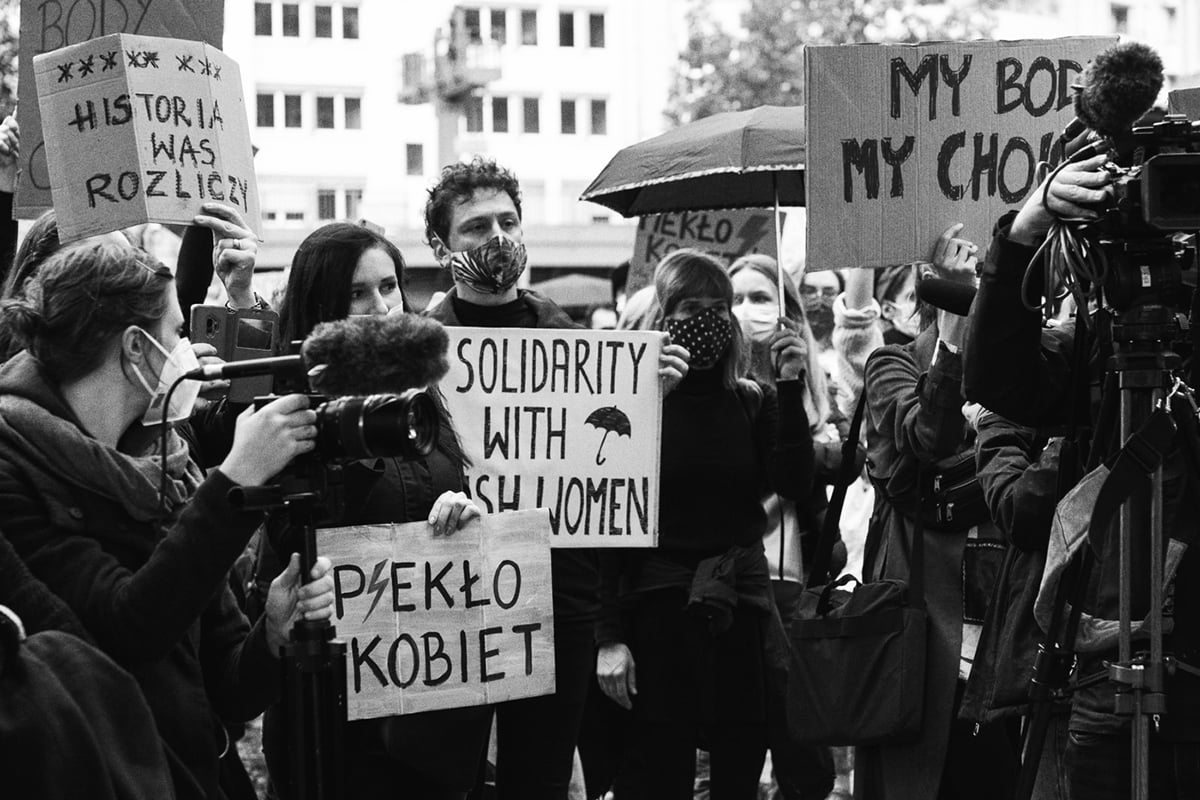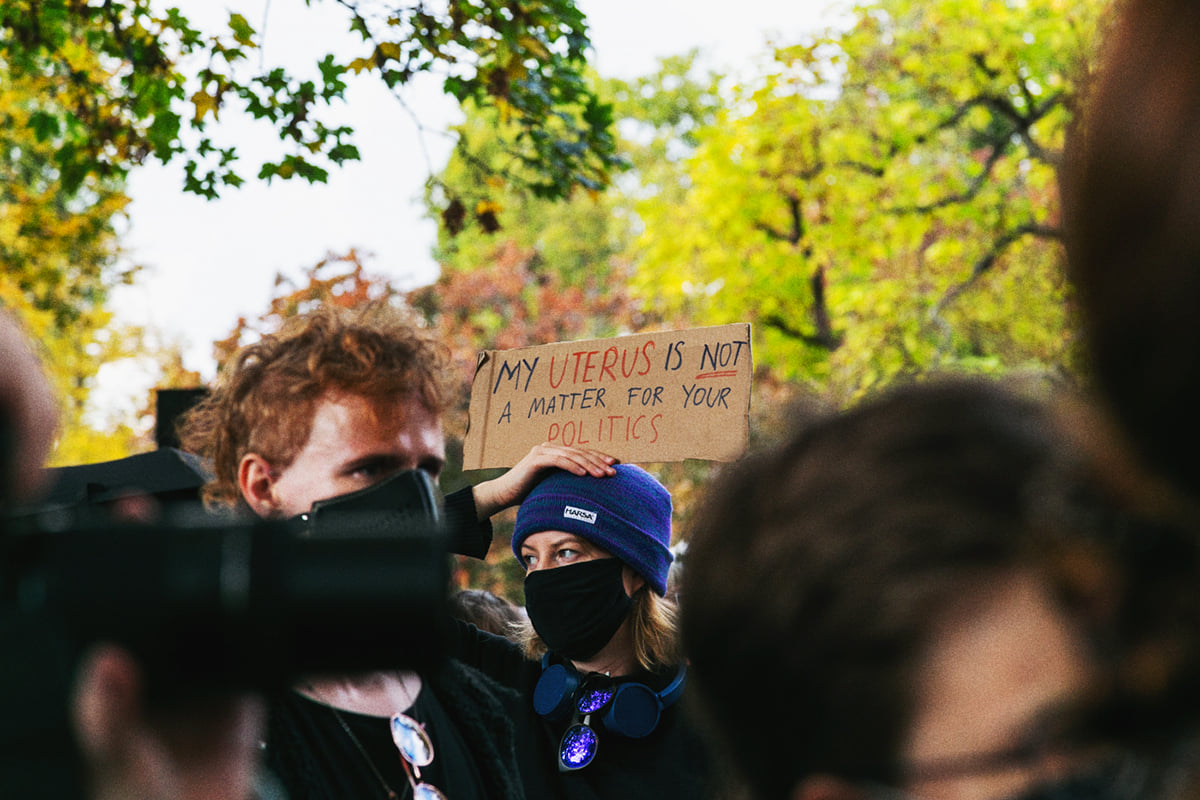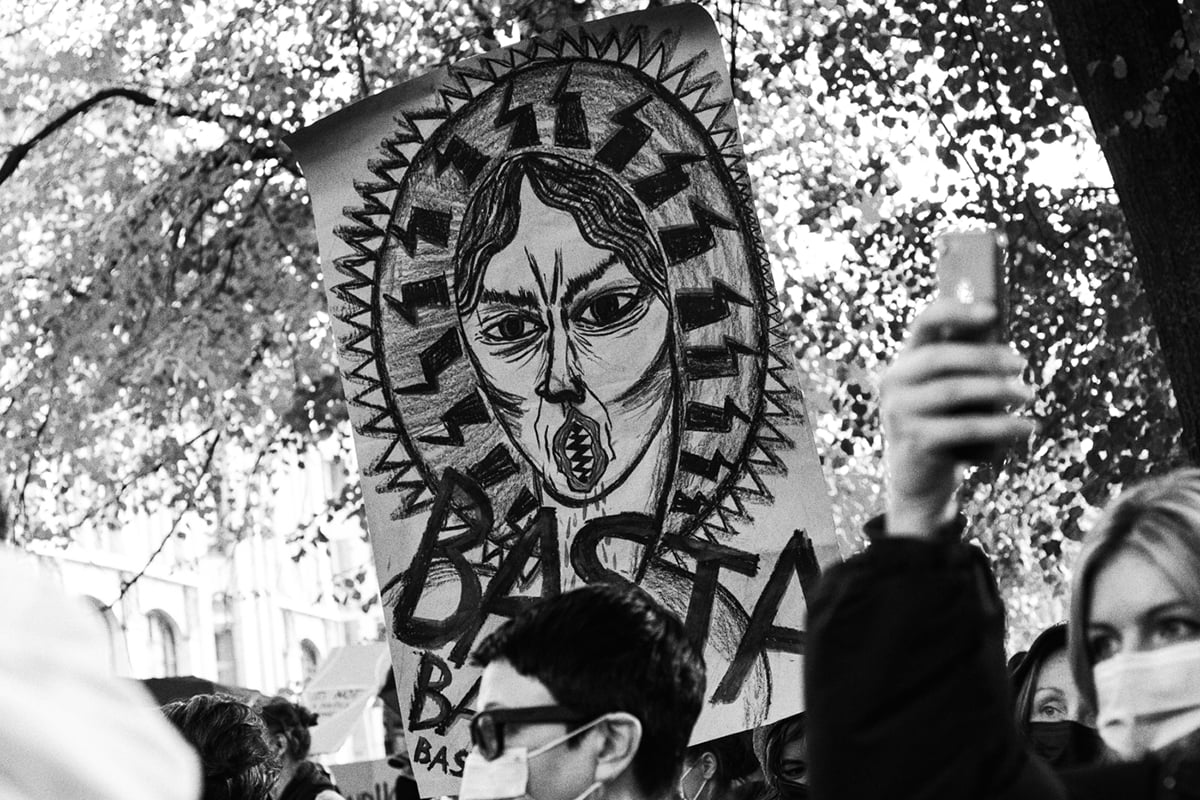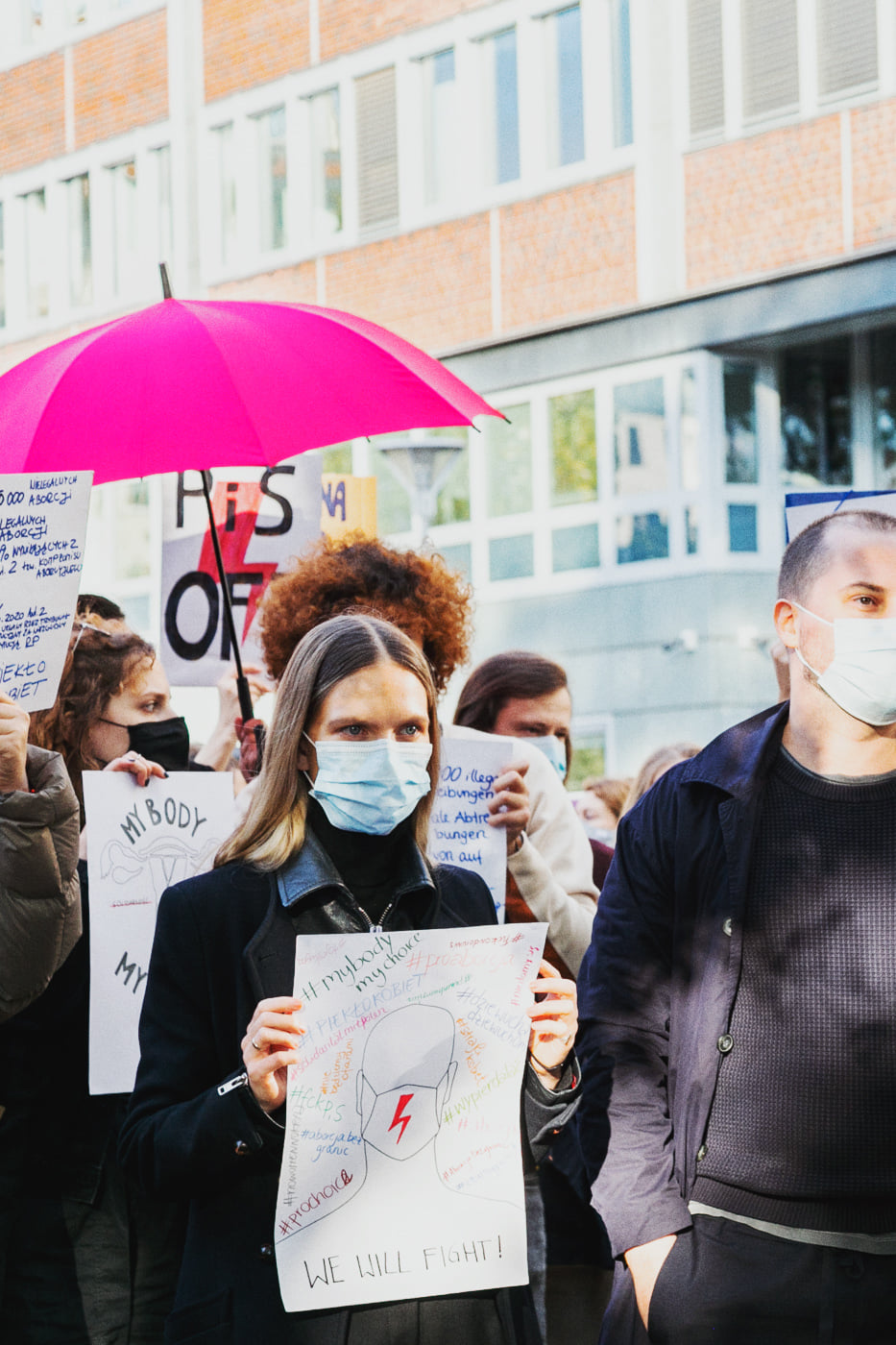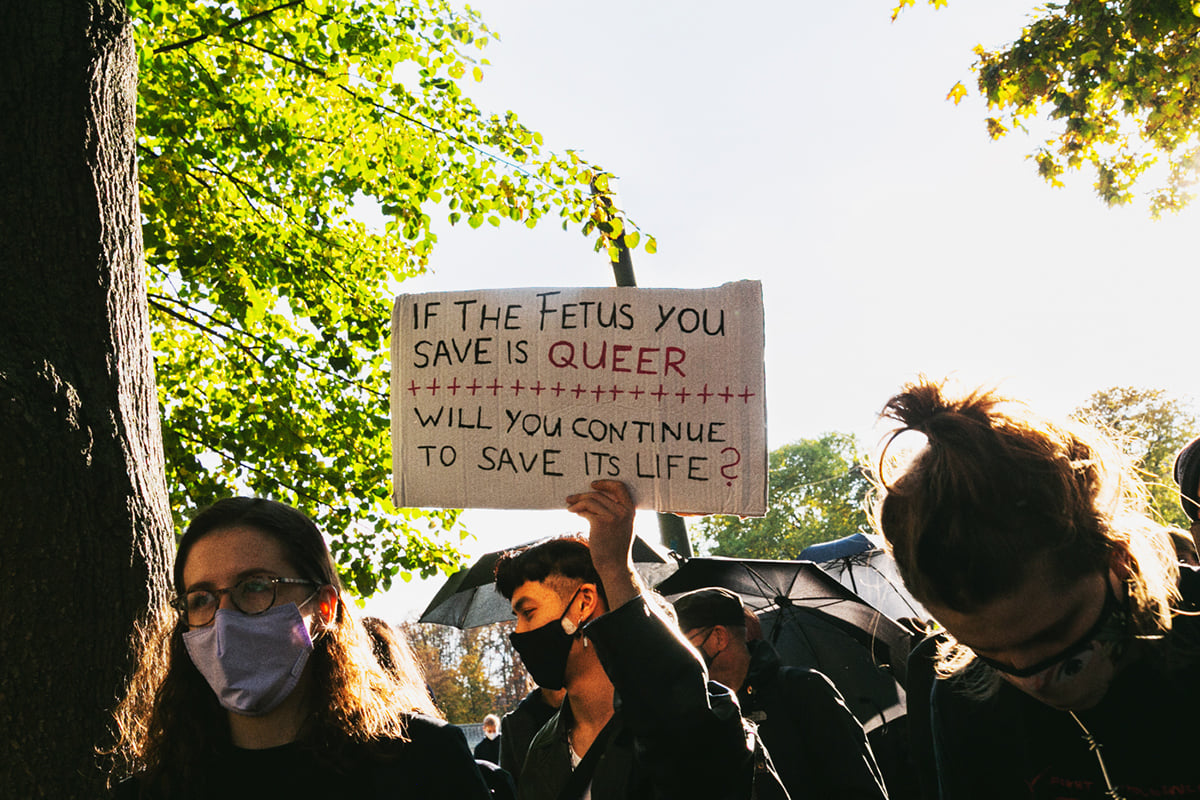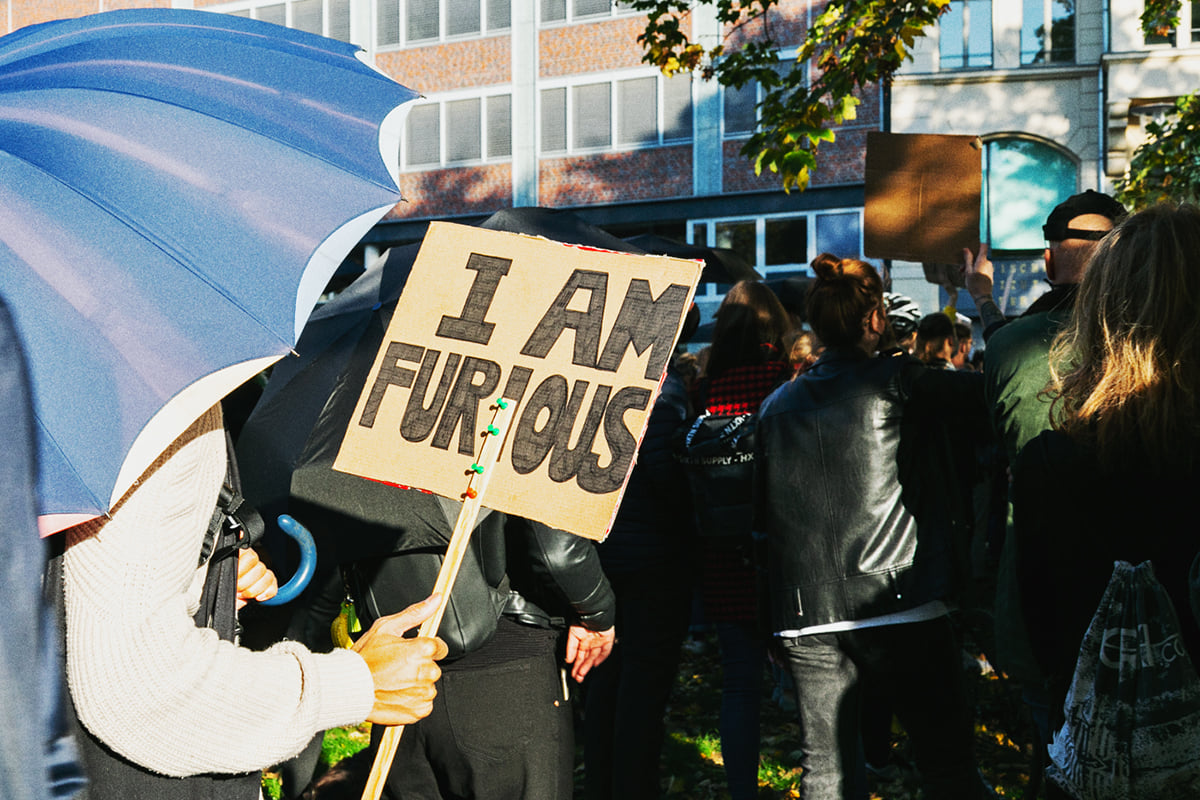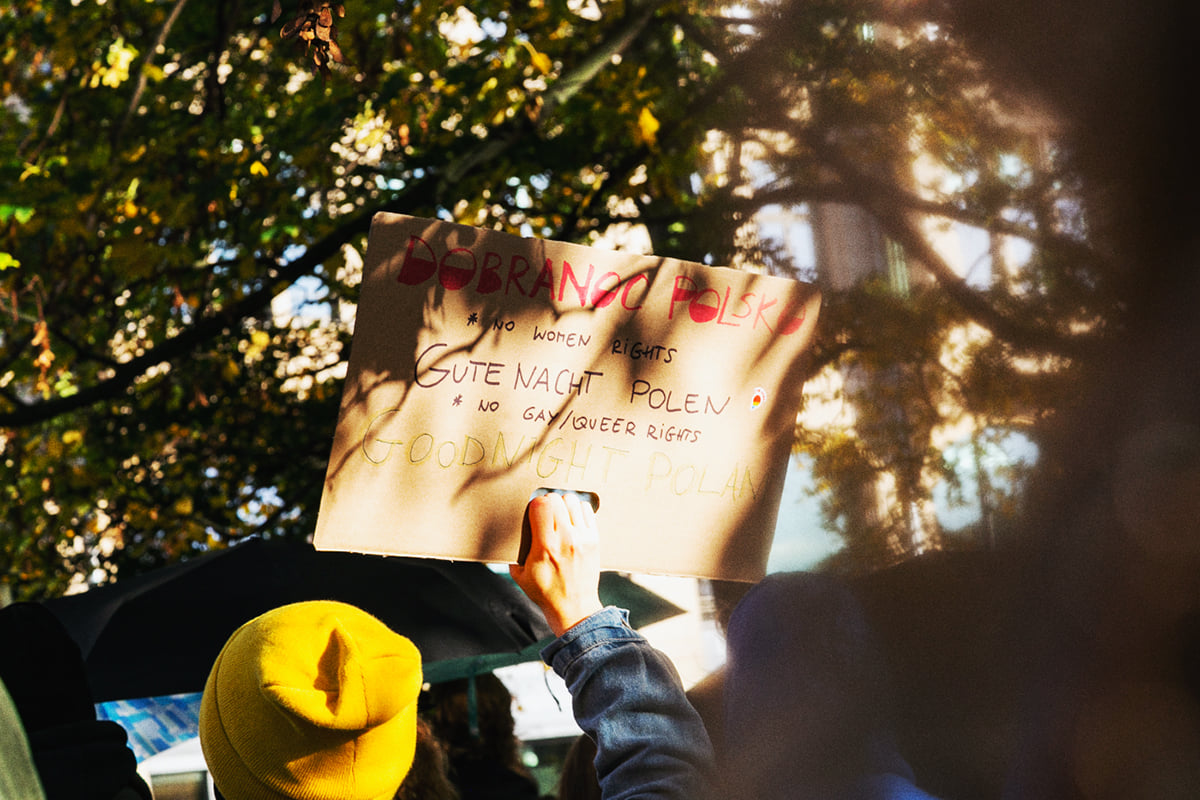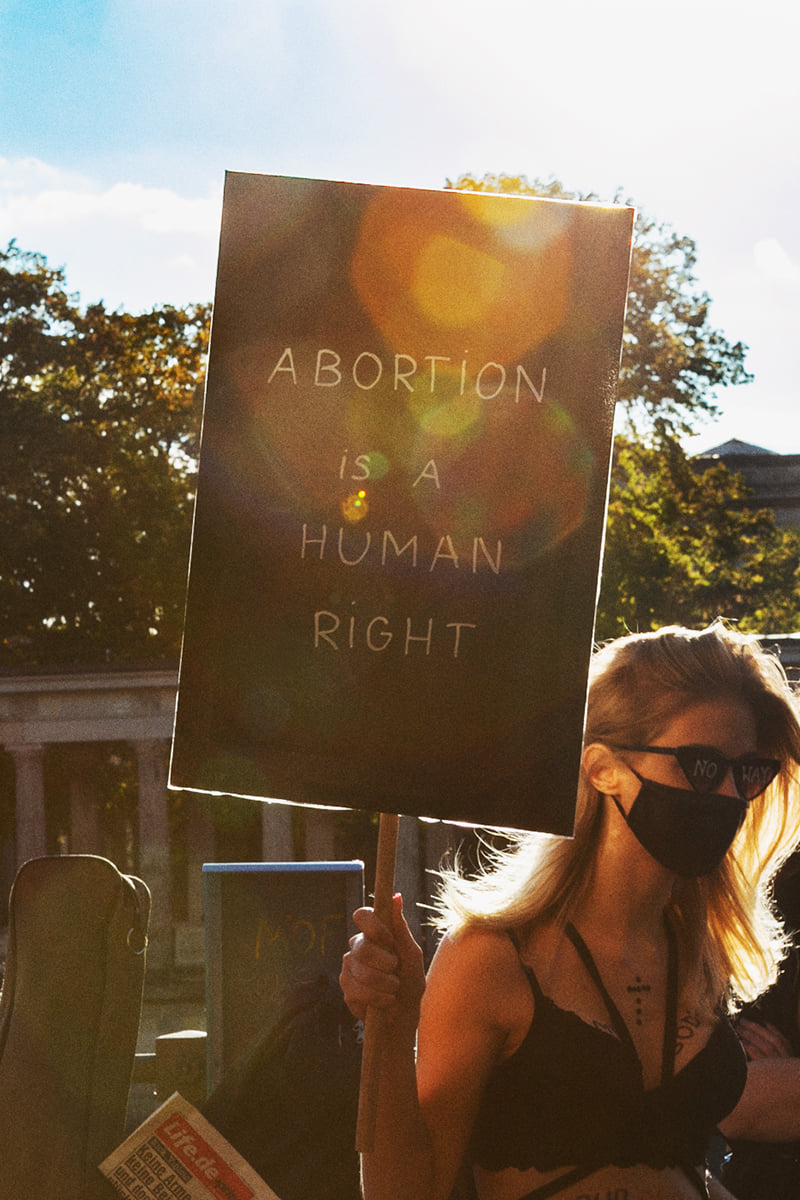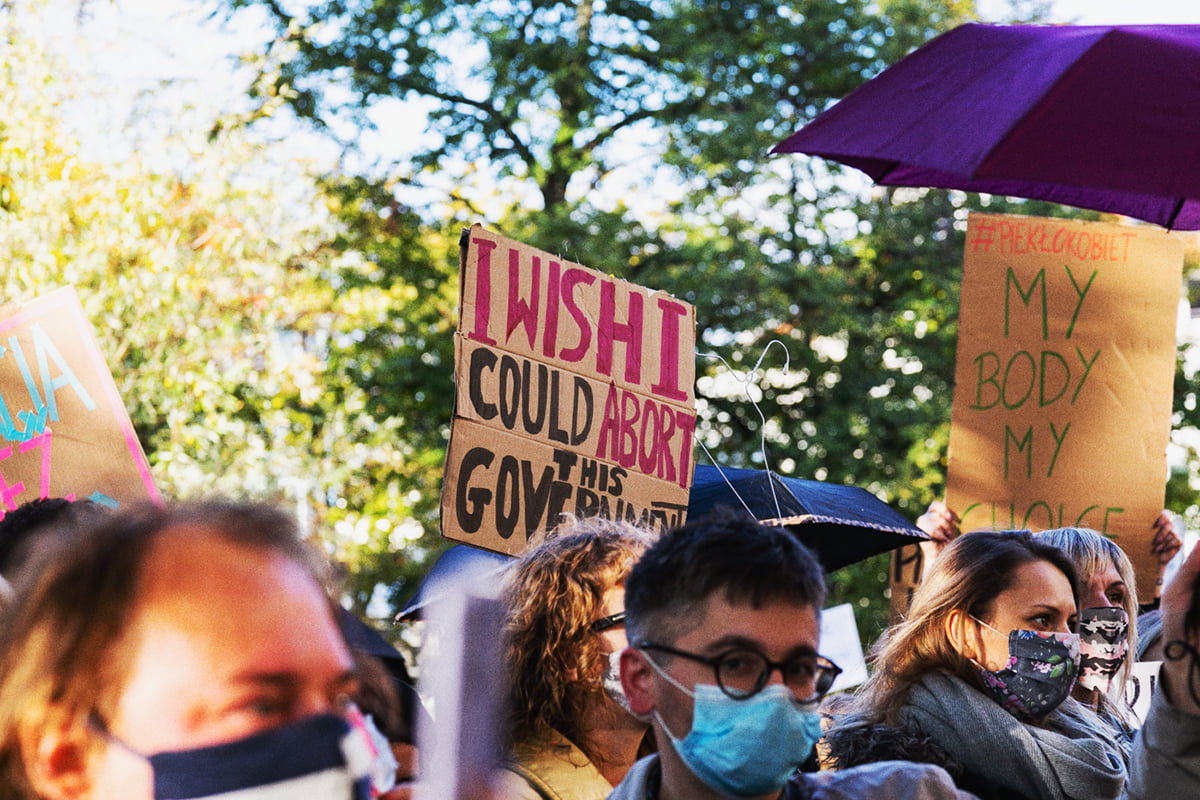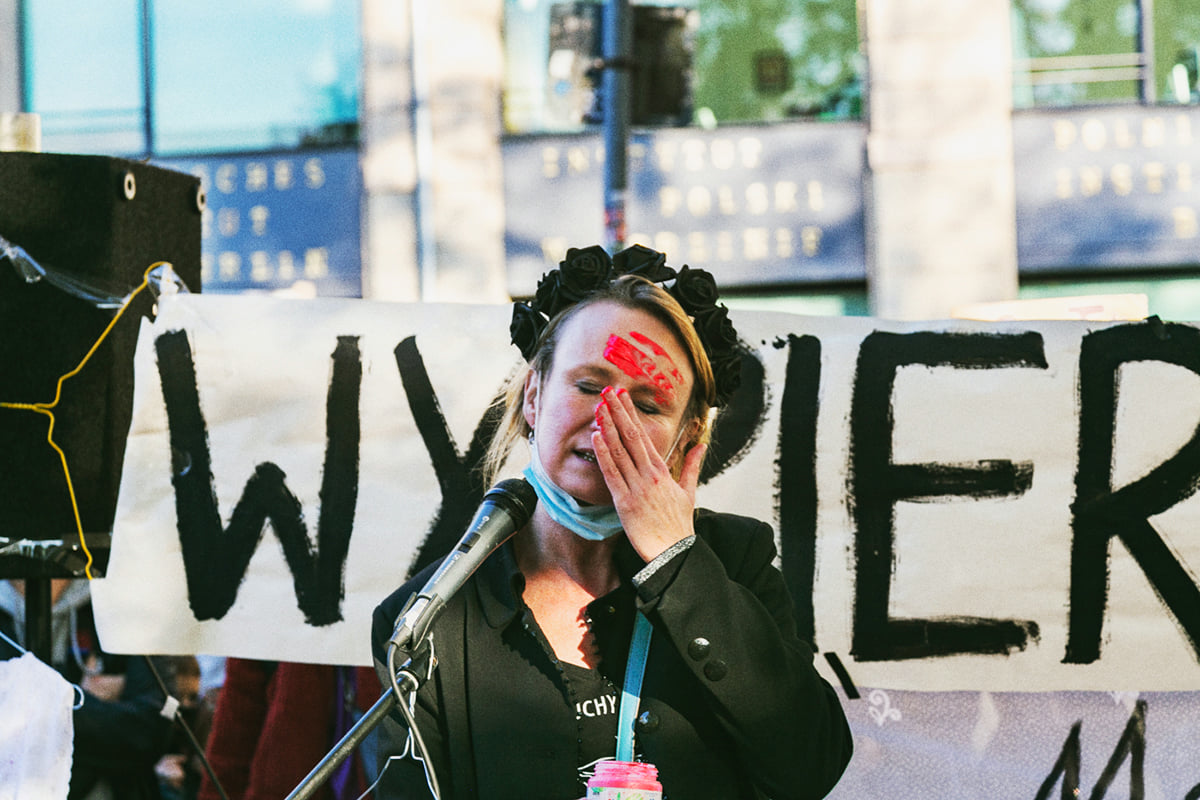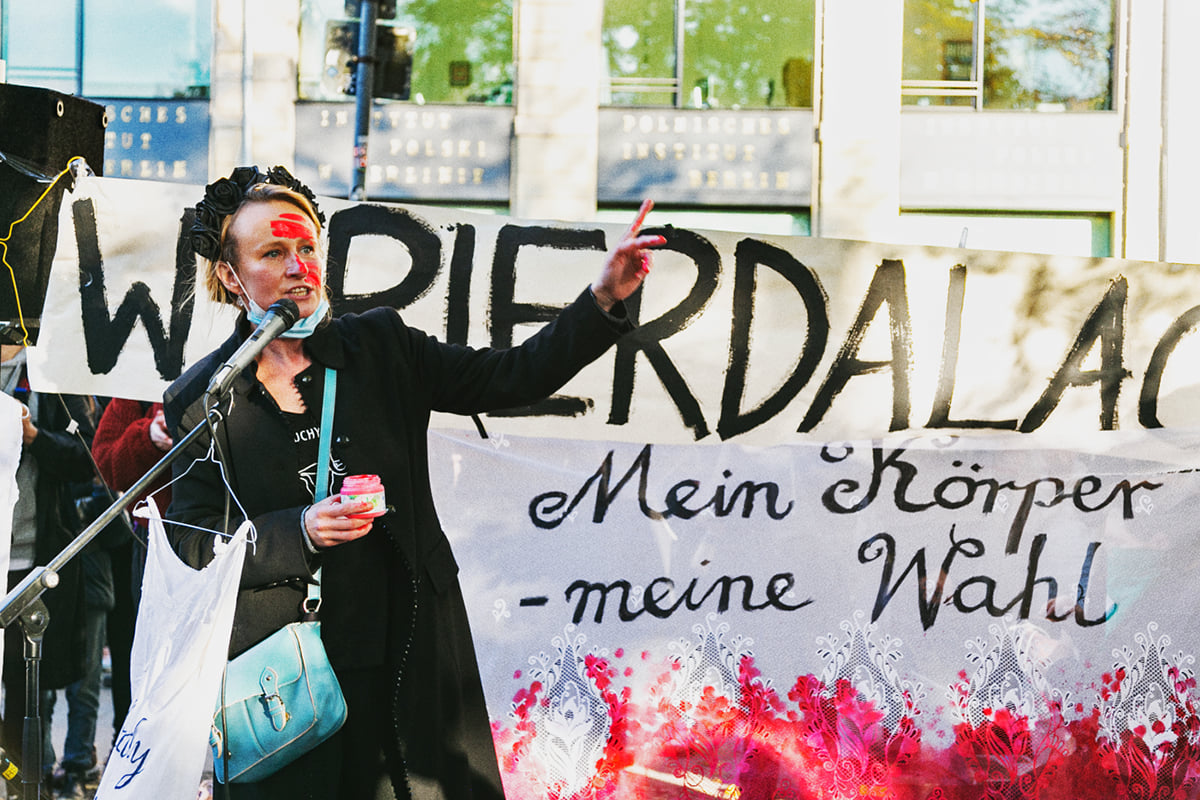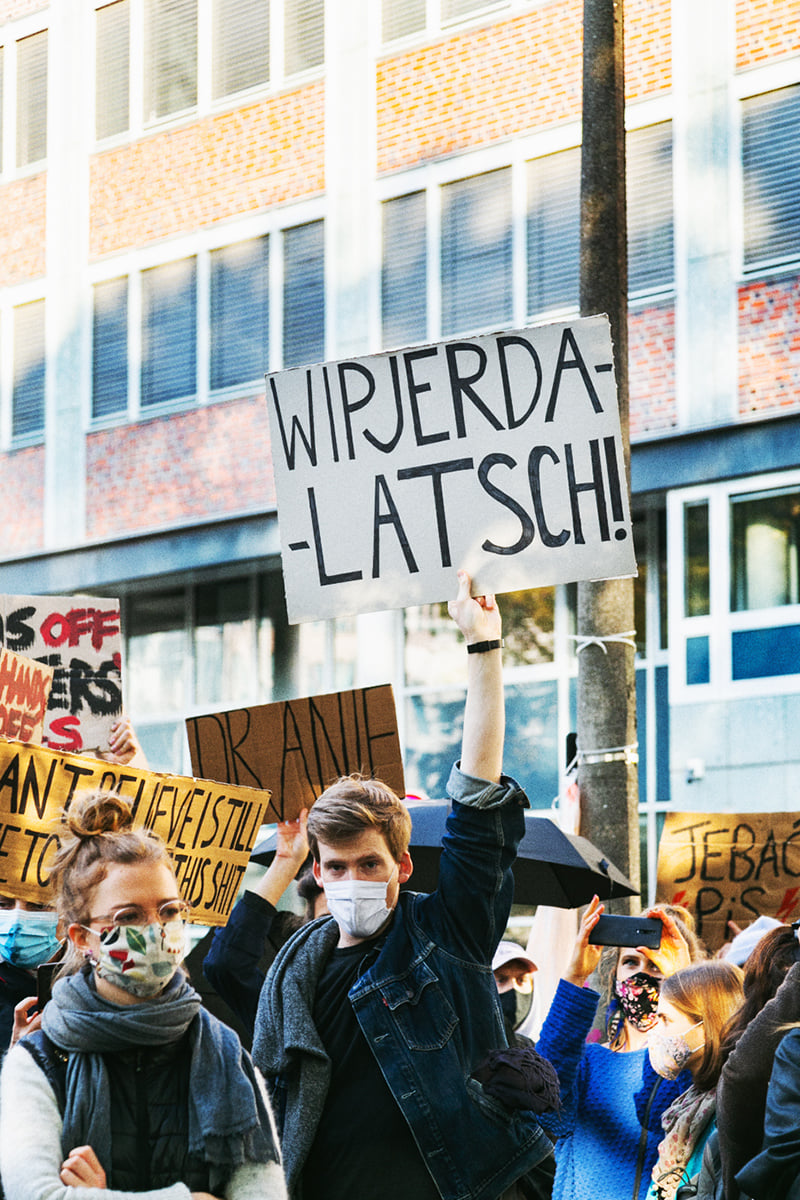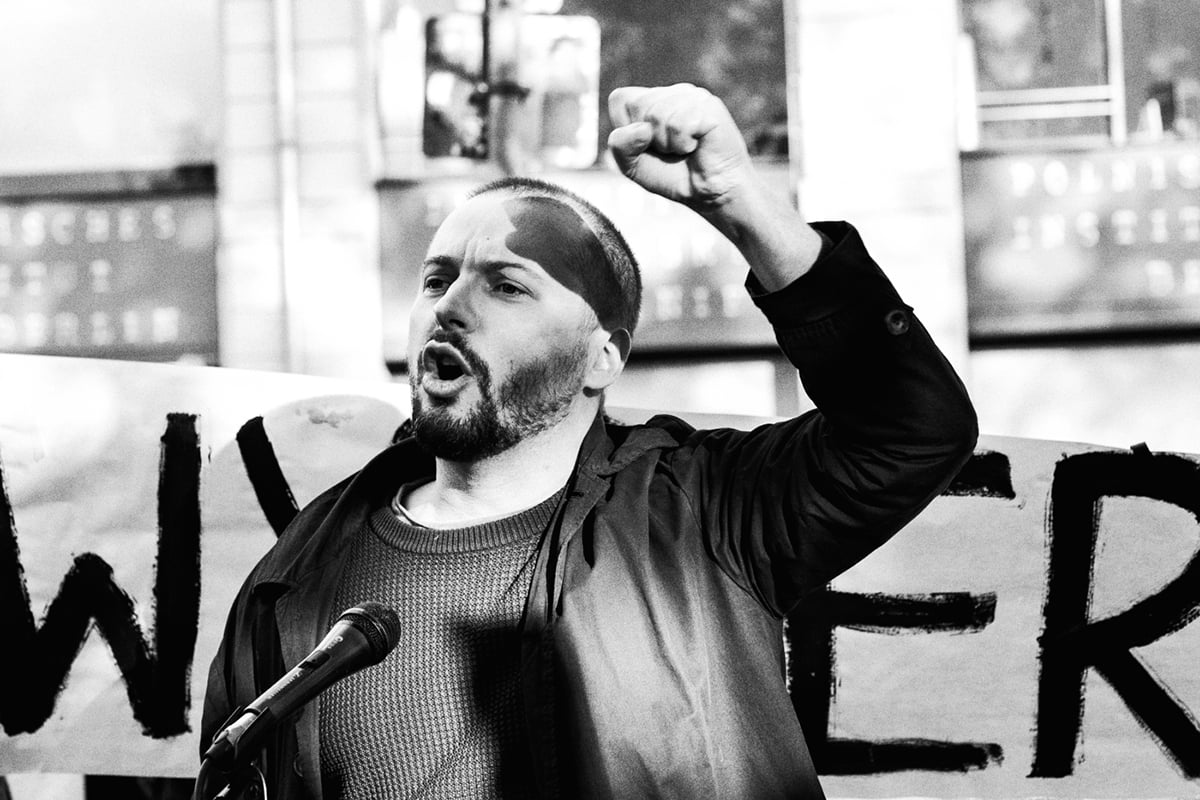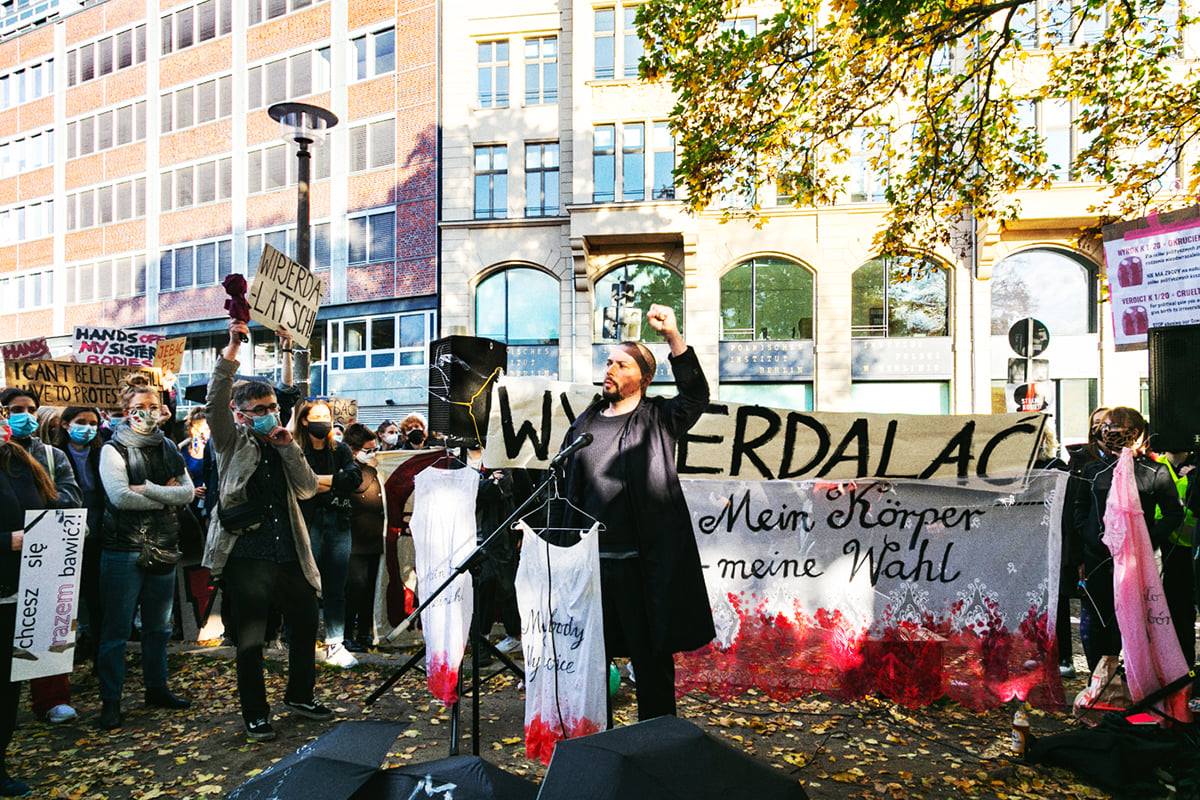 Foto – Helena Majewska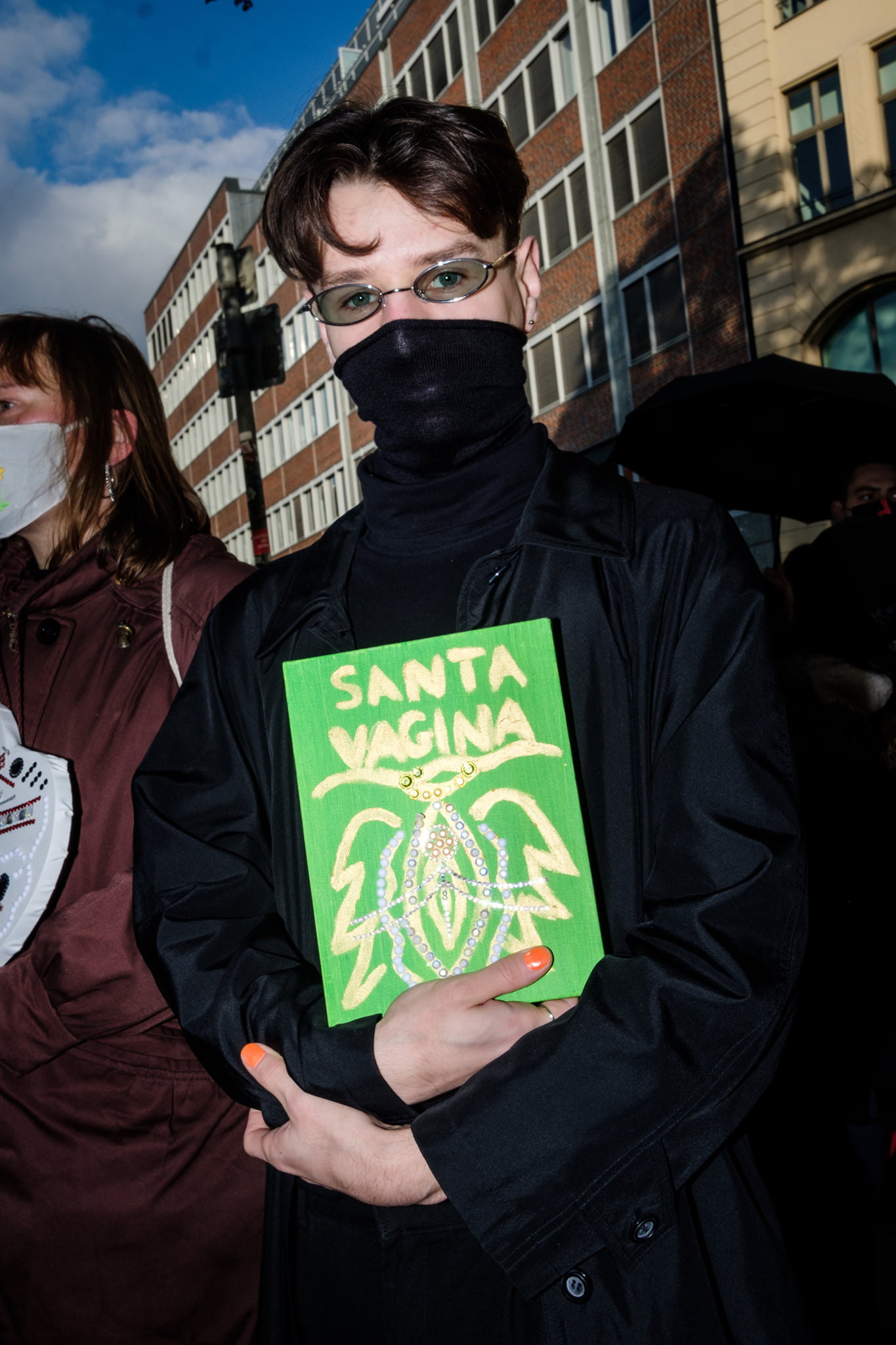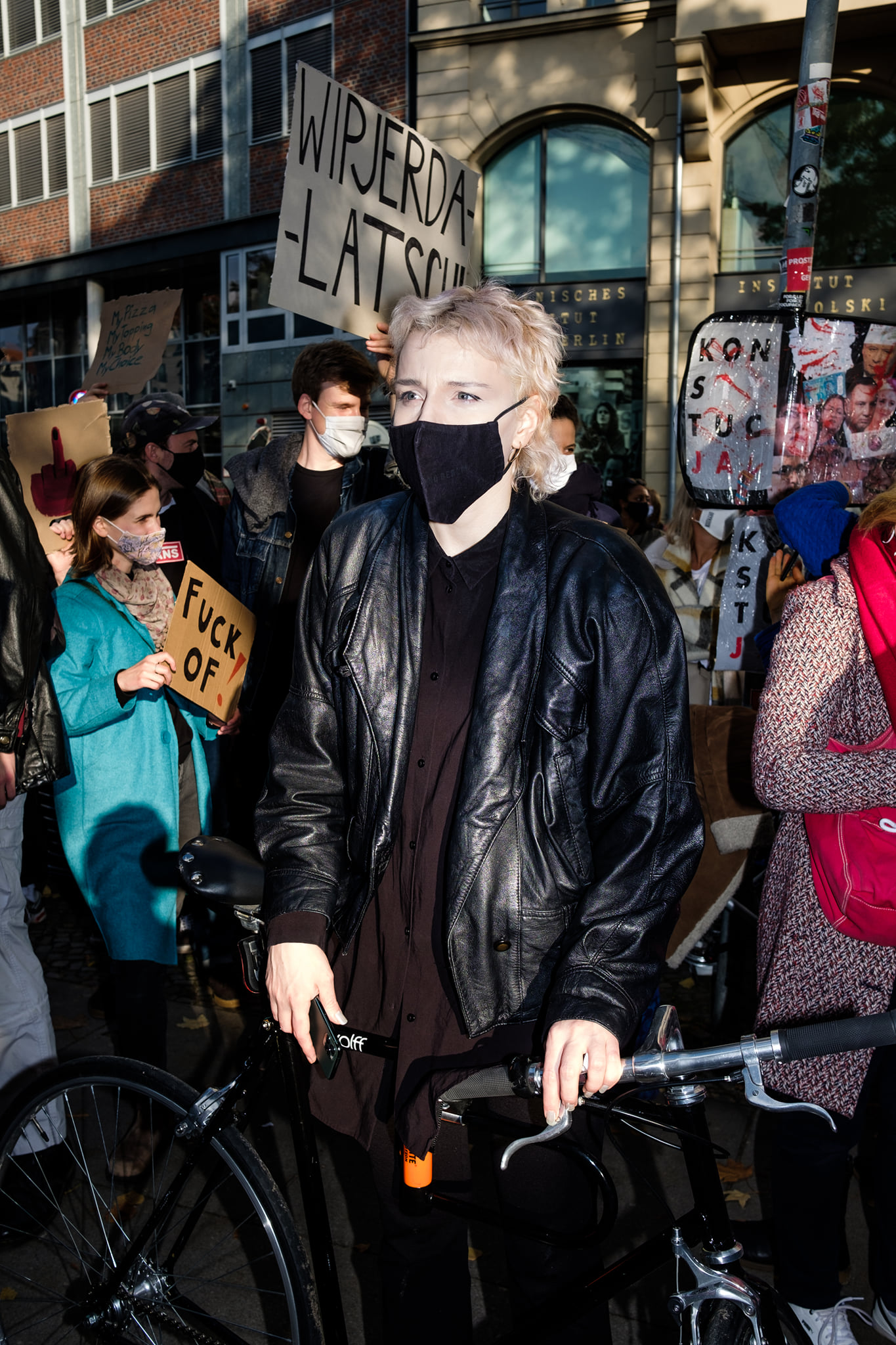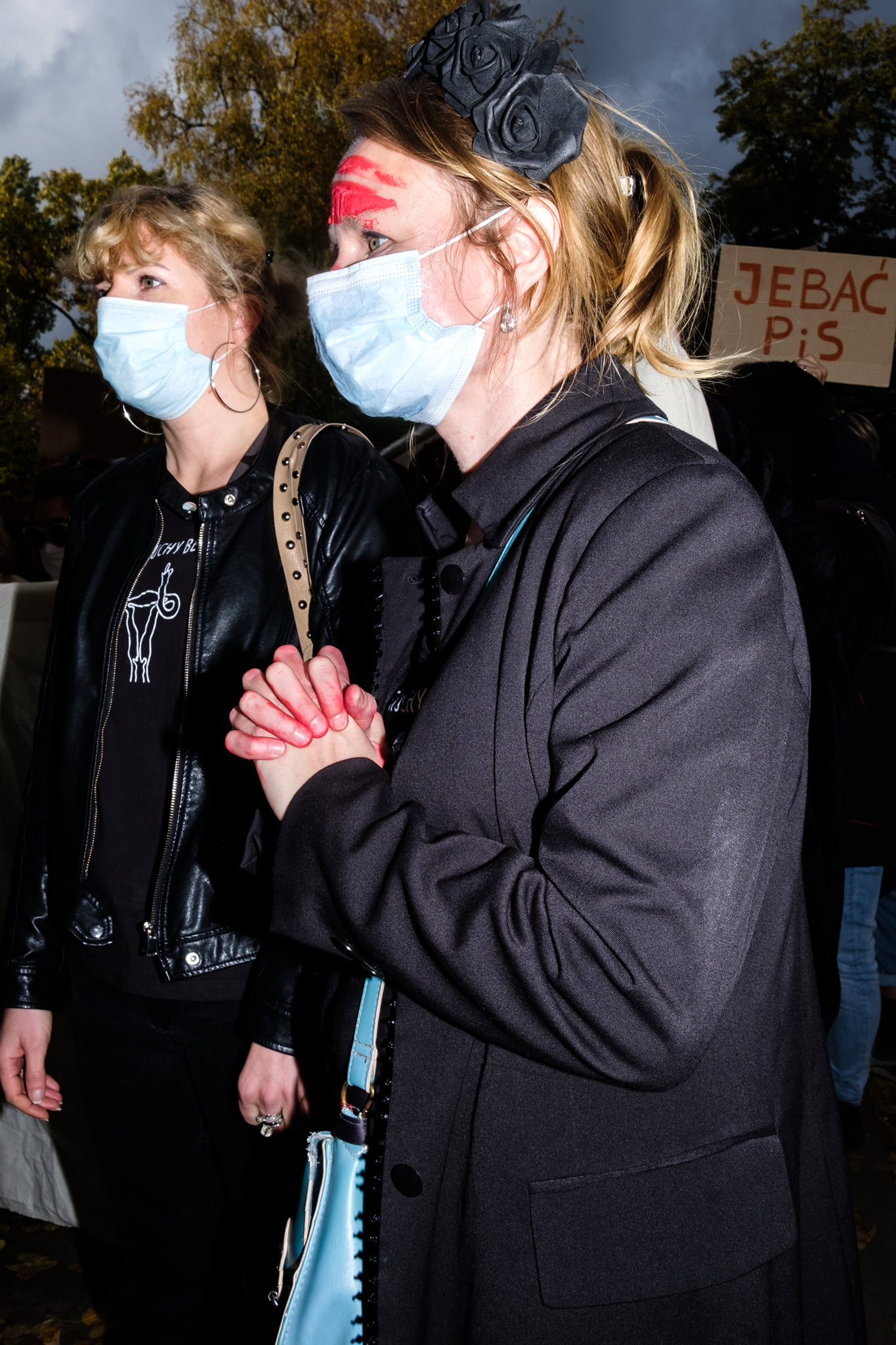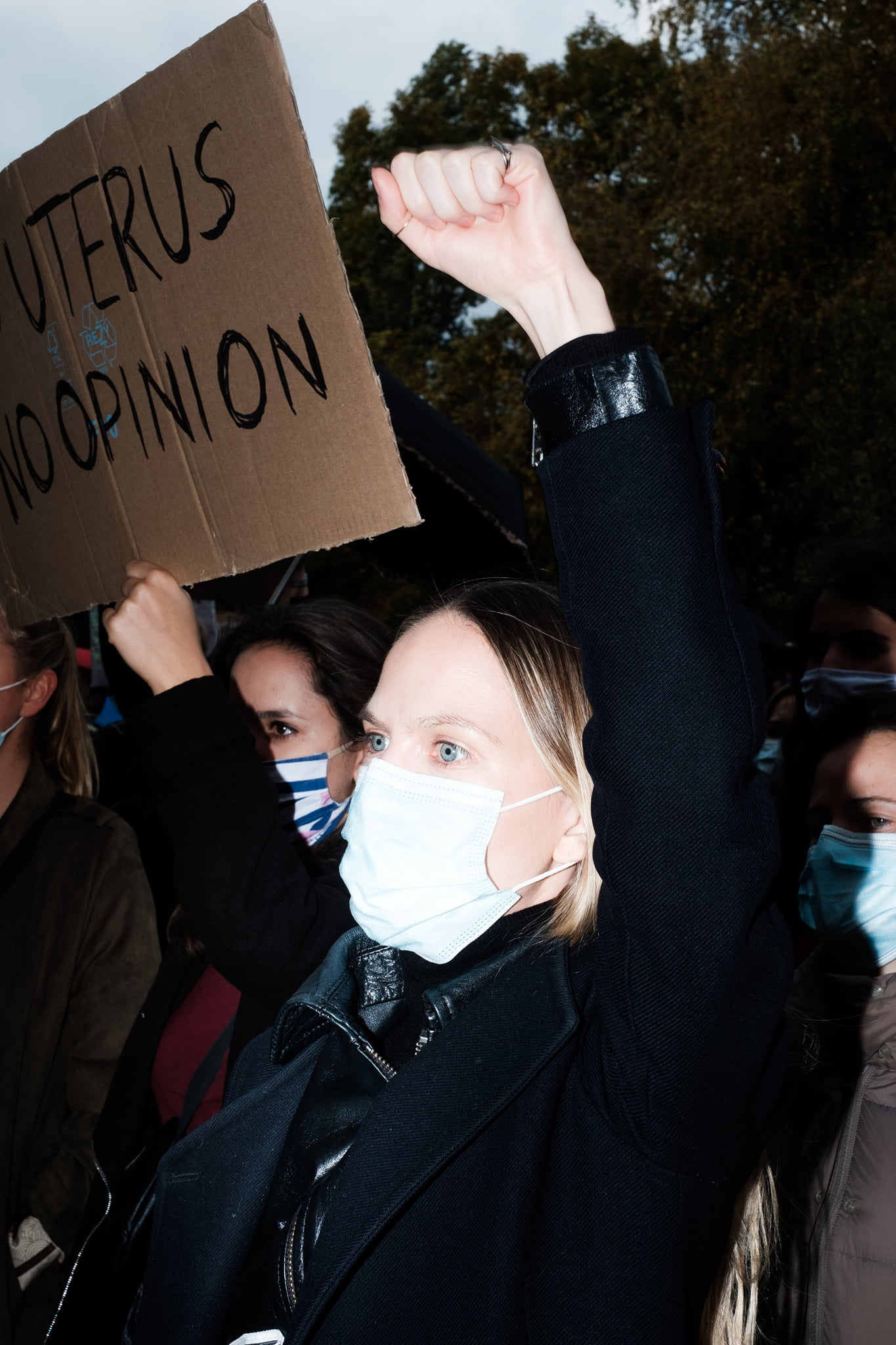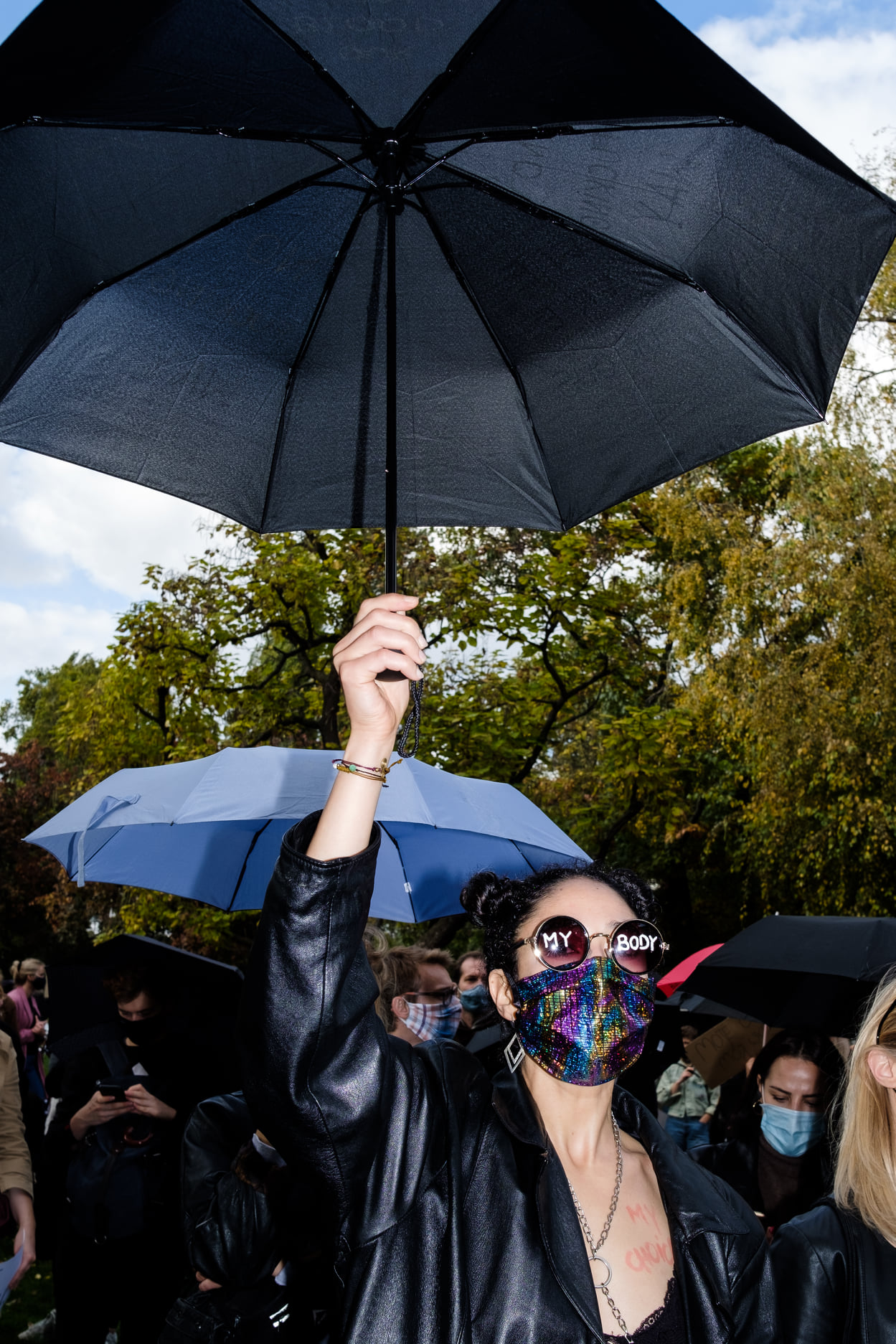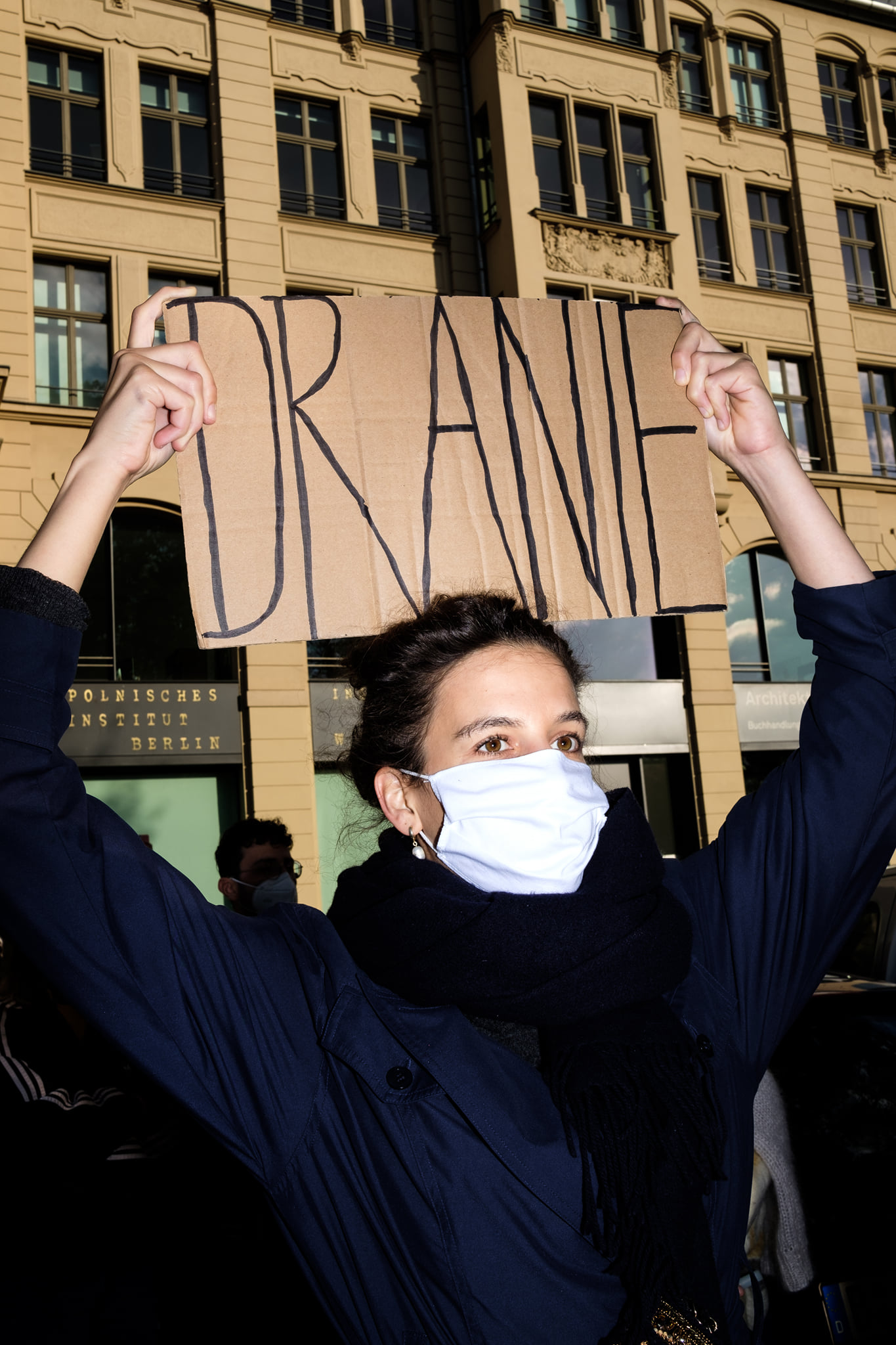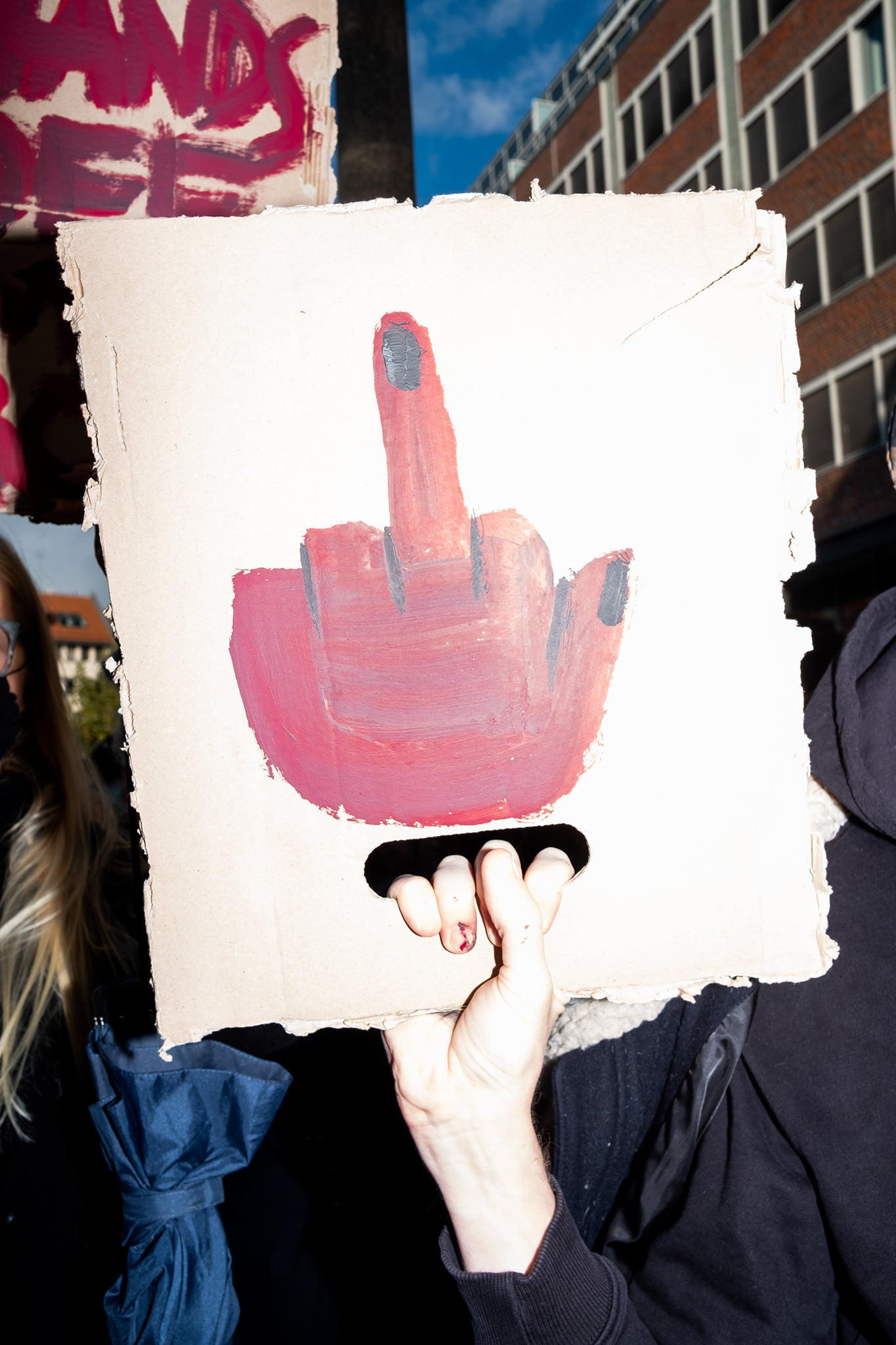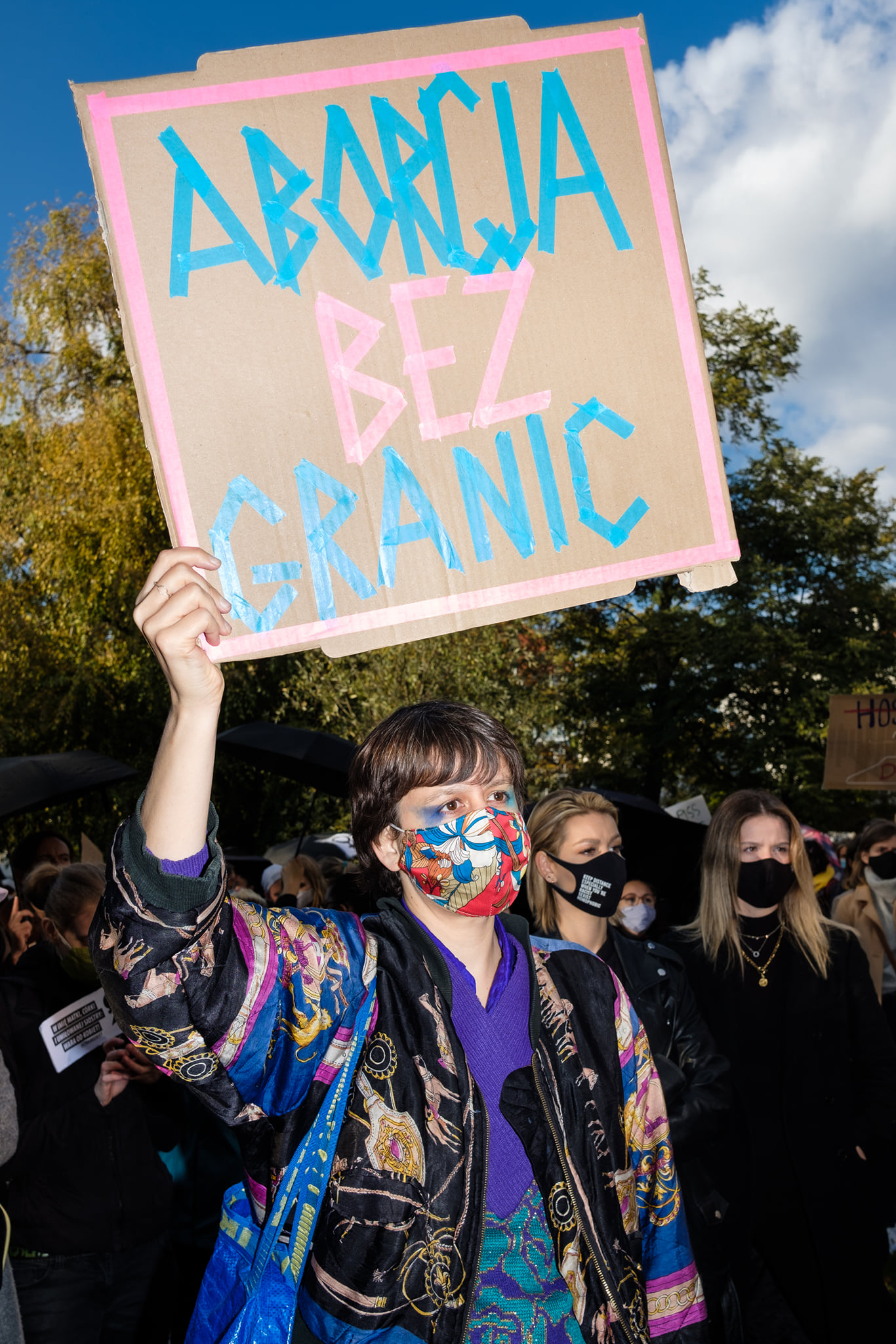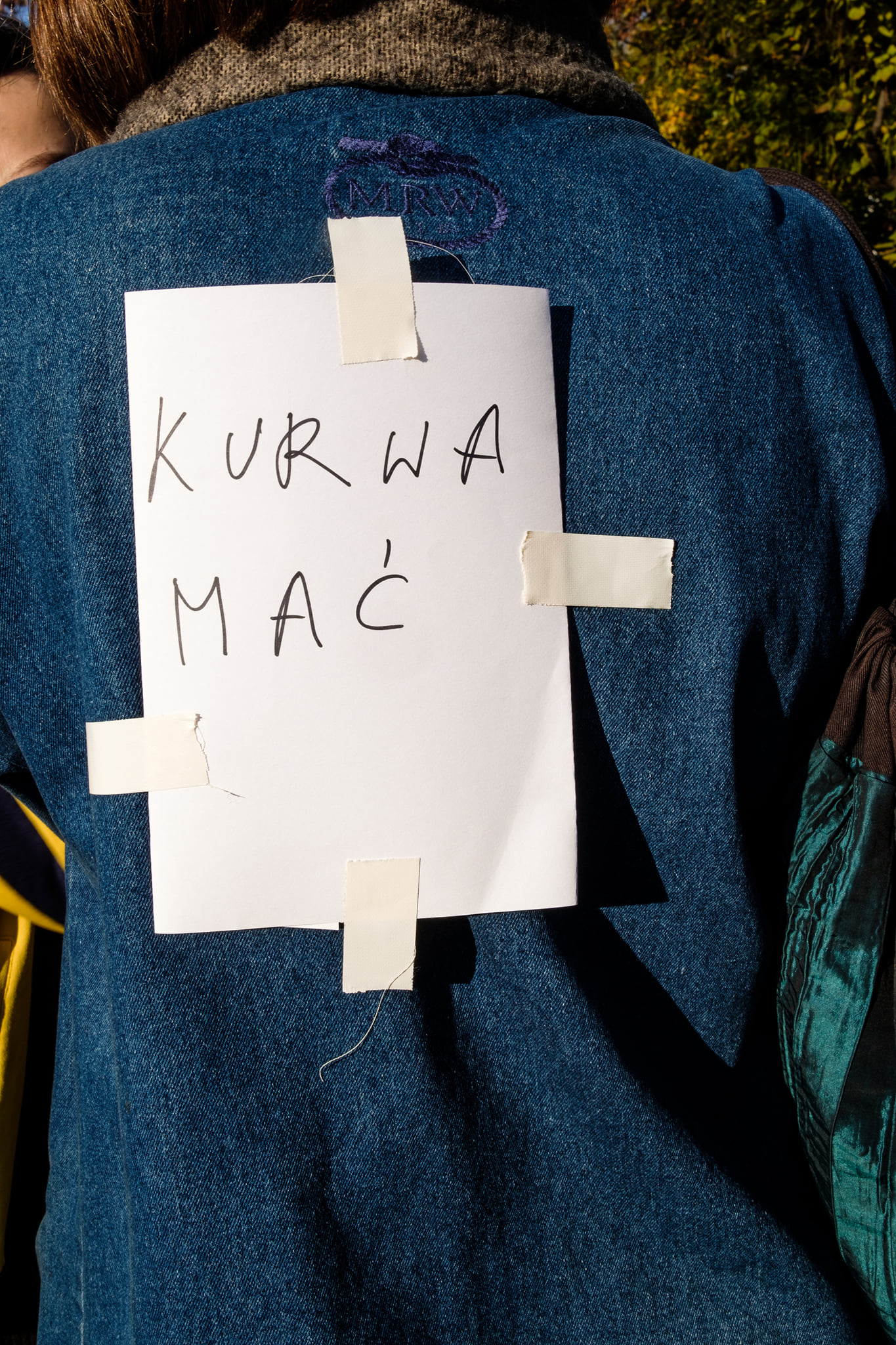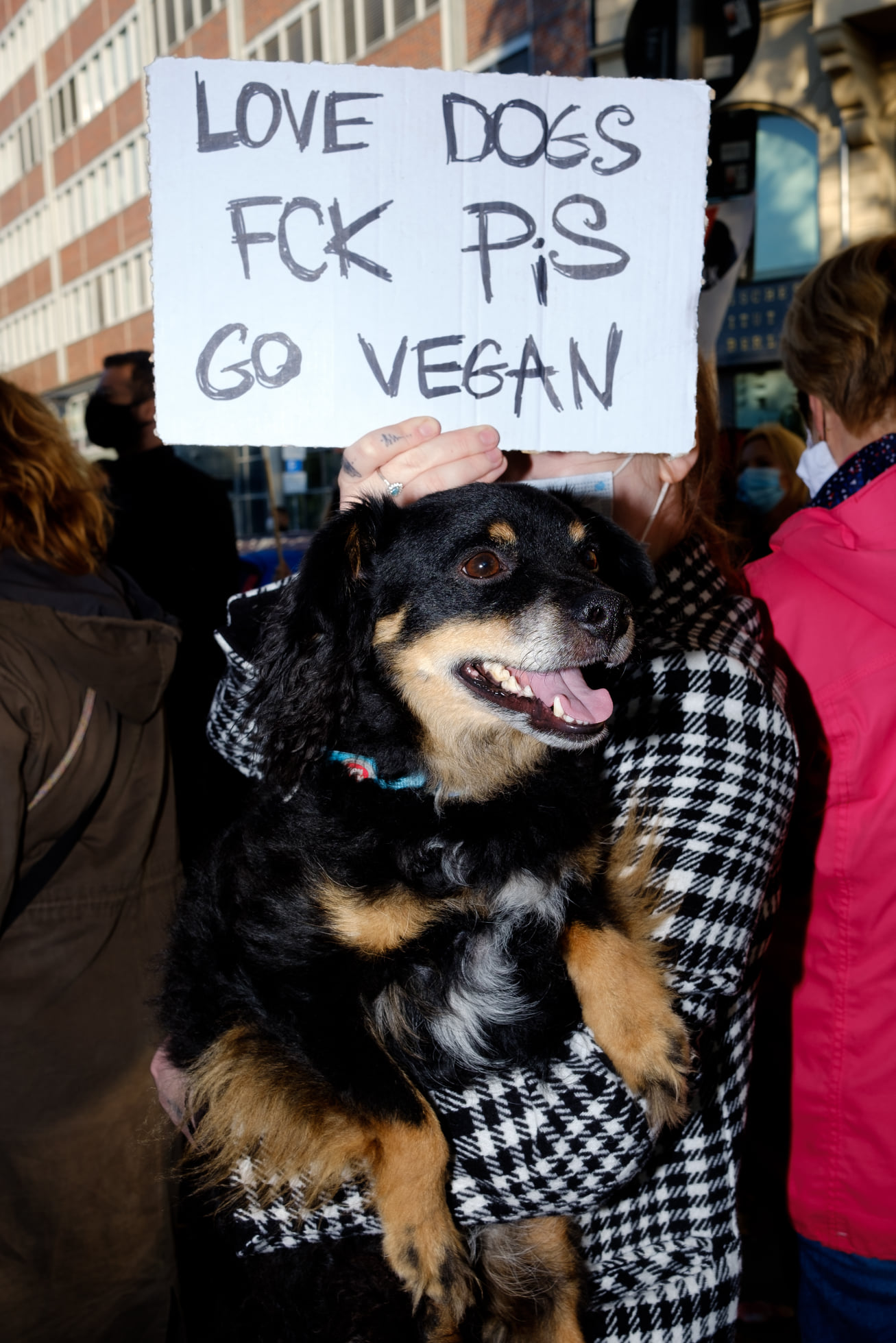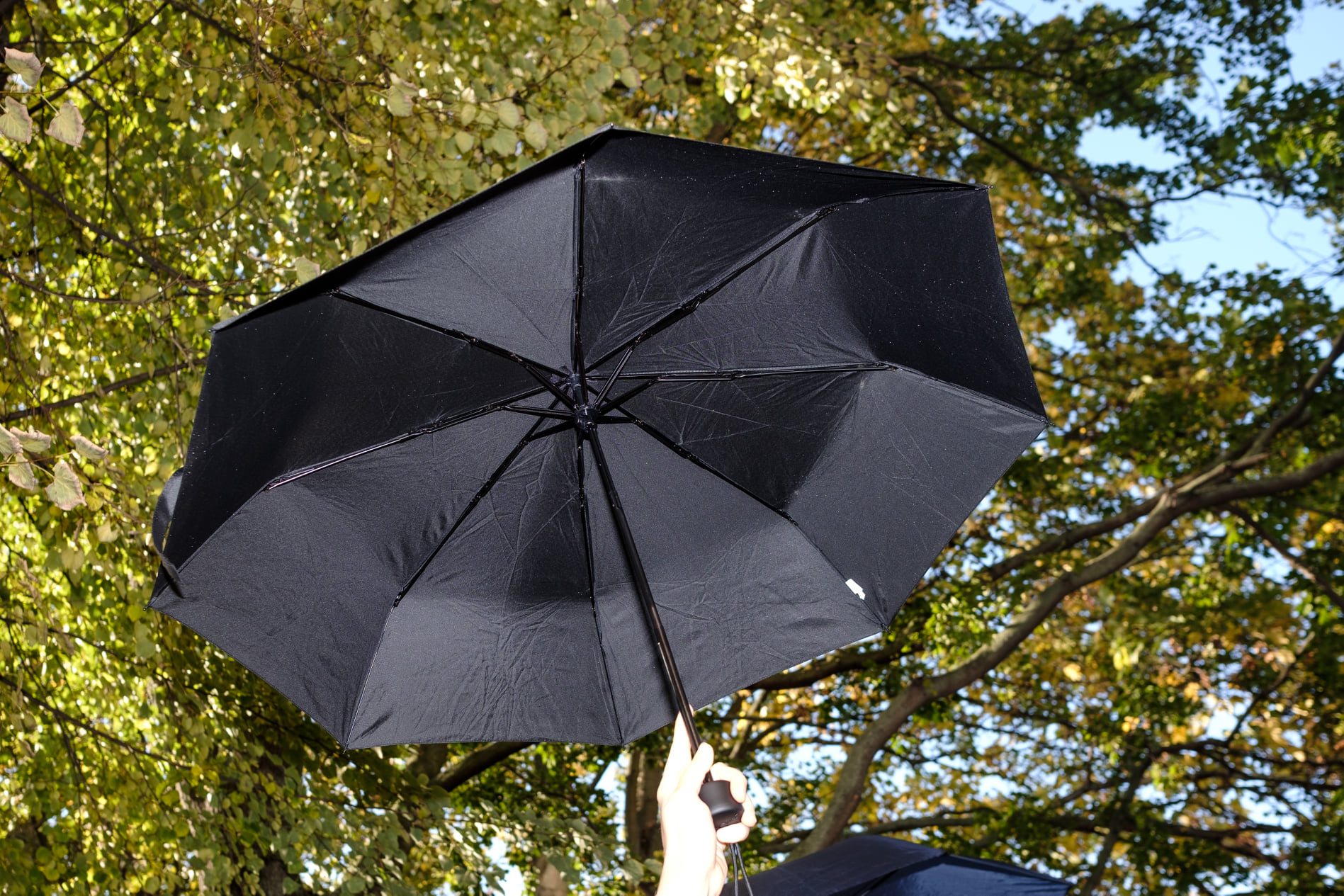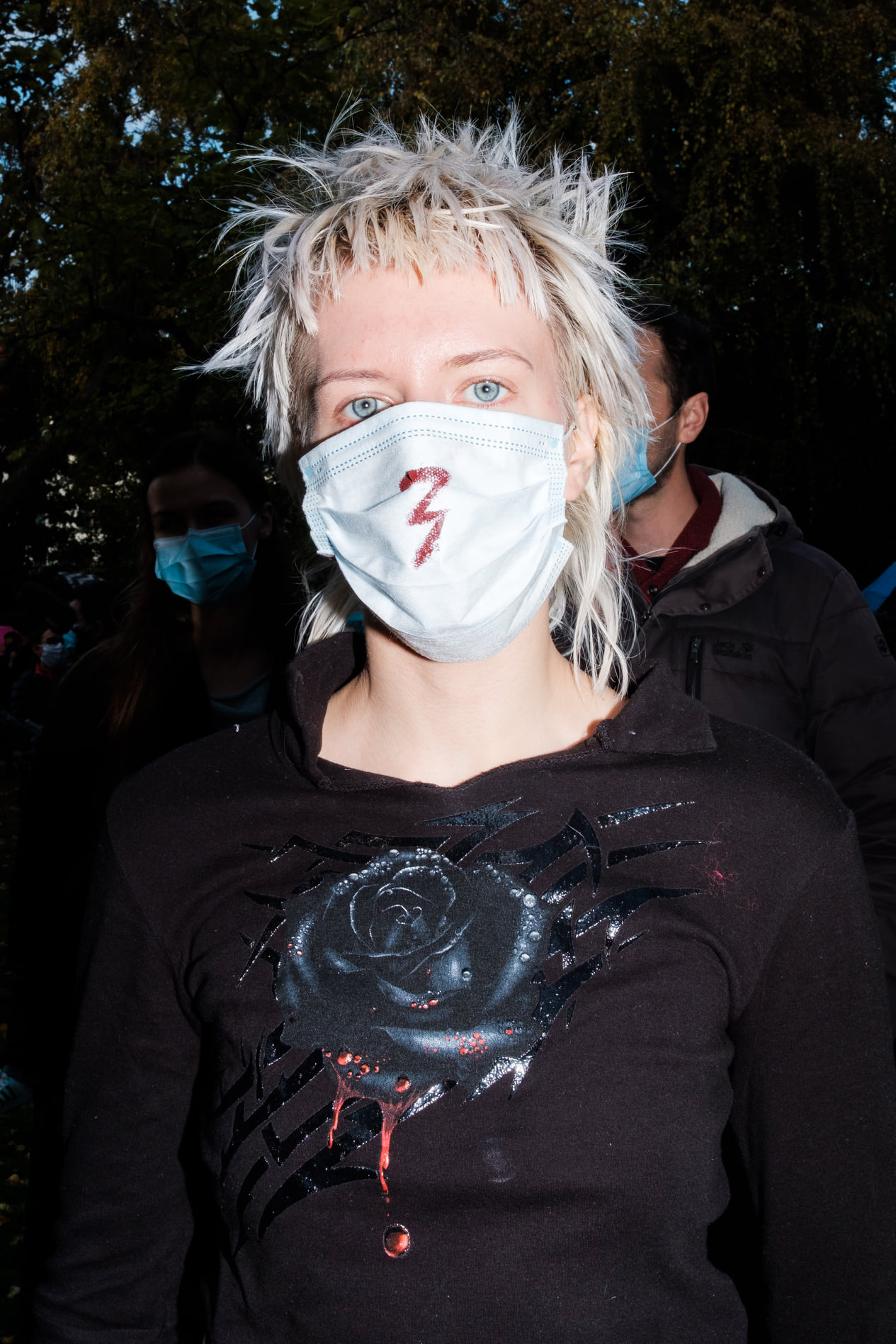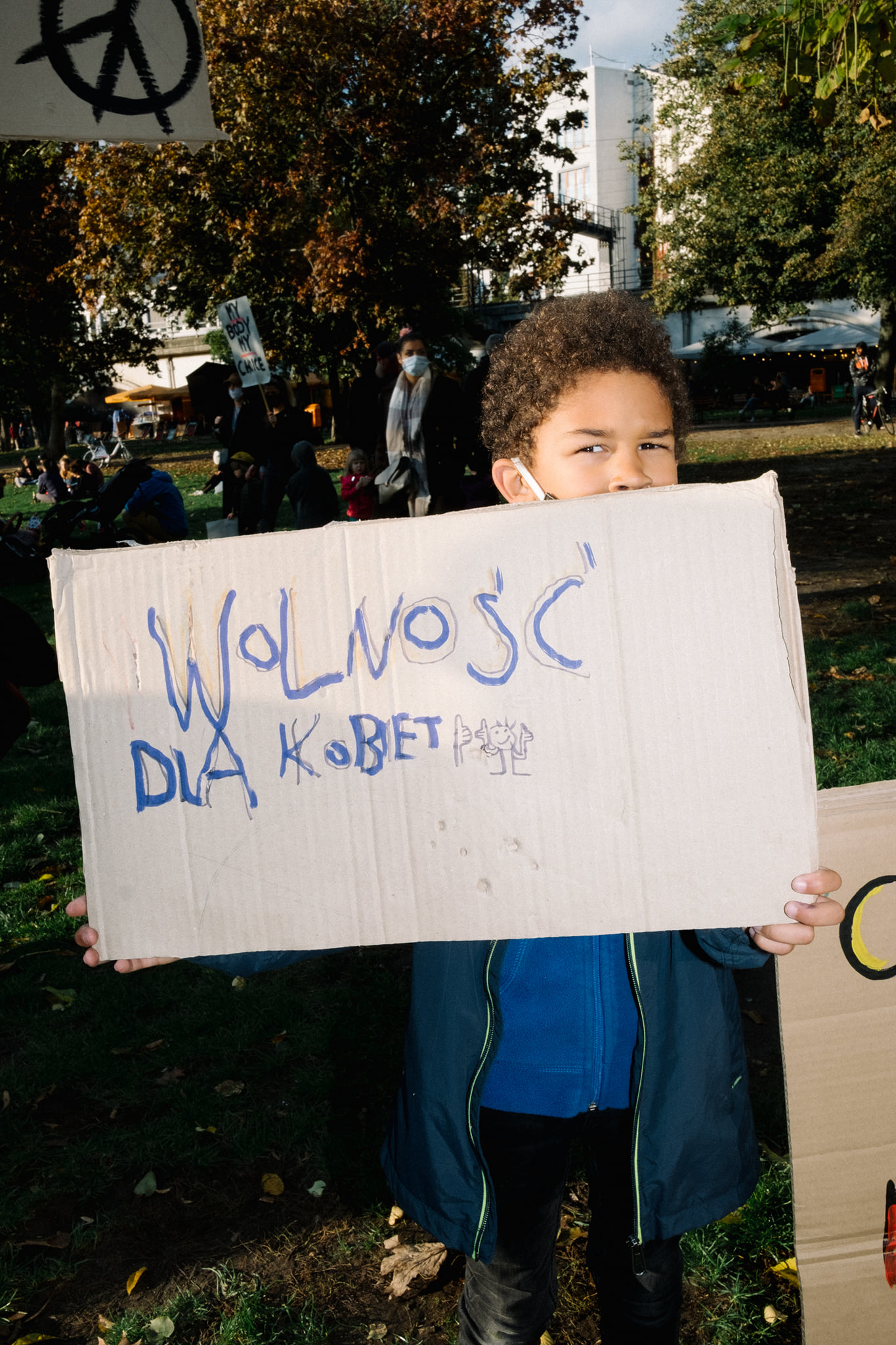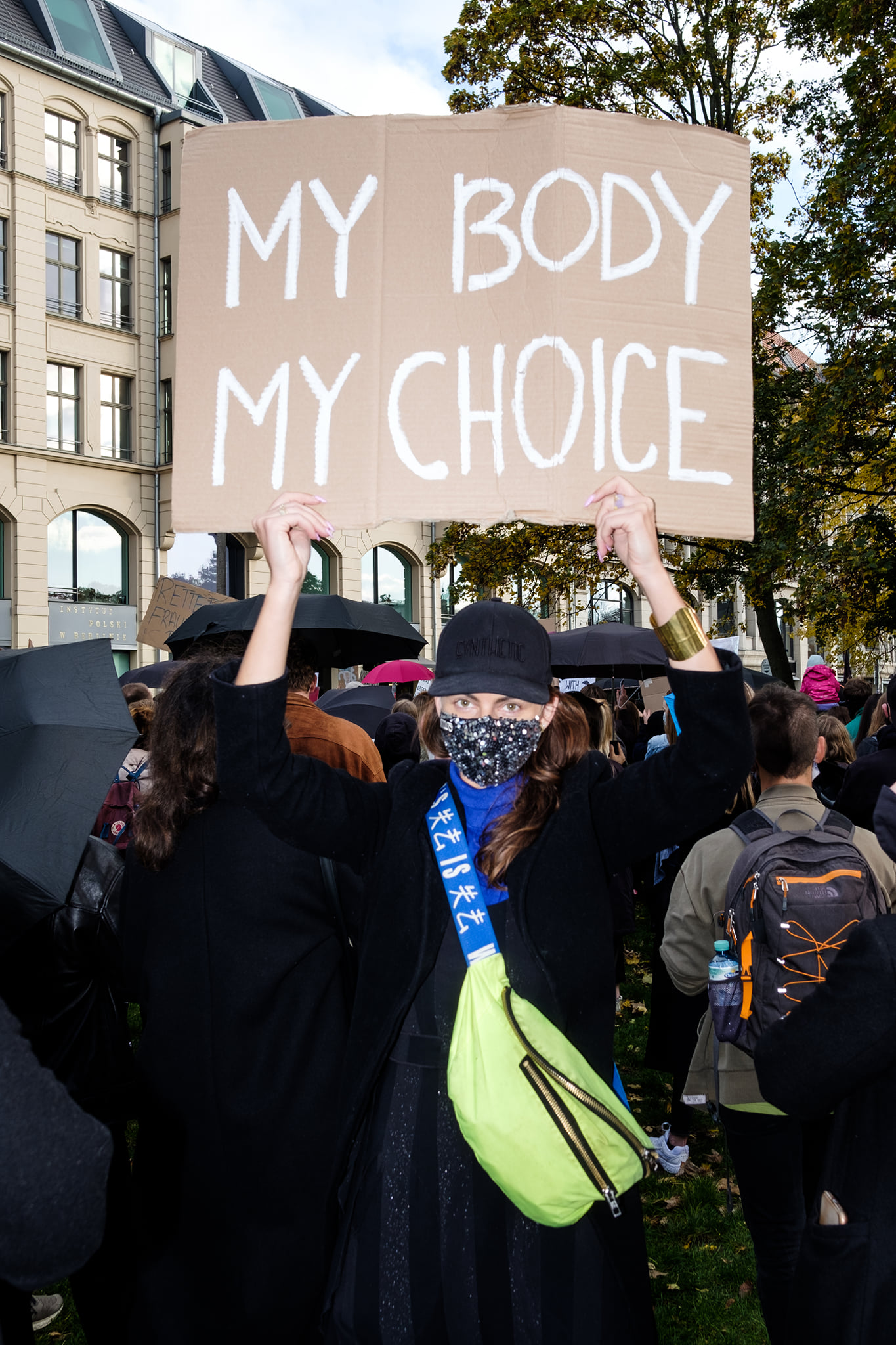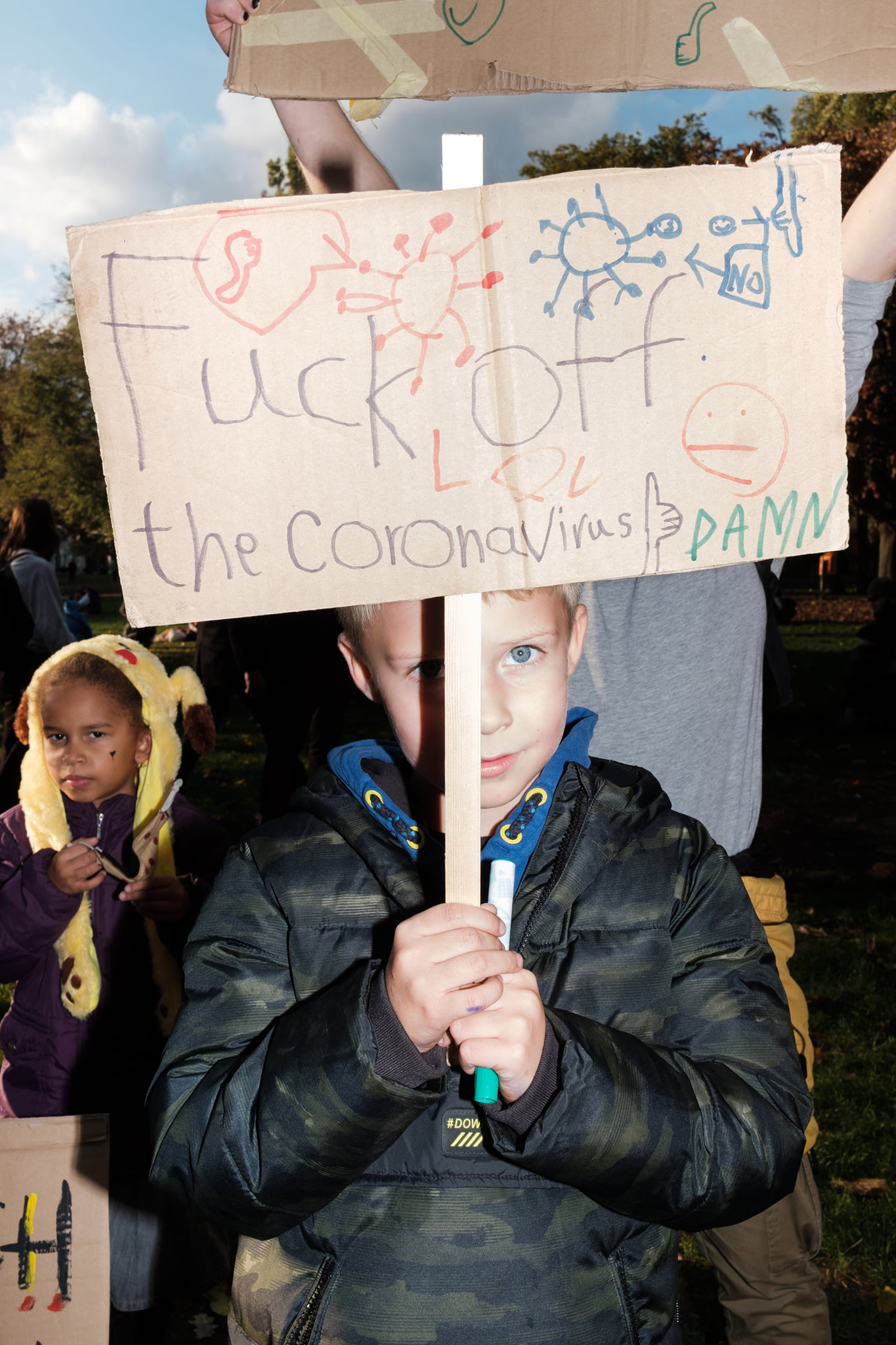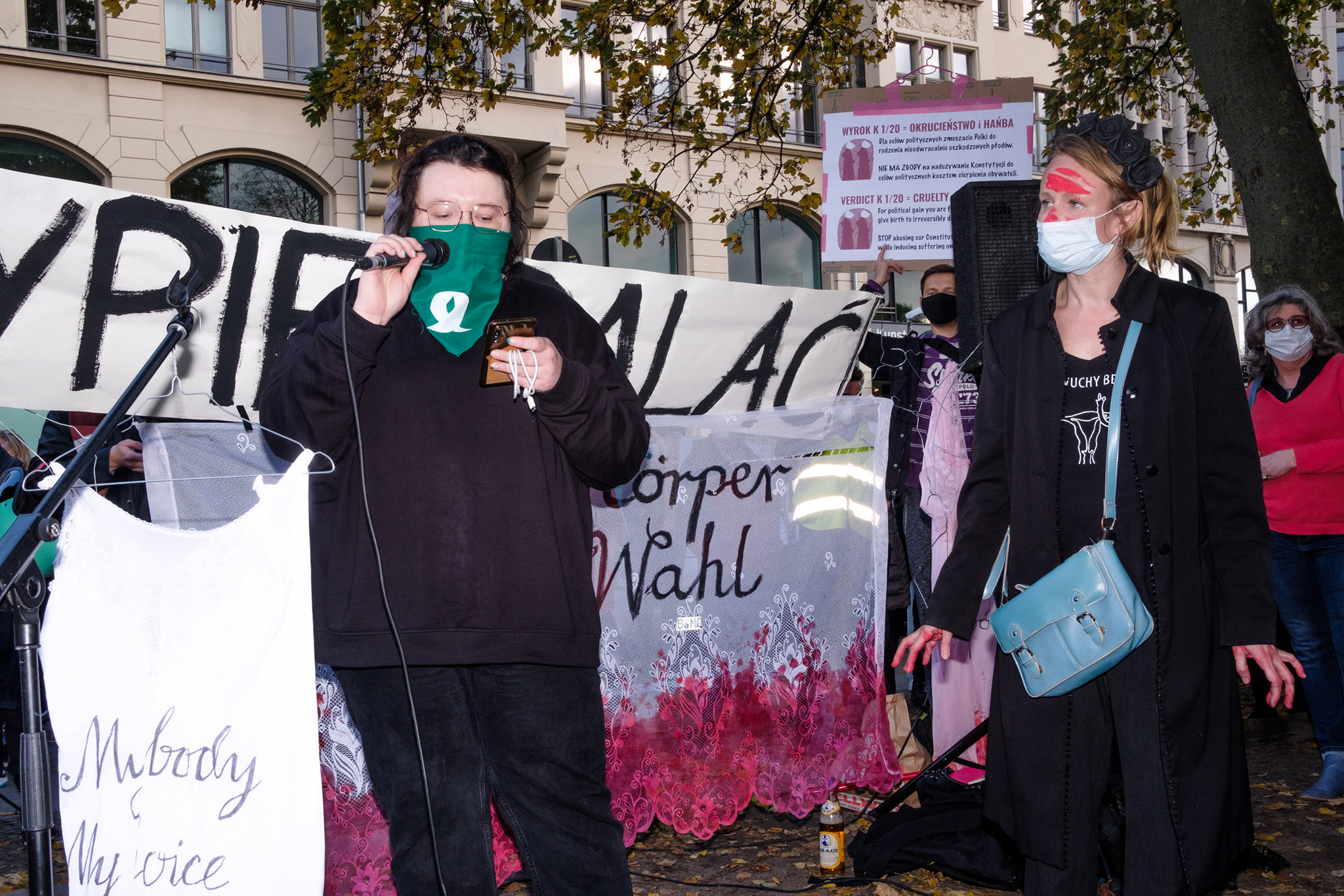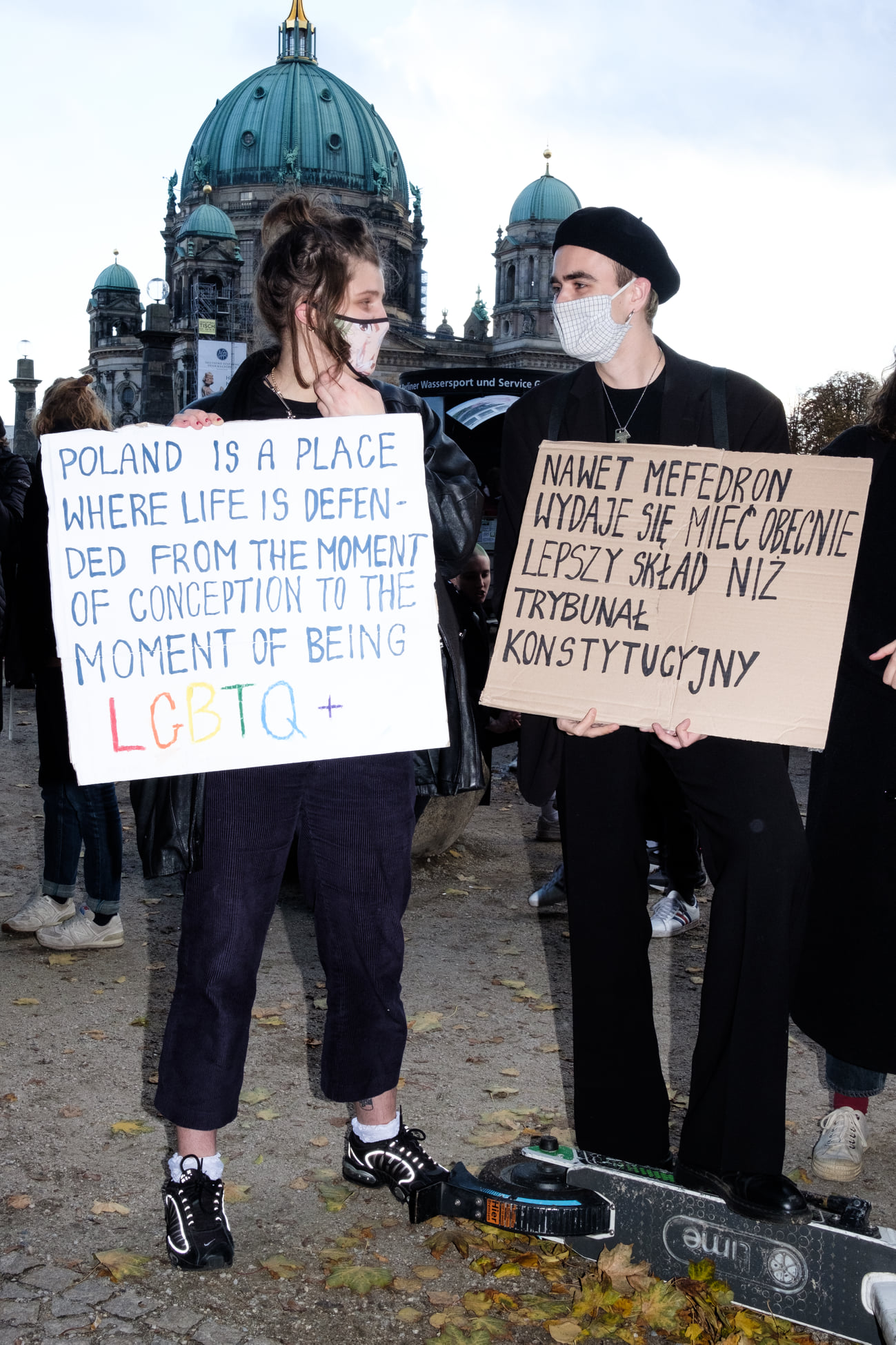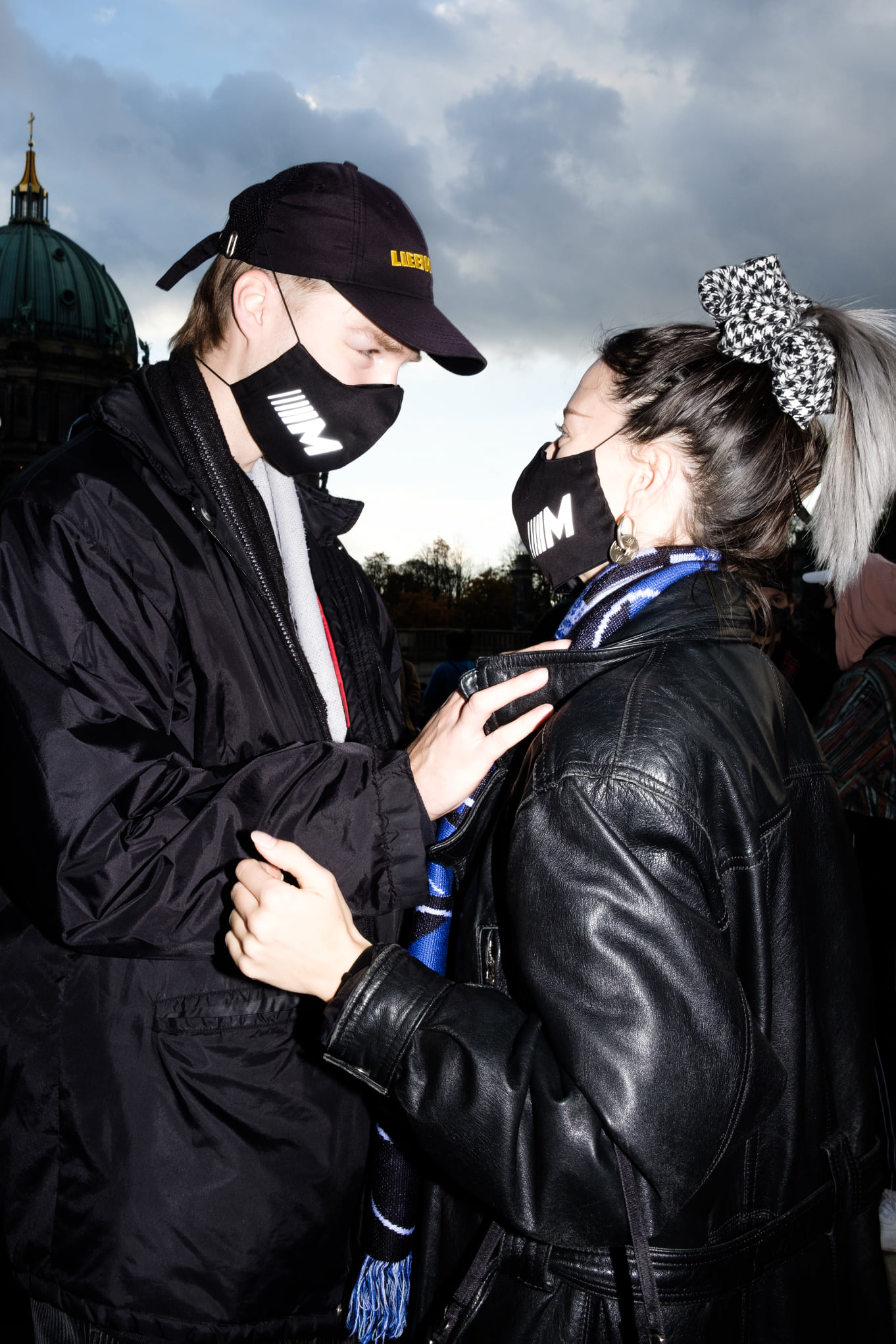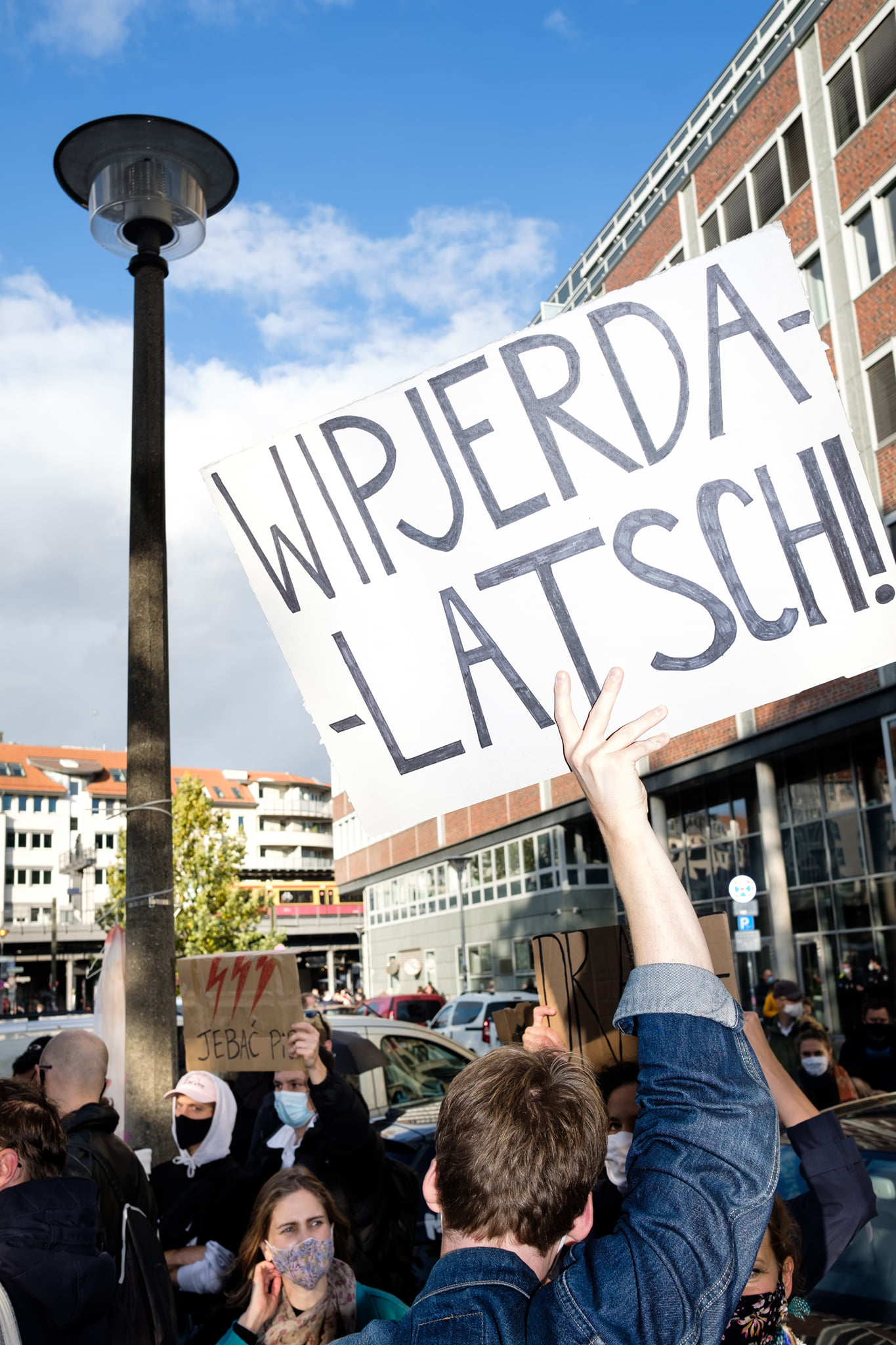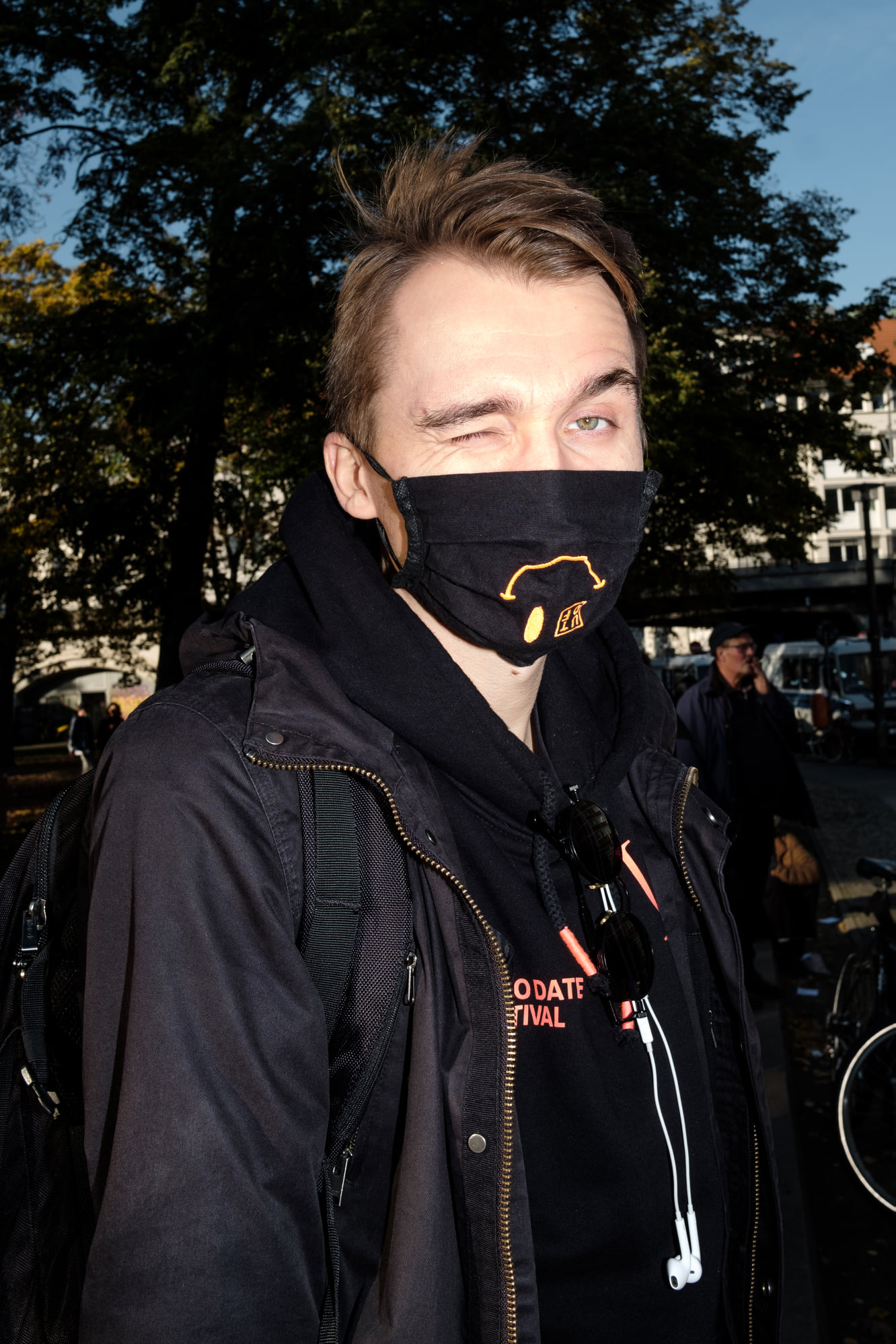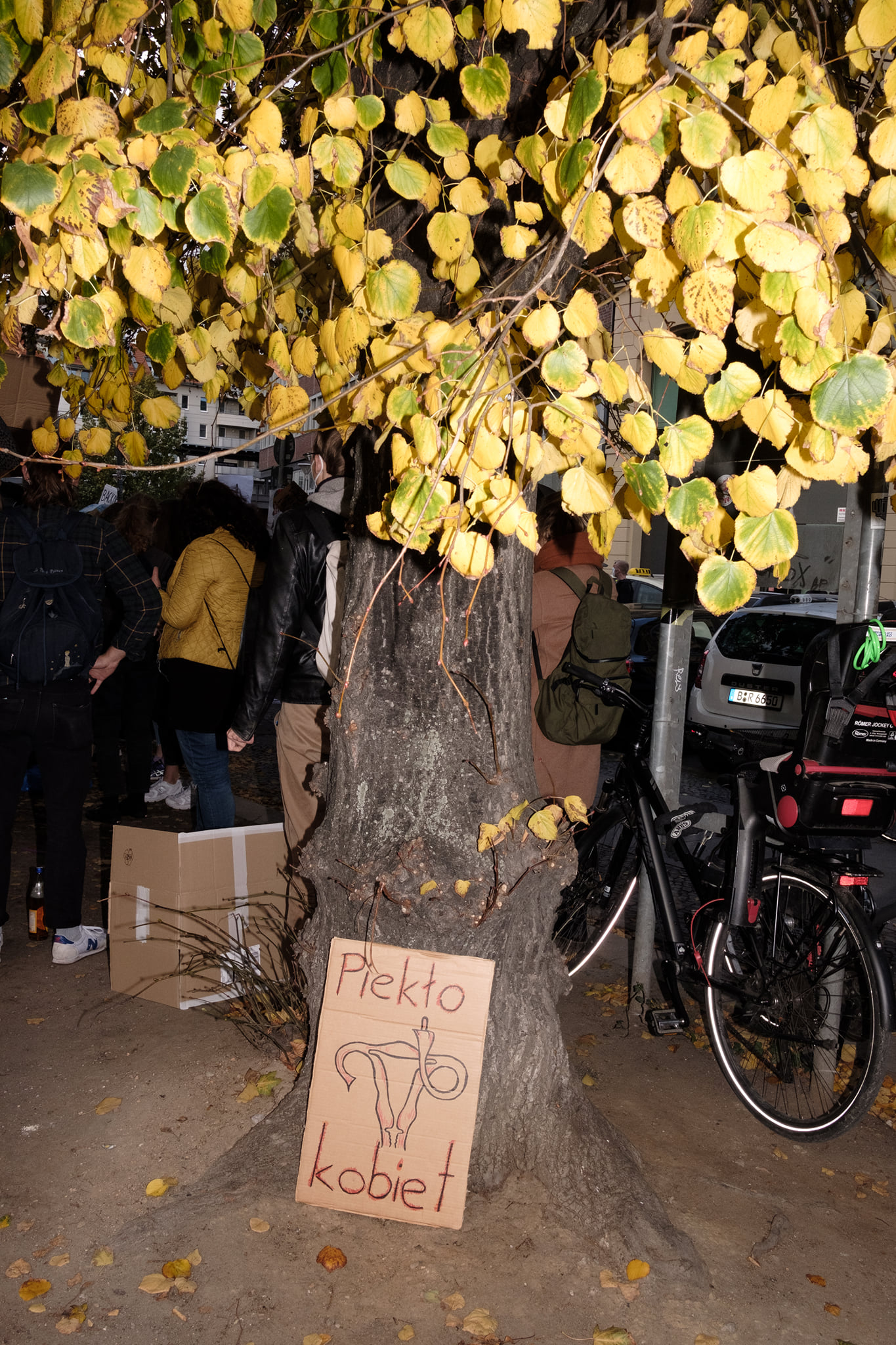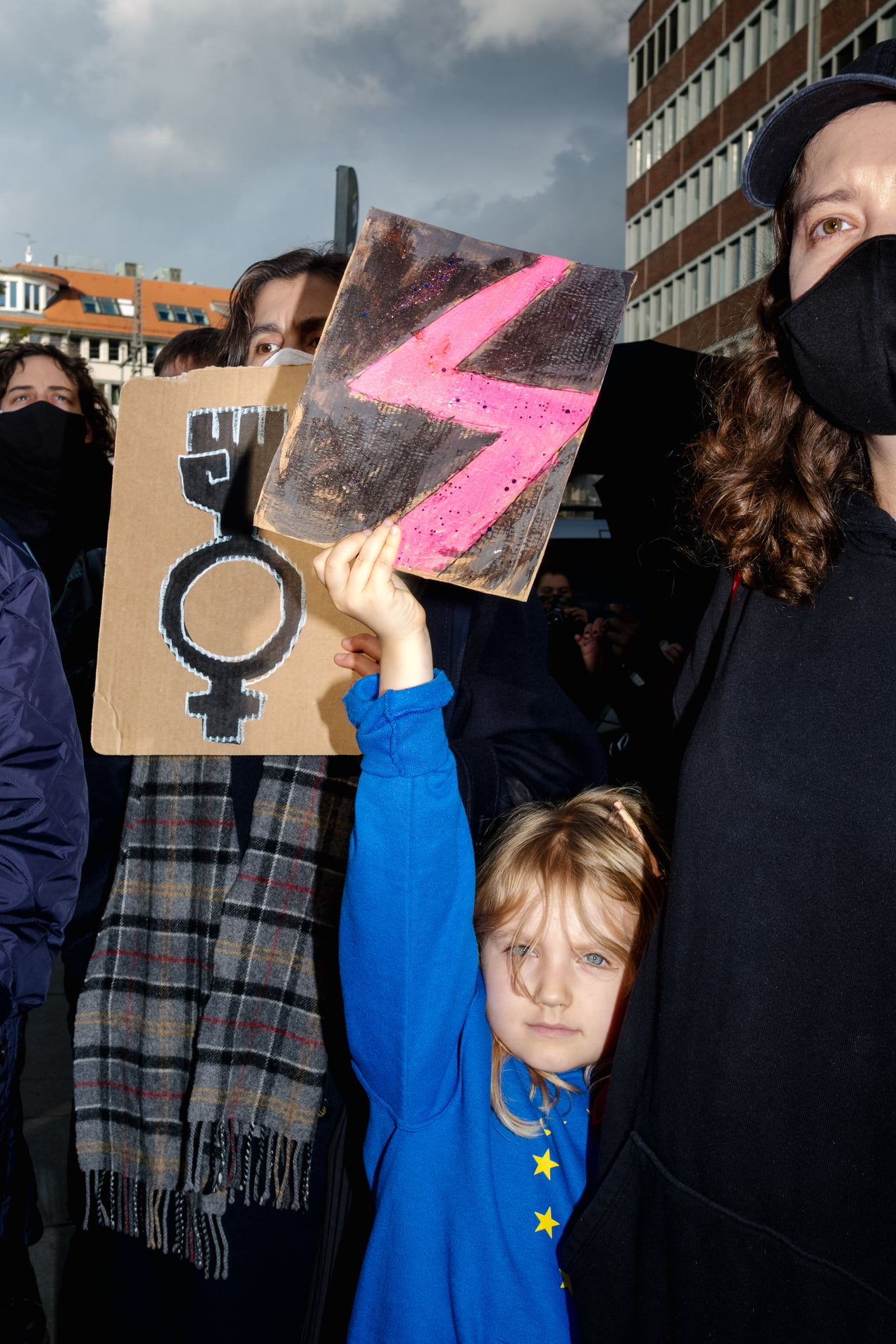 Foto – Bunt Kobiet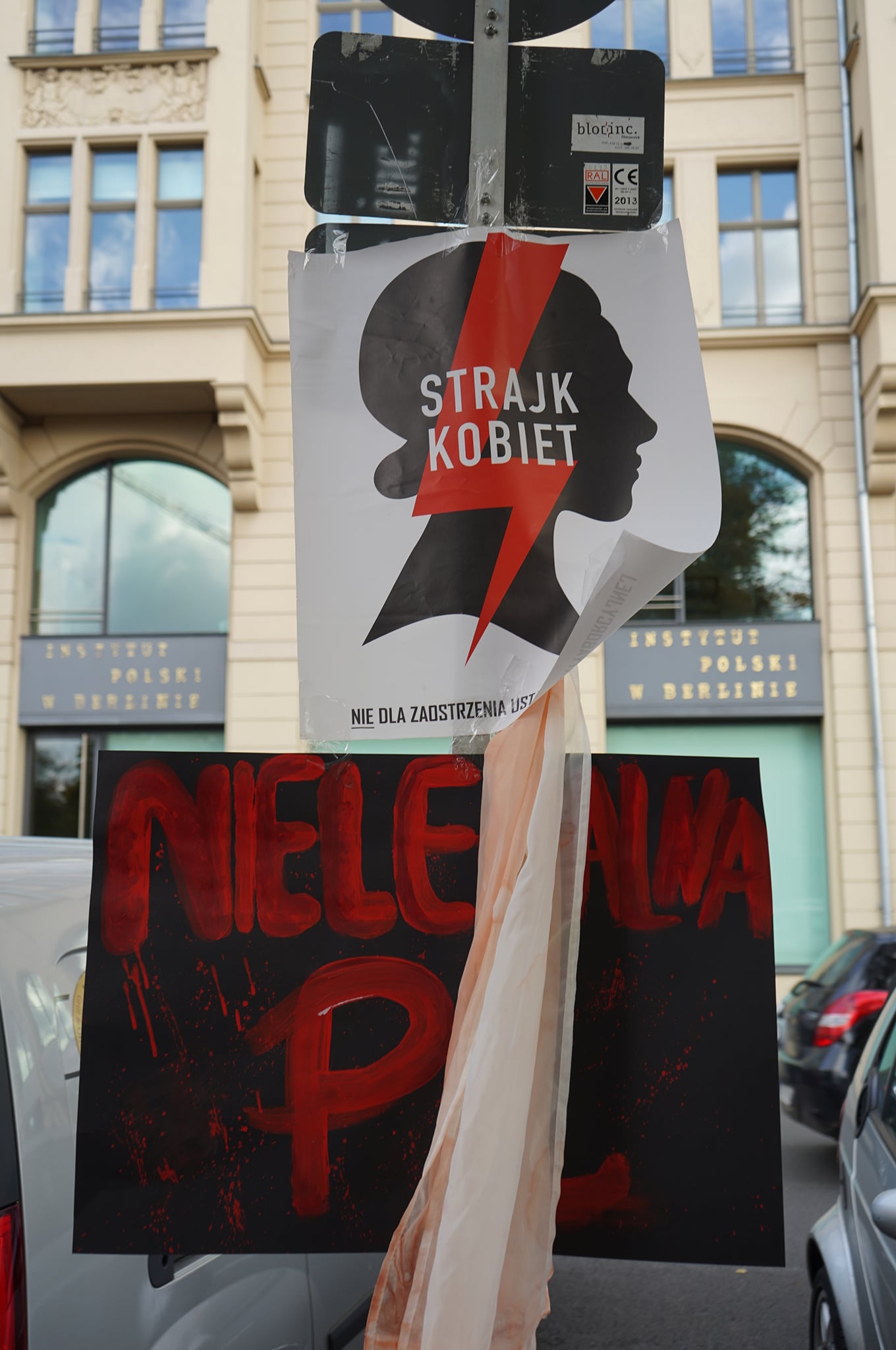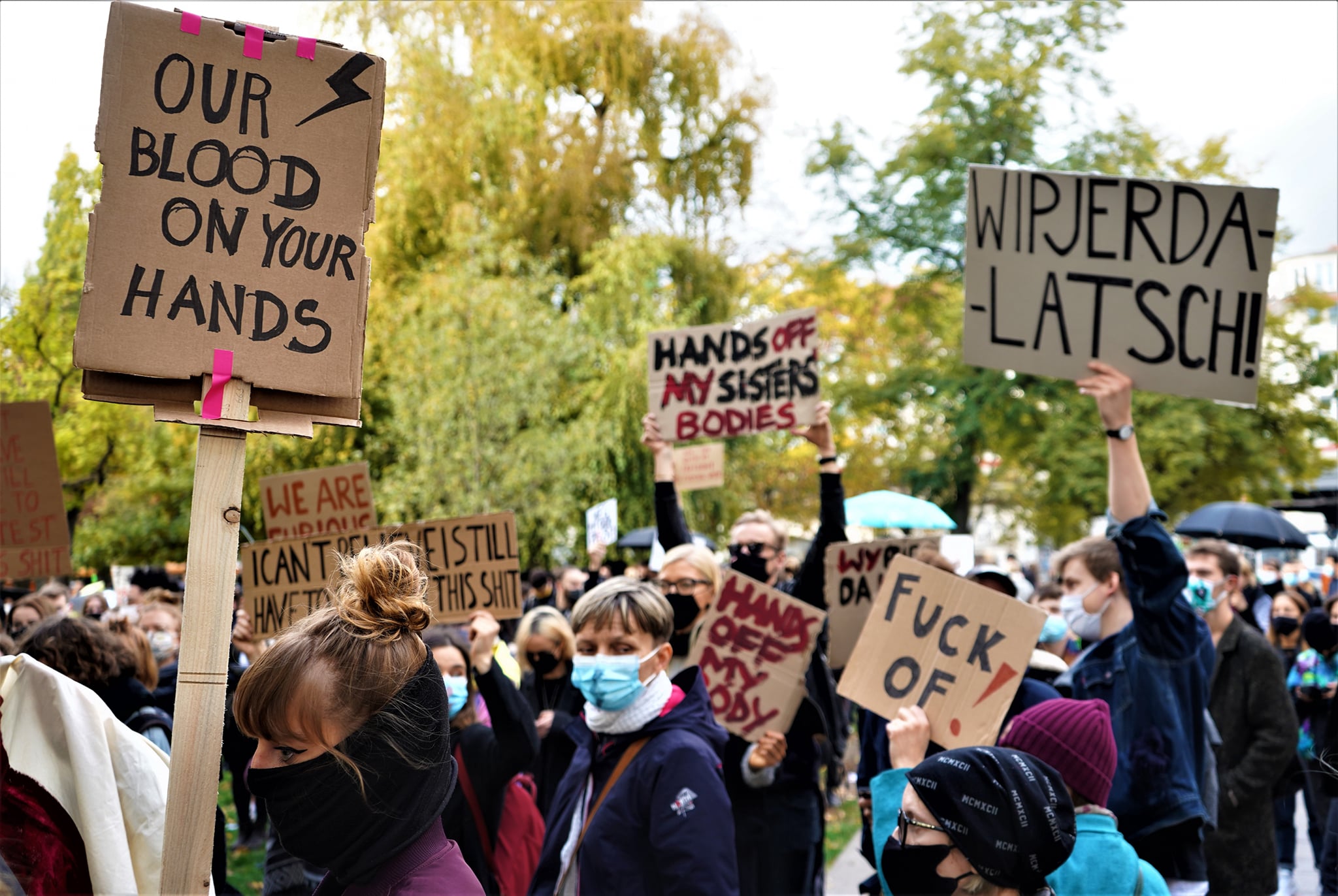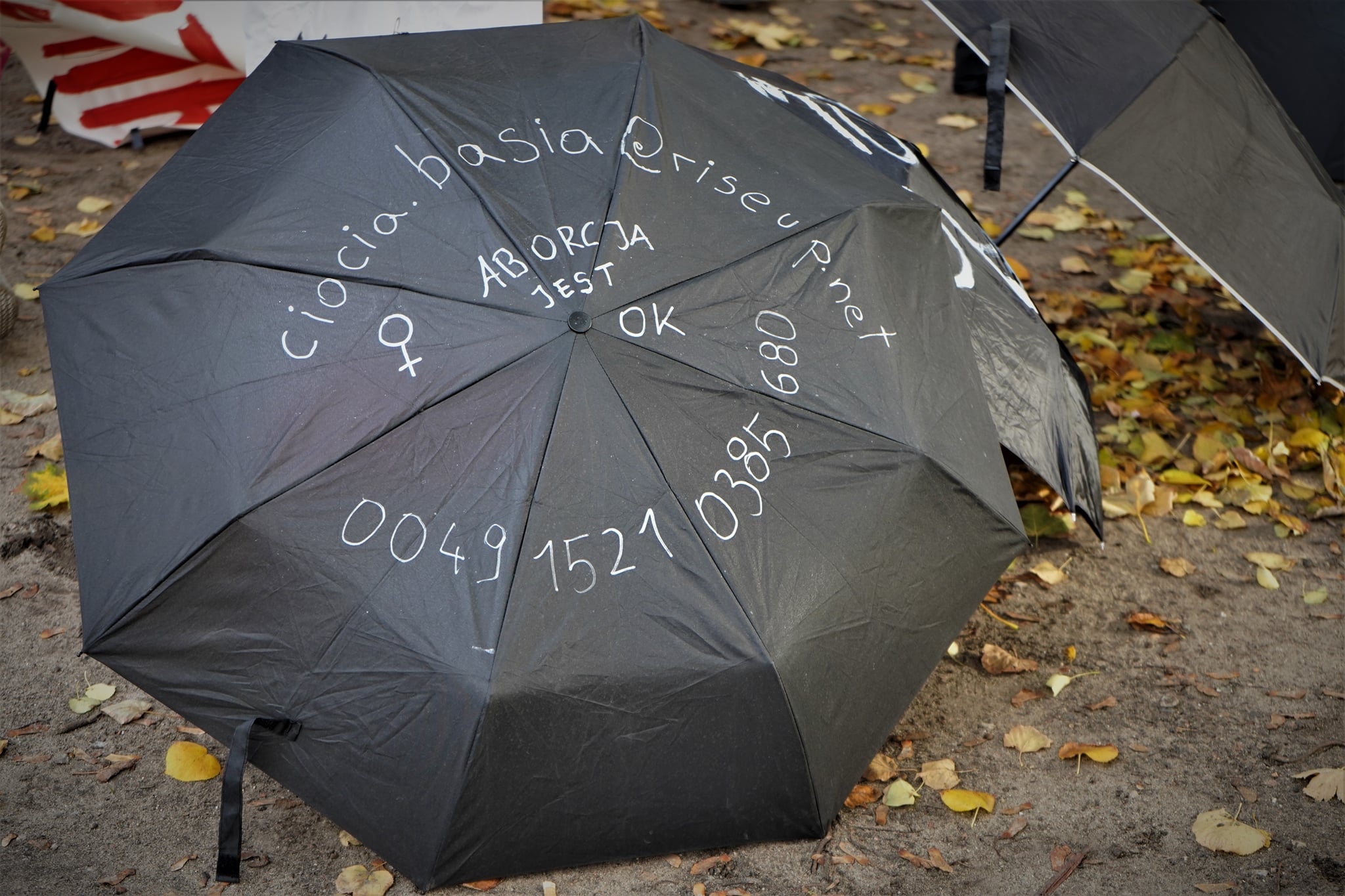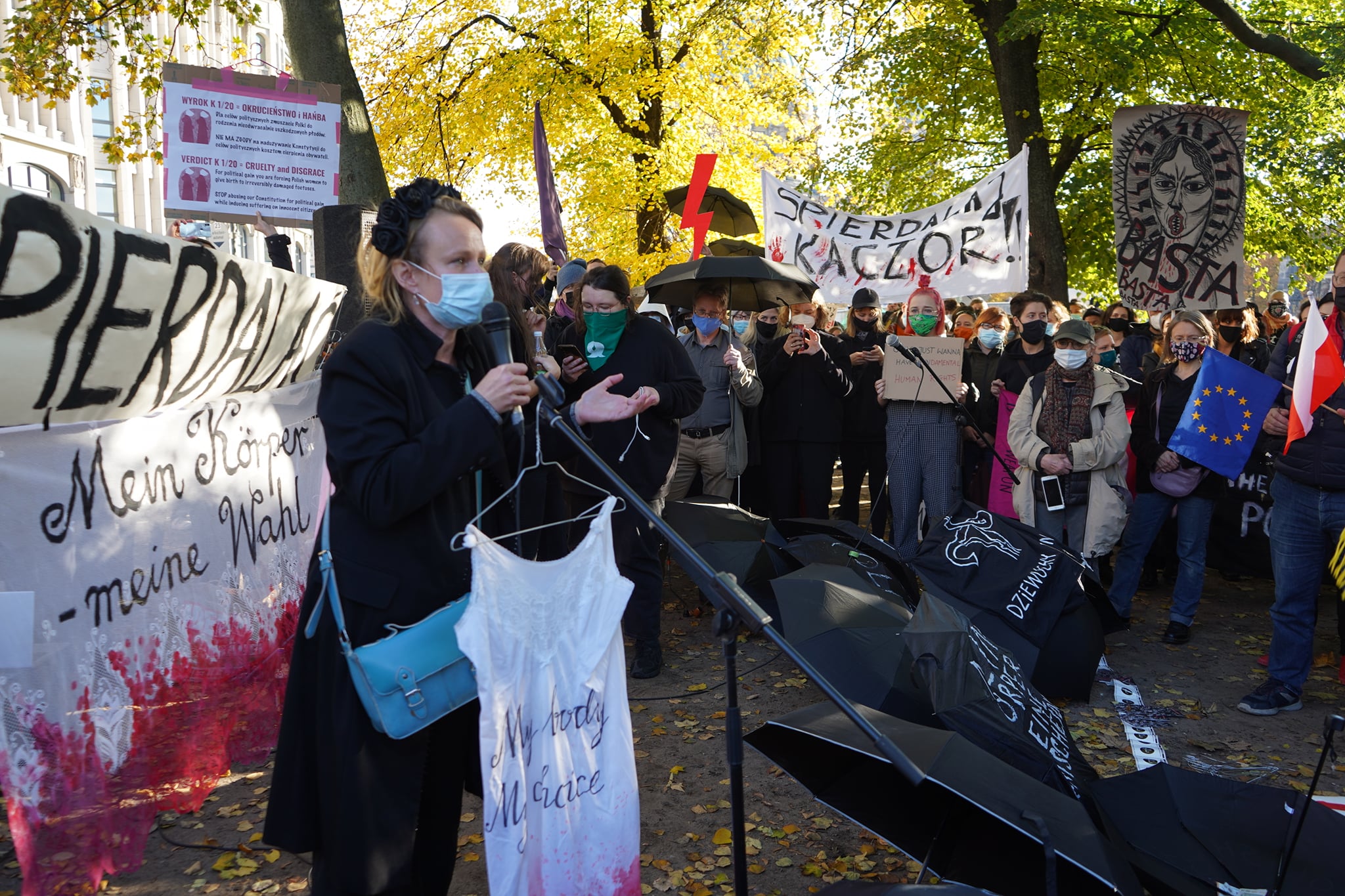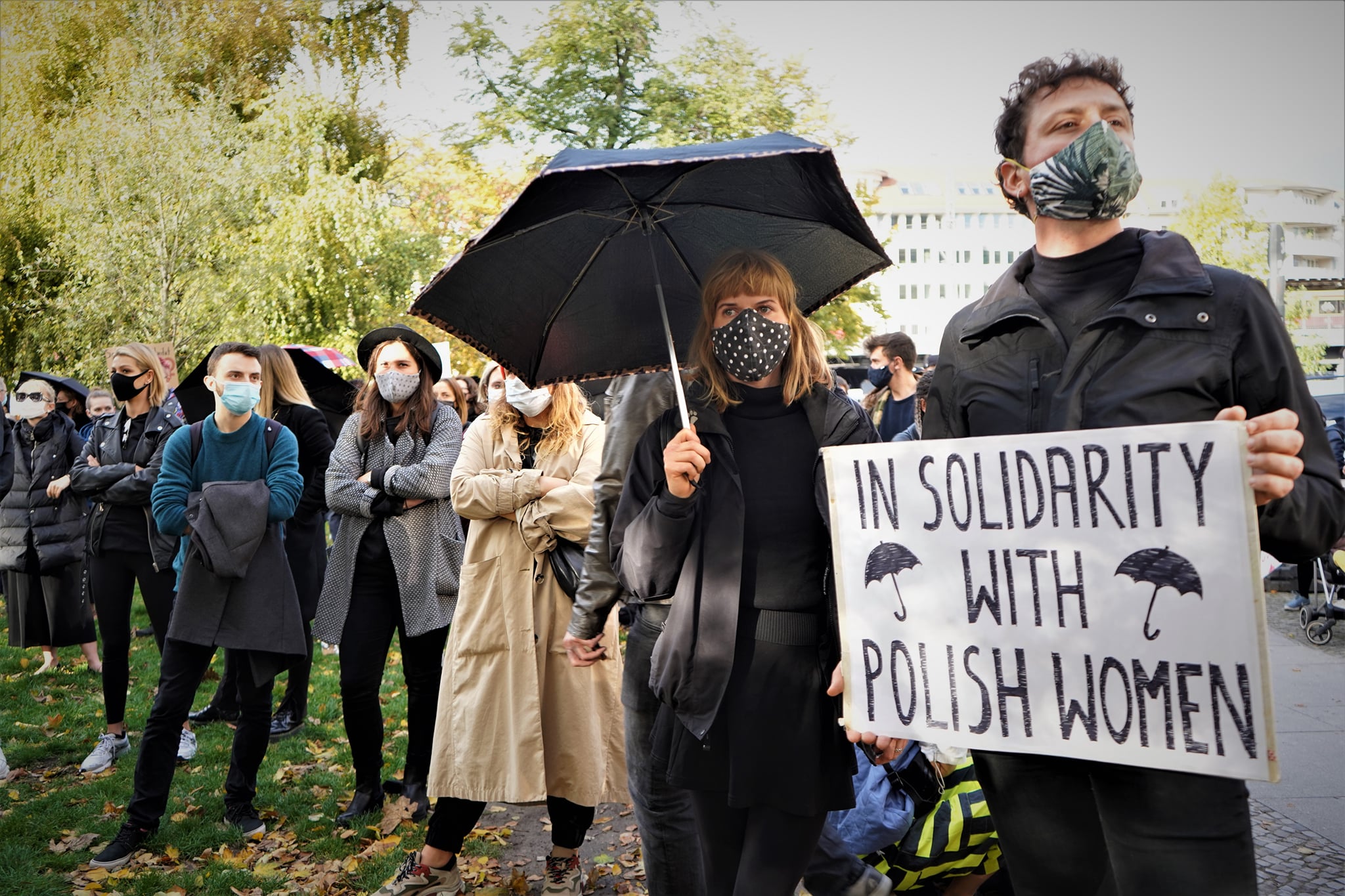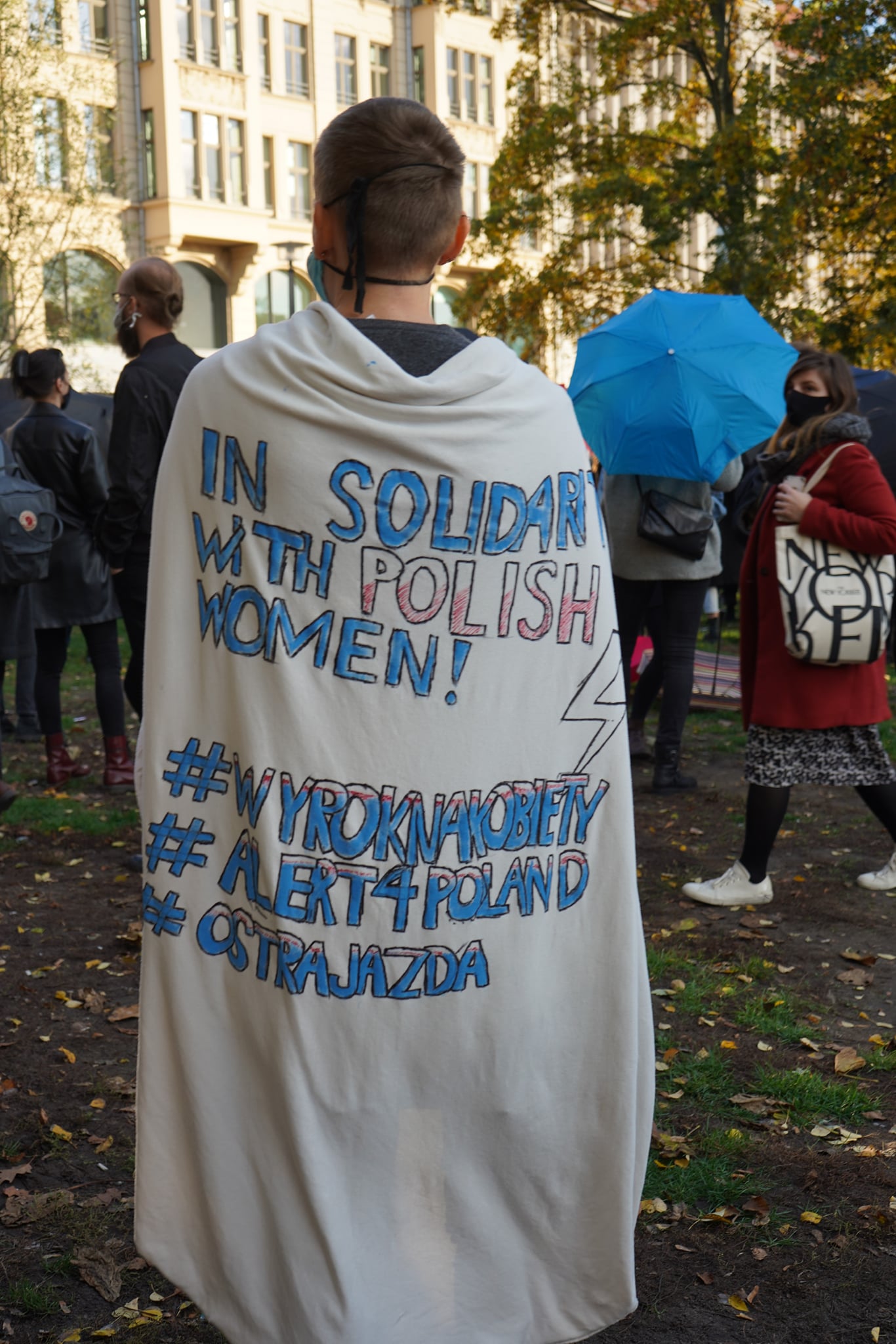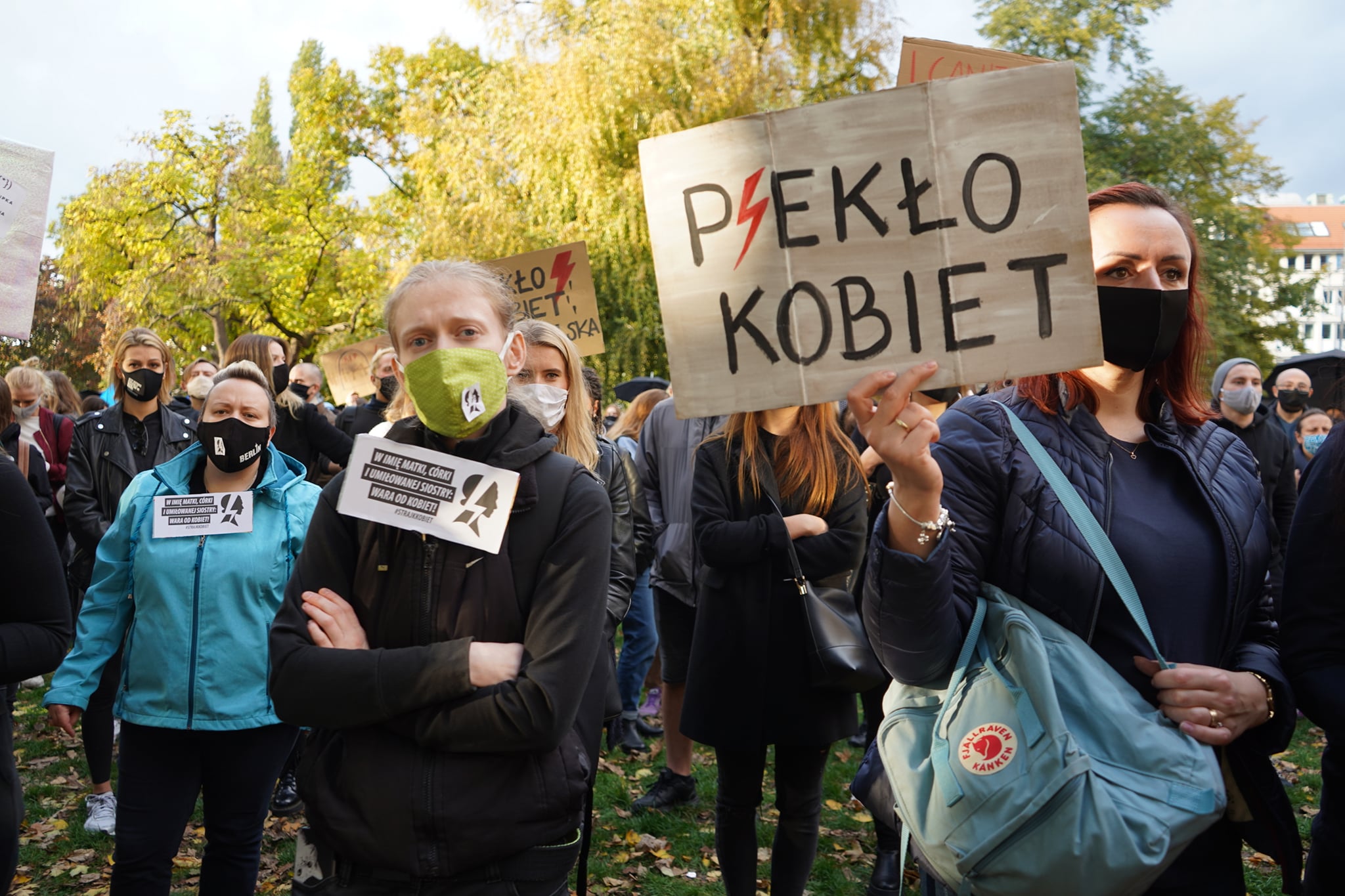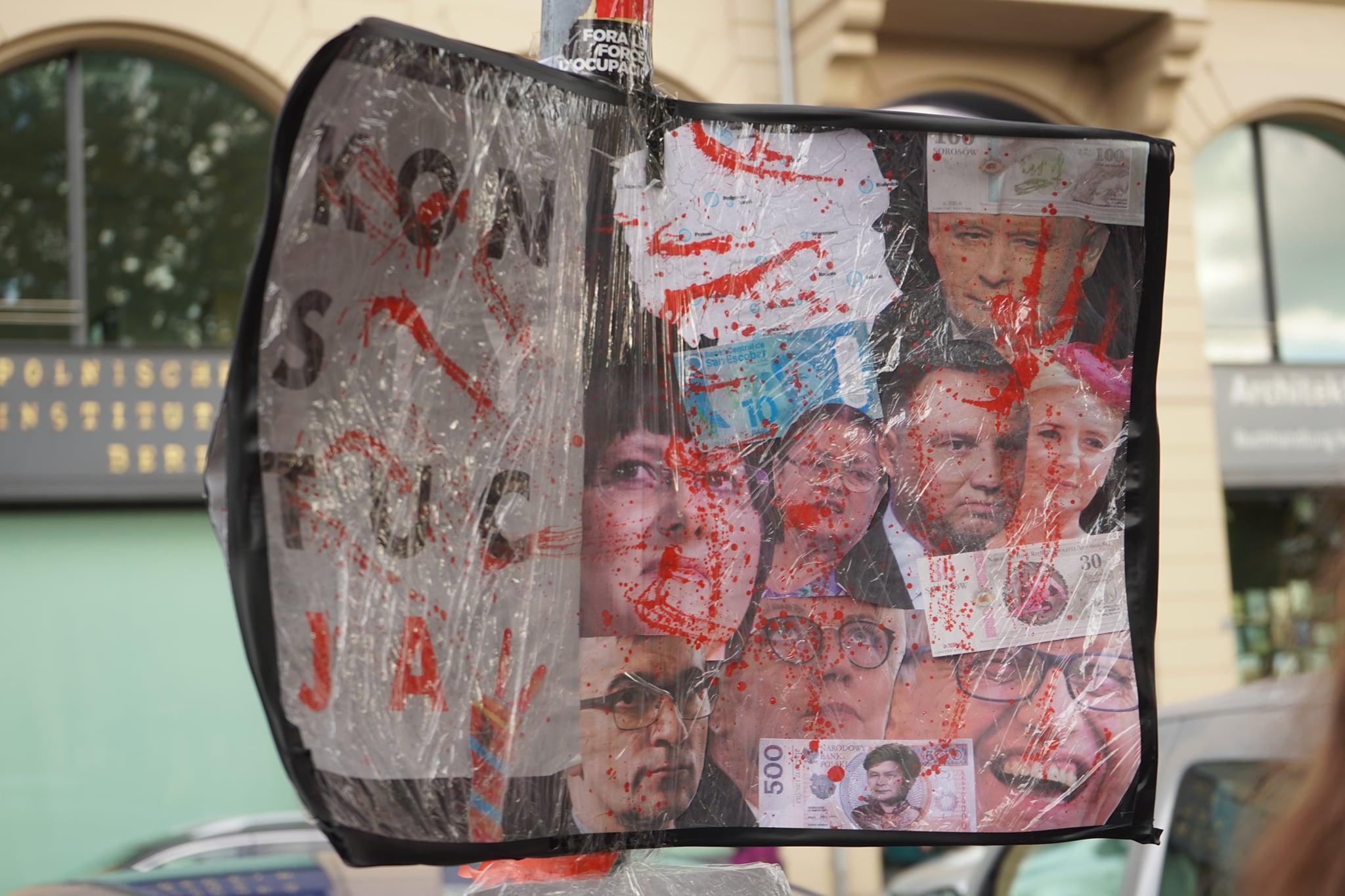 Foto – Anna Maria Patané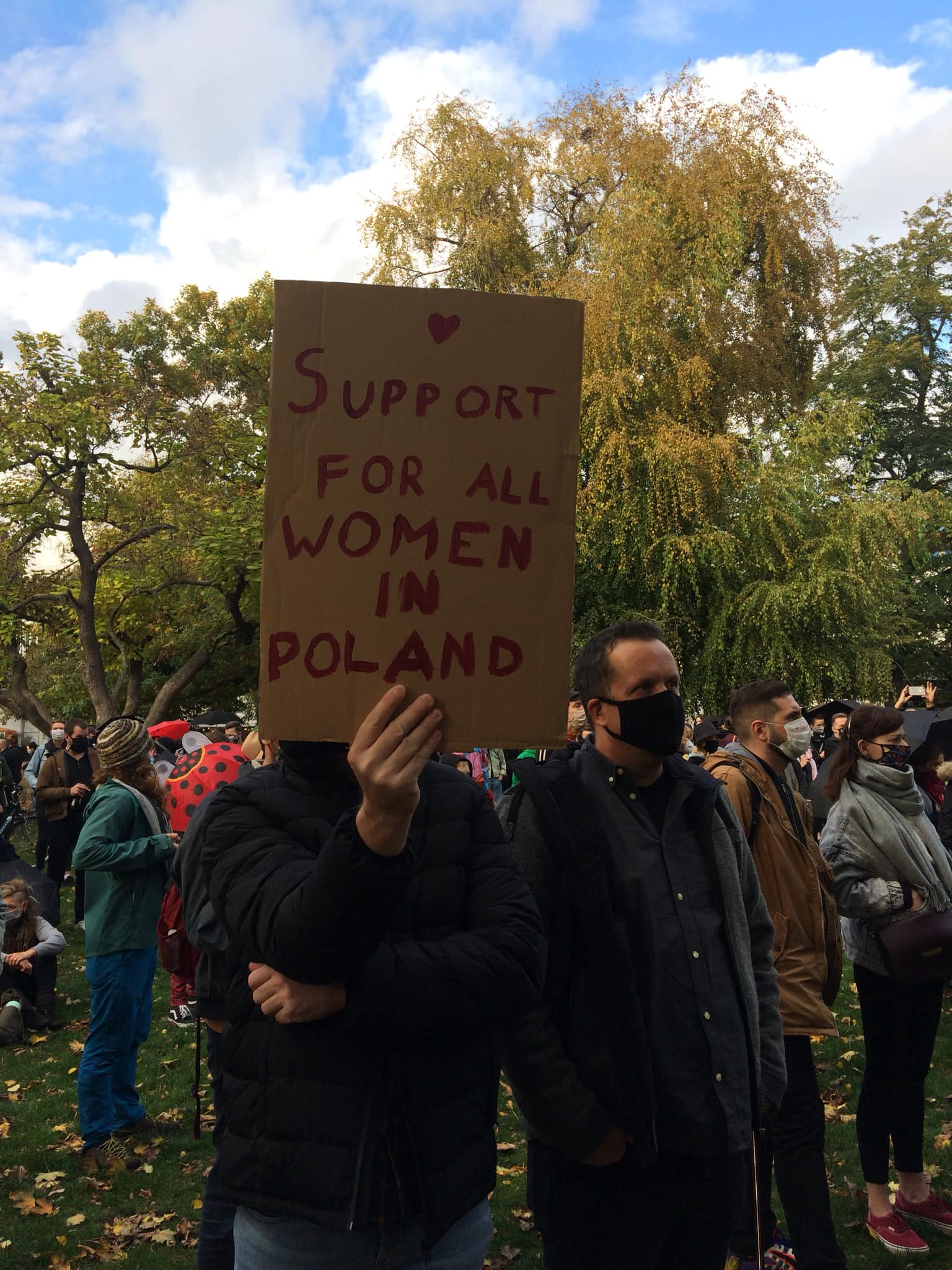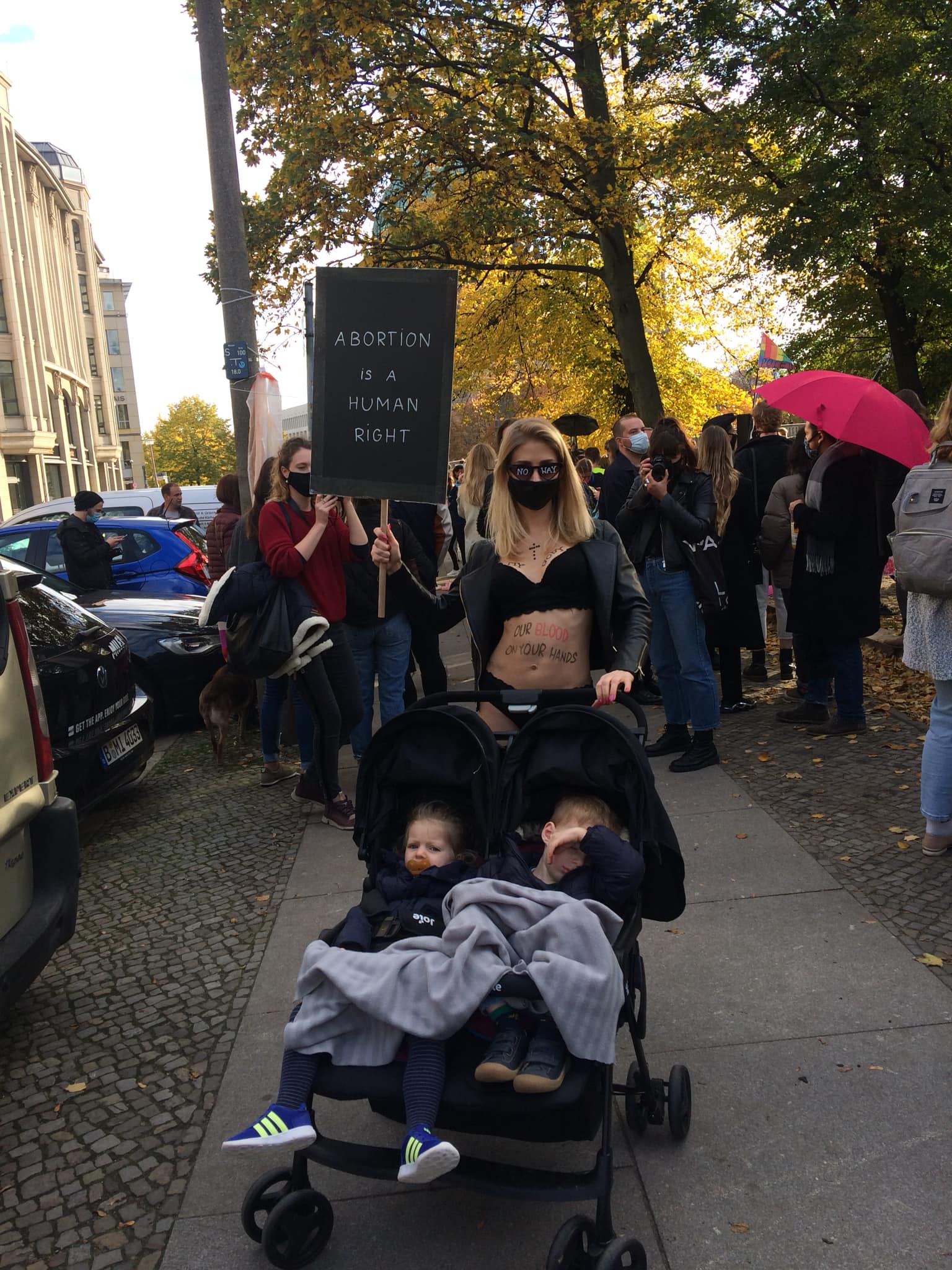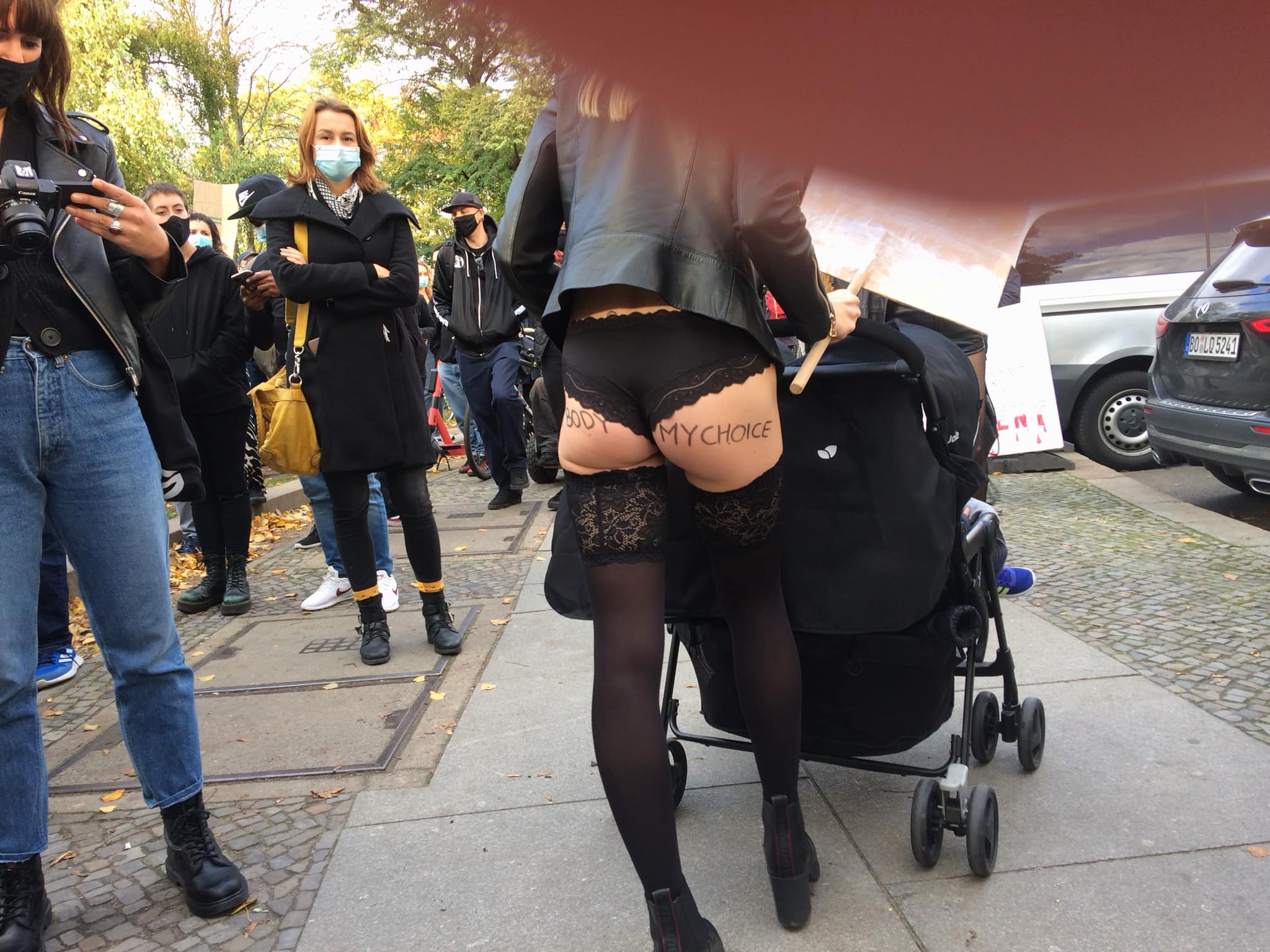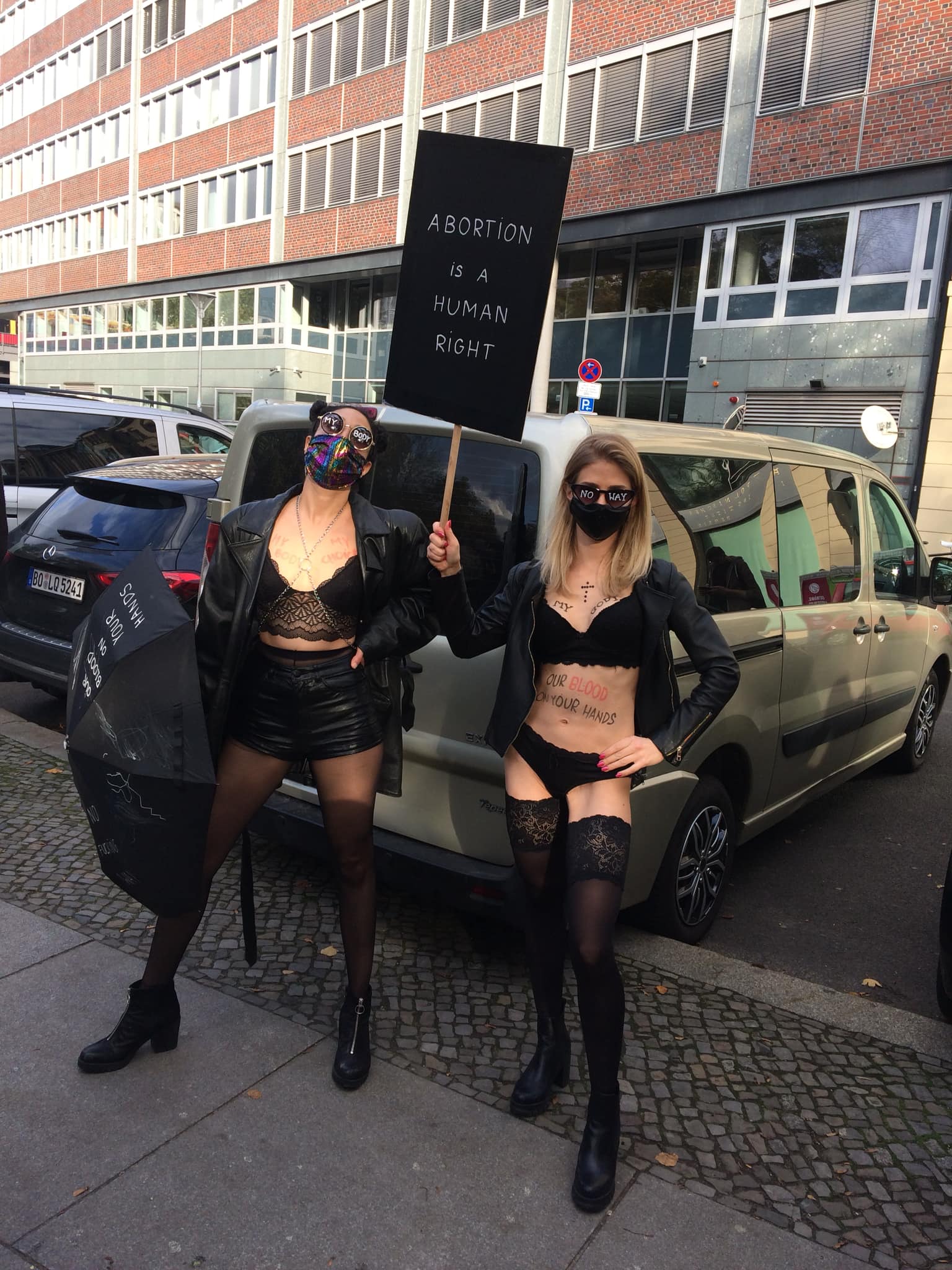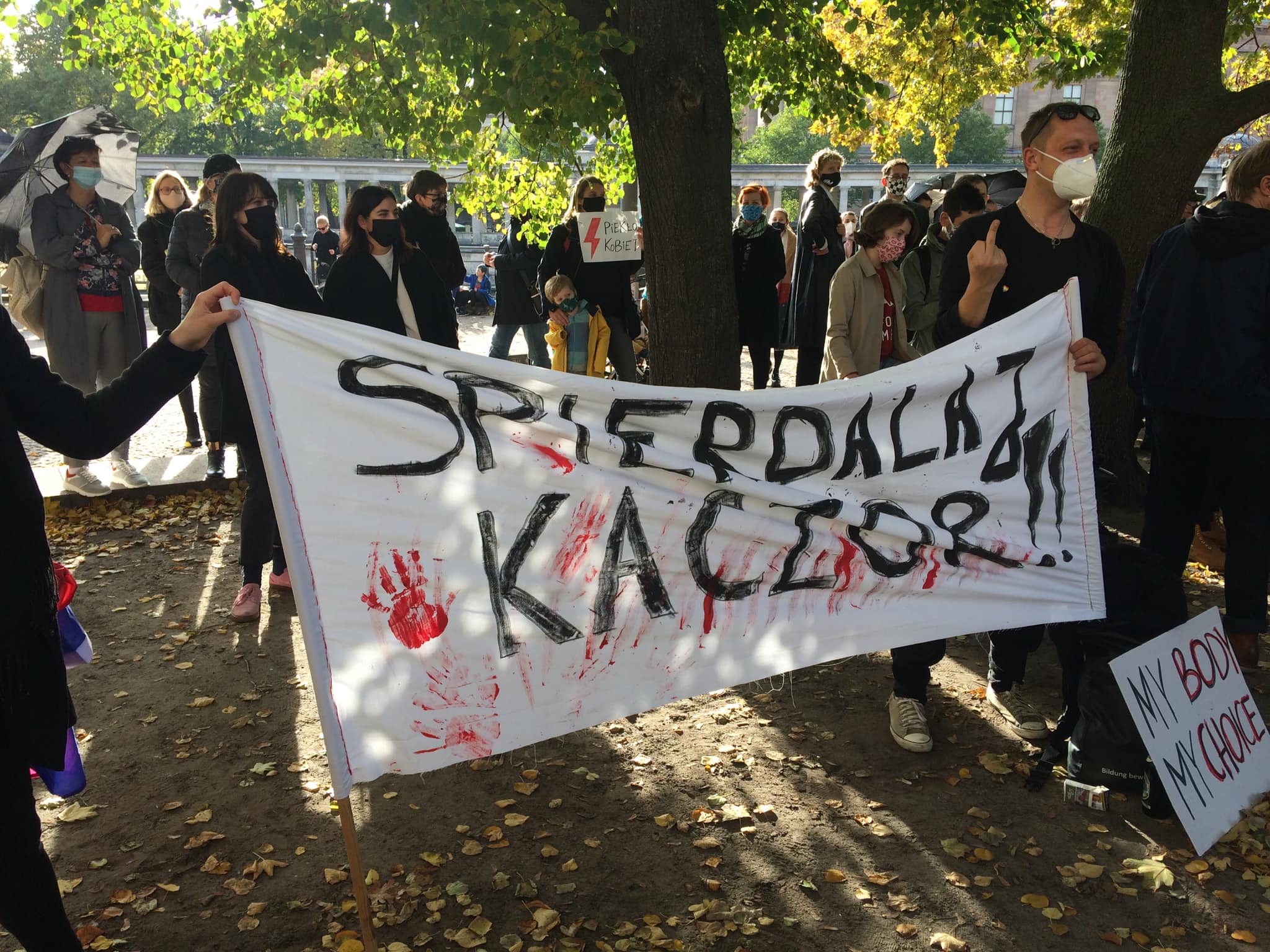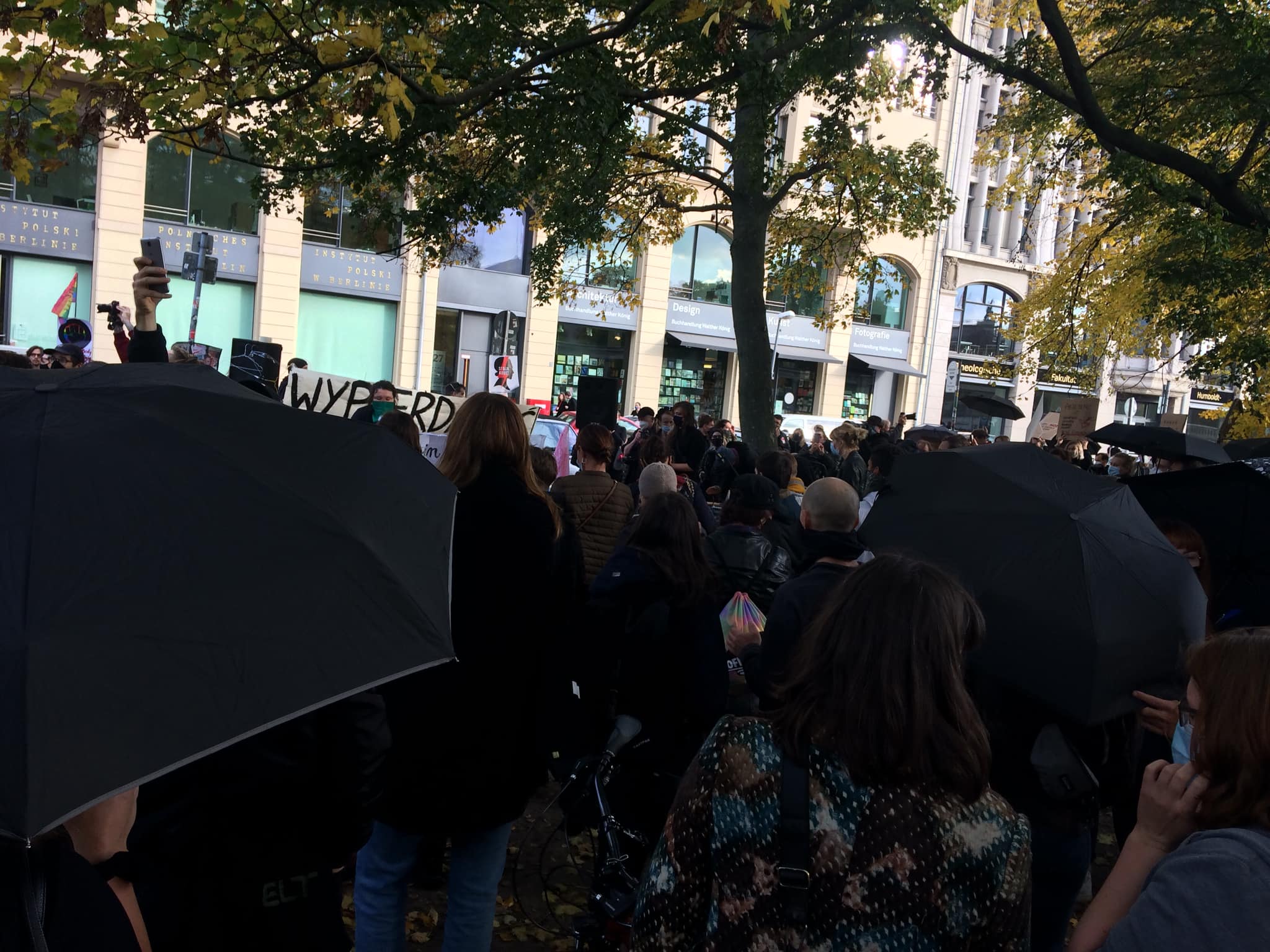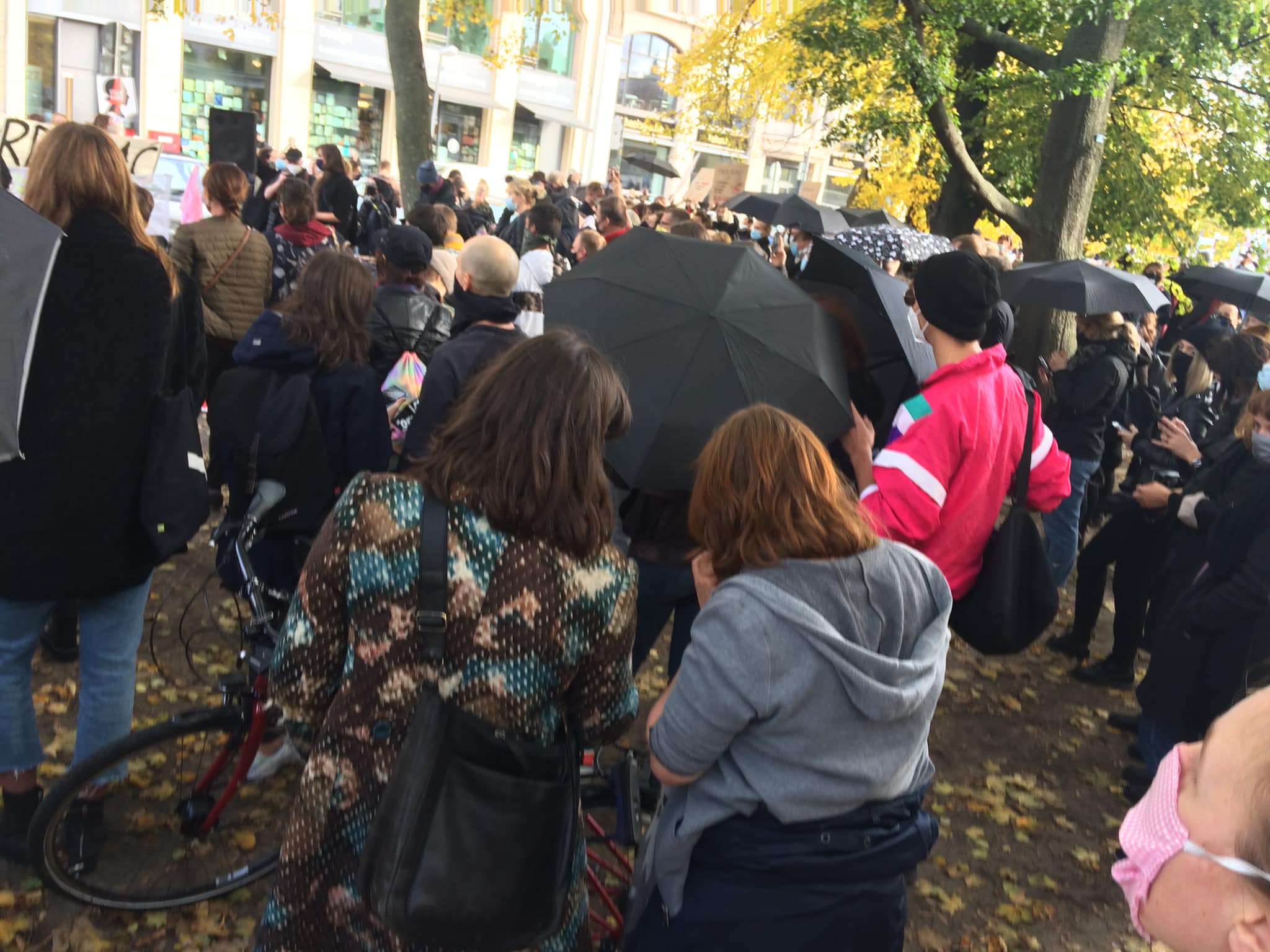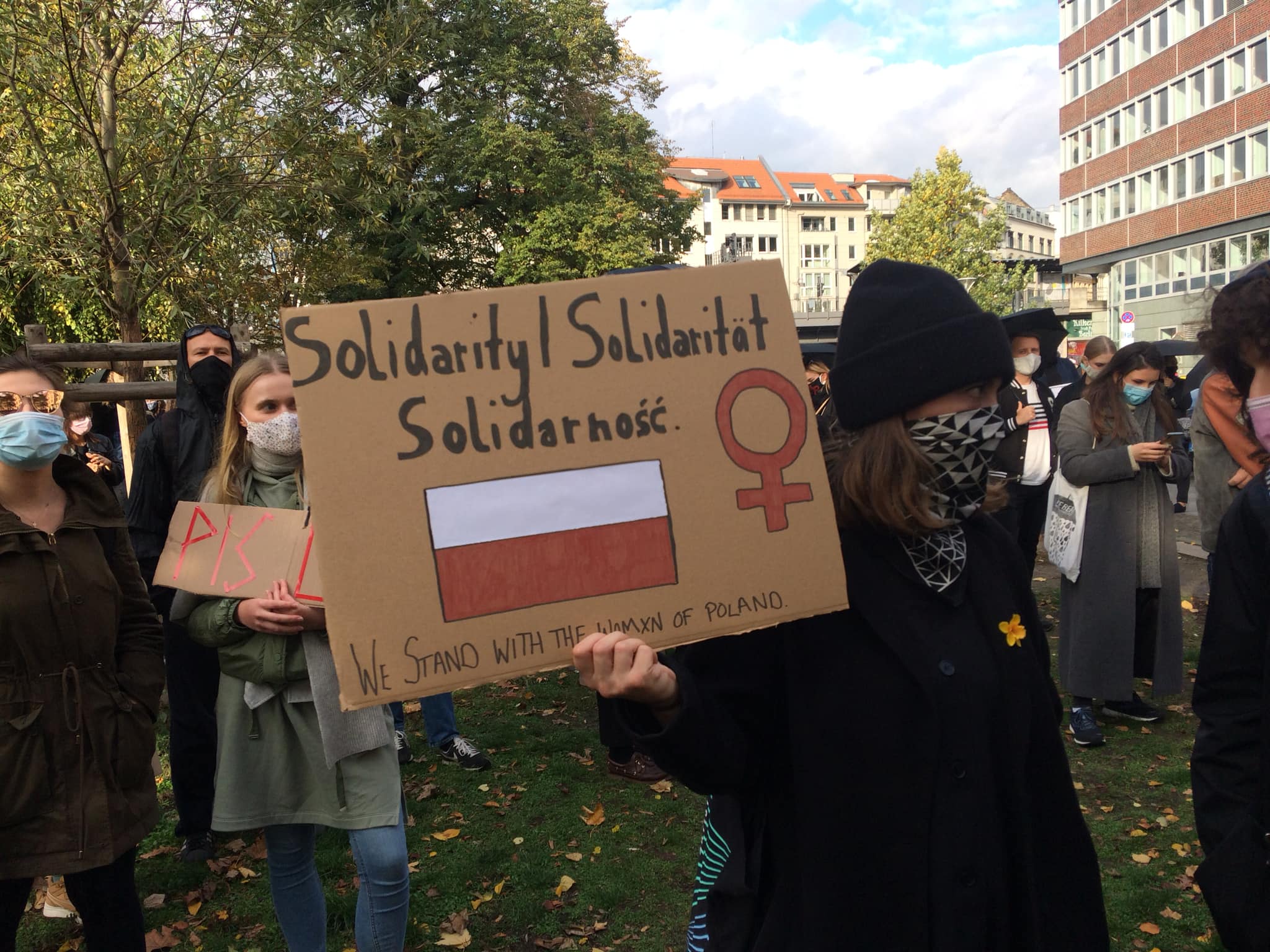 Foto – Ania Kulka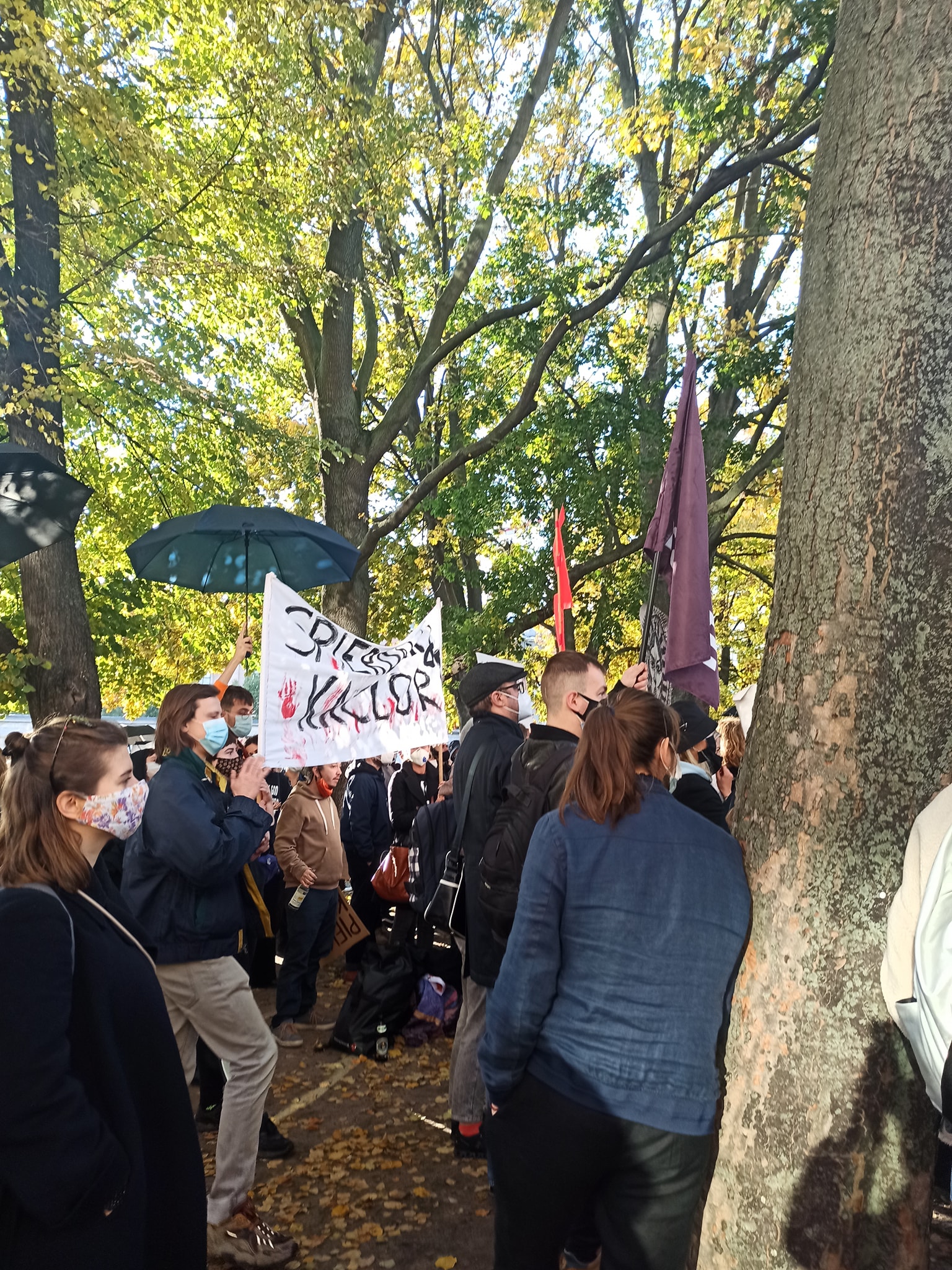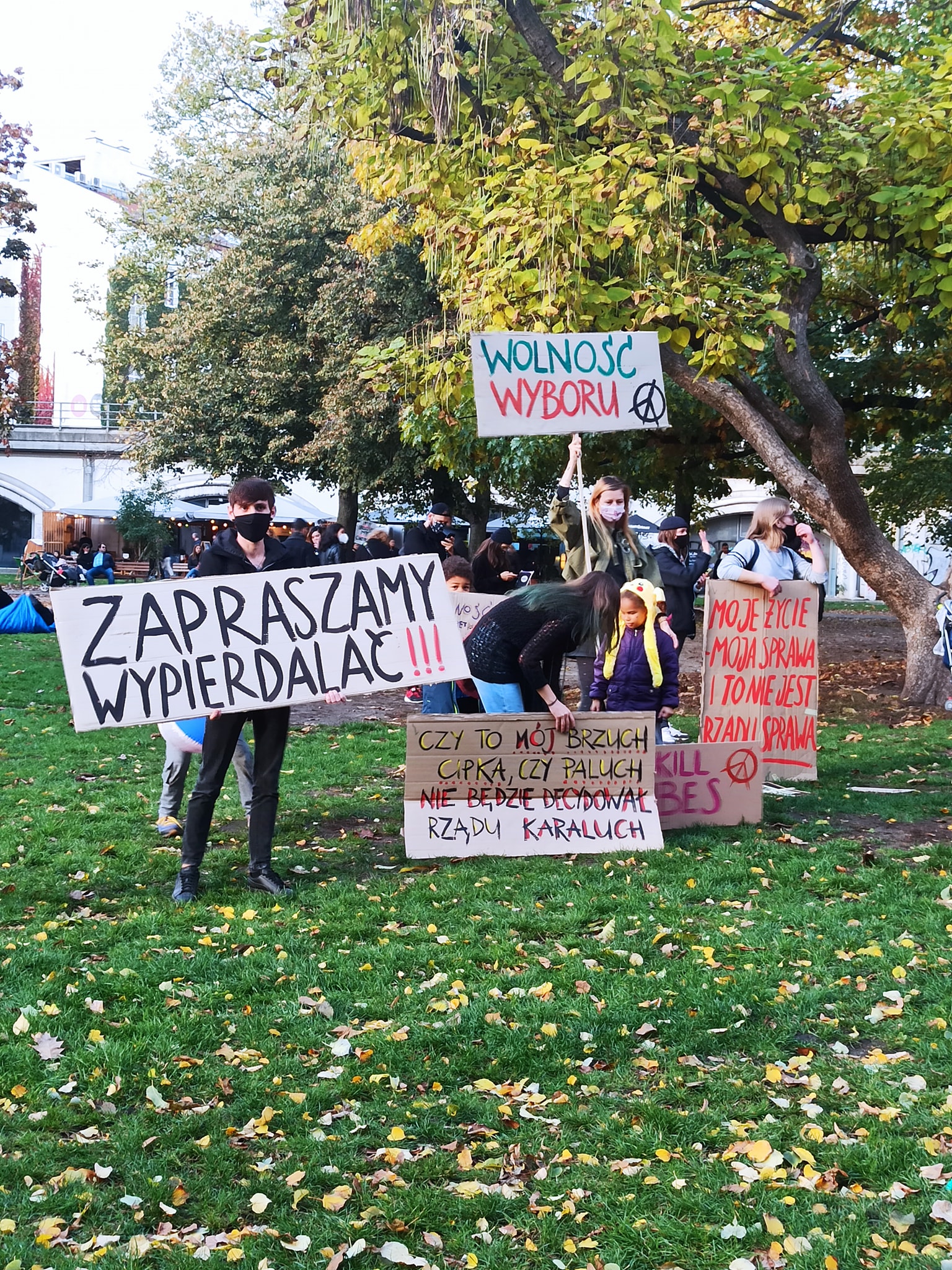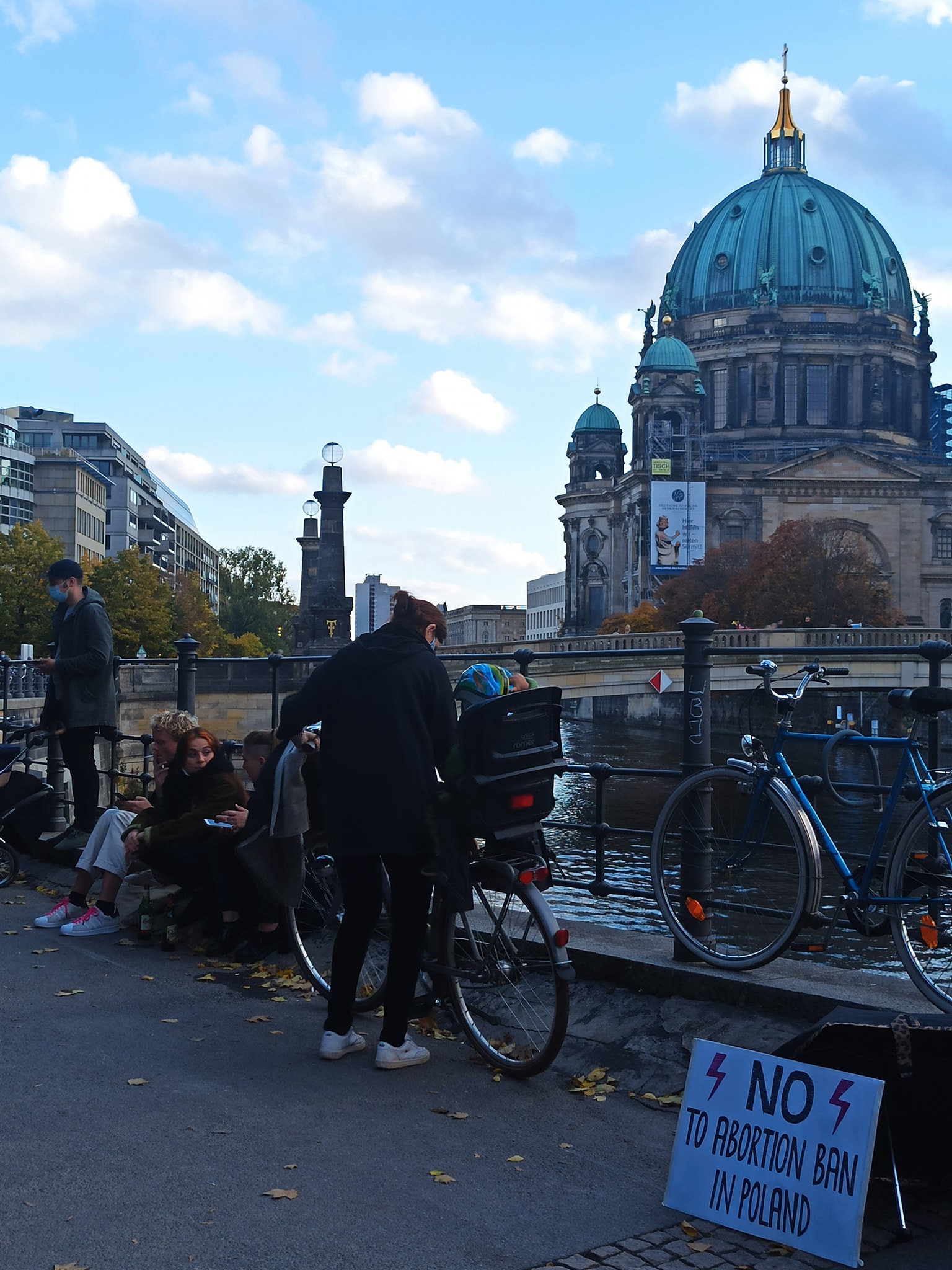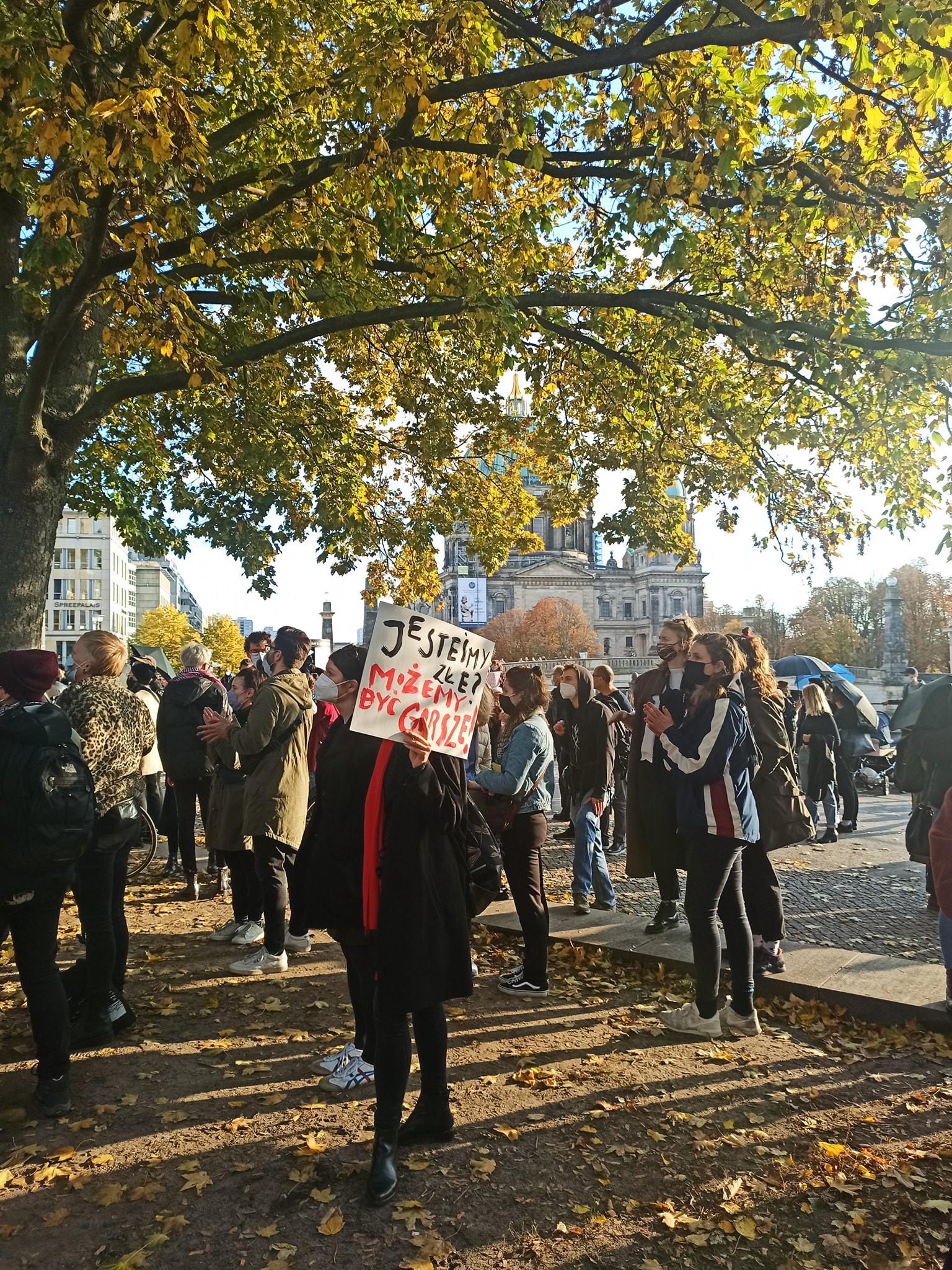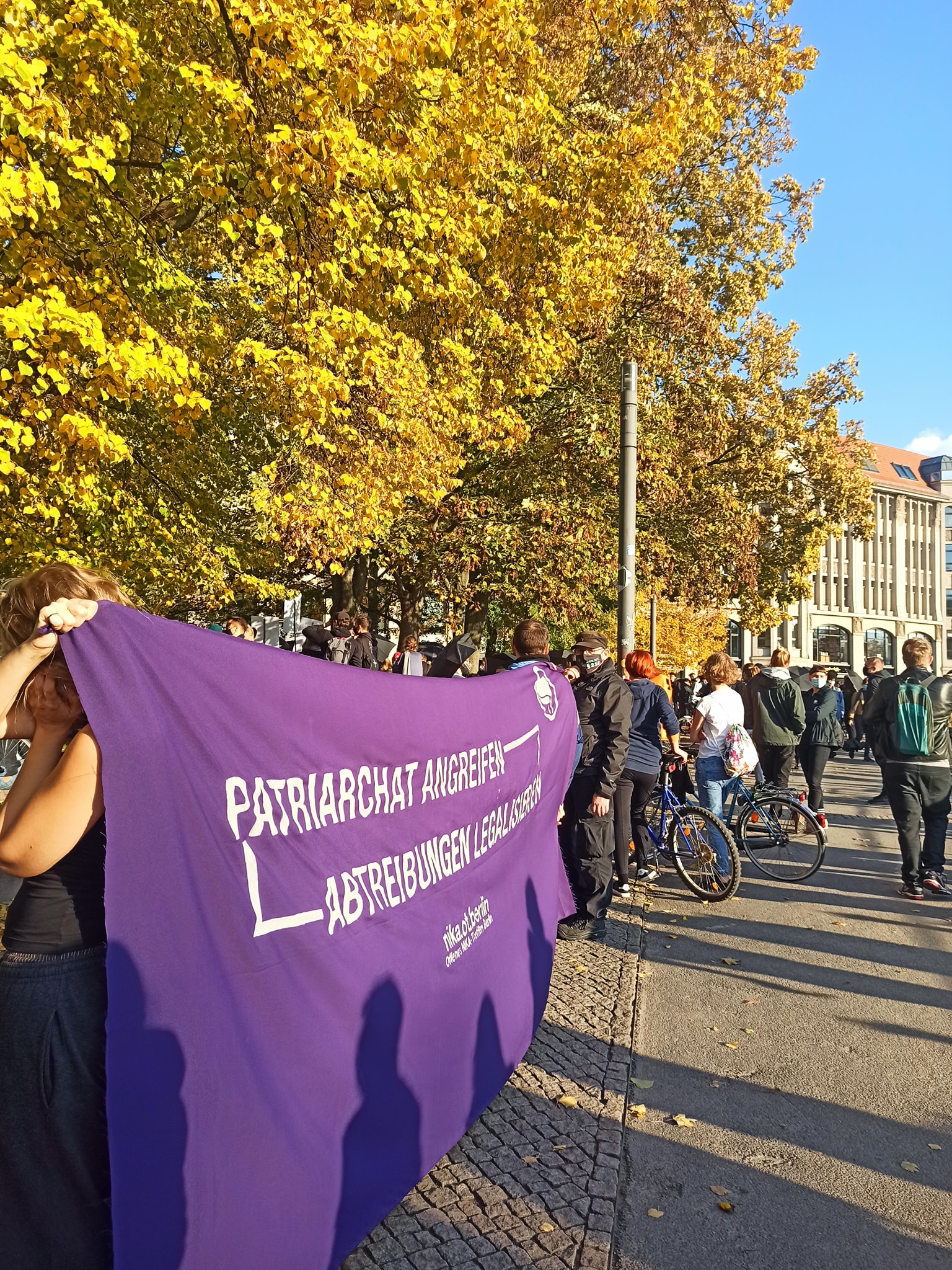 Foto – Andrzej Klukowski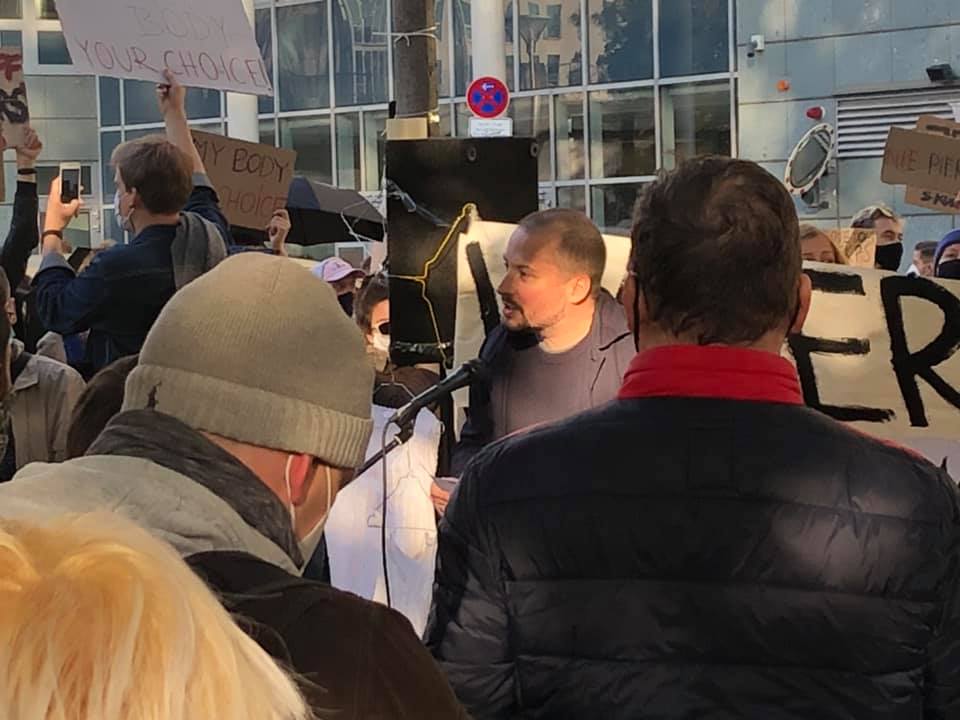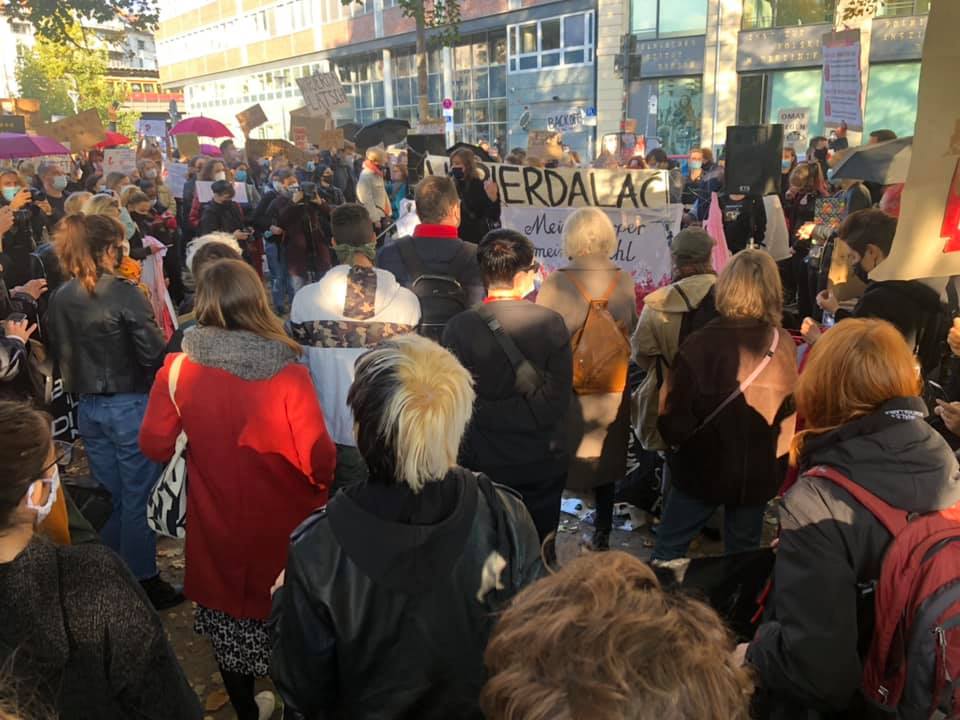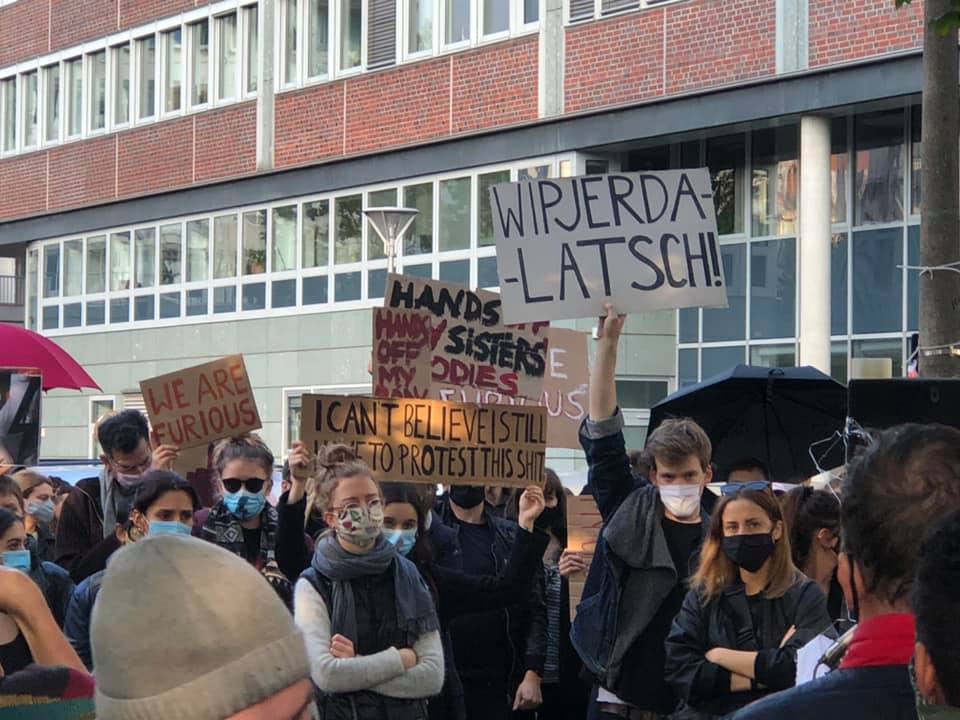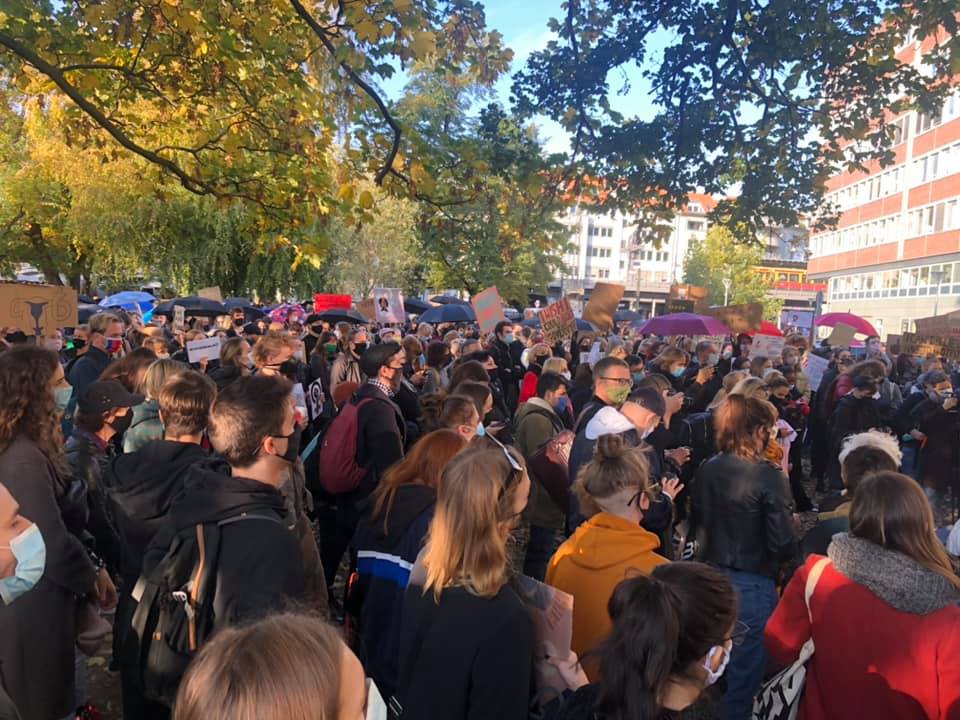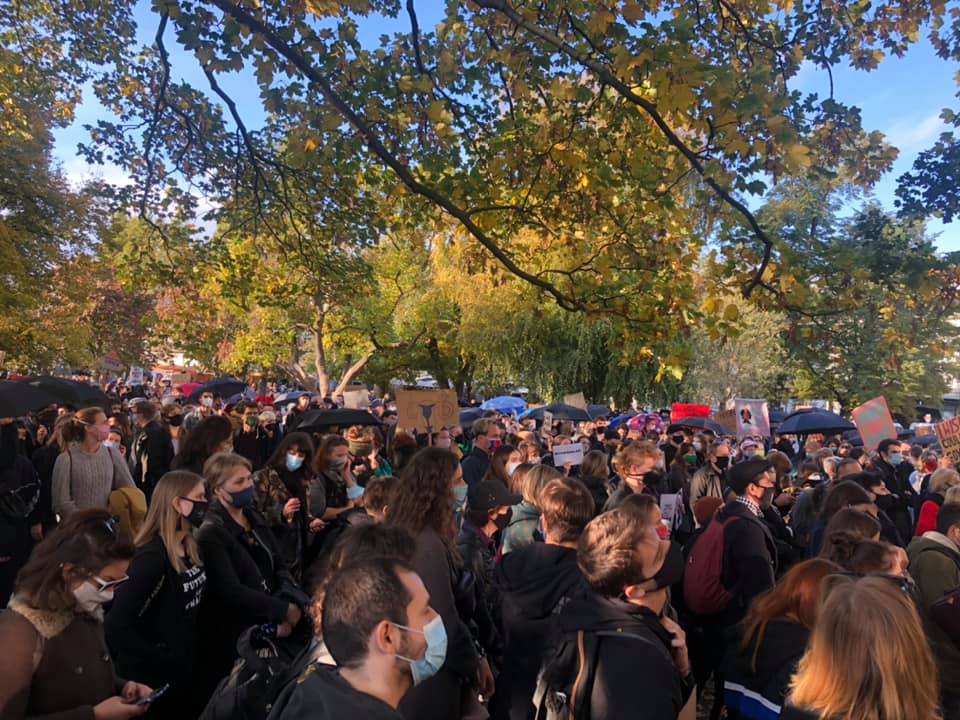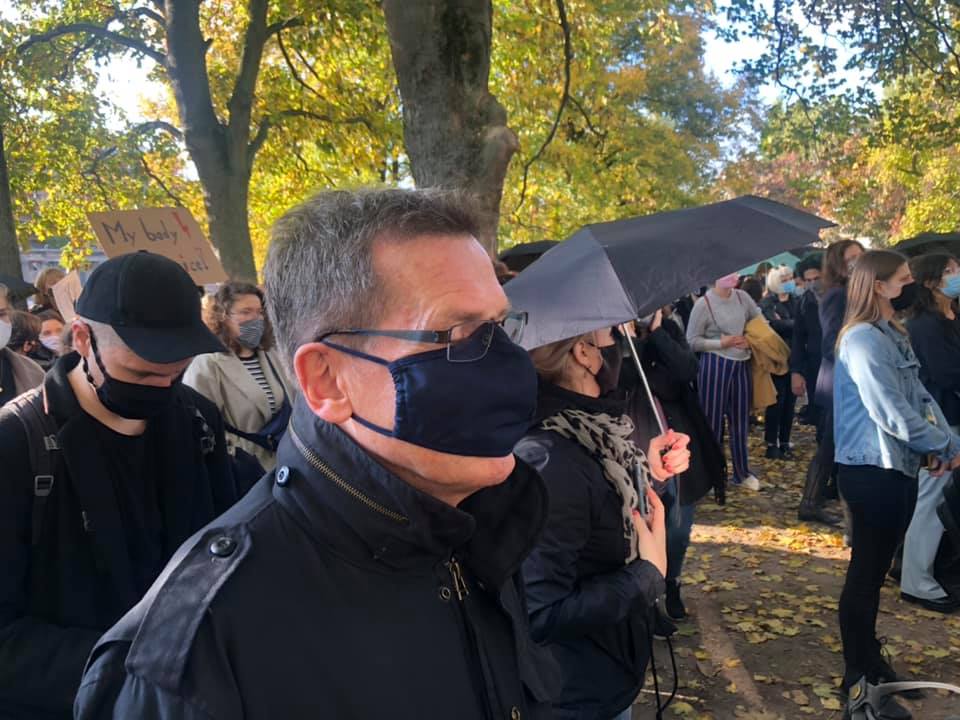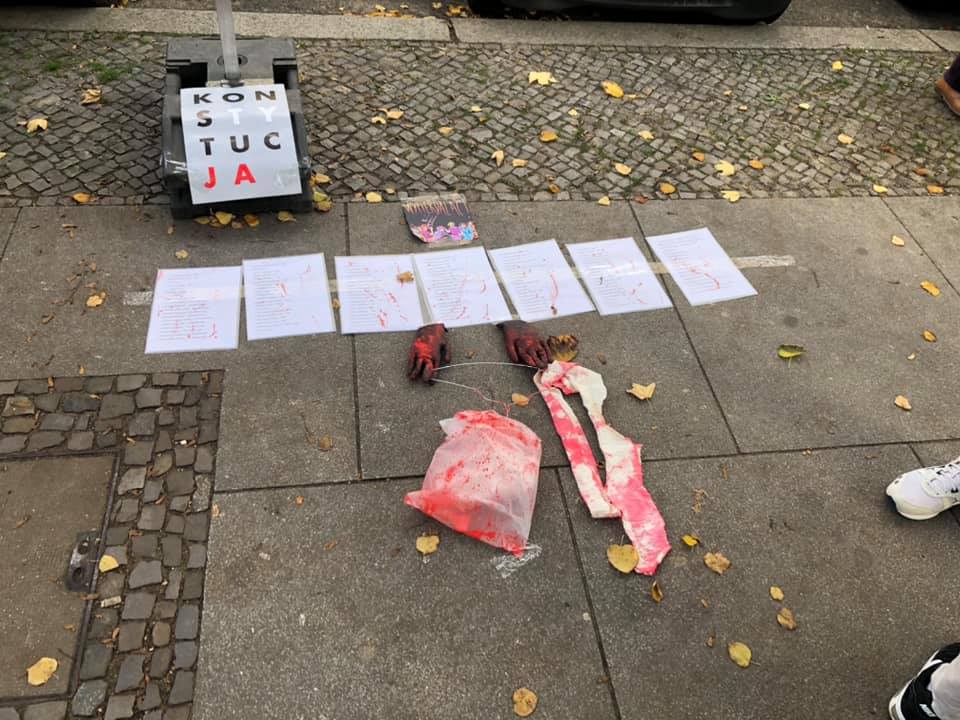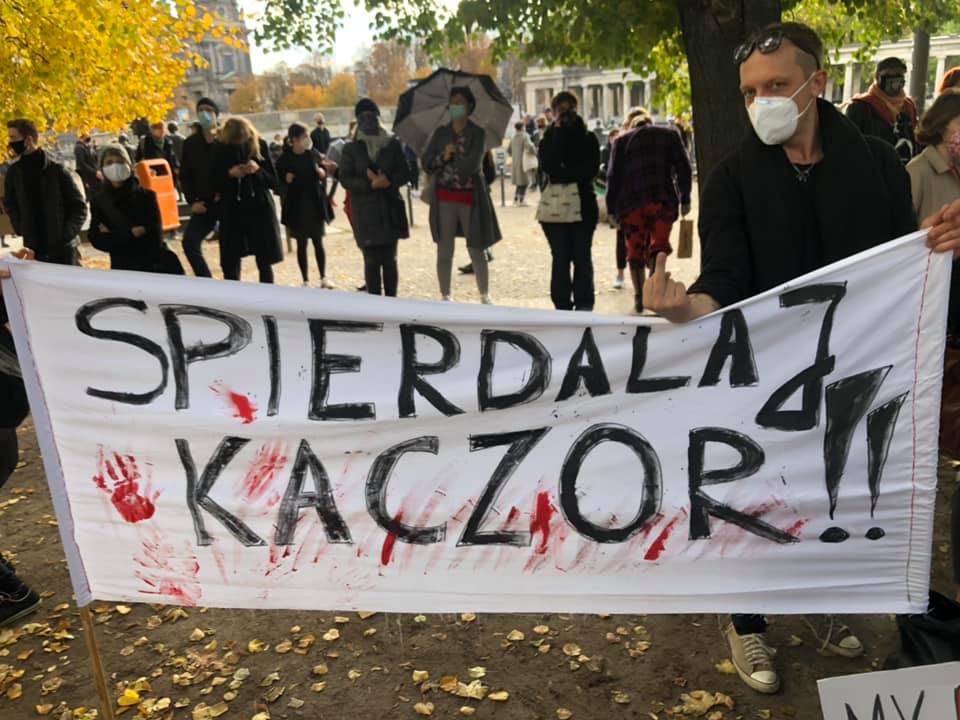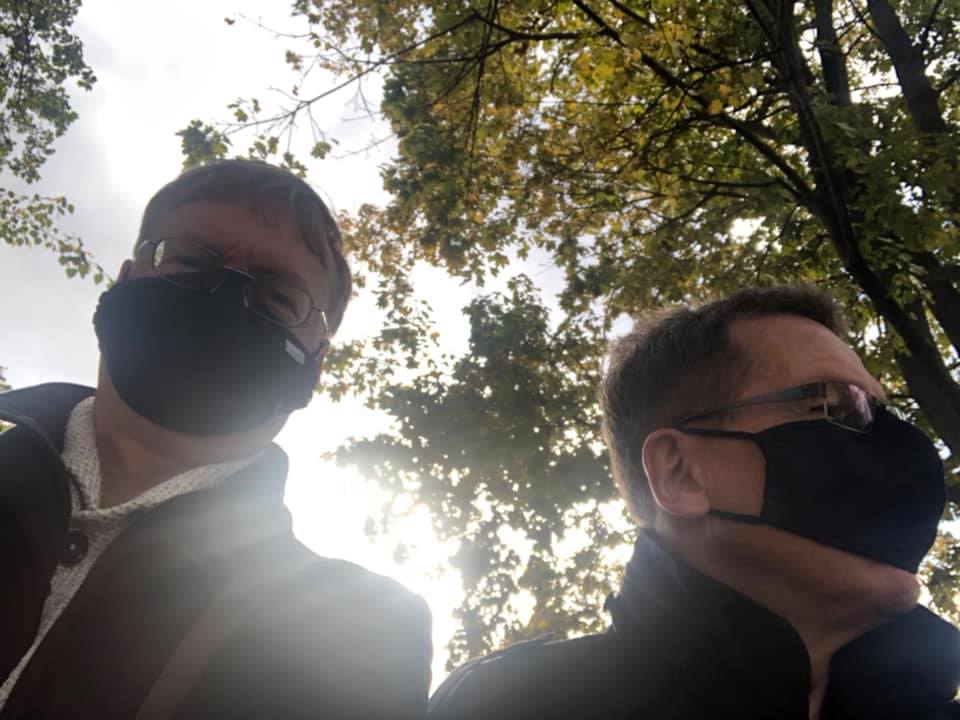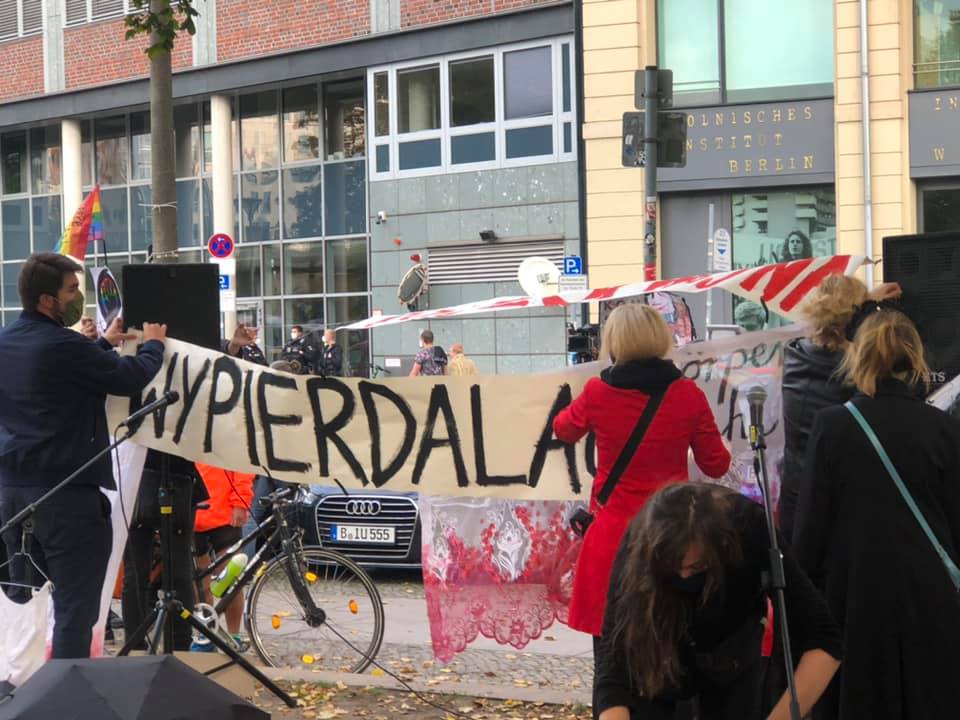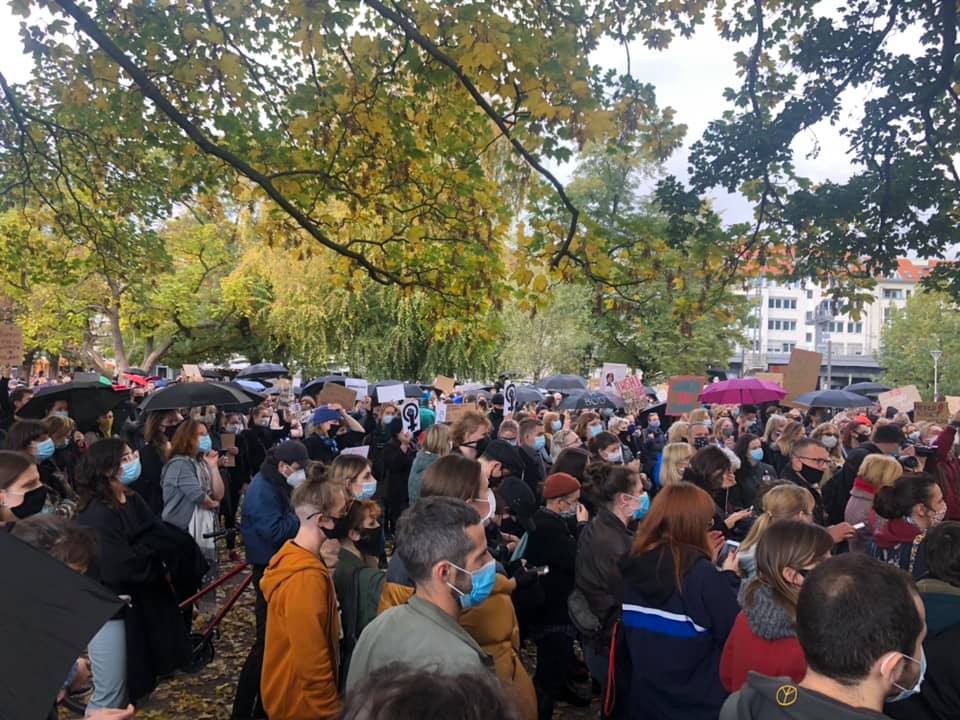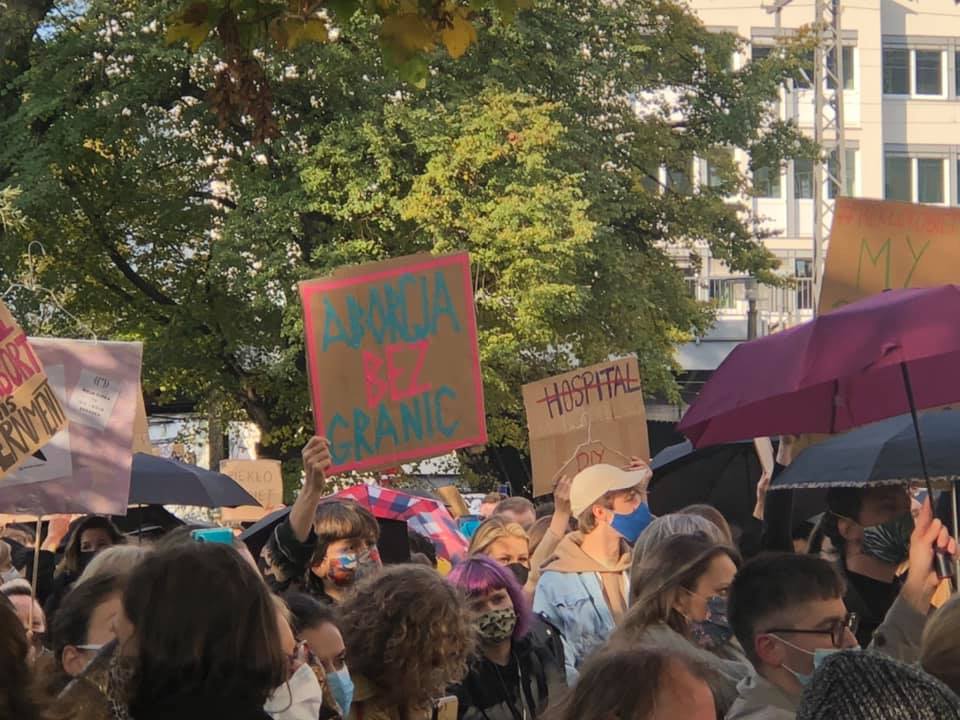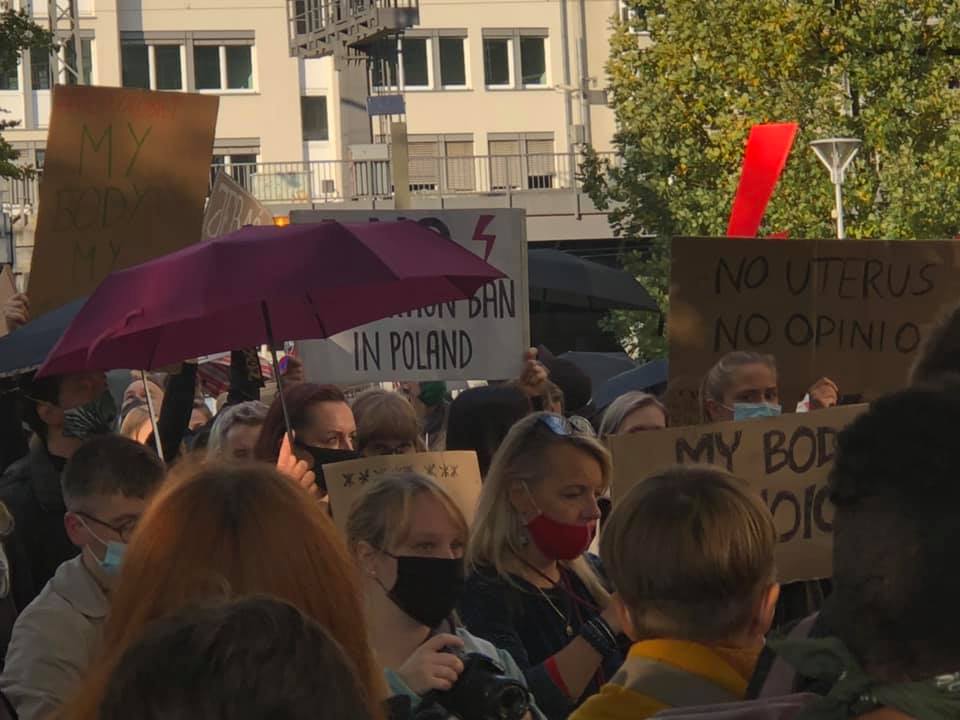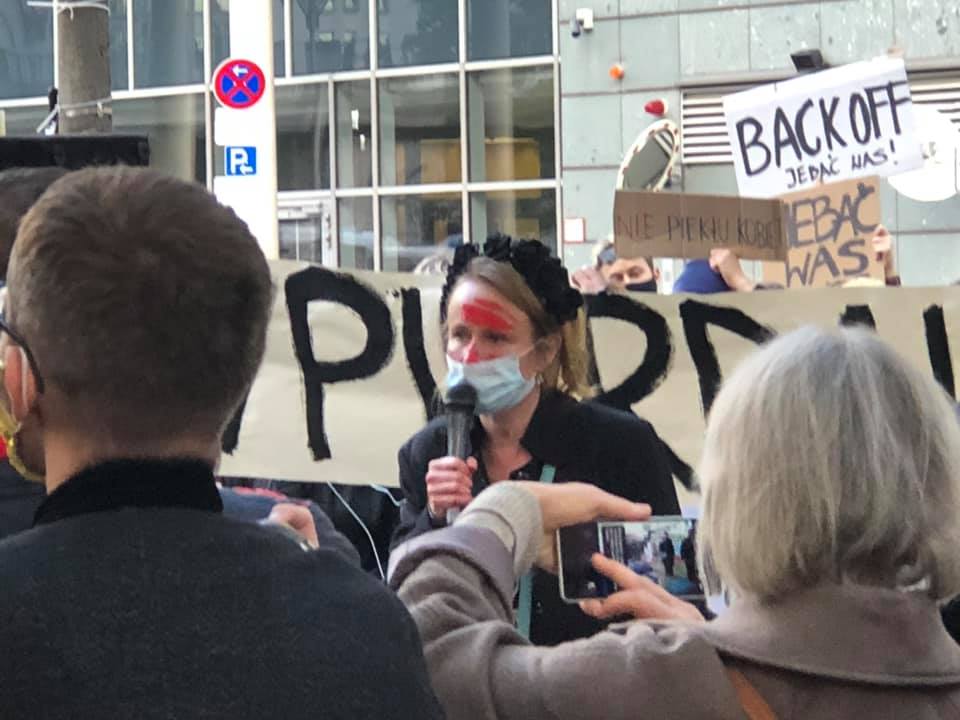 Foto – Aleksandra Piasecka