Manifest, który napisałam po mojej legalnej aborcji w październiku 2017 roku.
Tutaj odczytuję go na proteście pod sejmem, 13.01.2018r.
Kamera: Agata Zbylut
Dzisiaj znowu protestujemy!
Errata: Klauzuli sumienia się nie podpisuje. Klauzulę sumienia się wyznaje.
https://www.youtube.com/watch?v=Owg_QLwdJ6o&t=43s
Rosa Rotes,
Tak, miałam legalną aborcję.
Niniejszy manifest dedykuję wszystkim tym kobietom, które poroniły, bądź miały aborcję i tym, którzy pomogli mi przejść przez jeden z ciemniejszych zakątków mojego życia bez dodatkowych obciążeń psychicznych.
Ogromną większość legalnych aborcji w Polsce wykonuje się z powodu uszkodzenia płodu lub zagrożenia zdrowia kobiety, a nie z powodu tego, że ciąża jest wynikiem przestępstwa.
Na przeprowadzenie legalnego zabiegu dostaje pozwolenie od 900 do 1800 kobiet rocznie.
Dzięki temu podziemie aborcyjne kwitnie.
"Nielegalnych" zabiegów przeprowadza się w Polsce od 100 do 200 tysięcy rocznie.
Tak, miałam legalną aborcję.
Zostałam na nią skierowana po trwających dwa tygodnie badaniach medycznych.
Dostałam pozwolenie na terminację ciąży, ze względu na letalną wadę płodu i zagrożenie mojego życia.
Tak, miałam szczęście w ogromnym nieszczęściu.
Trafiłam na lekarki i lekarzy, pielęgniarki i pielęgniarzy, którzy zrobili wszystko, żebym mogła przeprowadzić zabieg jak najszybciej i w związku z tym jak najmniej cierpieć.
Tak, wiem ile jest w naszym kraju przerażonych kobiet,
skazanych na poniżające traktowanie w czasie, gdy potrzebują wsparcia i rzetelnych informacji o stanie zdrowia swoim i płodu.
Tak, zdaję sobie sprawę, jak bardzo poniżająca dla kobiet jest indoktrynacja i wpływanie na ich wybór.
Tak, wiem jak ważny jest szacunek dla każdej decyzji.
Tak, podjęliśmy z partnerem decyzję o terminacji ciąży po konsultacjach z lekarzami.
Nikt nie narzucał nam rozwiązania.
Przed badaniami przez myśl nam nie przeszło, że może nam się to przytrafić.
Tak, nawet gdybym przeżyła ciążę i urodziła dziecko, umarłoby ono wkrótce w męczarniach.
Jest to niezgodne z moim sumieniem.
Nie godzę się, żeby skazywać na cierpienie kogoś tak bezbronnego, jak nowo narodzony człowiek.
Wystarczy, że ja cierpię, więcej cierpień nie trzeba.
Tak, to jest mój wybór, zgodny z moim sumieniem.
Szanuję każdy inny wybór i każde inne sumienie.
Tak, chcę mieć prawo do stanowienia o moim ciele!
Dopóki płód nie może żyć beze mnie, jest we mnie, jest mną.
Tak, podjęłam decyzję najlepszą dla niej i dla mnie.
Nikt kto nie nosił w łonie płodu i nie odczuł rodzących się matczynych uczuć, nie ma prawa wypowiadać się w moim imieniu i narzucać mi swoich rozwiązań!
Tak, chcę, żeby dziewczyny mogły same rozstrzygnąć do 12 tygodnia ciąży, czy chcą urodzić dziecko, czy nie!
Nikogo nie można zmuszać do podjęcia decyzji, która zmieni całe ich życie!
Tak, chcę, żeby wszystkie dziewczyny w ciąży miały dostęp do badań prenatalnych.
Wykrywają one wady płodu, które mogą być operowane w łonie matki lub bezpośrednio po urodzeniu.
Niewiele z tych badań kończy się przerwaniem ciąży.
Tak, noszę w sobie żałobę po stracie, tego nie da się zamieść pod dywan.
Tak, trzeba pozwolić dziewczynom przejść przez to po swojemu.
Tak, uważam, że brak nam odpowiedniego słownictwa.
Płód czy embrion jest określeniem medycznym.
Tak, uważam, że konieczne jest znalezienie odpowiedniej nazwy na poroniony płód.
Brak odpowiedniego słowa wymusza używanie tych dostępnych.
Proponuję słowo "narodek/narodka".
Tak, chciałabym, aby państwo poważniej traktowało poronienia,
abym nie musiała być na urlopie macierzyńskim, bo co to za macierzyński, skoro dziecka nie ma…
Tak, poczułam się tym poniżona.
Urlop po poronieniu powinien nazywać się urlopem poronnym.
Tak, bardzo dziękuję, że ani razu nie usłyszałam o klauzuli czyjegoś sumienia.
Uratowało mnie to przed niepotrzebnym przedłużaniem cierpienia, wpatrywaniem się, jak płód rośnie w moim łonie i domyślaniem się, że z dnia na dzień jest coraz większe prawdopodobieństwo, że i ona będzie będzie cierpiała.
Tak, jestem wściekła, że inni chcą decydować o tym, co ma robić kobieta ze swoim ciałem.
Dlaczego nie zajmą się sumieniami tych, którzy wszczynają wojny i zabijają zdrowo narodzonych ludzi?
Dlatego wnoszę o to, aby klauzula sumienia dotyczyła wojskowych oraz inne służby mundurowe, a nie ginekologów!
Jeżeli czyjeś sumienie stoi w sprzeczności z aktualną wiedzą medyczną, niech wybierze sobie specjalizację, w której podobne dylematy go ominą!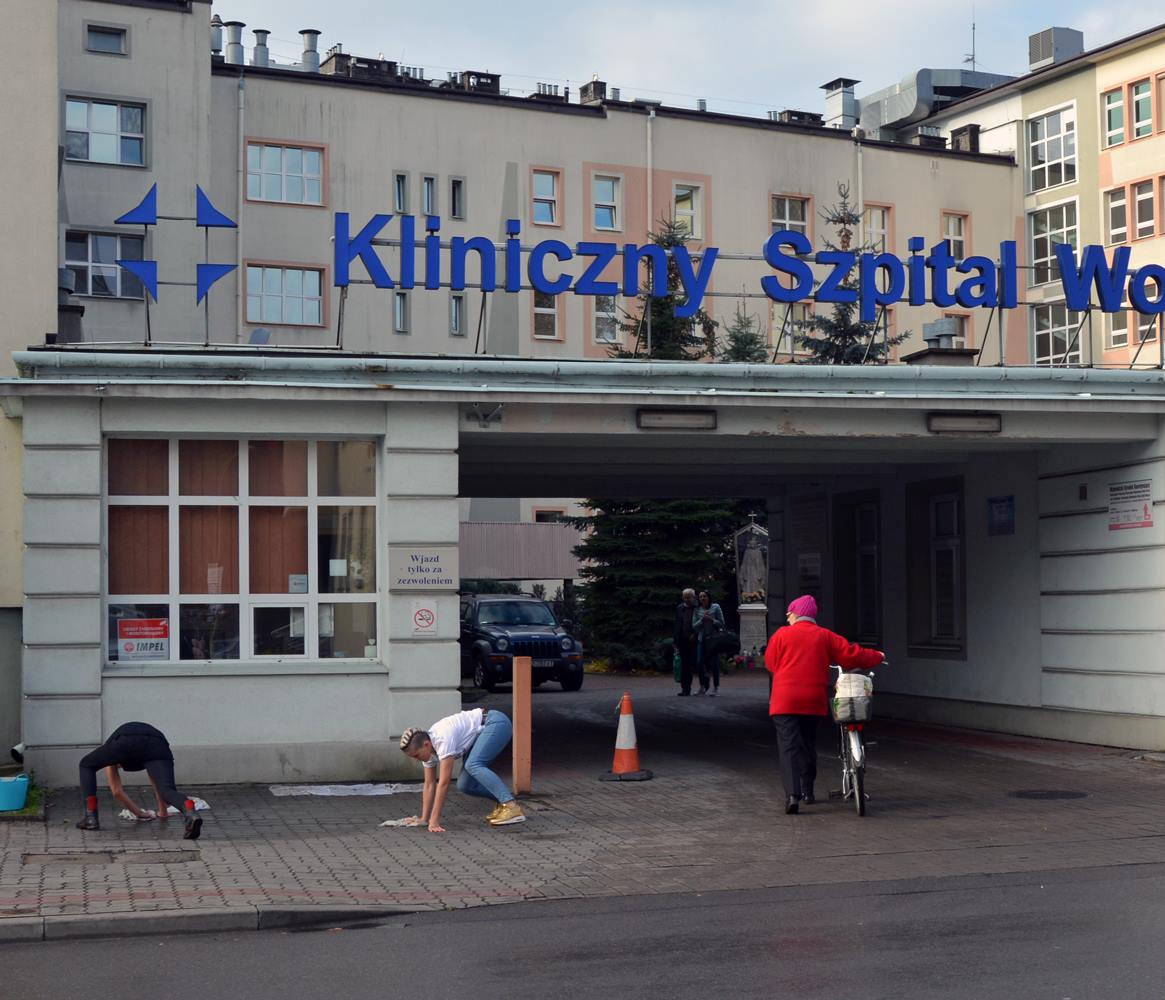 Barbara Ewa Baran, Aleka Polis, protest
Kliniczny Szpital Wojewódzki Nr 1 im. Fryderyka Chopina, Rzeszów, 07.10.2017
fot. Katarzyna Żółty-Martens