Eine Ausstellung von Anna Krenz
feat. Wojtek Drozdek, Oliver Feldhaus, Monika Saczyńska, Maciej Soja, Marian Stefanowski, Michał Zak
Eröffnung: Freitag, 3 Februar 2017 | 19 Uhr
Konzert: Two Times Twice
Performance: Gosia Gajdemska "Ein und…"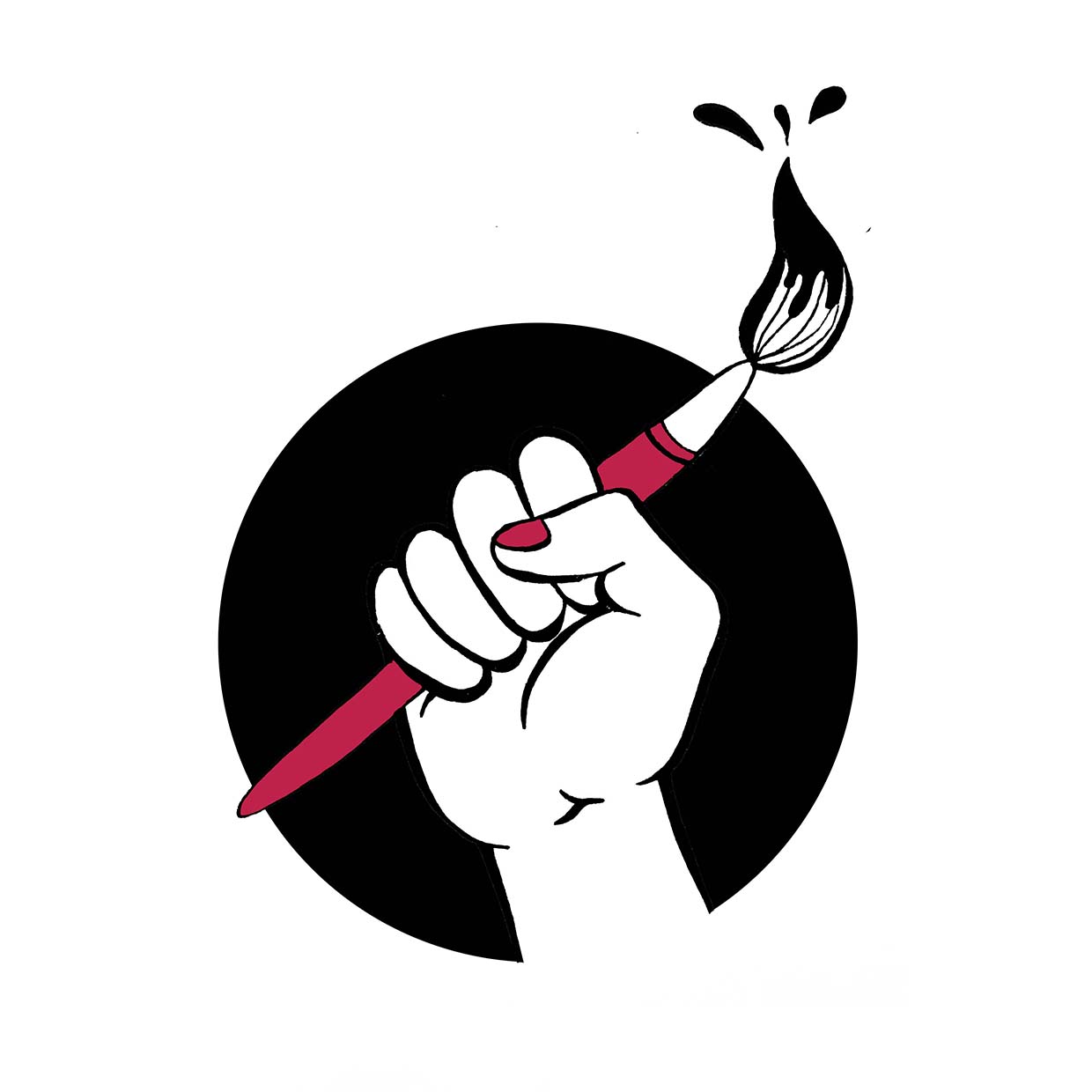 SCHAU FENSTER | Raum für Kunst
Lobeckstr. 30-35 – 10969 Berlin | Kreuzberg
www.dasarty.com
Facebook
(English description below)
Eine Ausstellung von Plakaten und Transparenten von Anna Krenz, die für in Berlin stattgefundene Demonstrationen gegen die rechtskonservative Politik in Polen entstanden sind.
Seit dem Wahlsieg der populistischen PiS-Partei im Dezember 2015 befindet sich Polen auf dem Weg in eine Autokratie. Die Politik der von Jaroslaw Kaczynski kontrollierten Regierung führte zum Zerfall wichtiger Institutionen wie dem Verfassungsgericht, einer Gleichschaltung der Medien und nicht zuletzt einer Spaltung der polnischen Gesellschaft. Von Beginn an protestieren zigtausende Polen gegen diese Entwicklungen, auch in den polnischen Communities außerhalb des Landes. So auch in Berlin.
Anna Krenz hat sich in ihrer künstlerischen Arbeit stets auf politische und soziale Themen bezogen.  Oft ironisch und/oder humorvoll. Als Mitglied des Berliner Ablegers der polnischen Bürgerbewegung Komitees zur Verteidigung der Demokratie (KOD) und in der Gruppe Dziewuchy Dziewuchom Berlin (Mädels für Mädels), hat sie seit Januar 2016 Transparente, Plakate und Grafiken für Demonstrationen hergestellt. Für jede Protestaktion wählte sie ein eigenes visuelles Konzept, passend zum Thema, teilweise verwies sie dabei auf ihre früheren Arbeiten, die vorwiegend für den "normalen" Kunstbetrieb entstanden sind. Sie verwendete die gleichen Werkzeuge und Materialien für die Transparente, die nun von einem anderen Publikum, den Protestierenden auf der Straße, gesehen wurden und nicht wie früher in geschlossenen Ausstellungsräumen. Plakate und Transparente sind in der Regel anonym, was in dem Fall auch eine Herausforderung für den Künstler darstellt. Sie werden zu Objekten der angewandten Kunst, ein Medium, das die Botschaft vermitteln soll ohne eine künstlerische Dimension zu benötigen. Doch die nun ausgestellten Banner und Transparente in der Ausstellung "Tausend und ein Wort" im Schau Fenster werden durch den Kontext der Galerie wieder zu Kunstobjekten. Dieser Prozess soll ein Ausgangspunkt sein, für eine Diskussion über die Bedeutung von Kunst und angewandter Kunst in ihrem Verhältnis zur Politik und politischen Aktionen.
Neben den Plakaten und Transparenten, sind in der Ausstellung auch dokumentarische Aufnahmen von zahlreichen Protestaktionen zu sehen, fotografiert von Wojtek Drozdek, Oliver Feldhaus, Monika Saczyńska, Maciej Soja, Marian Stefanowski und Michał Zak.
Anna Krenz
geboren 1976 in Posen/Polen, ist Künstlerin und Redakteurin. In ihrer Kunst beschäftigt sich Krenz mit gesellschaftlich-politischen Themen, wie geschlechterspezifischen Rollenmodellen, den deutsch-polnischen Beziehungen, Vorurteilen und Religiosität. Sie arbeitet multimedial in den Bereichen Malerei, Zeichnung, Video, Netart und Performance. Seit 2001 kreative Mitarbeiter des Folkecenters for Renewable Energy, Denmark. Als freie Journalistin kooperiert sie mit den größten polnischen Kultur- und Architekturmagazinen. Sie war Chefredakteurin des polnischen Designmagazins "VOX Design" und danach von "re:design". Von 2003 bis 2012 leitete sie gemeinsam mit Jacek Slaski die Galerie ZERO in Berlin. Sie spielte eine rosafarbene E-Gitarre bei der Band The Curators. Lebt und arbeitet seit 2003 in Berlin. www.annakrenz.net
Wojtek Drozdek (1950, Lodz)
Philologe, Verleger, Buchhändler – gründete 1978 erste polnische Buchhandlung in der BRD. Mitbegründer der Arbeitsgruppe Solidarnosc in West-Berlin.
Oliver Feldhaus
Im Ruhrgebiet geboren, im Rheinland aufgewachsen, lebt und arbeitet jetzt in Berlin. 2013 kam er als teilnehmender Beobachter des Kampfes der Refugees für ihre Rechte zur Fotografie. Seither begleitet er als Fotograf neben der Refugeebewegung intensiv viele weitere soziale Bewegungen und Proteste. Seine fotografische Heimat hat er bei den Photographers in Solidarity (http://www.photographers-in-solidarity.org/) und dem traditionsreichen Umbruch Bildarchiv (http://www.umbruch-bildarchiv.de/willkomm1.html) in Berlin Kreuzberg.
Monika Saczyńska
Historikerin, Verasserin zahlreicher wissenschaftlicher Arbeiten zum Thema Religion und Mittelalter. Von Beginn an engagiert in der KOD-Gruppe Berlin. Amateurfotografin. Sie lebt und arbeitet in Berlin und Warschau.
Maciej Soja
Freiberuflicher Fotograf, Veganer, verbunden mit Bewegungen für Menschenrechte. Tierschutzaktivist. Aktivist bei Basta. www.facebook.com/fotosoja/
Marian Stefanowski
Lebte bis 1981 in Torun, seit dem in West-Berlin. Pressefotograf, seit 1988 Mitarbeiter im Arsenal (Institut für Film und Videokunst). Mitbegründer der Arbeitsgruppe Solidarnosc in West-Berlin.
Michał Żak
Fotograf und Grafikdesigner. Er absolvierte ein MA in Philosophie an der Adam Mickiewicz Universität in Poznań. Laut Lürzer-Archiv gehört er zu den "200 besten digitalen Künstlern weltweit". www.michalzak.net
Two Times Twice
Ein musikalisches Duo, das Ende 2015 in Berlin gegründet wurde. Zwei Künstlerinnen, Edyta und Sarah, bezaubern mit ihren einzigartigen Stimmen und Klängen, die unterschiedliche Musikstile in einem dynamischen und lebendigen Kunststück verbinden. Two Times Twice ist eine Beziehung. Eine musikalische Beziehung. Edyta, geborene Sängerin und Polin, hat ihre Liebe zur Klassischen Musik durch eine Musikausbildung schon als Kind entwickelt. Sarah kommt aus London, wo sie in 2012 die große Bühne des UK-Rap-Battles auftrat. Ihre Texte sind gleichzeitig poetisch und ehrlich. Zusammen komponieren Edyta und Sarah eine Musik, die aus ihren eigenen Geschichten und vielen eklektischen Hintergründen entsteht. soundcloud.com/twoxtwice
Gosia Gajdemska
Choreographin,Tänzerin, Performerin, Tanzpädagogin.
Direktorin diverser Tanz- und Theaterprojekte und sozial/politisch engagierten Kunstprojekte (mit Profis, Kindern, Jugendlichen, Immigranten, blinden und tauben Menschen). In ihren Arbeiten verbindet sie verschiedene Tanztechniken mit somatischen Praktiken und bildender Kunst. Jetzt arbeitet sie vor allem mit dem Thema Choreographie als visuelle Kunstform.
The exhibition "Thousand and One Word" features banners and graphics of Anna Krenz, made for various demonstrations against the conservative nationalist Polish government that took place in Berlin.
Since the end of 2015, as the conservative right wing Law and Justice party (Prawo i Sprawiedliwość, PiS) became the majority in the polish government, things took a serious turn. PiS leads Poland towards dictatorship, paralysing the Constitutional Tribunal, dismantling free media, trying to ban abortion, promoting nationalism and hate speech, destroying polish economy, ignoring the European Commission, or distancing Poland from the EU, etc. Polish society is divided according to political views. Public media became national/ist and presented reality is manipulated for the sake of the government. Many people lost their jobs due to political views. As a reaction, thousands of polish people formed grassroots movements and went out to the streets to protest and demonstrate against actions of the government, both in Poland and abroad – also in Berlin. Situation is getting more and more serious, however this is not a Polish-only phenomenon. Conservative right-wing politicians become more and more popular around the world.
Anna Krenz has always been working with political and social subjects in her art., often with irony and humour. As member of polish Committee for the Defense of Democracy (KOD) and Dziewuchy Dziewuchom in Berlin, since January 2016, Anna Krenz had been creating transparents and graphics for actions and demonstrations, each has a different visual concept according to a theme-specific idea, some were directly inspired by her previous art works. Using same tools and media, as used for making art exhibited in galleries in previous years, Krenz painted transparents, which are seen by bigger masses on the streets, instead of white cube gallery spaces. Banners are anonymous – a challenging experience for an artist. They were objects of applied art, a pure medium for sending a message without the art world context. Art served an idea, served people, it became a political statement itself. Exhbited banners at Schau Fenster become art objects again. This process is a starting point for a discussion about the meaning of art and applied art in our contemporary political world.
Next to the banners and posters, there are photos documenting various demonstrations and actions, taken by activists and/or photographers: Wojtek Drozdek, Oliver Feldhaus, Monika Saczyńska, Maciej Soja, Marian Stefanowski and Michał Zak.
Black spot of politics – personal art protest
I painted "Schwarzarbeit" in 2003, on the verge of Poland's entry to European Union. Many Europeans, mostly Germans, were uncomfortable with the idea of a flood of polish economic immigrants searching for work. However, nothing happened. Polish people were already working in Germany, and those who came, melted quietly into the job market. In 2016, the same painting shows a different situation, a glimpse from the other side. Now the Polish people and the government are afraid of the flood of refugees from war countries.

I chose this particular painting and made a point on it. "A black spot on the painting" is an expression of my protest against current political situation in Poland, against radical actions of the polish government, social divisions and political fanatism, against hate language and limitations of artistic freedom. This blind spot of polish politics has to go! Point! A black spot!

Over 100 years ago, Kazimir Malevich panited his world famous "Black square" – the so-called "zero point of painting", an abstract representation. The black spot on "Schwarzarbeit" changes the painting into a zero point of what it was. Now – it is a protest.

Anna Krenz, 2016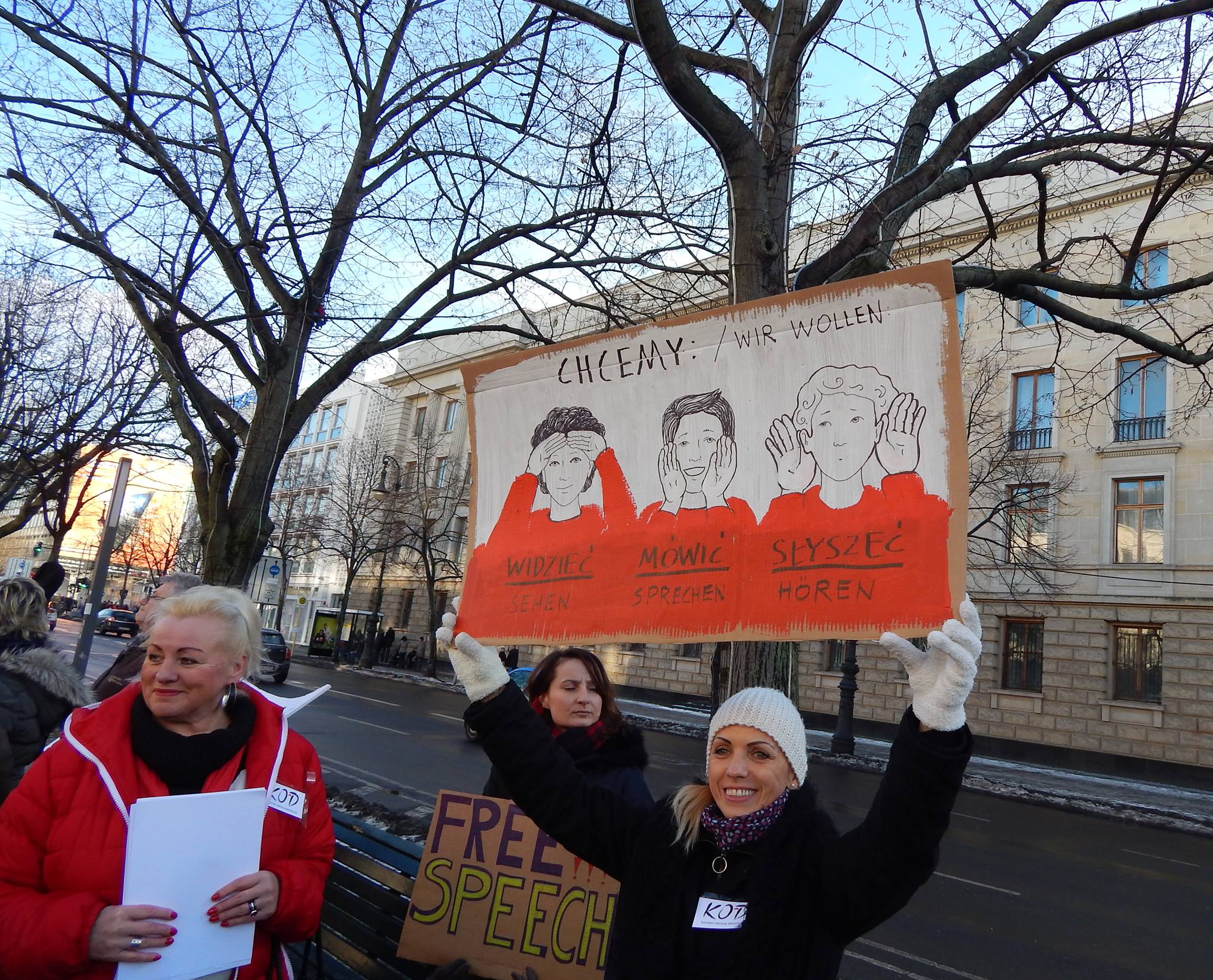 Free Media – DEMO
On December 30, 2015, the Law on Radiobroadcast and Television was amended, with provisions designed to expire on June 30, 2016. The amended legislation ("small media law") allows the government to choose new heads of government television and radio stations, and to exert further control over board members and managers of media outlets. Many journalists and managers, with years of service behind them, have lost their jobs since the takeover – in the public TV stations alone, 45 journalists and broadcasters have been dismissed and many more have resigned in protest. This move is partly dictated by plans to reshape Polish public media to promote traditional, national and Christian values, and to continue to implement the government's vision of media as a vehicle for communicating the government's agenda.<br />
All transparents for "Free Media" were made with rough strokes of brush, in contrast to new media aesthetics. Banner "Kaczyński na księżyc, ale na jego ciemną stronę" (Kaczyński to the Moon, but to its dark side) refers to the movie "O dwóch takich, co ukradli księżyc" (The Two Who Stole the Moon), in which both Kaczyński twin brothers played as children. Carrot on the bicycle depicts words of Foreign Minister Witold Waszczykowski, who in interview with German tabloid "Bild" (January 2016) took issue with the critical reaction of foreign media to PiS' recent election wins, claiming the Polish Government just want to "heal certain diseases" in the country: "The previous government implemented a left-wing concept, as if the world had to move using a Marxist model in only one direction: towards a mixture of cultures and races, a world of cyclists and vegetarians, who only use renewable energy sources and combat all forms of religion. This has nothing in common with traditional Polish values. This is against what most Poles have at heart: tradition, historical consciousness, love of the country, faith in God and a normal family life run by a man and a woman."<br />
9. January 2016 – KOD demonstration "Free Media" in Berlin with guests: Ronald Jahn (Bundesbeauftragter für die Stasi-Unterlagen), Bernd Lammel (DJV), dr Michael Rediske (Reporter ohne Grenzen), Karl Forster ("Polen und Wir"; Deutsch-Polnische Gesellschaft der Bundesrepublik Deutschland), Jacek Tyblewski (Rundfunk Berlin-Brandenburg), Christine Ziegler (Regebogenfabrik).
The Chairman's EYE – Happening
In January 2016, Poland's government was planning legal changes (New Surveillance Law) that would increase the surveillance over the country's citizens. The new provisions, proposed by the ruling Law and Justice Party, would increase the government's access to digital data while reducing restrictions on the use of surveillance by the police. Poles have actively protested the new surveillance rules, and the opponents of the plan argue that the changes will harm privacy rights, suggesting that under the proposal "privacy, intimacy is under threat, people can be followed, watched over both in homes, and online." The Polish government's move has also alarmed the EU, which has started investigating charges that Warsaw is undermining the EU democratic principles. On 3 February 2016, the Polish President, Andrzej Duda, approved the legislation on mass surveillance.
"Not so far away, behind forests and a river, there lives a Chairman. He rules a big country, even though he was not the king. Thou, the king has other matters to deal with. The king is  signing, writing and addressing. The Chairman is then governing the country with an iron hand, do not let the smile fool you, behind the mask there is a cold face of a pragmatic. The Chairman is the man of steel, well, of coal. 
The Chairman loves his folk, sure, but not all of them – he loves 38% of the nation (with return), which he sees as superior. He despises 19% of people and he would not care less for the rest.
And then, one day, the Chairman fell he would like to get to know his people better, a lot better. Who are these citizens, with whom do they talk, what do they buy, which websites do they visit, how much savings do they have… all that is interesting for the Chairman. HE simply wants to know more, because he loves his folk… (…)" 
Anna Krenz, 2016
Instead of a classic demonstration, KOD Berlin organised a political street happening in front of the Polish Institute in Berlin. "The Chairman's Eye" (idea, screenplay and direction: Anna Krenz) gathered a large audience which actively participated in the happening. The story was about a Chairman (symbol: all-seeing eye), who surpressed his people (symbol: red rope), watched them like big/twin brother (symbol: magnifying glass), collected data about private matters (red folder). The curtain is covering but also unveils private matters of the people. The citizens (audience) were tied by the Chairman's agents with a red rope, however, they were given hope, motivation, strenght and scissors and they freed themselves from Chairman's bondage and slavery. Power to the people!
23. January 2016 – political happening "The Chairman's Eye", prepared and realised by KOD Berlin.